Best Wood Oil – Choosing the Best Oil for Wood Furniture
Creating the perfect finish for your wood furniture, floor, or other items will transform the wooden surface, giving it a beautiful look whilst also providing protection from the environment. However, there are quite a few different wood oils available, so how do you choose the right one? Can you simply use any oil on wood? You want to be able to keep and use your wood furniture or floors for years to come, so you do not want to slap on just any wood oil, as it may not bring out the best in your wood. We have put together this article so as to help you along the way in choosing the best wood treatment oil for your particular needs.
Why Use Wood Oil Instead of Varnish?
The type of sealant or finish on the wood is linked intricately to its use as well as the surrounding environment. Oil finishes have many benefits, such as that it is easy to work with and maintain, and that it penetrates the wood surface effectively, thus providing a beautiful finish.
What is a Wood Oil Finish?
There are many different types of oil for wood, from linseed to mineral oil, some of which we will mention later on in this article. Wood oil can be applied onto bare wood or even onto wood stains. A wood finishing oil brings out the natural beauty of the wood itself and offers a protective layer.
However, the wood oil finish is not as strong or durable as a varnish would be. But, in the end, if you want to enhance the natural wood, wood oil is the better choice. Wood oil is, however, more durable than wood wax polish. You do also get combination products like an oil-wax or oil-varnish blend, which can offer more benefits than when just using a single product. Other wood finishes that also provide a nice shine to the wood are lacquers and shellac.
Once you have applied a wood treatment oil, it will be difficult to cover this with a varnish or paint. Oil sinks deeply into the wood and helps to replace any natural oils that have been lost due to the wood's age and general weathering. You can apply it to your wood furniture, floors, and any indoor or outdoor wood items.
The wood appearance becomes richer and warmer in color, giving a more earthy and natural atmosphere to the environment. Oil finishing can provide a durable finish and it is easy to maintain, keeping your wood surfaces looking healthy and new. Wood oils are also more natural products, making them safer to work worth.
Selecting a wood oil, varnish, or other finish is up to you and what you want out of your wood product. We will be sticking with the wood oil finish, which has a number of advantages and disadvantages.
Pros
Wood oil is easy to work with, maintain, and repair.
It is safer to use for you and the environment.
Putting oil on wood can protect wood surfaces.
A quality, deep-penetrating wood treatment oil can hold up longer than a thin layer of varnish.
This is an affordable way to keep wooden surfaces looking good.
This type of finish enhances the wood's natural appearance.
Wood oil finishes can come in a variety of tints.
Cons
You need to add many layers, each of which can take some time to dry.
Additional maintenance is needed.
It is difficult to apply any other paint or finish over the wood oil. Also Epoxy Paint is a problem.
. Also Epoxy Paint is a problem.
.
It can take a long time to dry.
Different woods require different oils, preparation, and application methods.
Wood oil is not as durable as other finishes, which means that the wood can still get damaged.
Wood oil finishes have a low resistance to solvent damage.
What is a Varnish?
Varnishes, on the other hand, are high in volatile organic compounds (VOCs) which could be harmful to you and the environment. Varnishes are oil-based and consist of synthetic resins, classifying them as neither a stain nor a paint. Varnishes also come in a glossy or satin sheen. They offer better durability than the wood oil, and by adding layers of varnish, you can easily increase the protection of the wood.
What are the Various Types of Oil for Wood?
There are quite a few wood oils available, which can make it challenging to select the best one for you. The more well-known oils can be used on many different kinds of wood, but may not be right for every kind of project. You have to choose your wood oil wisely, because applying the wrong one can end up spoiling the final finish.
The type of wood surface you have will determine what type of wood finishing oil you should use, as some oils are formulated specifically for indoor or outdoor use. Since a wooden deck is exposed to the environment, many of the decking wood oil products are blends, which then improve resistance to water and other elements. Types of wood oil finishes include:
Linseed Oil,
Teak Oil,
Mineral Oil,
Danish Oil,
Olive Oil,
Hard Wax Oil, and
Walnut Oil.
The most popular of these is linseed oil, which is obtained from the flax seed. Many have dealt with raw or boiled linseed oil, which takes quite a long time to dry. Fortunately, one can now get a polymerized linseed oil, which dries quickly and is also non-toxic. This oil sinks deep into the wood and provides a beautiful golden hue, protecting the wood from scratches. The color will later turn amber, bringing out the wood's natural look.
Linseed oil is mostly used indoors on items like paneling or furniture, or places that have marginal usage. It is perfect to use on cedarwood and other softwoods.
Some oils are best used on specific woods. For example, Danish oil brings out the natural color of beechwood. For interior mahogany wood pieces, linseed, tung, and teak oil work best. Tung oil and Danish oil are excellent on oak wood. To find the best wood oil for your specific purposes, and if you are not sure what wood oil to use, you can always read the manufacturer's instructions.
Sometimes it is a little unclear as to what a product actually consists of, as in the case of Danish oil. Most other wood oils are obtained from a single product and made into a wood oil. However, Danish oil is usually made up of a combination of oils. Mostly, it is a cheaper form of tung oil, which has been combined with others such as linseed. The specific formulation is subject to the manufacturer.
Best Wood Finishing Oil
There are numerous wood oil products on the market today, so it can be quite daunting to choose a product that is right for you. The list of wood oil finish products below are only a select few, but they are popular and considered some of the best wood oils.
Best Oil for Wood Furniture
Most of us have indoor wood furniture, which will eventually need a little tender love and care to revive the old wooden surface. Outdoor furniture, on the other hand, needs a little something extra to protect them from the elements. Products can therefore be a quite different, depending on what type of furniture they are best suited for.
Best Indoor Furniture Oil: WATCO Danish Oil
The Watco brand of Danish wood oil is a good option for indoor furniture. This furniture oil can be applied to bare wood, but also to stripped and sanded wood. The oil-based furniture oil penetrates nicely into the wood offering good protection.
Deep-penetrating oil-based formula resembles a hand-rubbed finish
Protective formula is touch-dry in 6 hours and covers up to 85 sq ft
Suitable for bare, stripped, and sanded tight-grained wood
View on Amazon
This furniture oil dries fairly quickly within around six hours, and can cover an area of about 170 square feet. The oil is easy to apply and helps wood surfaces withstand abrasions, spills, and peeling. It beautifully enriches the wood, bringing out the natural qualities of the wood.
This is an easy-to-use, quick-drying furniture oil that sinks deep into the wood, providing a gorgeous finish.
Pros
The oil dries fairly quickly (six hours).
This furniture oil is non-toxic.
Danish oil is water-resistant.
The application is easy.
Cons
It is not exceptionally durable.
Once applied, the oiled surface might require more maintenance.
You must be careful when disposing or storing used rags, as the oil is flammable.
Best Outdoor Furniture Oil: WEIMAN Lemon Oil Wood Polish
The Weiman Lemon Wood Oil finish is a good choice, as it can be applied to any wood surface. The furniture oil is made of lemon oil and when applied to wood, it sinks in and helps to stop the wood from drying out.
Gently cleans, moisturizes and conditions wood furniture

Can be used on any wood surface

UV-protected to prevent fading, drying, and discoloration
View on Amazon
You can easily use this oil on both your indoor and outdoor wood furniture. For outdoor wood furniture, it has UV protection and inhibits discoloration, fading, and drying out.
This product is the perfect option for helping to restore and revive old, scratched furniture. Used for generations, it is the preferred wood oil for many.
Pros
This oil can be used on any wood.
It offers protection against the sun, thus preventing fading, discoloration, stains, and watermarks.
The oil helps to clean and protect the wood, restoring and reviving the look and feel.
There is a pleasant lemon scent.
Best Wood Treatment Oil for Wooden Floors
Here, we are going to look at the best wood oil for indoor floors, as well as a quick look at a wood treatment oil that is best for your outdoor decking surface.
Best Wood Oil for Indoor Floors: OSMO Polyx Hardwax Oil
Osmo's Polyx oil is a mixture of different oils and waxes that will provide conditioning to hardwoods as well as a durable finish. This wood oil finish helps to reduce cracking and peeling, and allows the wood to breathe.
Will not flake, crack, peel, or bubble

Made with plants and safe for use by all

Allows wood to breathe
View on Amazon
This oil is also resistant to spills from things like tea, coffee, water, wine, and juices. This wood oil is made out of plant material, which means that it is safe to use around your kids, pets, as well as plants.
It may be a bit expensive, but the results more than make up for it. This oil also tends to go further than other products. It is great for applying to wooden floors and restoring other furniture.
Pros
This oil is plant-based, non-toxic and emits a low odor.
It is easy to use and apply.
The oil will leave a durable, long-lasting finish.
It is water-repellant.
Cons
This product is expensive.
The surface may require maintenance later on.
The oil can only be used on indoor wooden surfaces.
Best Wood Oil for Decking Floors: CABOT Australian Timber Oil
Cabot Australian Timber oil will give outdoor decking, siding, railings, and furniture a wonderfully natural finish. While this wood oil finish for decking was specifically designed to protect resin-rich hardwoods against the extremes of the Australian climate, it is now made in the US where it has been developed through advanced technology to a wood surface treatment of unrivaled performance.
Nourishes, enhances, and protects resin-rich decking woods
Contains complex translucent iron oxide pigments for UV absorption
Blend of linseed oil, long-oil alkyds, and pure South American Tung oil
View on Amazon
This product is said to last twice as long as other decking oils, which is something to look into if you are looking for a good decking oil. This oil will protect your outdoor decking from weather and foot traffic, whilst enhancing the color and grain of the wood and provide effective nourishment and conditioning to the wood surface.
Pros
This is a durable decking wood oil.
It is ideal for exotic hardwood s
It is long-lasting and will moisturize your wood
Protects against water and UV damage
The application process is easy
It is easy to clean.
Cons
You may need more than anticipated depending on your wood
Not ideal for softwoods
Other Notable Wood Oil Products
If you are looking to add an oil finish to other types of wooden surfaces, you can try using the following products.
Best Outdoor Oil for Wood: STAR BRITE Teak Oil
An example of the best wood oil for teak and outdoor furniture is the Star Brite Premium Golden Teak Oil. Formulated with advanced tung oil polymers, this wood oil will provide the maximum level of protection for your fine woods.
Ultra-refined formula for a natural, warm, and lasting color

UV protected against sun damage, weathering, and fading

Easy to use and fast-drying
View on Amazon
This wood oil finish provides excellent protection for fine and teak wood, is easy to use, and dries quickly. It is excellent for outdoor teak oil finishing and other fine woods. This product is best to use on wooden furniture, boats, and pool decks.
Pros
This oil has UV absorbers, protecting the wood from the sun and weathering.
The oil enriches the teak wood, providing a beautiful teak oil finish.
It is fast drying and easy to apply.
The finish provides a long-lasting warm, golden color.
Cons
The first application may take up to two hours to fully penetrate the wood.
The oil may deteriorate over time.
It is flammable and toxic.
Best Overall Wood Finishing Oil: Pure Tung Oil Finish
If you are looking for the best natural look for your wood surfaces, then pure tung oil may be just what you are looking for. This best wood oil has no added chemicals or additives and provides a natural, beautiful wood finish.
Commercial grade interior and exterior finish and sealer
Locks in natural wood colors and protects against UV, water, and wear
No dyes or dryers, 100% natural, VOC-free, covers up to 150 sq. ft.
View on Amazon
Tung oil also dries quicker than other similar products and is perfect for pinewood surfaces. Heated or polymerized tung oil can also be considered for better penetration and quicker drying times.
You can use pure tung oil on your outdoor furniture, decks, and wood flooring. In most cases, this is a better option than linseed or shellac.
Pros
Tung oil enriches the natural look of wood.
It has no additive chemicals.
This oil dries faster than other similar products.
It provides water-resistance.
This product is easy to apply.
It is environmentally friendly and non-toxic.
Cons
This oil is less durable than varnish.
The application process may produce a mild odor.
Pure tung oil does not have good permeation.
Best Food Grade Wood Oil: THIRTEEN CHEFS Food Grade Mineral Oil
This mineral wood oil is of a food grade, making it perfect for cutting boards, countertops, salad bowls, and butcher blocks in general. It helps to restore and protect the wood from drying out and cracking.
Pure USP food grade mineral oil

Restores and protects wood
Easy to use
View on Amazon
This oil is asy to use and can be used on other surfaces like marble, granite, steel, and slate.
Pros
This product is of a food grade and can be used on a variety of wooden kitchen items.
It is safe and easy to use.
It is made from pure USP mineral oil.
This oil hydrates, restores, and protects the wood.
Cons
The bottle is small, although a little bit goes a long way.
The oil can darken lightly colored wood.
The Application of Oil on Wood
A wood oil finish can be applied to bare wood or to wood that has a water-based stain. The wood oil will not be absorbed into any wood with an oil-based stain. The general method of applying oil on wood is more or less the same for most types of oil and wood, with a few adjustments needed here and there. For example, the porosity of some woods are different, or the drying times may differ. So, when in doubt, always read the manufacturer's instructions before you start.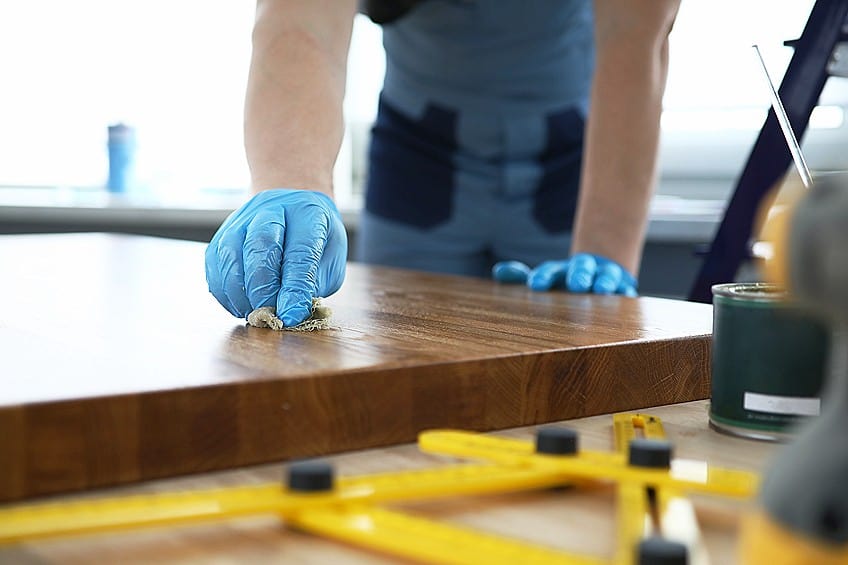 The Basics of Applying a Wood Oil Finish
Determine what type of wood you have. This will help you to select the best wood oil for your particular surface.
The wood will absorb the oil best when it has been sanded smooth. Start with coarse sandpaper, and then move on to a finer paper to make sure that your surface is as smooth as possible.
Apply the wood oil finish generously. You should note, however, that oils like Danish oil should be applied little-by-little so that the wood can soak up the oil properly.
Rub the oil well into the wood until the entire surface is covered. You can do this by using a dry, clean cloth, with which you will rub in the oil and work with the grain of the wood. Some may also use a brush or foam paint pad.
Leave the oil to sit for around half an hour. You can then take off any surplus oil using a cloth, after which you should leave the wood to stand for 24 hours.
Sand the wooden surface to help the oil penetrate further. You can either wet or dry sand the surface with a 600- to 800-grit piece of sandpaper.
Apply the oil to the sandpaper and cover the surface. Then, take a clean rag and remove any surplus oil. Leave the wood for another 24 hours.
Duplicate the sandpaper and oil process as many times as needed until you have the desired results. Always ensure that you remove any excess oil and leave for the wood for 24 hours between each coat.
Safety when Working with Wood Treatment Oil
Even though applying wood oil is fairly simple, you do need to consider safety. Wood treatment oil is flammable, and you will need to take care when using it. Any dampened brushes or rags used cannot be left lying around, as these can catch alight in certain circumstances. Place any rags on a flat area of concrete to dry thoroughly before throwing them out. Do not lay out the rags in full sunlight, and never leave the rags crumpled together.
Do not leave any cloths that have been used to apply wood oil in the sun or near anything that generates heat, such as a radiator. Once the wood oil dries, it forms a stiff coating, which cannot be undone. So, after this has happened, you will not be able to clean anything.
If the wood oil is still liquid and has not become tacky yet, you may be able to use something like mineral spirits or turpentine to save tools like your brush. Removing all of the oil is vital, however, as the bristles will stick together otherwise. Once you have thoroughly cleaned your brush with mineral spirits, use some soap detergent and rinse it out with water. Alternatively, you can simply purchase a cheaper brush and throw this away after use.
Some people have come up with the idea of using cling wrap for the brush when applying wood oil. Once you have applied a coat and have to wait for it to dry, cover the brush with cling wrap until you need to use it again. This is only temporary, however, and the brush cannot be stored like this.
When applying any wood finish, it is best to do so in a space that has plenty of air circulation. Always store your wood oil products properly, so that your kids and pets do not find them. Another point to consider when working with a wood finishing oil on a surface that will come into contact with food, is to make sure that the product is labeled as food safe. Otherwise, you may be ingesting toxins.
Best Wood Oil Costs
When using a pure oil for wood, this can cost a little more than other wood oil blends. Many of the wood oils are budget-friendly and, in most cases, can be used more than once if stored properly. Some of the pricier products contain an oil-wax combination, and will have other properties included as well. Even though these may be more costly, you will not have to apply them again as often.
To cover larger areas, maybe think about buying in bulk to save some money. When considering the price, it is not a bad thing to want to save money, but be careful of choosing too cheap a product. You want your wood to be protected and treated properly, so it may be best to spend a little bit more to get the results you want.
Frequently Asked Questions
Does Wood Oil Make Wood Darker?
When using oil on wood, the wood will darken, but it will not alter the actual wood color. The oil will make it slightly darker and bring out the natural grain. When the wood starts to lighten, you will know it is time for more wood oil.
Is Wood Sealed When Using Wood Oil?
Oil finishing does not act as a sealant, but it is resistant to water. So, because oil repels water, it can be seen as a sealant to a point. Wood sealers themselves are usually synthetically-based, as opposed to wood oil which is made of natural substances.
Can You Apply Another Type of Wood Finish Over a Wood Oil Finish?
Most other wood finishes cannot be applied over a wood treatment oil. This is because the varnish or other finish is not able to cling to the wood surface. The wood oil will have to be completely removed before you can apply any other type of finish or paint to the wood.
Can a Wood Oil Finish Be Removed?
The process of removing wood oil can be a bit hard and laborious. However, the topmost layer of wood that has been treated with oil can be sanded down until the bare wood is exposed again. You can then apply paint or another finish to the surface.
Is a Wood Oil Finish or Wax Better?
This may be up to each person, but wood oil does provide more durability than wax. Most wood oils are easy to use and maintain, but do tend to dry slowly. Waxes, on the other hand, can go onto any type of wood. You also have the choice of oil-wax combination products.
How Do You Apply Oil to Wood?
When working with furniture oil, a rag or cloth is usually used to rub the oil into the wood. Once the wood has absorbed the oil and been left to sit for a few minutes, any excess can be wiped off. You can also use a brush or foam pad to apply wood oil and wood finishes.
Is Wood Oil Food Safe?
Not all wood oil can be used when food is involved. However, the best wood oil that is food safe is mineral oil. Other oils include walnut oil, linseed oil, fractionated coconut oil, shellac, and perhaps even olive oil.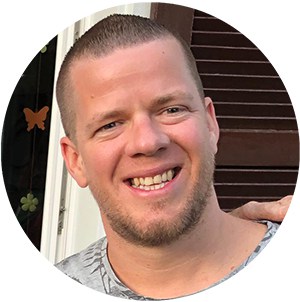 I have been into woodworking since 2005 and woodturning since 2011. Because of my love for wood and woodworking, I started woodhappen.com to teach other enthusiasts about how to finish and seal wood, the best woodworking tools, the different types of wood, and everything else related to woodworking! Read more about me here.