Can Polyurethane be Used Outdoors? An In-Depth Guide
The main use of polyurethane is to protect your surfaces whilst still making them look timelessly elegant. Polyurethane has been used over and over as it remains one of the best formulas especially the exterior polyurethane or the marine polyurethane types that can be used on all outdoor surfaces. We wish to reassure you that as a novice, you too can start using polyurethane rather easily provided that you know how to select the best products.
Can Polyurethane be Used Outdoors?
You can use polyurethane outdoors, but you should use a special outdoor polyurethane, which is specifically formulated for this purpose. If you use anything other than a outdoor polyurethane, the surface won't last very long .
Defining Polyurethane
If you haven't ventured into the polyurethane aisle in a hardware store, you need to know that it is a super sticky substance that functions as a varnish. The stickiness of the substance is only possible because of the strings of microscopic molecules that it contains, which bond once dried. Thus, the polyurethane produces a finish that can act as a waterproof substance, resisting all other solvents and damage.
There are oil-based polyurethanes and water-based polyurethanes. The type of polyurethane that you will use is highly dependent upon the finish you desire. Oil-based polyurethane stains the surface, giving it its subtle warm colors. However, water-based polyurethane will be preferred if maintaining the wooden surface's natural hue is what you want.
To Use an Oil- or Water-based Polyurethane?
Since many people choose to use oil-based polyurethane, you should note that the law in certain states restricts the use of particular oil-based alternatives because of the volatile organic compounds (VOCs) that are given off. That is why you need to consider aspects of the polyurethane prior to making a purchase.
Water-based, oil-modified polyurethane: This fast-drying polyurethane can be smeared on all wooden surfaces, but produces an amber tinge that is oil-like in appearance. It is quick-drying and can be cleaned with soapy water. This is the formula that is used on most wood types. Despite being oil modified, it has a low VOC count, and therefore can be compared to other water-based polyurethanes.
Oil-based polyurethane: The oil-based formulas produce an appealing amber tinge to the wood surface. The oil in the formula allows the polyurethane to coat the surface effectively. This type of polyurethane does take quite a long while to dry, which means that one has to wait in-between coats. This polyurethane produces many more VOCs than other polyurethane types and may be restricted in some areas of the country. This polyurethane can be cleaned with mineral spirits.
Water-based polyurethane: This milky formula results in a clear finish on surfaces and is used by all experts who wish to retain the natural appearance of the wood. Since the formula is water-based, it is water-like in texture and less solid in comparison to oil-based formulas. You may need to apply several coats to get the results that you want. It contains fewer VOCs, although we advise that you still use this product with caution and in a well aired-out area. These surfaces are best cleaned with soapy water, and should never be cleaned with ammonia-based products.
All About Buying Exterior Polyurethane
There are many things to consider before purchasing a brand of polyurethane. Before selecting a product, you need to keep the following factors in mind so as to make an informed decision.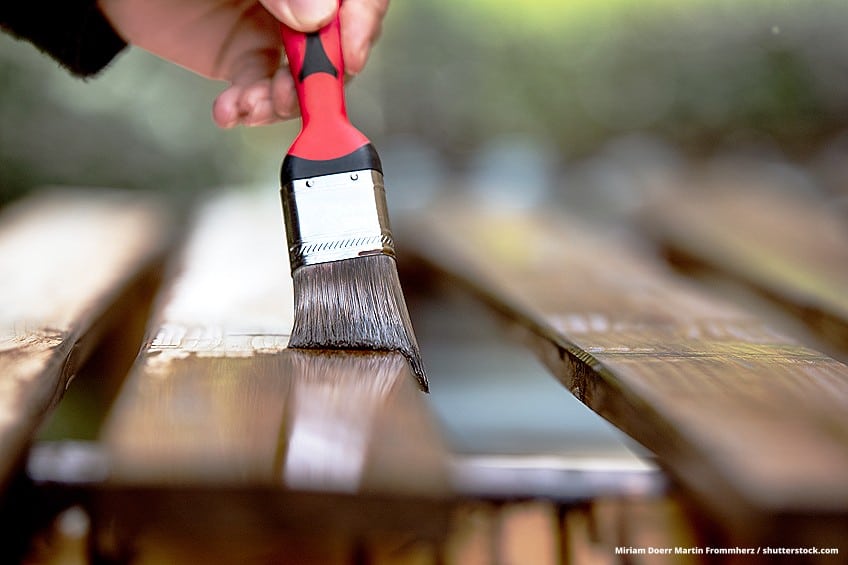 Resistance to UV Rays
The truth is that using polyurethane with a clear finish is not as long-lasting as other paint finishes. Due to the fact that a clear coating makes the wood visible, it is not as protected from UV rays as the wooden surface will be exposed to the sun. In this case, we would say that achieving ideal protection for a wooden surface that has a clear finish is quite difficult.
There are many polyurethane formulas that have metallic components that have been made to reflect UV lights. One metallic component is that of titanium dioxide, which can reflect sunlight. This is due to the fact that the UV compounds can absorb sunlight and release the trapped sun as heat. We have to remind you that no additive is 100% effective at blocking away the sunlight. The more compounds you add to the polyurethane, the more opaque it appears. In this way, the polyurethane resembles paint.
Time to Dry
When working on a wooden surface and applying polyurethane to it, you must note how long it takes for the polyurethane to dry. If you have limited time to get the job done, we suggest that you get quicker drying polyurethane.
How Long-Lasting the Polyurethane Is
We feel that knowing if your polyurethane is long-lasting or not is very vital. You must always opt for a product that ensures wooden protection and still lasts long. It will be beneficial to buy a long-lasting formula from the onset. It will also save you the time of frequently having to refinish any surfaces.
Flexibility
Since wood has to adjust to various weather conditions, exterior polyurethane must be composed of the right amount of oils and resin to enable the finish to work with the wood. The company that produces Minwax polyurethane suggests that you recoat painted surfaces yearly, despite the inclusion of these additives in Minwax. This suggestion works well, because if you have to add an additional layer of coating, you merely need to remove grease and dirt to prepare a surface. To effectively remove dirt, you will need to sand the surfaces and wipe them down with mineral spirits.
Ease of Use
We always believe that if you purchase products that are easier to use, you will be more comfortable with the application. In this way, you will cut down on expenses and not have to call in a woodworking expert to assist with your projects.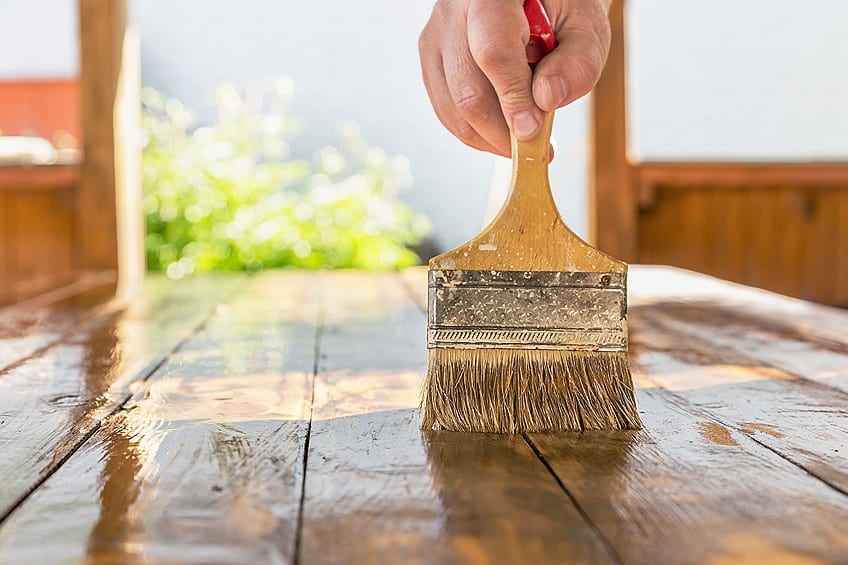 Applying the Polyurethane
Now that you have a good understanding of the different kinds of polyurethane, you will need to apply it. We have outlined the steps that you need to follow in order to apply the polyurethane successfully.
Getting the Wood Ready
To obtain the most visually pleasing results, ensure that you start with a clean surface first. Aside from a clean surface, choosing an ideal polyurethane finish also makes the results better. We say that you should always start by sanding with a 220-grit piece of sandpaper. For any open-grain wood, always begin by sealing the wood with a wood grain filler before you apply the polyurethane. In this way, you will end up with a smoother looking finish.
Always make sure that you clean the wood thoroughly so that you can get rid of any dirt before you splash on more polyurethane. You can use a vacuum with a tack cloth to apply the polyurethane. Another suggestion would be to use a rag that has been dipped in spirits, particularly when working with oil-based polyurethane. To get the best results when using water-based polyurethane, use a cheesecloth that has been lightly dipped in alcohol.
The Application of Oil-Based Polyurethane
Oil-based polyurethane has a far thicker consistency. Thus, we suggest that you use a thinner to thin out the solution. Mineral spirits or naphtha works well for thinning out the polyurethane, but be sure to check the polyurethane's label to see if this is a good combination. Polyurethane with a thin consistency will enable you to coat all surfaces.
To apply oil-based exterior polyurethanes, perhaps consider using a fine-bristled brush that has either natural or synthetic hairs. We suggest that you do not buy the cheaper bristle brushes, however, as they create brush marks on surfaces. We use bristle brushes so as to reach the smallest of corners and for finer painting jobs.
To use the best exterior polyurethane, gradually brush on the polyurethane so that your brush stokes can run parallel to that of the wood. Try to use a sufficient amount of finish to coat your exterior surfaces. Use straight strokes to get rid of bubbles on the surface, after which any smaller bubbles should automatically disappear. We suggest that you use a thinner finish and that you brush on the polyurethane very precisely.
The key rule to applying polyurethane is to apply an initial coat and wait for it to dry fully. Thereafter, always gently sand the entire surface by working in an opposite direction to the grain pattern. Always sand using 320-grit sandpaper. In most cases the polyurethane sands easily, but you must still be careful not to sand through too thin a coat and harm the underlying wood. Use a vacuum with a tack cloth before applying a second coat.
Always redo the steps to ensure you get the best possible protection from the polyurethane paint. To reap the full benefit of the polyurethane coat, apply a minimum amount of two coats. Each coat allows the next coat to appear smoother and better. To ensure the right shine on your surface, you may want to rub the coat with steel wool and then apply paste wax for the perfect shine.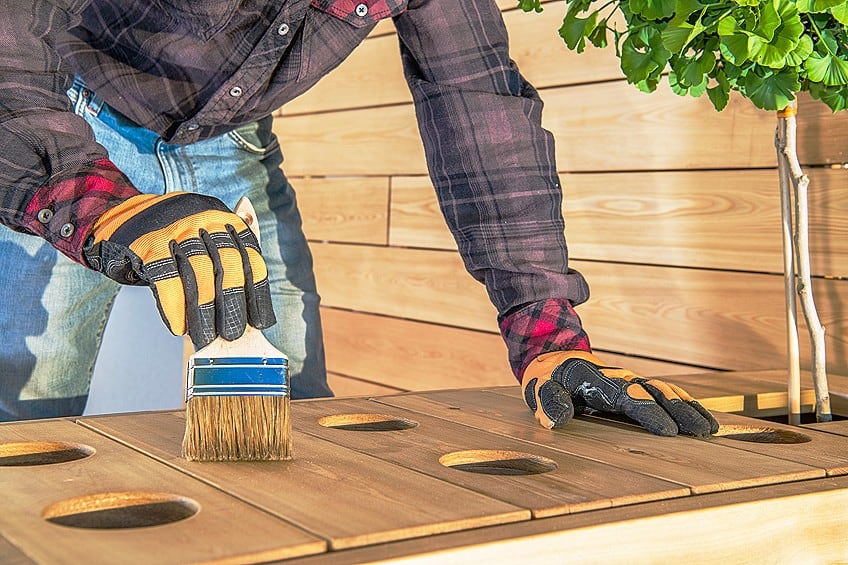 The Application of Water-Based Polyurethane
You must remember that when working with water-based polyurethane, you are working with an entirely different material to its oil-based counterpart. To apply water-based polyurethane to an oil-based surface, use some synthetic steel wool to roughen the wooden surface. You don't want the polyurethane to bleed out onto a surface, so to prevent this you can use steel wool to make the oil-based wood rougher.
The application requires the same process as in the oil-based polyurethane application. The exterior clear coat can be applied using a fine bristle brush, cloth, or foamy cloth. Always apply whilst keeping the appearance of the grain in mind. Use an adequate amount of the polyurethane, but not too much.
The first coat dries fast and the second layer of the initial coat should be dry within a couple of hours. Only then can you spread another coating of the best exterior polyurethane. You do, however, need to sand in-between applications. Always use the exterior polyurethane paint can's instructions as a guide. We suggest that you pre-plan to use at least three coats of the water-based polyurethane, irrespective of how big or small your wooden surface is.
Spray-On and Wipe-On Polyurethane Types
A main advantage of polyurethane is that it can be wiped or sprayed onto wooden surfaces as well. The sprayed-on polyurethane paint becomes thin when wiped or sprayed on the surface. You can use both spray-on and wipe-on polyurethane to protect the surfaces in your home.
We always tell beginners to use a lint-free cloth to apply the exterior polyurethane so that the paint can seep into all corners. Once sprayed onto a surface, a thin layer of polyurethane appears, as spray-on option works like spray paint. Wipe-on exterior polyurethane can be applied to surfaces using a lint-free cloth. Many experts feel it is best to apply a thinner film of the polyurethane on top so that a smoother finish is ensured without any brush marks.
View our Outdoor Polyurethane web story here.
FAQ'S
Is Outdoor Polyurethane Available?
There are many exterior clear coats that can be applied to exterior areas to ensure the best finish. The key to sourcing ideal outdoor polyurethane is to look for one with the best ingredients. An outdoor polyurethane must contain additives that will ensure UV protection. Ensure your label of the polyurethane advocates outdoor usage. We also suggest that you read reviews to see if it is the best exterior polyurethane.
Will Polyurethane Make Surfaces Waterproof?
While many of the best exterior polyurethane will make the wood slightly more resistant to water and does protect the wood, many brands are unable to make the surface fully waterproof. You can apply a polyurethane coat to your wood surface to stop it from absorbing water and give it added protection against moisture and weather conditions.
Is It Possible to Apply Water-based Polyurethane to Oil-based Surfaces?
It is possible to apply water-based polyurethane to a surface that had an oil-based coating. The main caveat is that you need to prepare this surface well so that it is ready to receive the water-based polyurethane.
Is Sealing the Wood Necessary Prior to Applying Polyurethane?
The truth is that you get many types of polyurethane, from marine polyurethane to outdoor polyurethane, most of which do not need sealers to be applied first. If your exterior polyurethane requires you to use a sealer, you must ensure that it is compatible with varnish. Alternatively, opt for a resin sealer that will seep nicely through the wood. While these options do create a finished appearance, applying polyurethane as a final layer makes the finish all the more appealing.
Can Polyurethane Be Toxic?
Most definitely, as many of the marine polyurethane and other exterior polyurethane types have isocyanates in their mixtures, which is a substance that harmfully affects the lungs.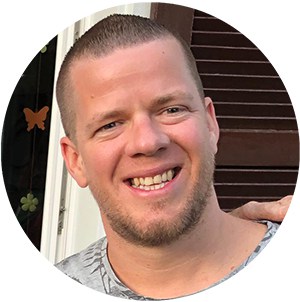 I have been into woodworking since 2005 and woodturning since 2011. Because of my love for wood and woodworking, I started woodhappen.com to teach other enthusiasts about how to finish and seal wood, the best woodworking tools, the different types of wood, and everything else related to woodworking! Read more about me here.