Best Deck Stripper – Looking at the Best Paint Remover for Wood Decks
Nothing lasts forever, including your wood deck. Decks will begin to show signs of wear and tear as years pass. People walk over the deck every day, and UV rays shine down and penetrate the stain, which could cause cracking. There is also mildew and other damages that can occur. Eventually, you will want to restore your deck to its original look. This is where a deck stain stripper comes into the picture. However, you will need to know what type of paint, varnish, sealer, or stain is already on the surface before you can apply a wood deck stripper. Removing the old finish with a deck stain remover ensures that any new finish will permeate the wood more efficiently and produce the results you are looking for. Follow our complete guide below to find out everything you need to know about the best deck stripper.
Reasons for Using a Stain Remover for Wood
A beautiful deck is something that many people wish to have; however, it does take some maintenance and know-how to keep the deck looking good. Decks are exposed to many things including foot traffic, and all types of weather conditions. Wooden decks are therefore painted and given protective coats. If the job is done right, a wooden deck should last for some time, but will eventually show signs of wear.
Benefits of Using Stain Stripper
Once a deck looks like it needs some maintenance, you will need to consider using the best paint remover for wood decks will remove the old layers and prepare the surface for a new coat finish. The deck stain stripper will completely penetrate the old stain coat and breaks it down so you can remove it.
A deck stain remover will remove or strip more than just a stain, it will also clean off any dirt, mold, or algae that has formed
The stain stripper will also remove any sealers, varnishes, and paint bringing the wood back to its original condition. You can then apply another paint color if you wish
Applying a stain stripper and removing any previous finish will also help prepare the wood for a new coat. This will ensure even and smooth results with no blemishes or problems
A deck that looks neglected does nothing for the overall look of your home. The best paint remover for wood decks will bring your deck back to looking its best
Types of Deck Stain Remover
Not all deck stain remover is the same, there are different kinds you can choose from. Although you have varying ingredients, they all do the same job. Let us now have a look at the three main types of stain strippers.
Solvent-Based Deck Stain Stripper
These stain strippers work by chemically dissolving a stain or finish. Examples of solvents based strippers include:
Acetone
Toluene
Alcohol
Methylene Chloride
These are quite powerful cleaners that can easily remove old paint. The one major downside is that these strippers can be rather toxic. You will need to be careful when using, making sure you follow the product label instructions. Methylene Chloride has been made illegal in some countries; however, it is still available. So, to avoid this toxic chemical, it is best to check the label ingredients before purchasing.
Caustic Deck Stain Stripper
This stripper dissolves the old finish and changes it into another substance. These also require careful handling, as it involves potent acids or bases that are corrosive. Some examples of caustic strippers include:
Lye – sodium or potassium hydroxide
Oxalic Acid
Biochemical Deck Stain Stripper
These use more natural ingredients that are safer to use and are better for the environment. The biochemical strippers also tend to produce fewer odors. These are less potent when compared to the others and needs to remain on the wood for quite some time. Some examples of biochemical strippers include:
Soy oil
Lactic Acid
Citric Acid
Terpenes from citrus or pine
Wood-pulp extract
Note: All of these products should get the job done; however, it is necessary to make sure you remove the old finish completely if you want good results.
Stain Stripper Buying Guide
So, now you know what types of deck stain strippers there are, and you want to go out and purchase something. However, there are a few things you need to take into consideration before you make a decision.
The Type of Finish You Need to Remove
Your first step is to find out what it is you want to strip from the deck. There are many finishes from varnish to solid stains, or do you wish to simply remove dirt. In some cases, you might require something more active or stronger to remove the finish. When it comes to a solid stain, it can be more stubborn to stip-off than a semi-transparent one. Understanding this can help you select the best deck stripper for the job.
Is It Eco-Friendly?
This might be something that is a top priority for you, as you might have several plants near your deck surface, and you do not want to harm any vegetation. Eco-friendly deck stain strippers are not only safer for the environment and plants, any pets and family members are safer too. When you are busy, some of the stains might also get into the ground, so a biodegradable product is extremely important.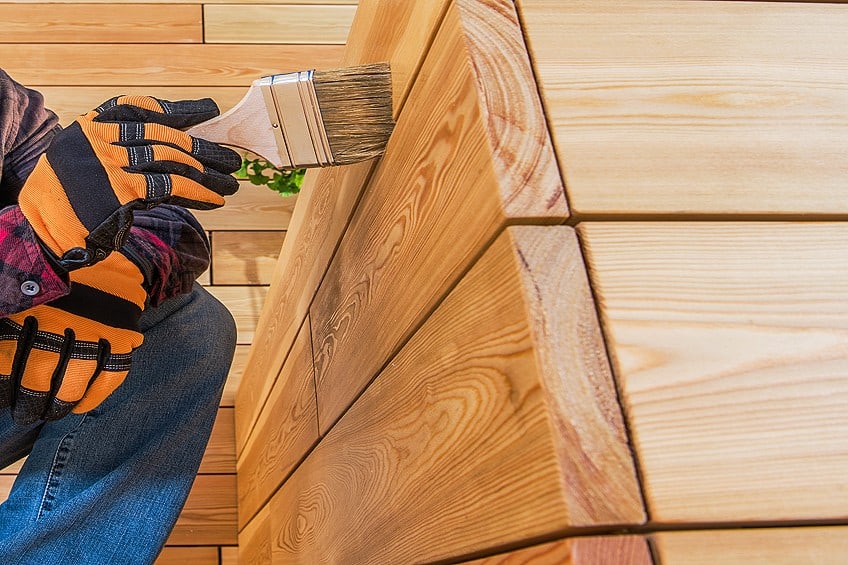 Application Methods
In most cases, cleaning the surface is important and many suggest using a pressure washer for this purpose. However, you might not have a pressure washer and you might need to purchase or rent one. Search for instructions on the application which should be available through the manufacturer. Some deck stain removers might require certain application methods to be followed for them to work. Knowing what tools or equipment you might need beforehand can also help you be prepared.
Deck Cleaner vs Stain Stripper
Depending on the wood's surface, you will either need a deck stripper or cleaner. Old, dirty, and wood with mildew are good candidates for a good deck cleaner. However, a stain stripper is more heavy-duty and able to remove paints, stains, varnish, as well as dirt and mildew. Again, it comes down to understating what your needs are and what the wood surface requires.
Paint and deck strippers are also different from each other. Paint usually forms a layer over the wood, while a stain penetrates the wood. Each product is formulated to deal with the differences. Your deck strippers soften and dissolve a stain that has gone into the wood better than a paint stripper.
Stain Stripper Quantity
Before going out to purchase your stain stripper, you should measure the deck size to get the correct amount of product. It is best to be prepared than having to return to the store again if you run out. Also, if you purchase a large quantity that will also be wasted as you will have excess product once done.
More Features
Try avoiding products with methylene chloride, as this substance is highly toxic. Thankfully, many manufacturers are now developing deck paint remover without it. Being biodegradable is another factor to consider when purchasing a stain stripper and you can always check for this. In many areas, this has become law.
Best Deck Stripper Recommendations
When it comes to the best paint remover for a wood deck and you are not too sure what product will do the job, it is always a good idea to have a look at product reviews online. Have a look at what other people are saying that have already used the product you are thinking of purchasing. Below are a few recommendations for the best deck stripper.
Overall Best Deck Stain Stripper: DEFY Exterior Wood Stain Stripper
The Defy Exterior Wood Stain Stripper is ready to use formula, pour into a sprayer, and apply to the surface. The product will remove semi-transparent stains, clear wood finishes, penetrating sealers, and varnishes as well as dirt, mildew, and mold, restoring the natural beauty of your wood surface. . It will not remove solid stains, paint, or other film-forming coatings.
The Defy exterior wood stripper is biodegradable and easy to use. If you are uncertain if you should strip the wood surface or not, we suggest that you test a small area first then you what method you want to apply. This stain stripper can cover an area of up to 150 square feet for each gallon used.
When you apply the Defy stain stripper to your wood surface make sure you apply a generous amount using a roller, brush pump sprayer. The stripper takes about 15 to 30 minutes to do its job and as soon as you see the finish begin to lift, you can start to scrub the surface with a stiff bristle brush always moving in the direction of the wood grain. Now you can remove the stripper by rinsing it with lots of water and if you use a pressure washer you will not have to scrub the surface. But take care when using the power washer that you do not damage the wood and remember to still move in the direction of the wood grain. If there are still stains left behind, then just follow the entire process again.
When using a caustic stripper, it is best to also use a neutralizer and wood brightener immediately after rinsing and before re-staining the wood. The wood stain stripper can be used for exterior wood surfaces and will help to restore the wood to its natural appearance. This product is toxic, so it is recommended you use the proper protective clothing and equipment when using it.
Removes worn surfaces
Restores beauty of the natural wood
Formulated for all exterior wood types
View on Amazon
PROS
Good for exterior wood surfaces
Easy to use
Affordable
Can remove penetrating sealers
CONS
It does not work on all coating like solid stains and paint
A toxic formula
Best Eco-Friendly Paint Remover: DUMOND Chemicals Smart Strip
The Dumond Chemicals Advanced Paint Remover is a great value for money option. The biodegradable formula is safe to use, as it is a water-based and odor-free deck paint remover. The formulation does not contain any harmful methylene chloride and is, therefore, non-carcinogenic. It can remove multiple layers of up to 15 coats of any type of coating like water-based, varnishes, oil-based, urethanes even the old lead paints.
It is remarkably effective when used on multiple surfaces such as brick, plaster, wood, concrete, stone, metal, glass, plastic, and fiberglass. Because it is water-based it is VOC (Volatile Organic Compound) and odor-free and as such is very user friendly, furthermore it is also 100 percent biodegradable with a neutral pH level.
The Dumond paint remover is in the form of a water-based paste and can be spread on using a brush or roller. You can also apply using an airless sprayer. Once applied you need to leave it for between three or 24 hours all depending on the type of coating as well as the number of coatings you are busy removing. Due to the formulation of the paint stripper, it can remain effective and wet for a long time and does not require the use of any Peel Away Paper. When you are satisfied that it has softened the stain sufficiently you can remove the paste by using a scraper and then you will be able to remove the rest using a wet sponge or a power washer. It is not necessary to use a neutralizer on the newly stripped surface.
A safe and effective earth-friendly paint remover
Can remove up to 15 coats at a time
Non-toxic, non-caustic, water-based formula
View on Amazon
PROS
Affordable
Safe to use
Biodegradable
Odor-free
CONS
Needs to be left for a long time to do its work
Best Professional Paint Remover: SUNNYSIDE Paint Remover
The Sunnyside Corporation has been manufacturing paint removers, paint solvents, and cleaners for over 125 years since 1893. Quality has been their driving force and their brand of paint remover has been used and trusted by many professionals as well as the DIY enthusiast.
The Sunnyside Paint and Varnish Remover can remove multiple layers of stain, varnish, paint, lacquer, and even urethane. The paint remover starts to work in 30 minutes and is non-flammable, biodegradable, and does not contain any toxic methylene Chloride. It is made from a semi-paste formulation that adheres to vertical as well as rounded surfaces making the removal of your paint easy.
You can easily roll, spray, or brush it onto the surface, and it will remove most types of varnishes and paints that are either water-based or oil-based. The product also works great on outdoor surfaces and can be used on surfaces indoors. It speedily attacks the surface finish and will lighten your wood but not damage it and does not cause erosion on metal surfaces. It is highly effective on surfaces such as automotive, marine, metal, masonry, and wood, removing lacquer, varnish, oil-based paint, shellac, epoxy, and also polyurethane finishes.
A safe to use professional paint and varnish stripper
Can remove up to 15 layers at a time
No caustics, low VOC, and low odor formula
View on Amazon
PROS
Low odor and biodegradable
Non-flammable
You can use it on indoor and outdoor surfaces
Can remove multiple layers
Quality product
CONS
Can be expensive
You need to follow the product instructions to the letter
How to Apply a Wood Deck Stripper
When following the instructions for the best paint remover for a wood deck, it is pretty much an easy process to follow. You may have to put some time and work into it, but the results will speak for themselves. AS with any type of chemical, it is best to stay safe and wear protective gear like goggles, gloves, and a mask if necessary. Wearing old clothes might also be a good idea, to prevent any stripper from messing up good clothing.
Always read the product directions before starting anything. There might be a few steps you need to take before you can apply the wood deck stripper, like cleaning the surface. Make sure to clear the area of any items that could get in the way. Covering or removing plants from the area is also a good idea, as many of the deck stain removers are caustic and can be toxic.
You may want to choose a small area to test out the deck stripper, so you can see how it works before applying it to the entire deck surface. Apply the stain stripper and allow it to penetrate for at least 30 to 60 minutes. If it appears nothing is happening, leave it a bit longer, as some stain strippers do take longer.
In most cases, no scrubbing is necessary. However, you do get some tough stains that might require a little scrubbing, or you can use a pressure washer to remove the finish. In some instances, sanding is needed and a wood brightener before applying a new finish.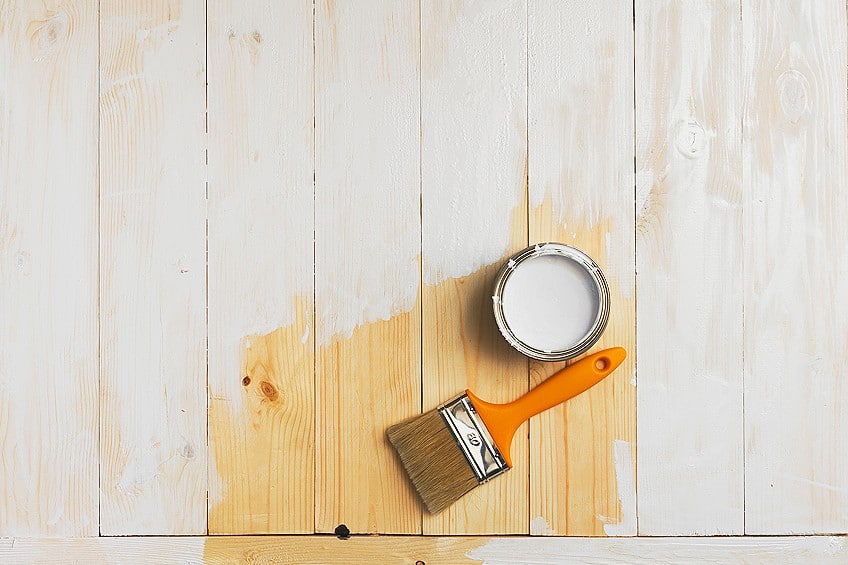 Stain Stripper Application
There are various ways you can apply a stain stripper and depends on the product. You get stripping premixed products, and you can apply them immediately without problems. Others can come in a powder form that needs to be prepared, for example, mixing the powder thoroughly with hot water before applying.
Many find applying a stain stripper easier than using a sprayer. This application method provides an easy and even distribution of the stripping product and you can do large areas without difficulty. Make sure the sprayer you use can spray this type of material, as it could land up clogging the sprayer nozzle. You will also need to clean the sprayer after each use. Other methods to apply stain stripper include using a brush or a roller. Remember, always read the product label instructions before use.
Removing the Stain Stripper
The wood deck stripper can be removed by either scraping it off using something like a putty knife or by using a pressure sprayer. For larger areas like a deck, a pressure sprayer is by far the better option. You can either purchase a pressure sprayer or rent one for the job. Again, always read the product instructions carefully.
Additional Treatments
Applying an additional treatment like a brightener is a process seen by many as essential to refinishing your wood surface. Others believe it is not necessary to apply a brightener to the wood surface. It all depends on what you want out of the whole process. Caustic strippers can cause the wood to become dull and a brightener simply helps to restore the wood to as close to its original look.
We recommend you use a brightener if you are going to apply a semi-transparent stain onto the wooden deck surface. If you are going to be using paint or a more solid stain, then using a brightener is not as important. Since caustic strippers tend to make the wood surface look faded, if you want to revive it, then applying a brightener is a good idea. So, make sure to consider this when doing refinishing your wooden deck.
Tips for Using the Best Deck Stripper
So, you have decided to refinish your deck and you need to apply a deck stain stripper as part of the process. In theory, it sounds like a simple enough job to apply stripper and remove. However, sometimes there are a few things you need to do additionally to get the best results. Sometimes, it is also a lot more work than anticipated, so here are a few tips to help you along.
Consider if you need a deck cleaner or wood deck stripper. In the case of an old deck with peeling paint and other problems need more than a simple clean, it will need a stripper and some refinishing
Always read the instructions on the deck stain remover label. Some come pre-mixed and ready to use, while others come in powder form and need to be mixed with hot water before application
Wear protective gear
Remove or cover nearby plants to avoid harming them with the harsh chemicals
Try and apply the stripper in cooler weather so that it does not dry out as fast
Do not be hasty when waiting for the stripper to work, some take longer than others. Read the label for clarity and be patient
Consider purchasing double the amount you estimated to cover the wood surface. Many have found they use more stripper than they thought they would
Before beginning anything, check the condition of the wood, remove any nails sticking out and check for wood rot. You will have to take care of any more serious issues before moving on
To save on wood stripper consider using a wood scraper beforehand to remove any loose stain. Sometimes, you will need to sand the surface before applying a stripper. Always read the product label first
When applying to a deck, begin at the railings and then move onto the wood boards
When it comes to hard to remove finishes, you might need to leave applications of stripper on for longer and apply more than one application
Be careful when using a power washer, you do not want to mar the wood surface
Apply a brightener after removing the old stain, as the stripper will cause the wood to look dull or darker
Make sure to choose a good quality deck stain remover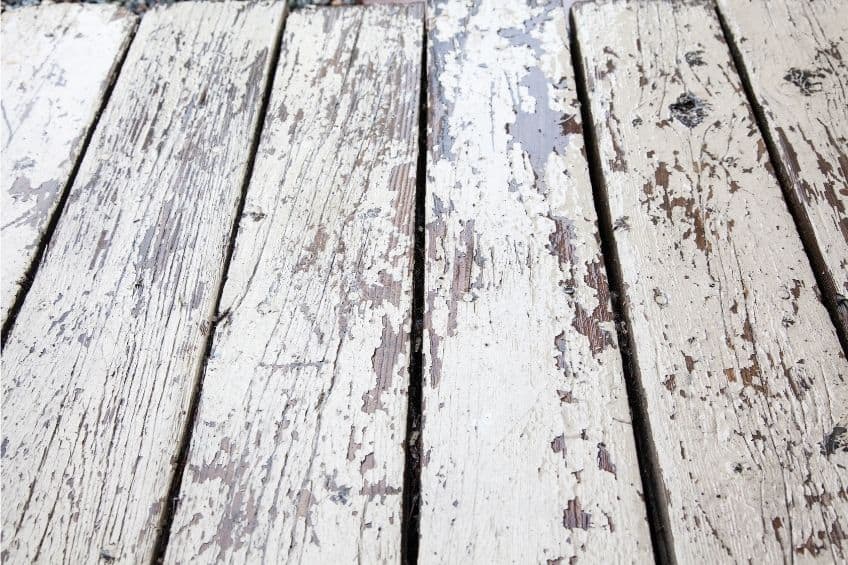 View our Deck Paint Remover web story here.
Frequently Asked Questions
What Is a Stain Stripper?
A wood deck stripper is a product that is used to help remove old stains and finishes from a wood surface. It also helps to remove things like mold, dirt, and other imperfections.
Is It Necessary to Strip the Deck Before Applying a New Stain?
If you want to refinish your wooden deck properly, removing the old stain is important. By using a deck stain stripper and preparing the wood surface, the new stain will be able to penetrate the wood more efficiently and will provide the best results in surface appearance.
Is Sanding Required Before Applying a Stain Stripper?
Yes and no, as it depends on the deck stain remover product. Some stain stripper products will need you to sand the surface before application, while others will not. Always read the product labels for instructions.
Is Stripping or Sanding a Wood Deck Better?
Sanding does require extra work and time and can be used on flat areas and areas where less penetration is necessary. A wood deck stripper is sometimes the best and easier option, although it might be more expensive.
How Long Should You Wait After Applying a Stain Stripper?
This will depend on the type of stripper and stain you are trying to remove. Generally, leave the stripper on after application for three up to 24 hours. You might also need to add several applications. Keep checking to make sure it does not dry out.
When updating and maintaining your deck, you will need an effective stripper to get the job done right. We hope that our guide above has enlightened you on everything you needed to know about the best deck stripper.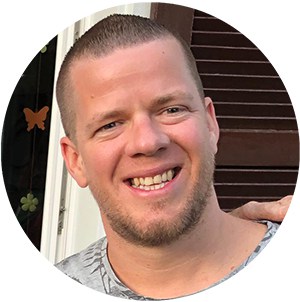 I have been into woodworking since 2005 and woodturning since 2011. Because of my love for wood and woodworking, I started woodhappen.com to teach other enthusiasts about how to finish and seal wood, the best woodworking tools, the different types of wood, and everything else related to woodworking! Read more about me here.