Best Wood Lacquer – Finding the Best Spray Varnish for Wood
When it comes to a smooth and shiny wood finish, varnish and lacquer are popular choices. Both are similar in many ways, especially in that both will give your wood a hard and glossy finish. Lacquer is mostly used because it is easy to use and dries fast. Lacquer is usually sprayed onto a surface in contrast to varnish, and creates a tough coat over a wooden surface rather than seeping into the wood like a wood oil. To understand lacquer paint for wood a bit more, we are going to go into it in more detail below.
What is the Difference Between Paint Lacquers and Varnish?
Lacquer paint for wood is a solvent-based finish that is used as a protective coat over surfaces like wood and metal. Within the solvent base, there is a mixture of plasticizers, pigments, and dissolved nitrocellulose. Lacquer and varnish both provide a protective finish, but paints lacquers tend to be more effective than varnish.
Varnish and lacquers both end up with a nice shine, although varnish is mostly clear while lacquer offers more of a variety in color and sheen. Generally, you can purchase a selection of sheens from your high-gloss finish to an ultra-matte finish. But you can also get the popular clear lacquer for wood.
Wood lacquer spray is also affordable and usually comes in an easy-to-use spray can, although you do also get rub-on or paint-on lacquers as well as spray varnish for wood. Lacquer is also thinner, which makes it dry faster than a varnish. You can also use a lacquer paint sprayer for the best possible results.
Next, we will be looking at why you should use lacquer paint for wood and the advantages it provides.
Polyurethane versus Lacquer for Wood
Polyurethane is another type of wood sealant, similar to varnish and lacquer. However, there are some differences. Lacquer is considered to be easier to apply, as you do not have to be as precise as when working with polyurethane.
Lacquer also dries more quickly and is easier to fix if there is any damage, while polyurethane involves a more complicated process. Lacquer can also be used on other surfaces such as metal. When it comes to both finishes, you cannot apply one over the other, as they do not work well together.
Polyurethane takes a longer time to dry when compared to lacquer, but offers a much more durable surface. Lacquer is also tough, but is more prone to scratches and may yellow over time. However, applying multiple coats of lacquer is much quicker and easier than it is with polyurethane.
Why You Should Use Wood Lacquer
There are many advantages to using wood lacquer spray, which makes it a good choice for many. While lacquers may have quite a few benefits, you should also take note of the disadvantages, as they may pose a health risk. You will always want the best results when it comes to your wooden surfaces, so you should choose lacquer paint for wood wisely.
Pros
Lacquer dries quickly, which can also prevent running.
It provides a smooth finish, even for beginners.
Only a thin layer is required for a beautiful shine.
Lacquer comes in a diversity of sheens and colors.
The final finish can be polished for an even better shine.
Lacquer is affordable.
It acts as a sealant with waterproofing properties.
Lacquer is easy to apply and keep clean.
It can be thinned for spraying by using a lacquer thinner.
Cons
Since it is applied in thin coats, many layers are needed to create a more durable finish.
Thin coats of lacquer are not heat-resistant and will deteriorate if exposed to the sun or heat.
Some lacquers may yellow, especially the type with nitrocellulose.
It is a fire and health risk.
The lacquer produces strong fumes
Scratches can occur quite easily on a lacquer finish.
Dust shows up relatively easy, so you will need to clean the surface often with a clean cloth.
This is not the best finish for outdoor use.
You should now have a better understanding of the benefits and disadvantages of lacquer. There are also various types of finishes and products on the market. Your selection of lacquer will be determined mostly by what results you are looking for and what you would prefer to use. Before you decide anything, let us have a look at the different kinds of paints lacquers you can get.
Different Kinds of Paint Lacquers
Understanding what types of lacquer there are can help you to decide on the best wood lacquer if you are thinking of purchasing. As with many things, there are different forms of lacquers. The three major types are:
Nitrocellulose
Acrylic
Catalyzed
Nitrocellulose Lacquer
Nitrocellulose lacquer has been used for many years, first in the motor car industry and then for furniture and musical instruments. As described above, it consists of dissolved nitrocellulose in a solvent base along with plasticizers, which helps to increase the durability and flexibility of the product. Pigments and dyes can be included, and in the end, you will have a fast-drying and smooth finish.
Nitrocellulose is almost like shellac, although it offers better scratch-resistance and durability. The product is, unfortunately, a health and environmental hazard, and since it is solvent-based, it is also flammable. It also contains a slight tint, which can work with some woods but may not be what you are looking for on lighter woods. In this case, as time goes by, you may notice that yellowing and cracking begin to occur. The products are also not the best choice to protect against chemicals, other liquids, and abrasions.
Acrylic Lacquer
Acrylic lacquer is widely used in the automotive industry, but also works great on woods, especially lighter wood. This is because the product is made up of synthetic acrylic polymers, which dries clear. Thus, there will be no worries about the finish turning yellow over time as with the nitrocellulose lacquer. This form of lacquer also provides more scratch-resistance and is tougher.
Many choose to use what is known as CAB-Acrylic Lacquers, which include CAB (Cellulose Acetate Butyrate), a type of transparent thermoplastic. It also contains acrylic resins, all of which increase its flexibility and durability, especially when compared to normal acrylic lacquers.
Catalyzed lacquers
This consists of your basic lacquer, which once applied hardens as the solvent evaporates. In this case, the product not only utilizes solvent evaporation but also includes a catalyst that chemically cures. Using a catalyzed lacquer will help to improve durability and also has fewer problems than your regular lacquer. Also, the price remains affordable. There are two forms of this type of lacquer:
Pre-catalyzed lacquer
Post-catalyzed lacquer
This describes how you will purchase the product. The catalyst itself can either be added by the manufacturer (pre-catalyzed) or it can be added when you purchase the product at the shop or by yourself (post-catalyzed). In either case, the pot life is then limited depending on when the catalyst was added, as well as other factors like temperature. If you do the mixing yourself, you will need to make sure that you are precise so as to get the product to cure properly.
There is also a different type of lacquer that is completely different in make-up, known as waterborne lacquer. These are less hazardous and are friendlier to the environment. However, this type of lacquer does tend to be less durable than any of the other types of lacquer.
The Best Wood Lacquer
Now that we have dealt with the "why" and "what", it is time to have a look at some of the best wood lacquer products. When purchasing a wood lacquer spray, it is sometimes helpful to discover what other people are buying and what they are saying about the product. Five-star reviews are always a good indication for the best choice of product. So, to make it a little easier for you, we have gathered three of the most popular products available on the market along with their pros and cons.
Best Wood Lacquer Spray: RUST-OLEUM Lacquer Spray
The Rust-Oleum Gloss Clear Lacquer Spray is ideal for smaller items that have irregular surfaces that do not do well with a brush-on finish. This spray lacquer for wood can also be used on other surfaces like metal, plaster, unglazed ceramics, and masonry. The product is great for interior as well as exterior wood surfaces, offering a tough finish with high sheen that hardens quickly.
The acrylic formula offers a hard, high-luster finish on your wood

The lacquer dries to the touch in only 20 minutes

Provides a smooth, ultra-glossy coating to your wooden surface
View on Amazon
This particular clear coat spray for wood can easily spray over 7 square feet per can and will dry to the touch in only 20 minutes. If you want an even more brilliant shine, it can be sanded and recoated for better effect.
Pros
This product offers a tough and durable finish.
It dries quickly.
This is an easy-to-use clear coat spray for wood.
Cons
It is acrylic-based, so you will need protective gear.
This lacquer cannot be used on larger surfaces.
Overspray may leave a murky finish on more delicate items.
With over 2000 reviews and a 79 percent 5-star rating, this spray lacquer for wood is worth a try.
Best Satin Wood Lacquer Spray: DEFT Interior Clear Lacquer
The Deft clear lacquer for wood is ideal for interior wood as well as metal surfaces, and is a pure nitrocellulose lacquer. This spray lacquer for wood is easy to use, self-leveling, and dries quite quickly within two hours. The results are a brilliantly clear finish that will not yellow over time. It dries to the touch within 30 minutes and there is no need to sand in-between coats.
Dries crystal-clear in 30 minutes

Non-yellowing

100% nitrocellulose brushing spray
View on Amazon
Use this clear-coat spray for wood for your interior wood surfaces to bring out the richness and natural beauty of the furniture piece. It is perfect to use on exotic woods such as rosewood. This spray can also be used on cabinets, paneling, and other wood craft projects. Once the lacquer has hardened thoroughly, it becomes water-resistant and will also protect against spills from juices and alcohol.
Pros
The lacquer dries quickly.
It adds value to your wood surface, improving the look and protecting interior wood surfaces.
The application is easy.
This finish will not yellow
Once it hardens, it becomes water-resistant.
Cons
This product may be a bit pricey for some.
There is a potential health risk before the product has cured.
The product is flammable and has an odor.
The nozzle may clog if it is not cleared between coats.
The Deft Clear Lacquer is simple to use, dries fast, and will give you a beautiful gloss finish. You will be able to handle your item within just a few hours of application, and you can add a further shine with some extra polishing and buffing.
Best Value Clear Lacquer for Wood: WATCO Crystal Clear Lacquer
The Watco Crystal-Clear Wood Finish Lacquer is an excellent non-yellowing and self-leveling clear gloss wood finish. It comes in a quart-sized container that can cover 290 square feet of a wooden surface.
Higher clarity finish than polyurethane

Crystal-clear gloss finish

Dries quickly to a lasting, durable finish
View on Amazon
This product is ideal for paneling, wood cabinets, furniture, and doors, but should not be applied to surfaces outside. With this clear lacquer for wood, you will not need a wood filler, as it helps to protect the surface from scratches. You also do not need to sand in-between coats, and the final results are a brilliantly clear and tough finish.
Pros
This product is more affordable than other brands
You do not need to sand in-between coats.
This lacquer does not yellow.
The product provides a clear gloss finish.
You do not require any wood filler.
Cons
You will need a sprayer for this product.
It can only be used indoors.
The Rust-Oleum brand is well-known and has an excellent reputation. Together with the value offered and price, this product is sure to meet your needs.
Applying Wood Lacquer
When it comes to applying lacquer paint for wood, you have a choice of either using a brush or spraying. Many of the lacquer products already come in an easy-to-use spray can, but you can also use your own sprayer.
When using a wood lacquer spray, you avoid the problem of leaving behind brush strokes and you can cover more difficult-to-reach places. The lacquers that come in a can are specially made to provide a product that will give you more time on the application. This helps you to finish your work before it begins to dry.
You should be able to get a much more even coat when spraying, which will give you a perfectly smooth finish. If you need a sprayer, you do not necessarily have to buy one; you can simply rent a sprayer for as long as you need.
Always use an excellent-quality natural bristle brush when brushing on lacquer. You do not want annoying bristles landing up on your wood surface. Add one thin layer at a time until you get what you are looking for.
When applying with a sprayer or dealing with toxic products, it is always recommended that you work in a space that has plenty of air circulation and that you wear protective gear. You do not want to breathe in any of the toxic fumes given off while spraying, so a respirator is highly recommended.
How to Apply Spray Lacquer for Wood
The first step is to prepare your work area and equipment. Set up in a well-ventilated space and cover areas you do not want to mess on with newspaper. Depending on the project, you can also tape off areas you do not want lacquer on. It is also a good idea to have good lighting so that you can see what you are doing properly. You can even get in a fan for better air circulation.
If you are using a sprayer, you can start by adding a 50/50 mixture of both lacquer and thinner. Fill the cup of your sprayer gun to about three-quarters full. When using a spray can, figure out how much lacquer you will need and make sure that you have the correct amount of cans ready.
Before you prepare your lacquer mixture for the sprayer, apply a layer of sanding sealer as the first coat. This step is not always necessary, but will help to create an even smoother finish. Once this coat has been applied, wait for at least 30 minutes and then buff the surface with some steel wool.
Now, prepare the sprayer. Before you start, use the sprayer on a spare piece of wood as a tester. Once satisfied, you can begin spraying your main wood surface. Once you have done the entire surface, wait for two hours or longer before buffing with steel wool or some sandpaper. You can use a 220-grit or finer paper for this. Drying times and other information should be available with the product and manufacturer's instructions.
Clean the area with a cloth and apply another coat, repeating the process as many times as needed. To get a good finish, you should apply at least three coats. You must then leave it to dry thoroughly for at least two days. You can also rub or buff the final coat for that extra bit of shine.
Conserving Your Final Lacquer Finish
Nothing lasts forever, so your lacquer finish will need some looking-after over the years. Lacquer is known to be susceptible to scratches and marks, and tends to show up dust and dirt quite easily.
You will have to dust and clean often to remove dirt. To help remove any dirt, simply wipe the surface with a cloth, water, and a bit of soap. You can also use a feather duster or dry micro-fiber cloth. Make certain that you deal with any spills straight away, otherwise you might damage the surface. Do not oversaturate your cloth and try to avoid using circular movements when cleaning.
Try not to leave any heavy items on top of a lacquered surface and, when moving something, pick it up instead of scraping it along the surface.
Removing Wood Lacquer
When removing lacquer, be sure to wear some rubber gloves for protection. You can then perform the following steps:
Take a cloth and some turpentine and wipe the surface.
Then, make a mixture with equal quantities of denatured alcohol and lacquer thinner.
Using a brush, apply to a small part to the lacquered surface.
Take some steel wool and rub in circular movements. This should begin removing the lacquer finish.
To help, you can also use a scraper to remove the lacquer.
Wipe the surface with a cloth while wet.
Repeat the process if necessary.
Safety When Using Wood Lacquer
As mentioned throughout the article, safety is important when working with lacquers, spray varnish for wood, and other solvent-based finishes. These products are flammable and give off odors that can be dangerous. Also, you will have to protect your skin from harm when using these types of finishes. We recommend taking the following measures when working with wood lacquer:
Wear gloves.
Use a respirator mask.
Put on some goggles for your eyes.
You can also wear long sleeves for extra protection.
Keep products clear of heat or open flame.
Do not smoke close to your work area or finished products.
Work in a well-ventilated space, using a fan if necessary.
When it comes to cleaning up, your brushes, cloths, and other equipment should be cleaned properly before putting away or discarding.
View our Spray Varnish For Wood web story here.
Frequently Asked Questions
Is Lacquer Paint for Wood Scratch-Resistant?
Unfortunately, a lacquer finish is prone to scratching. Thus, you will have to look after the final finish to avoid this problem.
Does Lacquer Paint for Wood Waterproof a Wood Surface?
All sealants like lacquers, varnishes, and polyurethanes have excellent waterproofing properties. Depending on the product, you get lacquers that are for indoor use only and others that are for both exterior and interior use.
How Many Layers of Lacquer Should be Applied?
In general, two to three coats are applied, but more is better. Lacquer in a can sprays thin layers, so you might even have to apply up to 12 to 15 coats for the best results.
How Long Does Lacquer Take to Harden?
The traditional nitrocellulose products can take up to four weeks to harden. However, the pre-catalyzed nitrocellulose is faster at seven to 10 days, as it contains a catalyst. So, it depends on the product you buy and what the manufacturer's instructions tell you.
Does the Lacquer Smell Last Long?
The odor should only last for about 24 hours, although a slight smell may linger for a little time afterward.
Is Lacquer Costly?
When it comes to cost, lacquer is generally cheaper than finishes like polyurethane and varnish. Lacquer also involves less labor and is diverse in its sheen and color.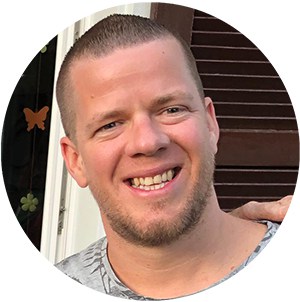 I have been into woodworking since 2005 and woodturning since 2011. Because of my love for wood and woodworking, I started woodhappen.com to teach other enthusiasts about how to finish and seal wood, the best woodworking tools, the different types of wood, and everything else related to woodworking! Read more about me here.