Best Exterior Wood Sealer – Selecting the Best Waterproofing for Wood
We are here to help you select the best outdoor wood sealer as well as stonework sealer that will keep popular outdoor areas around your home looking spotless and fresh. These outdoor sealers form a topcoat over porous surfaces, such as your fences, patios, driveways, decks, and walkways. The topcoat is waterproof and protects and revitalizes these areas.
Is It Crucial to Seal Wood?
The appearance of natural wood is always beautiful, but to maintain that beauty your wood must be sealed. This is because wood is porous and it absorbs water very easily, and if left unattended will cause irreparable damage. The damage to your wood from humidity and rain can cause it to warp , swell, and eventually rot. So, applying the best water sealant to your fence, deck, or any outdoor furniture will prolong its life, as you will not have to repair or replace it after a rainy winter or humid summer.
Not only does a wood sealant extend the life of your wood, it also enhances its appearance. Wood sealers in the form of paint, stains, or water proofers will also protect your wood from everyday wear and tear.
By making use of a wood stain you will be able to make your new wood products complement your décor. Also, the appearance of old wood can be made to look as good as new. When treating your wood, it is best to use a blend of sealer and outdoor stain. If you do not use a blend, then be sure to seal your wood before you apply some stain or new paint, as it will help to extend the life of your wood.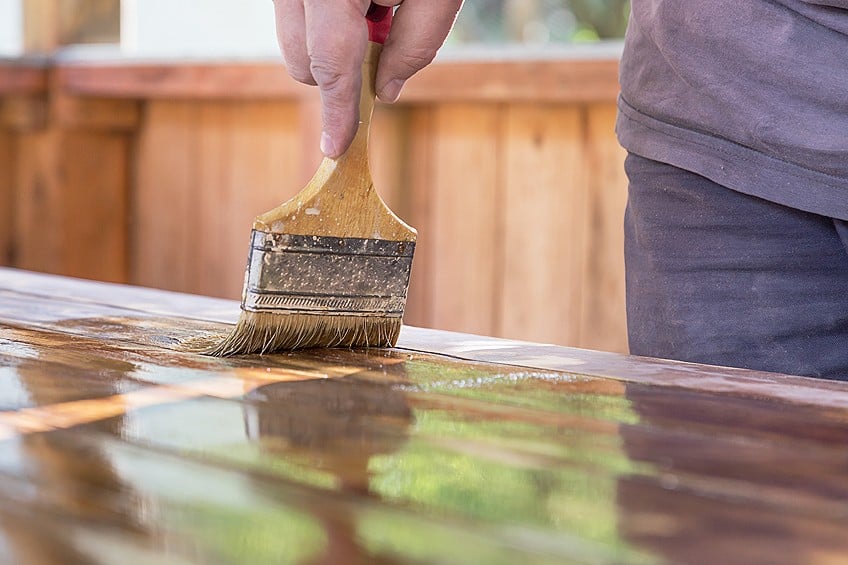 How to Go About Waterproofing Your Wood
What is the best waterproofing for wood? There are three main, safe ways to go about waterproofing your outdoor wood that will help it to last for many years:
Use varnish, lacquer, or polyurethane to seal your wood.
After you have waterproofed your wood, finish it at the same time by using a stain-sealer combination.
By using tung or linseed oil, you can give your wood a protective and beautiful hand-rubbed natural wood finish.
When you are looking for the best finish for your wood, remember that various types of wood sealers produce different result. So, make sure that you buy the best waterproofing for wood. Some wood sealers are best used for outdoor objects while others are intended for indoor items. There are also different sealers that are suited for light- or dark-grained wood.
Best Outdoor Wood Sealer
As you learn more and more regarding sealers for wood, as well as other types of materials, you will have to choose between colored sealants, stains, and water proofers. There are also many more types of outdoor sealers to choose from. With this guide, we will focus on the leading brands of outdoor sealers that are available on the market. You will then be able to choose the correct sealer for your specific needs.
RAIN GUARD Premium Water Sealer
This superior-quality solvent-based water sealer is enhanced with Micro-Lok Propriety additives, which enables the wood to soak it up and form a strong hydrophobic barrier. After you have treated your wood with this product, it will not be influenced by any weather condition. As per the manufactures recommendations, this sealer is unaffected by salt, UV rays, dirt, subzero temperatures, and much more.
Prevents surface damage with a satisfaction guarantee for up to five years

Contains advanced UV stabilizers to prevent yellowing

Concentrate formula is easily mixed, affordable, and eco-friendly
View on Amazon
This wood sealant is suitable for use on practically any porous wood surface. When dry, it is crystal-clear and will bring out the natural appearance of your wood. The sealer is harmless when plants, pets, and people are near and can be used straight out of the container.
The perfect product for protecting outdoor wood from decay and rot, it will also prevent mold and mildew from spreading. The wood sealant is not only good for wood but can also be used on a range of other types of surfaces like walkways, driveways, and exterior walls.
Pros
This product has advanced UV stabilizers.
It is safe to use around people and pets.
The finish is guaranteed to last for five years.
It is long-lasting and has a formulation for non-yellowing.
With one gallon, you can cover up to 200 square feet.
Cons
The product is only available in a clear color. 
MINWAX Water-Based Helmsman Spar Urethane
This premium quality wood sealer is water-based and will give you a crystal-clear finish.
Contains UV blockers to reduce the sun's graying and fading effects

Protects against sunlight, rain and moisture, and temperature changes

Formulated for easy application with a synthetic bristle or foam brush
View on Amazon
It has also been specially developed to give your wood protection against nature's harshest conditions.
Pros
Protects your wood from moisture and rain by forming a protective barrier.
This sealer is perfect for all your doors, trimmings, windows, bar tops, bathroom and kitchen cupboards, outdoor furniture, and countertops.
It contains UV protection against fading and greying from the sun's rays.
This sealer is great for use on stained and light-textured woods, as it has a crystal-clear finish.
You can clean up any spills using warm water and it dries quickly. Quick-drying and easy to apply, the job is done in no time.
It is equipped with unique oils that allow the end product to adjust with the wood when the temperatures changes. There are many products on the market today that can protect your wood from the rain and sun, but this product has an added advantage, as it also protects your wood from changes in temperature.
Cons
The product tends to be on the more expensive side.
This sealer is suitable for indoor use, but it emits fumes and you need to work in a well-ventilated room or area.
THOMPSON'S WaterSeal Waterproofing Wood Protector
Advertised as a clear wooden sealer, this waterproofing wood sealer is extremely durable and will prevent your wood from any water damage whilst bringing out your wood's natural color.
Prevents water damage
Helps to maintain the wood's natural color
Resistant to mildew and UV damage
View on Amazon
This company has been developing waterproofing products since the 1920s and provides excellent wood sealers. They also provide many other products that can improve your home. All their sealants are manufactured and packed in the USA.
Pros
This product is guaranteed to provide what it claims.
It provides a clear coating, which prevents mold and mildew as well as UV damage.
This clear sealer brings out the natural wood color and protects the wood's surface.
It is stored in a strong metal container with a handle for easy carrying.
Cons
This sealer has no protection against humidity.
It must not be applied when the wood is damp.
DEFY Crystal Clear Composite Deck Waterproofing Sealer
Whenever your composite decks or outdoor wooden materials start to age, you need to seal them. This product is an excellent waterproofing sealer and is exceptionally durable. Whenever your composite deck has been exposed to lots of water, it can form black stains. This waterproofing product has been developed to prevent such problems.
A water-based, clear composite wood and deck sealer

Strengthened with zinc nano-particle technology for UV protection

Extremely durable, high-quality, long-lasting, and easy to maintain
View on Amazon
The Defy Crystal Clear Waterproofing Sealer has been enhanced with UV-blocking zinc particles. These additives stop the color of the wood from fading, as well as prevent fungal growth.
With only one application, the life of your composite deck can be extended for decades.
The natural color of your wood will be enhanced due to the sealer's crystal-clear finish. Although the initial design is for composite decking, you can still use this sealer on natural materials. One gallon of this sealer can cover up to 200 square feet. The sealant is extremely easy to apply and is also fairly cheap. Make sure that your deck's surface is thoroughly clean before you apply.
Pros
The wood sealant is exceptionally durable.
An excellent composite deck sealer, this product is also water-based and clear.
This sealer is very easy to maintain, as all you need to do is apply a fresh coat over the old, existing treatment.
It is enhanced with zinc nanoparticles.
Cons
This product is mainly designed for composite decking.
STARBRITE Premium Golden Teak Oil Sealer
This is a superior-quality wood sealer intended mainly for marine teak as well as other fine woods. The sealer is also used as a wood preserver and offers a superior natural wood finish. Starbrite is a natural, oil-based sealer and offers wood protection from saltwater and also severe weather conditions. The brand is therefore ideal to use on decks, outdoor furniture, and other open-air wooden surfaces.
Ultra-refined formula for a natural, warm, and lasting color

UV protected against sun damage, weathering, and fading

Easy to use and fast-drying
View on Amazon
Before you can apply this oil sealer, you need to make sure that the wood surface is thoroughly cleaned and dry. The sealer is easy to apply, as all you need is a clean cloth, and a sponge or a brush. When you apply, make sure that you wipe it in the same direction as the wood grain. Doing it this way will ensure that the oil is properly absorbed by the wood. Allow the oil to soak in for about 5 minutes and then using a clean cloth remove all the excess oil.
Pros
The oil enhances the look of the wood and also gives it an attractive blushed appearance.
This product guards against UV rays.
This product is mainly used on rare and exotic wood like teak.
It effectively deals with many outdoor issues that your wood structures might encounter.
It is excellent in withstanding exposure to saltwater. 
Cons
The oil sealer is a superior product, which increases the price.
Before you apply the oil sealer, your wood surface needs to be thoroughly cleaned, rinsed off and dry. This is something that will take time.
Sealing Your Outdoor Wood
There are a number of methods and materials with which to seal your exterior wooden furniture and other pieces. We have isolated the three main techniques you can use to seal your outdoor wood, as well as the advantages and disadvantages of different sealant types.
Technique 1: Producing a Beautiful, Hand-Polished Oil Finish
There are two main oils that are used to produce hand-rubbed natural wood finishes:
Linseed Oil, which originates from the flax plant seeds, and
Tung Oil, which is pressed from the seed of the Chinese tung tree.
For many years, these oils have been used to care for and enhance dark woods such as mahogany. While these are still in use today, there have been some improvements. Blending the oils with other ingredients helps to quicken the drying time as well as prevent a sticky surface.
Products pre-blended with linseed and tung oil are available on the market. However, you can also blend your own oils to give you that personalized finish. To go about blending your hand-rubbed oil product, take one part of oil (boiled linseed or tung), one part of polyurethane, and one part of mineral spirits, creating a 1:1:1 mixing ratio.
What You Need to Do When Applying a Sealant to Your Wooden Surface
Stir the oil thoroughly before use.
After sanding and cleaning your dark-grained wood surface, you can then apply the wood sealant by using a soft bristle paintbrush. However, if you are going to waterproof a light-grained wood like ash or pine, then we suggest you bypass this method and follow one of the methods below. This is because hand-rubbed oils are likely to go yellow with time.
Allow the oil to soak into the wood surface. If you see any remaining dry patches then apply another coat.
Next, use a dry, clean cloth to remove all the excess oil and rub the surface well.
Let the wood stand until the oil is completely dry, which can take a few hours or last overnight. This is subject to the amount of oil in your mixture.
Using fine-grit sandpaper, lightly sand the surface.
You can repeat the above process with extra coats until you are satisfied with the result.
Once you have mastered the art of oil-rubbed blends, you can start to experiment with your formula. For example, if you need a thicker product, you can use less mineral spirits. If you need more time to work with the product before it starts to dry, use less polyurethane. On the other hand, you can add extra polyurethane to give a shinier, smoother finish, which also dries much faster. In this way, you can create numerous types of blends to give you the finish you desire.
Tip: Be careful with the cloth you use to wipe off excess oil, as it can combust without warning. Yes, even without a flame being nearby! This is because the oil in the cloth generates heat when it begins to dry. Always have a bucket of water close by so that you can drop the cloth into the water whenever it becomes saturated with oil. Take a clean cloth and continue to rub your wood. After you have completed the job, hang the wet cloths out to dry and when they are completely dry throw them away, as you can never use the same cloth twice.
Technique 2: Use Sealants for the Finest Protection
The best wood sealers available are lacquer, polyurethane, and varnish, as they all have exceptional waterproofing properties. You first need to sand down your wood surface, then clean it thoroughly and allow it to dry completely. Next, you can use a paintbrush to apply the best water sealant, or it can be sprayed on.
To obtain the best results, apply your sealant at room temperature. Never stir or shake your sealant before you apply, as it will create air bubbles that will be transferred to your wood surface. These bubbles will still be there even after your sealant has dried.
These types of wood sealants dry fairly fast, within a period of approximately 15 minutes. They also contain chemical solvents, so, be sure to choose a well-ventilated space when you applying the sealant.
Here are some pros and cons for the most well-known types of sealants:
Lacquer Sealants
Lacquer consists of tree resin that is dissolved, or of a synthetic resin found in alcohol. This is the best choice of sealant for use on wooden furniture. We suggest that you apply the lacquer in a well-ventilated space due to the strong fumes it emits. If in a confined, space, ensure that you open the windows or use a fan.
Pros
Lacquer brings out a beautifully warm and rich scratch-resistant finish on dark-grained woods.
You can purchase it in a variety of glossy, shiny finishes.
You can thin it out by using lacquer thinners, and for the best results apply the lacquer in several light coats.
Cons
It tends to yellow over time, making it unsuitable for light-grained woods.
Varnish
This sealant combines a solvent, a drying oil, and resin. If you intend to use it for indoor furniture like coffee tables, then using Spar Varnish is the right choice, as it helps to prevent those nasty cup rings.
Pros
Varnish produces a hard, scratch-free finish that does not yellow.
It is easy to clean after you have finished the job. We suggest wiping the paintbrushes with some wood mineral spirits.
Cons
If you are planning to waterproof outdoor furniture or wood products it will be advisable to buy a marine-grade varnish, as it includes UV-absorbers to guard against any sun damage.
Polyurethane
This sealant is made of polyurethane and acrylic resins, but also contains other solvents that bring out the different finish effects. These effects can range from a high gloss finish to that of a soft, gentle sheen. There are two types of polyurethane sealants: the oil-based and the water-based.
Pros
The polyurethane you purchase today will not yellow, so you can safely use it on light-grained woods.
The water-based sealant is quite easy to clean up, as all you need is some soap and water.
Cons
The oil-based sealant is great for durability, but requires mineral spirits or turpentine to clean your brushes.
Technique 3: Use Stain-Sealant Combos for Fast Work
If you are in a hurry or need to work quickly when covering a fairly large area like a wood deck, then we suggest you use the stain-sealant combo. This sealant simultaneously performs several tasks like adding color and waterproofing to your wood at the same time.
This is because stain-sealants include color pigments together with other binders that have a water, oil, or alkyd base. The final result of your coating can be opaque, transparent, or somewhere in-between. This will depend on the amount of color pigment in the product. If you are going to use the stain-sealant on your outdoor furniture or wood, then you will have to apply a fresh coat each year to keep your wood properly protected.
Apart from alkyd-based sealants, stain sealers will not cause a buildup of material on the wood surface, but will instead soak into the wood, with any excess being evaporated automatically. Your alkyd-based stain sealants only provide a thin layer on the wood surface and are therefore better suited for use on your indoor furniture or wooden items. This will include rustic furniture and exposed roof trusses, as they only need to be coated once. There is an alkyd-based outdoor stain sealant, but it tends to peel off if you fail to clean or allow the wood to dry properly before applying the sealant.
Wood Sealant Stain Transparency and Colors  
Remember, when you purchase a sealant, you have the option of choosing just a stain or a stain-and-transparency combo.  There are numerous colors as well as degrees of transparency to choose from. So, the one you eventually choose depends on how old and in what condition your wood is in, as well as your personal preferences.
Stain Transparency
Stain transparency defines how much of your wood's natural color and texture has been covered. The range your transparent stain can cover varies from completely transparent to a solid color.
Transparent Stains: These stains contain almost no pigment and are blended with a sealer. They reveal the natural texture and color of your wood and are excellent for use with new, superior-quality woods.
Semi-Transparent Stains: These stains contain a slight trace of color but still clearly show the natural grain of your wood. They are used when your wood has been properly maintained and show no glaring defects. All that is required is a new or revitalized touch.
Semi-Solid Stains: These are stains that give a whole new color to your wood, but still show some of the texture and grain. It is best to use these stains on older wood around 7-10 year's old.
Solid Stains: These stains completely cover the texture and color of your wood, and is best used on wood that has been damaged and is more than 10 years old. They have a long-lasting and identical appearance to your old wood and can hide any repairs or yellowing. 
Tip: The use of solid wood stains and sealers with pigmentation are more suitable for protecting your wood from UV rays and are inclined to last longer than the transparent stains and sealers.
Different Types of Wood
The type of wood that you wish to seal will determine the type of sealer or stain you choose. You will need to prepare each type of wood in a different manner so as to achieve an ideal finish.
New Wood
Before you start applying any type of stain, you need to ensure that your new wood is completely dry. Pressure-treated wood requires more time to dry due to the preservatives that they contain. If you do not dry out your wood completely, some of the moisture can remain inside, thus causing it to rot.
Weathered Wood
Where weathered wood is concerned, you will need to sand it before you can apply any stain. Under certain circumstances, you will have to pressure wash and sand it as well. When you pressure wash, take care to avoid creating any splinters, which can occur when the pressure is too high. If you are working on a deck and find some planks that are weathered, you first need to replace them, after which you can apply the stain to the whole deck.
Wood That Has an Existing Stain
You will first need to remove the existing stain by sanding it down before you can apply your new stain. If you fail to do this, you run the risk of the old stain showing through the new stain coating, leaving a blotchy appearance. When your stain forms a film, you will have to remove it by sanding it, otherwise the new stain coating will not be able to penetrate your wood properly and you will not have the desired effect.
Some Tips for Waterproofing Your Wood
If you intend to waterproof your wood, you should pay close attention to these helpful tips:
If you have wood that has been treated before, you need to remove the sealers, paint, or solid stains by using a scraper and then sanding down the whole surface until you reach bare wood.
Be careful, as certain manufactures combine the sealer and the primer to save time when applying it.
Ensure that your wooden surface is thoroughly cleaned with no loose fibers or wood before you apply your sealer.
When you use paint on top of the sealer, be sure that you buy a sealer that states that it can be painted, or else you may find that the paint does not adhere properly.
Make sure you read the manufacturer's instructions carefully.
When you have completed the job, you can check to see if your deck is properly sealed by performing a water drop test. This is done by pouring some water onto the boards of your deck. If you see the boards absorb the water you know that it must be treated again.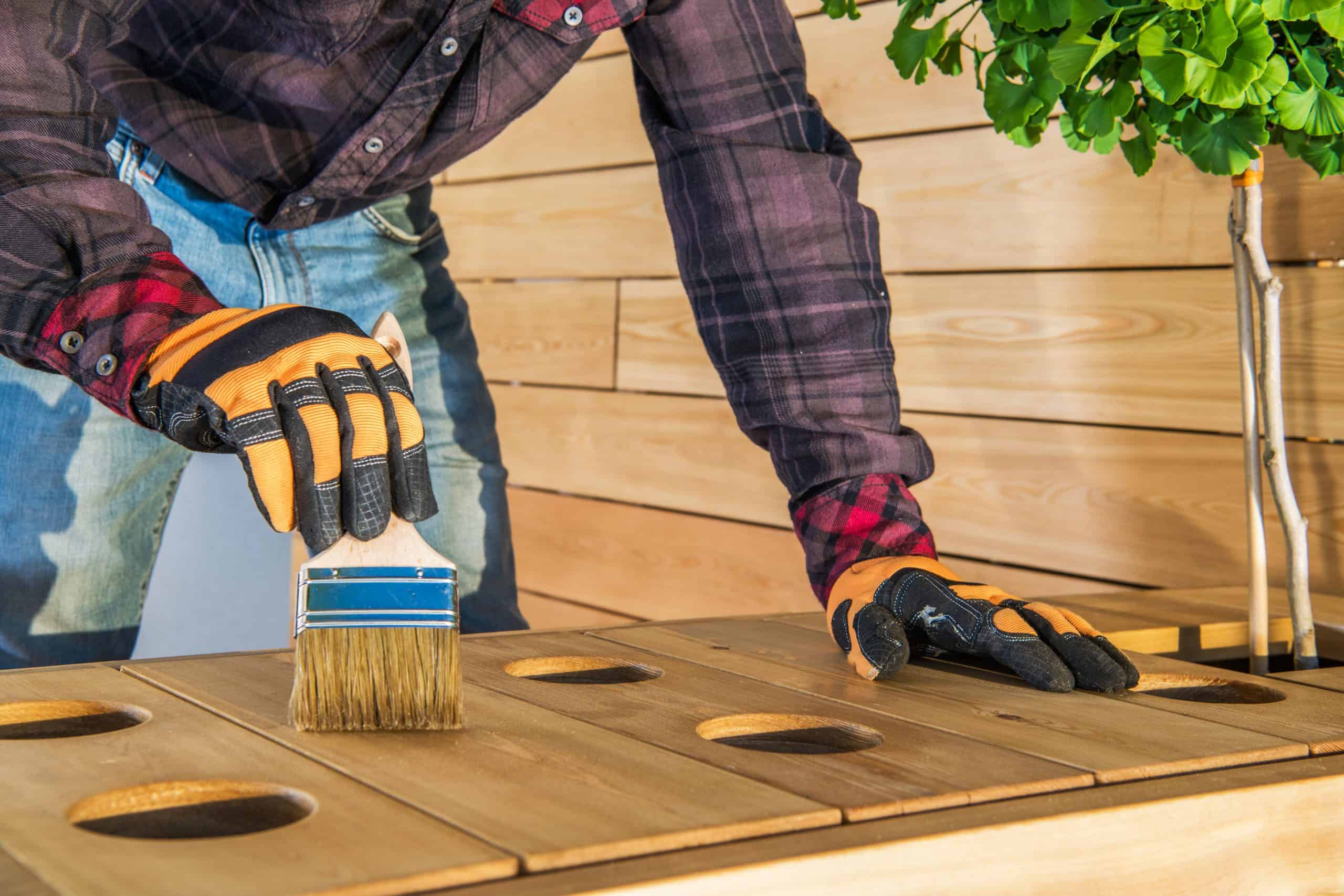 Common Questions and Answers
What Can I Use for All Exterior Wood Protection?
You can find wood items and finishes in many outdoor places around your home. The items can include wooden outdoor furniture, wooden decks, wooden fences, gazebos, and wooden sidings. All of these need to be protected from the elements. The type of protection you should look out for includes UV protection, waterproofing, and durability.
What Do You Use a Wood Sealer For?
All outdoor wood products need to be protected with a sealer. This sealer will preserve the wood and its appearance, extend its lifespan, and improve its resilience. All sealers for wood are specially designed to protect wooden products from damage. Irrespective of what type of wood you use, they all are susceptible to staining, damage and rotting. Your wood can also be damaged by the sun's UV rays, heavy rains, wind, and other environmental factors.
What Exterior Wood Sealer is the Best to Use?
The most trusted wood sealer to use for all your outdoor wooden furniture is an exterior penetrating wood stain. This type of sealer penetrates deep into the wood and attaches to any porous spaces in the wood, preventing any water from entering and therefore preventing rotting. These sealers also contain a special chemical called Mildewcide that assists in keeping growth or mildew away from your wood.
There are a few exterior penetrating wood sealers that also have UV-absorbers, which will help to guard your wood from the harmful UV rays. These sealers can be purchased as oil- and water-based formulations with a huge range of colors to choose from.
How to Seal Untreated Exterior Wood
First, you need to make sure that the wood does not have any mildew or mold. If you come across any mildew or mold, you need to remove it by using a diluted bleach solution. Next, you must leave the wood until it is completely dry. You can then sand down the surface you intend to seal, followed by using a vacuum cleaner to make sure all the dust has been removed. Spread the sealer over the wood using a paintbrush in the direction of the grain. Give the wood time to dry completely before applying a second coat, thus ensuring that you have covered the whole surface.
How Long Do You Have to Wait Before the Wood Sealer is Completely Dry?
This will depend on several factors, such as the type of wood sealer and stain you are using. You will need to read the manufacture's instructions for this. The drying time is greatly affected by the climate: If the humidity is low, the sealer will dry quicker, whereas more moisture in the air means it will take longer to dry.
Non-penetrative sealers that are thinner will take a couple of days, a week, or even longer to completely dry, depending on the weather conditions. Penetrative stains that are thick can dry in a few hours on the surface, but will take two days to dry completely, depending on the weather. Latex wood sealers take the longest time to dry, which could be up to three weeks.
What is the Best Method for Sealing Exterior Wooden Furniture?
You will have to decide on a superior-quality exterior penetrating stain that suits your needs. You will also need to select a primer and appropriate color. Before you start with the sealer, you must first sand the whole surface area you want to seal. This will assist your primer in adhering to the furniture properly. When applying the stain, be sure to work outside. However, if the humidity is high or there is a forecast of rain, then work in a well-ventilated space indoors.
First, start by applying a uniform coat of your primer onto your prepared wooden surface. Allow it to dry and then apply a uniform coat of your stain to the same surface. While doing this, make sure that all of the wooden surfaces are completely covered, including the legs, undersides, arms, and joints. Allow the stain to dry completely before your furniture can be taken outside outside or used.
Is Wood Sealer Long-Lasting?
On average, wood sealers are designed to last for 4-5 years. This question is dependent on many conditions including:
The weather,
The type of sealer you used,
The climate,
The location where the wood is found, and
The purpose of the wood.
If you have applied a thin coat of non-penetrative stain onto your wood, and it is placed in an area that is exposed to the sun and is used often, then the sealer will not last for long. However, if you have applied the same amount of sealer to your wood and it is placed in a shaded area away from the sun and is not used too often, then your sealer should last longer.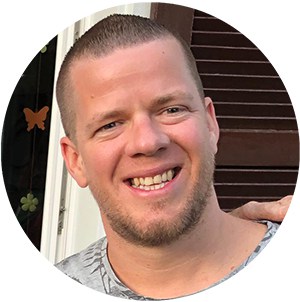 I have been into woodworking since 2005 and woodturning since 2011. Because of my love for wood and woodworking, I started woodhappen.com to teach other enthusiasts about how to finish and seal wood, the best woodworking tools, the different types of wood, and everything else related to woodworking! Read more about me here.