Best Wood for Outdoor Furniture – Selecting a Weather-Resistant Wood
You may have an outdoor space like a wooden deck or patio where you can enjoy the sun and entertain your family and friends. This space might need wooden tables and chairs or a bench, however, you need to take into consideration that wood patio furniture will be outside all the time. This does not mean that all wood can be left safely outside. Some wood cannot withstand the harsh outdoor weather conditions, not to mention the insects, fungi, and rot. So, we will be guiding you through the process of choosing the best wood for outdoor furniture.  
Purchasing the Best Wood for Outdoor Furniture
Wood is one of the most amazing materials to work with and hardwoods are considered the best for use as outdoor wood furniture. However, some softwoods can also be used effectively. Hardwood has a higher density than softwood, which makes it more resistant to scratches, and also more resistant to rot and water.
All your outdoor furniture tables, chairs, and benches need to preserve their structural reliability as well as their appearance over a long period.
This means they will be subjected to harsh weather conditions and, therefore, need to be properly maintained all year round. Whether you intend to build wood outdoor furniture yourself or buy ready-made furniture, you need to first take into account certain important factors.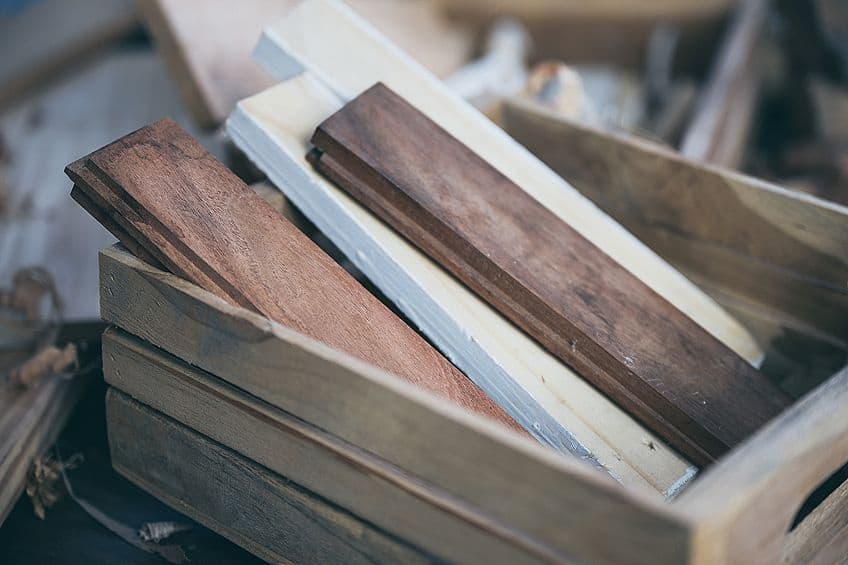 Moisture and Rain
Do you live in an area where the climate is very humid? Is the furniture going to be in the hot sun for long periods? Do you experience a lot of rain in your area? All of these conditions affect your wood, and you may have to give your furniture extra protection and a lot of maintenance to keep it in perfect condition. Remember, water is not the only thing that can cause damage, but the sun's rays can also be a problem.
Rot, Mold, and Mildew
If you live in a very humid area, it is an environment where various types of fungi can grow. Because your wood furniture is made from organic material, it is susceptible to mildew and mold, which could also lead to health problems. Mold and mildew do not damage your wood and can be easily cleaned off, but rot can lead to the decay of your wood.
Durability
Some wood types can only last for a few years when subjected to harsh weather conditions, then it needs to be replaced. However, others can last a lifetime and still look as good as new. One other factor concerning durability is the usage of the item.
When it is, for example, a patio table which is only used in summer and for special occasions, the wear and tear are not excessive, and they can last for a long time. However, if it is in the sun lounger, and it stays outside every day, these items, because of their more frequent use, appear to be less durable.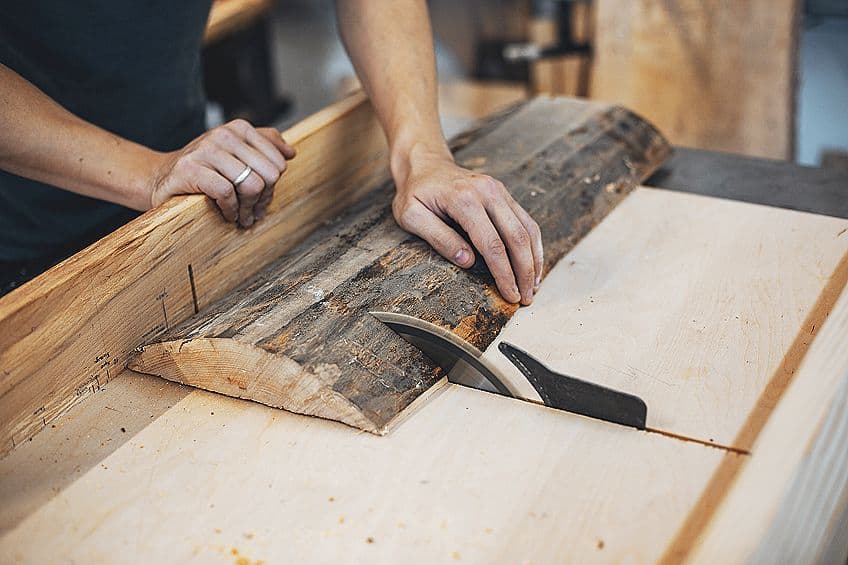 Surface Area
It is very important to take into account what surface you are going to put your wooden garden furniture on. Will it be situated on a solid surface like concrete or a softer surface like a grass patch? If you put your furniture on a solid surface, this will assist in protecting it from mildew and rot. On the other hand, if it is standing on a softer surface, it may be better to consider metal or resin furniture instead.
Protection
As mentioned, it is important to consider where you are going to put your wooden garden furniture. You should also consider if the wood patio furniture will be exposed to the elements or if it will have some form of protection. Will the furniture be on a wooden deck or patio where there is a roof overhead to protect it? In this case, you may be able to make use of softwood like pine.
Tools
Your ability as a woodworker and the type of woodworking tools you have will play an important role in your decision as to the best outdoor wood for your furniture. It is commonly accepted that teak and white oak are the strongest woods for use on your wood outdoor furniture, but remember, they are very difficult to work with. The best advice is to select three or five different types of wood species and see which one will be the easiest or best to work with.
Budget
Lastly, but by far the most important, is to consider your budget. You should consider things like taking into account the shipping or delivery costs. Maybe you have set your heart on a certain type of wood for your project, but you are not able to afford all the costs to get the wood to your home to make up your wooden outdoor furniture. You will also need to consider how frequently the wood will need to be replaced and how much time and effort it will take to maintain.
What Type of Material Is Suitable for Outdoor Wood Furniture?
Wood comes in various textures and colors, and you need to decide which one is perfect for your project. Apart from the various textures and colors that are available, you can also add your own finish that will help your garden furniture withstand all those harsh weather conditions. Let us now consider the different types of material that are available.
Softwood
What constitutes a softwood? Softwoods usually come from cone-bearing or conifer trees, and the North American softwoods have needle-shaped greenery instead of leaves like hardwood trees. The way you test if it is a hardwood or softwood is by using the Janka Hardness testing system. This is where the number listed is the total force used to insert a metal ball into a piece of wood.
This being said, you may find that some of the listed softwoods are actually considered hardwoods. This means that when using the term hardwood or softwood, you are merely referring to them in their botanical classification such as conifers (softwoods) or angiosperms (hardwoods). This also means that there is no certification that any type of hardwood is actually hard.
Some examples of softwoods include cedar, fir, pine, spruce, and redwood.
Hardwood
Hardwoods can be untreated, which can pose a challenge over the years, as they will deteriorate and become susceptible to mold, rot, and insects. So, if you want to make use of untreated wood for your patio furniture, you need to preserve it using certain treatment processes that take time and effort to keep the wood in good condition.
Some hardwood types include mahogany, walnut, cherry, maple, and oak.
Hardwoods can also be bought already treated with a natural appearance. You will not have to spend hours of your time preserving and treating it yourself. Treated wood is specially designed for use on outdoor furniture and is subjected to pressure treatment, whereby the wood is placed in a vacuum chamber and then permeated with certain compounds that protect it from rot and insect infestations. This type of wood can last for long periods outside and can be subjected to all types of conditions. In all cases, hardwood can be difficult to work with.
Composite Wood
This form of material is referred to as wood-plastic composition (WPC) and is formed by taking pulp and sawdust and combining them with different types of plastic composites. This is then taken and molded into any shape or curve you desire. This type of material can carry heavier loads and is also insect and rot-resistant. However, in the long run, it is just not the same as genuine wood and does not have the same look and feel.
Some examples of composite wood include medium-density fiberboard, plywood, composite board, and oriented strand board.
The Best Wood for Outdoor Furniture
Although most woods are easy to work with and give you strong chairs, benches, and tables, not all woods are equal or the same, especially for outdoor furniture. There are certain types of softwood like fir, pine, and cedar that are reasonably priced but are recommended for use on indoor furniture as they are not able to withstand the elements. They also require constant attention for their protection.
On the other hand, there are hardwood species that are much stronger and can withstand the elements but also require treatment to last. However, these types of wood are a lot more expensive and are sometimes a lot more difficult to work with. Even though hardwoods are the best option for outdoor furniture, they also have their differences.
To make this a little clearer, let us create a shortlist of the best wood for outdoor furniture. Take note that this list is only naming the different types of wood available for outdoor furniture, so any one of these options could be right for you. The decision is all a matter of personal preference and what suits your situation and, of course, also your budget.
Teak
Shorea
Eucalyptus
Ipe
White Oak
Cypress
Mahogany
Acacia
Redwood
Black Locust
Teak
Teak is the most popular choice of wood type for outdoor furniture, but because of its limited availability, it is in very high demand. This has resulted in the price being pushed up, and it has become extremely expensive. Teak wood is extremely strong, does not crack, warp, or become brittle like many other types of wood. The wood also repels water and moisture and does not contract or expand during its drying process.
The natural oil content of teak wood is very high, which makes it resistant to insects, rot, and damage, and also makes it durable against harsh weather conditions. The wood has a beautiful honey brown color, and if left untreated turns into an attractive silver-grey. Teak is also easy to keep clean using a mild solution of soap and water.
Shorea
This hardwood type comes from Southeast Asia and is one of the hardwoods that are heavier and stronger than teak. When exposed to heat, its strength and flexibility are improved. It also has a very high oil content that can give it protection against rot, weather damage, and insects, making it ideal for outdoor furniture. The wood is also much cheaper than teak, but due to public unfamiliarity, there are very few retailers that keep it in stock.
Eucalyptus
This hardwood comes from Australia and is very durable and cost-effective. The tree grows at a very fast rate, making it more readily available. The oil content of this wood acts as a natural insecticide and is rot-resistant, but it needs to be sealed to prevent it from cracking.
Ipe or Brazilian Walnut
This hardwood comes from South America and is also known as ironwood, which is why it is very durable and strong. Its high oil content helps to resist insects and other forms of fungi and its dense structure prevents any physical damage like cracking, warping, or denting. It has a rich grain color and when exposed to the elements it takes longer to fade and needs a lot of preparation when gluing together and cutting.
Cypress
Cypress is also referred to as a wet climate wood type, as it releases a natural water repellant which makes it ideal for outdoor use. The wood is in great demand for patio furniture but be careful not to let it come into direct contact with soil. It has a reddish-brown color, and if left untreated, it will develop a gray finish. To help stop any fading, a coat of sealant can be used once each year.
This wood is very easy to work with as it is a softer variety of hardwood, but you need to take care not to over-sand it. The wood is a fairly costly wood type as the mature trees are very scarce. Its grain is very straight, is also knot- free and is resistant to pests and rot because of its inherent natural oil preservative called cypressane. However, it will require a coat of oil from time to time to preserve its durability.
White Oak
This is one of the hardest and strongest woods available, which makes it very durable, and it is readily available. Due to its structural ability for repelling water, it has been used extensively for boat building. Although it has a natural oil content, it does require a sealant or paint to preserve its durability. If it is left untreated, white oak will develop a beautiful gray finish.
Mahogany
This hardwood comes from Indonesia and can be fairly cheap or expensive according to the grade or cut. The wood is durable, and for this reason, it is ideal for any patio or outdoor furniture. The wood is also available in different colors, but mostly reddish-brown and needs to be maintained properly for it to retain its color. An added advantage of mahogany is that over time the color will darken.
Mahogany is not only good for outdoor garden furniture but is used extensively for all types of furniture and other handicraft items as it is very easy to cut and work with. Mahogany is also a very practical substitute for teak wood.  Mahogany has a variety of wood types such as:
Brazilian Tiger Mahogany
African Khaya Mahogany
Lauan Mahogany
Sapele Mahogany
Santos' Cabreuva Mahogany
Incensio Cariuva Mahogany
Acacia
This type of tree grows similar to a weed and, therefore, has an abundant supply. This wood is one of the cheapest hardwoods and is reddish-brown or light brown. The grain of the wood is very dense, which makes it very durable and ideal for boat building and, of course, also for outdoor or patio furniture.
If acacia hardwood is properly sealed and protected, it will last you for many years. However, take care not to let it come into contact with the soil similar to cypress wood. Due to its durability, it is resistant to scratches, gouges, dents and is easy to work with. However, if you leave it untreated, it is better to be used on furniture that stays on the deck or patio.
Redwood
Redwood is reddish-brown and due to over-logging, it dropped out of popularity. This issue has since been resolved, the wood is back on the market, and it is very expensive. The wood is also very durable, which makes it ideal for use as patio or outdoor furniture and is also easy to work with.
However, redwood outdoor furniture can scratch and dent very easily and, therefore, needs to be properly sealed and protected to preserve it. If you do not seal it after the finishing coat, it will discharge a red pigment which is why it is called redwood. This red pigment can be disastrous, as it will come off on the clothes of those who sit on the furniture.
Black Locust
This hardwood type is indigenous to North America, is very resilient, and can withstand harsh weather conditions, and, as such, is ideal for patio and outdoor furniture. Although it is hardwood, it is still prone to scratch easily and needs to be protected with the appropriate finish. It is dark brown to pale green and is reasonably priced.
As a hardwood, it is difficult to work with and machines are recommended. Like acacia, the grain is very dense which makes it difficult when applying a finish coat. Despite all these apparent difficulties, this type of wood is perfect for garden and outdoor furniture.
Table for Understanding the Best Wood for Outdoor Furniture
As wood comes from trees and there are many different types of trees, understandably, there is also a large variety of wood available on the market. To be able to understand what all the different types of wood are and what they are used for can help you choose the best outdoor wood for your furniture. If you are going to build your own furniture or if you are going to buy the finished product from the store, the table below will assists you in making the right choice for your project.
Tips for Buying Your Wood Outdoor Furniture
If you have decided to buy your wood patio furniture and not build it yourself, then here are some tips that will help in making the right decision. You need to ensure that you always buy good quality and well-constructed furniture pieces, the same as you would do when going out to buy furniture for indoor use.
Make sure that you buy furniture that is made from the correct type of wood – it should be a wood that will suit your conditions and situation.
Try to avoid buying cheap patio furniture that has stapled or glued joints, as there is a strong possibility that these joints can come loose.
Rather buy patio furniture that has mortise and tenon or dovetailed joints, as these types of joints are a lot stronger.
As your furniture will be outdoors and subject to weather conditions, you must check and make sure the screws used are stainless steel and will not rust.
Maintaining and Protecting Your Wooden Outdoor Furniture
You have spent a lot of money in building or buying your wooden garden furniture, but if it is not cared for and maintained properly, you can be in danger of losing that investment. So, how do you go about maintaining your wood patio furniture?
Once a week or once a month, it is important to remove any dust that may have accumulated. This can be done by taking a damp cloth and wiping it clean. If the dirt is more stubborn, then using a chemical-free soap, wash it clean with warm water and allow it to dry properly. Try to do this on a lovely sunny day.
When you discover any mold that has formed during the cold and wet months, use a dry brush and remove it from the affected area. Examine the spot to make sure it is clean before you continue with your cleaning process. If you come across bird droppings on your table or chairs, you need to clean it off as soon as possible otherwise it can damage your wood and cause permanent stains.
If it is at all possible, try to put the furniture on the patio or under a roof to protect it from the elements. If this is not possible, then try to cover the furniture with protective covers, preferably made from plastic even if the wood is a hardwood type.
Try to make sure that your furniture does not stand on the grass or the sand, but rather on a concrete slab, paving stones, or the deck, which will allow the rainwater to drain off properly. Make sure the space you choose to put your furniture in the garden, is a spot that does not gather water. Also, tighten any loose screws or bolts or replace the damaged ones.
If you find that your outdoor furniture has become a grayish color due to weathering and cracks appearing, then simple cleaning with soap and water will not solve the problem. You will need to fill the cracks with special wood glue, then sand the wood down and refinish it with a product that will protect your wood. If you have hardwood furniture, then teak or hardwood oil applied with the grain regularly will offer the protection your wood needs. If you want a different look to your garden furniture, then there is always the option of changing the color by applying wood paint, which you will have to do every three years, or you can simply use staining oil.
We hope that you have gained some valuable information from this article and that you now understand the different types of wood available for your outdoor furniture. We also hope that you have learned how to keep your furniture protected and in perfect condition for many years to come.
Frequently Asked Questions
What Outdoor Wood Furniture Is the Most Hard-Wearing?
Without question, teak is the most durable wood for outdoor furniture, as the grain is very dense and straight, so it will not warp or crack even after a very long time. It is also really rot-resistant and is aesthetically appealing to the eye. Teak, due to its durability, has been used extensively for boatbuilding.
What Is the Best Wood for Outdoor Bench Items?
Cedarwood is fairly lightweight, which will enable you to rearrange your patio furniture as often as you like. The wood can tolerate all kinds of weather conditions and it will not swell, warp, or shrink. Cedarwood is also sound-resistant because it is porous and can absorb noise.
What Is the Best Wood for Outdoor Table Items?
There are three types of wood suitable for an outdoor table and they are redwood, western red cedar, and cypress. Redwood is used mainly in the western USA; western red cedar is common in the Midwest and cypress grows in the southeast and the south. They all have a straight grain, are all very durable and dimensionally stable. They are also all naturally decay-resistant.
What Type of Wood Is the Most Rot-Resistant?
Three types fall into this category, and they are cypress, cedar, and redwood. For this reason, they are the best choice for outdoor furniture, saunas, and decks.
Does Pine Wood Rot Easily?
Usually, yes, but if you use old-growth pinewood, it does give you a certain amount of resistance to rotting. This type of wood is found mainly on the exterior trimmings of old houses, sheds, and barns, particularly in colder climates.
What Wood Is Weather-Resistant?
Again, the answer must be teak, as it has been used extensively for many years as outdoor furniture as well as for coastal construction. Teak is regarded as the most weather-resistant wood available due to its durability but be careful as it may be a bit pricy.
Will Untreated Pine Wood Survive Outside?
If you have untreated redwood outdoor furniture, it can last up to 50 years or even more. However, untreated pinewood will only last between five and ten years lifespan.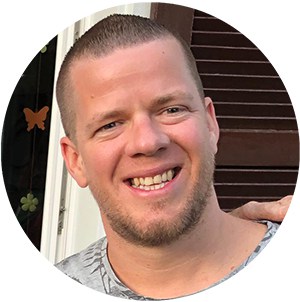 I have been into woodworking since 2005 and woodturning since 2011. Because of my love for wood and woodworking, I started woodhappen.com to teach other enthusiasts about how to finish and seal wood, the best woodworking tools, the different types of wood, and everything else related to woodworking! Read more about me here.