How to Whitewash Wood – Different White Wash Techniques
What do you imagine when you think of white-washed wood? Maybe a farm setting in an old barn or the furniture in a vintage kitchen. White-washed wood offers a clean yet rustic and textured look to the wood. This is a great technique to enhance the wood grain and allows the beauty of the wood to show through, creating a unique look. White-washed wood is used mainly on indoor wood surfaces or furniture, create a new aesthetic for your bedroom, kitchen, or attic. Since there is more than one method, you can also apply the look to outdoor surfaces. Whitewashing wood is a fairly easy process, and we will be showing you some white wash techniques that you can use to achieve this effect.
What Is Whitewashing Wood?
The process of whitewashing wood does not leave any odor or have any offensive fumes like oil-based paints. There is also more than one way if you want to know how to white wash wood. You can go the traditional way of whitewashing wood or you can use a whitewash paint, the former of which does not require a lot of money and is not harmful to the environment. This method also has no volatile organic compounds (VOCs) that you have to worry about. All you need is some salt and hydrated lime. This method offers a protective coating for wood surfaces and brings out the wood grain underneath.
A traditional white wash uses powdered lime (limestone), which is then mixed with water. Make sure it is not gardener's lime or dolomite lime. You should be able to easily purchase the hydrated lime from your local hardware store, so ask if you are unsure. The salt simply adds a whiter and more textured look to the mix. This white wash method is easy, safe, and effective. However, it is not the best option for surfaces that are going to be used often, like benches, but can be used on wood surfaces that are not going to be touched or used too frequently.
When working with the lime powder, it is best to wear goggles and a mask to prevent breathing any in while mixing it. Once mixed with water it becomes less hazardous.
Then there is the more modern way of whitewashing wood, which is achieved by using a whitewash paint. The paint used is water-based and is safe to work with indoors. This is a white wash technique that allows you to apply it directly to furniture in order to create a chic look, achieved by enhancing the wood grain and adding color while still maintaining the beauty of the original wood surface.
You simply water down the whitewash paint and apply it using various methods. This watering down helps to imitate the traditional whitewashing wood method, and can be achieved by mixing equal amounts of paint and water. For an even more authentic white wash effect, you can use rough brushes or apply various other techniques. This means that you will have to be a bit more creative to get the traditional lime and salt look.
Reasons to White Wash Wood
Before we go into how to whitewash wood, let us have a look at a few reasons as to why one would use any white wash techniques. You may be wondering why you should be doing a whitewashed wood wall or why you are considering using white wash techniques at all. You may choose to white wash wood in order to:
Create a rustic, chic look that you can use in any room of the house to produce a unique atmosphere.
Give reclaimed wood a new look for floors, cabinets, furniture, and other decorative ideas.
Renew the look of old wood paneling or walls.
Create vintage or beach-house-style furniture.
Add a warm, clean, and textured look to wood surfaces.
Use an eco-friendly method (with both the traditional method and the non-toxic, water-based paints)
Brighten the look of the wood while still allowing the natural wood to show through.
Benefit from the low price and antibacterial properties of the traditional whitewashing method.
As you can see, there are quite a few reasons to try out this paint technique. The main reason we think it would be a good idea is that it is a simple, easy, and fun way to add a bit of charm and beauty to your home.
Whitewash Paint Products
Achieving a traditional white wash is fairly simple, and the necessary ingredients can easily be purchased from your local hardware store. However, you may prefer to purchase a ready-to-use product for whitewashing wood.
How to White Wash Wood
Now, we can move on to how to whitewash furniture yourself, which is not a complicated process that almost everyone should be able to give a try. As mentioned, there are two ways you can go about whitewashing wood, being the traditional white wash techniques or imitating a white wash with paint. First, let us have a look at the traditional method.
How to White Wash Wood the Traditional Way
When making a traditional white wash, you will need a few ingredients and tools to do the job properly. Once the white wash has been made, you will have an eco-friendly, non-toxic paint. A traditional white wash is not the best option for furniture or other wood items that you are going to be using a lot, as you will find that this type of white wash easily rubs off, although it does give the best white wash effect.
You will need:
A bucket
6 to 8 Cups hydrated lime (builder's or masonry lime)
2 cups of fine-grade salt
1 gallon of warm water
Brush or roller
Sandpaper
Protective goggles, gloves, and a mask
The white wash works best on bare wood, so you should sand the surface lightly to expose the wood fibers and get rid of any marks or dirt. Any paint, stain, or varnish should also be removed as much as possible. Wipe the wood surface and clean the area before moving on.
Next, you will need to make the white wash up. Pour the water into the bucket, then add the salt and stir to dissolve. Then add the lime and mix again. The mixture should appear thinner than paint, but you can let it stand for an hour or two to thicken if you want. You can then paint it onto the wood using a brush, or else you can apply with a roller.
Try not to put too much on in a single application, as you are going to add more layers. Allow the first coat to dry for about an hour – you should see it drying white and forming a chalky residue. Depending on the look you want, a traditional white wash can take about two to three coats. The more coats you add, the more intense the white color will become.
How to Whitewash Wood Using Paint
You can easily imitate the traditional white wash look by diluting a white, matte, water-based paint with water. You can use this as a method of how to whitewash furniture and other indoor applications. The outcome will not have the same chalky residue as the traditional method, so to create a realistic white wash effect, you might have to be a bit more creative. You will have to find ways to streak the paint and bring the wood grain out. There are three white wash techniques you can try.
Method One: Whitewash Paint and Water
This is a simple method to achieve a semi-transparent effect that will bring the wood grain out. This method is best used on bare wood and smooth surfaces. Again, you will have to remove any varnish, stain, or paint before you begin, which you can do by sanding. Sanding can be done by hand or with an orbital sander.
You will need:
Whitewash paint
Brush
Sandpaper
Water
Rags
Paintbrush
Bucket
Sealant (water-based)
After you have sanded and cleaned the wood surface, you can apply the paint. At this point, you may want to apply a whitewash stain of medium to dark brown, which can help to bring out the wood grain even more. The darker the color of the wood, the more you will see the wood underneath the white paint. Let the stain dry before you start to work with the whitewash paint.
Mix equal amounts of water and paint until a watery consistency is achieved. Experiment with a little on a small section of the wood. The paint should be transparent enough for the wood to show through. If you want it to be more transparent, simply add a little more water. Apply the paint with a brush, roller, or rag to a small section, as it will dry quickly, and then apply in the direction of the grain. For added effect, you can use a rough brush or rag to wipe off excess paint quickly for a more washed-out look.
The longer it dries, the more paint will stick to the surface, so do not let it stand too long before wiping the excess paint off.
It might not look like much for the first layer, but you can always go through the method again until you get the look you want. Let the first layer dry and then you can decide if you wish to paint another layer. Applying four to five coats will produce a bright white look, while one to three layers is best to highlight the wood grain. You can finish off by applying a water-based sealant or natural furniture wax if you wish.
Method Two: Whitewash Paint and Wax
Another way to give your wood a distressed or white wash look is to use wax. The method is simple: You apply wax to the wood before you paint. Wherever you apply the wax, the paint will not stick in these areas.
You will need:
Sandpaper
A white wax candle or petroleum jelly
White latex paint
Rag
You can lightly sand the wood surface; it does not have to be completely smooth. Take the candle and rub it into parts of the wood. It does not have to be in a neat pattern, simply apply randomly to get a more natural effect. Take your latex paint and apply it to the wood surface in the direction of the grain in long strokes.
The paint should not stick to the areas that have been waxed. If you are doing this for a whitewashed wood wall or another large area, spraying is not an option and it might take more than a day to complete. However, smaller wood items can be spray painted for quicker and easier work. Take the rag and wipe over the areas where the wax was applied, and the paint should come off. You can also wet the rag to remove even more paint over the waxed areas.
Method Three: Whitewash Paint Dragging Method
Another simple method to create a more rustic effect is to apply the paint drag method. This is best used on reclaimed wood or rougher wood surfaces. The final finish should remind you of old wooden barns. The best thing is, since it is a more rustic look, you do not have to sand the wood surface beforehand. If the wood is a bit dirty, you can wash it off with a bit of soap and water. Let the wood dry properly, and then you can start painting.
You will need:
Wood surface
White paint
Scraper or wide putty knife
You can drip the paint as is onto the wood surface, or thin it out with a little water. This will also help you to drag the paint over the surface. Spread the paint all over the wood surface, being sure to repeat this step so as to cover all areas. Allow a drying time of at least 12 hours. You can repeat the entire process if you want more coverage. The more layers you add, however, the more your wood grain will be covered up.
Whitewashing Wood Tips
Although the process of whitewashing wood is easy, there are always some tips or tricks that can be included to improve the outcome. Here are a few white wash tips that will hopefully help you to create beautiful, elegant, and stylish white-washed wood pieces.
Consider using a sealer to help protect the wood after whitewashing.
Even though the name says white wash, you can also use any other water-based colored paints.
Try applying a wood stain before whitewashing wood in order to bring out the grain even more.
A white wash seems to look nicer on softer woods such as cedar and pine, as the paint is absorbed more readily than hardwoods.
To create a more antique look, use some sandpaper on the edges and in random areas of the surface after you have whitewashed the wood.
Always make sure that your wood surface is clean, especially if you are applying paint to reclaimed wood.
Remember to remove any finish on the wood surface before whitewashing. The white wash will peel off if you do not take the varnish or any other finish off first.
Test your white wash paint mixture before applying it to see if it is what you want. Try applying the paint to a small section of the wood or use an extra piece of wood for this purpose.
You do not want to apply too thick a layer, as the whole point of applying a white wash is to have the grain of the wood remain visible.
Whitewashing is more of a stain effect than painting, so apply the paint mixture, wait a few minutes, and then wipe off the excess. Wipe the paint into the wood in order to bring out the wood grain.
You need to make sure that you use a water-based paint, as this is what works best for applying a white wash.
Apply the paint to smaller sections at a time, as the paint dries fast. You do not want the paint to dry before you get a chance to wipe away any excess.
Always wipe the additional paint off with the wood grain. Do not move in circles, as the way you wipe will be seen once finished.
Frequently Asked Questions
Can You Apply Any Color Paint as a White Wash?
When using water-based paint, you can use any color to create a rustic look on wood surfaces. However, the traditional white wash is usually white.
How Is Whitewash Paint Made?
Whitewash paint is easily made by taking some water-based latex paint and diluting it with water. The best ratio to start with is equal amounts of each or, if you want it thicker, two parts paint to one part water. Test out the paint first to see if it is what you are looking for.
Is It Easy to White Wash Wood?
Yes, it is a quick and easy technique that adds a unique look to wood surfaces. You can use white wash techniques on most types of wood. However, you will need to remove any prior stains or finishes before whitewashing wood.
Is There a Difference Between Painted and White Washed Wood?
Traditional white wash is a mixture of hydrated lime, water, and salt that dries to a white finish and provides a textured look, which enhances the wood grain. Painting uses white paint to imitate the white wash effect. When painting, you also need to wipe off the excess paint to create the white wash look, otherwise, you are simply painting a light color onto the wood surface.
Why Is Salt Added to a Traditional White Wash?
The salt helps to bind the mixture and adds a whiter color to the final finish. The salt is also antibacterial and helps to prevent mold from forming.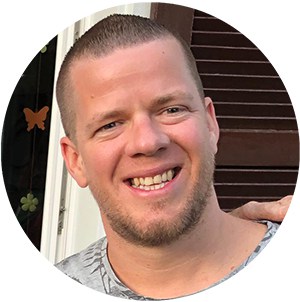 I have been into woodworking since 2005 and woodturning since 2011. Because of my love for wood and woodworking, I started woodhappen.com to teach other enthusiasts about how to finish and seal wood, the best woodworking tools, the different types of wood, and everything else related to woodworking! Read more about me here.