Furniture Gluing How To – What Glue Works for Furniture Repair
There are so many glue variations on the market, it is nearly impossible for anyone who is not a professional to know which glue is best suited for which task. Imagine your child's favorite wooden chair that she sits on with all her toys on for tea parties in her bedroom has broken, or your son's model airplane made of wood broke had a wing snapped off in an epic flight from the sofa and crash landing into the floor, missing the landing strip of cushions. These might be easy repairs, needing only a bit of the general wood glue you can find at most hardware stores. But what if your wooden rocking chair broke, the one you inherited from your grandmother. Or possibly the armrest of your vintage lounge suite. What would be the best wood glue for furniture repairs? In this tutorial, we will be discussing what is the most suitable and effective wood glue for furniture repair work. Furniture gluing requires furniture glue that is strong and can withstand some weight being applied to it. We will discuss everything you need to look for in wood furniture repair glue, and we will include some recommendations of some brands that have made very efficient furniture glue that can execute wooden chair repairs with long-lasting results.
Applying Wood Glue Effectively
Now that you are aware of what to look out for in your desired glue, and of some reputable brands that have produced reliable adhesives, we can move on to some guidelines on how to apply the glue. If you are living in a cold and wet climate that forces you to work indoors, make sure the windows are open or have ample airflow, and that you have adorned yourself in protective gear.
Workpiece Preparation
We always start our guidelines with a bit of preparation. This will ensure the efficiency of the gluing, and make sure that you get the best out of the glue's strength. Make sure the item you are gluing is clean and free of any residue from the previous glue (if there is any). If you need to use a lot of water to clean the item, make sure you wait for at least an hour for the wood to dry properly. If you apply the glue onto wet wood, it will not adhere properly.
Applying the Glue
Now that the item you are gluing is nice and clean, and you have waited for it to dry, you can start applying the glue. The method of application often depends on how big the item you are repairing is. If it is large, you might use one method that will not work for the smaller projects.
Medium-Sized Workpiece
For this project, you will need a paintbrush to apply the glue, as well as a cloth or rag that is clean. This sized project means that the brush can apply a decent amount at once, yet it also applies a controlled amount. Use the cloth to wipe the glue that was a bit too much to keep things looking tidy.
Large Wood Panels
In cases where you are working with large wood panels, you could safely use a brush. Despite this, since there is such a large surface area, you will have to clean up a considerable number of excess debris. We can thank the inevitable glue that oozes out from the sides of the item you are repairing the moment you squeeze the two parts you are gluing together.
Sometimes you need to apply to a large surface area because the item you are repairing is large. For these instances, we recommend using a roller to apply the glue over the surface evenly and faster than you would be able to with a brush. You will still need a bush to distribute the glue onto the surface, but then the roller is used to spread the glue evenly across the surface. The ideal method requires you to work from left to right, or possibly up and down, so long as your movements are smooth.
Having applied your glue to the two pieces of wood, press them together and use a clean cloth to remove the excess glue when you are finished. Read the label of the glue that you are using to ensure you wait for the recommended time for it to dry before you work with it. If you need to clamp the item, make sure you do so whilst it is drying.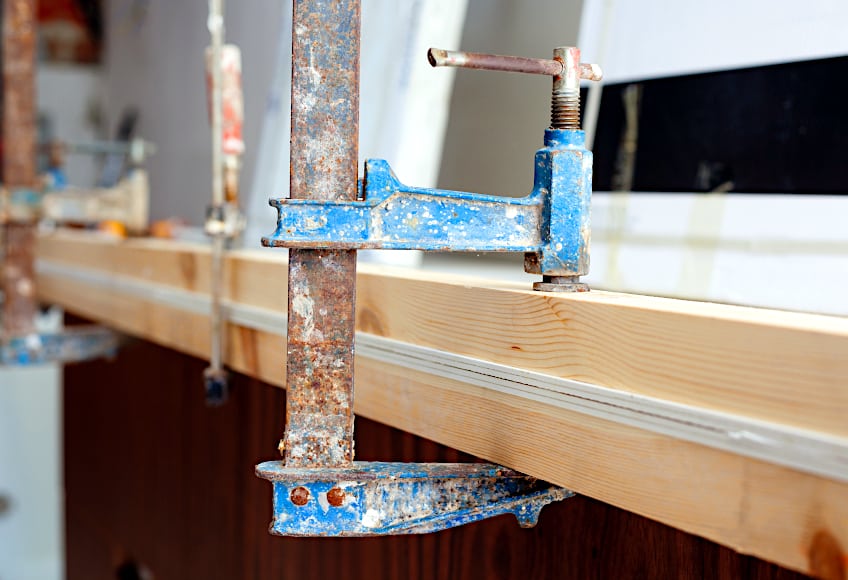 Furniture Joints
It is amazing how often craftspeople forget the one rule when it comes to gluing joints, and that is, to glue the inside of the joint. Chair repairs seem fairly common, but it is surprising how often craftsmen forget this one rule. If you are in the business of repairing wooden chairs, restoring wooden tables, or even restoring wooden cabinets, then this rule holds. Generally, the joint's inside is where the other half of the workpiece is inserted and is usually characterized as having a recess of some kind.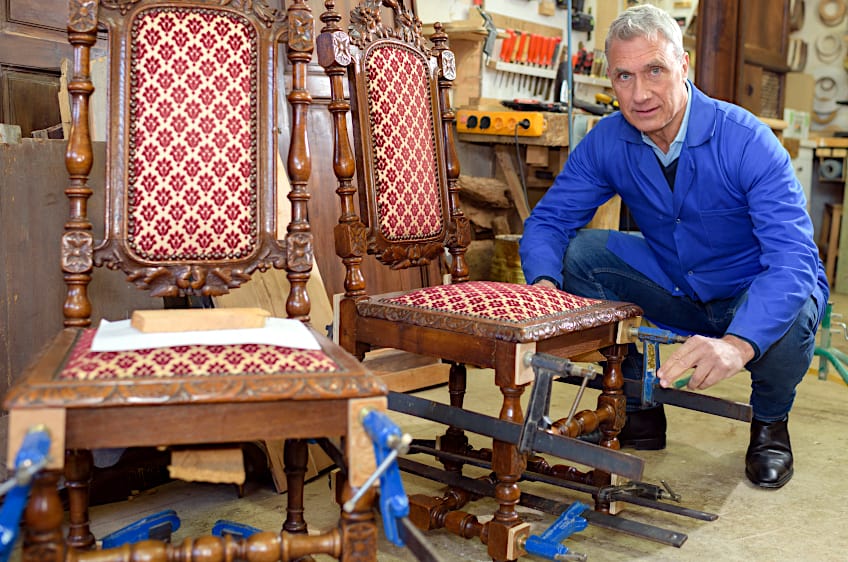 The part of the workpiece which will facilitate the glue's adhesion to the other half makes sense since the glue will become static upon joining. This reduces the risk of spillage. Part of this piece will be completely covered with glue, facilitating the adhesive's adhesion to the other half.
To ensure that your joints are set as they should when working with furniture joints, you will need clamps together with some innovative thinking. If you avoid clamping the item, it might cure it slightly out of place. The first thing you should do before applying glue to your joints is to make sure that any dust that might have gathered on the joints, as well as any of the old glue that was used previously, is removed.
Chair and Table Rungs
Not all of you will be familiar with rungs, and if you are one of those people who have no clue what that is, let us explain. A rung is cylindrically shaped, and its purpose is to add strength and stability to your chairs and tables. You most often find them built into tall chairs that you find at bar counters or stools for island counters.
These are often the thing that most children mistake for an extra step and have a great time treating them like a jungle gym, but end up breaking under their weight. Even if there are no children to threaten the run, they are often forgotten about until they have broken, and they start to loosen inside the socket they are attached to.
A screwdriver, a syringe, some glue, a cloth, and a syringe will suffice to repair a loose rung. The first step is to loosen the legs of your chair or table slightly, which will allow you to detach the rung and reveal the opening beneath it which you can make sure is clean by wiping it with a cloth. Use soapy water if needed, just make sure you wait for that to dry before you apply the glue.
In this next step, you will need to add a little glue to your syringe to help it stick inside the recess, however, not completely. This is because these openings for the rungs are not very deep a lot of the time, and overfilling them will likely result in quite a mess.
Suitable Glue for Wooden Furniture Repairs
As we mentioned earlier, there are a lot of different glues out there, not to mention all the different types of wood glues as well. One cannot use any old wood glue as furniture glue for wooden chair repairs, what if it fell apart whilst a guest was sitting comfortably on it (at least until it breaks again, and they crash to the floor).
To prevent embarrassing your guests, make sure you have chosen the right glue for wood furniture repair work. Before we get into what the best glue for furniture is, let us take a quick run through a few of the types of glue that are suitable for wooden furniture repairs.
Polyvinyl Acetate (PVA)
This is a typical glue kind that you would find in any school arts and crafts box, but it is popular for a reason. PVA glue offers water-resistant qualities, and this makes it a suitable glue for outdoor furniture repairs. You will find traces of PVA in other types of glues for this benefit. Because it is somewhat water-resistant, it can be used for food packaging.
Cyanoacrylate (CA)
This is the perfect glue for those working on a tight schedule. With a deadline creeping in on you, and the workload is high, cyanoacrylate is perfect because it is a super fast-drying adhesive. It is highly efficient as wood glue and forges a strong bond that lasts a long time.
Epoxy Resin
Resin is known as being one of the strongest and most durable natural substances on the planet. When we started harnessing the strength of resin in our glues, it was a game-changer for the world of adhesives. Epoxy resin adhesives promise especially strong bonds, and they will last a long time.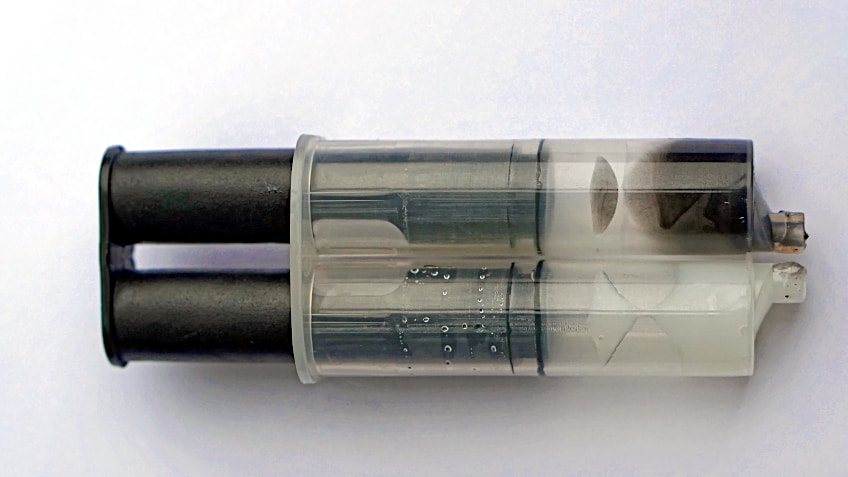 This glue comes in two parts that you usually need to mix before you apply them. One is the actual resin, and the other is the hardening ingredient which firms it up and strengthens the glue. It might take a while longer to dry in comparison to other glues suitable for wood, but once it is dry, it will be a hard thing to remove.
Hide Glue
Hide glue isn't extremely helpful unless you are doing wood furniture repair work, otherwise, it is a limited glue that is only suitable for certain wooden chair repairs (and possibly other furniture items made of wood). This is even though it is one of the few adhesives available in both solid and liquid forms.
You will not see this glue very often, unless you are in a furniture repair workshop, possibly because it is quite expensive, so most DIY lovers do not often go for this option. It does not provide any waterproofing qualities, so it is better suited for furniture that lives indoors.
Polyurethane (PU)
There are several types of glue used around the world these days, and one of the most common is polyurethane. The adhesives are known for their powerful adhesion properties, as well as their compatibility with other surface materials.
The glues made from polyurethane are used in every industry, from the crafting industry to the automotive engineering workshop. Since polyurethane is a multipurpose material, it has been used in everything from smartphones to hairbrushes. You must apply these glues to a moist surface for them to work. If you ever decide to use one, keep this in mind. In addition to it being heat and water-resistant, PU typically lasts the lifetime of the object to which it is applied.
Type Of Wood Glue
Characteristics
Polyvinyl Acetate
● Provides water-resistance

● Not too expensive

● Easily found in most stores

● Safe for food packaging

● Can be added to other glues to make them waterproof

● Some-what smelly

Cyanoacrylate
● Dries fast

● Dries firm

● Professional and industrial strength adhesive

Epoxy Resin
● Adhesive comes in two parts

● Once it has cured, it is safe for food packaging

● Versatile

● Generally, they are water-resistant

● Takes longer to dry and cure

Hide Adhesives
● Made of animal carcass

● Difficult to cure in high humidity

● Fragile when dry (can crack easily)

● No water-resistance

● Strong odor

● Only works for furniture repairs

Polyurethane
● Strong adhesive

● Works with many types of repair jobs

● Resistant to heat

● Durable bond
Recommended Glue for Wooden Furniture
Now that you are aware of the different kinds of glue that you could use for your wooden chair repairs, or whatever furniture gluing jobs you have in mind, we can offer our recommendations on what we think is the best wood glue for furniture repairs. This way, you will not get overwhelmed at the store the next time you are out buying wood glue for furniture repair work, and you will buy one that is going to get the job done with confidence.
Top choice: ELMER'S Carpenter's Wood Glue
There are a few brands that manufacture glues, but few are as reputable as Elmer's. They have produced glues that have come to the aid of professional woodworkers and home DIY weekenders across the globe. They were founded about 100 years ago, and since then they have produced numerous adhesives that are great for a vast number of projects.
Elmer's carpenter glue is an amazing option if you are on the hunt for a suitable wood furniture repair glue. You can look forward to a very strong bond without having to endure too much of a smell, like with other glues that make working without a window open nearly impossible. This glue can withstand a bit of sanding down with sandpaper, which can ensure a beautiful paint job. This adds to the professionality of the glue, and you will be able to cover up the sight of the glue with paint.
It offers a high adhesive strength plus a dry time that can only be matched by two-part epoxy glues; while you could choose one of those, nothing beats the ease of use and simplicity of Elmer's wood glue.
In addition to the benefits listed above, this glue is also exceptionally effective at protecting from too much heat and humidity in the air, meaning you can rest easy if your furniture lives outside. This shows that Elmer's have been putting their 100 years of making glues to good use and have been improving their remedies with each invention.
This glue is not expensive at all; it is remarkably affordable for the efficiency that it promises and provides. It is a simple-to-use mechanism that the glue is designed into, making the application a breeze!
PROS
Heat and humidity resistant
Simple application because of clever design
Adhesive is strong
Dries fairly fast
Easily found in most hardware stores
Not too expensive
CONS
Only available in one quantity, no size options
Can take up to 24 hours to fully cure
Only suitable for wood furniture repair work
Clamping while it cures is necessary and cumbersome
Recommended for Adhesion Strength: TITEBOND III Ultimate Wood Glue
Titebond is another one of the brands that we like to recommend. They have perfected many of their glue remedies and offer some of the strongest adhesives on the market, across the globe. In comparison to other brands, they are highly effective and deliver on their promises. They have even been approved by several institutes that verify the efficiency of the glues that they make.
Furniture gluing is made easy when you are using Titebond's ultimate wood glue. It is resistant to excessive heat from hot climates, as well as humidity in the air from tropical or rainy climates. This makes it suitable for pretty much any outdoor furniture repair job, no matter where you are based in the world, as well as indoor jobs.
This glue might take a little longer than other glues to dry and cure, but this does not make it any less effective, you just need to incorporate the time for it to dry into the time that the job takes. This should not affect you too much, because once it has dried (after 24 hours) the glue will last a lot longer than some other brands.
You could use this glue for food packaging, because it is water-resistant, as well as humidity and heat-resistant. Make sure it has dried and cured before you add any hot food into the glued packaging for the best results. This glue is unfortunately not as odorless as other glues, and there are
PROS
Heat and humidity resistant
Simple application
The brand is recommended by many
Resists water
Food safe once cured
Suitable for other materials as well
CONS
Takes longer to dry and cure than other glues
Only one color
Only available in small quantities
Recommended for Value: GORILLA Ultimate Waterproof Wood Glue
For a lot of repair jobs, the glue that you choose will depend on the amount of glue that you need for the job. Quality over quantity is not the only way to choose the best glue for furniture repairs, but some might prefer quantity over quality. Gorilla Glue is not only one of the most popular and well-known brands that make adhesives, but they make glues that are highly strong and long-lasting.
The name of the glue describes how it has been designed to be completely watertight once it has had the opportunity to fully cure. As a result, it is a suitable tool to use for any of your workpieces that would be exposed to the elements during cold winter.
This is a versatile glue that is well suited for jobs where furniture lives indoors, well as outdoors. It is resistant to high UV rays that might break down other glues, and it will last a long time, enduring harsh weather conditions. The glue dries transparent, so there will be no obvious patches of glue ruining the aesthetic of your gorgeous wooden furniture. This also means no unnecessary paint jobs to cover up the ugly blotches of glue.
This glue is definitely worth the price that you pay for it, even though it is sold in limited quantities.
PROS
Suitable for various applications
Dries transparent
Suitable for interior and exterior conditions
Packaging is ergonomic
Waterproof when cured
Worth the cost
CONS
Only sold in small quantities
Takes a long time to cure
Clamping is necessary until it has been cured
What Should You Look for in a Glue for Wood Furniture Repair?
Knowing what brands have created reputable glue products are not enough, and the type of job at hand might require something different from what we have recommended. For your benefit, and the benefit of the job at hand, we have a few things that you can keep in mind the next time you are buying wood glue for furniture repair work. They are the characteristics of the glue and how they work for various tasks. This way you can make a more informed decision for yourself.
Adhesive Strength
There is nothing more frustrating than buying something that is embellished with so many extra features when they fail to deliver on what they have been promised to do. When buying glue, you want to avoid that same disappointment by reading the label of the glue's packaging, and checking how strong the glue is. You can even go online and search for reviews of the glue that you are considering purchasing.
Keep in mind, that when making repairs, buying the most versatile product is not always going to benefit you. Rather stick to glues that have been designed specifically for certain jobs and materials.
Shelf Life
Some people do not run wooden furniture repair businesses where they are using the glue constantly, and the risk of it drying out is not much of a threat. Some people just love fixing things that break in their homes by themselves. This means they will benefit from glue with a long shelf life and will not dry out when not used for a while. You can also extend the shelf life of the blue by making sure you buy one that comes with an airtight container or put the glue inside your airtight container.
What makes glue last long once opened? Some preservatives get added to certain glues that make them last longer. You can look on the label and see if there are high amounts of preserving agents added into the blue, and that will tell you how long you can expect it to last. Not only that, but generally they have a seal with an O-ring that prevents any air from sneaking in.
Generally speaking, the better quality and slightly more expensive glues will last longer once opened because they are made with higher quality material, including the packing.
Time for Drying and Curing
The drying and curing times of wood glue can vary greatly, not only between different brands but also between different kinds of glue on the market. When working on a project with a short deadline, you should choose a glue that has a short dry time. As a result of this, you can finish your project as soon as possible, and therefore complete more jobs and improve your time efficiency. You will also feel confident that once your project is securely attached, you can start painting, staining, or sealing it right away.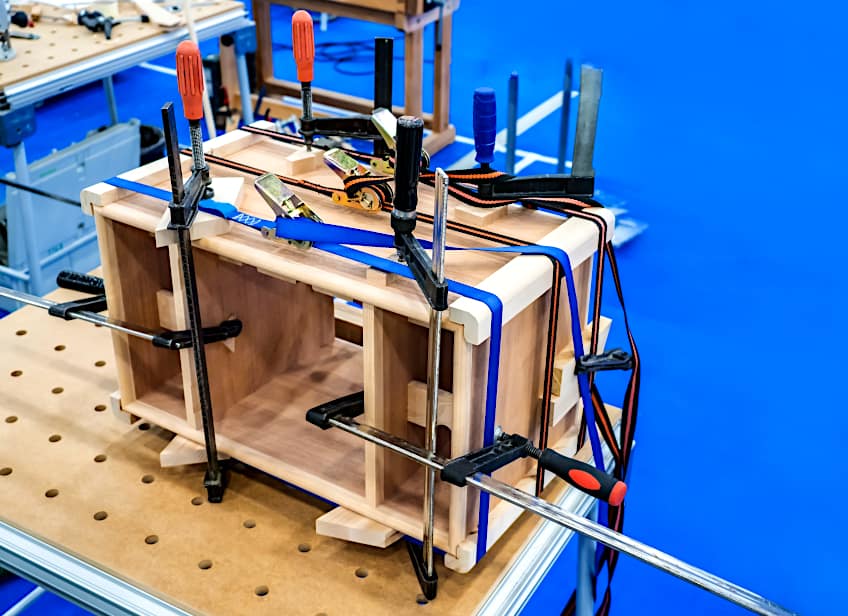 Just remember that the faster the glue dries, the more accurate you need to be with your furniture gluing. You will have less room for mistakes because the glue will dry and set the repair in place. Therefore, if you make a mistake, you could ruin the job entirely. We recommend that beginners use glue that has a longer drying time because they have more room for mistakes.
Color When Cured
Some glues will dry in a visible color, and some might dry transparently. The preference is up to you but also depends on the job at hand. Many brands have created various glues that dry either opaque (and sometimes even a yellowish tinge) or other glues that are designed to be a little bit more inconspicuous. Make sure that you read the label of the product you buy, there will be instructions for how to apply it, how long it takes to dry, as well as how it looks when it has dried.
Most do not think of what the glue will look like when it has dried, but it is the aspect that can surprisingly change the value of the adhesive. This also depends on what the glue is repairing, and how visible the area is that you are going. If you are gluing the underside of a heavy sofa, you might not mind if the glue dried in an obvious opaque color. But, if you are gluing something that is easily seen, like the surface of a chair or countertop, the glue should preferably dry clear.
We hope that you have found this tutorial helpful in your search for the best wood glue for furniture repair jobs. There are so many brands out there, but you are now equipped with the knowledge that will help you choose the right one. Hopefully, you feel much less confusion over the requirements that your repair job has, and you will be able to efficiently apply the glue with the most effective method. Make sure you read the label of the glue you have chosen because the manufacturer will have included any information that should be understood when using the glue.
Frequently Asked Questions
Is Wood Glue Toxic to Humans?
Not all glues are made the same, but some glues are not as toxic as other glues are. Regardless, no glue is harmless to our health, and you should always be wearing the right protective clothing, and that includes a respirator mask that will prevent you from breathing in any of the fumes.
Is Gorilla Wood Glue Safe for Kids?
Gorilla glue is a brand that has produced several potent types of glue. They can be quite intense for children to use, but they are quite the innovative company that has created many different types of glue, including glue suitable for children to use.
Is Elmer's Wood Glue Toxic?
Elmer's wood glue is amazingly strong and long-lasting, and it is also free of toxins, so it is more suitable for children to use.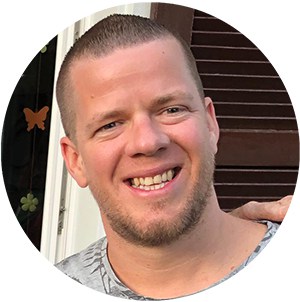 I have been into woodworking since 2005 and woodturning since 2011. Because of my love for wood and woodworking, I started woodhappen.com to teach other enthusiasts about how to finish and seal wood, the best woodworking tools, the different types of wood, and everything else related to woodworking! Read more about me here.