How to Start Woodworking as a Hobby – Carpentry as a Hobby
Hobbies are a great way to develop a skill, meet new people, and of course, have some fun! Some people enjoy hiking outdoors, drawing, painting, working on cars, and even combat sports like mixed martial arts. Lately, one of the most popular hobbies that people seem to be getting into is wood crafting. The art of wood crafting is one of the easiest hobbies to get into, and over time, can provide you with skills that not only allow you to make beautiful workpieces but also allow you to start your own little craft business if you'd like to. If you've been thinking about starting woodwork as a hobby, we've prepared a short tutorial about how to get started, as well as some of the tools you'll need to begin with.
What Is Woodworking?
Woodworking and wood crafting is generally described as the practice of creating things out of wood using various tools. Woodworking is known as one of the oldest occupations in recorded history, as people have been making both practical and decorative pieces out of wood for thousands of years, even before the written word was invented!
Even though we don't carve spears and wooden idles as our forefathers did, wood crafting still remains one of the most popular and lucrative professions on the face of the planet. This contrasts with other ancient professions, as many of them have been phased out due to technology and/or a better understanding of the world around us.
In fact, wood crafters use both power tools and hand tools to create their workpieces. Tools used in woodworking can be purchased at virtually any hardware store, hobby store, or online, with a variety of hand tools and power tools being readily available at pretty reasonable prices. Like any other type of tool, higher quality wood crafting tools will cost more, with the more basic options being notably cheaper.
"Woodworking" is a blanket term used to describe the practice of creating things from wood, there are actually many subdisciplines of woodworking such as crafting, cabinetry, wood turning, furniture creation, joinery, wood carving, and pyrography. There are many other niche disciplines to explore, but these are some of the most popular and widely practiced today, and what you'll likely see the most of.
As you can see, there are many options to choose from when you're starting out in woodworking for the first time, and you don't need a ton of money either. All you need is some imagination, some decent tools, and the right attitude to change a blank wooden board into the workpiece you see in your mind's eye.
Why Should You Start Woodworking?
Whether interested in learning more about woodwork as a craft, or you're on the fence and would like to know more about woodworking before you commit, below is a list of things you should keep in mind. Remember that at the end of the day, your woodworking experience is in your hands, so no matter what happens, remember to have fun!
What Are the Benefits of Woodworking?
Like other hobbies, there are many benefits to woodworking besides the primary activity. There are various mental and physiological benefits to the art of woodworking that have been discovered over the years.
So let's have a look at a few of the benefits you're likely to experience should you decide to get into woodworking as a hobby.
A Good Way to Occupy Your Mind
Instead of scrolling through social media for hours, you could develop your woodworking skills and create something new from scratch. This is a good way to develop both your critical thinking skills and expand your imagination through exploring the possibilities of what your workpiece could look like once you're done. It can also be a healthy mechanism for you to reflect on your thoughts.
Can Improve Fine Motor Function
Since you'll be using your fingers to manipulate not only your workpiece but your tools, repetitive exposure to both of these can result in the improvement of your fine motor skills. Whether you're feeding wood into a table saw or tensing up your fingers to hold a chisel in just the right position, you're sure to refine the way you handle both your tools and your workpiece.
Can Improve Hand-Eye Coordination
If you aren't into physical activities woodworking is a great way to improve your hand-eye coordination. This will become immediately apparent when using hand tools for the first time, as tools like cable saws and chisels require you to know exactly where they're placed and how much force should be applied to use them effectively.
The Opportunity to Create Something from Nothing
One of the most alluring things about woodworking as a hobby is the fact that you get to make something from nothing. Any wooden block or board can be turned into any number of things including jewelry, furniture, art, or something more practical like cutlery.
The only limitations you have are your imagination, your tools, and the amount of wood you have.
Can Be Immensely Rewarding
Creating anything on your own, with your own hands, can be an extremely rewarding experience. Woodworking is no different. Whether you're creating an ornate bowl, a centerpiece for your dining room table, or a bench for your front lawn, you'll undoubtedly feel a great sense of accomplishment when you finally sit back and admire your new creation.
You Don't Have to Make Things
While most people picture this hobby as being covered in wood dust, this is just one of many disciplines in woodworking. Many people simply collect and restore antique workpieces either to sell them or to make them part of a collection.
Others use woodworking as a part of multimedia art pieces, where they combine wood, metal, plastics, and even electronics to create something truly unique.
You Can Make Some Extra Money
If you have a talent for woodworking or have developed a certain level of skill over time, you could sell your workpieces to make some extra money. If word gets out or you choose to market your skills, people could commission you to create unique pieces for them too. For many people, what started out as a way to put some extra money in their pocket has turned into a full-time job!
What Tools Do You Need to Get Started?
Depending on what type of woodworking you're looking to do, you could need specialized tools or just some basic ones. Knowing exactly what facet of woodworking you'd like to go into will narrow down the kind of tools you're going to need when starting out and what you'll need to get going forward as your skills develop.
There are two ways you could go about gathering tools when you're starting out in woodworking. The first way is to simply furnish your workspace with all of the tools you could possibly need, which is ideal if you're taking woodworking classes and/or have an idea of what you'd eventually like to end up making once you're a novice or professional.
The second method is the one that most beginners take. This is starting off with basic tools like a chisel, handsaw, hammer, mallet, drill, sandpaper, wood glue, nails, and aesthetic improvements like wood stain and paint. Then, as your technique, skills, and comfort level progress, you can purchase power tools like orbital sanders, bench saws, a drill press, nail guns, and other things to make woodworking easier.
The latter is far less expensive, but it doesn't mean that you won't be able to do as much as someone that's bought all the latest goodies. You can still curve corners with a chisel, you can still cut wood joints with a handsaw, and you can still have a perfectly smooth workpiece with some sandpaper.
However, manually doing everything will take a bit more time and effort as opposed to using power tools.
Should You Buy a Woodwork Kit?
Woodworking kits are a great place to start if you've never worked with wood or hand tools before. They make the learning curve that much gentler by providing you with pre-cut wood pieces that you get to put together like a puzzle, and then shape and decorate to your liking. Woodworking kits are available for different ages and skill levels, so even if you're a pro, there's a woodworking kit for you!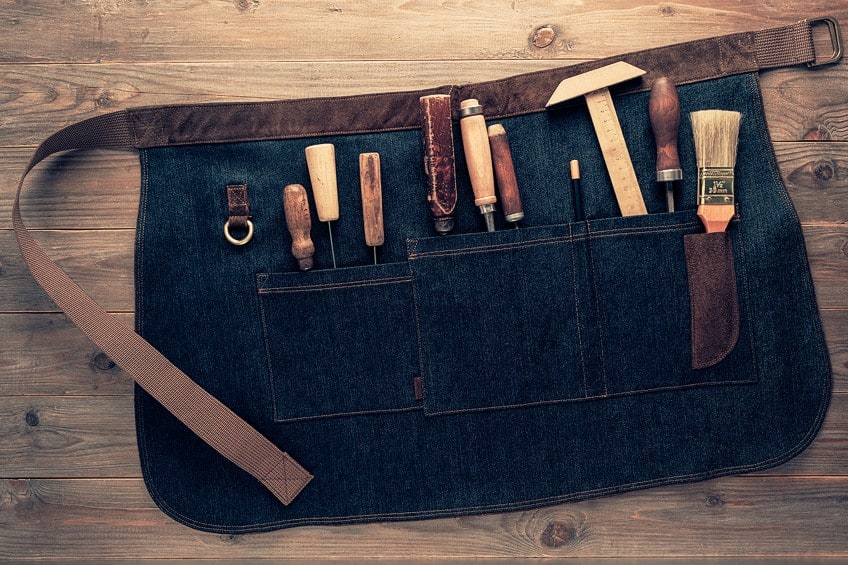 If you're concerned that there might not be a kit for the type of woodworking you'd like to get into, you can rest assured that there is a woodworking kit for virtually every woodworking discipline out there. Whether it be pyrography, small crafts, collectibles, and even miniature boat building! If you'd like more guidance and insight into woodworking, a kit might be just what you're looking for.
How to Start Woodworking as a Hobby
Now that you know what tools you need to get started with woodworking, we thought we'd give you a summary of some of the basic steps to take when starting out a new project. Remember that even if you're working with hand tools accidents can happen very easily.
So always ensure that both you and your workspace are adequately prepared well before you begin!
Setting Up a Workspace
Setting up a workspace for workspace is the first and arguably the most important step when beginning a project. Choose a space that is big enough to accommodate all the tools you have chosen to use and any others you might acquire along the way. As you acquire more materials and more tools, you'll find that space often comes at a premium.
Secondly, you should ensure that your workspace is well-ventilated. Wood particles become airborne quite easily and can be inhaled, or become little projectiles when being cut. That being said, ensuring that you are wearing hand and eye protection is also an important aspect of workspace preparation, especially when cutting wood.
Next, you'll need to set up your workbench. Ensure that your bench is level and that it is the correct height for you. The next step ensures that the surface of your workbench has been covered if you're going to be painting or using wood stain. Finally, ensure that all the tools that you will need have been neatly laid out and that they are on the side of your dominant hand.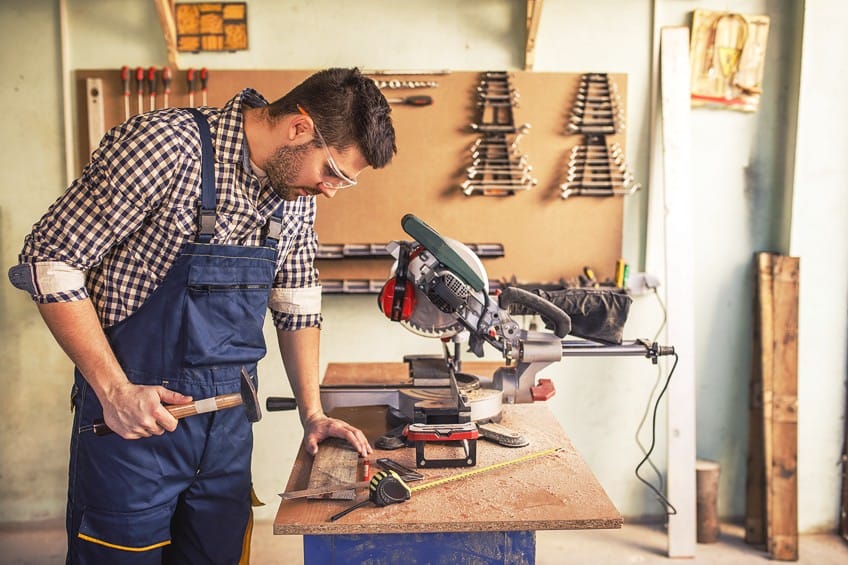 Finally, you should ensure that you know exactly where all of your tools are at any given time. Not only will this save you time when you need a tool while you're working, but it will ensure that your workspace is neat and organized, reducing the probability of accidents happening and/or things getting lost while you work.
Choosing Your First Project
Choosing your first project can feel like a big step in your woodworking hobby. After all, it will likely set the tone for your woodworking journey going forward, so what should you do? Well, you'll have to choose whether you'd like to start from scratch or use one of those beginner woodworking kits that we mentioned earlier. There are advantages and disadvantages to both. Using a beginner's wood crafting kit means that your material comes pre-cut, you have all the tools you'll need, and the possibility of making an error is greatly decreased.
That being said, beginner woodworking kits tend to trap you in a creative box, limiting your ability to make your first workpiece truly unique.
Starting from just a blank wooden board is essentially throwing yourself into the deep end of things, especially as a beginner. You will have to plan and mark out your design and begin carving it out from the solid wood block. You'll also have to ensure that you have all the tools you'll need as none will be provided for you. However, you aren't limited by instructions, but in the same breath, you'll have to figure out the finer details on your own.
Regardless of whether or not you're starting off with a woodworking kit, you still need to choose what exactly you'll be making as your first-ever woodworking project. If you would like to start off using a kit, you check out any woodworking hobby store.
If you're going to be starting off from scratch, there are tons of design tutorials online. What is a good project for beginners though?
Beginner: A Simple Wall Shelf
If you're looking for an easy project for your very first workpiece, you can't go wrong with shelving. A simple shelf is easy to make, doesn't require too much material, doesn't require any specialized tools, and will allow you to practice precise measurements as well as how to tap holes using a drill. Shelving will also give you the opportunity to learn about brackets and how to mount things safely.
If you've never worked with wood before in your life, this is the ideal project for your skill level, especially if you'd like to create other types of furnishings going forward. Once your shelf has been cut and sanded, you can paint, stain, varnish, and/or stencil the surface of your shelves, which are all really fun and interesting to do for the first time. Here are a few things you will need:
Shelving board
Hand saw
Power sand/sandpaper
A drill
Wall bolts/screws
Shelving brackets
Paint/stain/varnish
Pencil
Ruler/measuring tape
Intermediate: A Simple Wooden Table
If you've worked with wood before then you might be looking for something a bit more challenging than a set of shelving. In that case, we think a small, simple table might be a bit more your speed. Tables are still fairly simple to make but require more parts to be cut and assembled, all of which need to be cut correctly to avoid the table being lopsided or otherwise unstable.
Tables seem relatively simple to make, but you'd be surprised how easily one incorrect cut or miscalculation can cause some frustration later on. Tables don't require much material to make, and the best part is that you can use them afterward either in your home or as a new addition to your workspace. Here are a few of the things you'll need:
A handsaw
A drill
Sandpaper/orbital sander
Wood screws/bolts
Paint/stain/varnish
Corner brackets
Pencil
Ruler/measuring tape
Skilled: A Bird Feeder
If you have experience working with wood and you're looking for a bit more of a challenge, you could try out a birdhouse. Not only are they fun to make, but you'll have lots of little feathered friends once you put it up! Birdhouses are relatively easy to make and can be made from scratch as well as from a beginner's kit, making them the ideal project for newcomers.
Birdhouses can be created in a number of styles, sizes, lengths, and colors. The best part about there is there's no "correct" way to create a birdhouse, so whether your birdhouse is suspended from a tree or is more traditionally up on a post, you'll be able to tell all your friends that you've made one! Virtually any type of softwood can be used to create a birdhouse, so let your imagination run wild.
Softwood board
A handsaw
Sandpaper
Screws/bolts
Paint/varnish/stain
Bird feed
Pencil
Ruler/measuring tape
Learn Basic Woodworking Techniques
Before you get started in woodworking it's a good idea to familiarize yourself with the materials. Before you get started in woodworking it's a good idea to familiarize yourself with the materials you'll be working with. Since wood is your primary medium, it will help you immensely to keep the properties of both hardwood and softwood species in mind.
This will help you choose the right wood for your project, and ensure that your workpiece lasts a bit longer depending on where it is located.
What is the difference between hardwood and softwood species? The most important difference that a woodworking hobbyist should keep in mind is that hardwood species are dense and tough while softwood species are far less dense and more malleable. Additionally, hardwood species are better suited for a workpiece that will be situated outdoors.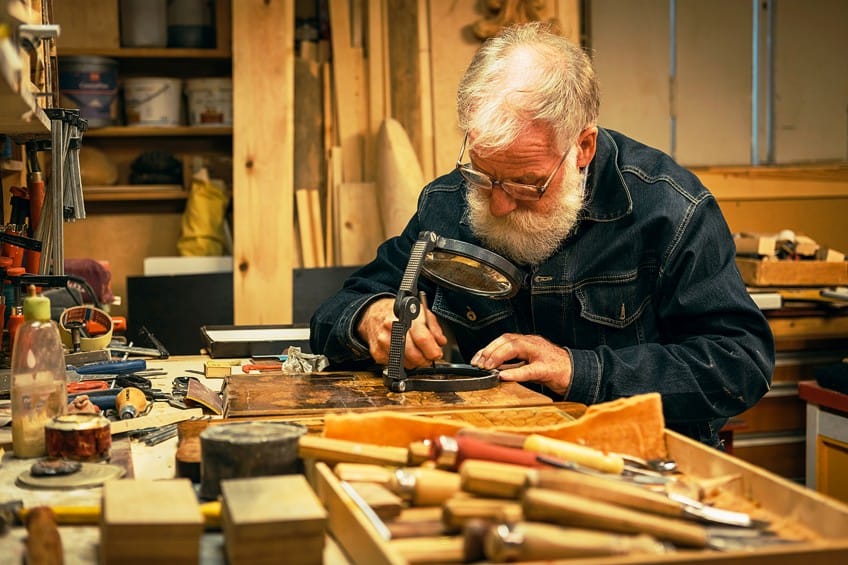 Hardwood species can be more challenging to cut, turn, shape, and stain due to how dense and knotty they can be tough. On the other hand, softwood species are easier to cut, turn, shape, and stain due to their higher porosity and being less dense overall. However, they are less durable and are generally not suitable for outdoor applications.
Aside from wood types, you should also ensure that you have a good grasp of basic woodworking techniques. Every woodworking hobbyist needs a good understanding of sawing, sanding, and drilling, as these techniques will be used to set up the composition, shape, and structural integrity of most beginner projects.
If you aren't taking woodworking classes or following the instructions of a beginner's kit, you might feel a bit lost in this regard. Thankfully there are quite a few tutorials online showing not only how to use these tools the right way, but all of the health and safety protocols associated with the wood crafting trade. The best part is that most of these are free and straightforward.
Building Your Tool Collection
Whether you're picking up a carpentry hobby, pyrography hobby, or furniture-making hobby, you'll find that your tool collection gradually increases in size as time progresses. After all, the more your skills and confidence develop the more likely you are to try new techniques and other woodworking disciplines.
A good example of this is how you might have started out using sandpaper and a handsaw. However, as your projects get bigger you'll find yourself looking at shiny new table saws and maybe that orbital sander you saw on sale the other day. This is completely normal, and you should equip yourself with all the tools that you feel could improve your woodworking experience.
Every new tool you get will be another learning curve, but just as you did when you started out, you will master them over time. Something you should keep in mind is that not all tools are created equal and that just because something is on sale doesn't mean that it will still be in working order two to three months from now.
As far as possible, always buy quality tools. How do you know what tools are good quality though? Well, the same way you would with any other product. Ask those you trust, look at reviews online, and learn from the mistakes of others.
Power tools can be expensive to replace and/or repair, so it's in your best interest to ensure that what you're buying is of good quality and will last you a while.
Finishing Your Project
Finishing your project is a step that even the most experienced woodworkers tend to overlook. Finishes not only improve the look of your workpiece but also create a protective layer between the surface of the workpiece and your immediate environment. Adding a high-quality finish ensures that all of your hardwood is preserved for the lifetime of your workpiece.
There are many ways to apply a finish to your workpiece, but some of the most popular ways to go about this are to use paint, wood stain, or varnish.
These are easy to apply, are readily available, and each provides their respective protective and aesthetic upgrades to the surface of your workpiece. Knowing the type of wood you're working with will help you choose which paint or wood treatment is best suited for your workpiece.
Choosing a finish can be tough, after all, there are so many options to choose from. Paint is a popular choice, but most paints obscure the texture and wood grain of your workpiece. They do provide vibrant and long-lasting color in most instances though, so it might be well worth it depending on the look you're aiming for.
Wood stains and varnish don't sit on the surface of the wood as paint does. Instead, they penetrate beneath the wood's surface and bond with the wood fibers. This creates an internal and external layer of protection, but it doesn't really work on denser wood species with less porosity. Additionally, wood stain and varnish will not obscure the grain of your workpiece or its texture.
Join a Woodworking Community
Your carpentry hobby will undoubtedly expand your circle of friends as you become part of a larger community of woodworking enthusiasts. Pretty much every country on the face of the planet has a woodworking group, forum, club, or guild that you can join to talk and collaborate with people who share your passion to learn and discuss woodworking and all of its disciplines. If you don't have any woodworking communities in your neighborhood or city, don't worry about it. There are thousands of woodworking communities online that do regular live streams, tutorials, and Q&A sessions with industry experts, and some of them even do giveaways!
Generally, most online communities are full of beginners and experienced woodworkers, making them prime learning environments.
In these communities, you'll often find techniques and tools that you've never heard about, and you might end up teaching someone something new yourself. If you are going to be joining a woodworking community, we recommend you keep an open mind and learn as much as possible while making friends with your new hobby.
Now that you know how to get started with woodworking, what tools you'll need to get started, how to prepare your workspace, how to choose the right wood for your project, how to protect your completed workpieces, and how to join a woodworking community, it's time for you to get out there and put your newfound knowledge to the test! Remember to always wear the appropriate personal protective gear when working with power tools, and to ensure your workspace is well-ventilated at all times.
Frequently Asked Questions
How Do You Get Started in Woodworking?
If you are wondering about how to get started with woodworking as a hobby, the easiest way to go about it is to get a beginner's kit. These kits contain wood board, tools, and easy-to-follow instructions regarding how to use them effectively!
Is Woodworking Easy?
This depends on your skill level, confidence, and affinity for woodworking. For your first project, we recommend choosing something small that allows you to get the feel for working with wood and managing basic hand tools. Once you've got the hang of manipulating the wood and your tools, you can move on to bigger and more intricate projects.
Is Woodworking Expensive?
This really depends on you. If you're purchasing rare and expensive wood to make your workpieces and want to use the latest and greatest tools, the costs will add up quickly. That being said, you can achieve the same results with some hand tools, elbow grease, patience, and some reclaimed wood if you really wanted to.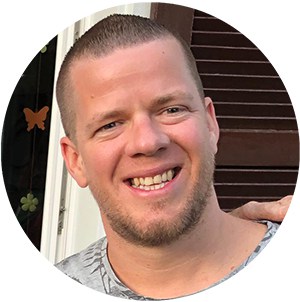 I have been into woodworking since 2005 and woodturning since 2011. Because of my love for wood and woodworking, I started woodhappen.com to teach other enthusiasts about how to finish and seal wood, the best woodworking tools, the different types of wood, and everything else related to woodworking! Read more about me here.