Wood Craft Ideas – 20 Wood Projects for All Skillsets
Wood crafting has been around for a really long time, thousands of years to be exact, and we've used wood as a medium to create a number of furnishings, shelters, jewelry, beds, and even vehicles. There are hundreds of other types of wood-crafting projects that can be made by both professional crafters and those that are new to the crafting scene. This being said, let's have a look at some of the best crafting ideas that you can try out regardless of your skill level, just be sure that you have everything you need before you get started.
The Best Wood Craft Ideas
Wood craft ideas can be intimidating to look at. After all, most of them are created and photographed by professional crafters who have years of experience and expertise that allow them to make truly stunning workpieces. This being said, it's best to go into a new wood crafting project with no expectations and simply allow yourself to do the best you possibly can at your skill and comfort level.
Below are a few of the best wood craft ideas we could think of that you can enjoy making on your own or with some loved ones.
Easy Wood Crafts
If you don't have the time (or the inclination) for intricate wood craft ideas, why not try a few quick and easy crafting ideas that you can do in an afternoon or over the course of your weekend? Below are a few easy wood crafts you can try out in your spare time that require little to no time to do.
A Coffee/Tea Sign
As far as wood craft ideas go, a simple (yet elegant) tea and/or coffee sign is one of the easiest and most effective means to liven up a living space. All that you need is a wood board of your choice, some paint, a stencil, and some basic painting supplies.
Regardless of your skill level, the chances are that you could probably make a pretty good-looking tea and/or coffee sign.
If you'd like to make your sign look a bit more rustic, you can add some patina or use some reclaimed wood board to create a farm-style aesthetic. This style can make a space feel more homely, and the best part is that you don't even have to have anything else that matches the look because it simultaneously blends while drawing just enough attention to itself to stand out!
A Flower Market Basket
Flowers have a way of making virtually any space they're found in seem a little bit brighter, and while a plain old flower vase might do the trick for some, a well-made flower basket can add a little bit of flare to your flower display.
Not only are these easy to make, but they provide loads of visual and special impact with little to no paint or accessories (apart from the flowers, of course!).
You don't even have to start from scratch when making these, you could use an old magazine rack or toiletries holder if you have one laying around. You can paint these, make them look distressed, or simply stain them to get your desired look.
If you're wondering how to display your flowers you can wrap them in crinkle paper, burlap, and even wrapping paper if you want to draw attention to your flowers.
A Towel Rack/Blanket Organizer
If you're looking to make simple and useful crafts with wood, making a towel rack and/or blanket organizer might be right up your alley. You can either make them from scratch or repurpose an old wooden ladder to make one. One of the best types of wooden ladders to make into one of these are the kinds used on kids' bunk beds.
If you're making one from scratch all you need is two decently sized wooden boards, a saw, some sandpaper, some glue, and some wood stain/ wood paint. If you're going to be using it as a towel rack, we recommend using water/mold-resistant paint to prevent rot over time, or you could seal it to ensure that the paint doesn't get damaged.
A Candle Holder
If this is your first attempt at wood crafting, then you might want to try something a bit less complicated. If this is the case, then we recommend trying out a candle holder. Not only are these easy to make, but you can customize the shape, size, and height of these with little to no effort.
All that you need to get started is a block of wood!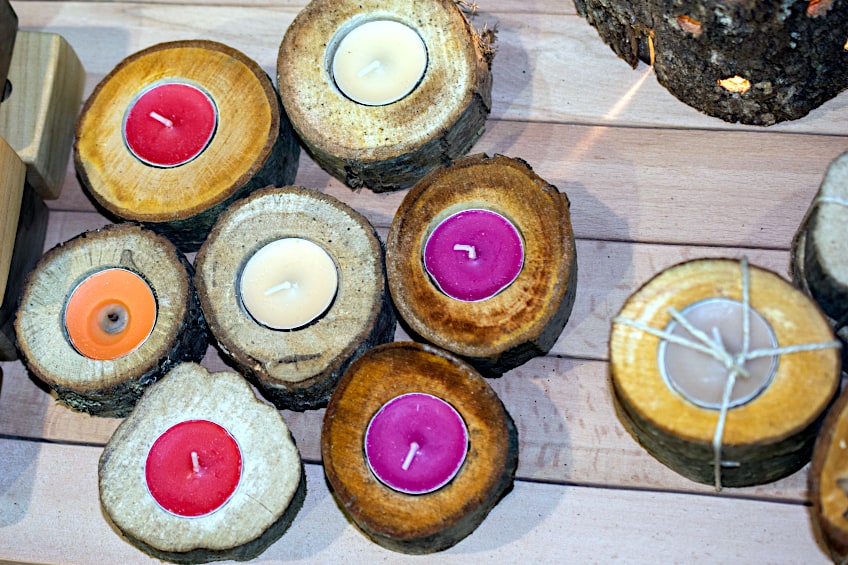 Drill holes in the wood according to the size of candle you intend to use or drill different holes for various types of candles (teacup candles and long candles are the easiest. You can then paint, stain, or use stickers to decorate your candle holder, or if you're feeling really adventurous, you can add metal accents to it too.
A Wooden Drawer Centerpiece
If you're looking for easy DIY wood crafts look no further than this one. If you're in the process of getting rid of an old bedside table or chest of drawers, you might want to consider saving one or two of the drawers to pull this one off.
They're simple wood craft ideas that don't require any drilling, cutting, or complicated wood glues.
All that you need to do is get your hands on some paint and sandpaper and you're ready to get started. These are amazing centerpieces that frame things like family photos, mason jars, and books, and can be used as a storage space too!
You could go for the timely distressed wood aesthetic or put a modern spin on things with a bright sheen paint job.
A Wooden Image Transfer Piece
A printed image or photo transfer can be done with any wooden workpiece. If you don't know what photo transfer is, it's essentially the practice of taking a printed image, laying it on a flat wooden surface, and then rubbing it with acetone until the image transfers onto the wooden surface.
If it sounds intimidating, we assure you it isn't, just ensure that your workspace is well-ventilated as acetone displaces oxygen in high concentrations.
With a bit of practice, you'll soon find that the possibilities are endless when it comes to photo transfer. You can transfer images to cutting boards, display boards, wooden coasters, serving trays, wooden jewelry boxes, and even pretty much anything else with a flat wooden surface!
We recommend perfecting your technique with one or two practice pieces before giving it a go on your actual workpiece.
Intermediate Wood Crafts
If you're not completely new to crafting and you're looking for something that's a bit more of a challenge, we've got you covered. Below are a few more intricate wooden crafts that you and your loved ones can get into, and they also make great gifts for the holiday season!
This being said, here are a few of the more intricate wooden workpieces you can try your hand at.
A Front-Door Messaging Table
Generally, this isn't really an option if you live in an apartment building, but it can be used in your entryway too! These are a great way to make anyone entering your home feel welcome, and let them know a little bit about your abode. They can be made from scratch, or you can repurpose an existing table by painting, staining, and/or shortening it.
The cool thing about these is that you can decorate them in essentially any way you want. From flowers to family photos, to message boards, and even candles, the possibilities are endless! You can add things around them like flowerpots and drink trays so that the space feels more occupied, or add a few keyring hooks so you can grab them easily on the way out.
A Wooden Block Calendar
Wooden crafts can be both decorative and functional as can be seen by some of the aforementioned craft ideas. After all, why not have something practical that looks good in your life? A good example of this is wooden craft calendars.
These are made of interchangeable blocks that represent the current date, and while it might seem like a lot of effort to change them around every day, they do help you keep track of the date and time in a concrete way.
All that you really need to make one of these is a wooden box to act as the housing for the date blocks, two wooden blocks to make the date blocks out of, a second rectangular one to display the name of the month, and some paint and stencils to paint them. This can be a fun little project for you and your little ones.
There are also more challenging (but fun to build and use) perpetual calendars out there.
A Curtain Valance
Whether you have blinds or curtains, it can be a bit frustrating having dust and debris build up on the tops of your curtains. Thankfully a curtain valance is a viable option whether you're on a budget or not, and it serves as an easy and effective means of protecting the tops of your curtains while making a space look more put together.
You can either make it a statement piece, or, if you have tall windows, make it look like a continuation of the ceiling cornice.
There are many options when it comes to making a valance, but one of the most popular ones has always been wood. You can use solid wood, engineered wood, and even reclaimed wood to make a valance. They can be painted, or stained, or you could rough them up with some sandpaper to make them look aged for a more rustic feel.
Recycle Old Cutting Boards
Just because things get old doesn't mean that you need to throw them away. Old wooden cutting boards can be restored and repurposed if you've gotten a new one. If you'd like to restore your old cutting board, a good option is to clean, sand, and coat it with some colorful epoxy resin.
Epoxy resin is completely food safe once cured, you'll and it will ensure that your cutting board lasts for years to come!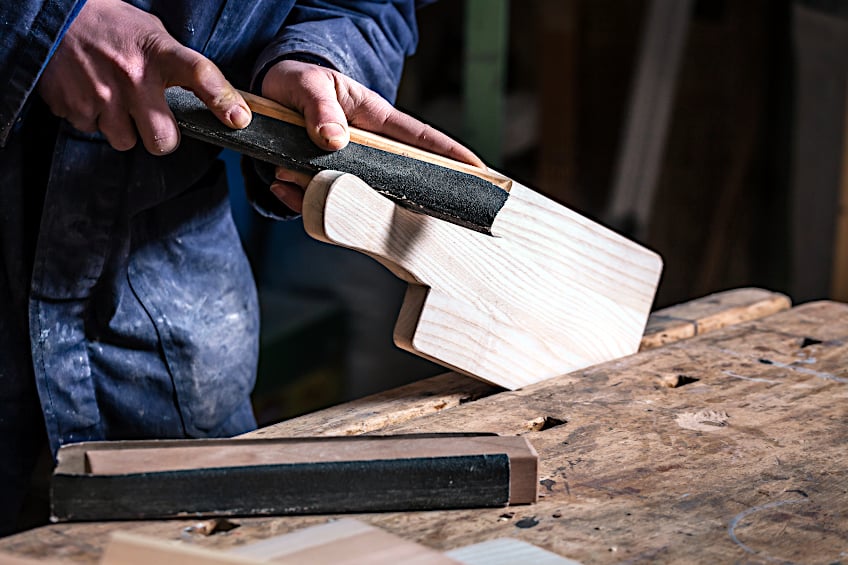 If you already have a new cutting board, you can simply use your cutting board to create a cool message board or welcome sign. All that you need to do is clean your cutting board and use some paint and a stencil to apply your unique design.
If your board is going to be placed outdoors, we recommend using a sealer to ensure that the wood does not swell and/or split.
A Wooden Coaster Set
Depending on who you ask, coasters are either a necessary part of the home or something really well-to-do people use to keep their furniture pristine. Either way, you look at it, they can be fun to make and add an air of fun to any space they're used in, especially if they're made to fit the rest of your décor.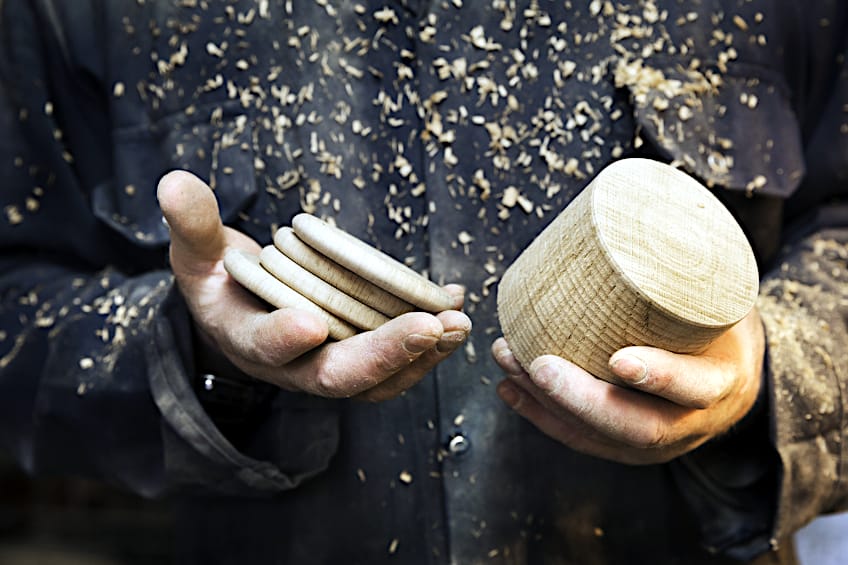 Making wooden coasters isn't only easy, but it can be tons of fun. You can make these for your own home or office, or they can be a fun gift for friends and loved ones. You can paint them, stain them, coat them with epoxy, seal pictures inside of them, use stencils on them, and you can make them any shape and/or size you'd like!
They're one of the most beloved of all the DIY wood crafts.
A Wooden Plant Stand
A wooden plant stand might seem like a silly idea, but there are loads of advantages to it. If you have beautiful wooden or stone floors that you don't want to get damaged by a heavy pot plant, this is a great way to display your plant without risking potential damage to your flooring.
They're pretty easy to make too, and in some instances, you might not even need to make them at all.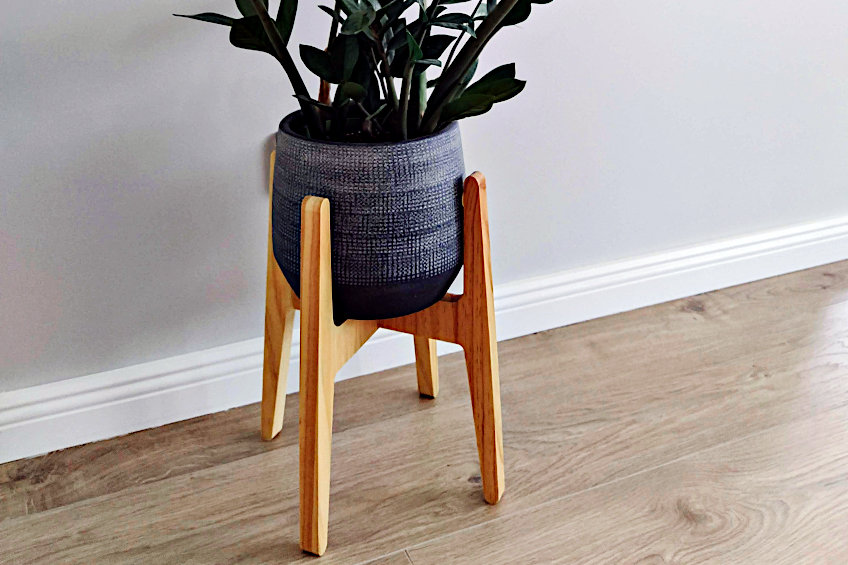 We don't know if these can be considered wood craft ideas as they're more of a means of repurposing existing furniture. They can be made by removing the top of old bedside/coffee tables that have a cross-section between the legs. Simply remove the top of the table and place your pot plant on the cross-section, securing it safely off the floor.
It's entirely up to you whether you'd like to redecorate the frame or not.
A Wooden Serving Tray
Whether you've been browsing Pinterest or you've stayed at a few rustic B&Bs in your lifetime, the chances are that you've seen one of these before. Wooden serving trays don't seem to ever go out of fashion, and they add a homely feel to any meal they're served with. Plus, that adds an air of romance to those occasions when you'd like to serve your partner some breakfast in bed.
These are super easy to make, and you can add your own flair to them with little to no effort too. Most people simply sand and seal a thick wooden board, but if you'd like to make actually serving with them a bit easier, you can add some looped handles which allow you to pick it up and rest them without disturbing your load.
Skilled Wooden Crafts
If some of the crafts we covered so far still aren't quite your speed and you're looking for something more challenging, you should try some of these. You don't need to be a professional crafter to undertake any of these, but a reasonable amount of skill and experience would do you good if you're going to attempt some of these.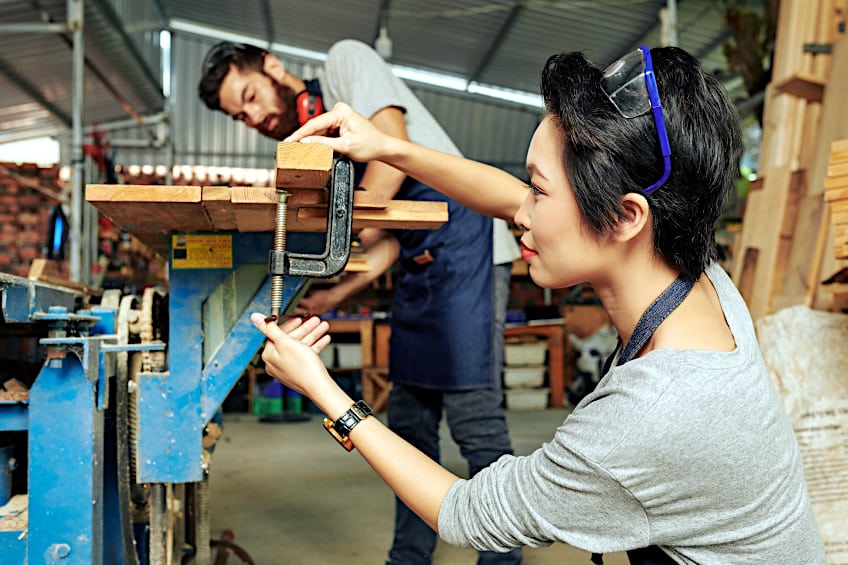 A Shelf or Coat Rack
These days space tends to come at a premium, so hanging and storing things on a shelf has become one of the most cost-effective ways to ensure that you're able to utilize a space effectively. This being said, creating a shelf and rack combination isn't only easy, but it can be done with little to no money if you know how to go about it.
If you're interested in learning about crafts for wood, this is one project that will become indispensable throughout your life. Shelving can be made with virtually any wood species, and if you don't want to get some from the store you can repurpose some wood laying around your home.
All that's left after that is to get some hooks, screws, and/or nails from your local hardware store to secure it, and some paint to decorate it!
A Fretwork Table
If you're looking for a new table for your living room or bedroom, you should consider a fretwork workpiece. These have a classic and arguably timeless look to them that's sure to catch the attention of anyone who sees them. If you don't know what fretwork is, it's essentially designed like patterns or reliefs that are cut into the wood, typically with a fretsaw or a jigsaw.
If you're on the fence about this one, keep in mind that your designs don't have to be super intricate to look good. Simply hop on the internet and look around for relatively simple patterns, cut them into your board, and assemble your table!
As far as wooden crafts go, these are some of the lowest-effort high-return projects out there.
A Shelf Suspended With Rope
One of the trendiest crafts with wood these days has to be suspended shelving. This comes as no surprise considering how they simultaneously provide a minimalist and rustic aesthetic, and they're pretty cheap and easy to make too.
All you need is some rope or yarn capable of suspending your shelf, some hooks, and a board to act as your shelf.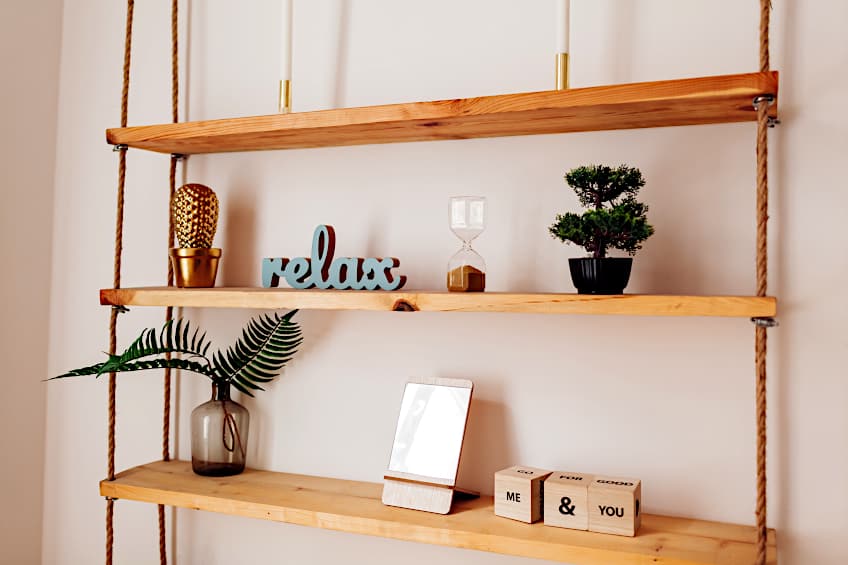 All you need to do is install your hooks (at the same height!), decorate your shelf to your taste, drill the appropriate holes, thread the hooks and shelf, and you're good to go. Ensure that your shelf is stable both before and after a load is applied, or you could risk all of your precious belongings crashing to the floor as soon as you turn your back to them.
A Minimalist Side Table
Tables aren't usually what most would call simple wood craft ideas, but there are a few out there that can be done with minimal effort and skill. Some of the easiest are ones that are made of wood burl, even though a good-looking piece of burl can cost a nice chunk of change.
All that you need to make one of these is a decently sized slice of wood burl, some screws, and table legs.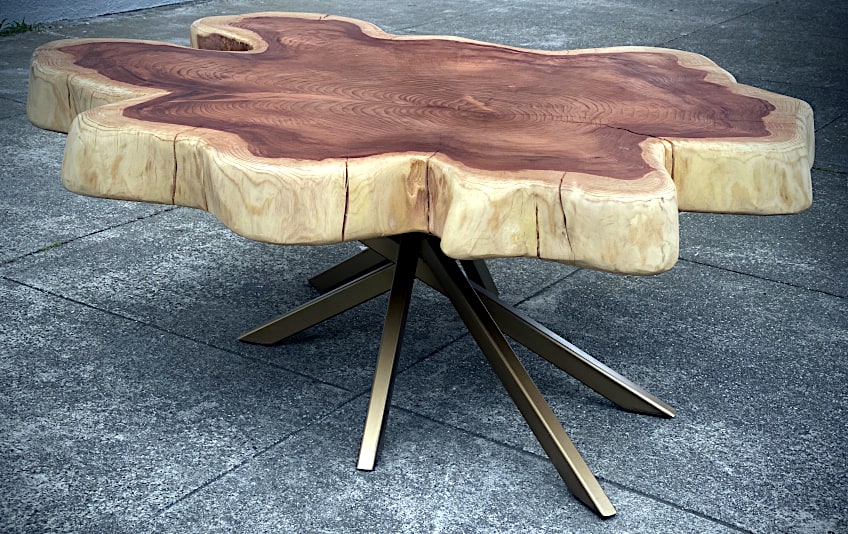 We recommend staining or varnishing your burl after sanding to protect your table. You could use a nice coat of paint, but that could obscure that unique pattern you coughed up all that cash for. Once you're done treating it, line up your table legs, mark them with a pencil, and then secure them with your wood screws.
These make for great conversation pieces!
A Wooden Clock
In the age of smartphones and smartwatches, it can be easy to forget that we used to rely on good old-fashioned clocks for timekeeping. Even in our largely digital age, a good timepiece can go for thousands of dollars, but why pay all that money when you can create your own custom clock right at home?
All that you really need to make one of these is a piece of wood board, some paint, and a clock mechanism, which you can find in most craft stores or online. Decorate your clock any way you'd like, whether it be with stylized numbers, roman numerals, words, pictures, and anything else your heart desires!
A Wooden Headboard
A wooden headboard is something that you can make on your own, and that you get to see every single day. The best part about these is that they don't have to be super complicated, all that you need is some sturdy wooden planks, some wood screws, and wood stain or paint.
If you're an experienced wood crafter, you could make use of dowels or wood joints to make the board sturdier.
There are hundreds of headboard styles to choose from that range from the simplistic to the obscenely intricate, so choosing a design and color is often the hardest part. We recommend choosing a color and design that suits the rest of your bedroom, and one that won't require too much maintenance if you have a busy lifestyle.
A Wooden Birdhouse
This one might not be for everyone, especially if you don't have anywhere to put them. Birdhouses are loads of fun to make though, plus you get to watch your feathery friends enjoy them once you're done!
The best part about these is that you don't have to make them from scratch, you can purchase birdhouse kits both in-store and online!
There are loads of birdhouse types to choose from too, from big ones, to small ones, to really luxurious ones that incorporate baths and feed holders into their designs. Like all the wooden crafts we've looked at so far, they can be stained, painted, and sealed to ensure they aren't damaged by the elements or some particularly rowdy birds.
Now that you have some good wood craft ideas, a good idea of what you'll need to create them, and some idea of the possibilities that await you on your wood crafting journey, it's time for you to get out there and put your newfound knowledge to the test! Remember to wear the appropriate personal protective gear and ensure that your workspace is well-ventilated when cutting, treating, and/or painting wood.
Frequently Asked Questions
What Are Wood Crafts?
Wood crafts can refer to one of two things. The term can refer to the practice of living, working, hunting, or fishing in a wooden environment. Alternatively, it can refer to the act of creating various crafts such as furnishings, toys, or art from wood materials.
What Are Wood Crafts Called?
The practice of creating wooden crafts is typically referred to as woodworking. This is the practice of creating furniture, toys, cutlery, kitchenware, and even structural components using wood as the primary medium. It is a highly technical and sought-after skill worldwide.
How Do You Make Craft Wood?
Each medium of wood crafting is unique, but generally, there are a few commonalities in the preparation process when working with wood as a medium. The wood should be clean, filled, and sanded before it is primed, painted, stained, cut, tapped, or treated.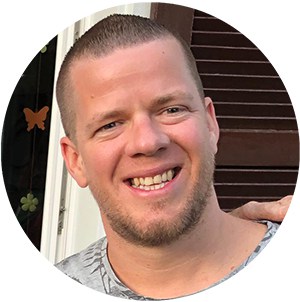 I have been into woodworking since 2005 and woodturning since 2011. Because of my love for wood and woodworking, I started woodhappen.com to teach other enthusiasts about how to finish and seal wood, the best woodworking tools, the different types of wood, and everything else related to woodworking! Read more about me here.