Wood Accent Wall Ideas – How to Add Impact With Paneling
Minimalistic aesthetics have been extremely popular in recent years, and while they reduce clutter and make spaces feel more open and accessible, they can also make spaces feel a bit bland and empty. One of the easiest and most cost-effective ways of livening up these spaces is to install wood accents. There are tons of wood accent wall ideas to choose from, so let's have a look at some of the most popular wood accent wall ideas and what they add to the spaces they're used in!
The Best Wood Accent Wall Ideas
The right wood accent for your interior walls is entirely dependent on the space itself. How big are the walls you're working with? What type of wood do you have in mind? How large would you like your accents to be? This being said, let's have a look at some of the best wood wall design ideas and how they contribute to the aesthetic impact of a given space based on their wood type, color, and overall design.
Reclaimed Wood Wall Paneling
One of the most popular wood wall design ideas is to style an entire wall surface in wooden paneling. This has become a common way to break up a monotonous aesthetic and add a modern flair to a space. The ecologically conscious move to make if you like this look is to make use of some reclaimed wood, which you can treat and stain to bring back to life.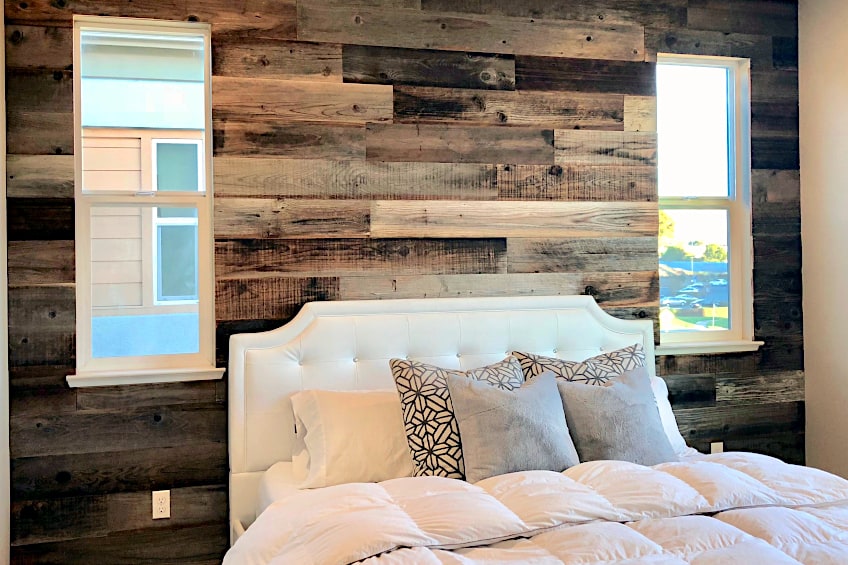 If you're unsure about how this will look in a given space, have a look online to find out which wood colors suit your pace best based on its current color palette. Alternatively, you could simply repaint your space to fit the wooden wall paneling instead of changing the paneling to suit the space. This idea works well in small, cozy spaces.
Wooden Pallet Wall Paneling
If you're into reclaimed wood there are more than a few wall design ideas with wood for you to go with. Another popular one is to use wooden pallets to create a new wooden wall accent for your living space. Old pallets are relatively cheap, and if you're on a tight budget there are loads of places that quite literally give these away once they're incapable of bearing a load! These can be stained, painted, and varnished due to their grains still being intact.
Horizontal Wooden Slat Integration
If you're not too keen on the idea of having your entire wall covered in wooden paneling, there is a way to balance your chosen wooden accent idea with your original wall surface. Positioning your slats horizontally and placing them in even intervals will allow you to show off your wall's surface and your chosen wood accent decorations, the best of both worlds!
Sheen Wooden Wall Paneling
If you like the idea of wooden paneling accents on your walls but aren't quite into the reclaimed wood/ rustic aesthetic there are some alternatives. One of the most popular of these is wood paneling with a sheen finish. Using varnish, wood stain, epoxy, or simply some sheen paint can provide your wooden panels with a beautiful satiny finish that's sure to stand out.
Matt Wooden Wall Paneling
If you're not quite sold on the rustic finish or the sheen finish wall design ideas with wood, we think that a matt finish might be a good alternative. Matt finishes make for incredible finishes and textures as they're rouged and generally have a muted color effect. This allows them to draw attention to themselves without overpowering the viewer, making them perfect for an understated premium look.
Wooden Panel Room Divider
Perhaps you're not interested in sticking wooden panels onto an existing wall. If that's the case, why create a tasteful room divider? These are typically used to section off open plan spaces, and if you use some good-looking MDF of plywood, it can be relatively inexpensive too! The advantage of wooden panel dividers is that they can be made to match your flooring and/or sealing, ensuring a uniform aesthetic throughout your space.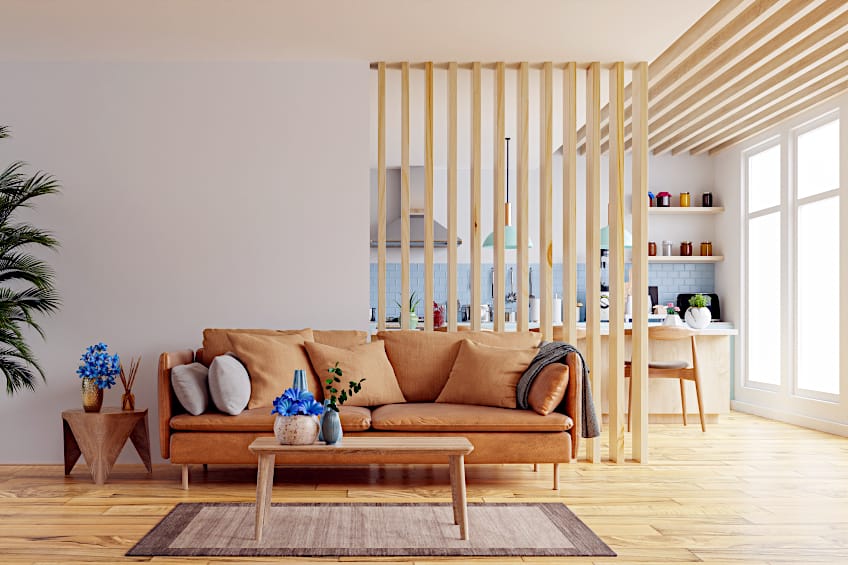 Three-Dimensional Wooden Wall Paneling
One of the most popular wood wall ideas these days is the three-dimensional wooden paneling configuration. This is achieved by having the edges of the wooden boards jut out from the surface on either end randomly. This look has become particularly popular in modern commercial spaces and tends to be relatively easy to pull off for such an intricate-looking wall paneling style.
Chevron Wooden Wall Paneling
Do you find vertical and horizontal wood paneling a bit generic? Well, the good news is that there are a few other options for you to choose from. One of the most popular of these is the double and triple chevron configuration. This wooden panel arrangement can be integrated with other materials that add some variety to the look and tends to look good regardless of what wood species you choose to go with.
Multi-Shade Horizontal Wooden Paneling
As we mentioned previously, the look of wood paneling can become quite bland and repetitive. It's for this very reason that horizontal panels are often installed with other materials in-between them to add some variety for the viewer. However, if you'd prefer an alternative, you can simply use salts that are different colors or alternate shades to make your wooden paneling more engaging to the eye. This is one of the best looking for the most cost-effective wood wall ideas out there and also works wen you combine different textures or even thicknesses of boards to achieve variety.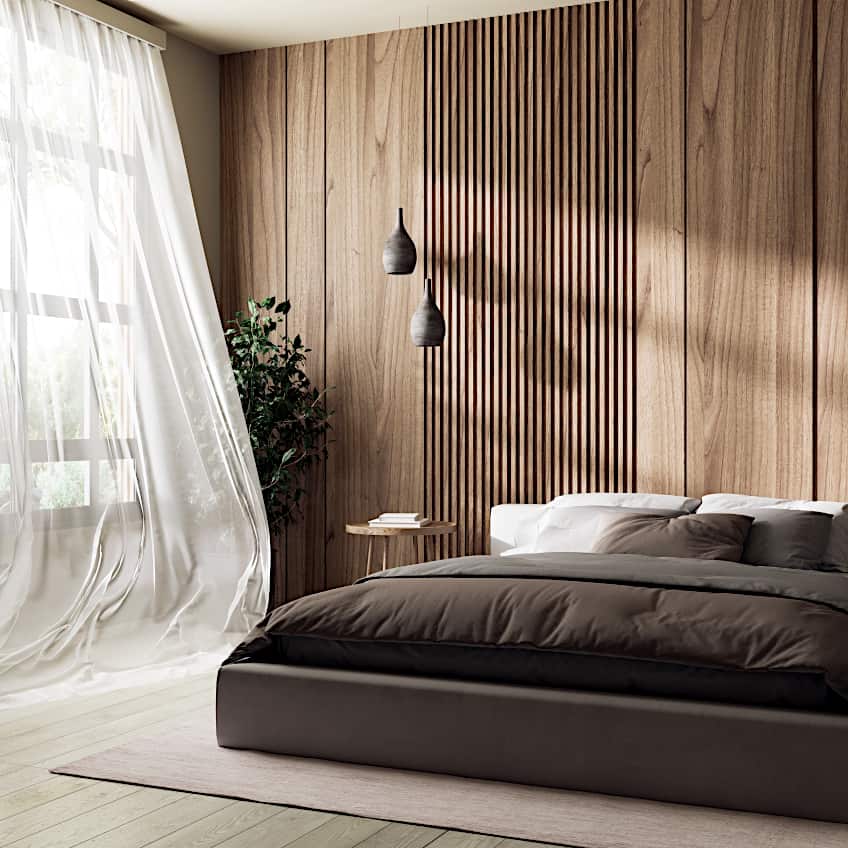 Stained Wooden Wall Paneling
If you're a bit pressed for time and/or have a tight budget, you might be thinking that a good-looking finish is impossible. However, you'd be wrong, as some reclaimed wood and some dark wood stain can create a premium-looking wooden wall paneling without breaking the bank. All that you need to do is choose an easily stained wood, clean and sand it, and apply your wood stain! If you'd like to ensure that your finish lasts, we recommend adding a healthy coat of epoxy to prevent any lasting damage. Finishes have come such a long way that you can now even stain those horrendous fake wood paneled walls from the 70's for a fresh modern look.
Multi-Stained Wood Paneling
If you like the idea of stained wood paneling, then why stop at just one stain color? Multi-color-stained wood paneling creates an impressive overall look and provides the viewer with a lot to look at. The nice thing about this particular look is that it can be integrated into most environments regardless of the overall look and style. All that you need to do is combine panels that have different colors of wood stain on the same wall, arranging them in your desired order of course.
There are a few ways that you can go about creating this effect. The first is to simply purchase wooden boards in your desired size and colors and then adhere them to the wall and your desired order. Alternatively, you could purchase your boards and stain them in your desired colors. While this provides you with more control over the stain colors of your wall.
Distressed Wood Wall Living Room Accent
A distressed wood wall living room accent is a great choice if you're looking for a beach house rustic look. Distressed wooden paneling can be a bit challenging to find but if you're able to get your hands on some the finish is well worth the effort. All that you need to do is install the panels and you're pretty much good to go!
If you're unable to find stressed wood paneling for sale or online, you can simply make your own. All that you need is a paint of your choosing, some sandpaper (or a power sander), and a bit of elbow grease. If you're going to attempt the DIY option, we recommend perfecting your technique on some spare wooden board before having a go on your paneling.
Multi-Colored Wooden Slats
If you're into a modern wooden accent wall you should consider a multi-colored wooden accent approach. Unlike a multi-stain finish that resembles more conventional wooden paneling aesthetics, using multiple paint colors on your wooden slats creates a modern wooden accent wall that fits in well with minimalist and industrial chic designs that have become commonplace in the modern home.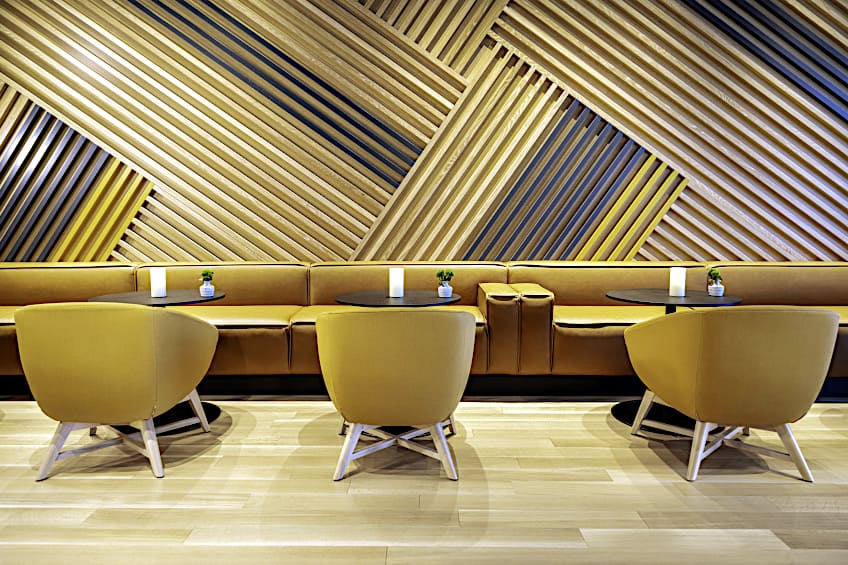 This is especially useful in medium to large-sized living rooms where spaces can feel a bit bland, particularly when you've chosen a single color pallet for the entire space. Much like with the multi-stain color wood panels, these can be purchased in-store or online, or you could simply purchase some paneling and paint them yourself.
White Shiplap Slats for the Bathroom
An area of the home that tends to get overlooked for the application of wooden wall accents is the bathroom. This makes sense considering that the environment is moisture-rich and wood tends to absorb moisture, but with the right type of wood and/or the correct sealer, you can enjoy wooden accents in your bathroom much the same way you would in any other area of your home.
Installing a wood wall design in your bathroom is easy, and one of the best design choices for this space is a white shiplap board. Ensure that your ship lap is water resistant and affix the boards horizontally to the wall to create a calming, open space. You can use a medium to large boards for this application, just ensure that they're cut to size and are moisture-resistant.
Wooden Television Backing Board
If you're not complexly sure about getting a television stand and would like to mount your TV to your living room wall instead, why not consider adding a wooden accent behind it? Instead of a large black rectangle juxtaposed against your beautifully painted living room wall, this backing board adds a natural element to the aesthetic of the space, and the focal point of the room.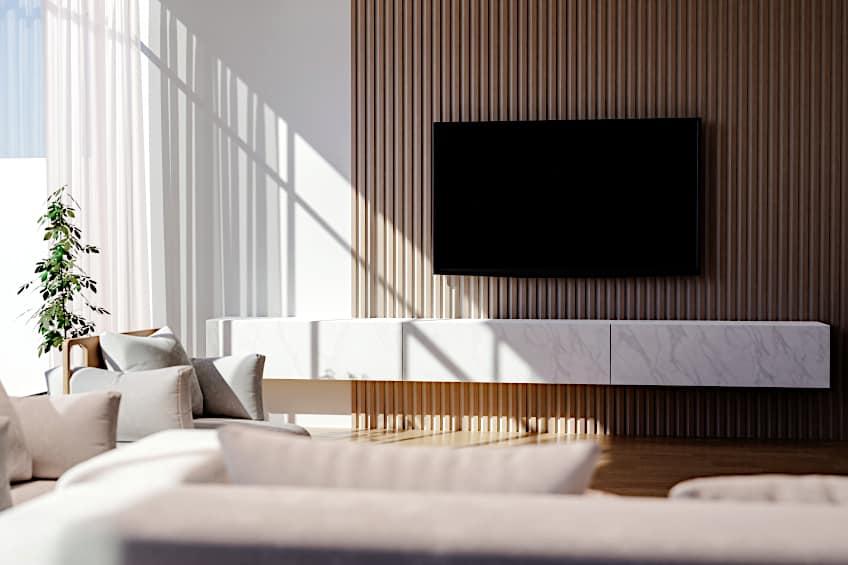 This wall wood design has become pretty popular in recent years, and you don't even have to make it yourself. Units like these can be purchased both in-store and online, and some are even equipped with mounting brackets for your television! However, if you'd like to make one yourself, we recommend choosing a strong, rigid wood species or engineered wood.
Floral Wooden Wall Design
If paint, wood stain, and varnish don't quite do it for you, you could take things one step further by adding stenciled designs to your wooden accents. This look goes particularly well in children's rooms or nurseries, just be sure to choose a board color that will allow your stencils to be visible once they're applied to the surface.
One of the most popular choices these days is the flower stencil as they're easy to find and they tend to be available in a wide variety of shapes and sizes. However, you don't have to go with flowers, as there are loads of other stencils to choose from including cars, superheroes, fairy tales, video game characters, numbers, letters, planets, stars, and many more!
Wooden Accent Mirror Board Backing
Even more popular than wooden backing for televisions, wooden board mirror backings have become all the rage in modern interior design. These have become quite commonplace in modern boutique hotels, adding a modern-retro flair to any space they're found in while providing much-needed contrast between the mirror and wall surface.
The nice part about these accents is that they can be purchased in any shape and color to complement the mirror they have been paired with. You could also make these yourself, as they're less labor intensive and less expensive to make compared to wooden television backing. We wouldn't recommend using engineered wood for this one though, especially if you're going to be using your wooden-backed mirror in a moisture-rich environment such as a bathroom.
Reading Nook Wooden Wall Accent
While reading books online is super convenient, there are those who prefer the feel and smell of a good old-fashioned paper book. If you love curling up with a thick book, then why not create a cozy space for you to get lost in your imagination for a few hours? Adding a wooden accent to your reading space can create a calming, cozy ambiance that tiling and carpet simply lack.
If you've designed a reading corner, you can use some wooden wall accents as a tasteful background or wall paneling for the space. We recommend choosing colors that provide a calming, neutral feel to the space, but if you're designing a reading space for kids, you can add some character designs and exciting colors to the boards.
Wooden Accent Fireplace Wall
While it might seem counterintuitive to add wooden accents anywhere near a fireplace, with the right wood I can make the space feel modern and inviting. Conventionally, brick and cobblestone are used to decorate fireplace walls, but with the right type and color of wood board, you can turn your old fireplace into a modern minimalistic feature.
Ensuring that the wood you choose is resistant to heat is one of the most important steps in selecting a board for this application. Next, choose a color that matches the color of the room the fireplace is in, or if you're like to draw attention to the fireplace choose a dark wooden board to really make the area pop.
Criss-Cross Wooden Slat Bedroom Walls
Wood wall accent ideas have been around for a long time, and they have evolved since their inception in the 1950s. While horizontal wooden slats were enough to satisfy even the most critical interior designer back in the day, these days the more intricate the design, the better the mass appeal, but this isn't always the case.
The criss-cross wooden accent design is a simple but highly effective composition that adds a modern yet sophisticated feel to any wall. This composition is often paired with gradient wood stains or distressed wood to provide a chic feel that's sure to stand the test of time. This design can be labor-intensive to pull off on your own, especially if you're cutting and staining the wood on your own, so we recommend getting the boards cut or stained (or both) before installing them on your own.
Vertical Wood Slat Wooden Wall
Out of all the wall wood designs that you're likely to come across, this is arguably one of the most popular out there at the moment. The beauty of this design is in its simplicity, as the vertical lines make any space feel larger and lighter than it is. All you need is some wooden slats cut to size for your wall positioned evenly across the wall's surface, and you're pretty much good to go.
These can be painted, stained, varnished, stenciled, or simply left bare! The possibilities are endless, but one of the most popular design choices with this wood accent configuration is color blocking. A good example is a warm blue in contrast with white door frames and doors, clearly separating the space and giving it a homely feel.
Now that you have a few good wood accent wall ideas, you understand what each wooden wall design brings to the table, and know how each integrates with a given space, it's time for you to get out there and put your newfound knowledge to the test! Remember to ensure that your wooden slats are the correct size for your wall, and that they have been treated to suit your intended application before installation.
Frequently Asked Questions
What Are Wood Accents on a Wall Called?
Many have asked if there is a specific word for wooden paneling on walls, and there is! Wooden paneling that has been attached to walls as an accent or a complete covering has come to be known as wainscoting.
What Is Considered an Accent Wall?
An accent wall is essentially any wall in a given space that possesses an addition that sets it apart aesthetically from the other walls in the space. This could be wooden paneling, a different color, a different texture, or even a different design.
What Wood Is Best for an Accent Wall?
This really depends on the application and your design preferences. Objectively speaking though, thin wooden veneers and MDF boards are cost-effective and highly durable if the correct type of engineered wood is selected.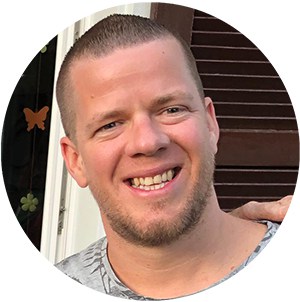 I have been into woodworking since 2005 and woodturning since 2011. Because of my love for wood and woodworking, I started woodhappen.com to teach other enthusiasts about how to finish and seal wood, the best woodworking tools, the different types of wood, and everything else related to woodworking! Read more about me here.