Epoxy Countertops – How to Create an Epoxy Resin Countertop
A popular DIY trend amongst homeowners across the globe is that of revamping their countertops and surfaces with epoxy resin. The use of epoxy resin in a variety of colors and patterns on your countertops offers a stylish and cost-effective means of refurbishing your furniture. You will not have to worry about how much does epoxy countertop cost, as this product is fairly priced and well worth the effort and expense!
What Are Epoxy Countertops?
The reason as to why countertops made of epoxy resin are so popular is because of their great durability. The best countertop epoxy will be highly resistant to most causes of damage, from simple wear and tear to stains and chemical spills. Thus, these countertops are ideal for people who frequently use their counter surfaces, particularly those that perform hard or strenuous tasks upon these surfaces.
Many countertop epoxy reviews have also seen customers using this product to revitalize their old furniture. Epoxy resin is ideal for adding a stylish coat to old, tired countertops and floors. Transparent resin can also be used to add a protective coat over your furniture.
The difference between countertops made of resin and those made of other materials such as granite is that epoxy resin can only be applied directly to the piece of furniture. Thus, you will not be able to buy individual slabs of epoxy.
This means that you can either install the epoxy resin yourself with an epoxy countertop kit, or you can have it done professionally.
Is It Worth Using Epoxy for Countertops?
While the finished product of a resin countertop may be stunning to look at, this result is only possible with a lot of hard work and costly expenses. Thus, it is necessary to consider the pros and cons of using a countertop epoxy kit before beginning your project.
Pros
You will have an attractive glossy finish.
It is highly durable.
There are endless design possibilities.
The surface will be seamless as no tiles are used, thus allowing for your colors and designs to appear continuous.
Depending on the product, it can be highly resistant to heat.
Once cured, it is nontoxic and safe for contact with foodstuffs.
It allows for easy cleaning.
Cons
It can be difficult to apply and install.
The installation process is time-consuming and costly.
Removing epoxy is a difficult procedure, meaning that you have just one chance to apply it correctly.
The surface can be prone to stains.
How Much Does Epoxy Countertop Cost to Install?
A major factor that comes into play when considering whether or not to get epoxy resin countertops is that of the cost of installation. While epoxy resin is not especially complicated to install, there is a lot of effort needed on your part in terms of preparing and applying the resin. Alternatively, you could hire a professional to install it for you.
Regardless of whether or not you install the epoxy yourself, it is likely that the installation costs will exceed those of the materials themselves. The cost of materials as well as your own time and labor or the cost of a contractor will probably set you back a good few hundred dollars.
Other Epoxy Countertop Cost Factors to Consider
It may be daunting to take on a project of this size and expense, especially as it can be significantly easier to install countertops made of laminate or plastic. However, it is important to bear in mind that the materials being used in creating your resin countertop will be of a high quality.
Using the best epoxy for countertops will ensure that your counter surfaces are durable and hardy. You can expect these countertops to remain in great shape for many years longer than other countertop materials, with little effort on your part in maintaining them. Thus, the long-term benefits of these countertops make the initial effort all the more worthwhile!
Working Out Your Epoxy Countertop Cost
Countertops made out of epoxy resin have been found to be a cost-effective means of refurbishing your counters. Those making their own resin countertops can expect to pay anywhere between $3 and $8 per square foot of surface that needs to be covered. To calculate the total amount that you will spend on this project, you need to take the following into account:
The quality of your raw epoxy resin materials.
The total surface area of your countertops.
The maximum thickness of each individual layer of epoxy.
In general, the more inexpensive products will cost $4 per square foot of surface, whereas the more expensive products can cost between $7 and $8. While it can be tempting to opt for the cheaper products when purchasing your materials, it is important to consider that you are going to get what you pay for. Materials of a higher quality may be more expensive, but they will also provide a resin surface that is of the best quality and highest durability.
Thus, the question of how much does epoxy countertop cost can be answered in that it is a cheaper yet stylish alternative to countertop materials such as granite. However, laminate countertops are also a budget-friendly option.
Choose Your Product Based on These Countertop Epoxy Reviews
It is important to select a product of high quality when searching for your epoxy materials. We have selected and reviewed brands with thee best epoxy for countertops so that you can make an informed decision with regards to your particular needs.
PRO MARINE SUPPLIES Table Top Epoxy
Pro Marine Supplies is one of the most trusted brands within the field of DIY, consistently providing products of a high quality despite being relatively new to the industry of epoxy resin. One of their most popular products is that of the Crystal Clear bar table Resin.
High-quality crystal clear Table Top Epoxy

Food Safe formula with no VOC and solvent additives

Water and scratch-resistant coating, high-gloss
View on Amazon
This is the ideal epoxy countertop kit, as it can be used as a coating for almost any material, especially wood. The kit includes both the liquid resin and a hardener so that you can create a durable and lasting coating for your surfaces.This resin is formulated to be resistant to both water and UV rays, thus making it ideal for outdoor use.
The coating is resistant to abrasions and scratches, making it a great choice for families that have children or pets. This crystal-clear resin has been FDA-approved for use with food, meaning that it can be used on your dining room table, kitchen counters, trays, and many other items. However, you should not apply this resin to your wooden spoons.
RTG Bar and Table Top Epoxy
RTG is famous for its glossy finishes, producing a resin coating that is mirror-like in its finish. If you want to provide your piece with a high level of durability in addition to a beautiful, shiny finish, then you should try using the RTG Bar and Table Top Epoxy kit.
Self-leveling formula cures to a smooth, durable high-gloss finish

Simple 1:1 mixing ratio by volume

Resistant to amine blush and yellowing
View on Amazon
The finish of this resin is so glossy that it may appear to be wet. Despite its fragile appearance, this resin will provide your furniture piece with great durability, preventing stains, scratches, and yellowing. This resin is completely clear, making it ideal for customization. You will be able to embed decorative items such as crystals, pennies, and even flowers with great ease when using this resin as a coating.
RTG epoxy is perfect for those who are new to the world of epoxy resin, as it is very easy to use. The resin and the hardener simply need to be mixed together at a 1:1 ratio, after which it can be poured and distributed across the surface. This brand of resin produces few bubbles once poured. Most of the bubbles that do form will pop by themselves. You can remove the more stubborn bubbles with hot air. This resin is highly resistant to heat, which makes it a great choice for coating kitchen counters. The surface can withstand hot temperatures of up to 125 degrees Fahrenheit.
EAST COAST RESIN Crystal-Clear Epoxy Resin
This crystal-clear resin is ideal for adding a glossy coat to your countertops and other surfaces. The East Coast brand offers a professional grade product that can be applied smoothly and evenly with little effort. Expect a flawless luster upon all of your surfaces when you use this East Coast Resin Epoxy Kit.
Flawless, crystal-clear coating

UV-, scratch- and water-resistant

Safe and easy to use
View on Amazon
Where most other brands require a curing time of approximately 72 hours, East Coast Resin has a significantly quicker curing period of just 16 to 20 hours. The curing time will depend on the total number of layers you have applied, although this brand of resin will still cure faster than others. We suggest that you coat outdoor furniture with several layers of resin to protect it fully.
East Coast Resin can be applied to both indoor and outdoor pieces, as it is very resistant to water, scratching, and UV light. This product has been formulated to emit little to no odor, thus allowing you to work with ease without needing to wear a face mask. This resin is of a superior quality to other products due to a high standard of production and skilled engineering. You can use this resin safely on any countertops that may come into contact with food, such as kitchen counters, bar tops, coffee tables, and more.
DAICH SPREADSTONE Mineral Select Countertop Refinishing Kit
Daich SpreadStone's Mineral Select Countertop Refinishing Kit has been voted as the best epoxy for countertops. You can choose your kit from a selection of 10 shades inspired by granite: Canyon Gold, Ironstone, Lodestone, Mantel Stone, Natural White, Onyx Fog, Oyster, Sundance, Yosemite, and Volcanic Black.
Mineral accents and color highlights found in natural mined rock

Application in three steps: Base coat, stone coat, and clear topcoat

 Durable, stain resistant surfaces with the design elegance of real stone
View on Amazon
You can use this resin on almost all kinds of surfaces, including but not limited to medium-density fiberboards (MDFs), plywood, concrete, tile, and chipboard. Unlike many other DIY options for resurfacing your countertops, using this resin will result in a countertop that is resistant to heat, force, and stains. This resin emits low VOCs and is free of epoxy. Just one kit will be able to cover approximately 40 square feet of surface area. This product's primer and topcoat are water soluble, making them easy to remove.
How You Can Create Your Own Epoxy Resin Countertop
Countertops made of epoxy resin are a popular DIY project that will result in stylish, professional-looking surfaces. You can install your resin countertop yourself by mixing a resin together with a hardener, both of which are sold in their liquid states. These two components undergo a chemical reaction when mixed, creating a solid. Follow these simple steps in order to create your tabletop masterpiece!
Step 1: Clean the Surface of the Old Countertop as Thoroughly as Possible.
If you do not properly clean this surface, any leftover detritus will be sealed. Not only will this debris remain visible once the piece has been finished, but the uneven surface that remains can make it affect the adherence of the resin.
Step 2: Protect Your Surrounding Environment With Plastic Sheets.
Epoxy resin can be messy to work with due to its honey-like consistency. We suggest that you cover all nearby furniture and surfaces with a sheet of plastic for protection. Using a piece of wood or a barrier at the edge of the piece will help prevent the mixture from spilling over.
Step 3: Begin With a Thin Layer of Resin as a Sealant.
Once you have mixed the resin liquid and hardener, you will need to pour a thin layer over the surface of the countertop in a process known as "flooding". Doing this will reduce the probability of bubbles forming.
Step 4: The Epoxy Will Begin to Harden Quickly Once Mixed Together.
The period of time after mixing the two resin components together and before the mixture hardens is known as the processing time. Typically, you will have between 20 and 30 minutes before your epoxy mixture starts to solidify. Remove any bubbles immediately by using a hairdryer or torch to heat the bubbles up, causing them to rise up to the surface.
Step 5: Allow This Layer of Epoxy to Harden Before Pouring in the Second Layer.
Once you have poured in the initial layer, you should wait for a few hours to let the resin harden before adding the second and final layer. After a curing period of between 24 and 48 hours, your countertop should have hardened completely and be ready for use!
Coating Your Laminate with Countertop Resin
Many laminate countertops are susceptible to stains, scratches, discoloration, and other sorts of damage. Over time, these markings can have a negative effect on the overall impression of your kitchen.
Instead of replacing your laminate counters, you can use epoxy resin as a countertop coat to breathe new life into your old kitchen counters. This epoxy coating will be much more durable than the previous countertop, preventing all kinds of damage and helping your counter to last for longer.
Preparing the Surface
Before beginning your epoxy project, you should ensure that all surrounding surfaces such as floors and counters are covered with a cloth or plastic sheeting for protection. Use masking tape and pieces of wood to stop the epoxy from spilling over onto unwanted areas.
You cannot apply the epoxy coating until the previous laminate finish has been removed. Begin by lightly sanding the surface with an 80-grit piece of sandpaper. Sand in even strokes until the laminate has been completely removed.
Next, you should put on protective rubber gloves and scrub the countertop with a solution comprising of one tablespoon of trisodium phosphate (TSP) that has been mixed into one gallon of warm water. This will clean off any remaining dirt and residue. Finish off by rinsing the countertop with fresh water.
Adding Primer and Mixing
You can ensure that your epoxy coating will stick to the old countertop surface by using a sponge roller to apply a primer beforehand so as to promote adhesion. The coating of primer is essential to the epoxy's strong finish, although you can also use primer that has been made specifically for sleek surfaces like laminate.
Once the primer layer has dried entirely, you can mix the resin liquid and hardener to create your epoxy. Ensure that you read the product's instructions carefully with regards to mixing ratios and quantities to ascertain the exact amount of epoxy you will need. Try to mix only as much epoxy as you can feasibly use within one application, as any leftover resin will harden and become unusable.
Applying Your Countertop Resin
You can use a foam roller or high-quality brush to apply a thin, even coat of epoxy resin to your countertop. We recommend that you begin applying the resin from the outer sides of the countertop and spread it towards the middle. Allow some time for the resin to start setting, and then take a metal scraper across the countertop to even out the surface. Allow this first layer to dry before applying your second coat.
For the second layer of epoxy resin, apply it over the surface from left to right to ensure a smooth finish. You should allow your countertop to cure completely before it can be used. The surface may be dry to the touch within a period of 24 hours, but it will not have cure completely until after a period of 72 hours.
Adding the Final Touches
You can take off any protective tape as soon as the second coat of epoxy has been applied. Although the fully cured item will be highly durable, you can further protect the surface by applying a layer of polyurethane topcoat. While this topcoat may appear cloudy at first, it will dry completely clear within a matter of minutes.
We recommend that you apply four to five layers of this topcoat, allowing each to become dry to the touch before adding the next coat. Once the final coat has been applied, you should leave the countertop for a minimum of 12 hours before use so that it can cure fully.
The Best Countertop Epoxy Designs to Try
Epoxy resin is a versatile product that can be used to achieve many different designs and looks. You can choose for your design to cover the initial countertop, which you can then seal in a clear resin, or you can create your design within the resin itself. As epoxy resin is sold as a transparent liquid, you will need to add pigments of your own to create a colorful countertop design.
Some homeowners like to embed decorative objects under clear resin, whereas others go even further by creating mosaic countertops out of pieces of glass, tile, coins, or bottle caps. Backlighting can even be installed to create a c ountertop that glows. You can also go for a more classic look simply by applying a clear topcoat of resin to a wooden countertop to give the wood a vibrant shine.
Adding Color to Your Countertop Epoxy Kit
Epoxy resin liquid is a clear substance that, when mixed together with a hardener, creates a solid with a glossy finish. It is very easy to add pigments to epoxy resin, however, although the type of pigment will depend on compatibility with the brand of resin. Resin pigments come in the form of tints, powders, dyes, inks, and many others.
When selecting a resin tint, users are advised to begin with a base color that can be combined with an accent color to create a dynamic design. White, grey, green, red, silver, and copper are typical examples of a base color. Accent colors are often made from a metallic powder that can be mixed with the base color.  You can also buy special glitter to add pops of a complementary color within the finish of your epoxy table.
You can achieve many different looks by adding color to your resin. You may want to mimic a stone pattern, which can be done by mixing together your base and accent pigments to achieve the natural lines and markings found on stone, granite, or marble.
Common Mistakes to Avoid
Epoxy resin projects can be difficult to achieve if you do not have the right kind of experience. Many beginners to this field of art are likely to make several mistakes as they orientate themselves with the workings of epoxy resin. We have isolated some of the more common mistakes to avoid so that you are able to make your epoxy piece as well as possible.
Lack of Preparation of the Surface
Regardless of the material of your countertop, you will need to prepare the surface properly before applying your epoxy resin coating. Preparing your surface will result in a finished product that is completely smooth and shiny. Exact preparations will vary according to the material.
With a tiled countertop, you will need to cover the grout so as to level out the surface. You can fill in holes, cracks, and level out surfaces with a thin layer of epoxy as a skim coat. This skim coat needs to be applied every six hours, where you may require up to two coats before you can apply the base or flood coat.
Porous surfaces such as wood and concrete need to be sealed with a thin resin layer so as to stop the air from moving through it and causing air bubbles. You will need one to two layers of a skim coat, as is the case with a tiled surface. This skim coat should not look glossy, but should appear to be wet.
Measuring the Resin and Hardener Incorrectly
Countertop epoxy is simple enough to mix due to a simple ratio of 1:1. However, especially large or small surfaces will require you to calculate the correct ratio so that the finished surface is strong and durable enough.
Insufficient Mixing Time
You should mix the resin and hardener together in a container for a minimum of five minutes. It is best to use a paint stick as opposed to a drill paddle, as the latter tends to cause bubbles in the resin mixture. It is important to mix your resin together thoroughly, as unmixed resin does not cure properly, thus remaining sticky.
Failure to Take External Factors into Account
Epoxy resin is a highly sensitive material that is affected by external factors such as temperature or humidity. The temperature of the room, of the surface you are working on, and of the epoxy itself has to be between 70- and 74-degrees Fahrenheit.
If the temperature is any lower than this range, the countertop will not cure properly and will remain "soft", making it less durable. You should ensure that the temperature of the room is set appropriately two to three days before pouring the resin.
You should ensure that the resin is at the right temperature before mixing it as well. After pouring, the room should maintain its temperature for another 24-hour period to allow it to cure sufficiently.
Cleaning Your Epoxy Resin Countertop
A key advantage of having countertops made out of epoxy resin is that they are very easy to clean. The durability of the resin means that you can use most cleaning products without causing any damage, although there are some measures you can take to ensure that the surface remains as good as new.
Maintaining Vibrancy
To prevent the surface of your resin countertop, you can add a small quantity of mineral oil every one to four weeks. However, as epoxy stains easily, you should be careful to choose a mineral oil of a good quality. Adding too much oil can also result in a cloudy look, but this can be fixed by removing excess oil with a cloth.
Avoid Using Abrasive Cleaning Supplies
Despite the durability of epoxy resin, it is best to avoid cleaning products that contain abrasive chemicals or ingredients, as these can scratch or subdue the surface appearance. You should also avoid using waxes, polishes, and scouring pads to further protect the surface of your countertop. An ideal product for cleaning resin countertops is that of Puracy cleaner.
Preventing Stains
To avoid staining the surface of your countertop, you should try to clean up all spills immediately. However, if it is too late to wipe the stain away, you can create a paste out of baking soda and water with a mixing ratio of 4:1, respectively. Put the paste straight onto the stain and let it sit for several minutes. The stain should then wipe away easily with a cloth.
Tip: You should never use bleach to remove stains on your resin countertops, as this will only create more stains. 
If this method does not work, you can try using paint thinner or acetone to remove these unwanted markings. Use a cloth and rub the stain gently in a circular movement, adding more pressure if the stain is more stubborn.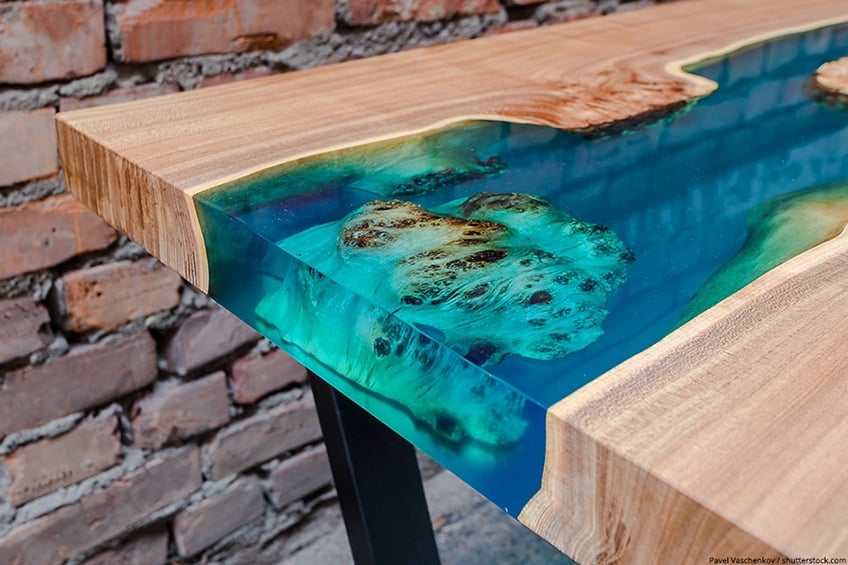 Frequently Asked Questions About Epoxy Countertops
Is It Good to Use Epoxy for Countertops?
Countertops that have been coated in epoxy resin are significantly more durable and will last much longer. Resin is resistant to both water and even heat to a certain degree, and will protect the surface of your countertop with great effect.
Is Countertop Resin Durable?
Resin is a highly durable substance, as it is less susceptible to the damaging effects of water and heat. However, epoxy resin is more prone to stains than other countertop materials such as quartz.
Do Epoxy Countertops Get Scratched Easily?
In addition to being water- and heat-resistant, most good quality resins will also be impervious to scratches and heavy impact.
Will My Epoxy Resin Countertop Be Resistant to Heat?
Countertops made out of epoxy may be less resistant to heat than materials such as granite, although it possesses enough heat-resistance that it can be used on an everyday basis. However, it is best to avoid placing your hot pots and pans on the surface of your resin counter.
Will an Epoxy Countertop Kit Be Easy to Use?
It can be very difficult to apply an epoxy tabletop, although purchasing a countertop epoxy kit can make the process more streamlined, as they will come with all of the tools and materials needed to get started. You will need to have a good understanding of all that can go wrong with your epoxy project so as to avoid making these mistakes. It is for this reason that pre-made resin countertops can cost up to $200 per square foot of surface.
Can You Use Epoxy for Countertops Made of Laminate?
You can use an epoxy coating on most surfaces, including sleek ones such as laminate. You will need to apply a primer first, which when dried can be topped with a layer of epoxy resin coating.
Does an Epoxy Countertop Cost Less Than Granite?
Where a countertop made of granite can cost between $50 and $200 per square footing of surface, resin countertops cost approximately $50. In comparison to granite, epoxy provides a surface that is extremely durable, long-lasting, and is non-porous and therefore water-resistant.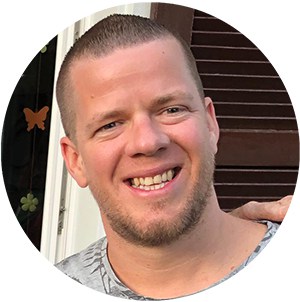 I have been into woodworking since 2005 and woodturning since 2011. Because of my love for wood and woodworking, I started woodhappen.com to teach other enthusiasts about how to finish and seal wood, the best woodworking tools, the different types of wood, and everything else related to woodworking! Read more about me here.