Tree Stump Ideas – Guide to Transforming Old Tree Trunks
Even in an age where every last tree counts toward making a difference in the climate crisis, sometimes felling a tree is necessary. However, if you don't have the equipment to tear a tree out at the roots, the chances are that you'll have to chop it down, in which case you will be left with a stump. Tree stumps can seem like nothing but a nuisance and blight on your landscape, but with a little creativity, you can turn virtually any tree stump into a work of art that livens up your landscape and has practical applications too! That being said, let's have a look at a few tree stump ideas that you can try out, should you find yourself in this situation.
Tree Stump Ideas
While it might look like a mound of dead wood, your tree stump can become an aesthetic anchor for any outdoor space if you're willing to put in the work and get a bit creative with different mediums. There are many ways that you can go about decorating your tree stump. Whether it be with paint, reshaping it, using additional wood to spruce it up, or going all out with a mixed media approach. Here are a few tree stump ideas you can try out should you decide to keep your stump around.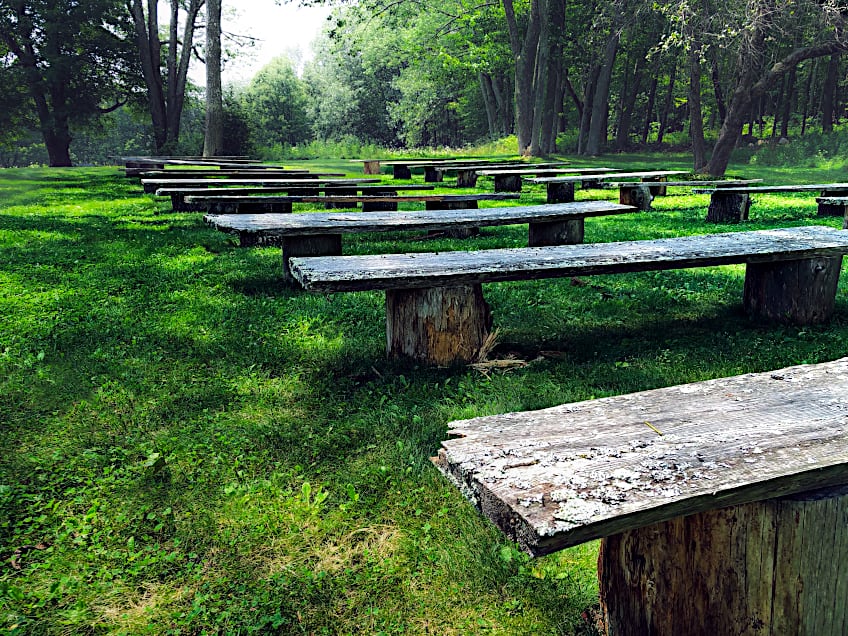 Use Your Tree Stump as a Planter
One of the easiest tree stump ideas for a beginner is simply to hollow the stump out and make it a sort of natural planter. You can place pretty much any plant life you can think of into these natural tree stump planters and they'll blend right into the garden's overall look while getting to show off their unique shape and color.
What makes this tree stump idea so accessible is the fact that it requires very little skill or craftmanship to pull off but produces a visually impressive result that's sure to last a lifetime. You don't need any special tools to create one of these either, all that you need is a planting shovel and some elbow grease and you'll be good to go!
Turn Your Tree Stump into Furniture
If you have more tools and some experience with DIY projects, you might be considering removing the tree stump completely. If your heart isn't quite set on throwing it in the trash, you might be surprised to know that tree stumps can quite easily be turned into wonderful furnishings that are sure to last you a lifetime.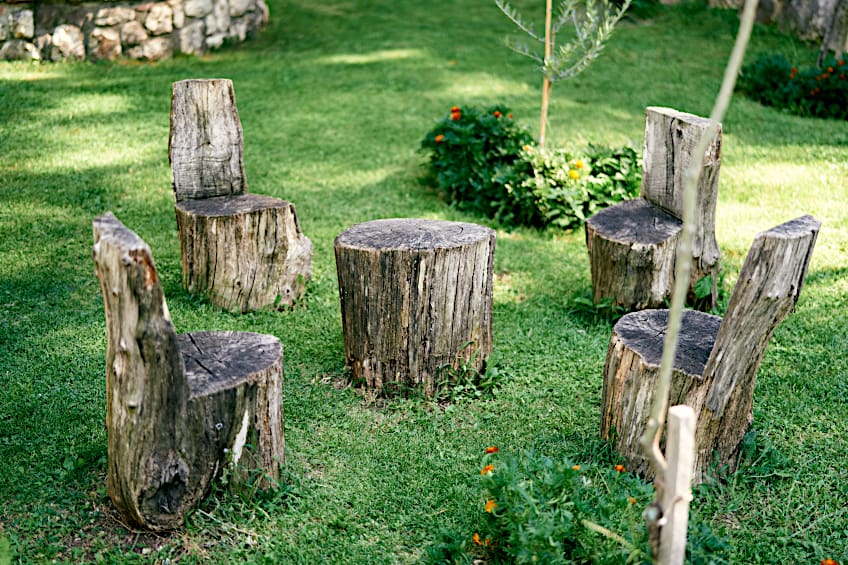 Tree stumps can be used to make a number of furnishings, from table legs to coffee tables, wall plaques, bedside tables, cutting boards, serving trays, and many other things can be made from a simple tree stump. If you'd like to ensure the longevity of your tree stump furnishings, consider varnishing, staining, or epoxy coating them.
Use Your Tree Stump to Create a Sculpture
While there are many things that you can do with a tree stump once it's been removed, you might be limited depending on your skill level and the tools you have available to you. If you have the expertise and feel comfortable with the idea, you could turn your old tree stump into a sculpture for your home garden, or a centerpiece for your living room.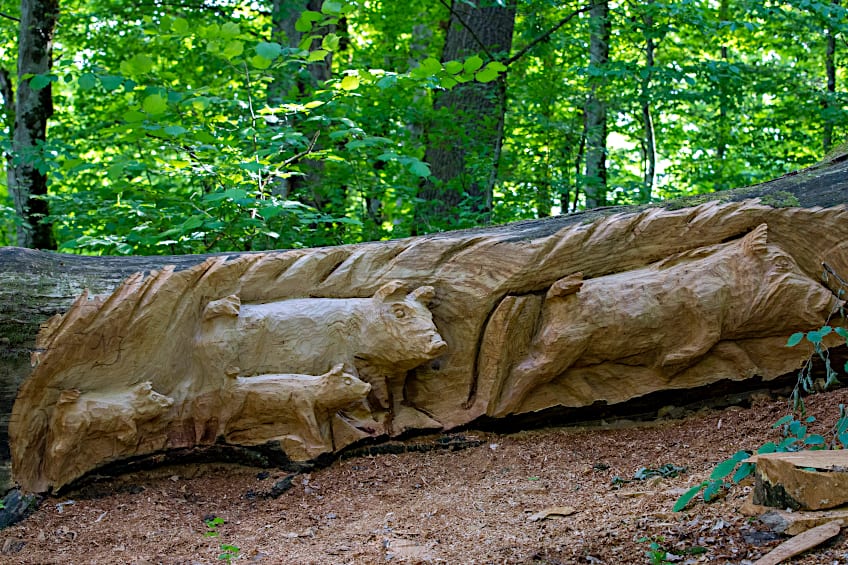 Due to the size and density of tree stumps, many seasoned professional wood crafters use a chainsaw to shape their sculptures. There are many examples online of stumps being turned into birds, wolves, birdhouses, people, and even a form as intricate as a snake. If you aren't well acquainted with a chainsaw, we recommend sticking to conventional wood carving tools in the meantime.
Turn Your Tree Stump into a Tree House
If you're looking for tall tree stump ideas, we highly recommend trying this one out. If a tree is particularly large, it will usually be cut down in sections, especially if the tree is located in a residential area where feeling it could lead to something being damaged. If you decide to keep your tall tree stump, you should know that they make great foundations for tree houses.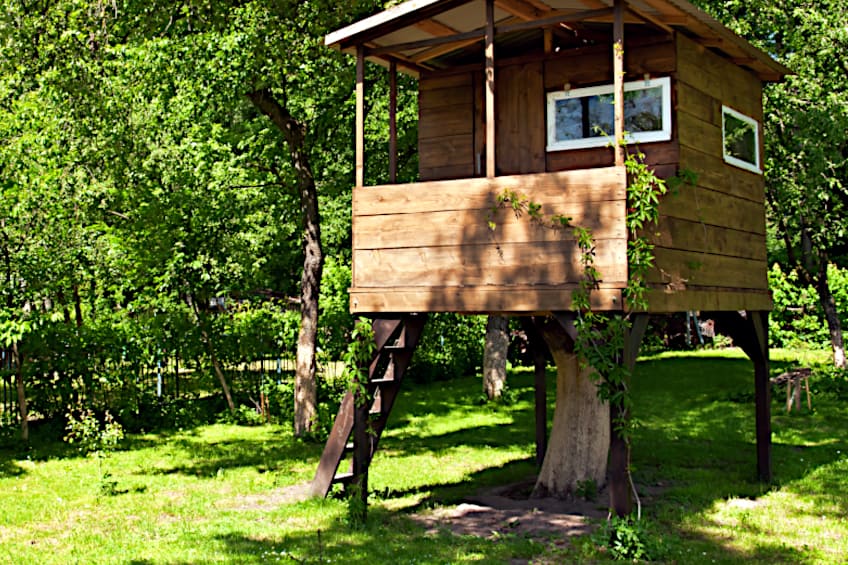 The tree house doesn't have to be extravagant either, although there are some mind-blowing ideas out there should you feel like investing that kind of time and money into the project. Additionally, you should consider things like swings, ladders, and platforms to make your treehouse as unique as possible, while still being fun to use.
Turn Your Tree Stump into a Fairy House
If you have kids, or simply enjoy a whimsical twist in your garden space, we recommend considering turning your tree stump into a fairy house. Not only are these easy to make, but they can be a fun activity for you and your little ones. These can be one of the more interesting tall tree stump ideas due to the fact that you have more wood to work with, and therefore more surface area to decorate.
Fairy houses tend to be small in stature though, which means that creating one tends to be a detail-oriented process. You can add little trinkets, create small windows, doors, and chimneys, and you could even add little fairies to make the experience more immersive. If you'd like to weatherproof your fairy house, we recommend using a high-quality sealer or stain on your stump.
While painting the stump and adding little accents to it is all well and good, you can also add things around the tree stump to add some depth to the experience. You can use little pebbles to make a path leading up to your fairy house, and you can use bigger stones to mark the area around the stump to ensure nobody treads on your creation accidentally.
Turn Your Stumps into a Hopscotch Platform
While wood crafts are fun to make, why not consider making your tree stump wood crafts interactive as well? There are many fun interactive crafts like swings and benches that can be made by cutting up your tree stump, but if you're looking for something a bit less labor intensive, you could make hopscotch platforms out of your freshly cut stumps. This is a variation of using tree log slices as pavers to make a walkway idea.
As far as tree stump decorating ideas go, these are the easiest as they don't require any specialized tools and they'll provide hours of fun for any little ones you have around. All that you need to do is paint the tree stumps to your liking and ensure that they're slip resistant by adding an epoxy coating to increase surface friction. For safety purposes, we wouldn't recommend using your stumps as hopscotch platforms if they aren't surrounded by grass.
Turn Your Tree Stump into an Outdoor Table
Not all tree stumps are the same size, so some of the aforementioned ideas might not be practical if your tree stump has a particularly large circumference. Therefore, instead of reshaping your entire tree stump, you could simply turn it into a communal table outdoors by reshaping the base of the table and adding a finish to the surface.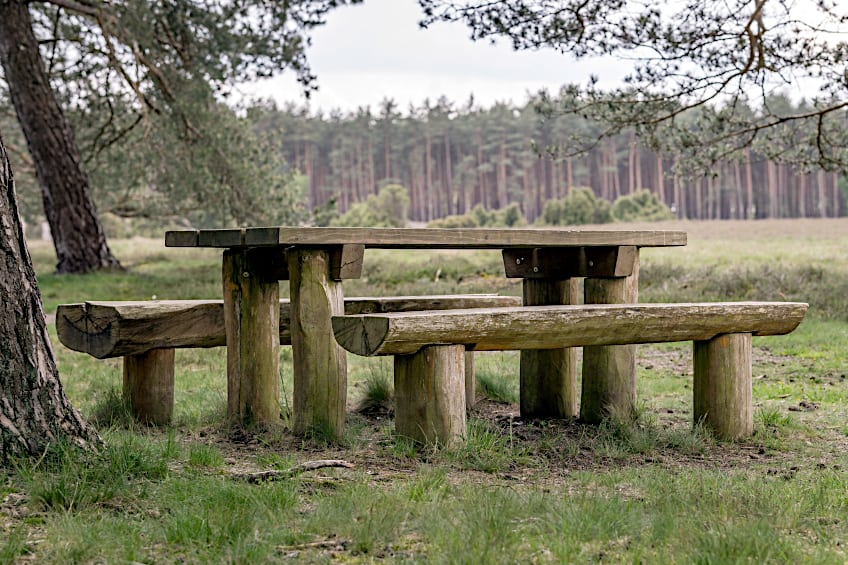 If you'd like the setting to seem more put together, you could create some semi-permanent log stools for you and your friends and family to sit around when using the table. The possibilities are endless with decorations too, you can paint, stain, varnish, carve, or add pyrography to your wood stump table, which means that the tree stump decorating ideas for your outdoor table are virtually endless!
Transform Your Tree Stumps into Giant Mushrooms
If you're into sculpting, we highly recommend trying to reshape your wooden tree stump into a giant mushroom. These are quite popular at the moment and are surprisingly easy to make if you have some moderate skills and some experience working with power tools. This being said, they can be a lot of fun to make, and they look great!
These are ideal if you have larger tree stumps as they tend to have a better aesthetic impact, but this doesn't mean that regular-sized ones look terrible. Regular-sized carved mushrooms tend to work better in groups, so if you've recently felled a group of small trees, you can make multiple mushrooms to breathe some life back into the area.
If you're looking for painted tree stump ideas, these often come up when using platforms like Google and Pinterest. This being said, there are a number of ways for you to decorate said mushrooms, whether you're painting the surface of the mushroom heads with polka dots, blending colors in a tie-dye fashion, or using your own custom design, the possibilities are endless!
Turn Your Tree Stump into a Bird Bath
If you're in the mood for a simple application for your tree stump you should consider turning it into a bird bath. This application tends to be popular because it fits the natural shape and size of a tree stump. You don't even need power tools to pull this one off, and if you're looking for painted tree stump ideas online, you're likely to come across many variations of these.
There are two primary ways that you can go about turning your tree stump into a bird bath. The easiest way is to create an indent simply creating an indent on the surface of the stump and placing a bird bath in it. Feel free to apply some epoxy to the surface before positioning the bird bath though. Alternatively, you could hollow out the stump from the top and seal the interior, and then proceed to fill it with water.
Turn Your Tree Stump into a Tic-Tac-Toe Board
If you're looking for a way to keep your little ones occupied and get them to spend some time outdoors, turning your tree stump into a tic-tac-toe board is a great idea. The cool thing about this is that you can make your board in virtually any shape or style that you can think of, and all that you need to make one is some sandpaper, paint, and some sealer!
Once your tree has been felled, all that you need to do is sand and clean the exposed surface of the stump. Once it has been cleaned, paint, draw, stencil, or engrave your game board on the surface of the stump. Once you're happy with your design, seal the surface of the trunk with an epoxy sealer and allow it to dry completely before you get to play.
Turn Your Tree Stump into a Sliding Board
Even in the age of iPads and other portable electronics, kids still love a good old-fashioned sliding board. Sliding boards are a great idea if you're working with particularly tall tree stumps as they have naturally high starting points that aren't too high for little ones. This being said, they are easy to make, even compared to some of the previously mentioned tree stump ideas.
This tree stump idea works if the stump you are working with is particularly tall. All that you need to do is find a slide that fits the height of your tree stump, prepare the surface of the stump, mount the slide, and you're ready to have some fun! This is one of the simplest, and arguably the most fun tree stump ideas out there.
Turn Your Tree Stump into a Throne
If you're into intricate tree trunk decorations for your garden, then we think that this one might be right up your alley. After all, you are the ruler of your home, so why shouldn't you have a nifty tree trunk throne to sit upon while you gaze out over your undoubtedly beautiful backyard and/or garden? These might look challenging to make but in reality, they're really quite easy.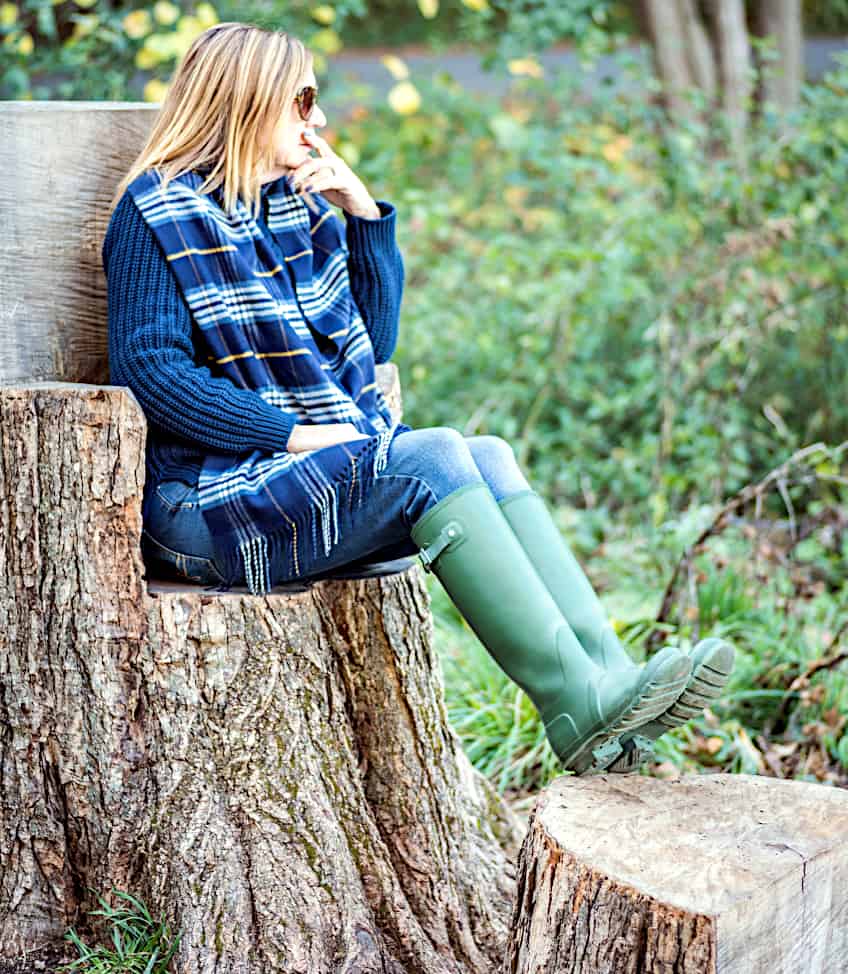 Making these works best when you're working with a particularly large and tall tree trunk, but it's not always necessary. Simply carve out the truck either using power tools or by hand, carve the backrest design to your liking, give the surface a good clean, and seal the stump for good measure. That's pretty much all it takes for you to create your very own seat of power!
Used Your Tree Trunk as a Table Base
These days the use of natural materials in living spaces has become quite popular, and it's easy to see why. Using one or more tree stumps as the base for a table is a great way to mix the natural look and feel of wood with relatively modern materials like tempered glass or resin surfacing. There are loads of other options for you to choose from too!
There are some things that you should know before creating your stump-based table though. Firstly, be sure that your stump is in load-bearing condition and not corroded in any way. Secondly, ensure that it is sufficiently wide and that the surface is nice and level. Finally, ensure that the wood has been treated to ensure its longevity, and sealed if your workpiece will be situated outdoors.
Now that you have a few good ideas for the next tree stump you come across, and how to use tree trunk decorations, it's time for you to get out there and put your newfound knowledge to the test! Remember that both felling a tree and removing a tree trunk can be hazardous, so always ensure that you're wearing the appropriate personal protective gear.
Frequently Asked Questions
What Can Be Made From a Tree Trunk?
There are quite a few things that can be made from a tree trunk. All that you need is a bit of imagination, the right tools, and some elbow grease to get started. Some of the easiest things to make from a trunk are fairy houses, bird baths, and simple wooden tables.
What Is the Best Way to Remove a Tree Trunk?
When searching for tree trunk decoration ideas, many DIY crafters often wonder what the best way to remove a tree trunk would be. The truth is that there are many ways to remove a tree trunk, depending on the size and wood species. The simplest method involves using a chainsaw to break the stump up, and then using a shovel to leverage the stump up by the roots.
Do Tree Stumps Stay Alive?
Yes! Tree stumps do indeed stay alive once a tree has been felled. How, you ask? Well, even though the trunk and the branches have been removed, the stump is still connected to its roots, which provides it with all the nutrients it needs to stay alive, and even regrow over time!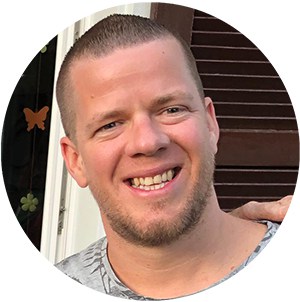 I have been into woodworking since 2005 and woodturning since 2011. Because of my love for wood and woodworking, I started woodhappen.com to teach other enthusiasts about how to finish and seal wood, the best woodworking tools, the different types of wood, and everything else related to woodworking! Read more about me here.