What is an Orbital Sander – Our Top Orbital Sander Reviews
For anyone not in the woodworking or crafting trades, some tools might seem foreign considering that they are only used on larger jobs. A sander is a great tool to have around regardless of your skill level or how often you will need it. Sanders come in different shapes and sizes, they can be corded or cordless, orbital or belt-driven, random or circular, and even single speed or multi-speed. Let's have a look at what a sender is and what it can be used for.
What Is an Orbital Sander?
What is an orbital sander? Well, an orbital sander is a sander that rotates in a single direction, whether clockwise or anti-clockwise. It is distinct from what used to be conventional belt sanders because of its oscillating motion. Orbital sanders are objectively better than belt sanders because of their ability to sand effectively without inadvertently causing damage to the surface in question. This is because belt sanders have a more vigorous sanding action, which makes them great for larger jobs that don't require that much attention to the finish quality of the surface.
This being said, they don't do too well in applications where a lighter touch is needed. Belt sanders, unlike orbital sanders, are extremely powerful and have a habit of tearing chunks of wood out of the board if one is experienced or unprepared for the somewhat "unruly" nature of the belt sander. Strangely enough, the first sander ever invented was a belt sander, but it looked remarkably like an orbital sander in appearance.
Ever since its instruction into both the public and commercial markets, orbital sanders have become the weapon of choice for transman and DIY weekend warriors alike. This in turn has caused the tool to skyrocket in popularity as they provide one with the ability you with ability to take on large projects and complete them in a time that would be otherwise impossible if you were to sand by hand, and with a level of care and precision that would be otherwise difficult to achieve with a belt sander.
Orbital sanders are great because most models come equipped with multiple speed settings which allow you to tackle surfaces with different degrees of toughness, meaning that in addition to being able to switch between sanding pads with different grits, you can curate your setup to accommodate different surfaces.
Due to their popularity, orbital sanders have become far more affordable compared to when they were initially introduced, this means that many people have had the opportunity to explore the possibilities of what can be achieved with this relatively simple tool.
A simple Google search will illustrate exactly what can be achieved with an orbital sander if you have the motivation and imagination to go about it! This being said, which orbital sander is right for you? Which one should you pick? Let's have a look at some of the best orbital sanders on the market today and some of their pros and cons.
What Are the Most Popular Orbital Sander Brands?
What makes the best orbital sander? Like many industries on the market today there are certain manufacturers that stand out from the crowd. Through a combination of their innovation and commitment to the great customer experience, they have made a name for themselves in their respective markets. The orbital sander market is no different, so let's have a look at some of the best orbital sander brands on the market today and what sets them apart from the competition.
Dewalt Power Tools
Arguably, it doesn't get any more red, white, and blue than the Dewalt team. Being around for around 100 years means that they have had loads of time to invent and perfect technologies in their products that newer manufacturers have yet to undertake. Dewalt doesn't just specialize in power sanders though, they have a wide range of power tools that fill a catalog far too big to mention, with most (if not all) of them being of impeccable quality and workmanship. Dewalt is known for knowing what a tradesperson needs, and not just on a gimmicky marketing level either.
You can tell that the Dewalt team has spent time using their products and has developed them keeping the end-user in mind, whether it be an easy-to-use travel bag, comfortable ergonomic grips, vibration reduction technology, lightweight machinery, and characteristics that minimize the probability for human error.
Essentially, one could say that the Dewalt range of products is tools made by tradespeople, for tradespeople, and instead of telling you this with their admittedly small marketing efforts, they prefer to let their products speak for themselves. Dewalt's orbital sanders are known for being lightweight, packed with bells and whistles, easy to use, easy to store, and forward-thinking. If you are looking for an orbital sander that will likely last you a lifetime, Dewalt would be a wise choice.
Makita Power Tools
Although this brand doesn't have quite the same American pedigree as the brand we mentioned previously, some of the most innovative technologies come from the land of the rising sun. In this instance, the Makita team all the way from Japan has had nothing but a positive influence on the crafting industry by offering machinery with compact designs, innovative shapes and ergonomics, variable speed controls, and competitive prices!
Makita, like many companies that have been around for over a century, has a product line that spans the entire range of the production industry. From drills to planners, to saws, cutters, lawnmowers, high-pressure hoses, lasers, and even measuring tools!
Unlike some other brands, Makita doesn't rely on its name and legacy to carry its weight, instead, they focus on innovation in the product range, offering concepts in their products way before the competition catches up. In their recent product range, they offer cordless tools with long-life lithium-ion batteries that provide you with superior battery life, which means you don't have to count on carrying an extra battery pack around with you while you work.
This confidence allows you to tackle your project with one less thing nagging at the back of your head, and if you are an avid user of Makita products you probably have loads of project details rattling around in the back of your mind. If you think that the Makita team is simply a bunch of tech-savvy engineers that aren't interested in anything except progress, you'll be happy to know that much like the Dewalt team they do place close attention to the customer experience, storage, ease of use, and longevity!
Bosch Power Tools
This is a brand that most of you reading this might already be acquainted with. Considering that Bosch has been around longer than most of us have had electricity in our homes, you can rest assured that they know what they're doing in the power (and manual) tool department. Bosch has been around for nearly 140 years, and they have been leading the charge in the tools industry since before the first world war, in fact, this German-based company has taken it upon itself to collect the best and brightest minds in the mechanical and electrical engineering industries to stock up their research and development department in recent years.
Surprised? You shouldn't be. Bosch makes pretty much any practical tool or appliance you can think of, making them one of the largest manufacturers of power tools, appliances, automotive components, security equipment, computing systems, and even sensory technology in the entire world.
If you are looking for a sander, the Bosch team makes arguably the best power sander on the market today, and at ridiculously affordable prices too! This comes as no surprise considering they are the furthest thing from your town's local mom and pop shop. Bosch's commercial and private use power sanders offer not only affordable but great quality, hard-wearing, user-friendly machinery which are versatile and easy to use straight out of the box. One of the defining characteristics of all of their tools has to be their simplicity, offering a hassle-free approach that inspires confidence in both experienced and first-time users.
Choosing the Best Orbital Sander for You
Choosing the best random orbital sander for you can be a tough decision. You have to face the infinite number of choices available to you, and factor in your budget, application, and how often you will use it.
What to Consider When Buying an Orbital Sander
There are a lot of things to consider when buying virtually any power tool. Why? For the majority of us, they aren't exactly cheap, and they can be seen as more of an investment than an impulse purchase, so let's have a look at some of the things you should consider before you purchase your next random orbital sander.
What Type of Sander Do You Need?
Just like choosing what drink you want with your meal, choosing a sander largely depends on what task you will be pairing it with. After all, even if you will be using the top-rated orbital sander it won't make much of a difference if you are using it on a task, it isn't conducive to. Just like you wouldn't pair a premium steak from a fancy restaurant with a cup of coffee (unless that's your thing) it's important that your sander matches the task at hand. If you aren't too concerned with the finish, it leaves behind and you have a large surface you need to sand down, using a belt sander or a regular orbital sander will be perfectly fine.
These sanders reach high RPM redlines and are designed to tear up surfaces quickly and easily, and although they do have a habit of leaving behind nasty marks on the surface or accidentally tearing up pieces of the surface in the hands of beginners.
Alternatively, you could choose to purchase a random orbital sander that does not leave any marking on the surface of your board and is highly unlikely to tear it up even though it can reach an RPM of up to 12000. Some sanders are better for sanding down corners, railings, softer workpieces, elevated, or surfaces, therefore choosing one that suits your particular application is extremely important.
Battery Powered or Corded?
This might seem like a really hard choice to make, but if you have ever owned or used a sander before reading this the chances are that you already know the answer to this question. The choice between cordless and corded sanders is a purely subjective one, and it's a need that can change depending on your circumstances and application. In some instances, a coded sander might be great, and in different conditions, you might long for a cordless sander, but which scenarios warrant which type of sander? Put simply, a cordless sander is great for those of you who are on the move and simply can't risk being without power.
A good example of this is tradespeople who travel between job sites, as when building a house, you have no idea what the situation will be when you get to the site, especially if it has been built from scratch. Cordless sanders also offer you a range of motion that is unobstructed by a cord, and the freedom to go wherever you need to without having to worry about being without power, which is good for getting into tight spaces or up high where it would be challenging to get an extension cord.
A corded sander, on the other hand, offers its own positive characteristics in the form of a dedicated power source that is virtually unlimited and the fact that you don't have to work around the battery life of the sander itself. This type of sander is great if you're a weekend warrior or have your own business where you work from your workbench, the trade-off being (as we mentioned previously) that you have a considerable decrease in your range of motion.
Knowing what type of work you will be doing and what your work environment will ultimately decide what type of sander is best for you.
How to Use an Orbital Sander
Using an orbital sander is not super challenging, in fact with very little practice you should have it down pretty quickly. So, what does it take for you to be able to use an orbital sander? Let's have a look at what you need to know before you get resurfacing with your new random orbital sander.
Prepare Your Workspace
Before you put your sander to wood it's important that you prepare your sander and your workspace. Whether you will be resurfacing a large or small workpiece it is important that you ensure that your workpiece is clean and dry. If you are sanding a larger workpiece like an outdoor deck, simply use some soapy water and hose, or a power washer to get rid of all the dirt and grime that might have accumulated over the season. If you are working with a smaller workpiece, try dusting it off with a dry cloth before giving it a good once with some soapy water. In both instances allow the wood to dry completely before moving on to the next step in the process.
Preparing your sander is all about knowing what surface you are working with, if you have a hardwood surface you might want to use a rougher grit pad and a finer git when you are working with softer wood.
Next, choose the appropriate speed setting (if you are using a variable speed unit) for the surface you will be tackling. If you are working with a corded sander ensure that you have a decent range of motion, and if you are working with a cordless sander ensure that you know how much time you have between charges, considering how much time you have allocated for the job in question. Finally, ensure that the workpiece is clear of any nails or similar objects which could end up damaging your sanders pads and/or motor.
Sanding Your Workpiece
Sanding comes down to not only having the right tool for the job but having good technique and the right mindset. If this is your first time ever using a sander, practice on some spare board to get a feel for the pad being in contact with the board. Once you feel that you have the hang of it, move it along the surface with the appropriate pressure and see how you manage it. Once you are satisfied with your technique it's time to move on to your workpiece. Larger workpieces like the deck we mentioned earlier tend to have a larger margin for error than smaller workpieces because they tend to be made out of harder wood composites.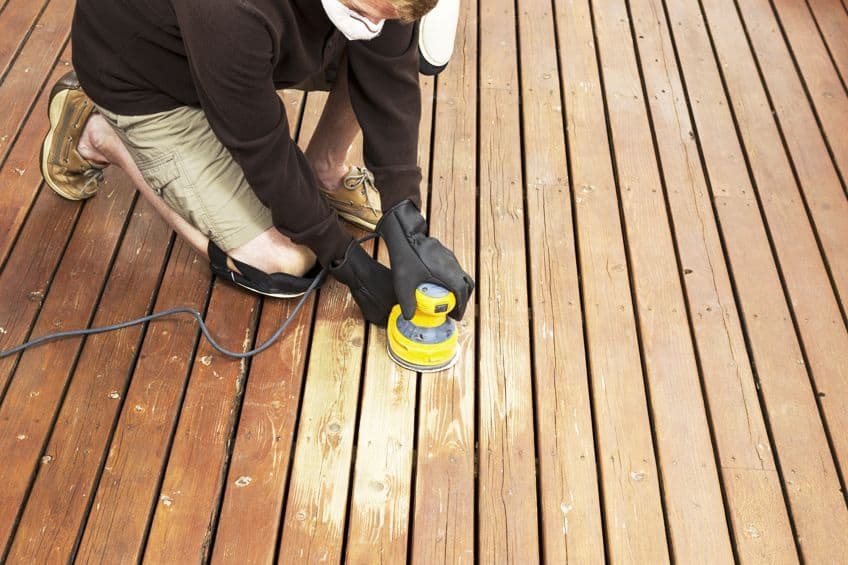 This means that working with larger workpieces is a bit easier, as you would simply follow the grain of each board and repeat the process until you are satisfied with the texture of the surface. Smaller workpieces tend to be a bit trickier, as you have to sand with the contours of the workpiece to avoid completely sanding away any edges, and to make things worse it is likely that they will be made out of softer wood because it is easier to shape. This is where mindset comes into play, sanding requires patience and absolute attention to pressure and timing. Be patient and focus on your immediate task instead of thinking ahead, and you may find the process calming.
Finishing Your Workpiece
This isn't a must, but it is recommended if you value the longevity of your workpiece. Sanding down your workpiece is all well and good, but now you have some exposed wood that is susceptible to things like moisture, rot, mold, heat, and insects. In order to avoid this, we recommend either applying a wood treatment or surface coating to complete your newly sanded piece and protect it from the aforementioned conditions.
A common treatment to apply is a wood stain, these penetrate below the surface of the wood, brighten up the color (in most instances) and protect it from rain, heat, bugs, ambient moisture, and even abrasion to a certain degree.
A surface coating would be something like a healthy coat of resin or paint to ensure that at least the surface is protected from the forces we mentioned previously. We think that you will agree that freshly sanded wood looks and even smells amazing, but it will be short-lived if no steps are taken to ensure that your workpiece is protected. If you would like to know more about staining your wooden workpiece, have a look at some of these articles for some information and a step-by-step walkthrough!
Now that you know what a sander is, what some of the leading brands in the power tool industry are, what the best orbital sander looks like, and how to go about using your own orbital sander, it's time for you to go out and put your newfound skills to the test. Remember to always wear the appropriate personal protective gear and choose a sander that suits the job and your pocket best.
Frequently Asked Questions
What Is the Best Orbital Sander?
What is the best orbital sander? While there are leading brands in the power tool market today, there is no sander out there that can be determined to be the best objectively. Different sanders are designed for different applications; therefore, the best orbital sander is often the one that fits your specific application (and pocket) best.
What Is an Orbital Sander Used For?
In addition to rotating on its own axis, the random orbital sander also jumps off this continuous axis randomly. Why does it do this? To create a smooth surface devoid of any lines that would be present if a regular orbital sander was used. These sanders can be used on various surfaces which require special composite sanding pads.
Can I Use an Orbital Sander to Remove Paint?
You could use a random orbital sander to remove paint. Orbital sanders are resurfacing tools that can be used to modify, lift, or remove certain surface coatings from various materials including metal and wood. Depending on the type of sander and sanding pads available to you, the possibilities are endless.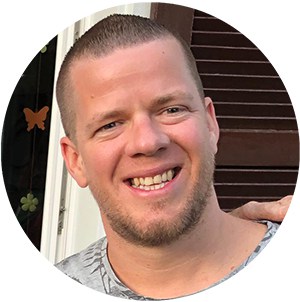 I have been into woodworking since 2005 and woodturning since 2011. Because of my love for wood and woodworking, I started woodhappen.com to teach other enthusiasts about how to finish and seal wood, the best woodworking tools, the different types of wood, and everything else related to woodworking! Read more about me here.