Can I Put Wood Flooring on Walls? – Novel Wood Paneling Ideas
Have you ever found a piece of wooden flooring that you just wanted everywhere in your home? If you have, it's completely understandable! After all, some of the most beautiful and hard-wearing wood species in the world are used to create flooring boards. With that being said, you might have asked yourself, "can I put wood flooring on walls?", to which the answer would be a resounding "yes!". Wood flooring can be used as wooden paneling for walls, but there are a few things you should know before you give it a try. Let's have a look at why repurposing wood flooring is so popular, and how to install it on your walls.
Can I Put Wood Flooring on Walls?
As we mentioned previously, it is entirely possible to install hardwood on walls. This has become quite a popular trend in recent years thanks to minimalist and industrial chic design styles, as there are quite a few advantages to doing so. Let's have a look at some of the advantages of using wooden flooring on walls, as well as why it has become such a popular trend.
Why Is Wooden Flooring Being Used on Walls?
This might seem like a strange trend at first glance, but the more you think about it the more sense it starts to make. Wooden flooring is designed to be extremely hard-wearing due to the foot traffic it undertakes. It's also designed to retain its overall shape and good looks throughout its lifetime with minimal maintenance or repair.
The question is then, why not take these characteristics and apply them to wall paneling? This is essentially the idea behind using hardwood on walls. Why have shoddy, hollow paneling that will crack or fade over time when you have perfectly good hardwood floorboards just waiting to be taken advantage of?
Aside from its inherent durability and aesthetic appeal, hardwood has other properties that make it the ideal candidate for wall paneling. Since floorboards are fashioned out of high-quality lumber, they can also pretty easily be painted and stained. After all, these boards rarely contain knots or strange grain patterns that would cause paint or stain to adhere incorrectly.
Hardwood floorboards are also some of the most malleable cuts of lumber around. This means that they can be reshaped, turned, cut, nailed, drilled, and even bent without much effort. Additionally, they tend to respond positively to protective coatings like epoxy resin or wax, which are generally used to ensure the longevity of the flooring.
Flooring boards are also available in a wide variety of materials. If hardwood doesn't suit your taste, there are other flooring options like MDF, Plywood, and veneers. These materials tend to be significantly cheaper than hardwood too, so wooden wall accents can be installed on a shoestring budget if need be.
Types of Wooden Flooring
As we mentioned previously, there are many types of wooden flooring that you can repurpose as wooden wall accents. These flooring materials range considerably in size, shape, color, cost, how they connect with one another, and how they should be installed. Below we've listed a few of the most common wooden flooring materials and their properties.
| | | | |
| --- | --- | --- | --- |
| Material | Hardwood | Engineered Wood | Laminate |
| Durability | Highly durable | Moderate durability | Highly durable |
| Price | Typically expensive | Reasonably priced | Reasonably priced |
| Availability | Species dependent | Readily available | Readily available |
| Ease of use for walls | Easy to use | Easy to use | Easy to use |
| Malleability | Highly malleable | Moderate malleability | Moderate malleability |
Solid Wood Flooring
Solid wood flooring is one of the most popular choices for wooden wall accents. Why? Solid wood flooring is extremely durable, pleasing to the eye, and tends to fit the feel of pretty much any space it's used in. This is due to the fact that the wood has not been heavily processed, allowing it to retain its density and the natural characteristics of the tree species it's derived from.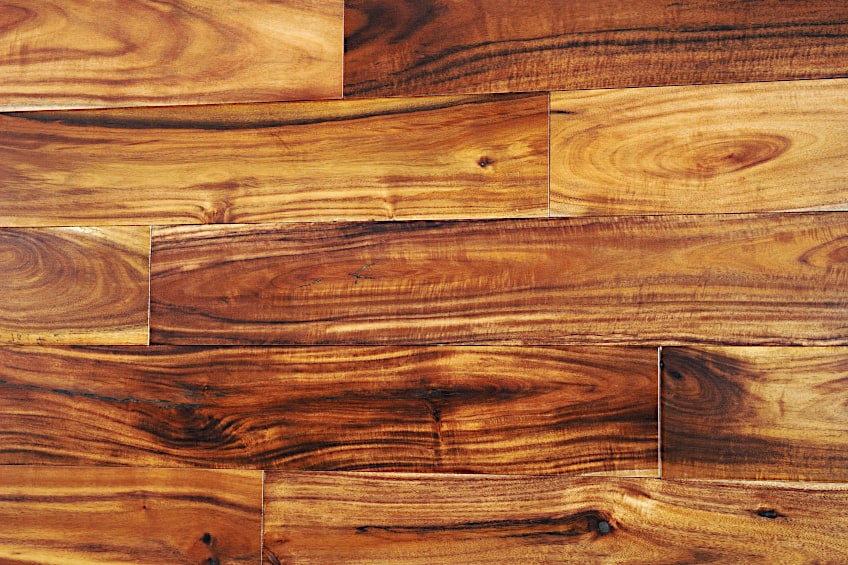 The price range of solid wood flooring can range considerably as well. Cheaper wood species like pine are widely used and can be both purchased and installed at a relatively low cost. However, wood species like oak and walnut are not only harder to come by and can be extremely expensive, especially in the quantities needed to create flooring.
Engineered Wood Flooring
Engineered wood flooring is significantly less expensive than hardwood flooring. What is engineered wood? Engineered wood is a blanket term used to describe a board that consists of wood particles that have been processed (shredded), mixed with resin, and then heat pressed into the shape of a board. These boards can be made from one or a mixture of wood species.
Engineered wood boards are generally topped off on either side with veneer or laminate to achieve the look of solid wood. However, since they only have the look of solid wood they lack the texture and grain of the real thing. On the other hand, because the engineered wood board is essentially wood particles sandwiched between veneer, it is not only more affordable but can also be more robust/durable than solid wood.
Laminate Wood Flooring
Now, if you thought that engineered wood and laminate flooring were the same thing, we understand. They are, however, two different materials and are therefore sold and marketed as such. What is laminate? Put simply, laminate consists of an MDF (medium-density fiberboard) core that is topped with a photorealistic veneer (or image) of hardwood.
This MDF sandwich is then covered in a protective laminated layer that prevents things like impact, abrasion, water damage, insect infestation, and general wear. Laminate might not be the most popular choice when selecting materials for wood flooring on walls, but it's pretty versatile and cost-effective compared to many other options.
How to Install Wood Flooring on Walls
Now that you know why installing wood flooring on walls is so popular and what your options are, we thought it would be a good idea to show you how to do it yourself. Installing wood flooring panels on walls is pretty straightforward, but it can be a bit daunting if you've never done it before. Below you'll find a list of things you'll need as well as a short tutorial showing you the best way to go about it.
A miter saw
A handsaw
Flexible industrial-strength adhesive
A nail gun
A clean cloth
Some soap and water
Wooden flooring panels of your choosing
Prepare Your Surface
Using flooring on walls is pretty straightforward forward as we mentioned previously. The most challenging part of the process is the preparation, which should be done properly to avoid instability or a less-than-desirable finish. How do you prepare your walls for wood paneling you ask? Well, start off by establishing if the surface of your wall is capable of supporting the weight of the floorboards.
The wall in question should allow you to secure the paneling all the way along its length. If this is not possible, try installing some engineered wood first to function as a secure mounting point for your actual floorboards. Next, you need to choose what direction your flooring panels will be running in; either horizontal or vertical.
Regardless of which one you choose, you should mark a border one plank width away from the wall's end with a pencil and use that as a starting point. This will function as a guide, but you should still determine how many panels you will need to cover the wall's surface and whether or not your planks need to be resized based on the size of your wall.
Finally, it's worth cleaning your walls before the wall panels have been installed. This is particularly important if you'll be using adhesives to secure the panels to the surface of the walls. However, even if you're using nails, this reduces the chances of moisture/mold building up underneath your paneling over time.
Choose the Correct Adhesive
While this might not apply if you're going to be using nails instead, it's useful to keep in mind. Choosing an adhesive for your wooden accent walls is important considering the forces they will be acting on it. What type of adhesive is best suited for securing these panels then? Arguably the best choice would be a flexible industrial-strength adhesive.
Adhesives of both the single and two-part variety can be used for this application, but we recommend using a one-part product due to the preparation and cure time associated with two-part ones. Adhesives can be applied directly to the wall or to each individual panel as you position it, just be sure to plan ahead and ensure that you have the correct panel each time.
Install Your Wood Paneling
Once you have your wall nicely marked and cleaned it's time to install your wood paneling. If you have individual panels that do not join together then this part should be easy. However, if you are using engineered wood pieces that snap together using joins then you will have to stagger the boards as you would when installing a floor.
If you are installing the paneling horizontally, we highly recommend that you start at floor level (above the trim) and work your way up. Not only is this easier but it will hide any boards that need to be cut during installation higher up. If you're using an adhesive (as we mentioned previously) simply apply it to each panel as you go along.
If you are using nails we recommend nailing downward from the edge of the wood to hide the nails completely. If you are installing your panels vertically the chances are that your boards are slightly wider, and even if they aren't this composition is generally easier to pull off, but it does depend on who you ask.
Vertical installation does mean that you'll constantly need to check if your boards are perfectly straight. To make things a bit easier for you, you could draw some guidelines on the wall and ensure they're true by using a level and ruler. Just as you did with the horizontal panels, install each panel carefully, applying adhesive and/or nails as you go along.
Throughout the process check for bad panels and swap them out for better-suited ones. You might also notice that some panels need to be resized throughout the installation process depending on the type of wood you're using. This is usually the case with engineered wood boards as they're designed to be staggered. To remedy this, simply use a miter saw to cut them to the appropriate length and/or width.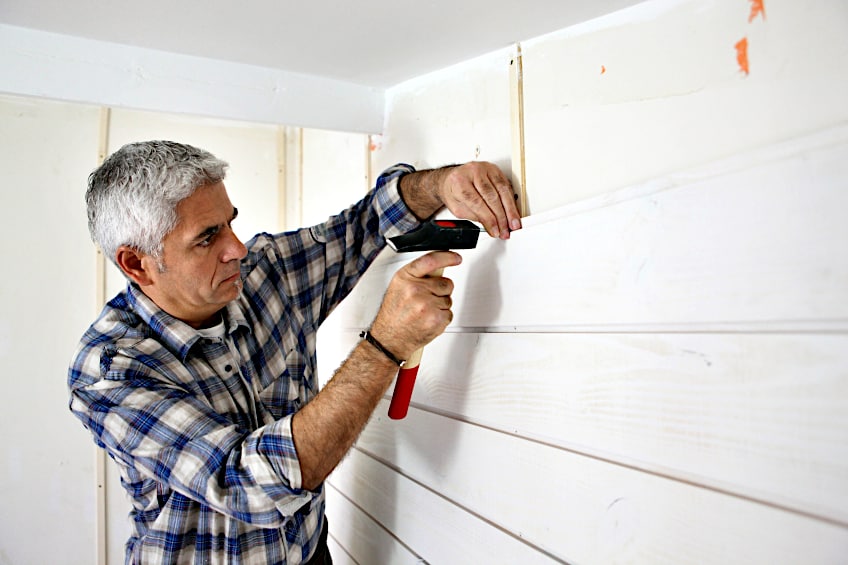 Apply Some Finishing Touches
Now that you have your wooden wall paneling nicely installed it's time for you to spruce things up by finishing it off. While some people prefer a rustic reclaimed wood look, others prefer a more polished, sleek look to their wood paneling. If this is the case, there are many options for you to choose from.
Using Wood Filler
First off, you could use some wood filler to hide any nail heads that are sticking out. While using a nail gun to install your wooden accent wall is much faster, this is one of the downsides. It is quite an easy fix though, all you need to do is prepare some wood filler, apply it to the affected areas using a putty knife, allow it to set, and then sand it down.
Applying Paint
Next, you can apply paint or wood stain to your walls, but only really works with hardwood since engineered wood and laminate are sold pre-finished. If you're applying any type of paint treatment to your wooden wall, give the wall a good clean using a little bit of soap, water, and a clean cloth. Once the wood is dry, apply your primer and allow it to dry for the manufacturer's recommended time period before applying your paint. This can also be done before the paneling is installed.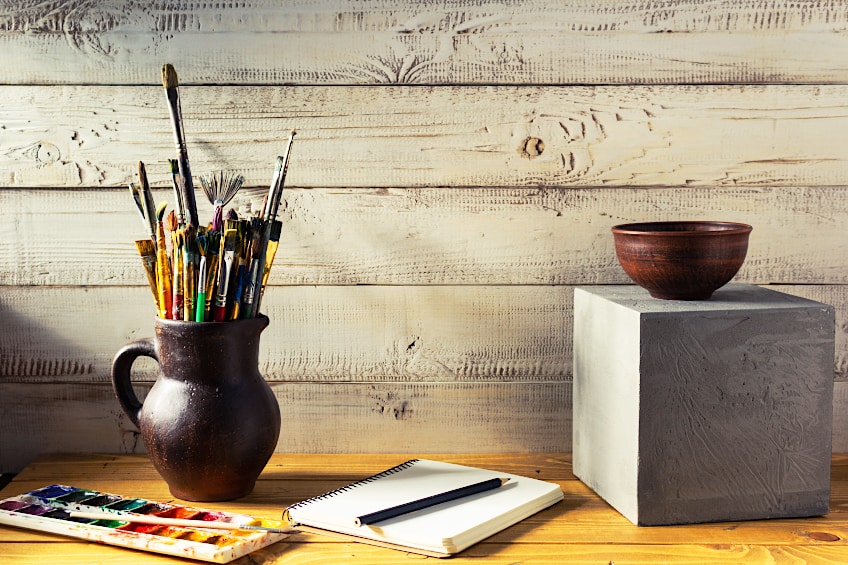 Applying Stain
Applying wood stain to your wooden accent wall is significantly easier. Sand the surface of your boards and remove any stray wood particles. Next, get your stain and start applying it to the surface of your board using a brush or roller. If your wall is quite big, work in sections to ensure an even application of stain throughout the process. This too can be done before the paneling is installed.
Applying Designs
Having a wooden surface on your wall allows you to have far more creative freedom compared to a drywall or concrete one. The possibilities are endless! You can stencil character designs, words, numbers, and anything else you can think of onto your wall. This is particularly useful if you're preparing a kid's room or nursery.
What Should You Consider When Installing a Wood Accent Wall?
While you might have an idea in mind regarding what you'd like your wall to look like, there are some other things that you should consider when putting together. Below are a few easily overlooked points for you to consider if you'd like a wooden accent wall, and some of the pros and cons associated with them.
What Design Would You Like?
Previously we mentioned that you can choose to install your wood paneling vertically or horizontally. While these are the primary options, you can also install solid one-part panels, moldings, try hexagonal panels, or even herringbone configurations. Other options include raising the grain of the wood or altering its textures in other ways.
What Color Would You Like?
Hardwood species tend to provide the best natural look, but there are awesome colors available in engineered wood panels too. Choose a color that not only suits the space the wall is part of but the other furnishings in the space as well. Thankfully, hardwood and some types of engineered wood can be stained and painted to suit your color preference.
What Pattern Would You Like?
As we mentioned previously there are loads of options to consider regarding the overall design of your wood accent wall. One of these options is the pattern in which the wooden slats will be laid out. There are endless variations of patterns to choose from, whether it be hexagonal, herringbone, hounds-tooth, horizontal, vertical, or a mix of all of these.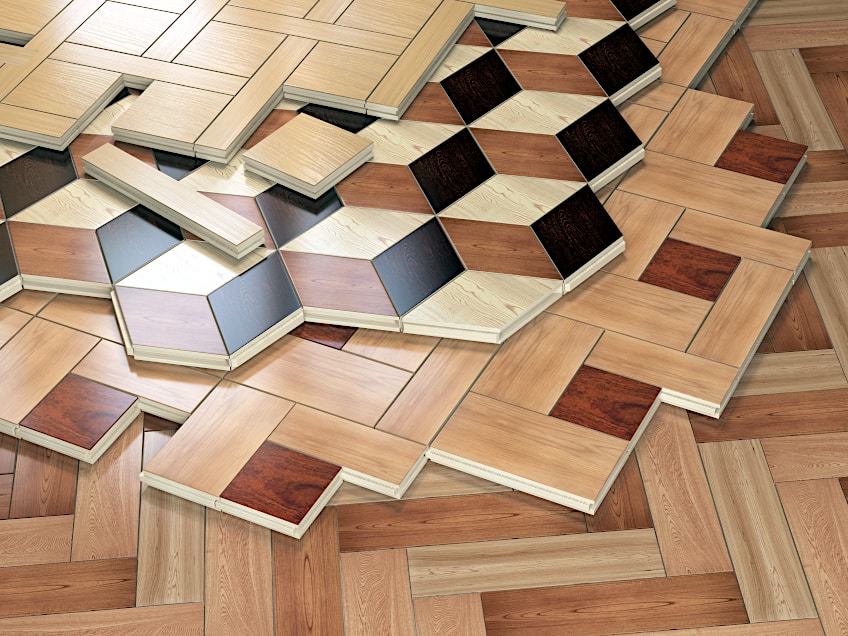 Design Tips
As you can probably imagine, people have been using flooring on walls for a long time, and as a result, there are a few tips you can follow. Some of the best ones to keep in mind are about preparation, as even though you probably want to see what your panels look like once installed, it's best to treat, paint, rough up, or stencil them beforehand in some instances.
While some designs can only be executed once the wall is in place, things like paint and wood stain can be applied beforehand, and save you some time too. Another trick to keep in mind is that while vertical lines can make a space feel taller, horizontal lines tend to make a space feel bigger or "more open".
How Do You Maintain a Wood Accent Wall?
Wood accent walls are actually pretty easy to maintain. All that you really need to do is ensure that the walls are clean as wood tends to collect dust fairly quickly. To clean your wood accent wall, pour a teaspoon of soap into some water and give the wall a good once over, then allow the wall to dry completely.
If you want to prevent the build-up of dust on your wall, you need to ensure that the space it occupies is cleaned regularly. It doesn't have vigorous cleaning either, all that you need to do is ensure that the space is swept and/or vacuumed fairly regularly to ensure that the build-up of dust isn't attracted to your accent wall.
If you're worried about damage, you shouldn't expect massive gouges in your wall unless you have reason to. Damage occurs to any wall over time as it is a functional part of your home, but if an area is highly trafficked you should consider selecting a wood with resin coating, or a particularly hard-wearing wood species.
If you do encounter scratches, they are pretty easy to repair. All that you need to do is mix some vinegar and vegetable oil into a small bowl. Next, get a clean cloth or paper towel and dip it into the mixture. Finally, rub the affected area until the scratches are no longer visible. That's it!
Now that you know why wood accent walls are so popular, what options are available when choosing materials for one, as well as how to install and maintain these walls, it's time for you to get out there and put your newfound knowledge to the test! Remember to ensure that both you and your workspace are well protected when working with heavy wood panels and power tools.
Frequently Asked Questions
What Wood Is Best for Accent Walls?
While pretty much any wood can be repurposed for use with wood accent walls, there are a few that fare better than others. On average, solid wood panels and veneer make for excellent wood accent wall panels.
Are Accent Walls Outdated?
Wood accent walls have been used for a long time, so you might be wondering if they're out of fashion. The good news is that wood accent walls are still very much in fashion, with the only difference now being that they have modern finishes and configurations.
Does a Dark Accent Wall Make a Room Look Bigger?
While many people know that dark clothing has a slimming visual effect, it does not apply to accent walls. Dark accent walls actually make a space look bigger, thanks to a trick of perspective. Keep in mind that horizontal lines also make a space look bigger, while vertical lines make spaces look taller.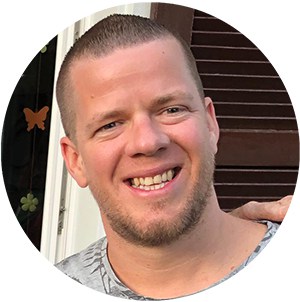 I have been into woodworking since 2005 and woodturning since 2011. Because of my love for wood and woodworking, I started woodhappen.com to teach other enthusiasts about how to finish and seal wood, the best woodworking tools, the different types of wood, and everything else related to woodworking! Read more about me here.