Best Furniture Touchup Markers – Wood Staining Markers for Repairs
Your home is a place where your family, friends, and others live or come visit regularly. Wooden surfaces in your home are bound to experience some wear and tear, where scratches or small marks can become visible over time. So, do you have to strip down the wood surface and spend a lot of money on repairs? If the scratches and marks are small, wood staining markers can be just the solution to fix the problem. They require little effort on your part and are a cost-effective way to cover up any problems. Furniture touchup pens can easily be applied in a few seconds, giving a smooth and clean wood surface look with no hassle or fuss.
Types of Furniture Markers
A furniture scratch repair kit or wood touch up pen can easily cover those smaller blemishes and marks that are on your wood surfaces. These touchups will most probably have to been done now and again, but they should last for months after a single application. So, what types of furniture markers are available?
Many wood scratch repair markers come in either an ink option or a stain. The ink option is similar to your normal markers and can cover marks temporarily. The stain option provides more of a durable application that can handle any wiping or polishing of surfaces over time. The wood stain pen would then be the best choice.
Many products come as a furniture scratch repair kit that provides a range of colors that could match your wood surface. All you have to do is choose the color that you think is the most similar to your wood surface, apply the marker onto the scratch, and then wipe and leave to dry. To achieve a particular color, you can also layer a lighter and darker color over each other. The best way to determine if you have the correct wood shade is to test it out first before applying it to the marked area. You want the colors to blend and not stand out.
Some of the wood scratch repair product types available are as follows.
Wood Touch-Up Pen
This type of wood scratch pen will permanently cover marks and other minor scratches. They usually come in a chisel felt tip style of pen. These felt tip markers are quick and easy to use, covering and repairing any scuff marks and blemishes. Wood touch-up pens are that which is most commonly used for furniture.
You can also get brush tip pens, which have a thinner tip for finer and more detailed applications. These can also be what they call graining pens, with a finer tip that can help to reproduce grain in-fills and scratches. It is recommended that a sealer coat be applied to offer more protection.
Valve Wood Staining Markers
Most paint markers have a valve action and can be used to stain and seal scratches on furniture, picture frames, and more. The valve helps to dispense thicker fluids and it is best to test out the marker before applying it to your chosen surface. You must shake the markers well before applying them to your wood surface. They also tend to last longer than the felt tip markers and are much more versatile in terms of application.
More Touch-Up Tools
Besides markers and wax sticks, you can also get graining or distressing pencils. The graining pencil can help to add color to the grain lines of raw wood. However, it can also be applied to finished wood and can be used over wood fillers and epoxy sticks. You can replicate grain lines and create distress marks with the distressing pencil. These do require a topcoat for added protection.
Fill-Sticks or Wax Sticks
These wood scratch repair products usually come in a set with wood touch up pens. However, you can also purchase them separately, and they are great for hiding any scratches on furniture. Also, the sticks can be applied to plastics and hard leather items. The fill-sticks are a type of wax that you can rub onto the surface without requiring any special tools for application. You rub the wax onto the surface where the problem is, and then wipe any excess off. If the environment is cold, you might have to warm the stick up a bit.
Benefits and Disadvantages of Using Furniture Markers
Furniture touchup pens are a quick and easy way to hide any marks and scratches on your wood surfaces. If you are using good quality furniture markers and doing the job properly, it should provide a good finish. However, as with everything, there are also a few disadvantages as well.
PROS
Quick and easy to use – no special tools or knowledge required
Quick-drying stain or ink, so you can use the furniture item almost straight away
Come in different colors to suit your needs
Wood scratch repair products also come in various types for best results
Easy to carry around with you
A much more affordable option when compared to other types of finishes
CONS
Some products can take time to dry and leave marks
Storing for long periods can dry out the furniture markers
Incompatible colors might ruin the wood surface finish
Some furniture markers may be toxic
Colors might not match as indicated
Best Furniture Touchup Pens
There are quite a few do-it-yourself scratch repair methods out there, from using lemon juice, mineral oil, tea bags, coffee grounds, and more. These might work for a short time; however, a professional furniture touch up kit will do the job much more effectively. We have selected four of the most popular furniture touchup markers for you.
Best Choice of Wood Staining Markers: KATZCO
The Katzco Funiture Repair Kit contains 13 pieces, including six furniture markers, six wax sticks, and a sharpener for the wax sticks. The kit also provides six colors: Mahogany, Cherry, Walnut, Oak, Maple, and Black. You should easily be able to match your wood color with this professional furniture touch-up kit. If these colors do not match, you can also blend two colors to get something that better suits the color of your wood. Take your first color, which should be a lighter option, and apply and wipe with a cloth. Apply another darker color straight away to get a color that closely matches your wood surface.
Top-quality markers and wax sticks that cover damages to wood

Comes in a range of six unique colors to match your furniture
Easy to use, quick to dry, 100% effective, and permanent
View on Amazon
The wax sticks might be slightly more difficult to use. These are always a little more difficult to match to your wood, and so again, the best option is to mix some of the colors. You can also use the product on other wood surfaces besides furniture. The repair kit is of excellent quality and will help cover scuff marks, scratches, and any discoloration on your furniture surfaces. The permanent color markers and wax sticks are easy to use and dry fast. The markers in particular have intense color and need to be applied lightly, with any excess wiped off straight away. The colors should blend seamlessly, giving you an even and smooth finish.
PROS
Comes in multiple colors
Dries fast and does not bleed
Easy to use and durable
Affordable
Good tip size
Best-seller on Amazon
No strong odor
CONS
Slightly more expensive than similar products
Best Improved Furniture Markers: REJUVENATE Furniture Repair Markers
The Rejuvenate Furniture Repair Markers comes in six colors, including Espresso, Walnut, Mahogany, Cherry, Maple, and Oak. This is an imported product and will help to get rid of scratches, scuff marks, and other minor damages. Simply apply and wipe off any excess before letting it dry. You can apply it to hardwood as well as to laminate flooring. These markers will help to restore those old furniture items and cabinets. Blend colors by starting with the lighter shades and then applying darker colors until you get a match. It is always best to test out furniture markers before using them in order to ensure that you are applying the correct color
Make scratches disappear in most wood with these assorted markers

Eliminate unsightly gouges, scratches, scuffs and damage

Easily apply to damaged areas of wooden floors, furniture, and more
View on Amazon
The liquid penetrates the area quite quickly and you usually do not need to apply a second layer. The markers are affordable, and you can always purchase some more if needed. The markers do not give off a strong smell and are not acidic, so they will not damage any surrounding areas. Some formulations are acidic, and these usually leave a white mark. This is the ideal product to cover up those small scratches. Unfortunately, since this product is imported, you may have to pay a bit more when compared to similar products.
PROS
Offers permanent color
Easy to apply
Multiple colors you can also blend to customize
Dries quickly
A good beginner and professional furniture touch-up kit
Alcohol wipes included for easy cleaning
Absorbs quickly
CONS
Imported, making it expensive
May give off an odor
Limited colors
No wax sticks included
Colors may be darker than indicated
Small volume of ink
Best Professional Furniture Touch-Up Kit: DAIXI Furniture Repair Kit
This furniture repair kit is another favorite on Amazon. The kit comes with 13 items, including six furniture markers, six wax sticks, and a wax sharpener. There are six colors including Cherry, Maple (a light brown), Oak, Cherry, Mahogany (a reddish brown), Walnut, and Black. The six wax sticks and markers are designed to hide those ugly scratches, scuff marks, and small nicks on your wood surface, and are highly effective and 100% permanent.
Kit includes 6 repair markers, 6 wax sticks and a wax stick sharpener

A range of six unique colors to match the color of your wood furniture
Top-quality markers and wax sticks are 100% effective and permanent
View on Amazon
The repair kit will also cover any discoloration and can be used on your tables, cabinets, beds, and other kinds of wooden furniture. The permanent markers offer excellent quality at an affordable price. The product is easy to use, as you simply apply the marker color of your choice to the affected wooden surface, wipe away the excess, and then allow it to dry for a smooth and waterproof finish. These markers offer a good amount of pigment, but you can always reapply it once dry in order to darken the shade.
PROS
Simple to use
Affordable
Dries quickly
Permanent color
Bleed-resistant
CONS
Color selection is not the best
Might not work on light wood surfaces
Could be of better quality
Popular Wood Touch-Up Pen: MINWAX
The Minwax Stain Markers come from another popular brand that many do-it-yourself enthusiasts like to use.  They do not only make stain markers, but are well-known for their other stain products. This is not a set of markers, but is a single pen. The pen contains the oil-based Minwax wood stain, and it is the best choice for small hobby projects as well as other wood surface problems.
The pen can be used on wood furniture, doors, cabinets, and other wood surfaces indoors. The markers are ideal for most uses, from quick repairs to scratches and marks on your wood surfaces at home. Besides this particular Ebony color, the markers also come in a variety of other wood color finishes. It is recommended that you purchase a lighter and darker pen so that you can blend the colors if needed to make a closer color match.
Stain pens are oil-based and contain real Minwax Wood Finish stain

Enables touch ups and repair of furniture, cabinets, doors and floors

Ready for immediate use and is ideal for a variety of projects
View on Amazon
The chisel tip can easily get into deeper scratches and gouges, and offers excellent coverage. The final finish does tend to be glossy, so if you are applying it to an originally matte finish, the repair might be a little obvious. It works best on smaller marks, as the stain is absorbed better and thus provides an even look. Larger scratches might require wax sticks. Many have found that these wood staining markers take quite some time to dry and even after a day, you might still be able to smudge it.
The Minwax wood stain pen has been found not to work over fillers, and will instead sit on top of the wax. Unlike other similar products, you do not have to work as fast, and you have enough time to blend and create the perfect color match. To help speed up the drying time, you can maybe use a hairdryer or fan on the lowest setting over the area. You only need a small amount to do the trick and it should spread evenly over the area and scratch marks.
PROS
Simple to use
Different colors available
Made with real wood stain
Works great on small scratches
Reputable brand
CONS
Takes a while to dry properly
Stains clothing
Does not work as well on bigger scratches
Buying the Best Furniture Markers
As with many products, there are lots of different brands, types, and prices available for wood staining markers. So, how do you go about choosing the best furniture touchup markers? There are a few things you need to consider before you buy anything – let us have a look at what these factors are.
Long-Lasting Wood Staining Markers
Ultimately, you want a product that can last a long time. Some ink markers can easily wipe off, so you need to choose the wood stain pen that can withstand wiping, UV rays, various weather conditions, and general wear-and-tear exposure. The wood staining markers you choose should last for at least a good couple of months before having to reapply.
The Color of the Wood Scratch Pen
The whole point is to cover and hide the marks on the wood surface, so selecting the right color is important. Most furniture scratch repair kits provide a selection of colors, but you can also buy individual markers. You can also try blending lighter and darker colors to achieve a more unique shade, if you require. The wood finish will also become darker as you apply more layers of the same color. The colors in a set are usually labeled and will tell you what type of wood it works best on. This can help you choose the right color without too much hassle.
Ease of Use
Ease of use is also something that you should look for. As mentioned, there are different types of wood touch-up pen products. Poor-quality markers might cause amess, which will then make the touch-up job much longer to do and clean-up more difficult. A good-quality marker that dispenses liquid smoothly and evenly will provide the best outcome. Bullet tips are best for easy application on deeper scratches. The stain should also wipe off easily using turpentine or alcohol for those times you might make a mistake.
Doing touchups on furniture should be a quick and easy job, so, the best furniture touchup pens should also dry fast.
Blending Capabilities
The stain or ink should blend effortlessly with other colors, so a good product should be compatible with most other brands and markers. Some stains can sink into the wood and do not provide a good finish. The best furniture touchup markers should blend seamlessly into the surrounding color.
Whether the Furniture Scratch Repair Kit Includes Wax Sticks
In many cases, you will not need wax sticks. However, in cases where there are pieces of wood that have chipped off, the wax sticks can help. The wax sticks can help to fill in areas where there are deep marks. Apply the wax stick and then apply the wood staining markers. You should notice that any good-quality repair set comes with both the markers and the wax sticks together.
Toxicity
Furniture markers are a wood finish that comes in a pen or marker form. So, always check the product details before purchasing. Although most of the wood scratch repair products are non-toxic, it is always best to check, especially if you have kids and pets around the house.
Quality of the Wood Stain Pen
Wood stain pen markers are specifically made for the job of touching up wood surfaces; they are not school markers. The wood touch-up pen markers should also offer some resistance to discoloration and fading and should be able to handle general wear and tear. Even though the finish will most probably have to be reapplied eventually, it should last a fairly long time. A good-quality brand should have been tested for this purpose, so make sure that you check to see whether you are buying the correct type of marker.
How to Use Wood Staining Markers
Once you have chosen and purchased your furniture markers, it is now time to use them on the scratches and marks on the wood surface. When using wax sticks, also called filler crayons, the colors may have to be blended to achieve the closest color match. Whatever you are using, it is best to apply the product to a test area first in order to determine if the color is correct. You do not want the final result to look worse than what it was. Otherwise, the process is pretty much straightforward.
When covering up minor scratches, the job should only take you a few minutes. The time it takes will depend on the depth of the mark on the wood and if you have to blend or layer colors. First, make sure the wood surface is clean from any dust or dirt.
Take your wood stain pen and apply it to the scratch mark. Many of the wood staining markers dry quickly, so you might have to wipe any excess off straight away. You do not want the mark to stand out around the scratch. Once you are done, let it dry completely, which should not take long. Apply again if necessary after the first layer has dried, and keep doing so until the desired color has been achieved. You can then take a paper towel or clean cloth to buff the area, lightly moving in a circular motion.
When using any product for the first time, it is essential to read the instructions beforehand. You can test the colors out on a small section of wood that is hidden or apply it to another piece of wood that is similar to the surface you want to repair. When testing, you should be looking for how close the color matches and how quickly the product dries. You can also see if any changes occur after application. If there is no exact match in color, try using a lighter color first and then apply a darker color and blend until you reach the closest match.
If you find that everything looks good and you are happy with the test results, you can then move on to your repairs. Once you are happy with the final application, be sure to recap your wood scratch pen when done before storing it.
Caring for Your Wood Touch-Up Pen
As with any product, you want it to last a long time, so you need to take care of it. To keep the wood touch-up pen in working order, as mentioned, you should seal it again once done to prevent the pen from drying out. When busy, you should always have some paper towels handy to wipe up any mess or excess. If it has dried too quickly, you can try using some turpentine to remove any excess or some other alcohol-based product. Some kits may even contain alcohol wipes for this purpose.
Be sure to keep and store the wood staining markers away from children and pets. They should also be stored in a dry and well-ventilated space. When busy applying the touchup pens, it is best to avoid doing it in direct sunlight ,and the damaged wood surface area should be completely dry. As with all kinds of markers, it is a good idea to store the pens laying flat. This helps to prevent the markers from drying out.
Removing Mistakes from the Wood Surface
Maybe you have made a mistake when using the furniture markers and you need to fix it. It is easier to remove a mistake immediately with some alcohol wipes or turpentine. Here are a few steps to follow for this process:
Check the instructions on the product label and follow as directed.
It is always a good idea to work with gloves and a mask if necessary.
Take some mineral spirits and a clean rag, and dip the rag in the mineral spirits.
Rub the area you want to be removed with the rag/mineral spirits combination.
Continue this process until the spot is removed.
Once done, dispose of the rag appropriately.
Fixing Deeper Gouges in Wood
Sometimes the mark on your wood surface might be a little more than a small scratch. Small gouges in the wood can also occur, and sometimes they can leave a tiny, raised area. You can start by using 600-grit sandpaper, and sand very lightly to even out the surface. Be incredibly careful, as you do not want to remove any of the surrounding finished wood.
Next, take the wax stick, a color that will match your wood surface, and rub the stick over the damaged area until the gouge has been filled. You can also blend two or more wax sticks to get the closest color to the wood you are working with. Remove any excess wax, which can be done by using anything hard and flat like the corner of a bank card. Rub off any wax that remains surrounding the repaired area, and then apply a coat of paste wax for a more even finish.
Frequently Asked Questions
Do You Get Different Types of Furniture Markers?
There are two types of markers, those that are ink and others that contain wood stain. The ink variety is less durable and is best to use on minor scratches. The stain markers last longer, offer permanent color and can withstand general wear and tear. These are the best choice if you wish to touch up your wood surfaces.
What Are Furniture Touchup Markers?
Furniture markers usually come in a set of color pens that represent the various types of wood color. These pens are then used for wood scratch repair. Small scratches and scuff marks can be covered up by using the furniture touchup markers. It is a low-cost and easy way to revive wood surfaces.
Is a Professional Needed to Do the job?
No, if it is only for small scratches and marks, using furniture markers is a pretty simple process. You only apply the markers to a small area and can easily be done by anybody. A professional should only be called in for more serious repair issues. The furniture touchup pens are affordable and easy to use yourself.
Who Can Use Furniture Markers?
The furniture touchup pens can be used by anybody and is a great do-it-yourself option. These markers are easy to use and can be applied within minutes with no professional help needed. However, it is always recommended you read the manufacturer's instructions before you begin repairing the wood surface area.
Why Does the Wood Touch-Up Pen Not Stick to the Wood?
In many cases, the grain of the wood is too close or tight and the marker fluid is not able to stick to the wood surface. This sometimes happens with Cherry Wood surfaces and a professional is needed to repair the problem. Also, some markers, for example, the Minwax wood stain pen will not be effective over fillers or wax.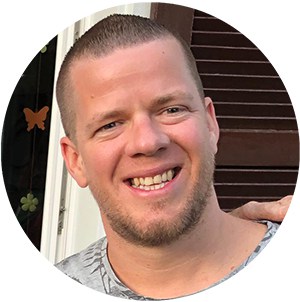 I have been into woodworking since 2005 and woodturning since 2011. Because of my love for wood and woodworking, I started woodhappen.com to teach other enthusiasts about how to finish and seal wood, the best woodworking tools, the different types of wood, and everything else related to woodworking! Read more about me here.