Does Wood Glue Work on MDF – The Most Effective MDF Adhesive
Medium Density Fiberboard (MDF) looks and smells like wood. But does it glue like wood? Most artists swear that it is quite hard to work with. It is a cheap hardwood material that is made up of glue or resin and wood fibers. It is technically not wood, although it smells, feels, and looks just like wood. This composite material has a uniform density that makes it suitable for construction processes. This article will look at MDF in detail and the best MDF adhesives that you can make use of.
Defining MDF
MDF is highly affordable and durable, and is used for various DIY projects like cabinets, shelving, and so on. It is mostly suitable for small woodwork projects. MDF board is made from a combination of wood chips and pieces, which must be pressed using hot hydraulics in order to create the board.
MDF is easy to work with, although some artists do not agree with this. However, the material is lightweight, and you can find it in most hardware stores. Because of the uniform density composition, this material is quite porous compared to other woods. This means that it can stick very well if you apply it using the correct glue and application method. If you add a lot of adhesives or the wrong adhesives, you can damage this material and ruin your project.
You do not have to prime this type of wood because it is already primed. However, you can seal it depending on the type of project you will be working on. You can do the sealing simply by using a thin layer of epoxy or resin. Let this layer cure completely, after which you can apply the glue. The following are the three types of glue, discussed in full detail.
Types of MDF Glue
Does MDF have any specific glue types? Yes, it does have three main groups of glue. These are PVA (Polyvinyl Acetate), epoxies, and plastic resin glue. We will discuss these three broad categories below.
Polyvinyl Acetate (PVA)
This type of glue is mostly known in the yellow and white varieties. It is suitable for indoor and outdoor DIY projects. PVAs are easy to use and find, inexpensive, and dry very quickly. They are made of a blend of water and polyvinyl acetate particles. An opaque rubbery liquid is formed from these tiny particles of the PVA.
PVAs take at least 24 hours for them to be properly set. The yellow PVA has stronger drying properties between the two; it dries very quickly, and it is quite strong. However, the white version of PVA is the original one. You can easily sand over yellow glue when doing your projects and renovations. PVAs are not resistant to humid places and conditions.
Plastic Resin Glue
This is quite a strong and toxic type of glue. It contains urea-formaldehyde, which means that it is advised to wear protective clothing when handling this stuff. Do not forget to wear gloves and masks as well because the fumes emitted might be too strong for you. Plastic resin glue is suitable for large projects.
The glue usually comes in a variety of forms of powders giving you the option to select your preferred shade for your woodwork. This type of glue is hard to remove, thus making it resistant to thinners and paint. It is also durable, so it can hold very well after you have left it to set properly.
Epoxies
MDF boards are well-suited for resin artwork because of the variety in shapes and sizes. Epoxies are the best option when it comes to gluing MDF because they have both fast and slow setting options. The slow-setting version of epoxy takes a long time to dry – around 24 hours. Some of them might even take up to a week to cure. The fast-drying version requires only 5 to 10 minutes to set and a few hours to cure completely. These materials are expensive, however, and will cost more than wood.
Take your time to analyze these different glue types so as to decide on the one that will work for you.
Best Glue For MDF
The best glue or adhesive for MDF is one that will make the strongest joint, is quick to dry, and so on. Some of the best MDF glues are quite expensive because of the splendid and professional results they offer. However, we have managed to review three of the most top-rated MDF glues below.
These are the three types of MDF glue that you can opt for, all of which are suitable for both indoor and outdoor projects. They are the best adhesives for when it comes to dealing with softwoods or hardwoods. After you have selected an MDF adhesive, you will be one step closer to assembling and bonding your woodwork and MDF projects.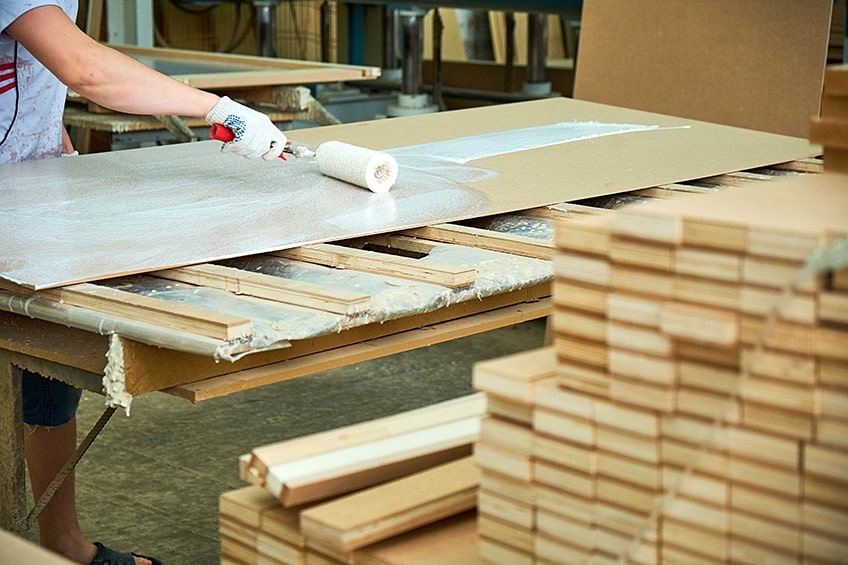 Best Overall MDF Glue: TITEBOND Ultimate Wood Glue
This formula is not usually affected by finishes or weather variables. It is non-toxic, with no traces of organic solvents or organic compounds. It is quite easy to wipe, and you can use it either indoors or outdoors. It is waterproof and water-resistant.
This product works well on wood-related projects and can be used to fix kitchen chopping boards, furniture, and so on. It cures in as little as six hours, and is considered to have superior strength when finishing any DIY project. However, do not put any heavy weight or pressure on the new joint until 24 hours have elapsed. Make sure that the joint has completely dried and is holding firm enough before you attempt anything.
Titebond's glue works effectively by providing an initial tack that sets well if you clamp it, which usually takes at least 45 minutes. You can also opt to do other projects while waiting for the glue to set properly, because even the assembly time takes at least 20 minutes. This is the best among the variety of glues available and it will provide you with splendid results at an affordable price.
Pros
Available in a variety of sizes
Offers high durability
Superior and sturdy bond
Great value for money
Non-toxic and easy to clean
Waterproof finish
Cons
Requires a lot of time to bond properly
Clamp holder may be needed to set the glue
Premium Pick: ELMER's Carpenter's Ultimate Wood Glue
This glue can resist molds, mildew, and heat. You can use it for your bathroom or basement since it works very well in humid or moist areas too. This glue is made from real wood fibers, thus making it one of the best waterproof and sustainable glue combos. This glue can offer superior and maximum strength, thus making it suitable for both indoors and outdoors. It is the best non-toxic glue with a variety of properties that makes it comparable to none. This is your best bet if you are looking for quality and affordability in one bottle.
The consistency that Elmer's Carpenter's glue offers is amazing, thus making it suitable for a variety of household projects. You can thin it according to your preferences just by adding water. This MDF glue's ability to be thinned also gives it a quicker drying time. This glue requires only 10 minutes of assembly time once you have applied it. For the best results, leave the glue to cure properly for a minimum of 24 hours before attempting anything else.
Pros
Non-toxic and odor-free
Can be used both indoors and outdoors
Available in a variety of sizes
Water-resistant and easy to clean
Cons
Requires 24 hours to fully cure
Quite thick and can be tricky to use
Requires assembly time before hardening
Budget-Friendly: GORILLA Wood Glue
Gorilla wood glue is PVA-based, which means it is suitable to use on both hardwoods and softwoods. It is quite resistant to weather, so you can use it both indoors and outdoors. This glue is top-rated by most hobbyists and carpenters as the best when it comes to woodworking projects. It requires only 20 to 30 minutes for clamping, thus making the completion of your project even faster. This means that it will only take 24 hours for your project to fully cure.
Make sure that your surfaces are clean, smooth, and free from debris, dents, and so on before you start applying the MDF glue. Apply a reasonable amount of the glue to both surfaces so that you can get a strong bond. You can also sand it down if you want because the glue is quite easy to clean. Most artists swear that this glue is the best when it comes to providing a professional and seamless surface. Thus, your project will remain with an invisible baseline.
Pros
Short clamping time
Water-resistant and easy to clean
Pack comes with two glue tubes
Can be used both indoors and outdoors
Offers high levels of durability
Gives a strong bond
Cons
Short assembly time before it hardens
Requires a curing time of at least 24 hours
Thinner consistency than other glues
A Guide on Gluing MDF
Begin the process by cleaning and wiping the surface. If you are gluing more than one surface, ensure that both surfaces have been cleaned properly. Make sure that your surfaces are completely dry and free from excess sawdust, or else the adhesive properties of the MDF glue will be affected.
Remember to test the joint first before applying the glue for MDF in order to ensure that it is stuck in the correct place. You can test the joint with a simple process: Grab two wooden pieces and join them together, ensuring that they are positioned correctly. Make sure that you put enough glue onto the MDF boards -not too little or too much. If you put too little, the joint will not hold very strongly and if you put too much, the glue will flow outwards and mess up your project.
Apply a generous amount of glue to the center of both MDF surfaces. Take a brush and spread the glue around the wood. Clamp the wood for 20-30 minutes. Do not put too much pressure on the contact point, however, as this might result in the glue being squeezed out. When you are done, do not forget to clean up, which you can find out how to do by checking the MDF adhesive manufacturer's instructions. If some of the glue seeps out, wait for it to dry first and then scrape it off. Do this before you apply any paint.
Follow this guide and review the best glue for MDF recommendations that we have listed above. Choose the one that will work best for you. A top-rated MDF adhesive that has been applied to the right surface will not disappoint you or your projects. Have a happy time gluing!
Frequently Asked Questions
Is It Important to Clean Up Glue?
It is important to get a glue that you can sand or wipe off once it has dried. This is because most of the glues sold on the market tend to leave residue and marks, thus creating a rough texture on your finished projects. Get a glue that provides a seamless finish for a more natural look.
What Is the Best Glue for MDF Joints?
The best glue for MDF joints are PVA and water-based glues. These have been produced and formulated specifically for MDF projects. Water-based glues make your wood water-resistant by allowing it to swell a little bit, thus enhancing its ability to absorb the adhesives much faster. PVA glues are top-rated for MDF joints because they are non-toxic, suitable for both indoor and outdoor projects, and quite affordable.
Is It Possible to Use MDF Glue to Attach a Board to a Wall?
Use a water-based or PVA glue when putting up shelves or attaching boards to a wall. This will prevent you from drilling holes and messing up your walls. Make sure that you apply a strong adhesive at the back of the board and leave it aside. Add more glue to the area in question, then hold your shelf in position for a couple of minutes until it sets. After a few minutes, you will have a splendid and professional-looking shelf.
Why Is My MDF Glue Not Sticking to the Wood?
There are a few reasons as to why your glue might not stick to wood. This might be due to the residue that was on the surface before you applied the wood. If you do not sand or wipe clean your surfaces before applying the glue, dirt or dust can prevent the glue from properly sticking to the surface. You must clean and sand the wood surface first before you start thinking of applying the glue.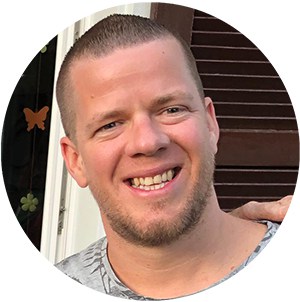 I have been into woodworking since 2005 and woodturning since 2011. Because of my love for wood and woodworking, I started woodhappen.com to teach other enthusiasts about how to finish and seal wood, the best woodworking tools, the different types of wood, and everything else related to woodworking! Read more about me here.