Wooden Crates Decorating Ideas – Complete Guide to Crate Crafts
It is probably easy to find used or discarded wooden crates. Wooden crates are quite sturdy and easy enough to work with, which makes them a popular crafting material. You can find tons of wooden crate decorating ideas on Pinterest and the internet. To help you with the amazing crate decorating ideas that are out there, we have brought together our collection of favorites for you!
Ideas for Wooden Crate Crafts
There are so many wooden crate ideas from using them as storage boxes to other practical uses. Most of these wooden crate DIY ideas can be used to easily add a new look to a room, without spending a lot of money. Most of the projects only require a few additional supplies. It is also a great way to flex your creative skills and do something productive. Turn something ordinary, into something amazing, and it can be done in next to no time. Below are some top wooden crate decorating ideas.
Wooden Crate Furniture Ideas
Furniture items can be expensive, which is where these wooden crate ideas come in handy. You might need some patience and a bit of know-how, but in the end, you will save money, and you can be proud of what you accomplished. There are various size wooden crates you can get that can be used for many different purposes.
Wooden Crate Side Table
When it comes to wooden crate decorating ideas, you can make it as easy or as complicated as you want. You can simply decorate a wooden crate and use it as a side table, or stack two on top of each other for a higher table and more storage. You can take it further by adding shelves and feet or wheels. Not only that, but you can also create an outer wooden cabinet shell, with sliding crate drawers on the inside. These can be used in the bedroom or living areas next to a couch.
Wooden Crate Coffee Table
Keeping with the table and wooden box ideas, you can also create unique coffee tables. Depending on the wooden crate size, you can go small or big. You can also combine multiple creates for an even larger table and more storage space. This wooden crate DIY project can help to bring a rustic or modern touch to a room. To keep it rustic, simply use a wood stain on the crate. You can also add castor wheels for added ease of use. This would be perfect for a table that goes outside on the patio with other outdoor furniture.
Wooden Crate Television Stand
Wooden crates can make a great television stand, or simply as storage and added décor underneath a wall-mounted television. Making a wooden crate television stand can be a more affordable option, and only requires a few essential tools to make. You can combine the average wooden crate lengthways for a longer look or try stacking them to elevate the television a bit more and create more storage or display space.
Wooden Crate Bench
Wooden crate benches are one of the easier wooden box ideas. The idea is to create a length of crate that has open storage at the bottom and a place to sit on top. You can add an extra length of wood and a cushioned surface on top for added comfort. The bench can also have added wheels if you want and can be an idea for both outdoors and indoors. Consider a wooden crate bench by the front door, where you can store dirty boots and shoes before entering the house.
Easy Bed Platform
Wooden crates can make a stable and affordable bed platform. You can decorate and paint the crates to fit your décor. You can also use a single layer or build up for a higher platform. Furthermore, you can also add a bit more interest by placing lights underneath. At night, these can light up and can help to produce a relaxing and romantic atmosphere.
Wooden Crate Computer Desk Setup
You do not need to buy an expensive desk, you can easily bring in some original charm with some wooden crates, extra pieces of wood, wood glue, and some nails and brackets. You can go for a clean smooth wood look or paint the crates in any color. You can also go for a rustic or vintage look; it is completely up to you.
Wooden Crate Ottoman
Maybe you do not want the crate or wooden look? In that case, you can take the crate and completely cover the exterior with rope or twine, add a cushion on top, and nobody will be the wiser. Something completely new, out of something old. This can be used as a seat or even a footstool.
Wooden Crate Storage Ideas
Many of the wooden crate furniture ideas can also contain storage areas. However, there are many other wooden crate storage ideas you can also try. In the home, you always need storage space for all kinds of things from books to shoes and much more. To help tidy things up, so everything is not simply lying around, try some of these wooden crate storage ideas.
Wooden Crate Shelves
When it comes to this wooden crate DIY idea, there are multiple ways you can go about it. You can have the shelves sitting on the floor or place them against the wall surface. You can have one or two crates or make an entire bookcase with multiple storage areas.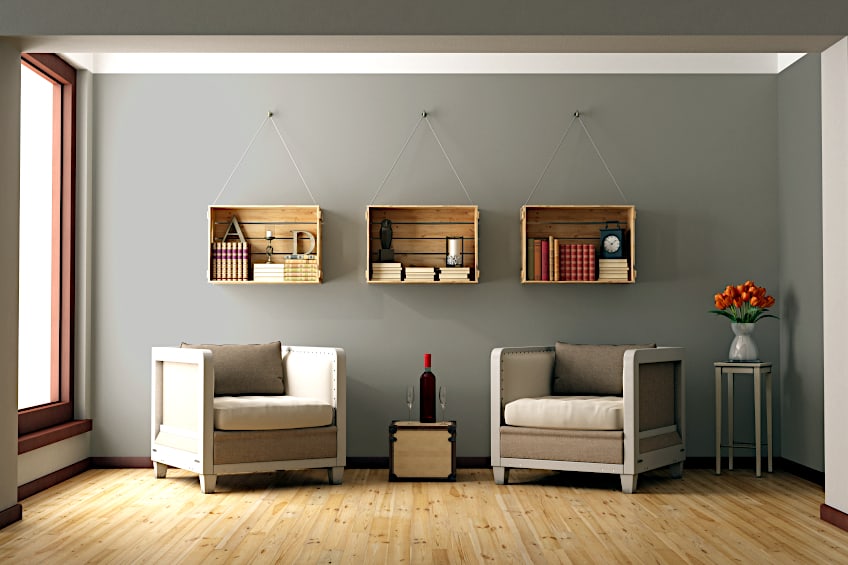 You can also try out different shapes from square to rectangular or create a step shape with multiple crates that can also be used as a room divider. Make a focal point wall, where you have covered an entire wall with crates, and great for all items you want to display. Shelves are not only needed inside the house, but they can make great storage boxes for the garage.
Wooden Crates for Shoe Storage
Do you have a problem with shoes lying everywhere in the room? This is where wooden crates can be made into useful pieces of functional room décor. Again, the crates can be stacked or placed level on the ground. Use a crate on its side to create more height and space for taller and bigger shoes, such as boots. You could also attach the crates to the wall or use the crates as drawers within a bench-type frame.
Wooden Crate Storage Seat
Why not combine furniture with a storage option? You can paint a cute single storage seat with a crate and an upholstered cushion for a child's bedroom. You can keep toys, books, or other items neatly tucked away. Keep it rustic and use the same idea to place the storage seat in the living room, or it could also make a great addition to an outdoor patio area. This can be used to sit on or why not make it into a footstool? Leave the seat part, and simply use it to store toys in the crate.
Wooden Crates Storage for Yarn
Do you or somebody you know love knitting? Then why not try a unique and interesting way of storing all those rolls of yarn? Not only will the crates provide a neat storage area, but the different types of yarn being displayed can provide some color. Again, you can stack multiple crates against the wall, or you could also hang them up on the wall.
Wooden Wine Crate Storage Box
Wooden wine crates that still display the brand names can help to create a vintage-type feeling. Add some extra shelves to store your own wine, or simply sand and stain the wood, which you can then use in various ways. You can place it in the bathroom, where it can hold all the towels or other bathroom items. Add handles and create a magazine storage box. You could also use the crate as a simple shelf idea.
Store Chopped Firewood
If you have a fireplace or like to cook by a fire, then you most likely need firewood. There are a few ways to store wood. Consider creating a rustic storage crate for wood outside, or decorate the crate, and use it to store wood inside. You can also add wheels for ease of use.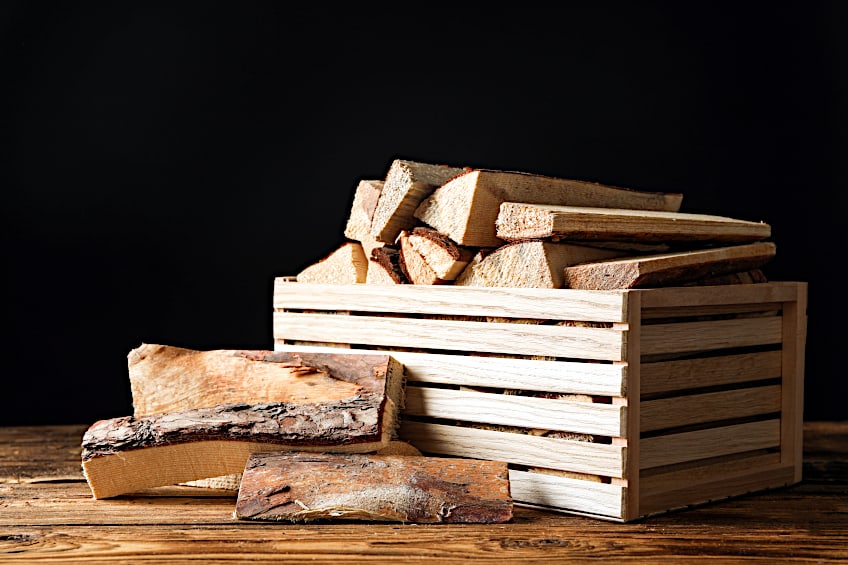 Wooden Crate Fruit and Vegetable Stand
You may notice that many produce markets use multiple crates to display their fruits and vegetables. You can do the same, with some extra pieces of wood and a few tools, you can create a useful tiered produce stand. This can be placed in the kitchen so that all produce items are easily accessible. The stand also provides a more stylish look to the kitchen.
Craft Storage Boxes
Stick up your hand if you are a seasoned hobbyist. Do you have a designated space and storage containers for all your tools and other items? You can use wooden crates in many ways to keep all your tools and other materials. There are larger crates and also mini crates to help organize all those smaller arts and crafts supplies.
Dining Wooden Crate Organizers
Smaller wooden crates can be used to create unique organizers for dining. You can add dividers and store napkins, utensils, and condiments. These can easily be carried around, even on picnics. You can also customize the crate by spraying or painting on words or patterns. Sticking with dining and the kitchen, you can create a wooden crate that holds kitchen items like your wooden spoons, and containers with flour or sugar. How about a vintage-looking spice storage container?
Use Wooden Crates for Bedroom Storage
Many have benches or other storage boxes at the foot of the bed. You can also use wooden crates to make some easy storage boxes for blankets, pillows, and other items. You can keep it simple and open or place an added piece of wood and upholstery to make a cover seat. If you need nightstands, you can easily build your own using only four wooden crates.
Crate Decorating Ideas
Wooden crates do not necessarily have to be functional; you can create something that is simply there to help enhance the surrounding décor. This becomes especially useful for holidays and events. For example, you can use various size crates, paint them orange and use them to display pumpkins and other items for Halloween.
You can do something similar for Christmas, using appropriate colors for this time of year, paint the crates and place pine cones and candles, or even a small tree inside. You can also use the crates to place gifts in, which can then be placed under the Christmas tree.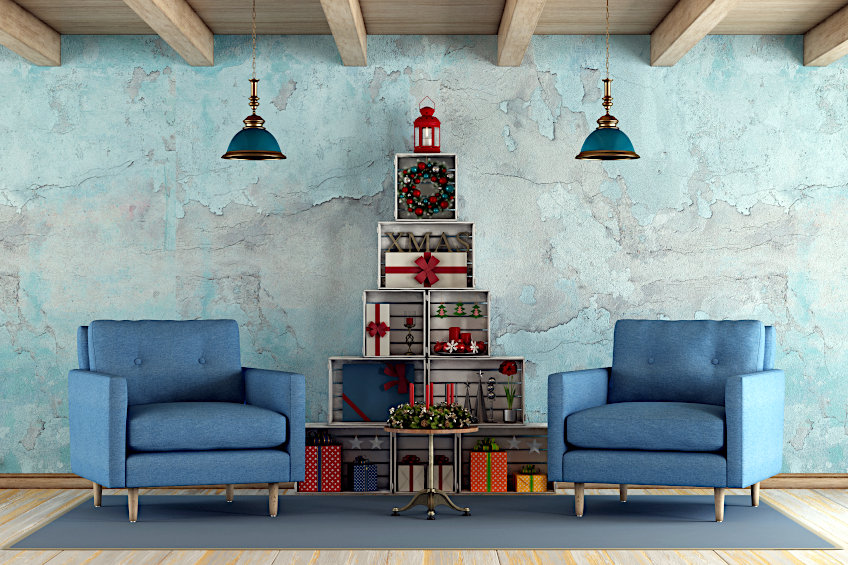 You can use similar wooden crate decorating ideas for events, for example, it could be an idea for wedding décor. There are also many crate decorating ideas you can use. The easiest is to simply paint the wooden crates any color you wish. Here are a few more easy crate decorating ideas you can try at home.
Take printouts or scrapbook paper and use mod podge to create some beautiful décor pieces.
You can use a wood stain, spray paint, milk paint, or chalk paint on the crates. If needed, you can also add varnish for extra protection.
To decorate, you can buy or make your own stencils to add patterns to the crates.
You can also add decals or customized stickers to wooden crates.
Instead of purchasing wooden crates, make your own from wooden pallets, and then add your designs.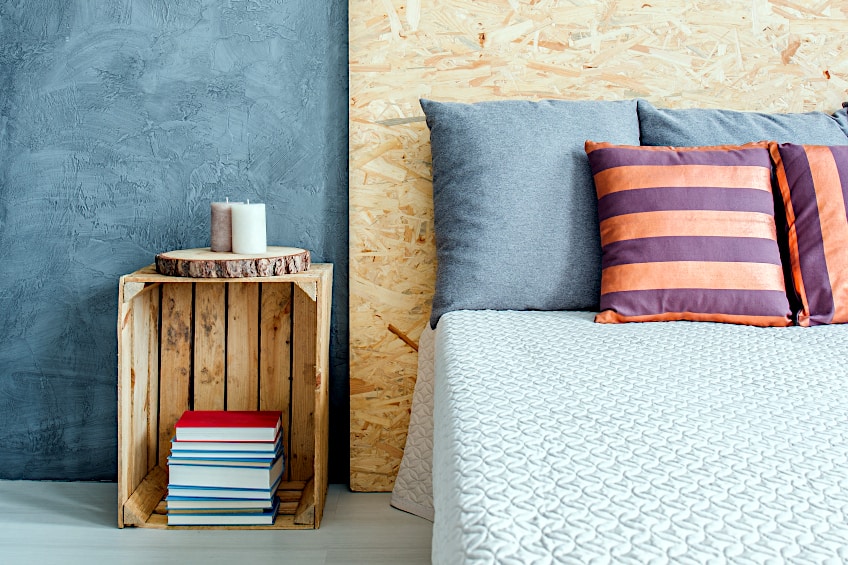 More Wooden Crate Crafts
Sometimes, there are just too many unique and fun ideas to categorize under a certain heading. So, here are a few more interesting wooden crate crafts you might want to try out. The best things about these projects are the upcycling or repurposing of wooden crates.
Wooden Crate Planters
Those of you who love gardening, flowers, and plants will enjoy this wooden crate idea. Wooden crates are the perfect storage items for plants. You can build as many as you want by using a single crate, or multiple crates, stacking the crates or even mounting the wooden crates to a wall. Furthermore, you can use the crates for flowers, leafy plants, or herbs. Most of the wooden crate planters are perfect for outside, however, you can also bring them inside.
Wooden Crate Kids' Table for Crafting
If you have a bit more time and patience, you can try making a wooden crate craft table. With a few wooden crates, pieces of wood, nails, and some paint, you can create a craft table with plenty of storage space. To make it even more convenient and moveable, add some wheels so that the kids can work indoors or outside if they want.
Wooden Bicycle Basket
Not everybody would go for this idea, as many bicycles cannot be equipped with a basket. However, if you have an older bike or a more vintage-style bike, then consider adding a wooden basket up front, or to the rear of the bike.
Wooden Box Tote Caddy
You can repurpose an old wooden fruit crate to make a handy tote caddy. You will need to have some idea of how to work with wood for this project. You will need to do some cutting, drilling, and nailing to create the tote caddy, which you can then use as a décor piece or use to organize items. For example, you can use it in the garage to organize tools or keep it in the house to store cleaning materials.
Pet Bed
You can easily convert a wooden crate into a pet bed. It is as simple as opening up and removing one side of the crate and placing a cushion inside. Of course, you can add legs to raise the bed or wheels to easily move it around. You can also paint and decorate the crate as you wish. Take the idea even further by making a matching feeding center. You have designs where you can create space for feeding bowls in the crate, where ants are less likely to get at the food. The elevated bowls also make it easier for larger pets to eat and drink from, with less mess.
Kids' Wooden Snack Crate
Want to make sure everybody has their own snacks? Why not make everyone a wooden snack crate, one for dad, one for mom, and of course, for the kids? You could also make a single crate, add wheels, and the kids can have snacks anywhere. Just make sure to have healthy snacks as well.
Hanging Wooden Crates
Instead of having freestanding crates, or others attached to the wall, consider hanging wall crates. With a bit of rope, you can hang smaller crates in your closet, or hang from a table or elsewhere, for extra storage or display purposes. The method for making these hanging crate shelves is the same as you would use to create conventional hanging rope shelves.
Outdoor Wooden Crate Ideas
Do you love entertaining and cooking food on the barbecue? Why not create some outdoor storage for extra bottles and glasses? You can even make some wooden crates into a simple garden bar. You can also use the crates for plates and other kitchen items. Make sure to protect and seal the wood if the wooden crates are going to remain outdoors.
Wooden Crate Display Counter
What to do with all your crafts? Sell them at the local market of course! You struggle with a cumbersome folding table, or you can use your crafting skills to make your own custom counter to display all your wares from wooden storage crates. This unit will not only be sturdy enough to keep everything safe, but it will be lightweight enough for easy transport and assembly on site.
Crate Toys
You can use wooden crates to make toys. To make something functional and fun, try adding some wheels to a crate and then attaching a few to make a crate train, which can be used to store toys. You can also turn some strategically placed crates into a toy. For example, paint some crates and put them together to create a pick-up truck. Crates are also good for displaying toys, for example, to show off a collection of toy cars.
Wooden Crate Lighting
You can use wooden crates to make unique lighting effects. Simply place fairy lights underneath an upside-down crate for an easy idea. You can try more challenging ideas like a hanging crate light or a lighting fixture on the wall, or an eye-catching centerpiece to create some mood-lighting for your dining table.
Gifting Ideas
There are various size wooden crates, so if you are looking for a more unique way to give a gift to someone, then use a wooden crate. Simply place your gift, which is often snacks, chocolates, or bath products, and add a bow. You can even stencil on the person's name for a customized gift idea.
You can stack crates, paint them, hang them, or attach them to walls. There are so many wooden crate decorating ideas, from creating furniture items to simple storage ideas. It is affordable and most projects are easy to do, so nothing is stopping you from trying out some new and unique wooden crate crafts the next time you want to spruce up your house!
Frequently Asked Questions
Can You Spray Paint a Wooden Crate?
Using spray paint on a wooden crate is an easy way to decorate the wood surface. Make sure to paint outdoors and use protection. You may also need to spray a few layers and then allow it to dry properly.
How Can You Attach Wooden Crates to a Wall?
This is determined by the type of wall, but for drywall, you can use screws. The screws must go all the way through to the studs behind. You can benefit from a stud finder or another way to find the studs. Make sure of being accurate and avoiding any wiring.
What Is the Simplest Way to Decorate a Wooden Crate?
If you have an old vintage-look wooden crate, the easiest way to make use of it and decorate it is by adding foliage. You can add some flowers or consider succulents, which are quite popular to place into smaller crates. You can even use an old enamel water jug and add this, along with some flowers, in the crate.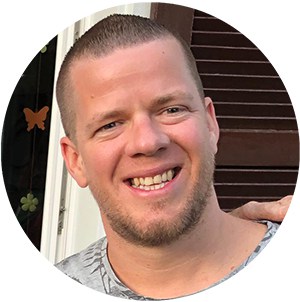 I have been into woodworking since 2005 and woodturning since 2011. Because of my love for wood and woodworking, I started woodhappen.com to teach other enthusiasts about how to finish and seal wood, the best woodworking tools, the different types of wood, and everything else related to woodworking! Read more about me here.