Best Glue for Glass to Wood – How to Attach Glass to Wood
Attaching wood to glass does not have to be a horribly complicated task at all! If you have ever had the need to repair a window to a wooden frame, or perhaps set a mirror, you will want to have the correct tools and the right knowledge. The process is actually fairly simple provided you have the right equipment for the task. If you are a DIY enthusiast or crafter, knowing how to glue glass to wood can be a useful skill to have. If you would like to learn more about what the best glue for glass to wood application is, keep reading! We cover everything you need to know in our in-depth guide that follows. 
How to Attach Glass to Wood
When it comes to how you glue glass to wood, it is a rather specific process and it should always be followed precisely. Both wood and glass have very different and specific surfaces, each with its own unique needs. If you want to ensure a strong and stable bond that will stand the test of time, it is extremely important to know how to glue glass to wood correctly as well as to use the best glue for glass to wood.
Whenever you begin a project like this, it is important that both the wood and the glass have been properly cleaned and are completely free of dust. If you want to glue wood to glass, any dust or residue will interrupt the strong bond required for this kind of project. Once you have properly cleaned the surface, you can begin to spread the glue all along the side of the wood.
Another thing of importance is to ensure that you are not only using a suitable adhesive for the task at hand, but that you are applying said adhesive correctly. 
Some glue options can be used directly from the tube while others need a caulking gun for application. In some cases, a glue gun with hot glue can be used, as it is a quick and easy process, but this is not going to give you the strongest bond. Once your glue has been applied, you can connect the glass to the wood while ensuring they line up evenly. Often, one should use clamps to hold the glass to the glue until the glue has dried and set.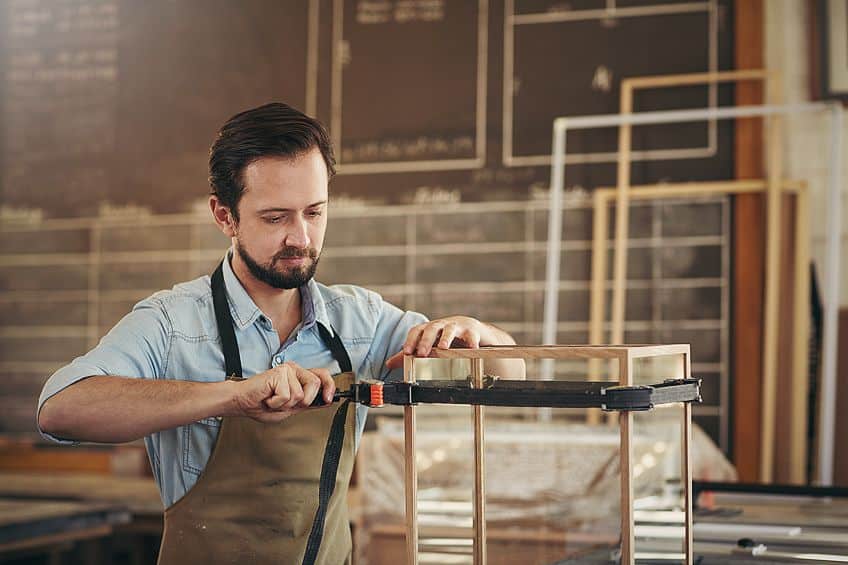 The Best Adhesive for Gluing Glass to Wood
Remember, when you glue glass to wood, both surfaces are extremely unique and very different. No matter what, it is vital that you ensure that you are using the best glue for glass to wood purposes. The glue you choose needs to have high adhesive properties when used on either of the two materials.
The bond created when gluing glass to wood needs to adhere firmly. It is always useful when an adhesive is quick-drying as well, as then you will not need to clamp or hold the wood and glass together for too long.
Ultimately, the most durable glue for gluing glass to wood would be an epoxy adhesive. This is thanks to its extremely powerful bonding qualities. Not only does epoxy glue dry clear, but it can also be used on a multitude of surfaces.
Often, a slightly more convenient choice would be a superglue, and other popular adhesive options are silicone glue and sometimes hot gun glue. Unfortunately, even though quite a popular choice, hot glue is not as strong and the bond is weaker, but it is still a good choice for craft projects. For industrial-type projects, silicone glue is a popular option thanks to it being highly water- and weather-resistant.
When you select your choice of glue for this purpose, you need to ensure that it is suitable. If your project is outdoors, you should consider this. Selecting the wrong adhesive to attach glass to wood can result in negative end results.
Super Glue
Always a popular choice! Super glue is a well-known adhesive and almost everyone has a tube in their homes. You can use superglue on almost any surface and it dries extremely quickly. It has high strength and is a very good option for those who want to make simple, basic repairs, or for crafting purposes. You will need quite a lot of superglue if you want to use it to glue wood to glass, as both these materials can be on the heavy side.
This is why superglue makes a better adhesive for smaller, lighter projects. The ultra-quick drying time makes this adhesive difficult to work with when using it for larger-scale projects.
Silicone Glue
This product contains silicone, as the name suggests. It is entirely waterproof and completely weather-resistant, which makes it a good choice for outdoor or industrial use of larger scales. You can also use silicone glues to seal edges in order to prevent moisture issues. When purchasing silicone glue for home use, you will find that it is available in both smaller sizes and as a caulking gun for larger projects. Silicone glue can be used on a wide variety of surfaces as well.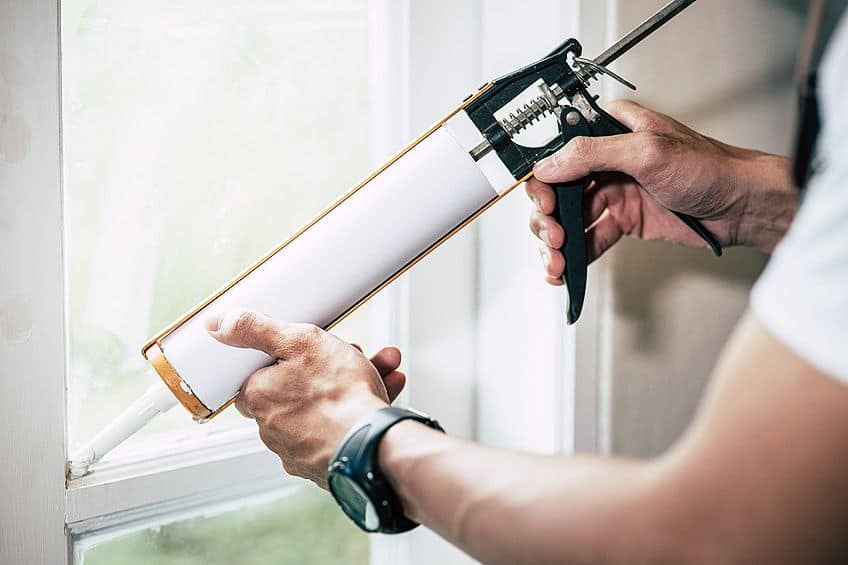 Epoxy Adhesive
Epoxy glue is a top choice as it is such a versatile substance that can be used on many different surfaces whilst withstanding many harsh conditions. These adhesives only take around five minutes to dry, but the actual bonding will take up to 24 hours. Epoxy is known for being a strong, powerful adhesive with high durability.
Epoxy is a two-part process, meaning you need to mix a hardener with the epoxy resin before using it. It is this mixing that allows the adhesive to begin setting. It can be quite toxic to work with while still in its liquid form, so take care.
Polyurethane Glue
With similar properties to epoxy adhesives, polyurethane glue is often a good and effective bonding agent for many circumstances. It works very well if used on smoother, slippery surfaces, which means it is a good option for gluing wood to glass. This glue is often used for filling cracks and gaps because of its expansion ability. It is also more than suitable for both indoor and outdoor use.
Top Products for Gluing Glass to Wood
If you want to have a beautifully finished end result, it is incredibly important when you glue wood to glass that you choose the correct adhesive. It really makes a massive difference if you use the correct glue the first time around. We have made choosing the right adhesive easier for you by selecting our top three favorite and best performing glue options for wood-to-glass projects.
Top Product: DEVCON 5-Minute Epoxy Waterproof Glue
If you are looking for high-strength and extremely fast-drying adhesive, then the best glue choice would be Devcon's 5-Minute Epoxy Waterproof Glue. This glue is versatile and can be applied to many surfaces. It is supplied in two parts that need to be mixed together – one part epoxy resin, one part hardener. As the name suggests, this amazing product takes only five minutes to dry completely!
With this powerful glue, you will be able to glue many different kinds of surfaces including wood, ceramics, glass, metal, china, and even concrete – all thanks to its extreme tensile strength of 1500 psi. Additionally, this epoxy glue is chemical-resistant, and every bottle comes with a special color-coded screw-on lid, which helps it last longer and makes it easy to use
All-Purpose epoxy for metals, wood, glass, ceramics, and more

Sets within just five minutes with a bonding strength of 1500 psi

This clear-drying epoxy is durable and resistant to many chemicals
View on Amazon
PROS
An all-purpose epoxy adhesive
Clear-drying for the perfect finish
A very strong and powerful bond
Both chemical- and water-resistant for outdoor use
Fast-drying and sets in just five minutes
CONS
Some effort needed to mix the perfect ratio of both parts
Fast-drying, so must be used quickly once mixed
Most Convenient Product: PC PRODUCTS Super Epoxy Adhesive Paste
If you are looking for lots of strength and ease of use, then this epoxy adhesive is the perfect glue for the job! Another two-part adhesive, this product requires the mixing of both parts to create the glue paste. This adhesive paste gives you approximately 15 minutes to work with it once it has been mixed. And, once cured, it dries clear, which makes for easy matching no matter what you are working with. It also seals beautifully and bonds well.
There are many different materials that this adhesive paste works well with, forming a strong bond that is also resistant to chemicals. Some materials you can use this epoxy on include brick, glass, wood, rubber, fiberglass, and concrete, to name but a few. Its thick viscosity also makes it easy to use. Its injector-type applicator allows you to work with far greater precision and can be restored after use.
Epoxy adhesive paste bonds, seals, and fills a range of materials

Cures translucent to blend in with bonded material

Can be drilled, sanded, sawed, and painted after full cure
View on Amazon
PROS
Highly chemical-resistant product
Easy to use and very conveniently packaged
No fumes make for more pleasant usage
One of the more affordable adhesive products on the market
Very strong bond
Suitable to be used on many different materials and surfaces
CONS
Does not dry entirely clear
Only available in small amounts per tube
Highest Value for Money Product: Gorilla Clear Glue
Our final product for this list is the popular Gorilla brand's clear glue. Not only is it very easy and simple to use, but it is a great adhesive for a multitude of projects! Unlike the above epoxy glues, this adhesive needs no mixing at all. This clear glue by Gorilla does not foam, dries very clear, and is very easy to work with. This product is available in a convenient, multiple-use squeeze bottle, which allows for better precision and less clean-up time afterward.
This is a multi-surface option, as it can be used on virtually anything you desire. Gorilla's clear adhesive can be used both indoors and outdoors due to its water resistance. Despite the extremely strong bond, the drying time is much longer than the epoxy options – at about two hours. Thus, clamping is advised throughout the drying process.
Strong, easy-to-use, crystal-clear, non-foaming formula

Water-resistant and can be used both indoors and outdoors
Will bond virtually anything with extremely strong formulation
View on Amazon
PROS
No foaming with this product
Water-resistant for outdoor use
An affordable adhesive option
Simple and easy to use every time
Suitable for a wide range of materials
A good, strong, and sturdy bond
An adhesive that dries crystal-clear
CONS
Long drying time of two hours
Needs to be clamped down while drying
Gluing Glass to Wood: Important Safety Precautions
You need to use a powerful bonding adhesive when you are gluing wood to glass. Thus, you may be exposed to toxic properties, depending on the type of glue used. It is highly important to take note of this and to take the necessary precautions. We have listed some of the most important safety measures below:
Make sure that you are working in a well-ventilated area wherever possible in order to increase airflow.
Use only small amounts of glue at a time rather than larger quantities
Wear protective clothing where necessary. This could include industrial-strength goggles, protective gloves, and a respirator mask. Harmful fumes lurk inside many liquid adhesives.
Ensure that your glue is correctly stored and in its own container at all times when not in use. This is important to prevent leakage, escaping fumes, and to stop it from drying out.
Depending on what your needs are and what your project is, you will be able to judge which glue will be best for your glass-to-wood project. Make sure that you follow the correct steps in order to achieve the best possible results at the end. This skill will likely come in handy at some point in your DIY journey. We wish you luck with your future projects and we hope you have learned a little more about the best glue for glass to wood.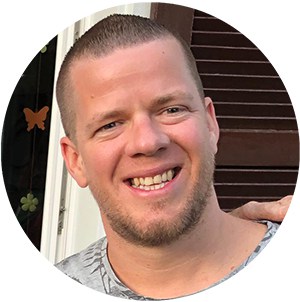 I have been into woodworking since 2005 and woodturning since 2011. Because of my love for wood and woodworking, I started woodhappen.com to teach other enthusiasts about how to finish and seal wood, the best woodworking tools, the different types of wood, and everything else related to woodworking! Read more about me here.