Wood Slice Crafts – Project Ideas for Log Wood Rounds
While there are many craft mediums out there for you to choose from, wood crafting is still one of the most popular and easiest to get into. Although, when most people think of wood-crafting their minds conjure up pictures of intricate cabinetry, desks, tables, chairs, and even installation art pieces. Wood crafting doesn't have to be this high-end though, you can make beautiful works of art from the smallest piece of wood, and considering how cool and practical these crafts can be, it's astonishing that more people haven't tried their hands at it. Let's have a look at a few simple wood crafts you can make from little wood slices and how you can use some of them in your everyday life. These wood slice crafts take little to no effort and can last you a lifetime if fabricated and cared for correctly, so let's dive right in!
Wood Slice Crafts
There are various wood slice projects for you to choose from. In fact, if you have a look at websites like Etsy and Pinterest, you'll find that there are limitless possibilities when it comes to wood slice projects, they range from really small to really big, from painfully intricate to strikingly simple, and from the ornate to the highly practical. Below, we've included a bit of everything for you to have a look at, so if you have time why not give a few of them a try?
Easy Wood Slice Crafts
Small wood slice crafts are simple and easy crafts that you can do on your own or with some friends and/or loved ones! These are usually pretty small and can be pulled off with little to no wood crafting experience, so don't worry about them being too intricate or challenging.
Wood Slice Placemats
Wood slices are inherently flat, which makes them ideal for coaster and placemat making. All you need is some imagination, wood sealer, and a wood saw and you'll pretty much be good to go. Remember that the possibilities are limitless!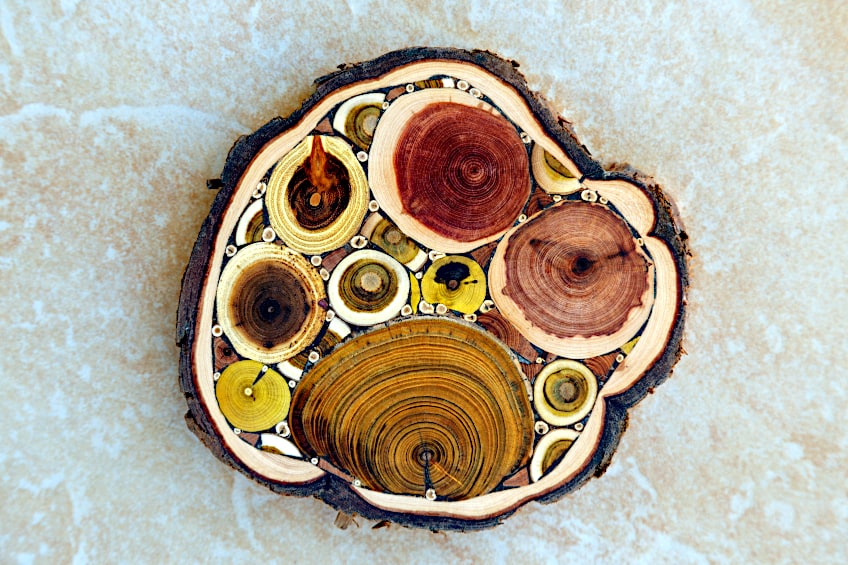 Medium Wood Slice Placemats
Decorating with wood slices can be a blast! If you're working with medium to large-sized logs why not have a go at making some neat placemats that are just perfect for festive occasions? They provide an interesting rustic aesthetic that really brings a space together, and all you need are a few wood slices and a food-safe coating!
Small Wood Slice Placemats
If you're thinking about decorating with wood slices but only have little ones to work with don't be afraid to get creative. Small wood slices can be laid flat and joined together in series to create placemats or really neat bases for other ornaments too. All you need is a base and a good wood adhesive to get started.
Wood Slice Magnets
If you're looking for more small wood slice craft ideas like the small wood slice placemats, why not try your hand at making little wood slice magnets? They're an awesome activity for kids and they can be decorated with glitter, photos, or even scored with pyrography. This also means they make great gifts and mementos for friends and family.
Wood Slice Image Transfers
Transferring images onto a wooden surface isn't exactly a new thing, but there are always new and exciting workpieces for you to transfer images onto. If you have birthdays or holidays like Christmas coming up, you can use a laser printing unit or some simple acetone to transfer pictures onto wood slices. These can be hung on trees, made into mobiles, and even framed for gifts! Plus, they're super easy to make.
Medium-Difficulty Wood Slice Crafts
These wood slice crafts are pretty easy and can usually be done if you have some experience with wood crafting or even general crafting experience. These are a great stepping stone if you're looking to improve your wood crafting skills without the learning curve being too steep.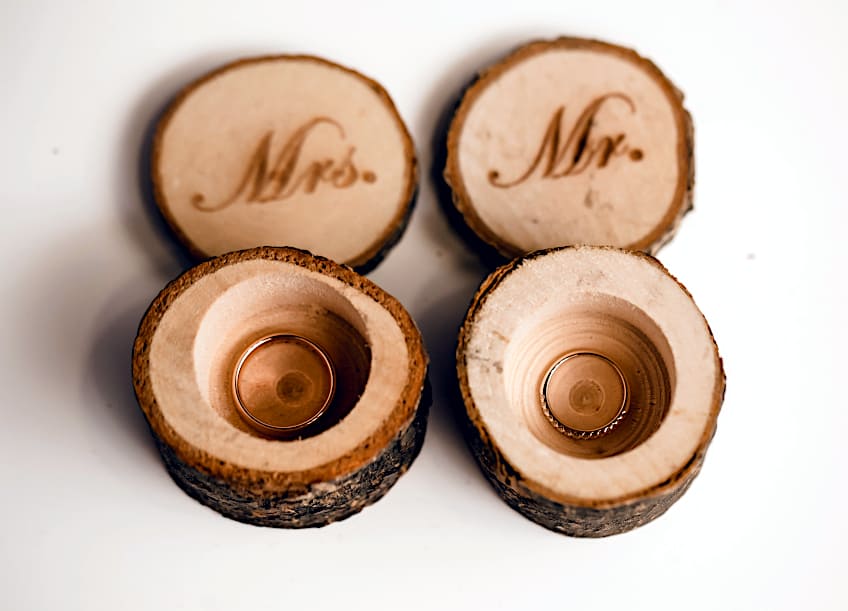 Wood Slice Prop Holder/Clipboard
Sometimes it's the small wood slice crafts ideas that are the most useful in your day-to-day life. This wood slice prop holder sort of fits into that category, allowing you to display all things like family photos, your kid's report cards, or even your to-do list! This wood slice craft is super easy to make too, and if you're feeling a bit lazy (as we all do sometimes), you don't even have to apply a finish!
Wood Slice Holiday Decorations
Wood slice ideas range from the super intricate to the super simple, and holiday decorations fall somewhere in the middle of it. Whether you're decorating for Christmas, Easter, Halloween, Thanksgiving, or New Year's eve wood slice crafts have you covered. Make anything from stacked Christmas trees to snowmen, to cartoon characters with your wood slices, and watch your friends be amazed at your ingenuity!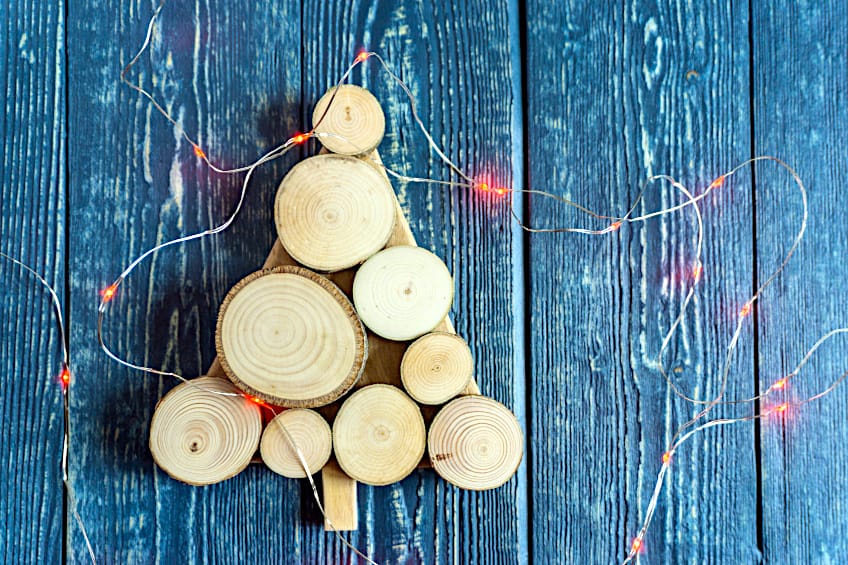 Embroidered Wood Slices
Another great gift idea for the holiday season is embroidered wood slices! This might take a little more effort compared to some of the crafts we've mentioned so far, but it's well worth it in our opinion. All you need is a drill, some wool or string, and some imagination and before you know it, you'll have entirely unique designs that can be used for gifts or decoration.
Wood Slice Tic-Tac-Toe Boards
Most of the ideas involving wood rounds for crafts we've covered so far make you choose between using small wood rounds or big ones, but tic-tac-toe can be played on pretty much any scale (please don't go too big!) so this one gives you tons of freedom. All you need is some paint or permanent marker and some cool game pieces like shiny rocks or old trinkets and you're good to go!
Difficult Wood Slice Crafts
These wood slice craft ideas can be a bit more challenging to do and are best attempted if you have some wood crafting experience to avoid frustration. However, if you're feeling up to the task there's really nothing stopping you from trying your hand at these either.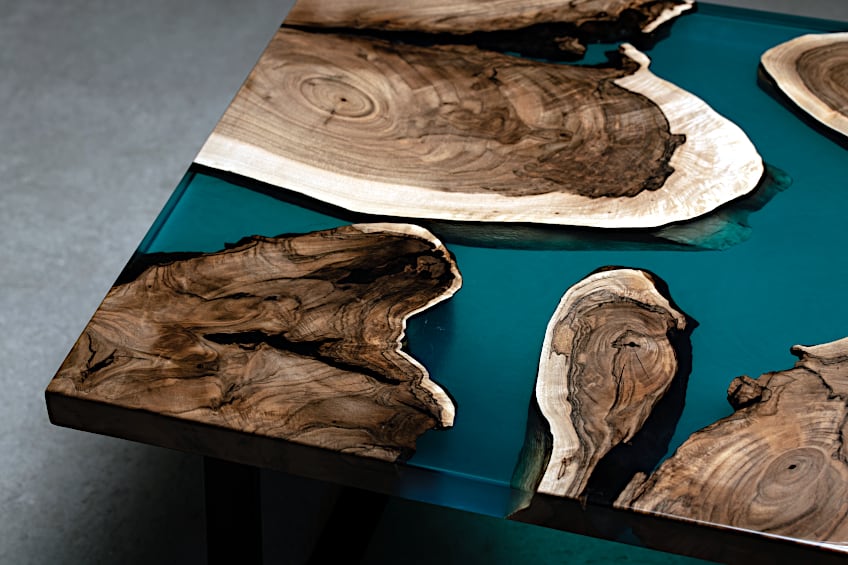 Wood Slice Table
Looking for more large wood slice crafts? Wood slice tables are a unique way to decorate interior spaces without breaking the bank. All you need is a wood spice of medium thickness and width in addition to a metal (or slender wooden) frame and you're good to go. These can be painted, stained, varnished, or simply sealed before attaching them to a frame of your choosing to create a timeless table that doubles as an art piece!
Wedding Cake Stand
If you are planning a rustic wedding in a barn and you need a jaw-dropping cake stand to suit your theme, you can make one yourself at minimal cost. Just make sure that you secure all the pieces really well, and your wedding cake display will feature on everyone's social media the next day.
Wood Slice Baby Mobile
Using wood rounds for crafts doesn't mean that you have to make works of art either, you can use them to make simple things to brighten up your day and the day of those around you. One of the most simple and effective ways to use wood rounds for crafts is to create a baby mobile with the little rounds. You can decorate them with animals, fashion them into cool shapes, or transfer pictures of their favorite characters onto the rounds using the same techniques as you would making Christmas ornaments.
Wood Slice Plant Hanger
Using large-sized wood rounds for crafts is always interesting because the possibilities are endless, and you'll typically find yourself with a limited amount, so you'll have to choose wisely. This being said, plant hangers are all the rage right now and can be found everywhere from studio apartments in big cities, to the porches of humble folk in the Midwest. These only require some rope, a hand drill, and some sandpaper to make, so why not try them out yourself?
Wood Slice Display Shelf
The wood slice ideas we've covered so far use relatively thin wood slices, however, if you happen to be looking for large wood slice crafts why not give wood slice shelving a try? They have tons of aesthetic appeal and can be made by simply slicing a chunky log in half, finishing it, and attaching it to your wall! This adds a beautiful, natural, earthy feel to any space and won't cost you much either.
Wood Slice Mirror
Saving the best for last, we thought we would end off with one of the best-looking wood slice decorations for you. Wood slice mirrors can be made of numerous small wood slices or one really large one if you're able to get your hands on one. Feel free to stain, paint, etch, color, or varnish your wood slice to get the look you want for your mirror. Light bulbs can be added to achieve a vanity look, or you could simply seal your wood slices and enjoy the natural beauty of the exposed wood grain.
Now that you have a good idea of which wood slice decorations are possible, roughly how much effort they take to fashion, and what you can do with wood slices of varying sizes it's time for you to get out there and put your newfound knowledge to the test. Remember to keep an open mind and allow your creativity to flow when you have the opportunity to work with wood slices as a medium.
Frequently Asked Questions
What Are Wood Slices Used For?
Wood slices can and have been used for a wide variety of applications including table centerpieces, baby mobiles, photo frames, mirror backings, coasters, cardholders, and even game boards. Thanks to wood slices being available in different sizes you can get really creative with applications for them, and if you have a look around, you'll see some pretty impressive wood crafts made of these slices.
Do You Have to Treat Wood Slices?
Do you have to treat wood slices? Well considering that they're made out of solid wood they will need to be treated to avoid accelerated decay over time. Remember that things like moisture, insects, mold, and excessive exposure to heat can damage the wood.
How Do You Treat Wood Slices?
How do you treat wood slices? You can treat wood slices with store-bought wood treatment formula, but the tried-and-true way to treat wood slices is by soaking them in denatured alcohol for around a day or so. Once soaked, take them out and let them dry completely, keeping in mind that the thicker the wood slice the longer it will take to dry.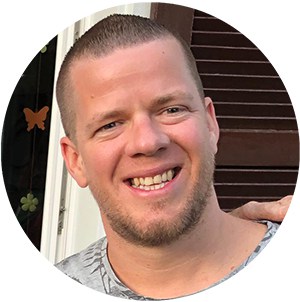 I have been into woodworking since 2005 and woodturning since 2011. Because of my love for wood and woodworking, I started woodhappen.com to teach other enthusiasts about how to finish and seal wood, the best woodworking tools, the different types of wood, and everything else related to woodworking! Read more about me here.