Best Epoxy Glue – Where and How to Use Epoxy Adhesives
In modern manufacturing and materials science, more and more research is done on developing materials and substances that can make our lives easier. One area of innovation with a surprisingly significantly impact on our lives involves adhesives. New types of glues with increasingly effective adhesive qualities have removed many limitations in the world of woodwork, manufacturing, and engineering. One of the most impressive of this new generation of adhesives is epoxy glue. But, you may wonder, what are epoxy glues? This article will look at what these glues do, how they can be utilized, and how they work.
What Is Epoxy Glue?
When one thinks of glue we normally think of a white, sticky material that is available from your local convenience store. However, if you are dealing with crafting and DIY, you will quickly realize that specialist adhesives exists for nearly every type of material and applications.
Materials commonly used in manufacturing and crafting range from highly porous to completely smooth with no porosity at all.
Adhesives that work very well on one type of surface may be completely useless on another. In addition, bonded materials needs to withstand a variety of extreme forces and environmental conditions that can degrade some types of adhesives far quicker than others.
What is so great about epoxy glues is that these have been specifically formulated to adhere to multiple surfaces an withstand many other extreme conditions. Once the preserve of heavy industry, commercial epoxy adhesives are now readily available both in-store and online and are well priced. You also do not need a degree in chemical engineering to use epoxy glues, they are simple to mix and apply, and they do an amazing job, particularly the types that have been designed for a specific application.
You can purchase epoxy glues in two forms: either single-part glue or two-part epoxy glue.
How do the two types of epoxy glue differ? Any epoxy consists of a resin and a hardener. When these are combined a chemical reaction is triggered that causes the resin to cure to a rock-solid substance that binds on a molecular level to any surface it has been applied to. When you buy two-part epoxy, you are in charge of activating the curing process.
Most epoxy glues will come in two separate containers and you will have to mix these in a specific ratio that will be clearly indicated on the packaging.
When you buy one-part epoxy, the resin and the hardener have already been combined by the manufacturer and is already curing (albeit very slowly). When you apply a one-part epoxy to a surface, that curing process is then rapidly advanced by an environmental factor, like exposure to a specialist UV light or air.
You will have to ensure that you are wearing safety gear when working with epoxy glue, as some adhesives can be particularly challenging to remove from your fingers, hands, and any other appendage. In addition, the hardeners in epoxy can contain dangerous chemicals that can lead to severe discomfort if they come into contact with your respiratory system, eyes, or skin. This can seem a little scary, but remember that these glues are only dangerous while they are wet. When epoxy adhesive has completely cured it is both durable and 100% food safe!
What Can Epoxy Adhesives Be Used On?
As far as multi-purpose adhesives go, epoxy is one of the most versatile around and can be used in almost any industry. What follows is a look at a few different surface types, and how epoxy adhesive performs when applied to them.
Wood
If you find yourself in a situation where screws, nails, and conventional wood glues are just not enough to keep your wooden workpieces together, you can simply turn to epoxy adhesive. The two-part epoxy adhesive bonds to wooden surfaces very well. In addition, epoxy adhesives can withstand forces that are normally only managed by welded metal, and shows amazing tensile strength.
You will be glad to know that two-part epoxy adhesives are readily available and extremely well priced, although if you are faced with a bigger workpiece, you may be frustrated by the quantities they are available in.
Brick
You may have found yourself in the situation where you need to hang some furnishings or your photographs, and you do not want to have to haul out the masonry drill and screws and create dust everywhere. Luckily there is an alternative option, you can use some epoxy glue that has been specifically graded for hard porous substances like plaster, mortar, and brick.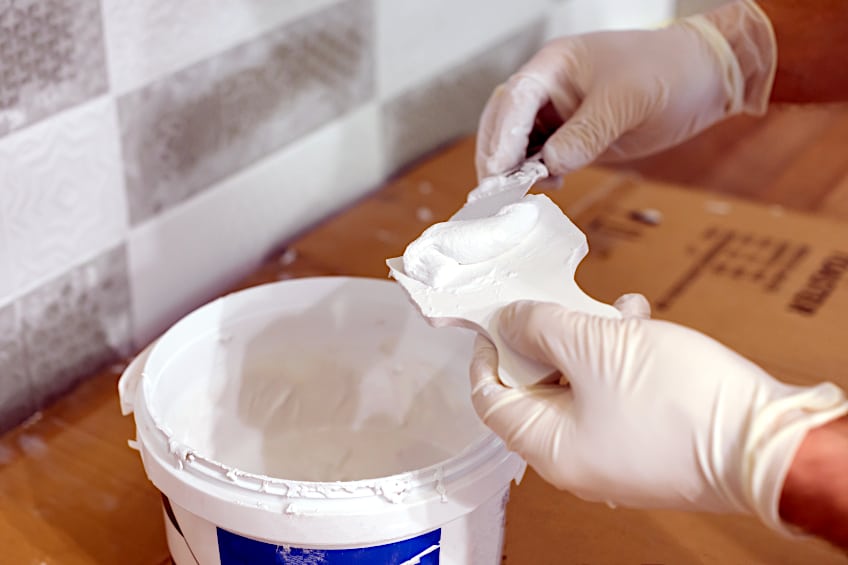 There are adhesives available that are sufficiently strong enough to offer support to large photo frames, and in some instances even entire shelving units if you are looking to test the limitations of the adhesive's effectiveness.
While epoxy adhesives perform well when they adhere to materials such as mortar and/or brick, we do not recommend that you substitute them as building materials, and neither would the manufacturers.
Metal
The human race has been looking for effective ways to join metal together, for as long as we have known how to refine and mold it. This is another substance that can be effectively bonded using the correct epoxy resin. Epoxy resin offers a durable and well-priced option for your adhesive requirements. Epoxy adhesives can be graded to be utilized inside internal combustion engines and high-pressure water pumps, which should give you a good idea of their effectiveness.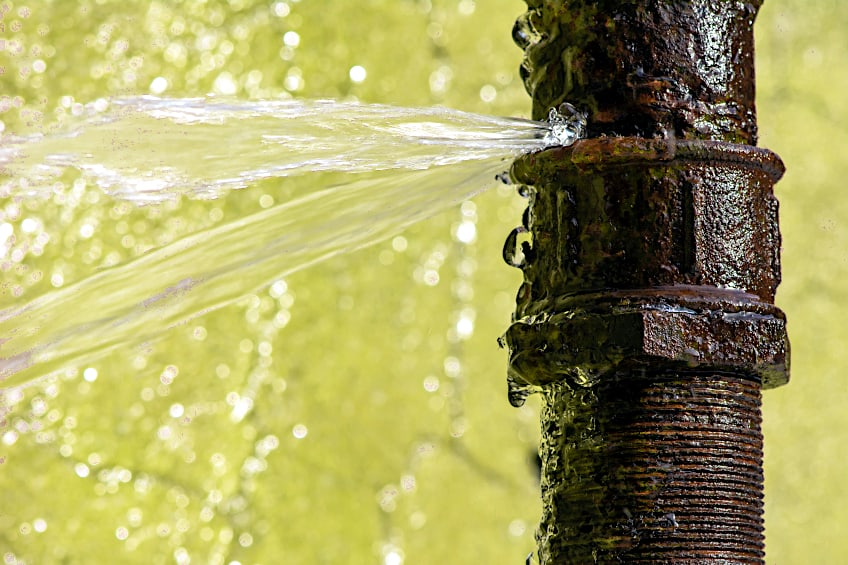 The search for stronger and more durable epoxy resins is never-ending, even though the majority of standard adhesive grades for metal are already able to withstand temperatures well past the boiling point for more than 10,000 hours.
Ceramic
We have all been in the, unfortunately, situation where one of our favorite coffee mugs or a cherished piece of chinaware is tragically broken. The next time you find yourself in such a situation we recommend reaching for some epoxy glue!
As previously mentioned, epoxy resin is not only a fabulous adhesive, but it is also 100% food-safe once it has had the opportunity to cure completely. This means that it is ideal to use to repair items that will come into contact with foodstuff.
It can prove challenging to repair ceramics using epoxy glue as a result of the inherent slippery surface, but will a little bit of preparation and some patience, you can repair any ceramic object, even your favorite coffee mug!
What Are the Pros and Cons of Epoxy Resin Glue?
While epoxy resin is considered to be one of the most effective methods to stick things together, there are naturally some advantages and disadvantages to the material. We have put together some further details in terms of the pros and cons of epoxy resin glue to give you a better understanding of epoxy resin glue as a whole.
Pros of Epoxy Resin Glue
Let's begin with the good news, epoxy resin glue is one of the most versatile materials available on the planet. One of the main characteristics of epoxy glue is its shear strength and tensile strength. That being said, industrial-strength epoxy takes these attributes to an entirely different level. These adhesives are also extremely resilient to extreme cold and heat, making epoxy the go-to solution for projects that require high adhesion and durability.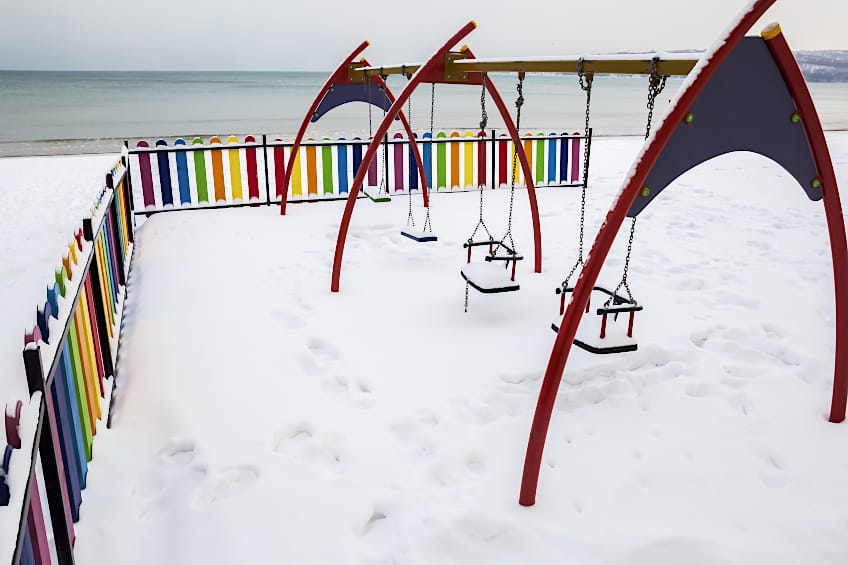 As well as being strong, epoxy glue is also extremely flexible and if needed, even pliable. You could create an epoxy resin for practically any application should you have sufficient resources and time. Unfortunately, in certain circumstances using an epoxy is not the most cost-effective option, especially where an existing bonding solution is in widespread use.
Epoxy glue will stick to practically anything, the exception only being certain types of plastics or anything that potentially could have a bad reaction to the substance inherent in the chemical composition. Another reason that makes epoxy resin glue so popular, is thanks to it is 100% food safe once it has completely cured.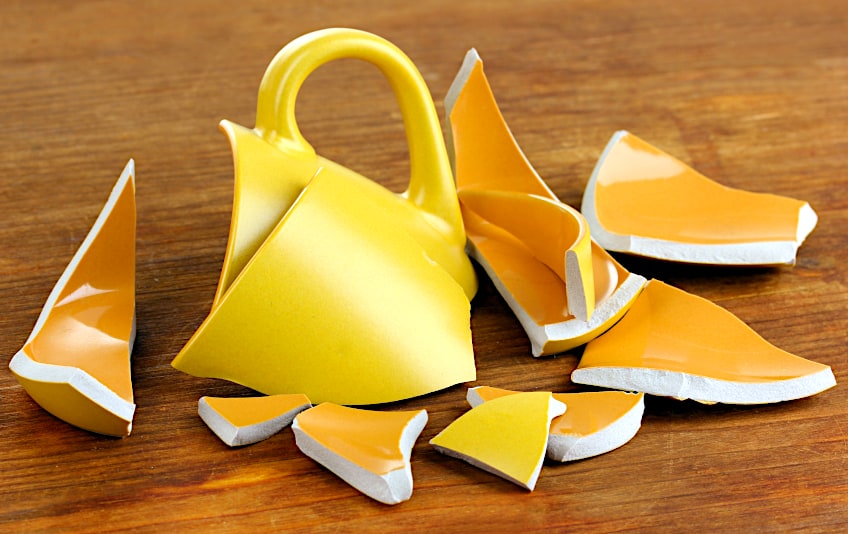 Cons of Epoxy Resin Glue
As previously mentioned, epoxy resin glue is one most versatile materials around. That being said, it is by no means a universal tool. One of the handfuls of cons is that epoxy resin glue will take a significant amount of time to prepare and cure. It should also be mentioned that the production of epoxy resin glues and other similar products is not good for the environment.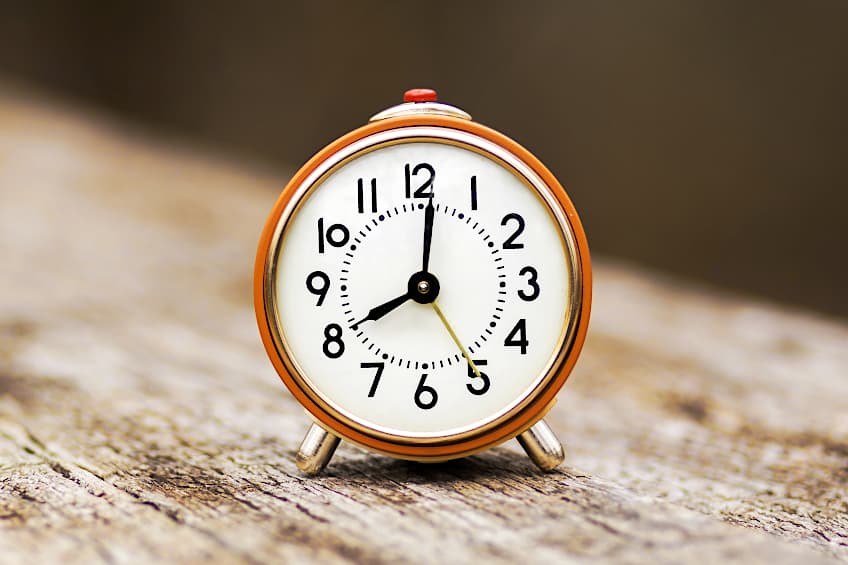 We have mentioned that epoxy resin is food safe once it has been completely cured, but while it is in its two-part form, the hardener and the resin can be toxic and will result in discomfort if ingested or inhaled. You will have to procure and wear the necessary personal protective gear when working with the two substances, including eye protection, a face mask, and of course, gloves that have been graded for use with hardener and resin.
Once your epoxy resin has cured completely, it is chemically inert and safe, but you should still take care when working with it. For example, should you have to sand, drill or make any changes to a cured epoxy that could result in dust, keep in mind that epoxy dust can obstruct or irritate your airways.
PROS
Easily available
High tensile strength
Very resistant to both cold and heat
Simple to work with
Once cured, it is completely food safe
Simple to use
Versatile
CONS
You can only handle it when wearing the necessary protective gear
Contains harmful chemicals
Quality can vary from manufacturer to manufacturer
If it comes into contact with skin, it can cause discomfort
Cannot be applied to certain types of plastic
If particles are inhaled, it can cause discomfort
When uncured, it is not food safe
What Is the Best Epoxy Glue?
There are so many epoxy glues available, hundreds of them, offering an array of applications as well as other useful characteristics. How do you determine which one is the correct fit though? We have put together a list of the top three best epoxy glue available on the market. These options provide versatility, and durability, are simple to use, and provide tensile strength.
Best Overall: GORILLA Two-Part Epoxy
If you are wanting to purchase epoxy glue you know you can trust, then this Gorilla two-part clear epoxy glue is a great option. Gorilla as a manufacturer has built itself up as a household brand, mainly thanks to how easy their products are to use and how effective they are, across the range.
This two-part epoxy glue is versatile, and ideal for use on practically any surface. This product has been designed as a specialist adhesive for joining and gap filling. The two-part syringe applicator allows you to apply both the epoxy resin and hardener at the same time.
A great characteristic of Gorilla epoxy glue is that once it has dried it is completely clear, so you do not have to worry about trying to conceal the area you have fixed. The epoxy dries relatively quickly, only requiring between six and eight minutes to dry. This offers you sufficient time to do any last-minute changes and adjustments to your workpiece that may be required.
While this is a great product to have available thanks to its versatility, you do not get a large quantity for the price. It is important to note that the quality of the adhesive is far greater than any other product in its price range.
Strong, permanent, fast, and gap-filling; great for multiple surfaces

For tough repairs needing a durable bond and solvent resistance

Dries clear and sets within 6 minutes, allowing for repositioning
View on Amazon
PROS
Water-resistant
Simple-to-use syringe
Decent pot life
Easily available
Can be stored with ease
Well-known, trusted brand
Versatile
When dried, it is completely clear
Provides a good adhesive bond
CONS
Sold in small quantities
Will only be cured completely after 24 hours
Setting time is long
Exposure to sunlight causes it to turn yellow
Best Durability: LOCTITE Epoxy Minute Instant Mix
The brand Loctite has been around for a long time, you may even remember your dad using one of their products when you were growing up. It will therefore come as no surprise that a brand that has been around for such a long time produces superior products.
Loctite manufacturers adhesives and have produced a variety of different options over the years. Over time they have improved upon the formula to create a versatile, user-friendly, and strong adhesive product, if not the strongest adhesive available. In regards to their, "five-minute instant epoxy", they have stuck with their trusted formula.
Loctite's epoxy also comes in a dual syringe, though their application seems to work easier than that of the Gorilla brand. This particular product has been graded for use with glass, tile, wood, plastic, ceramic, metal, and even brick.
So regardless of the surface material, you are dealing with you will be prepared. As the name advises, this epoxy glue sets in roughly five minutes, however depending on the ambient conditions the setting time can be even shorter. This makes it the ideal product for any time-sensitive projects, such as repairing the handle of your favorite coffee mug or fixing a broken heel.
Loctite's five-minute instant epoxy has been formulated to be used with dyes, so it is the ideal product for any DIY enthusiast or professional to have on hand. Overall, it is a versatile, simple-to-use product.
High-strength non-shrink formula is water and solvent resistant

Can be mixed with sand, or cement, drilled, sanded, and painted

Adhesive and filler for wood, metal, tile, ceramic, glass, and plastic
View on Amazon
PROS
Waterproof
Simple-to-use dual syringe
High tensile strength
Once dry, it is completely clear
Trusted brand
Graded for use with coloring agents
Well priced
Once cured, it can be molded and sanded
Versatile
Dries in roughly five minutes or less
CONS
Cannot be applied to vinyl surfaces
Available in limited quantities
Curing takes roughly one hour
Best Value: J-B WELD Cold-Weld Steel Reinforced Epoxy
There are certainly epoxy resin products available that offer a certain level of pedigree, there are also products that are just great at what they do and do not need a large price tag attached to them, or countless dollars in marketing, to get their share of the market.
At the end of the day, whether you are a DIY enthusiast, a professional crafter, or just need to fix something at three in the morning, and need to grab a product from your local gas station, J-B Weld has (and always will have) your back. It is hard to think of any type of problem that cannot be resolved with some zip ties and a little bit of J-B weld. The team at J-B weld has stuck with their formula of being affordable and effective when creating their cold weld steel reinforced epoxy.
This product will work when applied to wood, plastics, brick, metal, mortar, and even boats and cars. In addition to being waterproof, the J-B Weld has the longevity and tensile strength to withstand the impact of extreme heat, extreme velocities, extreme cold, and even impact.
While the cold weld formula is strong and versatile, it does not come equipped with a dual syringe applicator as one would find with the majority of two-part epoxy resin glue available on the market. On a positive note, you will pay significantly less per unit for this resin than for any other product.
Other positive characteristics include the fact that J-B Weld can be sanded, drilled, and/or tapped once it has cured completely, and the product is chemical resistant. Like with anything in life there are a few negative elements such as this product takes between four and six hours to set, and an additional 24 hours to cure completely, which is significantly longer than other products we have looked at so far.
A welding alternative two-part epoxy system
Steel reinforced for significant tensile strength
Easy to use for various applications on non-porous surfaces
View on Amazon
PROS
Can be tapped, sanded, drilled, or molded
Versatile
Abrasion- and impact-resistant
Simple to use
Heat-resistant
Very strong
Waterproof
CONS
Available in limited quantities
Does not come with a two-part syringe applicator
Curing time is long
Applicator is not included
Setting time is long
How to Use Epoxy Glue
It may seem daunting to work with epoxy glue, but it is relatively simple to do and can be quite fun, and is an easy way to handle unforeseen mishaps life has thrown your way. What follows is a look at how to use epoxy glue effectively so you achieve amazing results.
Prepare Your Workspace
Before you begin, you want to ensure that you do not get your workspace, or yourself dirty at all, when working with epoxy glue. Once you have put on all your necessary protective gear, you will need to protect your workspace by ensuring you have sufficient ventilation, and that you have covered up anything that you do not wish to get any resin on, using some old newspaper, or a tarp.
If you tend to be a bit sloppy, maybe apply some painter's tape to those areas of the object where you do not want any glue to spread.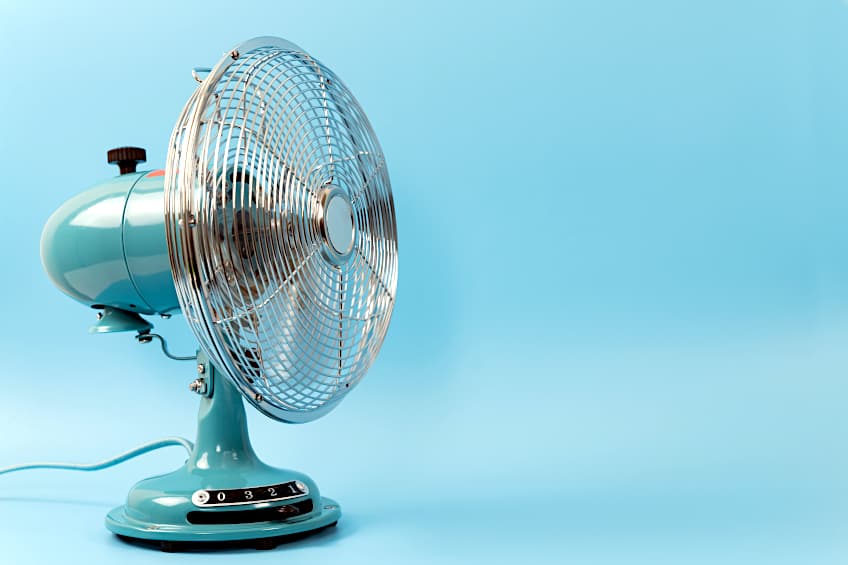 Prepare Your Workpiece
Epoxy will only perform as intended by the manufacturer and yourself if you have prepared your workpiece properly. To prepare your workpiece, keep in mind that different materials have different preparation methods. The common element with all of them is that you have cleared any dust, dirt, grime, and any other foreign particles from the workpiece before you apply your hardener and resin.
A clean workpiece means that you will have sufficient surface friction between the surface in question and the adhesive. You want the epoxy to bond with the surface, not the dust, dirt, paint, or residue on top of the surface. A great tip is to use some alcohol to clean any sheer metal surface and allow time for it to dry completely before you begin to apply your adhesive.
Apply Your Resin Glue
Now for the simple part, position your workpiece in a manner that allows you to have control of both the applicator and surface area. Once you are happy with how your workpiece has been positioned, you can begin to prepare your adhesive. If you are not working with a dual syringe applicator, you will need to combine the hardener and resin in a 1:1 ratio until you are happy. Once the parts have been combined, you are working on a schedule, which will be dictated by the pot time defined by the manufacturer.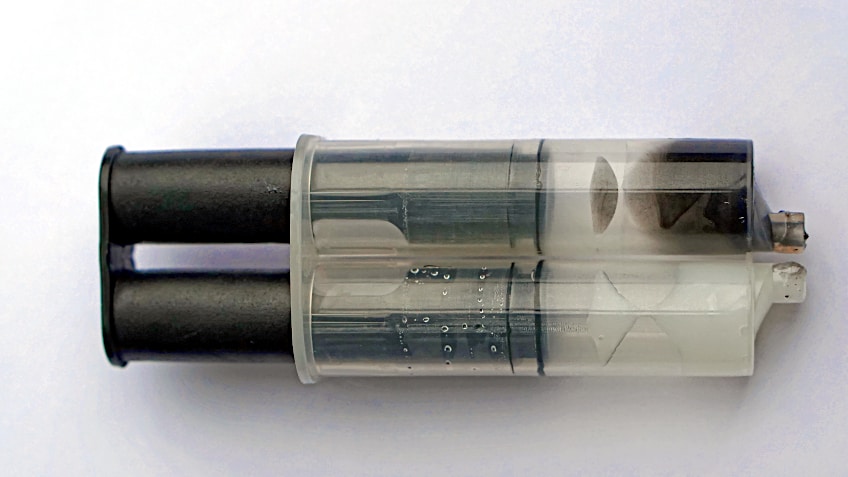 Apply the mixture to the object's surface. Do not be shy, apply generously, and do not be afraid to use your glove, an applicator, or stir stick of some type to move the glue around a bit.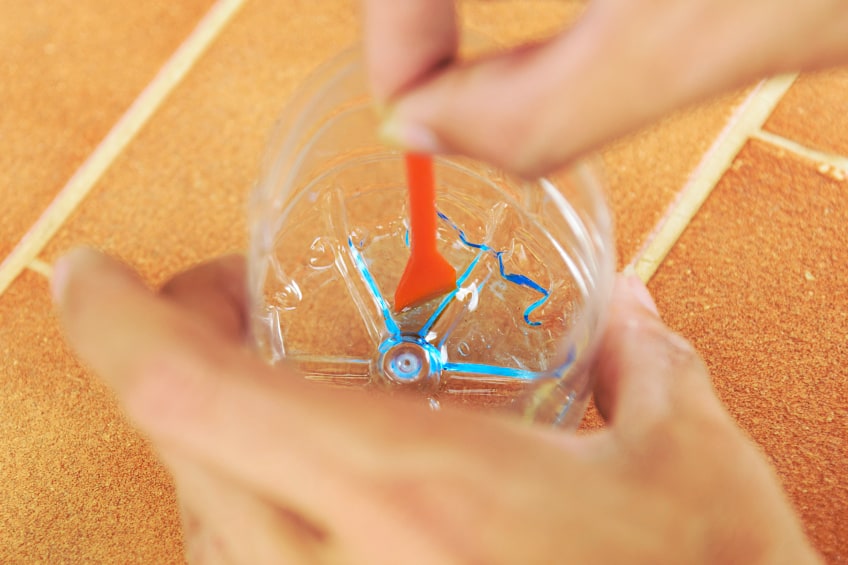 Next, you can join or apply the object in question to your primary workpiece and allow time for it to set. Consult the manufacturer's directions to determine the required setting time. Any excess will need to be wiped away using a spare cloth. Allow sufficient time for the adhesive to cure before you can begin using the workpiece for its intended purpose.
Now that you are equipped with the knowledge of what epoxy resin glue is, what its positive and negative characteristics are, what the best epoxy glue available in the market is, and how to apply your resin glues effectively, it is time for you to take your newfound knowledge and put it to the test! Remember as the epoxy and hardener are both toxic before they have been cured, it is necessary to wear the relevant protective gear and to ensure that you are working in a well-ventilated space.
Frequently Asked Questions
Is Epoxy Waterproof?
One of the great characteristics of both epoxy resin and epoxy adhesives is that they are either completely waterproof or at least water-resistant. This is thanks to the two-part hardener and epoxy design which results in the epoxy adhesive being one of the most versatile options to bond surfaces together.
Is Epoxy Stronger Than Glue?
While glue and epoxy may serve the same purpose, at the end of the day epoxy can be used for more heavy-duty purposes and has been formulated with durability and superior tensile strength. This is true for most epoxies, but it is important to note that there are extremely strong conventional glue products available on the market.
Is Epoxy the Same as Glue?
While both glue and epoxy offer the same function, there are significant differences between conventional adhesives and epoxy. Epoxy offers extreme strength for both tensile strength and adhesion. The majority of epoxy adhesives come in two distinct parts, namely the resin and the hardener. Once the two parts are combined, they cure to a very strong substance that bonds to a surface on a molecular level, whereas conventional adhesives only bond the the texture of a surface (which is why you should never try to glue a smooth surface without texturing it first).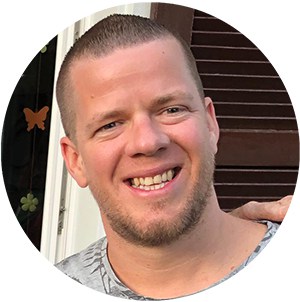 I have been into woodworking since 2005 and woodturning since 2011. Because of my love for wood and woodworking, I started woodhappen.com to teach other enthusiasts about how to finish and seal wood, the best woodworking tools, the different types of wood, and everything else related to woodworking! Read more about me here.