Food-Safe Wood Finish – Best Food-Grade Clear Coat for Wood
When revamping or altering wooden surfaces in the kitchen, we need to be a little extra cautious with regards to the products we use. Many paints or varnishes are toxic to ingest, and this becomes a factor when using these products on your kitchen surfaces. Using a food-grade varnish or finish on your wooden kitchen surfaces will be safer for the whole family. Here, we will go through the reasons and benefits of using food-safe wood finishes.
The Importance of Using a Food-Safe Wood Finish
Not all wood finish or wood products are food safe. This means that using a product that is not specified as being a food-grade wood sealer or a food-safe clear coat can cause health effects later on. These products contain harsh chemicals, solvents, and thinners within them that can be fatal if ingested. Using these products on a kitchen surface begs the question: How safe is your food for consumption?
While this may seem scary and overwhelming, it is not as daunting as it sounds. All products will specify in their label what their ingredients are and whether they are safe for use in the kitchen and other surfaces your food may be exposed to. Wiping down your surfaces after they are dry will also assist in removing potentially toxic substances that could cause harm.
Using a Food-Grade Wood Sealer
Projects that involve wood or wooden surfaces will usually need to be sanded down, primed, and sealed for the best results. Using either a food-safe wood finish or food-safe wood sealer would be best for these kitchen projects. Below are some pieces that will require the use of food-grade or food-safe products.
Cutlery
Bowls and plates
Cups and mugs
Tables
Kitchen countertops or shelving
Cutting boards and butcher's blocks
Children's wooden toys
Types of Food-Grade Varnish
There are a few options when it comes to food-grade clear coats and varnishes. Some of these will have different finishes or color stain options too. Below are some recommendations for the best food-grade varnishes on the market and how they work.
Food-Safe Wood Sealer: Shellac
Shellac is a completely natural product, and is made from the resin secreted by lac insects on trees in parts of India and Thailand. Th shellac itself is made by adding alcohol to dry lac flakes, creating a liquid finish. Shellac works by sealing the surface and creating a moisture barrier. Shellac products are not as toxic, being made from the same ingredients used to coat your candy and vitamins. This food-safe wood finish option provides a glossy and smooth finish to your wooden surfaces. This is a common choice among woodworkers as shellac is very easy to use and dries quickly.
PROS
All-natural
Protects from moisture
Provides a glossy smooth finish
Highly durable
Will not fade or yellow with age
Dries quickly
Easy to clean up
CONS
Not waterproof
Best suited for indoor projects
Shellac Food-Safe Wood Sealer: RUST-OLEUM Zinsser Bull's Eye Clear Shellac Spray
This all-natural shellac spray is alcohol-based and made from the resin of the lac bug. It comes in two drying colors of either clear or amber, based on your preferences. Rust-oleum's clear shellac can be used on various wooden surfaces, including photo frames, for touch-ups, and all food-related surfaces. What makes this product different from others is that it dries in under 45 minutes and leaves your wood looking soft and natural.
Rust-Oleum's food-safe wood finish is also highly durable. It will not fade, crack, or yellow with age. This sealant option is lighter than using oil-based finishes, which is why it dries so much quicker. Using this shellac option also allows for easy clean-up with some warm water and ammonia.
This is an alcohol-based solution of pure, natural lac resin
This product is all-natural, non-toxic, and quick to dry
Leaves a transparent finish with a either a clear or Amber hue
View on Amazon
Food-Safe Oils
There are many different varieties of natural, food-safe oils that can be used to finish your wood. The key is to pick one that matches your project needs. If you want to revive or recondition your wood, then using a non-drying oil would be perfect. For sealing or varnishing those surfaces, a drying oil will add durability and protection.
PROS
Oils are all-natural
Easy to use
Suitable for refreshing old or outdated wooden items and furniture
Locks moisture into the wood
Leaves a natural shine
Nourishes and protects the wood long-term
CONS
Drying times vary based on the oil you have chosen
Some may leave an oily residue behind
Non-drying oils are not permanent sealants
Is Tung Oil Food Safe?
The amazing benefits of tung oil were first discovered and used in China. For centuries, these people have been using this oil made from seeds of the tung tree as a sealant for woodwork and boats that needed waterproofing. Because this oil comes from seeds, it is considered a wonderful choice as a food-grade varnish and sealant. The benefit of using a tung oil food-safe sealer is that while it may take a while longer to dry, it seeps into the wood more easily and protects it from oil, water, and even alcohol damage.
Food-Grade Varnish: HOPE'S 100% Pure Tung Oil
This tung oil is the perfect solution for sealing and reviving your wooden surfaces and projects. The way it works is to use a small amount of the oil and wipe it or rub it into your surface. This is made to be hand-rubbed for better absorption into the wood, conditioning it as you go.
Many other food-safe wood finishes and sealants only coat and protect the top layer of your surface. Using tung oil ensures that the protective layer infiltrates the actual fibers within the wood, making your wood is stronger and more vibrant than ever before.
Tung oil is naturally resistant to liquids, ensuring that your project can withstand anything. This food-grade clear coat can also be used on other porous surfaces like concrete, cement, brick, cast iron, and any wood products, whether they are unfinished or painted.
Tung oil is an easy-to-use natural oil that can simply be wiped on

Permeates deeply into the wood fibers for optimal protection

Resistant to moisture, alcohol, oil, as well as everyday wear
View on Amazon
Food-Grade Mineral Oil as a Treatment
Using mineral oil as a wood finish or sealant is not ideal on its own. This oil falls into the category of non-drying oils, meaning that using this method will result in your oils being wiped off the surfaces due to cleaning and natural wear and tear. This option is better used as a wood treatment or conditioning agent in order to revive wooden items, as it is not permanent.
Food-Safe Mineral Oil: EARTHBORN ELEMENTS Food- and USP-Grade Mineral Oil
This food-grade mineral oil by Earthborn Elements is of both food and pharmaceutical grade. It is also free from odors, colors, and tastes. This natural oil is safe for use on any wooden surface including wooden butcher blocks and cutting boards, counters and shelving, utensils, and cutlery. It will refresh and renew your wood while working as a conditioning treatment.
Food- and USP pharmaceutical-grade mineral oil of the best quality
Mineral oil is gluten-free, non-GMO, colorless, tasteless, and odorless
Use to restore, maintain, and protect all kinds of wood surfaces
View on Amazon
Using Walnut Oil as a Varnish
This is another natural oil alternative for a food-grade wood varnish. Walnut oil dries into a smooth and satin finish and is perfect for protecting your wood from liquids, although it does take some time to properly cure. People that are allergic to nuts should probably steer clear of this option.
Walnut Oil Food-Grade Varnish: MAHONEY'S FINE FINISHES Ultimate Walnut Oil
This food-grade varnish is not limited to use only in the kitchen. Mahoney's walnut oil finish is great for sealing and protecting furniture as well as musical instruments and wooden floors. It is easy to apply with the great nozzle design and will protect all of your wooden surfaces from dents, chips, and scratches. This rich walnut oil is easily absorbed into the wood fibers and will provide a long-lasting and durable protective layer. Mahoney's walnut oil leaves your surface satin-smooth and smelling of walnuts.
Walnut finish oil offers excellent wood protection with a satin finish

Easy to use with a smart nozzle for maximum control when in use

Oil penetrates the wood pores deeply and is fast to dry
View on Amazon
Is Raw Linseed Oil Food Safe?
As artists may be aware, linseed oil is a useful and versatile medium when working with paints or crafts. Using this medium as a food-safe sealant is also an option. Made from flax seeds, linseed oil is safe and totally natural. This finish can also be used for varnishing or protecting wood outdoors. The only downside is that it takes longer to dry than alternatives.
Recommended Product: SUNNYSIDE Pure Raw Linseed Oil
Sunnyside's linseed oil is the best finish option for antiques and wooden furniture. This product is made specifically for use on raw wood only, and will not adhere well to treated or painted surfaces. As far as food-safe wood finishes go, this option works very well but it will take up to four days to cure.
You can also use this as a painting medium or mix this with oil-based wood stains and paints. That way, you can create your own unique finish without compromising on quality. Using this food-grade wood sealer will protect your surfaces from heat and moisture damage.
Penetrates deep and protects wood, creating a quality finish

Apply to raw wood only or mix with oil-based paints and stains

Increases water repellency and weather resistance
View on Amazon
Coconut Oil as a Wood Finish
The last on our list of food-safe oils, coconut oil is a wonderfully versatile and safe substance that can also be used for treating and varnishing wooden items. This would need to be a certain formula to prevent it from expiring once applied to the surface. It is not the most permanent of oils, and so should be finished with a suitable wax after application.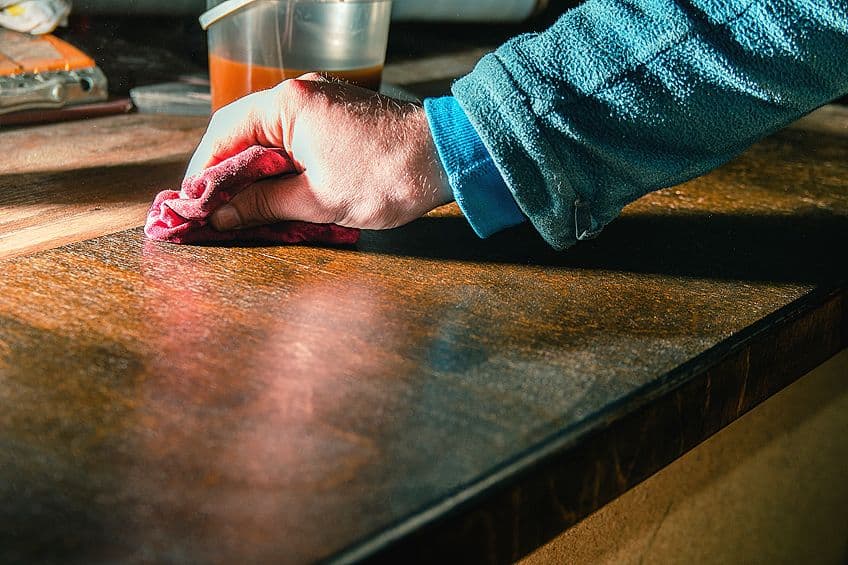 Food-Safe Clear Coat: CLARK'S Coconut Cutting Board Oil
This refined food-grade coconut oil is plant-based and contains no additional preservatives or additives, making it entirely safe to use. The oil permeates deeply into the wooden surface and protects the wood from drying or cracking. This product is best used in conjunction with Clark's Coconut Cutting Board Wax as a final protective finish.
A refined, plant-based oil

with no extra additives or preservatives

Oil works its way deeply into the grain of most wooden pieces
Oiling your wooden surfaces frequently prevents drying and cracking
View on Amazon
Food-Grade Wax Finishes
Like oils, these options often do not last permanently and will need to be maintained. Wax options also add moisture and a protective layer over your surface, leaving it smooth and healthy-looking. Wax finishes are a popular choice to use after applying an oil coat.
PROS
Various wax options available
Quick and simple application
Dry quicker than oils
Protect your surface from moisture
Refresh and revive wooden surfaces
Provide a healthy shine
CONS
Not permanent solutions to varnishing or sealing items
Will not do well outdoors or in excessive heat as the wax may melt
Natural Food-Grade Wood Sealer: Beeswax
Beeswax is such a versatile ingredient and can even be used as a food-safe wood sealer. This all-natural product is the same as what is used in creating gum, coating candies, and even as a lip moisturizer. If you have ever used one of these, you know that beeswax has a natural oil in it, which makes it great for coating and sealing your food prepping areas and surfaces.
Natural Food-Grade Varnish and Wood Wax: CUTTINGBOARD Natural Wood Wax and Conditioner
This wood wax from CuttingBoard is all-natural and safe to use on any wooden surface. It is made using a combination of natural oils and ingredients including food-safe mineral oil, beeswax, and Brazilian carnauba wax. These oils are what allows the wax to be worked into the wood and provide a smooth finish.
This wood wax and conditioner is very easy to use and works the same way as most oils would: by rubbing it into your surface. When using this medium, it is beneficial to first apply some food-grade mineral oil directly to the wood as a base layer. Then wait an hour or two before applying your wood wax and conditioner.
A mix of beeswax, Brazilian carnauba wax and USP-grade mineral oil

Restores and protects wooden cutting boards, countertops, and more

Helps prevent staining, covers up knife scarring, and is easy to clean
View on Amazon
Brazilian Carnauba Wax
This substance is made by using wax from the leaves of the carnauba palm trees, making it another natural food-safe wood finish option. This is the hardest of the natural wax options, meaning that it needs to be applied with a buffing machine, as it is too tough to use by hand. It is often mixed into beeswax or mineral oils to add a waterproof and shiny finish to wooden surfaces.
Food-Safe Wax Conditioner: BEALL TOOLS Carnauba Wax
This Carnauba Wax comes in a hard soap bar form and is made for use in buffing and woodworking machines. This bar is much too hard to be used by hand and will not yield the same results. Using Beall's Carnauba Wax is a relatively easy task with the right tools, and it will not be as sticky as working with beeswax.
Carnauba wax made from the leaves of the Carnauba palm tree
Hard, natural, and food-safe wax for finishing and sealing wood
Less sticky than other natural wax options like beeswax
View on Amazon
Paraffin Wax
Made from petroleum, this wax is used in various things such as candles and some foods like jam. Paraffin wax is therefore considered a food-safe wood sealer, although it is one of the non-drying options, meaning that it is not a viable solution over the long term.
Food-Grade Sealing Wax: PAROWAX Household Wax and Sealant
This lubricating bar of paraffin wax works well for many different projects. Parowax can be used as a food-grade wood finish for wooden kitchen items as well as for doors or window frames. It can also be used to make candles or mixed into certain food recipes. This product acts as a waterproofing agent and is often used for sealing leaks as well. Paraffin wax is known to be used in sealing up alcohol barrels, as it has no odor or taste, and will therefore not affect the quality of the product.
100% natural product made from saturated hydrocarbons
Wax is colorless, tasteless, odor-free, and safe to use
Wax is simple and easy to use with no assembly required
View on Amazon
Using a Food-Safe Polyurethane
This finish option is not so natural. There is the option of purchasing a water-based version instead of the regular oil base, which will be less toxic to your health and those in the home, although this will not be as durable as the other options. Using an oil-based formula may be more harmful, but it will last longer and not be affected by wear and tear.
This option, as we know, is certainly not all-natural. This is why it is important to check your product labels and do research before using harmful chemicals in your food area. All polyurethane finishes will become food-safe only once fully cured, which can take anywhere from 24 hours to as long as 30 days.
PROS
Available in water- or oil-based options (water-based is safer)
Provides good coverage
Will protect your surface from moisture
Available in various finish options
CONS
Water-based options are best used indoors
Fades in the sunlight
Water-based options are prone to scratches and marks
Polyurethane Food-Safe Sealer: MINWAX Polycrylic Protective Finish
This product is water-based and dries to a clear finish. Within the range, there are various finish options available such as gloss, semi-gloss, and matte. This food safe clear coat works best over lighter raw wood surfaces like birch or maple wood and dries within two hours. Minwax polycrylic should only be used indoors and can easily be cleaned up with water.
Protects and adds beauty to interior wood surfaces

Ultra fast-drying formula allows for quick recoats in just two hours

Water-based formula allows for easy soap and water clean up
View on Amazon
Using a Food-Grade Varnish
Most woods require the use of a sealant or varnish to protect them. These can often be used on any wood, whether they are painted, stained, or unfinished. Varnishes can also be used for projects inside and outside, as most are semi- or completely weatherproof.
Natural Food-Safe Varnish: TRIED & TRUE Varnish Oil
Tried and True have a few good varnish selections. This natural wood finish is made from natural oils and resins, making it safe for you and the environment. A huge benefit to using this product is its scratch-resistant qualities. This food-grade wood varnish is safe for any wood project around the house and leaves you with a beautiful, semi-gloss finish.
Made from polymerized linseed oil and natural resins
H

as a high resin content and produces a beautiful, semi-gloss sheen

Each coat will build up gloss and durability, getting stronger as it ages
View on Amazon
Food-Safe Lacquer Finish
Using lacquer options will always provide a higher gloss factor and a more brilliant finish. These are applied differently than the other finishes due to lacquer's consistency. Usually, these are in the form of thin liquids, meaning that the best way to use them is through an airbrush or sprayer for an even application. A downside to using this option is the durability.
Lacquers do not hold well under wear and tear and any scratches will be easily noticed. This is the easiest and least natural substance out there. If you would like to use a lacquer, then it is advisable to use an airbrush for easier use and better area coverage. As with polyurethane, this finish will only become food-safe once fully cured.
PROS
Liquid provides better coverage
Great durability
Dries quickly
Brilliant gloss finish
CONS
Options are not always food grade
Have strong odors
Highly flammable
The Best Food-Safe Lacquer: DEFT Clear Wood Finish Lacquer
This wood lacquer will leave you with a silky satin finish, which takes under an hour to dry. Deft's lacquer is made to protect against liquids and moisture on your surfaces and will also not yellow with age. This formula does not require any sanding in-between coats. So, you can apply two or three layers without worrying about needing to smooth your surface after each coat. While not explicitly food-safe, this lacquer is baby-safe and should be fine to use on most wood surfaces, although it is not durable enough for use on chopping boards or butcher's blocks.
A fast-drying finish that will enhance your interior wooden surfaces

Clear, 100% nitrocellulose brushing lacquer in the form of a spray
Non-yellowing, baby-safe- and resistant to liquids and moisture
View on Amazon
Choosing a Food-Safe Wood Finish
Now that we have covered all our options, we can see that not all wood finishes work in the same way. Before starting your project, you will need to decide whether you would like a permanent sealant or a non-drying oil option. This will still protect the surface but will need to be re-applied every so often in order to maintain the durability of this product. If opting for a permanent surface sealant, then this will take more time to apply and cure correctly.
How Safe Are Food-Safe Wood Finishes?
Thankfully, we live in a time of convenience and health awareness. More and more brands and products are going natural or replacing chemicals with alternative ingredients. The same can be said for your food-grade wood sealants and finishes. If you are ever unsure, reading the labels should clarify whether your product is safe for your intended use or not.
Some wood finish options are naturally more harmful than others, including lacquer, varnish, polyurethane, and some oil options such as linseed. Not all of these are made for use in kitchens and other areas that require them to be food safe. To avoid any issues, make sure your product specifies this requirement on the bottle.
Some people feel that you can use a chemical product on your surfaces, and it will not be harmful once it is dry. This may be the case, but based on the product you have used, these will have different curing times. It is not enough to wait till the surface is just touch-dry; there should be no odor left on the surface and it should be left for at least a month to be sure it has correctly cured.
So, while it may be doable, it is always recommended to read your labels and rather be safe than sorry. When choosing a food-grade wood finish, be sure that it specifies this on your product.
How to Apply Your Food-Safe Wood Finish or Sealant
By now, you will have chosen the perfect food-safe wood finish for your particular project. However, not all of these finishes and sealants can be applied in the same way. The method for applying an oil finish is different to that of applying lacquers and varnishes.
Applying a Food-Safe Oil Finish
Here, we will walk you through a tutorial for applying food-grade oils to your wooden surfaces. This method is ideal for use with any of the above oils we discussed.
Be sure to wear some protective gear while you work, even if it is just a pair of gloves. This will protect your skin.
Read your product's packaging as to how much oil to use. Based on your preferred medium, application ratios will vary.
Apply the stipulated amount either directly onto your wooden surface or onto an old rag or tack cloth.
Now, smear your oil into the entire surface using the cloth. Again, follow your product instructions to see whether you are required to rub it in or simply apply it over the surface.
Leave the oils to be absorbed into the wood for about 20 minutes.
Using your rag, wipe off the excess from your surface.
If you would like a thicker layer, you can add more once the initial application has dried.
Sanding in-between oil coats can be beneficial in providing a smoother, more natural finish.
Applying a Food-Safe Wood Sealer and Varnish
Now that we have discussed the method for applying oils as surface sealers, let us take a look at using some of the more permanent and durable options. If you have decided to use shellac as your food safe wood sealer, then keep in mind that it will not hold up well on areas prone to moisture. If you would prefer to use a food-safe polyurethane product, then be sure to apply a sealant over it for added protection.
Be sure to check your product for the manufacturer's directions.
If using a brush-on sealant, always use clean paintbrushes when starting a new job.
Clear and wipe your surface before starting.
Start by applying your sealant along the wood grain, being careful to apply an even coat.
Leave this to dry for a few hours or as otherwise stated on your product.
Sand your surface once the first layer has dried completely and wipe it down again.
Add another coat and wait for that to dry. Once your surface is done, it is up to you to decide whether it requires another coat or if it would do better with an added sealant over it.
Discarding Materials
Before we leave you, the topic of properly discarding your painting materials should be addressed. When using wood finishes, we often use an old rag or another piece of fabric to easily work the medium into our surface. The trouble here is that many people are not aware of the risks of keeping these rags and not correctly disposing of them.
Some of the finish options we mentioned above contain alcohol or oils which are flammable. Allowing these substances to soak into your materials means a greater risk should they be exposed to any sort of warmth or heat. Sometimes leaving one of these lying in a cupboard or other enclosed space can lead to spontaneous combustion. This would be a terrible way to end your project.
In order to properly contain these, it is best to leave them open to dry once you are done using them. Then, after a few days, you can dispose of them safely, knowing that there is no chance of anything going up in flames.
Frequently Asked Questions
Why Do I Need to Use a Food-Grade Wood Sealer?
When revamping your kitchen area or other areas where people will be in contact with food, it is very important that your surfaces do not contain toxic chemicals. Food-grade or food-safe sealers and varnishes come in different varieties and can be applied to surfaces, utensils, tables and chairs, salad bowls, and chopping boards.
Is Tung Oil Food Safe?
This is one of the safest natural options for sealers out there. This oil is made in China and comes from the seeds of the tung tree. It is a highly durable option when you need a sealant and will protect your surface from water and other elements.
What Are Options for Food-Safe Clear Coats?
Natural options for food-safe clear coats include oils such as coconut, beeswax, or mineral oil. As smooth and glossy as these solutions are, they are not permanent and will not dry on your surface. These are usually used to condition and revive wooden pieces. Permanent clear coat options include varnishes, lacquers, and polyurethane sealants.
Having covered all the options you could possibly choose from, we hope you are more confident in picking and applying a food-safe wood sealer.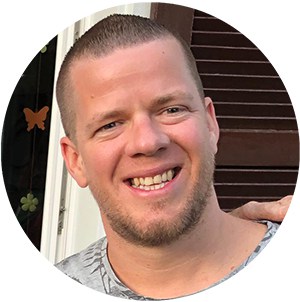 I have been into woodworking since 2005 and woodturning since 2011. Because of my love for wood and woodworking, I started woodhappen.com to teach other enthusiasts about how to finish and seal wood, the best woodworking tools, the different types of wood, and everything else related to woodworking! Read more about me here.