Best Butcher Block Finish – All you Need to Know
The process of preparing a butcher block is interesting and beneficial to the overall look of your home. There are several methods for making a butcher block finish top layer or coat, such as using polyurethane or oil. You must pay a lot of attention to the type of wood, the nature of your project, and the outcome of what you want to accomplish. The main reasons for putting a finish on butcher blocks is to protect the surface, enhance the appearance of the wood, and ensure that the block is safe for food use.
Understanding Butcher Block Finishes
Wood has a lot of purposes within our homes, as it can be used for items such as decking, furniture, chopping boards, cutlery, and butcher blocks. You need to apply a finish to many wood items in order to enhance its appearance and improve its strength and longevity.
Butcher block finishes are usually used on kitchen counters so as to create an appealing and resistant coat against wear and tear. The type of wood used for butcher block finishes is very easy to maintain and clean.
A quality butcher block finish for kitchen use has to be resilient and tough against threats. It should be able to resist moisture, heat, chemicals, and damage from kitchen utensils. Butcher block materials come in different shapes, qualities, sizes, and options for you to choose from. When looking for the best butcher finish, it is advisable to consider the most durable and attractive option.
A butcher block is specifically used for displaying food or chopping food pieces. When you choose to use a butcher block for slicing and chopping food, make sure that you pick a material that does not have dangerous chemicals. Natural or chemical-free materials are a better option. Make sure you read and comprehend the manufacturer's detailed instructions about the product before purchasing.
Butcher Block Finish Options
There are so many types of butcher block finishes available on the market for you to consider. The best method to use when deciding on the best quality material is to keep all your options open. Then, compare and contrast the products. After a thorough comparison, you can pick a product that has more benefits than disadvantages. Butcher block products can be divided into two groups, namely polyurethane and oil.
Wood oil is highly reputable for being effective in protecting and enhancing butcher blocks. If you pick the correct wood type for oil, it will definitely produce an excellent and professional appearance. They also offer a protective coat that is resistant to wear and tear. The oil sinks deeper into wood, thus giving the wooden material a longer life span and a natural appearance.
Polyurethane coats for butcher blocks give wood the capacity to fight against moisture, excessive rough use, and other defects. Moreover, it improves the look of the wood to match the surrounding area, thereby offering a protective cover. Polyurethane requires a thorough background preparation to make the wood ready for the application process. The process involves rubbing the wood surface using medium-sized sandpaper. The polyurethane coat covers the whole wood surface, which is more of a disadvantage since you will not be able to see the butcher block directly.
Wood oil has many benefits not offered by polyurethane. For instance, it has natural qualities that are more conducive to the environment and health. Butcher blocks, like we mentioned earlier, are used for cutting and displaying food, and for this reason, they are required to be free of strong chemicals. However, oil-based butcher blocks need to be re-coated and maintained from time to time, whereas polyurethane-based butcher blocks tend to last longer.
If you want to know more about cleaning your butcher blocks, take a look at foodal.com for advice.
Our Recommendations for the Best Butcher Block Finish
We know that it is very difficult to pick the best product, especially if there are too many options available. The best approach will be to go for what you really like; this will save you money, time, and will allow you to produce professional-looking results. In this article, we have put together our top three products for butcher block finishes that will meet your requirements and expectations.
Best Overall: CARON & DOUCET Butcher Block Conditioning
This material is used for sealing and coating butcher blocks, cutting boards, and other wood items. It comes with a wax and cutting board oil that is produced entirely from natural plants. The oil is completely free from chemicals, which makes it environmentally friendly and safe for use.
The wax and oil have an advantage of giving the wood the capacity to resist wear and tear. The wax and oil collaboration provides wood with a long life span and an even coat that maintains and enhances the natural appearance. The oil penetrates easily and deeply into the wood, thus strengthening it and making the cleaning process easier.
Plant-based conditioning wood finish
Cleans and eliminates odors
Does not go rancid and easy to clean
View on Amazon
Pros
Resists wear and tear
Comes along with wax and oil
Contains natural ingredients
Improves the appearance of wood
Friendly to the environment
Cons
Excessive oil and wax mixture
Requires periodical cleaning and maintenance
Very costly to buy wax and oil
Best Mineral Oil: THIRTEEN CHEFS Food Grade Mineral Oil
This type of butcher block is produced from 100% mineral oil and it is a completely food-safe product. You can consider this product for all your wooden kitchen apparatus such as cutting boards, counters, and bowls. We recommend that you to use it strictly for decorating cutting and serving food platforms.
Oil minerals improve the wood appearance and capacity to prevent damages. It is very easy to apply, not difficult to use, friendly to the environment, and creates a strong coat for all wooden materials that need food-safe oil. The oil is very quick when sinking into wood. This acts as a way of moisturizing, preventing the wood from breaking, and maintaining the natural appearance of the wood.
Food-grade 

Pure USP mineral oil

Restores and protects wood
View on Amazon
Pros
Not difficult to apply
Enhances the natural beauty of wood
Resistant to rust, and wear and tear
Does not contaminate food
Protects the wood from warping
Cons
Drying and waiting time is very long
Deep wood knife cuts will spoil the wood
Best Polyurethane Finish: MINWAX Fast-Drying Clear Polyurethane
This wipe-on polyurethane by Minwax enhances the appearance of and offers a prolonged lifespan to your wooden butcher block. If you want to provide a durable and an excellent appearance, you can use polyurethane. This type is most suitable for food butcher blocks and chopping boards.
This product has a longer life span, an attractive appearance, and an excellent final coat surface. It is very easy to apply and clean and has strong adhesive qualities. When applying the polyurethane to the wooden surface, use your hands to spread the finish on the wooden platform. This helps in avoiding brush lines, knots and bubbles.
Provides lasting beauty and protection to interior wood surfaces

Highly durable coating for finished and unfinished wood protection

Dries quickly and is ideal for woodworking, furniture, floors, and more
View on Amazon
Pros
Very strong and has a long life span
Not difficult to apply
Has a water base and a natural quality
High level of flexibility
Can work with a variety of wood
Cons
Wood cut offs can mess up the food
Prone to yellowing
How to Finish Butcher Blocks
You can use a number of options when applying a butcher block finish. The type of finish determines how the butcher block finish will appear on the wooden surface. It is advisable to read the manufacturer's instructions for detailed information so as to be on the safe side. To be able to perfectly apply the finish, you need to follow the directions mentioned below.
Preparing the Surface
The background preparation is very important; thus, failure to do it properly will result in poor results. The process involves cleaning and sanding down the butcher block using a medium-sized piece of sandpaper. The reason for preparation is to get rid of old finishes, making the surface smooth and ready to receive a new application.
For an old chopping board, sand it until smooth and completely dry. Remove any dust and dirt particles by using a clean rag and water. If the surface is too dirty, you can use a hoover or a vacuum cleaner to remove all the dust particles. When you thoroughly complete every step mentioned above, you can begin to spread the finish over the surface.
Applying Mineral Oil
The application of mineral oil on butcher blocks is not a complicated process. The first stage of the process is to apply oil onto the wood surface. You can do this very easily by using a clean rag. Depending on the area you want to oil, you can use a floor brush or applicators. While applying, allow the oil to set for a certain period of time before you remove the surplus oil.
The reason for allowing a period of time for the oil to set is to allow it to sink deeply into the wood and dry completely. Before applying other coats, make sure the previous coat is definitely dry. You can apply a number of coats depending on your preferences.
Applying a Butcher Block Sealer
Another method of providing a protective coat to the butcher block is by sealing. This can be done by using lacquer, varnish, or polyurethane. The areas to which you can apply these sealing coats are ones such as cutting boards and counter tops. Some of the reasons for sealing are to provide a tough, resistant coat and to beautify the surface.
There are some options available in terms of tools that you can use to apply or paint the sealer on the wooden material. You can use a roller, foam brush, or paintbrush. Be sure to allow the setting time when painting in order to avoid brush lines or any form of defects. You should apply no more than four coats.
Maintaining the Butcher Block Finish
As a result of excessive use and kitchen pressure, the butcher block coat or top layer can develop defects. For example, it can be prone to wear and tear after some time. You can make sure the butcher block stays strong and in shape by doing regular maintenance such as cleaning and reapplying the top finish or coats.
For polyurethane or water-based sealers, you will need to redo the whole process. This means that you have to start off by removing the old finish using sandpaper, and then apply a new coat. For wood oil, you can clean the surface using a clean rag and then apply more coats of oil. Oils are very quick to dry, thus you have to reapply oil more often to maintain the appearance and prolong the life-span.
View our How to Finish a Butcher Block web story here.
Frequently Asked Questions
What Finish Works Best for a Butcher Block?
The most popular option is the use of mineral oil because it has a lot of advantages compared to other methods. For instance, mineral oil is very good at giving a good resistant coat. It is also food-safe and the finish gives the surface a highly professional and excellent look. However, there are several butcher block finish methods available for you to choose from.
Should You Seal a Butcher Block?
The best method to protect wood against damages, stains, drying out, and wear and tear is sealing. There are several methods of providing a sealing coat on wood, such as mineral oil. Mineral oil is food-safe, resistant to damages, and gives butcher blocks a beautiful appearance.
How Can You Make a Food-Safe Butcher Block Finish?
The best way to make sure the products are completely food-safe is to read and understand the manufacturer's instructions. There are quite a number of food-safe products available on the market, for example mineral oils, special cutting board oils, and tung oil. All of these are very food-safe, resilient, and extremely beautiful.
Can You Seal Butcher Blocks with Polyurethane?
Polyurethane has many advantages compared to other sealants. For instance, polyurethane has a long life span, a transparent look, and an attractive appearance. All of these qualities make polyurethane an outstanding sealant compared to other options.
How Do You Take Care of a Butcher Block Finish?
Maintenance of butcher blocks finish surfaces is all about restoring the old surfaces, cleaning, and keeping the surfaces moisturized. You can use mineral oil to add other protective layers, but make sure that you clean and dust the surface using a clean cloth before applying the oil.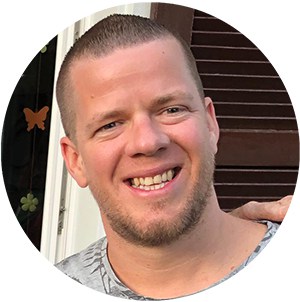 I have been into woodworking since 2005 and woodturning since 2011. Because of my love for wood and woodworking, I started woodhappen.com to teach other enthusiasts about how to finish and seal wood, the best woodworking tools, the different types of wood, and everything else related to woodworking! Read more about me here.