Best Exterior Wood Stain – Guide on the Best Outdoor Wood Stain
Applying a stain to your wooden furniture is a great DIY project for refurbishing and protecting your outdoor pieces from the elements. You can use a wood stain on all kinds of outdoor pieces, from furniture and decks to fences and doors. Increase the lifespan and beauty of your wooden pieces with ease when you apply a top-quality wooden stain.  
Get the Best Exterior Wood Stain for Your Outdoor Furniture
Wooden furniture and structures located outside will require a wood stain and sealer to aid in protection against the elements. Unstained wood is extremely vulnerable to sun and water damage, where it can fade in color and develop mold and mildew. You can prolong the life of your outdoor wooden items whilst refurbishing and improving its overall appearance by using the best stain for outdoor furniture.
Constant exposure to the weather means that you need to select a wood stain of a high quality so as to ensure the best possible protection for your wood. The stain you select will depend on a number of factors; from the type of wood you are coating to the amount you are willing to spend. We have compiled the most important information with regards to staining your outdoor wooden items to help you make an informed decision!
What is Outdoor Wood Stain Made Of?
Wood stains can either be oil- or water-based, although the former is the most common. Each type of stain possesses different features that may or may not be suitable to your particular project. Thus, it is necessary to have a basic understanding of each so as to make the right decision for your needs.
Oil-Based Porch Stain
These stains are usually made with a base of linseed oil, and require mineral spirits for thinning and cleaning. These stains penetrate the wood more deeply, resulting in a much richer color. Oil stains also have great adhesive and conditioning properties that prevent peeling and cracking whilst increasing durability and longevity.
While these stains may require a longer drying time of up to 48 hours, this means that the finish will be more even. A key disadvantage of oil-based stains is that they are more susceptible to water damage such as mold and mildew. Users should also note that stains made of an oil base are flammable when in their wet state.
Oil-based stains are ideal for coating wood that is frequently exposed to the weather, as its high durability makes it the best at withstanding severe conditions.
Water-Based Porch Stain
Water-based stains are an environmentally friendly option that produce fewer VOCs. Water stains are quicker to dry (within less than three hours), although this means that they are also more difficult to use. These stains are also much easier to clean as they can be thinned by using water.
Ironically, water-based stains are the best at resisting water damage, as they allow for greater air movement. This means that it does not trap water as easily, and prevents the onset of mildew and mold. However, they do not penetrate the wood as deeply as oil-based stains, resulting in less overall protection and durability.
Water-based stains are the perfect choice for quick and simple projects due to its quick drying time. This stain is ideal for woods that possess natural resistance to decay such as cypress and redwood.
Where to Apply the Best Exterior Wood Stain
You can use exterior wood stain colors on almost any wooden surface, especially those that are stored outdoors. You can apply a wooden stain to outdoor wooden furniture and pieces such as:
Siding,
Fences,
Porches,
Wooden furniture,
Doors and trims,
And decorative wooden items.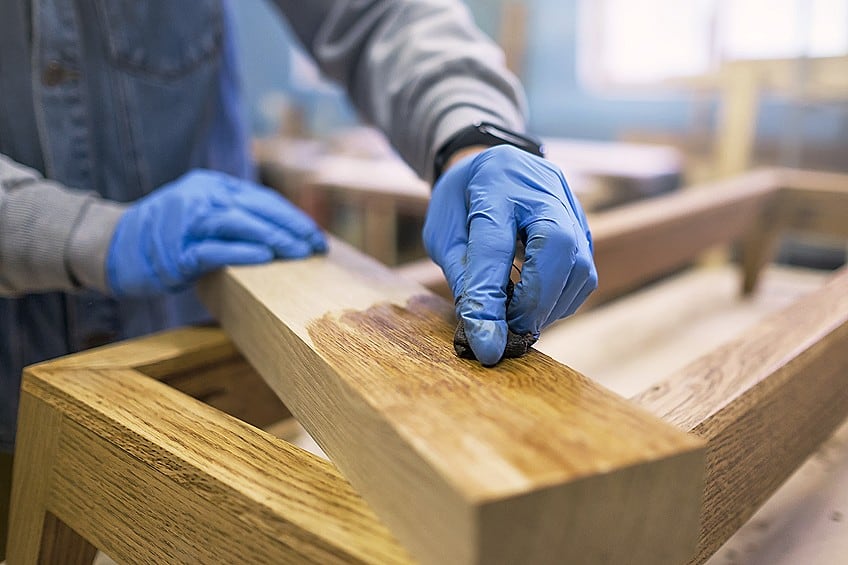 Types of Outdoor Wood Stain
When selecting your favorite exterior wood stain colors, you will find that these colors are available in different opacities. The opacity of a wood stain refers to the solidness of the color in addition to its overall protection and how long it will last.
Clear Toner
This stain is as close to transparent as is available, displaying just a slight warm hue over the natural color of the wood. Clear toner leaves behind no film on the surface, will not peel, and needs to be reapplied once annually.
Semi-Transparent
This is one of the most popular types of stain, as it imparts a noticeable wooden tint without obscuring the natural tone of the wood grain underneath. This type of stain should be reapplied once every two to three years.
Semi-Opaque
This type of stain is also referred to as being "semi-solid", as it will leave behind a strong tint that covers a significant portion of the original wood grain. You will need to apply a recoat of this stain every three to four years.
Opaque
This solid stain is the most durable and will offer the most protection to the wood due to its high level of pigment. Opaque stains will completely obscure the original wood and only need to be reapplied every four to five years.
Choosing the Best Exterior Stain for Your Wooden Porch or Furniture
There are a number of factors to be taken into consideration before purchasing a stain for your outdoor-based wood.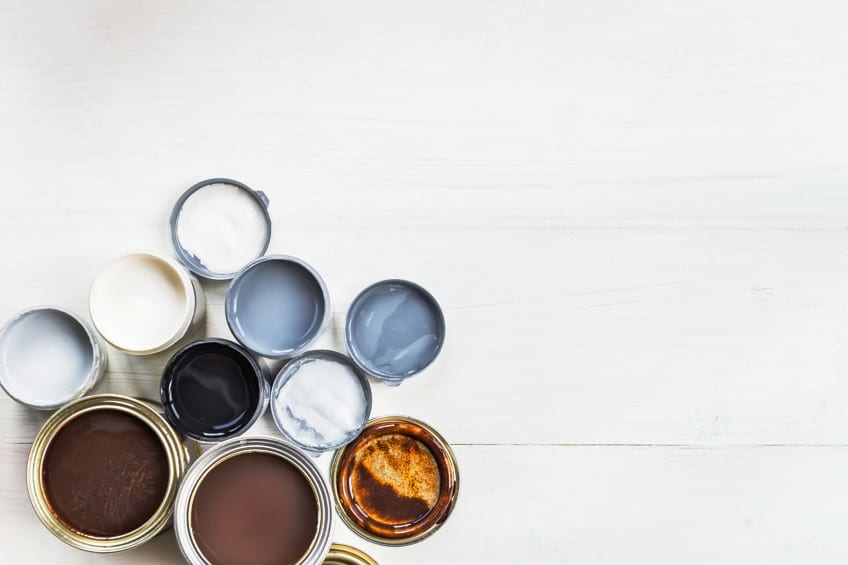 Type of Wood
The type of wood will govern as to how well the stain will be absorbed. Softwoods such as pine and conifers have a high absorbance rate, meaning that the stain will appear darker within as little as one coat.
Hardwoods such as cherry or oak, on the other hand, are less absorbent. These woods will require multiple coats in order to achieve a darker color.
You can ascertain what type of wood you are working with by inspecting the grain. Where hardwood grain is even and consistent, softwood grains appear to be blotchy and uneven.
Type of Exterior Stain
The type of stain you choose will depend on the type of wood you are using and the type of protection you require. Stains can be either oil- or water-based, and are available in four different color opacities. The foundation of your stain in addition to how solid the pigment is will determine its strength and how long it will last before requiring a new coat.
Surface Coverage
Typically, you will spend less on wood stains that you would on paint. However, it is important to think about the total amount of surface that needs to be covered. The amount of coverage provided by a stain will depend on the brand, although generally a gallon of stain should cover a minimum of 100 square feet with an initial coat. You should prioritize quality of quantity, however, as it is better to spend more on an additional coating that to apply a stain of a subpar quality.
Exterior Wood Stain Colors
There are many wooden-themed colors from which to choose when selecting a stain. The opacity of the stain's color is based on whether the stain is a clear toner, semi-transparent, semi-solid, or solid. This opacity is also directly linked to the overall durability of the stain and how long it will last before needing to be reapplied.
We suggest choosing a color that complements an unchanging feature of your home, such as the pigment of your walls or roof. Alternatively, you can choose a color that is similar to that of the original wood so as to achieve a more natural aesthetic.
Costs
While the best stain for outdoor furniture is not cheap, you are paying for a product of a superior quality that should cover a good amount of surface area. It is best to splurge on quality here, as this means that there will be less maintenance in the future.
Our Suggestions for the Best Exterior Wood Stain
There are a number of quality stain brands available on the market, the variability of which can be quite daunting to beginners. We have selected the three best brands to help you refurbish your outdoor wooden pieces as successfully as possible.
Best Value: READY SEAL Exterior Wood Stain and Sealer
The Ready Seal brand has been found to be one of the leading choices when it comes to selecting the best exterior stain.
Requires no primer or wet-line application

Requires no diluting or thinning prior to spray application

Easy maintenance, no sanding or stripping needed for re-application
View on Amazon
One of the key advantages of this stain is that you do not need to prime the surface before application, making the process that much easier.
This stain is best used on all exterior wooden surfaces such as fences, decks, and outdoor furniture.
This semi-transparent, oil-based stain can be applied at any temperature and has an effective, penetrative sealer built in to protect against water damage. At the initial application, the wood stain will appear to be darker at first, although the true color will show after approximately two weeks. This product is available in the wooden hues of Natural Cedar, Golden Pine, Mahogany, Redwood, Burnt Hickory, Dark Walnut, Light Oak, and Pecan.
Pros
All-in-one stain and sealer
Easy application
Protects against water, mold, mildew, and UV light
Superior color and finish
No priming or sanding is required
Deep penetration
Stain will not run or streak during application
Cons
Cannot be thinned
Difficult to clean
Cannot be applied to newly painted, sealed, or stained surfaces
Premium Choice: DEFY Extreme Semi-Transparent Exterior Wood Stain
Those looking to purchase a premium-quality wood stain that is also environmentally friendly need look no further than Defy's Extreme Semi-Transparent Wood Stain.
Water-based, eco-friendly, and semi-transparent wood stain

Strengthened with zinc nano-particles for UV protection
Durable and easily maintained
View on Amazon
This semi-transparent, water-based wood stain offers a high-end product that will leave a durable, matte finish that is highly resistant to weather and surface damage. In fact, the resin used in this stain formula contains nanoscopic zinc particles that will prevent the onset of mold, mildew and water damage.
This is the best stain for outdoor furniture, porches, and pressure-treated woods. However, you will need to remove any previous stains that are not of the same brand, making Defy ideal for brand-new projects.
You can ensure a lasting color with this brand due to its fade-proof formula. You will have the choice between a selection of colors, such as Butternut, Natural Pine, Driftwood Gray, Cedar Tone, Light Walnut, Redwood, and Crystal Clear.
Pros
Eco-friendly
Fade- and UV-resistant
Highly durable
Easy to maintain
Requires little to no sanding or stripping
Easy to clean
Cons
Application of Defy Wood Brightener required prior to staining
Difficult to apply
Cannot be applied over pre-existing stains
Budget-Friendly: MINWAX Wood Finish Penetrating Stain
If you are looking to stain your porch or outdoor wooden furniture without breaking the bank, then you should try Minwax Wood Finish Penetrating Stain.
Available in 28 beautiful colors

Ideal for staining unfinished wooden furniture and surfaces

Penetrates deep into wood fibers to highlight the grain
View on Amazon
This semi-transparent, oil-based stain can be applied to all types of wood, bare or stripped. With a deep-penetrating formula that highlights the original color of the wood whilst adding an attractive matte finish, Minwax Wood Finish Penetrating Stain is ideal for all kinds of wooden projects.
This stain can be used on all kinds of wooden furniture, both indoors and outdoors. It is especially ideal for restoring old, weathered wood. 
This cost-effective product has the highest range of colors, boasting up to 29 different wooden shades. This stain is lighter than many other brands, however, which means that you may require several coats.
Pros
Can be used on both indoor and outdoor wood
Large color selection
Accentuates the natural grain of the wood
Easy to apply
Quick drying time
Cons
Requires more coats due to a lighter consistency
Odor may linger for a few days
Longer drying time for pre-stained wood
How to Apply Your Wooden Exterior Stain
Now that you know what to look for in a wood stain, it is time for you to prepare your wooden surface and begin the application process. For larger projects such as staining your porch or a fence, you will need a wide brush of a good quality. Smaller outdoor projects will require a regular or foam brush for applying the stain.
Preparing the Surface
You cannot apply your stain until your wooden surface has been prepared sufficiently. To begin, you should clean the surface as thoroughly as possible. We suggest starting with a basic sweep or brush over, after which you can add a mild detergent so as to destroy any greasy, oily, or fatty particles on the surface. Leave the detergent to sit for between 10 and 15 minutes and then use a hose or power washer to rinse it off. Scrub the surface once more to ensure that it is completely clean.
Now, you will sand the surface to level and even it out. Here, it is important to note how sanding affects the absorption of the wood. Thus, using a lighter grade of sandpaper will result in a smooth, less absorbent surface and a lighter color, whereas coarser grades will result in a rougher surface and a darker color. You should ensure that you sand in the same direction as that of the wood grain for an even look.
Tip: We suggest using a pre-stain conditioner on softwoods to allow for better absorption and an even finish.
Safety Precautions
Wood stain is toxic, so it is important to wear appropriate safety attire such as rubber gloves, old clothes, and a mask to filter out any harmful fumes or VOCs. Try to work in an open, ventilated area so as to lessen the effect of the stain's fumes. Oil-based stains are flammable when they are wet, so be careful when working with this material and ensure that all rags are completely dry before throwing them away.
Applying the Exterior Stain
You can follow these simple steps to apply a stain to a wooden surface:
Use a brush to soak up the stain and begin applying it to the wood in the same direction as the grain. Apply a generous amount and allow it to sit on the surface for up to 15 minutes. The longer you leave it, the more time the stain has to absorb into the wood. Hardwoods will require multiple coats of stain due to their low absorption rate.
After an appropriate amount of time, wipe the excess stain away with a clean cloth in the direction of the wood grain. Depending on the size of your project, you may require a few rags to achieve this.
Allow a drying time of four to six hours before applying an additional coat. This second coat should be applied in the same manner as the first: brushed onto the surface in the direction of the wood grain, left to absorb for several minutes, and wiped away in the direction of the grain once again.
Once you have applied your desired number of coats, leave the stain to dry completely. This length of time may vary between brands and can depend on the surrounding temperatures and conditions of the piece. Expect a drying time of a few hours for water-based stains and as long as 24 hours for stains of an oil base.
Apply a sealant if desired. Allow a minimum drying period of 24 hours before trying to handle the piece.
Tips for Applying Exterior Stain to Wood
Always apply the stain in same the direction as the natural wood grain.
When working with oil-based stains, allow any used rags to dry completely before discarding as they will be extremely flammable.
We suggest using a pole sweeper to apply the stain instead of kneeling to prevent back pain.
Frequently Asked Questions
Should I Paint or Stain My Porch?
Many people may opt to paint their decks due to the perception that this method is easier and cheaper. While most paints offer UV protection and require little maintenance, they also cover the natural grain of the wood and are likely to trap moisture.
Wood stains, on the other hand, work by penetrating and sealing the wood so that it is resistant to peeling, chipping and cracking. Quality wood stains help to protect against weather damage and are extremely durable. You can opt for a solid color, which will also protect against UV light, or for a semi-transparent hue so as to enhance the appearance of the natural wood.
Which Stain Types Last the Longest?
All wood stains need to be reapplied after a period of years, although the type of stain will determine how frequently this needs to be done. You will get the longest use out of a solid wood stain, as these will last for up to four or five years before needing to be reapplied.
When Should I Reapply the Wood Stain?
The opacity of your wood stain will determine how often it needs to be reapplied. In general, stains of a good quality should last for approximately three years before required a fresh coat.
How Many Coats of Wood Stain Should I Apply?
Softwoods have a high level of absorption, and so retain the color of the stain much better. Thus, you will not require more than one substantial coat of stain for softwoods such as pine and firs.
Hardwoods are less absorptive, and therefore require a minimum of two coats to display the color of the stain prominently.
How Long Do Outdoor Stains Take to Dry?
The drying time of a stain will vary depending on the type and the surrounding weather conditions. Typically, water-based stains will dry within a period of two to three hours, whereas oil-based stains take more than 24 hours to dry completely.
Do I Need Both a Wood Stain and Sealer?
While you do not need to seal the wood once it has been stained, this extra step will provide that much more protection. Where stains will impart a colored hue onto the wood, sealers are transparent and simply help to provide further protection from scratches, water, UV-rays, and mildew.
How Can I Maintain My Porch Stain?
To maintain your wood stain, we suggest that you apply a coat of oil to the surface once or twice a year.
Can I Sand the Wood In-Between Staining Coats?
Some people find that sanding in-between staining coats provides a smoother, more even finish. You can lightly sand the surface of most stain coats once they have dried with a 220- or 240-grit piece of sandpaper. Do not sand the final coat of wood stain.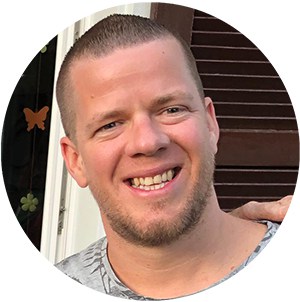 I have been into woodworking since 2005 and woodturning since 2011. Because of my love for wood and woodworking, I started woodhappen.com to teach other enthusiasts about how to finish and seal wood, the best woodworking tools, the different types of wood, and everything else related to woodworking! Read more about me here.