How to Paint a Deck – Perfect Deck Painting Results
Decks are where the fun begins at pool parties, barbeques, or when just relaxing and enjoying those cool summer evenings together with family and friends. However, if your deck has been neglected and shows serious signs of wear and tear, you may feel embarrassed about inviting friends and family around. So, it may be time to revamp your deck, get rid of those unsightly stains and faded appearance, and give your deck a brand-new look. Once done, this will not only add value to your home but will also give you hours of fun and enjoyment. Choosing the best deck paint for your project can be a daunting task, as there are many types of paint or stain on the market. But fear not, in this article we will be helping you to get the absolute best product to suit your needs.
What is Deck Paint?
You can use either a paint or a stain on your deck, depending on the whether or not you want to display the original grain of the wood. You will have a greater variety of color choice when selecting a deck paint, but keep in mind that this will completely cover the natural appearance of the wood. Alternatively, you can use a deck stain to color your wood without obscuring its natural grain.
Deck Paint
The quickest and easiest method to refresh your deck is to give it a new coat of paint. The deck paint will hide all flaws in your wood surface but will also hide the unique beauty of the natural wood. Deck paint can hold up against all weather conditions, including UV rays. This deck finish can last for about 10 years, after which time you will have to think about painting it again.
By using deck paint, you can choose from a variety of different colors from which you can create your own unique combinations. You can apply the paint by using a paintbrush, which gives you more control over the final finished product, but a paint roller will get the job done quicker and will apply the paint more evenly.
Be certain of your decision before painting your deck, as a painted deck is more permanent. This means that once you have used deck paint, you will have to continue using deck paint, as it is very difficult to go from paint to stain. It is, however, much easier to go from a stain to a paint.
Deck Stain
Many homeowners prefer to use a deck stain for their deck surface, as it allows the original texture, color, and grain of the wood to stand out. You will then have to select between a clear sealer, a solid stain, or a semi-transparent stain. It is worth noting that some people also refer to deck stains as deck paints, so be sure that the product you are choosing is in fact a stain and not a paint.
Deck staining is not as long-lasting as deck paint, as the deck will have to be re-stained every few years. Staining will also not hide all the flaws in your wood, so if you have a well-weathered old deck, we suggest that you rather use deck paint. Stained decks provide a less slippery surface than painted decks, so if safety is an issue then we suggest that you rather choose a deck stain for your project.
Solid Stains
These are opaque wood stains that give a darker appearance to the natural wood texture or grain. Solid stains are the most similar to a painted surface.
Semi-transparent Stains
These wood stains will give you a trace of color whilst still allowing the natural wood grain to stand out. It also gives you total protection against weather conditions, including UV rays.
Clear Sealer
You can use this type of sealer when your deck is made of redwood or cedar, as it brings out the natural grain and texture of the wood. Not all brands of clear sealers contain UV and fungicide protection.
How to Use Deck Paints
Refurbishing your deck not only adds value to your home but makes you feel good when inviting your friends and family over for an enjoyable time together. So, here are a few steps to show you how to go about painting your deck: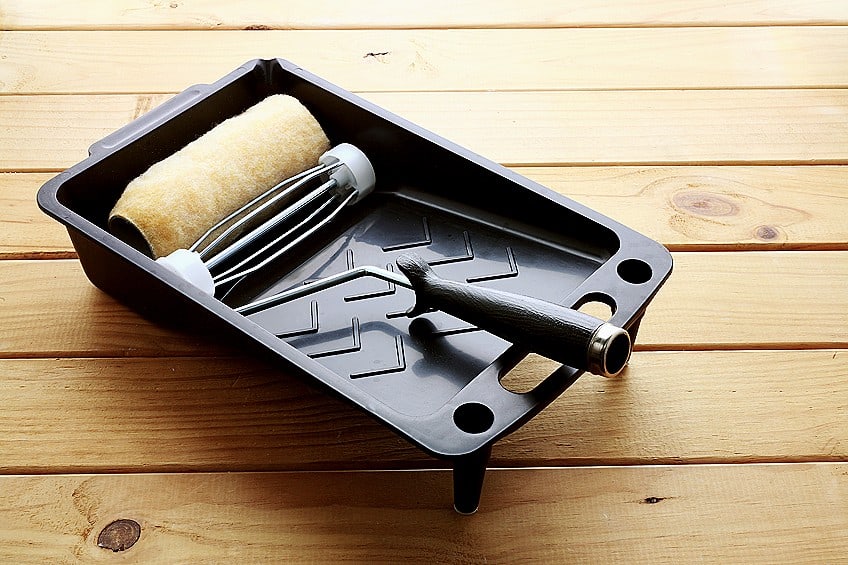 Preparation Before You Start
Decide if you want to use wood stain or paint. This decision is based on whether you want to cover the wood or bring out the wood grain. Thus, if your deck is old and full of marks and cracks, it is better to cover it using deck paint. But if your wooden deck is in good shape and made from a good quality wood, you may want to use a wood stain that can bring out the wood's natural beauty.
You will then need to choose whether you want to use an oil- or water-based product. In addition to this, if you chose to use wood paint, you will first need to choose a color that will match your surroundings. On the other hand, if you have decided to preserve the natural beauty of your wood deck using a wood stain, you need to decide if you want to use a clear or semi-transparent stain.
Prepare the wood surface. This may require some sanding, scraping, or power washing to make sure all the old marks, stains, dirt, and dust have been completely removed. This will enable the new wood finish to adhere properly to the surface.
Repair any loose or damaged boards and fill up any cracks. If you notice any water or rust marks, apply a stain remover to those areas.
Allow the wood to dry out completely. To be perfectly safe, we recommend that you leave it for at least 48 hours to dry thoroughly.
Applying the Deck Coating
Make sure your weather conditions are perfect. You do not want to paint the deck and then have it rain later on. It is best to wait until the sun has moved and the surface is not in direct sunlight.
Use masking tape and cover any areas you do not want the paint to reach, such as walls or windows. Make use of plastic sheeting where necessary.
You will need to use a brush first to trim all the difficult-to-reach places.
You can then apply the first two coats using a roller or sprayer. Make sure the paint is dry before you apply the second coat.
Allow for the surface to dry overnight. We suggest you leave the newly painted deck for about 48 hours before you start walking on it or moving furniture over the surface.
Choosing the Best Deck Paint
Now that you have decided to paint your deck, you need to choose the right type of deck paint that will suit your project. Another factor you have to consider is whether to use oil- or acrylic-based paint.
We suggest that if you have painted or stained your deck before, you stick with what has already been applied. This means that if you have used an acrylic- or oil-based paint or stain, you stay with that specific choice. These two types of paint do not go very well together and could result in a total mess, in which case you may then need to remove the old finish completely and apply a new one, which could cost you. For example, applying an oil-based paint over a water-based paint will ruin your end-result.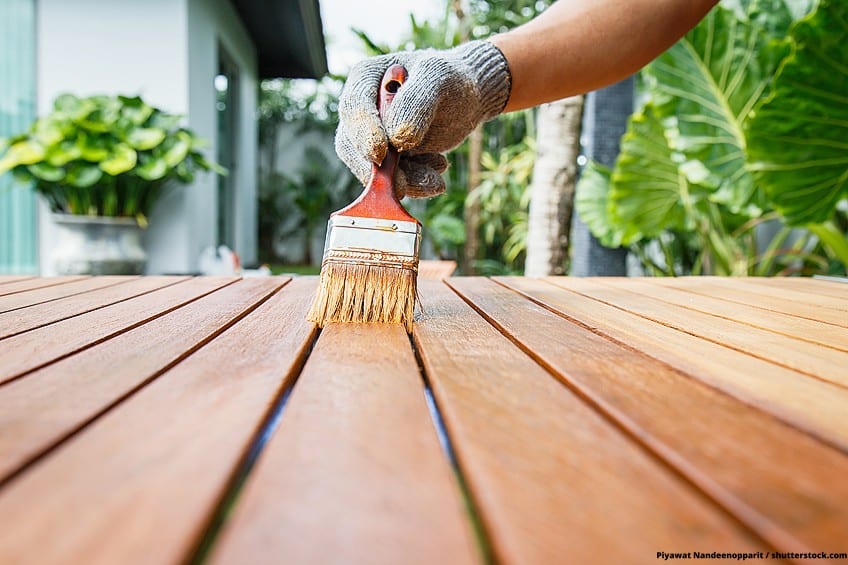 Oil-Based Paints
These types of coatings are normally used by beginners. Oil-based paints penetrate the unfinished wood surface to give you a flake-free coating that will generally last for around two years. They provide an excellent cover for your wooden deck as they penetrate right into the wood, leaving you with a water- and UV-resistant surface.
You can apply it using a brush or pad applicator, and it should not leave any streak lines. A great benefit of using an oil-based coating is that it normally only requires one coat and can be kept clean using soap and water.
However, these coatings have very high volatile organic compound (VOC) levels due to their containing some harsh chemicals. Oil-based paints also take a lot longer to dry before you can use the deck. This poses a problem for those who are living in a high-humidity and rainy climate, as it may take up to 72 hours for the deck to dry completely, during which time there can be no rain.
You should also bear in mind that oil-based coatings last for a comparatively shorter time than water-based paints before you will have to redo the surface. They also contain resins that make them susceptible to mildew and mold.
Water-Based Paints
Water-based paints, on the other hand, are safer for you and better for the environment. Also, where children and pets are involved, they contain far fewer VOCs. They are also excellent when it comes to preventing mildew and mold, and many brands also offer UV protection as well as traction boosters. It is much easier to replace the brush with a pump sprayer when you apply water-based coatings, which will then dry within a period of four hours.
However, you may have to apply several coats of this paint. Water-based coatings also do not penetrate the wood surface, which could cause it eventually to peel and chip off.
Whatever your choice, the paint or stain product should specifically say it is for exterior use or to be used as a deck paint. These are the best options, as they can withstand harsh environments. Interior paint does not have the qualities needed to protect your deck surface.
Frequently Asked Questions
Is It Better to Use Oil- or Water-Based Paint?
The choice between and oil- or water-based paint will depend on what you want to do. If your deck is situated in direct sunlight, it will be advisable to use a water-based paint, as it offers you a UV-resistant and protective coating. But if your deck is situated in a humid and damp area, oil-based paint is good, as it offers you a mildew- and mold-resistant coating.
Can You Rely on Coverage Rates?
Most of the deck paint manufacturers will give you a fairly accurate cover rate for their products. You must remember, however, that if your wood is very porous it will make a difference as to the square footage you can cover.
Are VOC's Harmful?
These are volatile organic compounds, which can damage the environment and are a health risk. These form a part of the composition of all oil-based paints. You can protect yourself against VOCs by wearing a respiratory mask and protective goggles.
What is the Best Deck Paint for Areas That Have High Traffic Flow?
For these conditions, we suggest that you use a superior-quality water-based stain, as oil-based stains are more likely to deteriorate faster. However, water-based paints are more prone to peeling and chipping. As shown above, the Defy Extreme product is specially designed to protect such surfaces.
Should I Use Deck Paint or Stain?
This is a matter of preference. If you want the natural grain or texture of the wood to stand out, then use a deck stain, but if you want to have a smooth and different colored surface, you should use deck paint.
What Lasts Longer – Deck Paint or Stain?
Deck paint usually lasts longer than deck stain, but this is subject to the weather, the amount of traffic it takes, and also how well you take care of it.
Do You Need to Apply a Primer When Using Deck Paint?
This varies according to the brand of paint you are using, as some brands require you to use a primer and others do not. You should follow the manufacture's directions every time.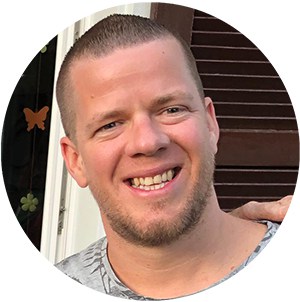 I have been into woodworking since 2005 and woodturning since 2011. Because of my love for wood and woodworking, I started woodhappen.com to teach other enthusiasts about how to finish and seal wood, the best woodworking tools, the different types of wood, and everything else related to woodworking! Read more about me here.