Best Glue for Metal to Wood – A Guide on Gluing Metal to Wood
Times have changed. Gone are the days where you would buy hundreds of nails and bolts at the hardware store to attach metal to wood. In this day and age, thanks to science and chemistry, you do not have to worry about those problems anymore. Various companies and brands have specially formulated excellent adhesives to help you effortlessly glue wood to metal.
Best Glue for Metal to Wood
You might have encountered the problem of your wood getting damaged as a result of your endless efforts to bolt metal to wood for your DIY projects. But which type of glue should you purchase? There are so many, and you cannot spend the whole day tracking down the best glue for your DIY projects because time is running out and you need to finish your project ASAP.
Well, that is where we come in. We are going to make your life easier by providing you with easy-to-understand and quick methods of finding the best metal-to-wood glue money can buy!
The process of gluing metal to wood can be complicated, since metal and wood have different porosities and densities. In layman's terms, it is difficult to glue almost anything to metal. That is why it is important to purchase the best adhesive that will work perfectly well. The first thing you need to do is to read the label carefully and accurately. When reading the labels, be on the lookout for the following properties:
Flexibility
Tensile strength
Temperature
Water-resistance
What Is the Best Metal-to-Wood Glue?
We have selected three of the best wood to metal glues you can choose from to help you with your DIY tasks. Each brand of glue comes with its pros and cons so you can compare all of them and choose the best one for you.
Best Overall: LOCTITE Ultra Gel Control Super Glue
For the past 50 years, the Loctite company has developed and manufactured the best adhesives and sealants money can buy. All their products are created to ensure that their customers get the best quality DIY results. Their products have been trusted for many years, so you do not have to worry about anything. You can use the Loctite Ultra Gel Super Glue on metal, wood, plastic, leather, paper, ceramic, and rubber surfaces.
The Loctite Ultra Gel Super Glue is perfect for fixing any broken objects in your home and at work. You can also use it for any arts and crafts projects that you might want to try out. This glue sets almost immediately (within just one minute) and is rubber-toughened, which therefore makes it possible to glue objects together quickly and easily. The one-minute-long working time will give you just enough time to pick and align all the parts you need to glue together before the glue dries and sets.
Rubber-toughened and durable

Resists impact, shock, vibration, and temperature extremes

Glue dries clear and sets without clamping
View on Amazon
What is great about this glue is that you can use it on outdoor objects and furniture. That means that it is not limited to the indoors and that it has great strength and protection for all your furniture and other important objects. In fact, this superglue can resist vibrations, shock, extreme temperatures, impact, moisture, and harsh weather conditions.
In addition to its durability, this glue has a flexible bond that ensures the glued parts do not break once they have dried. The glue does not require you to clamp the pieces together and it prevents any dripping or leaking once the parts have been glued together. This product can also be used as a filler.
In terms of packaging, this fantastic glue comes in a squeezing container that helps you to control the amount of glue you need to use. The container is also air-tight, which prevents the glue from drying or setting inside the container. The screw-on cap stops the nozzle from clogging and keeps the glue sealed with no potential for drying.
Pros
Suitable for most materials
No need to clamp pieces together
Side-squeeze design allows for maximum control
High adhesion properties
Easy to use and easy to apply
Moisture-resistant
Impact-resistant
Flexible when cured
Cons
Thick consistency makes it difficult for to spread
Best Premium Choice: GORILLA Two-Part Epoxy Adhesive
The Gorilla Two-Part Epoxy is one of the strongest adhesives you can use for your DIY project. It contains a two-component epoxy that consists of a resin and a hardener, which you will need to mix together before you can use them. This product comes in a syringe that has two barrels in order to keep the resin and hardener separated. The reason they are kept separated is to prevent the adhesive from setting when it is not in use.
Strong, permanent, fast, and gap-filling

Great for multiple surface applications

Dries Clear and ideal for clean, easy finishing
View on Amazon
This product is resistant to water and solvents and can resist various weather conditions, either cold or hot. This product is ideal for household and automotive repairs and sets within five minutes of application. You can use Gorilla's two-part epoxy on materials such as wood, tile, plastic, ceramic, and so on. It is considered by many as the best option you can use in your DIY projects and repairs.
You can rest assured that this adhesive is perfect for indoors and outdoors. Most would say it should preferably be used for the outdoors, however, as a result of its great durability. This product is perfect for permanent and fast gap fillings and can handle temperatures ranging from 50 to 100 degrees Fahrenheit (10 to 37 degrees Celsius).
Pros
Easy to use
Highly durable and resists moisture
Clear finish when dry
Can be used on various surfaces
Can be used both indoors and outdoors
Cons
Only works effectively on aluminum and steel metals
Best Value for Money: J-B WELD KwikWeld Steel-Reinforced Epoxy
J-B Weld's KwikWeld epoxy can be used on various materials like metal, plastics, and so on.  When this adhesive has set, you can sand, drill, tap, and shape it. It is a steel-reinforced epoxy glue that has a high bonding strength of at least 2424 PSI. It can also resist temperatures of up to 300 degrees Fahrenheit (148 degrees Celsius) and is effective on both small and large projects. It is regarded as one of the strongest bonds all over the world.
Provides 

strong, lasting repairs to multiple surfaces

Can be tapped, filled, sanded, molded, and drilled once cured

Steel-reinforced, waterproof, and resistant to heat and chemicals
View on Amazon
KwikWeld is an epoxy product, so you will have to hand-mix the hardener and resin components together in a mixing ratio of 1:1. This adhesive sets quickly within a period of just six minutes and will cure fully within six hours. What is great about this product is that you can use it in the household, on automotive items, outdoor equipment, plumbing, marine items, and lots more. Its versatility in application can be attributed to its high level of durability and resistance once properly cured.
Pros
Resistant to extremely high temperatures
High tensile strength.
Effective on most materials
Easy to mold and can be worked on after curing
Fast setting rate
Waterproof.
Resistant to acids and chemicals
Cons
Can be tricky to combine the resin and hardener properly and precisely
Tutorial Guide on the Application of Glue for Metal to Wood Surfaces
We will now show you how to bond metal to wood without any unwelcome mishaps. Always ensure that the glue you will be using states that it can be used to bond metal to wood. Any other type of glue will not work. All the products we have reviewed can bond metal, wood, plastics, ceramics, and many other types of material.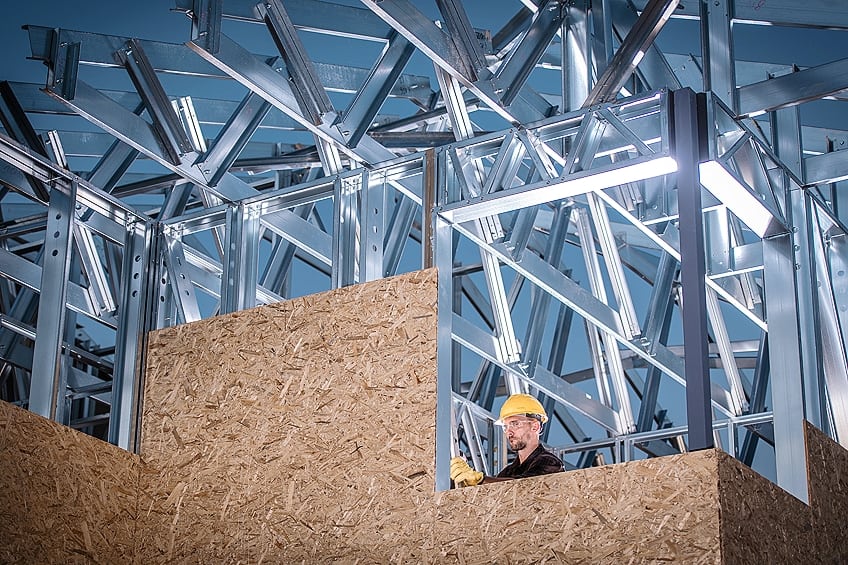 Preparation
You must make sure that your workspace is clean, neat, and dry for you to work well. Do not forget to have all of your equipment and parts in handy. You must also clean the surface of the wood parts you are going to use. You can tape over certain areas of the wood that you do not want the glue to spill on. Clean the surface of the metal parts you are going to use and use a 120-grit piece of sandpaper to roughen the parts, thus providing a suitable surface onto which the glue and wood will adhere.
Application
Below is a simple yet effective guide that we have prepared for you on how to use super glue and epoxy glue so as to bond metal to wood. Both types of glue have different applications and it is important that you get each right for your DIY projects in order to have the best outcome.
Super Glue
Gently squeeze the sides of the bottle or container.
Take a small amount of the glue and apply it to one surface.
You can bond metal to wood by fixing the two substrates together for approximately one minute.
Let the piece stand for approximately five minutes so as to allow the bond to set.
Epoxy Glue
In an old container, make a 1:1 mixture from the resin and the hardener.
Apply the mixture onto the surface within five minutes before the epoxy begins to harden.
You can join the metal to the wood and clamp the two parts together if necessary.
Leave the glue to set for 30 minutes. It should cure within 24 hours.
Frequently Asked Questions
Can Metal Be Bonded to Wood?
Yes, but certain preparatory steps must be taken first. Make sure that all the surfaces of the parts you will be gluing together are clean. This is done to ensure that the glue works effectively and dries or sets perfectly. You can then apply the glue as directed on the label and leave the glue to set properly.
Can You Bond Wood to Metal Using Ordinary Glue?
No, ordinary wood glue is used for gluing wood parts together. Using this glue will make it difficult for you to glue the wood to metal. You would be wasting your time and money by buying ordinary wood glue.
Can I Use Superglue to Glue Wood to Metal?
Yes, you can. Superglue sets very quickly and is the ideal glue for fixing various objects. Super glue works well if you are doing home repairs or arts and crafts projects. However, for professional and large projects, epoxy glue is your best bet.
Why Is My Superglue Not Bonding?
If the surfaces of the parts you want to glue are not clean before you glue them together, this could cause problems. Check all the surfaces and if they are not clean, wipe them clean!
What Can I Use to Remove Excess Glue?
Before the glue sets, quickly use acetone to remove the excess glue. If the glue has already set, you will need to remove it by scraping, sanding, or cutting away.
Will an Epoxy Adhesive Be Conductive?
No, epoxy does not conduct electricity.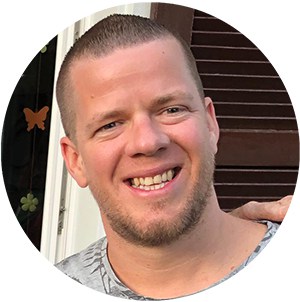 I have been into woodworking since 2005 and woodturning since 2011. Because of my love for wood and woodworking, I started woodhappen.com to teach other enthusiasts about how to finish and seal wood, the best woodworking tools, the different types of wood, and everything else related to woodworking! Read more about me here.