Woodturning Projects – Lathe Project Ideas for Every Skill Level
Wood is one of the most abundant natural resources on the face of the planet, despite factors like climate change and deforestation. It's also one of the few resources we have that are virtually infinitely reusable, so it should come as no surprise that both we and our forefathers have been using wood for quite literally, hundreds of thousands of years. Pretty cool, right? We've gotten better and better at working with it as time has progressed and even found ways of combining different wood species to take advantage of their inherent characteristics. But have you ever stopped and thought about what you could make from wood if you gave it a try? Let's have a look at what woodturning is and a couple of woodturning projects you can get into depending on your skill and comfort level.
What Is Woodturning?
We mentioned previously that people have been using wood to make their lives easier for millions of years, this being said, the techniques we use to fashion wood into usable objects have improved over the years and have turned into a full-blown profession known as woodturning and wood crafting.
What is the difference between woodturning and wood crafting? Well, even though both of these crafts involve manipulating wood into various forms, the craft of woodturning is characterized by the use of a wood lathe, which is just like a regular lathe except that it is typically belt driven and has been designed for the sole purpose of turning wood at high speed.
Wood lathes are really simple machines, and it's entirely possible to make one of your own if you have the right tools, equipment, and know-how. However, these can be picked up relatively cheap, especially compared to ones used for mechanical engineering. Like mechanical lathes, these can be found in both the manual and CNC (computer numerically controlled) types.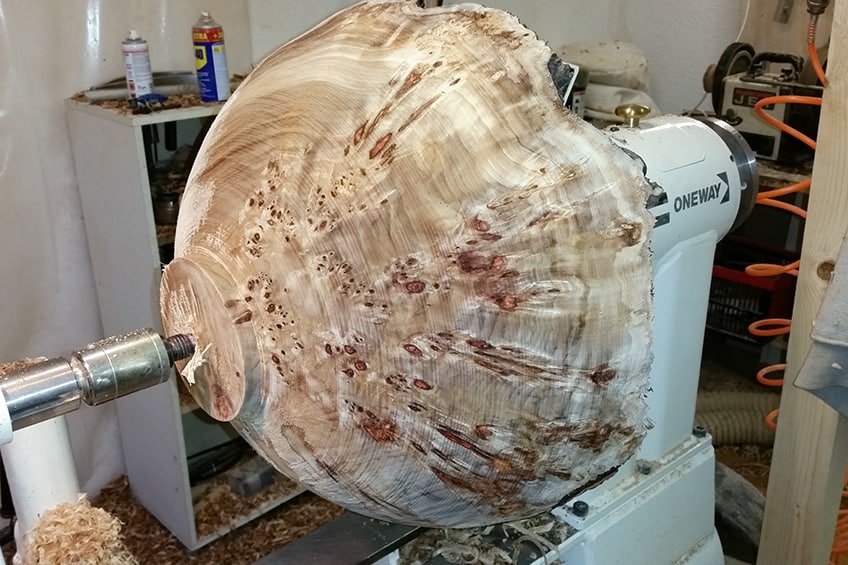 What is a CNC wood lathe? Put simply there are two types of lathes in existence. You have older ones that require you to manually manipulate your workpiece against the spindle, and the newer ones which utilize pre-programmed perimeters to move the lathe chuck to exactly the right position at exactly the right time to turn your piece perfectly. These machines can also adjust the speed of the spindle and can be programmed to handle different wood densities.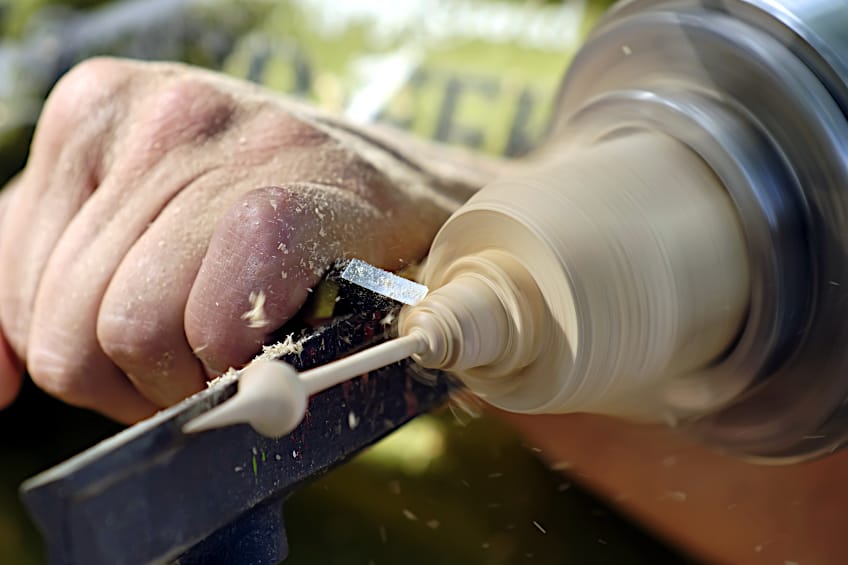 Woodturning is usually used in mass production environments, but it's also pretty common for DIY enthusiasts and tradespeople to have their own little lathes which they use to create high-end custom furnishings to sell privately. It's actually a pretty lucrative industry, and it's pretty fun too, which is why it comes as no surprise that nearly 15,000 Americans are professional woodturners by trade!
Woodturning is also a very versatile skill. Like metallurgy, you can make anything you set your mind to with the right materials, planning, and tools. What can you make if you were to try your hand at the craft? Well, you could make bracelets, bowls, rings, spoons, couches, desks, vases, candleholders, cupboards, drinking cups, and pretty much anything else your wood has the tolerance to be turned into.
Woodturning Projects
There is virtually an infinite amount of wood lathe project ideas out there for you to try your hand at, but it can be a bit scary if you're a newcomer. That's why we've created a short list of wood lathe project ideas for you to consider according to your skill level and degree of comfort. Remember that wood is very much a live material, so regardless of the wood species you're working with, always make sure that you use the lathe diligently and follow the necessary safety precautions before and throughout the woodturning process.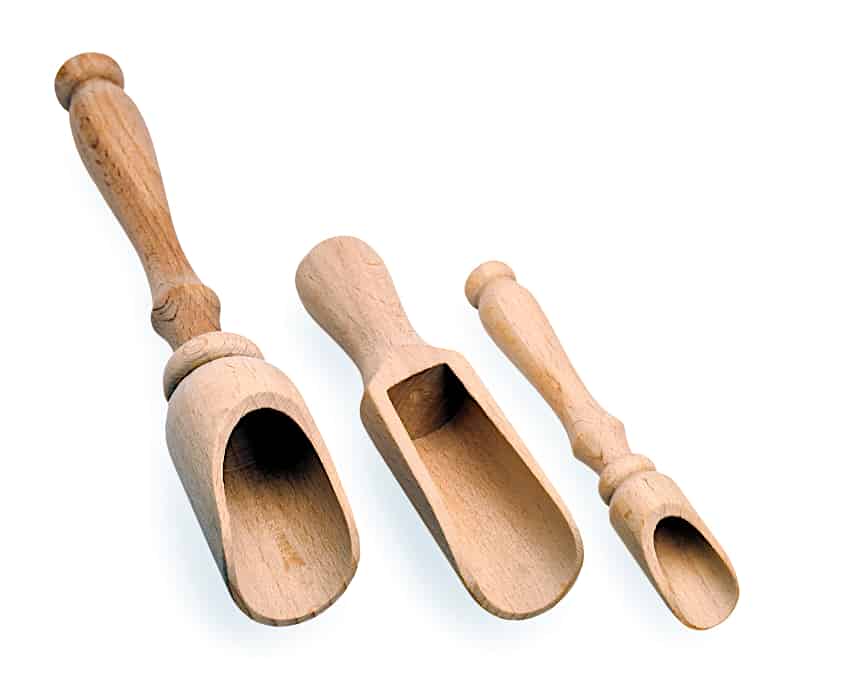 Easy Woodturning Ideas
If you're in the mood for something easy that won't have you frustratingly burning through a ton of material every time you get it wrong, then why not try out some simple, easy woodturning ideas? This is ideal if you're a beginner and it will allow you to develop your muscle memory and familiarity with your wood lathe, plus, these projects are pretty fun to make too.
A Rolling Pin
Rolling pins are really useful woodturning projects, especially if you're the kind of person that enjoys making lots of pizzas and pastries! These are really easy to make, and you don't need super expensive wood to make them either, all you need is some beechwood or Maplewood and you're good to go! Not only are these really useful woodturning projects but they're a great place to start if you're just starting your woodturning journey.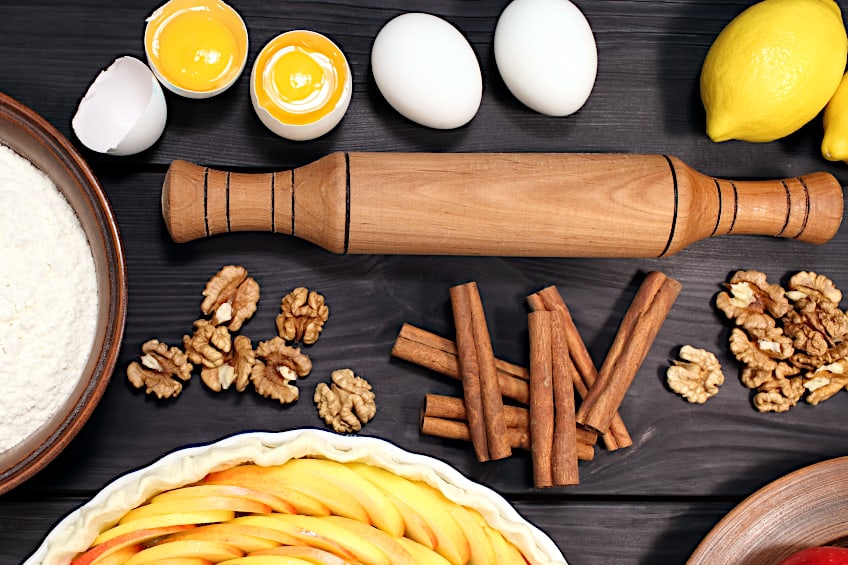 A Wooden Bowl
It doesn't matter where you come from or what kind of food you prefer to eat, at some point, it's pretty likely that you've needed a bowl. Wooden bowls are the go-to wood lathe projects for beginners learning the trade. It emphasizes control and accuracy, especially when using a manual lathe, and you get to take it home and use it when you're done! These can be used for practical or decorative purposes, plus you can personalize them pretty easily too.
A Wooden Plate
Another one of those go-to wood lathe projects for beginners is wooden plates. They're in the same vein as wooden bowls and are just as useful! These are amazing both visually and practically and if you're using a CNC lathe you can crank out dozens of these with little to no effort! These are actually a bit easier to make compared to wooden bowls because you don't need to start out with a big block of wood.
A Wooden Spoon
Wooden spoons are great wood lathe ideas! Did you know that caviar should be eaten with a tiny wooden spoon instead of a metal one? This is because metal actually changes the taste! So, if you regularly enjoy caviar, or simply want a wooden spoon, these are really easy and quick to turn wood lathe ideas. They can also be made with very little material, and if you want to make the larger ones simply use a bigger piece of wood.
A Wooden Goblet
Whether you enjoy a good glass of wine or just looking for simple and effective woodturning ideas, wooden goblets are a great choice. They have all of the benefits of a glass goblet without the fragility, well, minus the fact that you can't see through them. Regardless they're easy to make and look pretty cool as gifts or even as ornaments around your home, so why not give these a try as your woodturning skills develop?
A Set of Wooden Chopsticks
In keeping with our theme of wooden utensils, chopsticks are an absolutely awesome beginner woodturning project. With sushi being loved by around 62% of the US population, making personalized chopsticks is a highly profitable business, plus, you'll get to see just how creative you can get when it comes to making completely unique workpieces from two simple pieces of wood.
A Wooden Thread Spool
If you or someone you hold near and dear to your heart is in the business of sewing or knitting (or simply collecting sewing string or yarn) then why not give one of these a try? Spindles are really easy to make, and you can probably make a dozen of them in a day using a lathe if you really wanted to. Feel free to personalize them with color, engrave them, or make them in unique and interesting shapes, just be sure it's still easy for the user to spool and unspool their thread when you're done.
Medium Difficulty Woodturning Ideas
If you're not exactly a newcomer but don't really feel comfortable taking on the more intricate woodturning projects, you could always try out some intermediary ideas. These are a great idea if you're looking to develop your skills and want to make something cool to show off to your friends and family, plus they make really good gifts too!
A Wooden Box With a Removable Lid
These are awesome because you don't have to follow a set direction or dimensions when designing them. You have the freedom to make a small jewelry box with loads of inlays or you could go in a different direction to make a box for your favorite kitchen spices. The removable lid, and the fact that the interior of the box can be treated means that you have virtually limitless options when it comes to what your wooden box can be used for.
A Wooden Honey Dipper
Looking for a good woodturning project for beginners that also doubles as a life hack? Why not try out a wooden honey dipper? They're really easy to make and since it's an intermediate-level woodturning project you can take it a step further by adding little details like notches to really make it unique. Have you ever wondered how fancy bakeries and restaurants manage to get that light drizzle of honey that you can replicate with a spoon? This is how!
A Wooden Bottle Stopper
Bottle stoppers are a great way to develop your attention to detail when working with a wood lathe, so most woodturning for beginners' idea sheets include these. What they don't tell you is the scope of freedom you have when making these. Do you want a little animal on top of your stopper? Do you want to personalize it for someone's anniversary or wedding? Do you want to inscribe a funny joke on it for your partner or close friend? The possibilities are endless, and you can sell them too if you're looking to make some extra money.
A Mortar and Pestle
Woodturning for beginners can be a challenge, especially if you're trying to develop your skill at your own pace. There's no need to rush through, so while you're at it why not make some things that you can use in your everyday life? A mortar and pestle are great whether you're crushing up some nutmeg or grinding up some fresh herbs to use in your latest recipe! They're easy to make and like some of the other ideas we've mentioned so far, make great gifts for friends and loved ones.
A Wooden Baseball Bat
While football gets the spotlight most of the time, baseball is still a lot of fun although it does lack the district pleasure of a revenge tackle. This being said, there's nothing quite like hitting a home run either, so why not make yourself a personalized bat? Store-bought ones can be pretty expensive, plus you get to choose the type of wood, weight, taper, and length of your bat if you make it yourself! If you have little ones this can make for a great personalized gift too, plus it's an absolute pleasure to turn one of these on a lathe.
A Wooden Tool Handle
Wooden tool handles might seem like they belong under the "easy" section, but they can be a bit more challenging to make than they first appear. Why? Well, when making a wooden handle for anything you need to consider things like weight, leverage, mechanical advantage, and ergonomic comfort. It also requires an understanding of the tool you're creating the handle for, such as where and how pressure and leverage will be applied to a given point.
Difficult Woodturning Projects
If you're well past the intermediary level of woodturning and you're looking for woodturning projects that are a bit more intricate than the ones we've had a look at so far, you should try some of these more challenging ones we've gathered below. Keep in mind that you might need additional skills and/or experience in things like wood carving and more detail-specific skills to get the hang of some of these.
A Wooden Flowerpot/Vase
Making a wooden vase can be a bit tricky but there are more than a few ways you can go about this especially if you have a wood lathe to help you/ These are awesome because once they have been turned you can use wood treatments, paint, pyrography, stickers, or even vinyl wraps to decorate them! These can be used for houseplants or as simple ornate decorations.
A Wooden Pool Cue
Have you ever walked into a bar with your friends ready to play some pool only to find that half of their cues are either taken or completely unusable? Well, why not consider making your own then? Pool cues are really easy to make, and like baseball bats, they can be made to suit your preferred weight and taper, and you can even take things a bit further by making the top and bottom halves detachable so they're easier to carry!
A Wooden Chair and/or Chair Legs
Even if you're buying them second-hand, chairs can be a bit expensive. So, why not try your hand at making some of your own? There are various designs and sizes to choose from and although they can be a bit tricky to make, it's well worth the money you'll spend buying something that's been mass-produced. Besides making an entire chair, you can also turn up chair legs which you can sell as replacements for certain models or simply to repair the furniture you already have.
A Set of Wooden Beads
If you've been to your local Sunday market or taken a quick browse on Etsy then you know that these are all the rage at the moment, in fact, they've rarely ever been out of style since their inception! There's something about the rustic appeal of wooden beads that simply makes you want them, and now you can make your own! The really neat ones take some effort to turn up, not to mention the attention to detail, but they're well worth the effort in the end.
A Wooden Pen
If you've ever used or simply held one of those old fountain pens, then you know that it can make you feel like an 18th-century poet even if the last time you've used a pen was in high school. The shafts and caps of modern wooden pens feel even better though, and you can make some on your own if you were so inclined. They can take a bit of planning and practice to perfect, but once you've gotten the hang of it, they make for incredible personalized gifts and can sell for a pretty penny.
A Wooden Lamp
We've had a look at a few furnishing items so far, but these days it's easy to overlook something as simple and elegant as a solid wood lamp with modern furnishings all around us. This being said, if you've grown a bit tired of all the plastic and aluminum lighting fixtures around you. Why not try making one of these beauties? They're not too difficult to turn on a lathe and there are thousands of designs you can pull inspiration from. If you're worried about the electronic bits, don't be! Online shops sell them in ready-to-install units.
A Wooden Chess Set
Whether you're a chess enthusiast or simply fancy yourself a challenge then this is the woodturning project for you. Chess has always been a game renowned for its self-improvement aspect, and funny enough creating a chess set can help you improve your woodturning skills! The best part is that you can customize every single piece to suit your personal style, or friends if you're in the mood to make someone a great gift! This can be a challenging exercise, so ensure that you treat your chess pieces with wood stain or a similar protective coating to ensure that they don't degrade over time.
If you are feeling adventurous and in the mood for something entirely new, then you can try your hand at making a Viking chess set. Working out how to play Viking chess (or finding a Viking to play against) is another challenge entirely.
A Wooden Hourglass
We know what you're thinking, "I have a phone, why would I need an hourglass?" To which we say; because they're really cool. Although these can be really challenging to make, they offer unrivaled beauty and have a way of adding an air of class to whatever space they're placed in. They're also a good way to time something quickly, whether you have something in the oven, counting down the last hour on a Friday afternoon at work, or just really want to see how long an hour actually feels, there is an hourglass for you! The glass housing can be a bit expensive to purchase so be extra careful when installing them.
A Wooden Clock
Okay, so we all know that a wooden clock can essentially be made with a large wood slice which can be dressed and treated. However, if you're interested in making a really high-end and visually interesting wooden clock then the chances are that you're going to need a lathe. Most modern wooden clocks look like works of art, and some crafters even have attempted making them entirely by hand to test their skills! If you're concerned about the clock mechanism, don't be. These are a dime a dozen and can be found both online and at craft stores.
A Wooden Sphere
Fancy yourself a pro? Do you want to test your skills? Do you have infinite patience and the desire to make something exceptionally cool? Well, let us introduce you to the wooden sphere! It might not seem like much just by looking at it, but these are notoriously challenging to make even for crafters with decades of experience. Making a wood sphere with a lathe requires a keen eye, attention to detail, patience, and commitment. It can take hours and many, many steps to get right, but it's well worth it in the end – just look how cool it is!
Now that you know what the craft of woodturning is, how it differs from wood crafting, as well as some of the easiest and most difficult woodturning projects are, it's time for you to get out there and put some of your newfound knowledge to the test. Remember to have patience with yourself and your workpiece and to always wear gloves, eye protection, and to work in a well-ventilated area when working with a wood lathe.
Frequently Asked Questions
Is Woodturning a Trade?
Woodturning is most definitely a trade, and it can be quite a lucrative one at that. There are so many things that can be made with wood, all it takes is the right tools, a good attitude, and some imagination. It also helps to be organized and to be patient with yourself and your workpieces, and of course to know who your customers are if you intend on selling your work.
Is Woodturning Easy?
This is not a simple question to answer. Is the activity of turning wood easy? Sure. All you need is some wood, a wood lathe, and the right tools, and you can turn wood. Are you going to be any good at it? Well, as with anything you try for the first time it will depend on how quickly you learn and whether or not you have a natural inclination towards the craft.
Can You Make Money Woodturning?
It is entirely possible for you to make money woodturning. Whether you're turning wood for a company or starting a side business, people need things that are made out of wood. This being said, if you are interested in starting your own woodturning business, we recommend you start it off as a hobby, build your customer base (and skill level), and then make the leap into full-time production.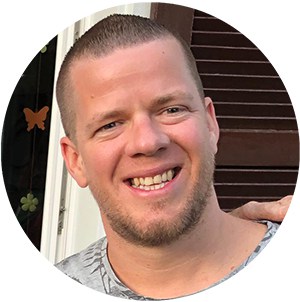 I have been into woodworking since 2005 and woodturning since 2011. Because of my love for wood and woodworking, I started woodhappen.com to teach other enthusiasts about how to finish and seal wood, the best woodworking tools, the different types of wood, and everything else related to woodworking! Read more about me here.