How to Remove Paint from Wood – A Guide to Stripping Woodwork
There are numerous reasons why people want to remove paint from a wooden surface in their homes. It may be an old wooden floor that shows lots of wear and tear, a beautiful antique piece of furniture covered in old varnish, or walls and doors that have multiple layers of different colors and types of paint. To bring back the beauty and reveal the true beauty of hidden wood, or to add a new coat of paint to match your décor, you will first have to remove the old paint from the surface. You might think it is a messy, time-consuming, and labor-intensive process, but by following a few basic steps, you can learn the easiest way to strip paint off wood successfully and without causing any damage to the beautiful wood surface.
Wood Surfaces you can Remove Paint From
The main purpose of removing paint from wood is so you can have a clean and fresh surface to work with. You can strip paint from any kind of wood surface, whether it is from vertical walls and doors, horizontal floors, to all types of wood furniture, even if it is heavily carved.
All you need to do is follow instructions, so you do not damage the wood or cause harm to yourself. Some of the wood surfaces in your home that you can strip paint from include:
Banisters and Stair rails
Window sills and frames
Indoor and outdoor furniture
Antique furniture
Interior and exterior doors and frames
Skirting boards
Parquet flooring
Built-in cupboards
Floorboards
Consider These Factors Before Removing Paint From Wood
When considering how to strip paint from wood, you need to first choose the method, tools, and materials you will require to complete the job. Then you need to consider what technique would be best and easiest for you. It is also important that you prepare yourself for any complications that may result when cleaning the wood surface so that you do not cause any unnecessary damage. Here are some of the issues to think through.
First Establish if the Wood Surface is Worth Stripping
Make sure the wood has not begun to rot and save yourself from the hard work and money that goes into stripping. Wood is a very strong substance, but it will deteriorate if you have not maintained it very well. Dry rot in wood spreads very quickly and can ruin your wood surface, but it is easily detected when you see spores of dust on the surface. You will also note a musty damp smell or notice fungus has begun to form.
Often you have to deal with wet rot, and this can be detected by pushing a small section of the wood surface to see if it is spongy or not. You may also find pieces of the wood coming loose or the wood might be warping or can shrink. This problem can be fixed by stripping the surface and filling in any cracks or holes and sanding it down before resurfacing it again.
If you are planning to strip old paint from your floors or furniture, you need to ensure the wood underneath can be saved and repaired. This is especially true if you are planning to put a stain or clear finish coat on the wood. Find a spot on the floor or furniture that is not exposed and scrape the paint layers off until you see the bare wood, then you can decide if it will be worth your while to expose the wood.
Test to see if the Old Paint contains any Lead
If your house or furniture has been painted before the 1960s, it could contain lead. So, how do you detect if the old paint contains lead? Here are a few easy ideas to test your wood, some you can do at home, while others can be sent to a laboratory for testing.
There is the DIY test which anyone can do and all it requires is for you to take a knife and cut a V-shape right through all the layers of old paint, now brush the groove you cut with a 'Lead Check' swab. If the lead is present, it will turn a bright red color. This method is accepted by the Environmentally Protection Agency (EPA) regulatory Body.
There is the laboratory test, where you can take a sample of the old paint and send it to the laboratory for testing. The test will take around two weeks and is fairly cheap, but you will be sure of a reliable result.
If you are still in doubt, you can call in the professionals who will do an X-ray fluorescence test and will provide you with the exact amount of lead in your old paint.
If you have established that the old paint contains traces of lead, but you still want to go ahead with removing the paint, you need to be extra careful as exposing yourself to the lead can cause all kinds of health issues. Here are some precautionary measures you need to put in place:
Try to only use chemicals or heat to remove the paint, which will prevent you from breathing in any dust.
If there is no other way, and you have to sand the wood surface, make sure your equipment is fitted with a High-Efficiency Particulate Air filter (HEPA) vacuum attachment and a shroud.
To minimize the dust formed, wet-sand the wood surface.
When working outdoors, ensure you cover the surrounding ground area with a thick plastic sheeting that stretches about ten feet beyond the area where you are working.
All the debris needs to be put into special bags and sealed with duct tape.
Decide if you Need a Professional
Doing the job yourself is fun and rewarding, but at times if the job is too big or difficult, it may require the services of a professional with specialized tools to do a job safely, especially if the old paint has traces of lead.
If you have doors, furniture, or windows that have intricate carvings on them, you can do them yourself, however, if you send them to a professional who has a dip tank, the job can be done much faster and with better results.
Remove all Nails, Screws, and Other Protruding Items
Make sure you remove any screws, nails, brackets, or any other item that is protruding before you start. Then ensure you properly cover any parts or materials that are non-removable and that you do not want the paint stripper to come into contact with.
Buy all Protective Equipment and Tools Needed
You must have the correct tools to do the job properly before you start. If you decide to use a paint stripper for wood, you need to ensure you have the right product, paintbrushes, sandpaper, and scrapers to remove the old paint. Also, do not forget the safety equipment like goggles, gloves, and masks.
Various Approaches on How to Remove Paint from Wood
Many of the wood surfaces in your homes like floors, walls, cupboards, or furniture, after a time, need to be refurbished. There is no better way to do this than to apply a fresh coat of paint. However, the old paint needs to be removed first so that you have a fresh smooth wood surface to work with. Understanding how to remove paint from wood can be helpful, and most of the methods used are effective, simple, and safe to use.
There are numerous methods for stripping woodwork, and we will be dealing with three of these in detail.
Chemical Paint Remover Using Industrial Products
Using chemical paint strippers as a paint remover for wood is the easiest way to strip paint off wood. This will give you the best results, especially when you are dealing with craved wood that has intricate designs or has hard-to-reach-places. This method is much faster than sanding and is also not as harsh. However, during the process, sanding will probably also be included, especially if you are dealing with more than one layer of paint that needs to be removed.
There are two basic types of chemical paint strippers, both of them have their pros and cons, which you need to consider before you start. So, when you go and purchase your chemical paint strippers, you will not be disappointed with the final result.
Solvent Paint Removers
You get solvent paint removers that can be used for all types of wood finishes, these are usually gentler and do not cause damage to your wood surface. They go deep down into the wood grain and remove the paint without causing any discoloration. However, they have a strong odor, and you need to work in a space that has sufficient air circulation. You might also find that you use more than other strippers, and they are more expensive. Also, you will need to work much harder to remove all the old paint build-up.
PROS
Leaves a much finer and cleaner finish
Ideal for stripping woodwork and damaged items on wood surfaces
For a natural wood look, this is the product to use
Does not cause damage to the wood surface
Does not stain or discolor the wood surface
CONS
Has a strong odor
Not ideal for removing heavy paint
Fairly expensive
Caustic Paint Removers
Then you get the caustic paint removers, these are ideal for removing the thick and heavy layers of old paint or varnish. They do not have such a strong odor, are a lot cheaper, and tend to do the job faster. However, they do contain a strong alkaline caustic material that may react with the chemicals contained in the wood, causing scorching, or staining of the wood surface. This problem is more prevalent with dense woods like mahogany and old oak.
PROS
Ideal for removing heavy and thick paint build-up
Ideal for pine furniture and doors that must be repainted or stained
Removes paint from complicated moldings with ease
Does not have a strong odor
Reasonably priced
CONS
Used mainly for stripping paint off stone, metal, and plaster
Note: There are also eco-friendly options available, such as citrus-based or soy-based products that are water-based. These products are usually low on volatile organic compounds (VOCs) and some of them can remove multiple layers of paint. The one major disadvantage is that they can take longer to work.
Application Process for Industrial Chemical Paint Removers
Now that you have selected the right product for your particular situation, you need to follow all the necessary safety precautions. This means that you need to put on your safety goggles, rubber gloves, and respirator, and make sure you are working in a well-ventilated area. Follow the manufacturer's instructions precisely. We suggest that you lay plastic sheeting or old newspapers around the item you are working with, to avoid any damage to the surrounding area or items. Below is a list of all the tools and equipment you will need:
Rubber gloves
Safety goggles
Respirator
Protective apron
Solvent or caustic paint remover
Large bucket
Paintbrush
Paint scraper
Putty knife
Wire brush and steel wool
Sandpaper
Rags
First, give the wood surface a light sanding, which will help the paint stripper for wood to saturate and activate the paint layers. Now you must shake the tin well before opening it and pour your paint remover into the bucket. Remember to always replace the lid on the paint remover container to avoid the fumes evaporating into your working area.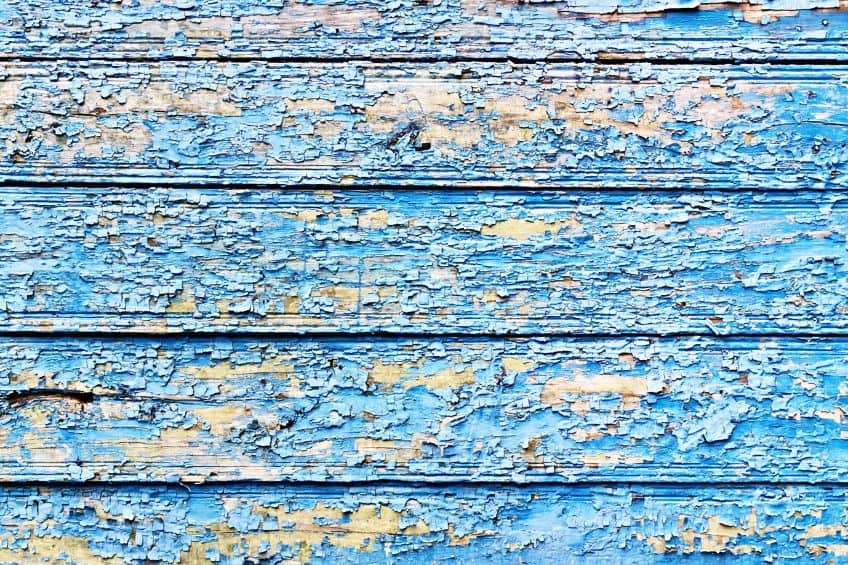 Apply the paint remover to your wood surface, and if you are working on a large area, concentrate on doing small sections at a time. Follow the manufactures instructions exactly. Use the paintbrush to apply in thick coats; do not skimp with the remover. Move in one direction, ensuring you force the paint remover into all the corners and carved sections
When using a caustic paint remover that is environmentally friendly and you have many layers of paint to remove, if possible, wrap the item or the whole surface in plastic wrap after you have applied the first coat. Then you need to wait for about 24 hours, giving the paint remover for wood a chance to attack the old layers of paint. You can see it start working in about 20 minutes.
Leave the paint remover on the wood surface for around 20 minutes, or until you begin to see the old paint peel or bubble. Remember, if the old paint layers are thick, then you may find that you need to leave the paint remover on for a few hours. Also, different products have different timescales, so you will have to refer to the instructions.
Ensure that you do not leave the paint remover on the wood surface for too long, as it begins to harden and then it becomes much harder to remove. The paint remover for wood needs to be wet to the touch to remove it properly.
Feel to see if the old paint layers are soft, then you can start scraping it off using a putty knife or paint scraper. Do this cautiously as you could scuff the wood surface, which is not something you want to do. If you feel it is not coming off easily, then leave a little longer to complete the softening process. If there is still some paint remaining, you can always repeat the process until the stripping woodwork process is successful.
Now, it is time to address those carved surfaces and hard-to-reach areas. Apply some more paint stripper and wait another 20 minutes, then scrape the paint out of those areas using a toothbrush or steel wool until all the paint has been removed. For larger areas, you can use a steel brush, but be careful not to scratch the wood surface.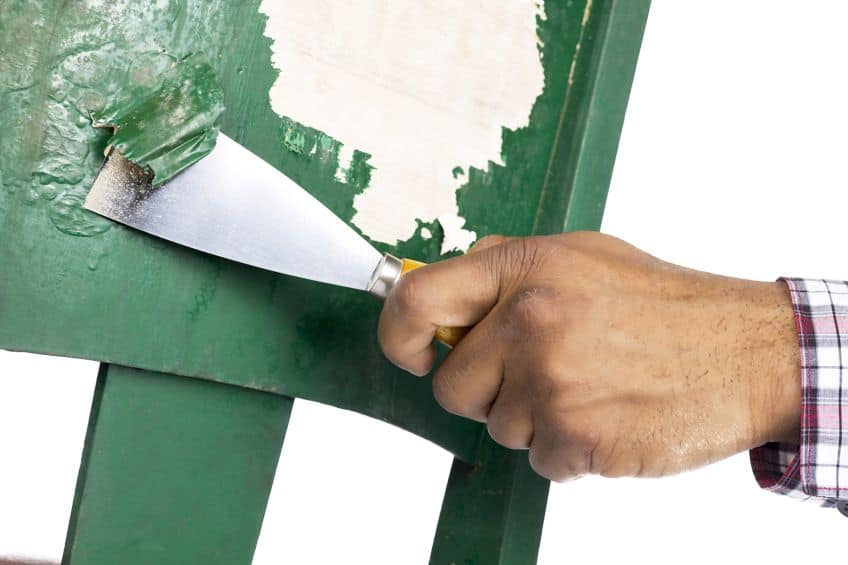 After you have removed all the old paint, it is time to prepare the wood for refinishing. Read the instructions carefully as some of the paint removers require you to neutralize the active chemicals on the wood surface. It is important to wash the wood surface using mineral spirits or paint thinner so that the surface can be free from any loose materials or debris. Some manufacturers say you can wash the surface with some water but be careful as water can open up the wood grain.
Once you have allowed the wood to dry properly, you can then proceed to sand down the entire surface. When doing a fairly large area like wooden floors, you can use a power sander, but it is better to do it by hand with sandpaper, especially for those carved and intricate surfaces. Use a damp cloth to wipe the surface off, removing any dust and preparing the surface for a new application of paint.
Some of the Best Brands of Industrial Chemical Paint Removers
Since there is such a large number of different types of paint strippers on the market, it is a daunting task to know which type is going to do the job effectively. So, we have selected a few of the best and most used brands for you, making it easier for you to choose the right paint remover for your particular job. Remember, most paint removers are usually available in small sample sizes like 1/2 a pint. You can buy these sample sizes before buying in bulk.
The Best All-Round Paint Stripper: DUMOND Advanced Paint Stripper
This Advanced Paint Stripper from Dumond is efficient in removing latex as well as oil-based paints. The paint remover is a water-based product, it is also eco-friendly, biodegradable, and non-toxic, unlike many other industrial chemical paint removers. The product comes in a paste-type consistency that can adhere to vertical and horizontal surfaces and can be brushed, sprayed, or rolled on. One coat of this product can remove 15 layers of old paint, which will take about 24 hours. The paint remover can be used on many different types of surfaces such as wood, fiberglass, plastic, plaster, metal, and brick. It has a dwell time of 3 to 24 hours, after which, you can scrape the old paint off with a spatula.
The Best Heavy-Duty Paint Stripper: DUMOND Peel Away Stripper
The Peel Away1 Heavy-Duty Paint Remover is used mostly for removing paint from old antique furniture, ceiling roses, cornices, wooden coving, or any other wooden carved surfaces. The product comes in the form of a white paste and can cover around 15 to 20 square feet per gallon. The paint remover can remove up to 32 layers of old paint. This product is water-based paint and has no volatile organic compounds (VOCs) and you can use it safely inside or outdoors. Apply the paste over the area you want to clean, leave it for 12 to 48 hours to dissolve the paint, peel away the paper and scrape away the softened paint with a spatula. This product is ideal to use where lead paint has been applied before.
The Safest Paint Stripper: CITRISTRIP Paint and Varnish Stripping Gel
The Citristrip QCSG801 Paint & Varnish Stripping Gel is very easy and pleasant to use as it gives off a fresh citrus smell. It can be used to remove oil-based as well as latex paint and is also effective in removing shellac, varnish, and polyurethane from wood surfaces. The gel remains active for up to 24 hours, giving you plenty of time to remove the old paint, and can remove multiple layers of dried paint in less than one hour. Due to its consistency, it is best used on flat surfaces or for detailed furniture pieces.
Chemical Paint Remover Using Household or Natural Products
Vinegar is a very versatile product, and we all make use of it almost daily in our homes. Can vinegar remove paint from wood? It is very effective in removing dried old paint from wood surfaces, and it is cheap, eco-friendly, and does not give off any harmful or toxic fumes.
Vinegar is produced by using acetic acid bacteria to ferment ethanol, producing a liquid substance that has acidic properties, which can be used in removing paint from wood.
First, take a small amount of the white distilled vinegar and heat it in a saucepan on the stove or heat it in the microwave oven.
Take a clean cotton cloth or paintbrush and dip it in the hot vinegar, apply it to the old dried painted wood surface.
Leave for around 10 to 15 minutes, giving it time to soften the old paint.
Use your scraper tool and lift the softened paint off your surface.
Use a clean damp cloth and clean away any paint or vinegar from the surface.
Vinegar is not recommended for removing paint from your hardwood floors, as it can leave the wood looking very drab. In this case, it is suggested that you make use of other cleaners, such as chemical paint removers, or even try using some warm soapy water first.
Sanding Paint Remover Method
Sanding is the easiest and most reliable method to use for removing paint from wood. However, this should be reserved for small projects and preferably done by hand. If you want to remove paint from your wooden floors or larger areas, then we suggest you make use of an industrial wood sanding machine.
Whatever methods of sanding you are going to use, take extra care not to damage the wood surface. This means you need to apply just the right amount of pressure as the sandpaper removes the top layer of your wood. If you fail to do this, you can create gouges or sand too thinly in places, leaving you with an uneven surface. This will affect the wood surface appearance when you put on a new coat of paint.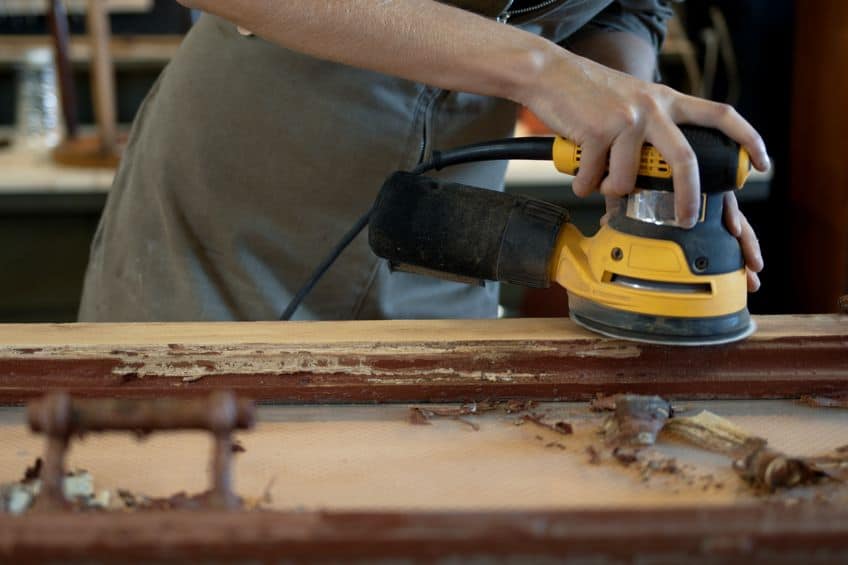 If you are busy with a smaller job and have decided to sand the piece by hand, you can hold the sandpaper in your hand and lightly sand the old paint away. The thickness of the paint you are going to remove will indicate what grit of sandpaper you need to start with. When it comes to thicker layers of paint, use coarse 80-grit sandpaper, and then switch to finer sandpaper as you go along. Finally, for the finishing step, make use of fine 220-grit sandpaper to give you a smooth surface. There are also sanding blocks available that will make the sanding process easier and quicker. When using a wood sanding machine, you need to make sure you buy or rent the right type of machine, here are a few examples.
Belt Sander: These are ideal for removing large amounts of rough and coarse material very quickly, like sanding your wooden floors, and can also be effective for removing rough edges. This type of sanding machine leaves you with a superior finish on your wood surface.
Disc Sander: These types of sanders are ideal for sanding surfaces that are smaller as they are much easier to work with.
Orbital Sander: These sanders are very versatile and can give you a great finish, but unlike the disc sander, they also have much more sanding power. Unlike the belt sander, they are more suited for smaller jobs and fine detailed work and also give you a high-quality finish.
Finishing Sander: These sanders are used more for putting finishing touches to your work, which will leave you with a perfectly smooth finish.
Sanding can be a very messy job, so if you are using a wood sanding machine or doing the sanding by hand, ensure that you do the work outdoors. This will prevent the dust from settling everywhere and ensure that you do not breathe it in. Remember to always wear a mask and use a vacuum to collect the dust after you have finished. Never sand wood that has been painted with lead-based paint. It can be difficult to know where to start when using a sander to remove paint from wood. Here are some guidelines when using a wood sanding machine to remove paint:
First, you load the sandpaper to the machine using the hook and loop system and make sure you use the correct grit for the project you are busy with.
Now switch the machine on and first test it on a piece of scrap wood to ensure it is the correct grit and that the machine is working properly.
Start sanding the wood surface making sure you always sand in the direction of the wood grain to give you the best result, but with the use of the orbital sander you can sand in any form of motion.
Heat Paint Remover Method
Using heat to remove the paint from your wood is a fast and simple way for getting rid of multiple layers of paint. Simply heat the painted surface and it will soften the paint, then you can remove it using a scraper. You still need to take extra care when using this method as there is still the danger of fumes being emitted that can be inhaled, or if the heat is too high, it may char the wood. There are three heat methods available for you to use to remove paint from wood.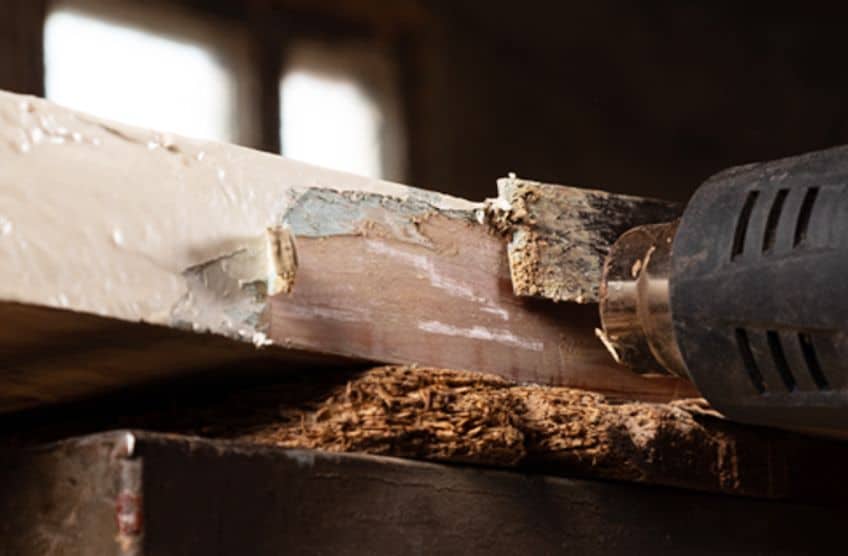 Heat or Hot Air Guns
This method can soften thick layers of paint, not only on large flat surfaces but also in hard-to-reach places. The secret behind this method is to find the correct temperature as too low a heat can take you forever to complete the job. On the other hand, too high a temperature can char your wood or even burn your house down. Heat guns are just like hairdryers, it melts the paint and makes it easy to remove with a paint scraper.
Most heat guns are equipped with high and low settings, but even the lowest setting can still cause damage if not handled correctly. You need to keep moving the heat gun from side to side as keeping it in one place for too long can cause damage.
When using a heat gun, you need to hold it about two inches from the wood surface, with the gun in one hand and a scraper in the other. When the paint starts to bubble, move the heat gun along the surface. The other hand can start removing the softened paint with the scraper.
Steam Strippers
Steam strippers make use of water vapor to soften the paint and operate at a temperature of more than 212 degrees Fahrenheit. This device eliminates any fire risk and also minimizes any fumes or dust in the air. The only downside with this device is that it generates a great deal of moisture that can saturate your wood.
Infrared Devices
Infrared is used to loosen the bond the paint has on the substrate. There is no noise or dust during the entire procedure, and within 30 seconds, the paint is soft enough to be removed. This device is better than the heat gun as the temperature is kept constant below 500 degrees Fahrenheit. The heat generated by the device draws moisture from the wood, which in turn enables the wood surface to hold a new coat of paint.
The only drawback with this device is that it is very bulky, and as such, cannot be used in confined spaces.
Sandblasting Paint Remover Method
This method of removing paint from wood is designed more for larger projects like removing paint from your deck, fence, or house exterior. This method makes use of a powered machine that sprays sand onto the wood surface under pressure and is offered as a professional service. The method offers the following benefits when used for removing paint from wood surfaces.
It is very effective in removing stains and stubborn deposits from your wood surface.
Offers an environmentally friendly service that can effectively remove paint from your wood surface. It makes use of recycled glass as an abrasive that is sandblasted onto your wood surface.
The method is not only limited to larger projects like the exterior of your home but can just as easily be used for smaller items such as furniture pieces.
The sandblasting will not damage your wood surface, and because it is done by professionals you can relax and not be concerned about the process or cleaning up afterward.
It is a less tiresome method compared to many other paint removal methods, and you can be assured of the best results in a very short time.
To help you understand all of these methods to strip paint off wood, we have drawn up a small table for easy reference, which you can view below. Please note, for the chemical paint removing methods, there is also vinegar, which is safe and cheaper to use. Also, when it comes to expense if you already own a sanding machine or heat gun, it is less expensive.
| | | | |
| --- | --- | --- | --- |
| Methods of Paint Removal from Wood | Chemical Paint Removing Method | Sanding Paint Removing Method | Heat Paint Removing Method |
| Easy to use | ✔ | ✘ | ✔ |
| Safe to us | ✔ (water-based products only) | ✔ | ✔ |
| Quick to process | ✔ | ✘ | ✘ |
| Creates a mess | ✔ | ✔ | ✘ |
| Expensive | ✔ | ✘ | ✘ |
Some Tips and Tricks when Removing Paint from Wood
Removing paint from wood can be tricky and difficult, but with a few tips, it will make the job not only easy but also enjoyable. There is nothing pleasant in being covered with a sticky gooey mess and ruining the surrounding area where you are working. So, pay careful attention to these tips to make the journey an easier one.
Before you start, ensure that you protect the surrounding area and space where you are working by laying down some plastic sheeting or old newspapers.
Make sure you have all the right equipment and tools ready at hand.
Follow all the instructions on the label.
Ensure you abide by all the safety precautions, which will include safety gloves and also safety equipment.
Do not be in a hurry, wait for the time allotted by the instructions for the paint to soften before you attempt to remove it.
Ensure you have the right product for your project before you start.
Preferably work outside or in a well-ventilated area.
Clean up all the mess properly once you are finished.
In most cases, the best way to remove paint from wood can be done by anyone if you have all the right tools, and you also understand how to put them to proper use. The methods we have discussed in this article are the most commonly used, like chemical or natural paint removers, sanding, and heat or hot air guns. All you need to do now is to decide which one of these is best for your application, taking into account the cost, safety, ease of use, and time for the process. Hope this article has thrown some light onto the subject, and you can go ahead with your project with confidence.
Frequently Asked Questions
What Is the Easiest Way to Strip Paint off Wood?
Most of the time, the chemical paint removing method is the best to use, as it does the job quickly and efficiently, apart from the toxic fumes which the natural products do not have. However, all other ways for removing paint from wood have pros and cons that you need to consider before you continue.
How to Strip Paint from Wood Without Causing any Damage?
All the methods mentioned, like chemical paint strippers, sanding, and heat guns can be used successfully without damaging the wood surface. However, you need to take care when using a wire brush, scraper, or sander so you do not press too hard, causing gouges or marks on the wood surface.
Can Vinegar Be Used for Stripping Woodwork?
The vinegar itself does not remove the paint from the wood, but it softens it making it easy to remove the paint with a scraper. Vinegar is a non-toxic household product, unlike industrial chemical paint strippers. Vinegar also takes a little longer and more requires more effort to get the paint off.
Can Heat Guns act as a Paint Remover for Wood?
Heat guns are effective tools to use when removing paint from wood, but you need to know how to use them properly, otherwise, you can cause damage to your wood surface.
Is there an Environmentally Friendly Paint Remover Available?
Yes, you can buy citrus-based or soy gel paint strippers that do not contain any harmful chemicals, and they are just as effective as the industrial chemical paint removers. Although, they might take longer to work.
How can I Remove an Oil-Based Paint from a Wood Surface?
Most of the caustic paint strippers can remove oil-based paint from your wood surface, however; they can blacken certain hardwoods like maple. There are special oil-based paint strippers that work well, but they contain high VOCs (Volatile Organic Compounds), which require special safety precautions and a well-ventilated area to work in. There are also many products available that are designed to remove oil-based paints, and they are also environmentally friendly.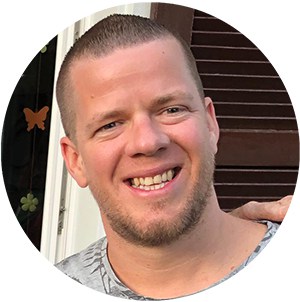 I have been into woodworking since 2005 and woodturning since 2011. Because of my love for wood and woodworking, I started woodhappen.com to teach other enthusiasts about how to finish and seal wood, the best woodworking tools, the different types of wood, and everything else related to woodworking! Read more about me here.