How to Clean Composite Decking – The Easiest Method
Composite decking is the ideal flooring for your outdoor deck space. However, it can be ruined if not cared for and maintained properly. Composite decking must be cleaned regularly with the right deck cleaners to ensure that it remains in impeccable condition.
What Are Composite Decks?
Composite decks are environmentally friendly as they are made of recycled wood and plastic. They are natural-looking and come in a variety of earthy colors that will suit your outdoor décor perfectly. You can build your own composite deck yourself as they can be assembled as planks or as deck tiles. They are simple to assemble and snap in place easily.
Why Choose a Composite Deck?
It requires less maintenance than the traditional wooden deck.
It is environmentally friendly.
It can withstand the elements.
It lasts a long time.
It is not susceptible to rotting.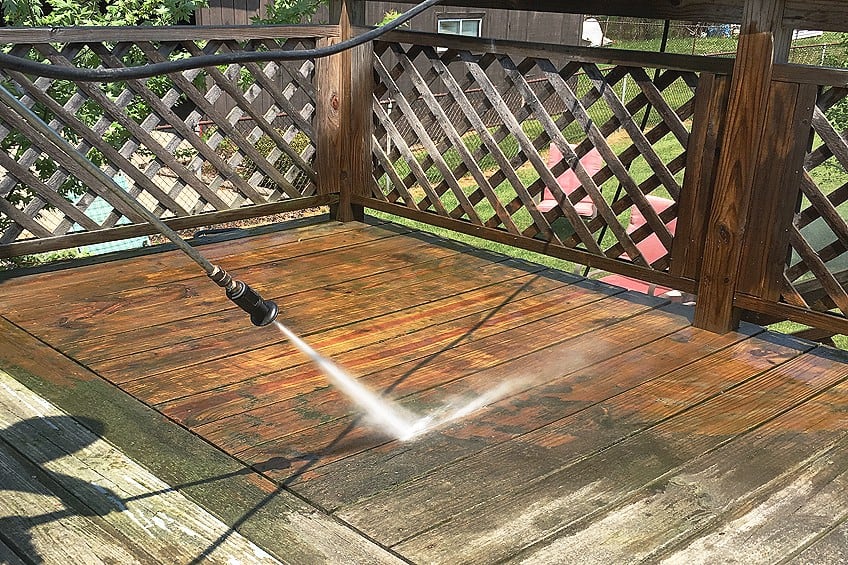 How to Clean Composite Decking
The cleaning of your composite deck will require that little bit of extra TLC to maintain the unique look of your composite deck. Take care not to use regular wood cleaners on your composite deck, as these chemicals are often harsh on the surface area and can cause damage to your composite deck surface.
If you prefer a natural approach to deck cleaning, then you can always use home-made DIY recipes such as a simple soap and water solution to keep your deck looking its best. Simply apply your soapy solution to the surface section-by-section and use a high-pressure sprayer set on low (less than 3000psi), and then spray away to remove stains and dirt easily.
Composite decks are low-maintenance and need only be cleaned every so often to remove common stains such as those caused by food, as well as regular dust and dirt build-up. On the other hand, normal wooden decks require much more maintenance and require regular cleaning to ensure that it remains in good quality.
Composite decks' unique benefit is that it is not made up of organic material, which makes it less susceptible to damage caused by mold. Thus, you will not have to worry about cleaning as much mold as you would with decks made out of other materials.
Steps for Cleaning Your Composite Deck
Clear the deck. Make sure you have ample space to clean your deck by clearing and storing away all outdoor patio furniture. This will also help protect your furniture on the off-chance that it gets ruined accidentally.
Pre-spray your deck. Prepare the surface of your composite deck by giving it a quick rinse so as to remove excess dirt before you begin cleaning.
Spray the deck with the cleaner. Follow with a gentle scrub using a brush with soft bristles. You can also dilute the cleaning solution by adding water. Leave the cleaner to sit overnight.
Rinse thoroughly. After the cleaner has been allowed to sit overnight, rinse it off of the deck thoroughly with a hosepipe or pressure washer.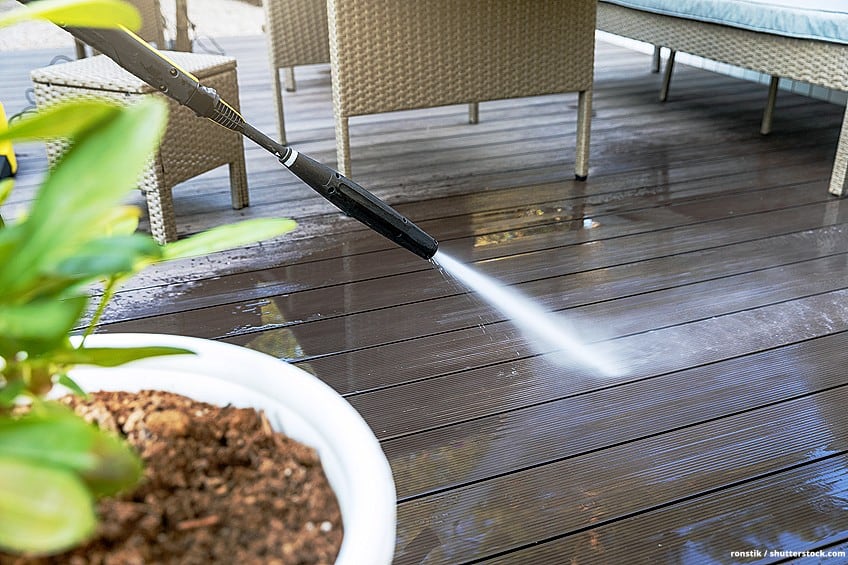 Cleaning Different Types of Composite Decking
There are a host of things that could cause your composite deck to become dirty and in need of a clean, such as grime, grease, stains, mold, and mildew. You should choose a composite deck cleaner that is formulated to clean these accordingly.
Dirty Wooden Decks
Spray the cleaner onto the deck in an even layer, and then rinse it off well afterward. Use a deck brush to remove any tough stains. Wooden decks may require cleaning with additional detergents. These are usually pre-prepared, although in some cases you may have to do it yourself.
Make sure that your wood decking has been treated with a protective coating of copper quaternary (ACQ) or copper azole (CA) before cleaning it with any detergents. Apply the detergent using a spray applicator or with a mop, and rinse well when finished. If you encounter particularly stubborn stains, you may need to scrub it off first with a deck brush.
Dull or Weathered Wooden Decks
As with any material that is exposed to the outdoor elements, wooden decks (especially those comprised of cedar and redwood) will eventually fade. Rust marks may also appear around screw heads or against the grain of the wood.
In such instances, you can purchase cleaners that will help to brighten the look of your composite deck. These products usually contain chemicals such as bleach, sodium percarbonate, and oxalic acid. They are sprayed onto the surface of the deck floor, scrubbed into the flooring, and then sprayed off with water.
Mold and Mildew
Rainy and damp conditions can cause mold and mildew to grow on the surface of your deck. If left untreated, it will eventually destroy it. Treat mildew (white powdery splotches) and mold (flat black or green spots) as soon as you notice them with a cleaner that contains mildewcide. You must leave this cleaner on – do not it spray off. This will ensure that your deck remains free of mold and mildew.
Painted Decks
Cleaning painted wooden decks is a bit more challenging, as harsh chemical cleaners can ruin the paintwork on the deck. When choosing a cleaning chemical, ensure that it is an all-purpose cleaner that does not contain ammonia. Most cleaning products for painted decks come in a pre-mixed form and can be sprayed onto the deck surface. You can then remove the dirt and grime with a soft cloth.
What to Consider When Choosing a Composite Deck Cleaner
There are a number of things to consider before you choose a cleaner for your composite deck:
Toxicity – Some deck cleaners contain harsh chemicals that can ruin the unique look of your composite deck. You must always ensure that you wear suitable protective gear.
Versatility – It can clean many surfaces such as outdoor furniture, fencing, concrete, and so on, thus saving you time and money.
Usability – Some deck cleaners come with a long list of tips on how to apply the cleaner to the deck. The deck cleaners we have recommended above can clean your composite deck quickly and easily, as they are simple to apply.
Safety – Check the label before you purchase a deck cleaner to ensure that it is both pet- and family-friendly.
Price – Expensive products don't necessarily work as well as you think they will. There are cheaper options available that can also do the job well.
Frequently Asked Questions
Do Cleaning Products Affect Deck Color?
It depends on the label. Make sure to check the label when choosing cleaning products to ensure that it doesn't contain harsh ingredients that can affect the deck color.
Can I Clean My Deck With a Soap-and-Water Solution?
You can use a simple solution of soap and water as an alternative to other deck cleaners that would clean your composite deck equally as well. However, this solution may lack the special ingredient that will make your deck last longer, shine brighter, and protect it from mold and mildew damage.
How Long Does It Take to Clean a Composite Deck?
This all depends on the size of your deck as well as the type of cleaner you choose to use, as some take longer than others. As always, read the instructions to get a better idea of how much time it will take to clean your deck.
Is Composite Deck Cleaner Harmful to Pets and Children?
Some products can pose a hazard to children and pets, so always be sure to read the label carefully so as to ensure that it contains ingredients that are safe and non-toxic.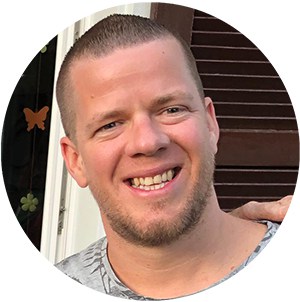 I have been into woodworking since 2005 and woodturning since 2011. Because of my love for wood and woodworking, I started woodhappen.com to teach other enthusiasts about how to finish and seal wood, the best woodworking tools, the different types of wood, and everything else related to woodworking! Read more about me here.