Best Stain for Cherry Wood – Quick Guide for Cherry Wood Staining
Whether you find yourself looking at your grandmother's old dresser or simply find yourself checking out some antique furniture, you have probably marveled at cherry wood at some point in your life. This wood is pretty much as American as you can get (aside from Redwood), but have you ever asked yourself what cherry wood is? Let's have a look at this stunning lumber, what can be done to treat it, where it comes from, and what you should look out for when thinking about buying some treatment products.
What Is Cherry Wood?
When it comes to wood, cherry wood is pretty much the top dog in the American Midwest. Why? It grows nearly exclusively in this region of the US and has been used to create everything from furnishings to entire sections of people's homes.
Why is it so popular though? Cherry wood is one of the absolute best woods to work with and it's really pretty to look at too, making it a fairly sought-after commodity not only in the American Midwest but all over the world. If you're wondering what makes cherry wood so pretty, it's the combination of its amazing colors and the fact that its grain is super fine and (nearly) completely uniform.
Like most woods, there are variations of cherry wood that can be purchased, and these can be used for different applications, whether it be for practicality or aesthetic appeal. The center of cherry wood trees (the heartwood) is a deep reddish-brown color that tends to darken with age or could change due to exposure to sunlight (or lack thereof).
The sapwood of the Cherry tree is significantly lighter in appearance and is therefore used for applications conducive to this texture, although both are naturally quite stunning and can be used to create absolute masterpieces in the hands of the right crafter. Okay, so we know that this wood looks pretty, but aesthetics can be modified and improved upon pretty easily these days, the important question is what cherry wood is like to work with.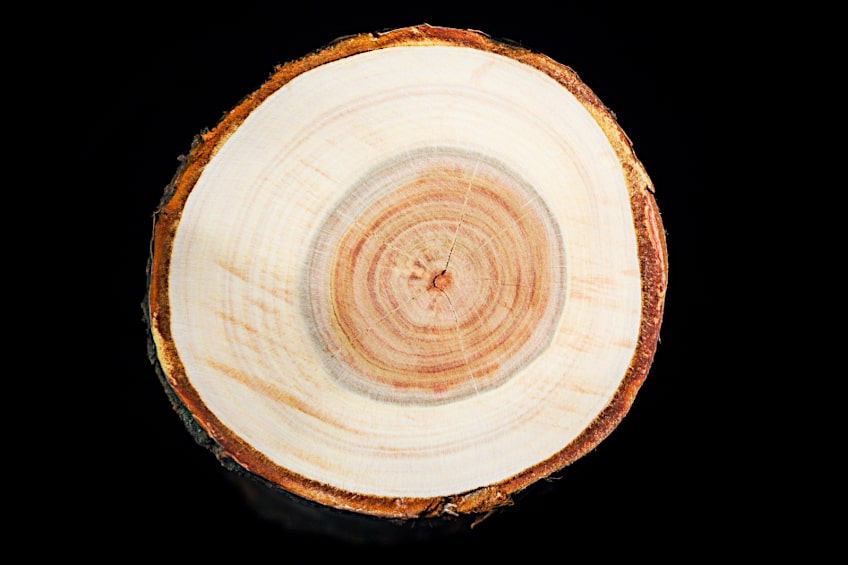 Cherry wood, as it turns out, is a pleasure to work with! This wood is easy to process, can be nailed down with minimal warpage and/or effort, and can be sanded and stained to create beautiful workpieces with a fraction of the effort needed to treat other woods in its class.
Cherry wood is also one of the more consistent hardwoods out there, retaining its shape and position when kiln-dried or pressure-treated. It should come as no surprise then that this wood is one of the more popular choices for making elaborate furnishings for homes, or for high-end hotels due to it being readily available and its ability to fit in virtually any setting without the need for such treatment.
If this was a bit much to take in, here are some of the key characteristics of cherry wood:
Easy to cut and machine
Retains its shape well
Minimal shrinkage when kiln-dried
Reacts well to adhesives
Naturally pleasing aesthetic
Easy to sand
Easy to stain
Good rigidity to flexibility ratio
What Types of Stain Work Best on Cherry Wood?
We mentioned previously that cherry wood is one of the easier hardwoods to stain, and although it's a lot easier to stain than other woods in its class, this doesn't mean that any stain you buy at your local hardware is going to give you the same (if even a remotely good) finish. In an effort to save you some time and hopefully some money, we narrowed down a few types of stains that have been proven to work remarkably well on cherry wood. Remember that these wood treatments are the ones that have an exceptional effect on cherry wood, this does not mean the other stain types don't work at all, they're simply not as effective as the ones mentioned below.
Tung Oil
Tung oil is a feature favorite of many craftsmen all over the world. Why? It provides a long-lasting finish that brings out a wood's natural color while highlighting the grain in a way that other wood treatments simply don't. The trick with Tung oil is finding ones without any additives as this can have unwanted effects on the wood, or otherwise cause the effect of the product to be short-lived.
This oil is derived from the seeds of the Tung tree which are native to China and can be used to create a protective coating on furnishings while accentuating its natural beauty. This oil is popular due to its versatility, affordability, and because it has no adverse effects on the environment.
Varnish
In recent years professional craftsmen and DIY enthusiasts alike have moved away from the use of varnish, not only because of its impact on the environment but because cheaper and more effective alternatives have since been discovered. Does this mean that varnish is the root of all evil?
Certainly not, and in some cases, varnish provides a finish that simply cannot be replicated. Although it can be a bit challenging to work with, most professionals recommend using a satin tone varnish when working with cherry wood, and to avoid botching or brush marks, they nearly always recommend applying varnish to cherry wood with a cloth.
Lacquer
If you have ever touched a piece of furniture and your hand simply glided over the surface, lacquer could very well be the reason. For the cherry wood table, in particular, this is one of the best finishes/wood treatments on the market.
The key selling point about using a lacquer when staining cherry wood is that it is easy to apply, as unlike Tung oil or varnish it can be applied with a brush, a paint sprayer, or a cloth, regardless of your skill level. It is the combination of this factor and the sheer beauty of the aesthetic effect that this treatment has on cherry wood that makes it one of the best choices for staining cherry wood.
Linseed Oil
This particular oil treatment has gained popularity in recent years due to it being readily available, food-safe, and has minimal effect on the environment. Linseed oil is obtained from the flax plant and provides a great alternative to synthetic wood treatments, allowing you to brighten up the tone of your workpiece with little to no effort, you simply pop some on a cloth or brush and apply it to your cherry wood furnishings.
Allow the oil to set in for the manufacturer's recommended time period and you're done! Although feel free to apply as many coats as you deem necessary until you're satisfied with the color you've landed on. This oil can provide a sheen, vibrant finish for most hardwoods.
| | |
| --- | --- |
| Type Of Stain | Does It Work Well on cherry wood? |
| Linseed Oil | ✔ |
| Tung Oil | ✔ |
| Lacquer-based stain | ✔ |
| Varnish | ✔ |
| Water-based stain | ✘ |
| Gel-based stain | ✘ |
| Oil-based stain | ✘ |
Are There Different Species of Cherry Wood?
There are many types of cherry wood that are grown and processed for various applications, although there are only a few types that are used for common furnishings. Let's have a look at some of the different types of furnishings that are made from the most common cherry wood species available.
Black cherry wood
Moderately hard
Straight grained
Dark red in appearance
Narrow sapwood
Varying shades of dark wood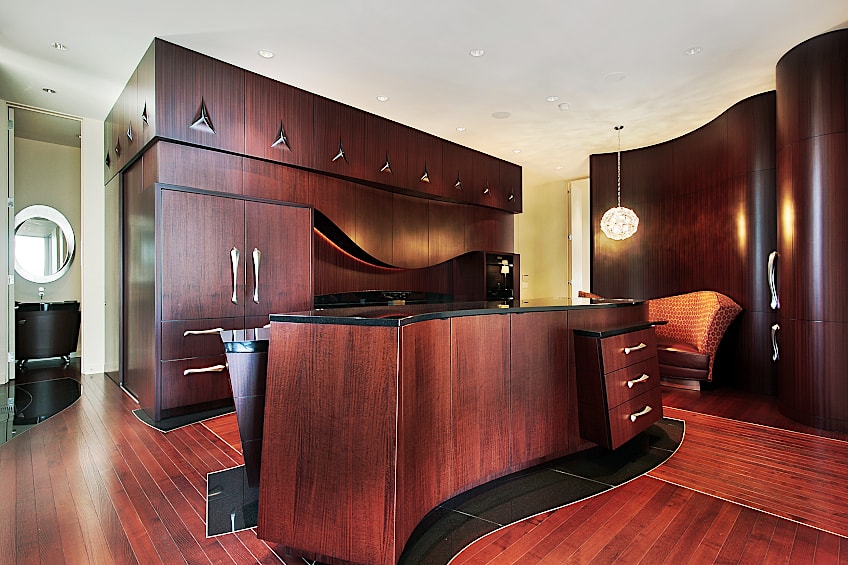 Sweet cherry wood
Light pink heartwood
Color deepens when exposed to sunlight
Medium close grain (not too fine)
Pronounced growth rings
Furnishings can be sold at a high price
Brazilian cherry wood
Known as Jatoba in most regions where it is sold
No real relation to American hardwoods
Looks like stained black cherry wood in its natural state
Particularly strong in tensile strength
Not particularly good for aesthetics
Darkens when exposed to sunlight
Can have dark grey and brown streaks
Patagonian cherry wood
Not technically a cherry wood
Found exclusively in South America
Tensile strength is high which makes it hard to work with
Typically has a light orange color
Primarily used for flooring or railings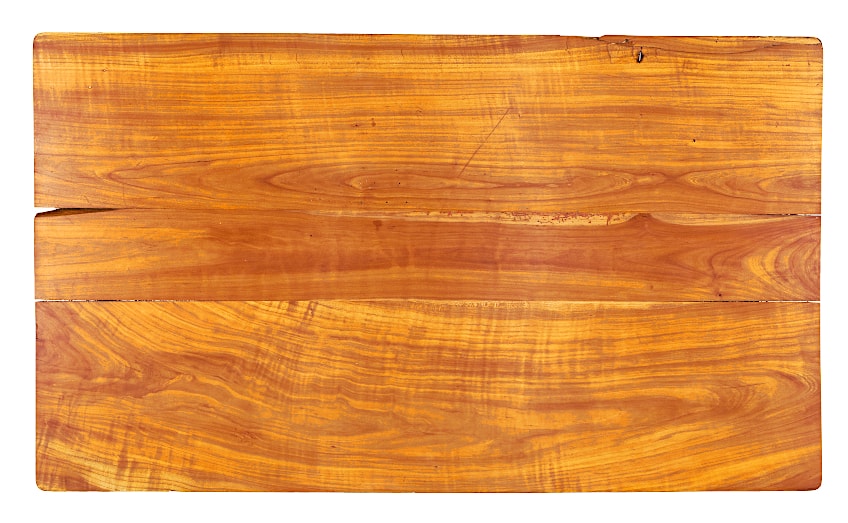 Caribbean cherry wood
Primarily exported from Mexico
Extremely dense type of cherry wood
Particularly hard to work with compared to other woods
Primarily used for flooring much like Patagonia cherry wood
Color can vary considerably from red, to yellow, to tan
Color can change depending on the amount of sunlight it is exposed to
Not commonly sold in lumber yards
What Is the Best Stain for Cherry Wood?
Choosing the best stain for cherry wood can be challenging. There are loads of products on the market that sound great but might not be all they claim to be. To make things a bit easier for you, we've identified three of what we believe to be the best cherry wood stain products on the market today.
Best Overall: HOWARD PRODUCTS Restor-A-Finish
Wood isn't exactly a new material; we've used it to create some of the greatest marvels of the 20th century before we discovered how to process metal in large quantities. It should come as no surprise then that companies like Howard Products have come a long way in the quality and versatility of their wood treatment products since their inception in 1969.
Their cherry wood stain, in particular, is one of the best on the market, offering a premium finish for any wood you might need, but this one is specifically designed to optimize and enhance your cherry wood workpieces appearance while protecting it from exterior forces like UV damage, splitting, excessive moisture and even scratches and abrasion.
The Hoard Products wood treatment range is not limited to cherry finishes though, they offer quite the range of wood treatments for boards like walnut, maple, oak, mahogany, and many other wood types. These finishes can also be used across wood types, to provide the finish and texture of your favorite wood to the board you have. This product can be used to restore an existing finish or be applied to the raw board.
Wipe-on, wipe-off penetrating formula for restoring wood finishes 

Can color-match Neutral, Pine, Oak, Cherry, Walnut, Mahogany, and Ebony

Removes white heat rings, water marks, fading, oxidation, and abrasions
View on Amazon
PROS
Easy to use
Wipe on application (no brush needed)
Can be used to restore
Can be used to stain
Versatile
Reputable brand
Powerful formula
CONS
Expensive
Contains additives (not all natural)
Only sold in 8oz quantities
Limited range of colors
Not food safe
Best Finish: HOPE'S Pure Tung Oil, Waterproof Natural Wood Finish and Sealer
We mentioned previously that some cherry finishes are natural and require no additives. One of these wood treatments is Tung oil, but it can be challenging to find in a really raw/natural state, which is what gives cherry wood the best finish. Thankfully, the team over at Hopes wood treatments have come to our collective aid by providing readily available 100% natural Tung oil that can be delivered to your doorstep, so then there's no need for you to head out and scour your local hardware store in search of it (although please feel free if you're in the mood).
Tung oil needs no introduction in the woodworking industry, even the DIY weekend warrior knows how effective and easy to use this substance is, regardless of the type of wood being treated. How do you use it? Well, you add some to either your wooden surface or a piece of cloth and either rub or dab it into the surface of the wood. Tung oil is great because it is a wood treatment in the truest sense of the word, penetrating deep into the wood fibers and becoming a part of the wood, protecting it from insects, water damage, and splitting caused by excessive exposure to heat.
The best part? Tung oil is non-toxic, doesn't leave any sticky residue on the wood's surface, and has practically odorless compared to other wood treatments, which means you won't have to avoid certain parts of your home while it sets and cures. Tung oil is food safe and is extremely versatile, being used on brick, metal, wood, and other materials for hundreds of years.
Tung oil is an easy-to-use natural oil that can simply be wiped on

Permeates deeply into the wood fibers for optimal protection

Resistant to moisture, alcohol, oil, as well as everyday wear
View on Amazon
PROS
Easy to use
Strong treatment
Food safe
Readily available
100% all-natural
Extremely versatile
Proven track record in crafting
CONS
Expensive
Needs to be reapplied once a year
Can be challenging to find in local hardware stores
Sold in limited quantities
Best Value: LINSHEEN Boiled Linseed Oil
In keeping with our all-natural theme, next, we have the boiled linseed oil from the Linsheen team. We mentioned previously that some of the best treatments for cherry wood are the ones that don't contain any nasty additives as the wood is quite sensitive and tends to blotch up when treatments with too many additives are used on it.
Not only is it great if you aren't looking to completely change the aesthetic of the wood, but linseed oil is also great because it's really fast drying, which is perfect when your project is time-sensitive, but you're still looking for a unique finish. What is seldom mentioned when discussing the effects of linseed oil is the fact that depending on where the wood was grown, how old it is, and the amount of light it has been exposed to while still planted, linseed will have varying effects on the aesthetic impact of the wood.
This is part of the appeal though, as having a workpiece that is entirely unique in appearance is not only rewarding in its own right but could sell for a pretty penny if you're in the woodworking market. Linseed oil also seals the wood from the inside out which protects it from moisture, insects, splitting, and abrasion, which means that your workpiece is protected regardless of whether it is indoors or outdoors.
Clear finish enhances the natural color and texture of wood

Deep woodgrain penetration to condition, restore, and enhance longevity

Suitable for patio furniture, decks, wood flooring, and sporting equipment
View on Amazon
PROS
Easy to use
Easy to find
Fast drying
Versatile
Protects wood from moisture/insects/heat
Reasonably priced
CONS
Does not enhance color
Contains drying agent
Not safe until fully cured
Must be reapplied annually
How to Stain Cherry Wood Step-by-Step
While most woods are capable of accepting a wide variety of stains this is not true for most types of cherry wood. Cherry wood is extremely sensitive to both sunlight and the effects of wood treatment products such as wood stain and/or varnish. Let's have a look at the best way to go about staining cherry wood so you can have the ideal finish for your next workpiece. Linseed oil doesn't particularly stain the wood as it would have you believe, rather it undergoes a unique chemical reaction with the wood fibers which simply enhances the wood's natural color and highlights the intricacies of its grain.
Prepare Your Workspace
Before you get your hands dirty it's always a good idea to ensure that your workspace has been prepared adequately. Remember that wood stain can be tough to remove from any surface, therefore on the off chance that you end up getting some on your clothes, flooring, or other possessions in the areas, it's best to get a tarp and some painters tape to cover things up.
Considering that it would be challenging to cover yourself in a tarp while working, consider getting a pair of overalls or simply some clothes you won't mind getting dirty. Lastly, ensure that you wear a good pair of woodworking gloves and a face mask when working with cherry wood stains.
Sand Your Workpiece
The most important step in treating or coating any wooden workpiece is to sand the workpiece adequately. Why? Sanding the workpiece ensures that the raw wood grain is exposed for the wood treatment to seep into. This is especially important if this will be the first time the wood has been treated as any old surface material that has been conditioned to withstand the board immediate environment needs to be removed.
Depending on the size of the board you will be using you could either sand it by hand using some sanding paper or with a power sander. Ensure that the board has been sanded adequately and evenly, and once you are satisfied ensure that your board is clear of any wood particles leftover from the sanding process by giving it a once-over with a cloth. Once your board has been sanded down and cleared of wood, you are ready to move on to the next step in the process.
Stain Your Wood
Now for the moment, you have been waiting for. The process of staining varies from wood to wood, dark cherry wood for example requires different types of stain and more preparation due to its density and really dark heartwood.
Unlike dark cherry wood, sweet cherry wood requires minimal preparation and can be stained effectively simply by applying linseed oil stain to the surface of the board. When staining cherry wood with wood treatments like linseed oil stain it's best to apply the stain to the cloth first and then use said cloth to apply it to the surface of the wood.
Why? Cherry wood has a tendency for blotching when too much stain is applied, this way you are able to regulate not only how much stain is applied to the wood, but also how much stain the wood absorbs at a given time.
Once the stain has been applied to the cherry wood, use the cloth to rub it in gently, but thoroughly, ensuring that you cover the entire board and that the stain is applied evenly across the surface. Your technique can range from working from one end for the board to the other, or simply working from the center of the board outward toward the edges.
Once you are satisfied with the application for stain, wait a few minutes before rubbing out any dark spots with a rag and allowing the stain to set and cure for the manufacturer's recommended time period.
Now that you know what cherry wood is, what type of cherry wood are out there, what effect wood stain has on cherry wood, the different types of wood stain on the market for cherry wood, and the best way to go about staining natural cherry wood, its time for you to go out and put your new-found knowledge to the test. Remember to always check what type of stain you're using on your wood before applying it and always ensure that you work in a well-ventilated area regardless of whether or not the stain contains toxic materials.
Frequently Asked Questions
What is Natural Cherry Wood?
Natural cherry wood is one of the most sought-after hardwoods for furnishings in North America. This wood has amongst the best aesthetics, is easy to work with, and has a tensile strength that, with the right care, will provide furnishings that last a lifetime.
What Does Cherry Wood Look Like Stained?
The cherry that is most commonly used in furnishings is sapwood (the outer wood of the tree) and is quite light in tone. Stained cherry is typically darker in appearance and will darken over time depending on the amount of sunlight it is exposed to.
Is Cherry Wood Good for Staining?
Although it can be a bit challenging to stain for those that are new to the practice, cherry wood stains well and compared to other hardwoods, maintains its color quite well throughout its lifetime. Some of the best wood treatments for staining cherry are natural treatments like linseed oil or Tung oil. Stained cherry tends to increase in color intensity rather than take on an entirely different hue.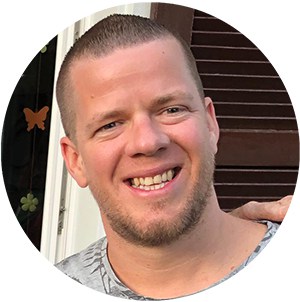 I have been into woodworking since 2005 and woodturning since 2011. Because of my love for wood and woodworking, I started woodhappen.com to teach other enthusiasts about how to finish and seal wood, the best woodworking tools, the different types of wood, and everything else related to woodworking! Read more about me here.