Best Stain for Cedar – What Type of Product Works Best?
Red cedar is a well-known wood species that is used for exterior pieces. It is naturally resistant to decay and red in color. It is very cheap, weathers well, and is highly universal. However, red cedar turns grey very quickly, and it is almost impossible to restore the wood to its original form. You can, however, tone the cedar wood with a stain to return its sophisticated look.
Types of Stains for Cedar
Cedar wood is susceptible to turning grey as a result of exposure to mildew, moisture, UV light, and other weather conditions. Once it has turned grey, there is nothing you can do to restore the wood to its natural color. You can, however, apply a wood stain or toner.
Wood stain colors are available in different opacities. Opacity refers to the solidness of the color as well as to the degree of protection and durability. There are four choices when it comes to staining wood: These are colored or opaque, semi-opaque, semi-transparent, and clear or natural. The stain can be applied to a variety of woods, including cedar, pecan, dark walnut, mahogany, and many others.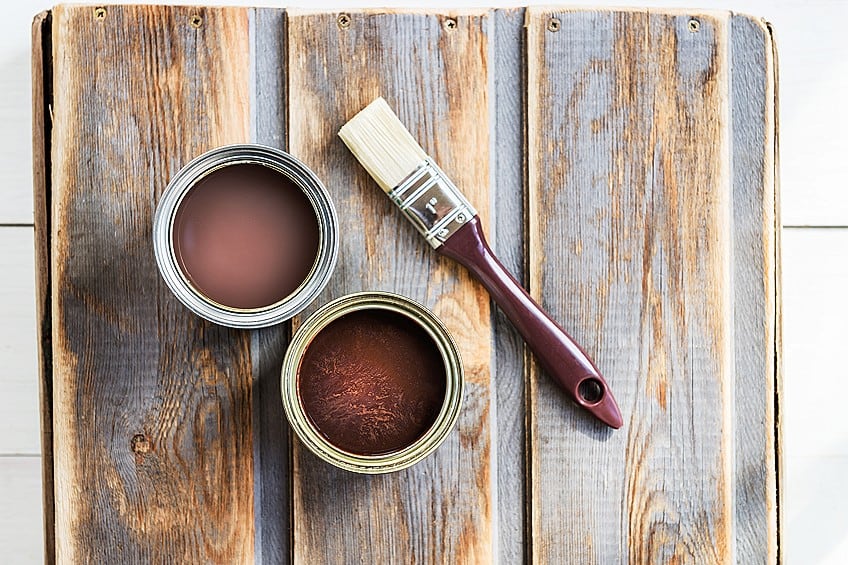 Clear Toner
This is a very transparent stain that will add a warm touch to the surface of the wood without obscuring the natural grain. Clear toner does not peel or leave any residue. This type of stain is not as durable as those that are more opaque in color, and therefore has to be applied annually.
Semi-Transparent
This is a top-rated and popular toner, as it provides only the slightest hue, enhancing the natural color and grain of the original wood. This type of stain should be applied every two to three years.
Semi-Opaque
This is a semi-solid stain that will leave a strong tint over your wooden surface without totally obscuring the original grain. A recoat of this type of stain has to be reapplied every four to five years.
Opaque
This stain is completely solid and offers the most protection and durability to most wood surfaces. It has a high level of pigmentation and completely covers the wood's natural surface. It has to be applied every four to five years.
The Best Stain for Cedar Recommendations
Cedar is readily available in different grades and patterns, but the process of choosing the right stain for your cedar wood can prove to be challenging. This is because the market is flooded with many different products, some of which are not true to their claims. This guide will help you to decide on the best exterior stain for cedar.
Best Overall: READY SEAL Exterior Stain and Sealer for Wood
Get yourself this Ready Seal stain and sealer if you want the best external stain and sealer all in one product. This product is affordable and of excellent quality. This stain-and-sealer combo requires just a few steps to give your deck a professional finish. Your spoilt cedar will be magnified to its original color and beauty. This product has the ability to act as a shield for your wood, protecting it from direct UV rays. If you are worried about your fences, decks, or rooftops that have turned grey, count on this Ready Seal product to get the work done.
Requires no primer

Apply with a sprayer, roller or brush

"Goof Proof" application
View on Amazon
This is a semi-transparent and oil-based stain with a penetrative sealer. The process of application is very simple. You just need to grab your brush or roller and get to work. There is no need to dilute it with water, nor is there a need for a primer. It requires no sweat, as the stain does not drip or run during application. It requires only two layers applied in the same direction to get the look you desire. You will have to exercise a little patience, however, since the stain will take at least 14 days to show its original color.
Pros
Easy application
Does not require a primer
Does not drip or run during application
Protects the cedar from direct and harmful UV rays
Economical two-in-one stain and sealer
Can be applied at any temperature
Cons
Original color takes a period of 14 days to show
Premium Pick: DEFY Extreme Semi-Transparent Exterior Wood Stain
If you are looking for a top-quality semi-transparent stain, then this is the right product for you. This product has the ability to make your wooden surfaces more durable. It acts as a sunscreen for your wood, protecting it from the sun's harmful UV rays. This product contains zinc nano-particles that can protect your wood from mildew build-up and harmful sun rays. It is much more effective than its closest competitors, making it the best stain for cedar.
Water-based semi-transparent wood stain
Formulated with zinc nano-particles for UV resistance
Extremely durable and easy to maintain
View on Amazon
The product is water-based and has the ability to beautify your fences, outdoor patio furniture, wooden decks and more. It comes in a variety of colors, so make sure you choose your favourite shade for your wooden surface. Defy's semi-transparent exterior stain is very easy to use, since it does not require dilution. All you have to do is to spray it or brush it over your target area. If you are spraying, make sure that you use an airless pump sprayer. The magic is delivered within 24 hours of application. For the best results, always clean the surface with soap and water before application.
Pros
Very easy to use
Requires no dilution
Contains tiny zinc particles that prevent mildew
Variety of available shades
Results within 24 hours of application
Cons
Tends to fade and requires reapplication more frequently
Best Value for Money: THOMPSON'S WATERSEAL Transparent Waterproofing Stain
You will not regret getting the Thompson's WaterSeal Stain because it has the ability of water-proofing your cedar. This is a two-in-one product, being both a stain and sealer in one bottle. It has the ability to resist and withstand any forms of calamities and problems that are prone to wood whilst still delivering the desired results. Once you purchase this product, you can say goodbye to the problem of fading. You can use this product on both dry and wet surfaces. The application process is also simple, where a single coat is enough to get the work done.
Prevents water damage

Fade-resistant color

Resists mildew and UV damage
View on Amazon
If you prefer double-coating, however you will have to wait for at least two hours for the first coating to dry before applying the second one. The final finish will take no more than 48 hours to dry. If you have managed to apply it correctly, you will notice a smooth and shiny wooden surface within 48 hours. You cannot apply this stain in hot weather or under direct sunlight, however. Choose a day with temperatures that are between 50 and 95 degrees Fahrenheit (10 to 35 degrees Celsius). This product is not suitable for freshly painted woods.
Pros
Waterproofs the cedar
Offers protection from harmful sun rays and mildew build-ups
Can also be applied as a double coating
Works well on dry and wet surfaces
Cons
Cannot be used in hot weather (requires certain temperatures to work effectively)
Not suitable for freshly painted wood
Budget-Friendly: KRYLON Exterior Semi-Transparent Wood Stain
This is a semi-transparent stain that works as a protective layer on a variety of wooden surfaces. These wooden surfaces include outdoor patio furniture, decks, fencing, and so on. It stops rain water from seeping through the wood and also has the ability to protect your wood from direct sunlight. The stain is oil-based and gives the wood a long-lasting finish. This product must be applied via an aerosol spray can. This means that you have to be very careful during the application process so as to avoid messing up your wood.
Premium, durable stain

Water repellent and UV fade protection

Fast, even coverage
View on Amazon
A single coating of this stain is enough to get the work done, and it will dry within 15 minutes. To avoid the application being patchy, you have to wait for at least 48 hours before adding a second coating. This product covers an area of about 25 sqare feet if applied correctly, and should be used on clean and dry surfaces. Always wear protective clothing when working with this product. It comes in four shades, giving you enough room to make your preferred choice. These are Redwood, Rustic Brown, Cedar and Olive Grove.
Pros
Oil-based and semi-transparent
Dries up very quickly
Comes in a variety of beautiful shades
Protects wooden surfaces from rainy water and direct sunlight
Very long-lasting since it is oil-based
No temperature specifications required
Cons
Can only be applied with an aerosol spray can
Choosing the best Stain for Cedar
Before purchasing the perfect stain for your outdoor wood, you need to consider a few factors first. Purchasing the best stain for your cedar will help in improving the overall appearance of your wood. The best stain prolongs the life of your wood, allowing you to enjoy the beauty of your wooden pieces. The following factors will help you in making an informed decision when buying the best cedar for your wood.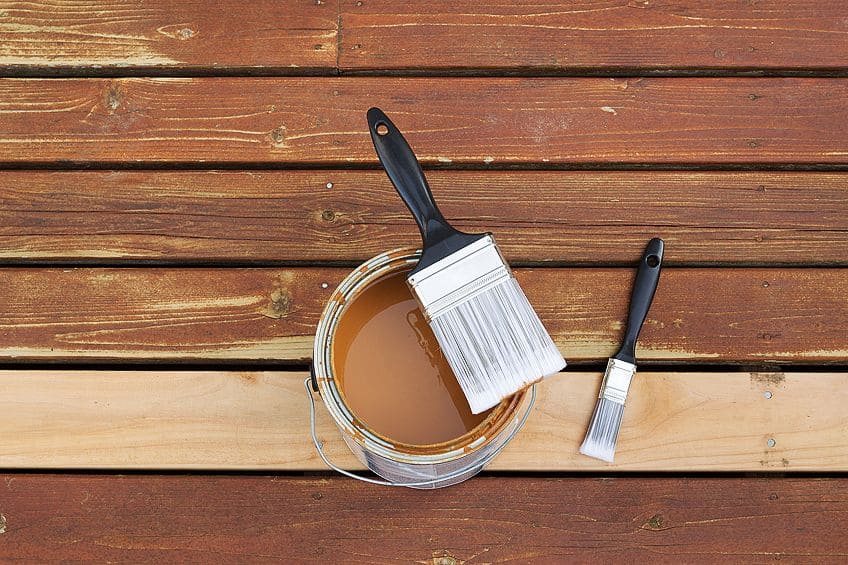 Wood Type
The type of wood will determine the amount of stain to be absorbed. Pine is an example of softwood which has a high rate of absorbance. When a stain is applied to this type of wood, the stain will get darker with only one coat. On the other hand, a hardwood like oak will need more coats for the stain to get darker. You can identify your wood type by inspecting the grain. The grain on most hardwoods is even and appears to be consistent, while on the softwood it is unevenly distributed.
Oil- vs Water-Based Stains
The type of stain you choose also depends on the type of protection you need. Stains can have a water or oil base. The durability of the stain is determined by its foundation and the pigmentation of the wood. Oil-based stains are more durable, although they produce a great amount of hazardous fumes. Water-based stains, on the other hand, are less durable but are low in odor and produce fewer volatile organic compounds (VOCs), if any. More solid shades will also offer more protection than those that are more transparent.
Wood Stain Colors
When it comes to stain colors, opacity plays an important role in determining the perfect fit. This opacity is based on whether the stain is solid, semi-solid, semi-transparent, or clear. Opacity is also linked to the durability of the stain. To achieve a more natural look, it is advisable to choose a stain which is similar to the color of your original wood.
Costs
Most stains for outdoor wood and furniture are not very cheap, so it is wise to consider a product of superior quality that will be able to cover a larger surface area. The main focus when choosing your stain should be on quality, so as to avoid extra costs of maintenance in the future.
How to Apply Your Stain to wood
Once you have an idea on what type of stain to purchase for your outdoor wood and furniture, and the factors to consider before buying, you can finally master how to apply the stain more effectively. A wide brush would be most suited for larger projects, while a small brush would suit smaller projects.
Prepare the Surface
You should clean the wood surface thoroughly before applying the stain. You can start the process with a basic brush over, and then use a detergent to remove any greasy or oily patches and build-ups. Make sure you leave the detergent for at least 10 to 15 minutes, and then rinse it off. You can do a final scrub to ensure that the surface is thoroughly clean. Use a light grade of sandpaper for a smooth surface and a coarser grade for rougher surfaces.
Safeguarding Measures
Always wear safety attire when applying a wood stain since it is toxic. You can opt for rubber gloves, a face mask or even old, worn-out clothes for your attire. Work in an open, ventilated area to lessen the effects of the stain fumes. Oil-based stains are very flammable when wet; ensure all rags are completely dry before disposing them.
Applying the Stain
Follow these simple steps when applying the stain:
Apply the stain in the same direction as the grain using a brush. You have to apply a generous amount first and allow it to sit for at least 15 minutes so that it can be thoroughly absorbed by the wood.
When the time has lapsed, wipe off the excess stains following the direction of the grain. Always have a number of rags handy, because this process might require a lot of them.
Allow the coat to dry for at least 4 to 6 hours before applying the second coat. Apply the second coat in the same manner as the first one.
After you are done applying your coats, you should leave the stain to dry completely. The drying time varies according to the type of brand you will be using, so ensure that you read the instructions thoroughly.
You can then apply a sealant if you want. You can use oil, wax, resin, or polyurethane as a protective coat for your wood.
Frequently Asked Questions
Which Types of Stains Last Longer?
The type of stain determines how frequently it should be applied. Solid stains are best known for lasting longer and requiring a period of at least 4 to 5 years before reapplying. This is because solid stains have the ability to deeply penetrate the wood.
When Should the Stain Be Reapplied?
Opacity plays an important role in determining how often the stain needs to be reapplied. Good quality stains last longer before requiring a new coat.
How Many Coats of Wood Stain Should I Apply?
If you have a soft wood, then you will not require more coats of stain. This is because softwood has a higher absorption rate when it comes to stain. They are able to retain the stain color much quicker. On the other hand, hardwood would require multiple coats.
How Long Do Stains Take to Dry?
The type of stain and surrounding weather determines the drying time. Water-based stains dry much quicker within a period of 3 hours compared to oil-based stains. Oil-based stains take at least 24 hours to dry completely.
Do I Have to Apply Both a Wood Stain and Sealer?
Sealing wood is not really a requirement, but it has the ability to protect your wood from further damage. Stains are able to restore the natural look of your wood; the sealer will provide protection from UV-rays, mildew, scratches, and so on.
Should I Paint or Stain?
You can opt to paint your wood because this method is cheaper and easier than applying the stain. Paints can protect your wood from direct sunlight but have the problem of trapping moisture. On the other hand, wood stains have a variety of purposes. A solid color will protect your wood from UV-rays, whereas a semi-transparent stain will enhance the appearance of your wood.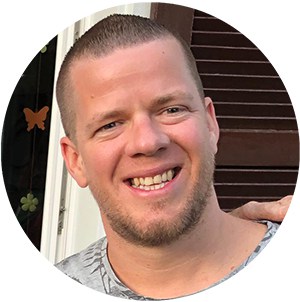 I have been into woodworking since 2005 and woodturning since 2011. Because of my love for wood and woodworking, I started woodhappen.com to teach other enthusiasts about how to finish and seal wood, the best woodworking tools, the different types of wood, and everything else related to woodworking! Read more about me here.