How to White Stain Wood – Complete Guide
Life today is moving fast! There are constantly new and exciting innovative methods and applications when it comes to the world of DIY! This is not a bad thing at all, especially because with new innovation comes sustainability and eco-friendliness! This is especially important when it comes to white wood stain and paint. As you likely already know, we are leaps and bounds ahead when you think of the old lead paint used in yesteryears. Thank goodness for that! Now, when it comes to painting wood, one thing many of us remember from our childhood is that classic whitewash wood stain, often on our bed frames or on the coffee table of our family homes. So, does new innovation in the world of paint mean we have to say goodbye to nostalgic effects such as the white wood stain? Certainly not! You can still have the lovely wood grain shine through a lick of paint today. Read on to learn about the best white wood stain for your project, and for more detailed information on how to stain wood white.
What Exactly Is a White Wood Stain?
If you are not familiar with what white stained wood is, you should first look at some plain, untreated and unpainted wood first. The idea behind a whitewash wood stain is to color the wood but allow the grain and texture to show through. Woodstain is basically just a chemical solution created with a base of alkyd, oil or resin. Thanks to these bases, the color is able to penetrate into the wood, allowing it to bind with the fibers within the wood. Once this bond has been established, the white wood stain actually interacts with the wood on a molecular level. This causes the wood to change color, both darker or lighter, depending on the product you use and your desired results.
Wood stains are available in many colors which replicate natural wood's essence. Colors such as redwood, maple, oak, cheery, and redwood are a few examples. But, thanks to modern innovations, colors available to stain wood have evolved. One of these colors is a very popular and sought-after whitewash wood stain. Many people would think that you could just use white paint, however, you will not be able to achieve the same effect that a good quality white wood stain would give you.
When you use solid white paint to paint wood, you can no longer see the wooden grain peeking through. This is often the exact effect you want to achieve, so painting your wood with white paint is not a good option. Using watercolor paint could help you achieve the look you want, however, the grain will still be obscured in some areas as the paint is a coating, not a stain. Therefore, making sure you use the best white wood stain you can afford is of utmost importance. Of course, watercolor paint will not have the same adhesion, lifespan nor resistance to natural elements the same way as a decent whitewash wood stain with an oil or acrylic base.
Thanks to the pigments available today, we are able to stain wood in almost any color imaginable, all while providing resistance to your wood!
The Differences Between White Wood Stain and Paint
You now know a lot more about what exactly a whitewash wood stain is, but you should still learn a little bit more to fully understand how and why it is so different from regular paint. While yes, both paint and white wood stain can bring new life to your wooden surface, they are both very different from one another.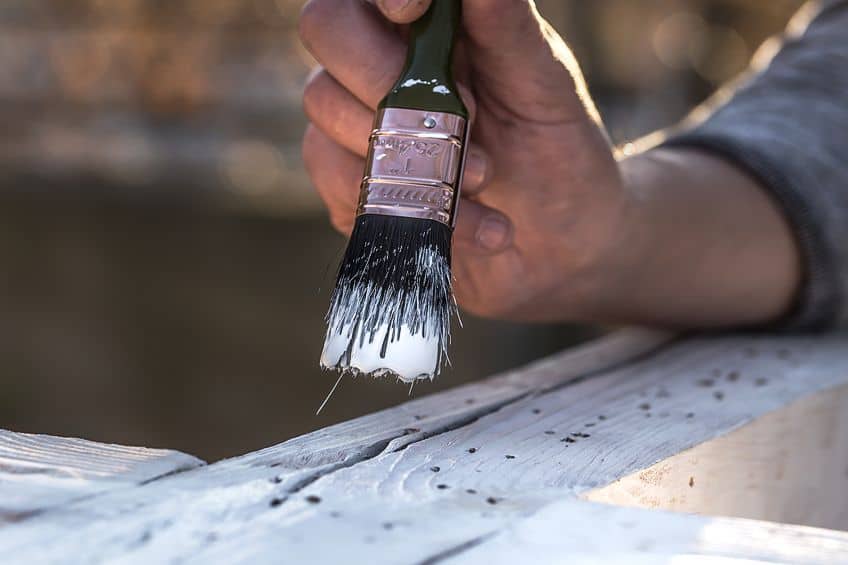 Depending on your wood, the circumstances, and its use, you may prefer to use paint over a whitewash wood stain. However, in order to make that decision, you should first know exactly what a white stain on wood does in comparison to white wood paint.
| | |
| --- | --- |
| White Wood Stain | White Wood Paint |
| Completely penetrates and absorbs into the wooden surface | Partially penetrates the wooden surface |
| Wooden surfaces natural grain is still visible after staining | The layer conceals the grain of the wooden surface |
| Helps to protect the wood from the inside | Only provides external protection to the wood |
| Treatment for the wood | Only a surface level coating |
| Binds to the woods fibers | No binding to the woods fibers |
White Paint on Wood
White stain for wood is essentially an additive because it changes your wood's color by seeping into the wood and binding to the fibers. Wood paint is different entirely because it sits on the wood's surface, however, both essentially achieve the same goal, aesthetically.
Technically, one could argue that using oil-based paint is the same as a tint, and you would somewhat be correct.
The reason they differ is in how they interact with the wood. Paint will remain a surface coating whereas the white wood stain would be considered to be a wood treatment. Therefore, white wood paint will coat your chosen wooden surface, but, rather than changing the color of the wood, it merely sits on the surface.
White Stain on Wood
As you have read above, the whole essence of white stain for wood is its ability to be absorbed by the wood, allowing it to blind to the fibers within the wood. The resulting chemical reaction and the injection of pigment help the wood to quite drastically change in color, either lighter or darker, depending on the stain you chose and your preference, of course. Whitewash wood stain, or any wooden stain, for that matter, will help preserve your wood's grain presence which shows on the surface of the wood.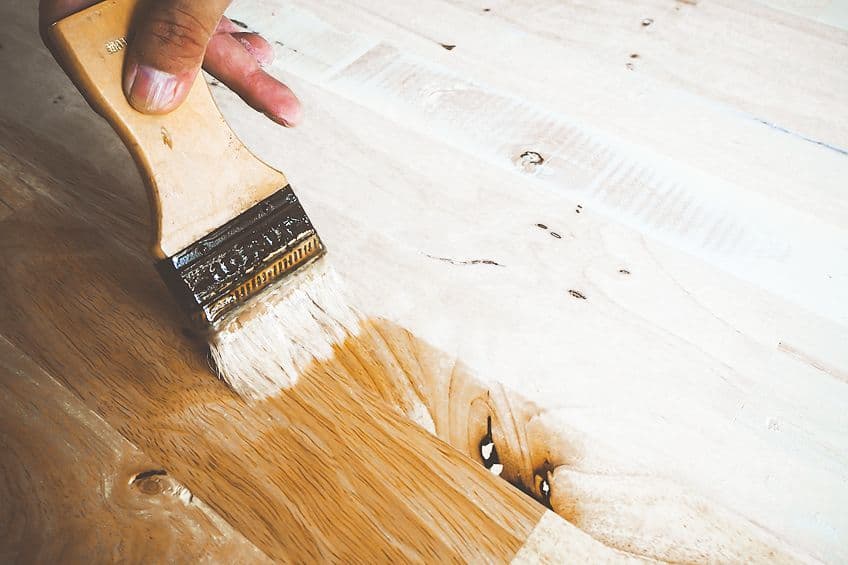 White stained wood will preserve the natural look of your wood, allowing for a natural but appealing finish that follows the flow and lines of whatever you apply it to. White stain for wood will certainly help spruce up your environment while still being unique when compared to other finishings and furniture. By using a whitewash wood stain, you are able to truly show off the wood while still helping your piece or trim to match the rest of your room's furniture and decor.
How to Use White Stain on Wood
Since you are now equipped with all the knowledge you need to know in order to choose the best white wood stain, it is only fitting that you now learn how to apply it correctly. Learning how to stain wood white is an important thing to learn when you desire a properly whitewashed surface!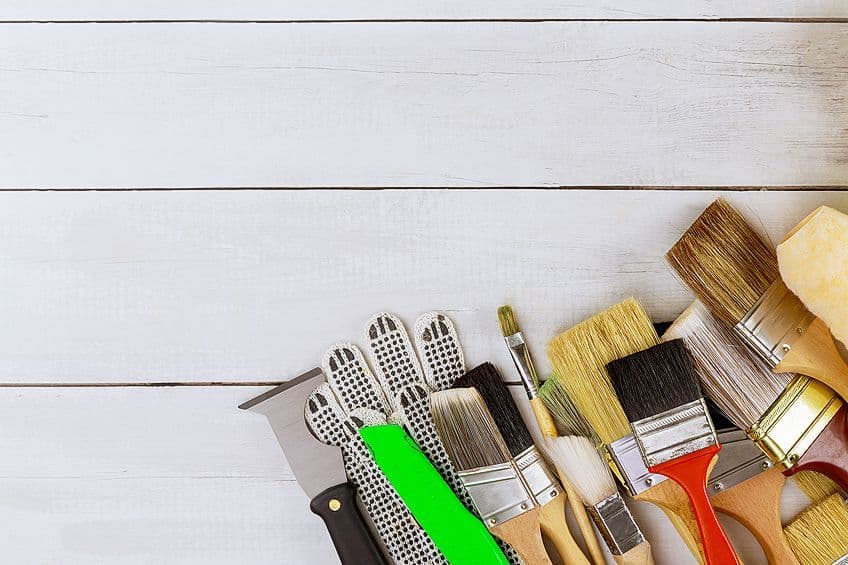 Not only will your newly painted white stained wood be protected from things like fungus, mold, rot, moisture, and even termites, but it will look fantastic and freshen up whatever room it is used in. Here are a few items you will need to create white stained wood:
Your choice of white wood stain
Sandpaper, with or without a power sander
A cloth or brush or even a roller, depending on your surface and preference
A pair of rubber gloves
A facemask with a filer, especially if using an oil-based white stain for wood
Some tarp to aid with quick cleanup
Properly Preparing Your Space
Remember, that while creating white stained wood is a relatively easy process when compared to painting, you should still properly prepare before you start your project. The last thing you need is an avoidable mistake! And, most errors and accidents are avoidable with proper preparation. It is important to be organized and make sure all your materials are4 easy to find and at hand. Also, make sure to lay down some tarp to protect any floors or furniture that could end up dripped on.
Once your is in place and all items you may need at hand are easy to access from all angles, your workspace is ready! Time for the next step.
Remove any Pre-Existing Finish From the Wood
If you are working with a fresh new board or piece of wood, you may not need this step at all, however, you may still need to sand the wood down before you apply the whitewash wood stain. Should you be working with an older piece of wood that has previously been painted or stained, it is a good idea to sand a few layers down to remove the coats of paint before you apply any white stain on wood.
Should you have actual paint on your wooden item, you will likely need some paint stripper and sandpaper with a sander to get rid of it all. You need to expose the wooden surface in order to apply your new white wood stain and have it work effectively. Should you only face an old wood stain on your wood, a few layers of sanding should do the trick. It is also a good idea to let your wood breathe a bit once the previous paint or stain has been removed before you move on to step three.
Appling the White Wood Stain to Wood
Many people prefer a white wood stain, just like many people prefer to use paint and do not enjoy the look and feel of the natural wood shining through the tint. That said, we do think there is a stain for everyone, no matter their tastes or opinions in this regard! When it comes to wood stain, how one should apply it is a debated topic. The two most commonly used methods of application are using a roller or a paintbrush.
A roller might not be the most effective as a lot of the stain will be soaked up, not to mention how awkward the application could end up being if you are not tinting a flat surface.
Another option one should consider is a simple lint cloth. It would seem that most people agree that a cloth or a brush is the best way to apply whitewashed wood stain, and it ultimately will depend on your own personal preference. A brush is probably the most practical choice, especially if you are using the correct brush for the job! Use a light amount of whitewash wood stain and add more coats as each one dries.
It is likely to take a lot less effort to use a brush than a cloth. When you use a cloth to apply a wooden stain, you can work quite fast. However, the effort used is still more than using a brush to apply. You have less control when it comes to the intensity of the stain and it is less predictable. You may prefer to use a combination of both brush and cloth to apply your wood stain.
Allowing for Absorption and Drying of Your White Wood Stain
After your first coat of whitewash stain (and depending on the product you chose, sometimes only one) and after 60 minutes of drying time, you should be able to tell whether or not the stain is to your preference. If it is not incensed enough, you may now apply another coat.
Remember to follow the instructions from your product's manufacturer, as the correct and ideal drying time will be noted.
Another thing to keep in mind is that you need to be patient. If you rush and apply another coat before the first has dried properly, you will struggle to assess the final result. It may turn out that you did not need that extra coat, after all! When creating a white stain on wood, if you chose to use a water-based product it will be opaque-like in appearance, in a way resembling a water-color painting done on a sheet of paper.
You are likely to desire another coat or two. When using a whitewash tint that is oil-based, you will notice that the color is more vibrant and more pronounced, requiring far fewer coats. An oil-based stain is also usable outdoors, making it a lot more versatile, but usually with a longer drying time between coats, when compared to water-based options.
What are white wood stain products that work?
Understanding exactly what a whitewash wood stain is and how it works and bonds to wood is fantastic, but, you may still be unsure as to which white wood stain you need. So, which product is the best white wood stain for your needs? Keep reading to find out exactly which white stain for wood will work for your project with our helpful list of recommendations, each complete with positives and negatives, to help you make an informed decision.
Top Choice for Overall White Wood Stain: VARATHANE Premium Fast-Dry Wood Stain
If you are looking for a fantastic, overall whitewash wood stain, then one of the best white wood stains you could purchase is the fast-dry wood stain from Varathane. This versatile product works well on many different kinds of wood, both inside and outside. If you have been needing to spruce up your kitchen cupboards, add some flair to an outdoor patio set, or simply just want to recolor your boring skirting boards, Varathane Premium Fast-Dry is the best white wood stain for the job! When you use a white wood stain to stain your wood, you probably do not want to think about needing to apply another coat to achieve the results promised by the manufacturer.
That is the great thing about the high-quality formula that Varathane uses, you will not need more than just one coating on your wood because of the potent and effective final color finish. To make this product even more irresistible is its fast drying time of just one hour! Of course, value for money is another big plus with this surprisingly affordable Varathane white stain for wood. Also, you can purchase it in many different sizes so wastage is minimal, from 8 fluid ounces (30 millimeters) to a full-sized quart (1 liter)!
For any white wood stain, it is the nano-pigment particles that will help the color shine through and truly pop, allowing for a beautiful and bright eye-catching white color that will not make you give up your stunning, natural wood grain.
Top Choice for Finish: MINWAX Wood Finish
Should you not want a white wood stain that will saturate the entirety of the surface of your wood, then you will be making an excellent choice by choosing this white wood stain from Minwax. The finished result from their product is light and simply shades your wood slightly, without over saturating or overtaking the wood's natural look and grain. The majority of whitewash wood stains pride themselves on brightening up your wood and making it pop, this product from Minwax does the opposite by providing your wood with a beautiful light finish which allows your wood's natural distinctive features to show through in a tasteful and simple way.
While it still penetrates the wood and binds to fibers deeply within, the pigment added to the stain remains light and fresh. So if you have been looking for the best white wood stain that will remain low-key and not overly brighten your wood, this is our favorite by far. If you have finished staining your wood and feel a little extra oomph is needed, simply add another coat without worrying about it being overdone. This white stain for wood offers a modern yet sleek, pure look that promises not to overpower your wooden furnishings.
Top Choice for Value: GENERAL FINISHES WIPT Water-Based Wood Stain
When compared to the best white wood stain products available, if you want good value, General Finishes WIPT whitewash wood stain is hard to beat. This product is so flexible – and by that, we do not mean it is only versatile, we mean it can be blended to produce a different color tone and the wood stains intensity can be adjusted. This white wood stain is also water-based, unlike most popular wood stains available. This does mean that it will be less robust than its oil-based counterparts. The white wood stain from General finishes is super low cost, keeping your budget in mind.
It can also be applied with a sprayer, a brush, or even a cloth, depending on whatever you prefer. The best part about this white stain for wood is that it is practically odorless, meaning you can use it inside the house without being overpowered by strong product smells. While this product will not work too well on outdoor furniture, it is a great and affordable option for indoor use. This is, however, one of the safest white wood stains you can purchase. It is far better to use in a child's room than its oil-based competitors. Also, because of its water base, it is not combustible, making it a good choice of stain for any furniture that will be located close to a fireplace.
We hope our guide on the best whitewash paint and our product reviews as well as the simple DIY tutorial on how to use your white wood stain properly will benefit you and your next whitewash project! You should be feeling quite confident to tackle the task at hand! Happy whitewash wood staining!
Frequently Asked Questions
How Does White Stain for Wood Work Differently to White Paint?
Both wood paint and a whitewood stain provide an aesthetic look, ultimately, they both result in the same thing and serve a very similar function at their core. White paint is a surface coating and will not penetrate the wood as it sits on the surface of the wood. Whitewash stain is different because it seeps and binds to the inner parts of your wood. The stain's pigment is what gives off some color, all without hiding the wood's beautiful and natural grain the way a regular paint product would.
Are You Able to Use a Whitewash Wood Stain on Pine Wood?
Most certainly! You can use a whitewash wood stain on pinewood if you wish. Truth is, pine is an excellent wood for stains as many products work exceptionally well with pinewood. You can apply your wood stain using a brush, cloth or old rag, or even a roller if you wish. Pine can be beautified immensely with the right tint.
Is It Possible to Use White Wood Stain Over White Paint?
It will be somewhat a pointless and costly exercise to put your stain on an object that has been painted previously. If the paint is older and cracked, you might achieve an interesting effect, but, everyone agrees, especially the professionals – it is logical and obvious that stain works best on raw and exposed wood, so take the extra effort to remove any old paint with a paint stripper and sander, first.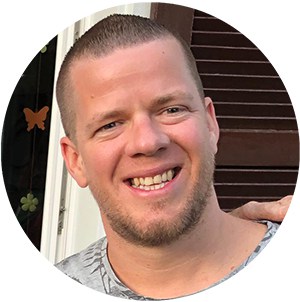 I have been into woodworking since 2005 and woodturning since 2011. Because of my love for wood and woodworking, I started woodhappen.com to teach other enthusiasts about how to finish and seal wood, the best woodworking tools, the different types of wood, and everything else related to woodworking! Read more about me here.