Most Profitable Woodworking Projects to Build and Sell – Our Picks
Whether you're a professional crafter or a DIY weekend warrior, at some point you've probably thought, "I can make some money off this!". Believe us you're not alone. Many who enter the field of wood crafting as a hobby often find a niche market for their creations, resulting in many crafters making a secondary income, or turning it into their full-time jobs! Not all wood crafts are great for turning a profit though, so let's have a look at the most profitable woodworking projects to build and sell, and what makes people want to spend their hard-earned money on them.
The Most Profitable Woodworking Projects to Build and Sell
If you're wondering if it's possible to make a decent amount of cash from woodworking projects, the answer is yes! If you're going into wood crafting with your primary goal being to turn a profit, it's good to know which products to build and sell. This being said, below are some of the most profitable woodworking projects to build and sell right now, and what it takes to make them.
Wooden Coasters
If you're looking for simple woodwork ideas to sell, we recommend considering wooden coasters. Coasters can be virtually any size and shape, which means that you have tons of creative freedom with little to no restrictions! If you're still a beginner at wood crafting, coasters are a great place to start your journey, plus, they sell pretty well!
Coasters are something that most of your potential customers can use in their everyday lives, so they're often purchased as a type of long-term investment. If you'd like to make your coasters unique and durable, you can coat them in epoxy resin, treat them with wood stain, and varnish, and you could try adding unique designs or stencils to their surfaces.
Wine Racks
As far as woodworking ideas to sell go, wine racks are one of the most profitable. Whether you're selling them directly to consumers or churning out boatloads of them to retailers, there is always a market for a good quality, aesthetically appealing wine rack. Whether you're going for a large intricately styled rack or a simple countertop rack, the market for these is quite big.
Wine racks, like coasters, can be used in everyday life, and as a result, they tend to sell quite frequently. You can diversify your product range by offering wine racks of different sizes, shapes, and finishes to appeal to a larger target market. Wine racks are fairly easy and inexpensive to produce too, making them an excellent woodworking project to turn a profit on.
Wooden Kitchen Utensils
In the wake of the popularity of minimalist aesthetics, wooden utensils have become surprisingly popular. Wooden utensils can be found at virtually every major retailer, but they're typically a bit expensive. Making wooden utensils is fairly straightforward and requires very little wood compared to other wood-crafting projects.
The cool thing about wooden utensils is that they can be used for cooking, eating, or simply for display purposes, there are also a variety of utensils for you to make, including forks, spoons, chopsticks, salad mixers, bowls, cups, spatulas, egg flippers, and even cutting blocks! These are super popular at the moment as they fit virtually every kitchen style, and therefore tend to sell well!
Wooden Art
If you've ever entered a space and felt like the space was too plain, chances are that it could have used some simple styling to add some variety to it visually. There's no better way to spice up the energy of space than to add some interesting artwork within it. Wooden art isn't only really popular, but it can be loads of fun to make too!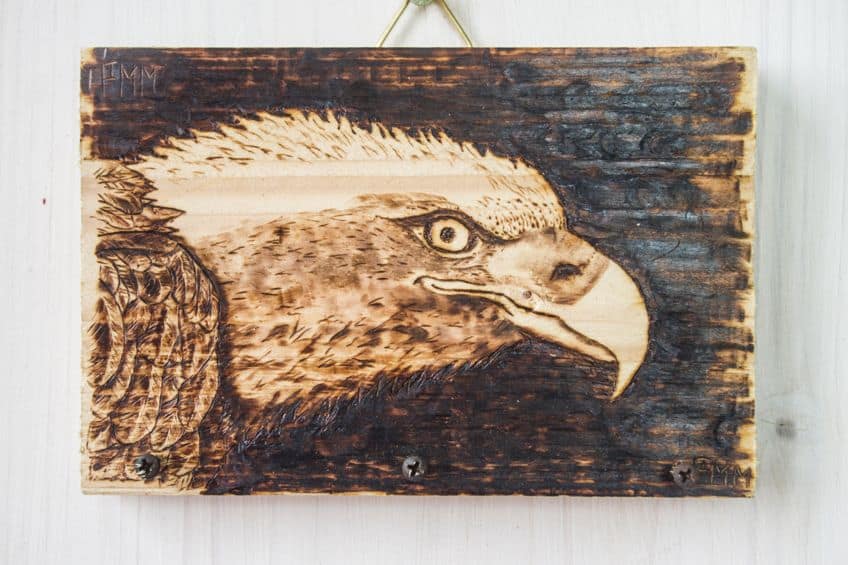 There are a ton of forms of wooden art for you to choose from, whether you're using acrylic paint and epoxy on wood, using a pyrography pen, or simply painting on a wooden board, there are over a dozen mediums for you to choose from. Wooden art can also be sold for a fair sum of cash, and if you don't quite believe us, have a look at sites like Etsy and Pinterest and see for yourself.
Wooden Benches
A universal experience among our species is the need or want to sit down after a long day's work. Therefore, it should come as no surprise that chairs and couches are among some of the most purchased furniture items the world over, so if you know how to make a decent chair or different types of practical seating, you'll be in business for quite a long time.
As far as wood craft ideas to sell go, this one is a surefire way to grab the attention of potential buyers and build a pool of customers for yourself really quickly. Keep in mind that if you're a novice or beginner, it can take considerable time and effort to make good quality leisure furniture. On the upside, you can make things like couches, recliners, daybeds, ottoman seats, or simple exposed wooden benches.
Wooden Signage
If you're looking for wood craft ideas to sell that won't break the bank to start up, wooden signage is a great place to start. Why? Wood signage can be created in any shape, size, color, and style. This leaves you with loads of creative freedom because there are no contemporary norms to adhere to, to the expectations of the average consumer.
Wooden signage also fits well with minimalist and or industrial-chic aesthetics, which is one of the reasons why they're so popular. You can implement pyrography, embossing, resin, paint, plant life, metal, plastics, and even glass into your wooden signage. This being said, if you're looking for a solid place to start in commercial wood crafting, the creation of wooden signage is a great place to develop your skills.
Wooden-Armed Coat Racks
Have you ever gotten home and loathed the thought of having to open your cupboard door and put your coat away? After all, you'll need it the next time you leave your home again, so what's the point? Well, thankfully, coat racks have been around for a long time and are still a viable, low-tech solution for your coating hanging needs!
Coat racks are super easy to make and don't require many tools or wood to get started. Classic coat racks designs typically require the implementation of dowels, but modern coat racks tend to have various configurations that don't require the use of dowels. You don't need a lot of wood to get started either, and with simple finishes like wood stain or varnish, you can make your coat racks look like top-notch high-end furnishings!
Wooden Jewelry Boxes/Organizers
If ever there was a good entry point for the commercial woodworking industry, we think that jewelry boxes and organizers would be it. These units allow you to store and organize different types of jewelry like rings, necklaces, bangles, and earrings with ease, ensuring that you always know where they are and have easy access to them.
These crafts can take the form of a "rack", a small chest of drawers, a box, or more intricate designs that implement mechanisms and security measures for your valuables. Whether you'd like to create high-end jewelry holders or simple ones with cool designs on their exteriors, this is a highly profitable commercial woodworking product to make and sell (if you find the right market for them).
Exterior Wooden Tables
Out of all the woodworking projects we've discussed so far, this is by far the biggest. Don't let the size intimidate you though, as tables are relatively simple projects to both design and construct, even when compared to some of the smaller aforementioned ideas. Besides, virtually everyone needs a table or two in their daily lives, so why not give making one a try?
There are various designs for wooden tables you can try out. Whether it be an outdoor picnic table, an indoor dining table, a huge banquet table, or a small coffee table, it's sure to sell if it's of decent quality and attractive design. We recommend focusing on the basic structure and integrity of the table if you've never made one before, and then moving on to improve your design and aesthetic.
Wooden Coffee Mugs
Whether you enjoy a freshly brewed cup in the morning or a nice little pick-me-up at lunch, most Americans tend to agree that coffee is a great (if not somewhat essential) part of our daily lives. This being said, why not have a cool wooden cup to drink it out of? Not only do wooden cups look and feel trendy, but they can be sustainably produced too!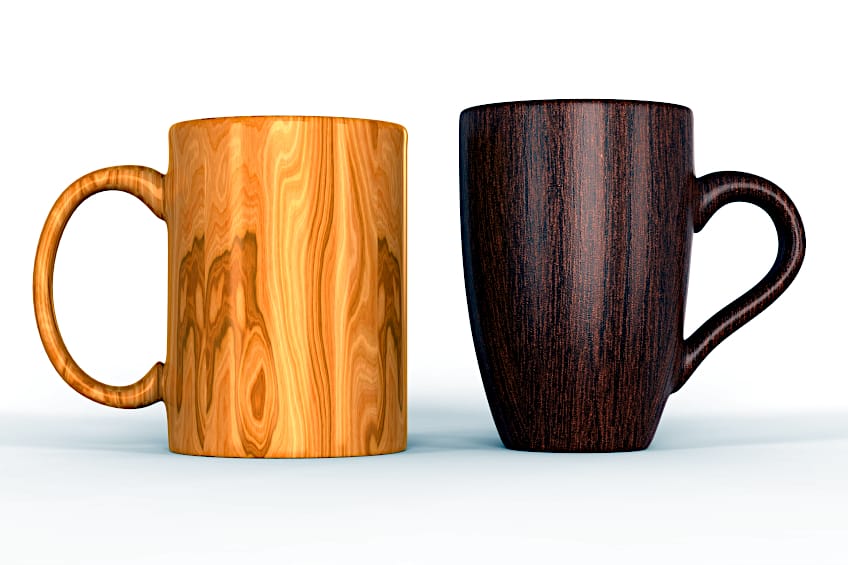 There are loads of variations of wooden cups for you to make too. Whether you're making tiny espresso cups, huge mugs, or regular-sized cappuccino cups, there are loads of shapes, sizes, and designs for you to choose from when making these. They tend to sell pretty well too, and with custom designs and engravings, you can carve out your very own section of the wood crafting market.
Wood Egg Carriers/Holders
The nice thing about wood as a medium is that it fits in with virtually any aesthetic. As we mentioned previously, modern minimalist and industrial chic aesthetics are really popular right now, so well-polished, simply designed egg holders tend to fit right into the overall look and feel of these spaces. How do you make a wooden egg carrier/holder?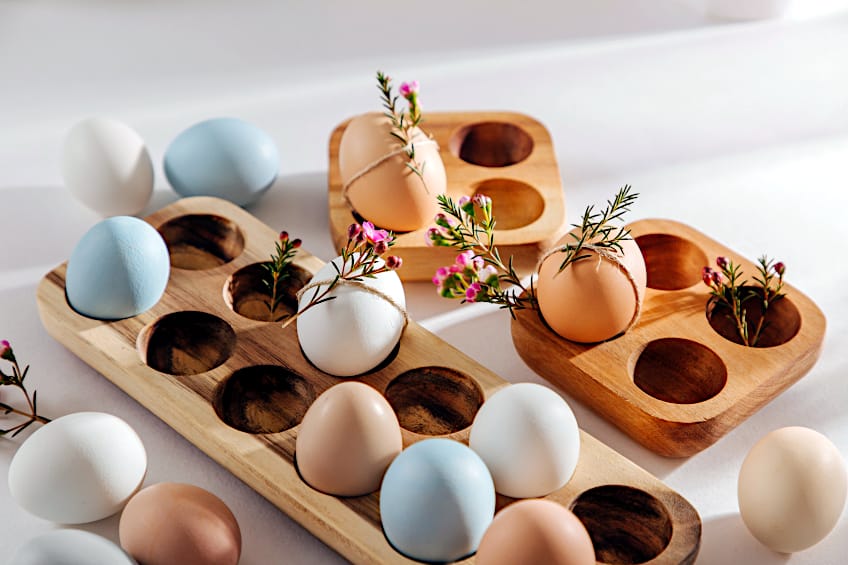 Generally speaking, all that you need is a base for the holder, and then an insert with recesses to ensure the eggs don't bump into one another. There are loads of tutorials online showing how to make these recesses with little to no specialized tools. These are quite popular, especially with more and more people around the world living sustainable lifestyles.
Wooden Toys
Although kids tend to lean toward modern electronics for entertainment these days, contrary to popular belief, they do still play with toys. As a result, there has been an increase in demand for sustainable toys that aren't made of harmful plastics or potentially hazardous metals. That's where the wooden toy market comes into play!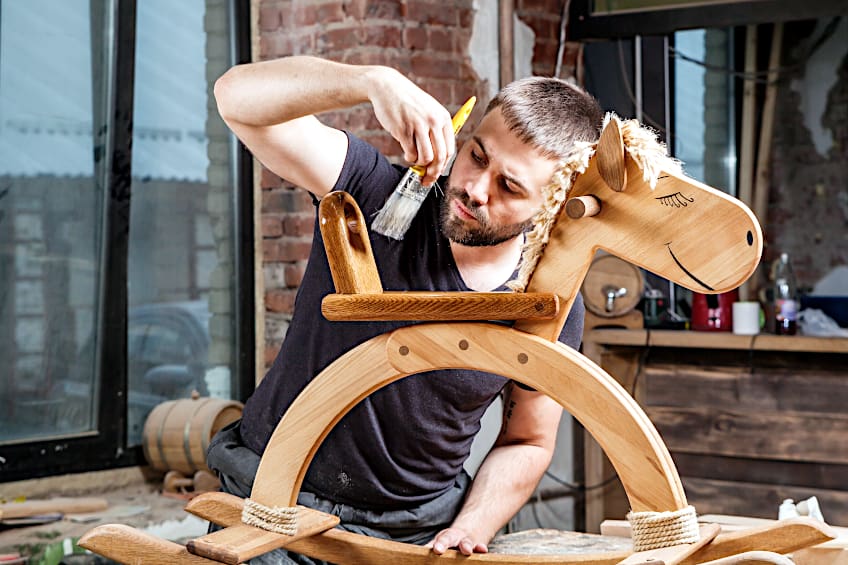 Toys can be tricky to make, as they need to be eye-catching and interesting to feel and play with. However, simple designs can be improved and expanded upon to make some truly interesting toy ideas. Whether it be cars, dolls, trains, building blocks, puzzles, small toy kitchen sets, nesting dolls, and even little toy swords and shields, the possibilities are endless.
Wooden Frames for Pictures and Paintings
Digital cameras have allowed us to capture events in real-time and review them whenever and wherever we find ourselves. However, a lot of people lack the texture and feel of old reel photography. This is one of the reasons that reel and polaroid photography have come back in a big way, creating a market for photo frames once more.
The basic design of most frames is simple, with more emphasis being placed on the design and type of wood used in their creation. High-end, intricately carved frames can fetch a pretty penny in the right circles, so be sure to do your research and get to know the type of clientele you'll be dealing with before you decide to commit to this market specifically.
Wooden Cutting Boards
This is by far one of the best-selling woodworking projects on the market today. Cutting boards are an implement that people tend to use nearly every day. Even if you aren't an avid cook, the chances are that you've had to use and probably own one of these. Having a good cutting board not only improves your cooking experience but can save your knives and other cutting tools from being dulled over time.
Making basic cutting boards is a fairly straightforward process, all that you need is wood with the correct qualities, some wood-cutting tools, and food-grade adhesive, and you're pretty much good to go. If you've never made one before, we recommend starting with edge-grain cutting boards and working for your way-end grain boards as your skill and confidence develop. End grain boards can sell for up to five times more than edge grain ones.
Wooden Serving Trays
If you're not quite interested in a wooden cutting board then you should consider a wooden serving tray as an alternative. These are a sleek and elegant way to serve drinks and food to your friends, family, and guests, or simply serve someone some good old-fashioned breakfast in bed!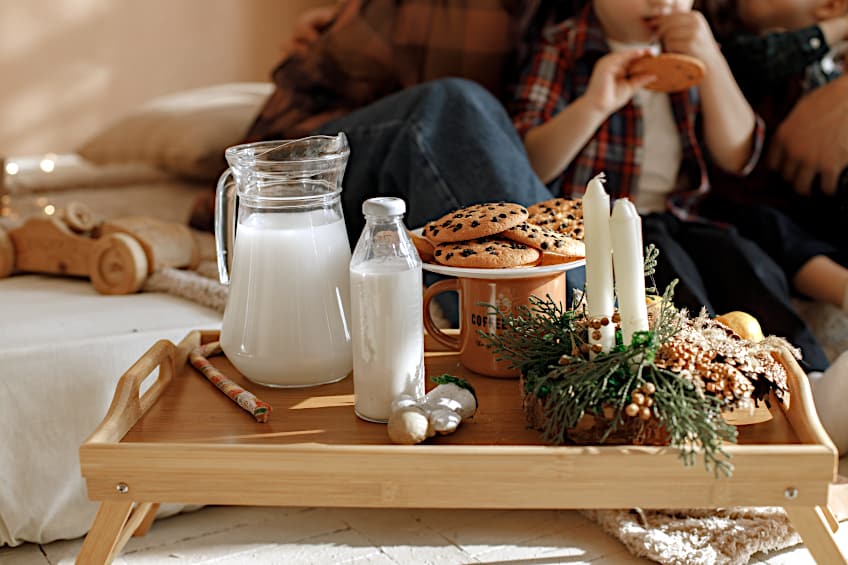 Wooden serving trays are relatively easy to make too, all that you need to do is add a set of overhanging handles to a cutting board design. Alternatively, you can simply cut shaped handles directly into the board depending on your preference. Boards of different sizes can be used for cheeses, charcuterie, and even meats!
Wooden Swings/Benches
Wooden swings and benches used to be commercially produced, but since metals and plastics tend to last longer, they have been left behind. However, they appear to be making a resurgence in private residences and even some schools thanks to their timeless aesthetic and harmonious integration with the world around them.
Wooden benches may seem like a monumental task to undertake, but in reality, they're quite easy to make, and a basic one can be constructed with minimal tools and expertise. If you'd like to create a swing the same basic principle applies, but it can take some more practice to perfect a design. This being said, a good-looking wooden bench or swing with a nice coat of wood stain can fetch quite a bit of money these days.
Wooden Garden Beds and Planters
If you'd like a consistent income and don't mind monotonous work, we think that wooden planters might be right up your alley. Nurseries and private gardeners are always in search of these raised wooden beds, as it allows for controlled growth and management of different plant species within the same space.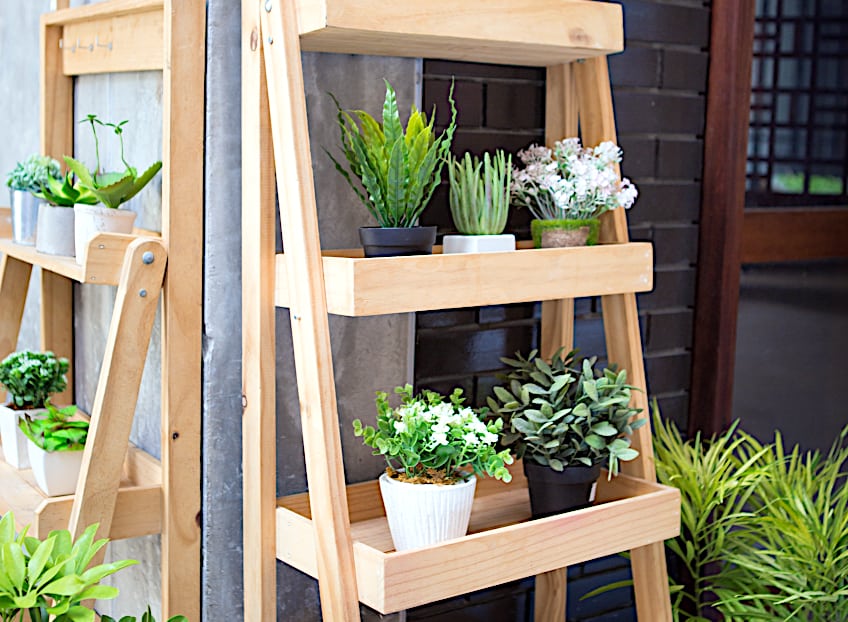 Making these beds is simple, and can be done with any wood species that is rot-resistant and/or has a rot-resistant coating on its surface. There are various configurations to choose from, which means that you can appeal to a larger target market to maximize interest and potential buyers. This being said, we recommend practicing and perfecting basic designs before placing any on sale.
Wooden Gift and Business Card Holders
Even though digital business cards have become preferable in recent years, an old-fashioned, physical business card still seems to be alive and kicking (most of them are biodegradable too!). Even if you don't use them yourself, classy business card holders can go for quite a bit of money, and they can look really classy if they're well-made and treated.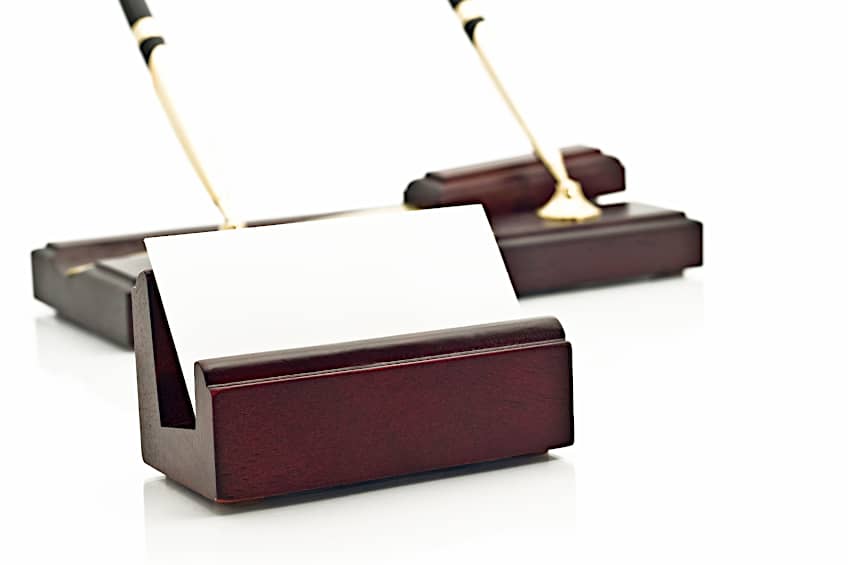 These types of cardholders are usually placed on desks to attract attention to the cards themselves. Plus, they can be used to attract potential buyers to gift cards if business cards aren't really your customer's thing. This being said, business card holders are easy to make, require very little material, and can look amazing simply by splashing some wood stain or varnish on them.
Wooden Bathtub Caddy
These days space comes at a premium, especially in bathrooms. It should come as no surprise then that bathtub caddies have skyrocketed in popularity in recent years. If you're unfamiliar with bathtub caddies, they're essentially small, portable wooden shelves capable of holding things like body wash, shampoo, loofahs, a book, a laptop, wine glass, or pretty much anything you you may need while luxuriating in the bath.
They're typically placed across the width of the bath (like a shelf) and allow you to access things without having to get out of, or over the edge of the bath. These are essentially long boards with recesses to enable the user to access all of their toiletries with ease. They're super easy to make, just be sure that you either choose a water-resistant wood species or apply a water-resistant coating to the wood you'll be using to make them.
Wooden Pet Houses
If you have a decent amount of experience in the wood crafting trade, why not consider making pet homes? Pet homes not only fetch a decent amount of money all year round, but there's always a market of people looking to buy a first home for their pets, or replace older ones that have fallen apart over time.
Pet homes can vary considerably in size and intricacy, so you could start with simple square or rectangular shapes and work your way up to more flashy, stylized structures as your skills and confidence develop. Pet homes are essentially boxes with insulation and ventilation for our furry friends, so they're pretty simple and inexpensive to produce in most instances.
Wooden Bird Houses
While most people might think that building birdhouses is more akin to a middle school woodwork project, there's actually a decent-sized niche market for them all over the world. Bird houses can vary in shape and size, plus they can have multiple stories added to them for multiple birds to feed at once.
Bird houses can seem challenging to create if you've never made one before, but they're actually not too difficult to make. The cool thing about birdhouses is that they can be made out of most types of wood, just be sure to give it a healthy coat of waterproof paint or epoxy resin before you put them up for sale.
Wooden Underbed Storage Units
As we mentioned previously, space comes at a premium these days, and as a result, more and more people are looking for alternative means of storing their goods. It's for this reason that under-bed storage units have become so popular, and if you're a bit skeptical about their market value, have a look at sites like Amazon and even Craigslist to get a good idea. Some types of trundle bed even include storage drawers in the trundle itself.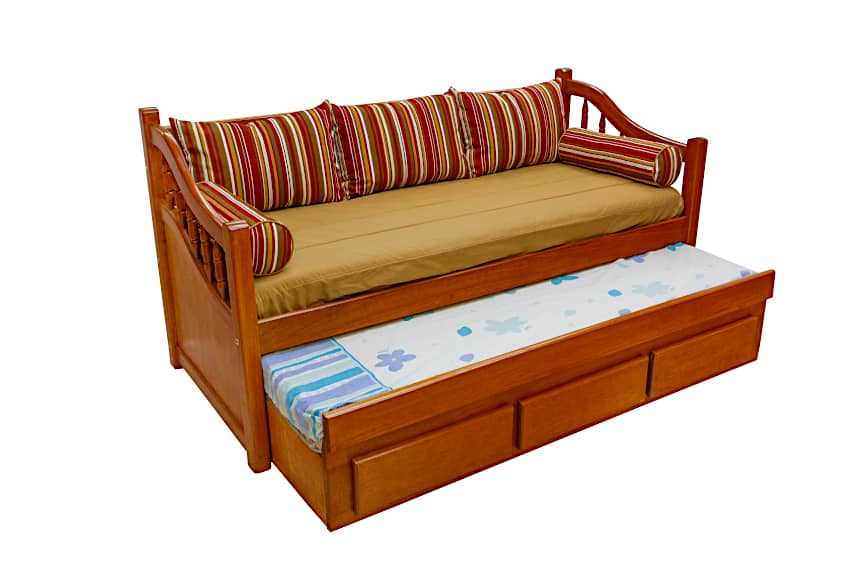 Underbed storage units are essentially large open-top boxes that are either mounted on a retractable rail system or have four wheels mounted on the bottom. They can easily be made out of MDF, plywood, or solid wood, depending on the quality of finish and the target market you're aiming for, and as you can undoubtedly see, they're easy to make too!
Wooden Bottle Openers
This might be one of the easiest and best-selling wood crafts you can make some extra money with. These types of bottle openers are essentially wooden handles or plaques that have a bottle opener head attached or inlaid. These can be sold at local markets or online, and because of their simplicity, they can easily be personalized for individual customers.
If you don't have an awful lot of space or capital for complex wood-cutting machinery, making these is a great place to start! The bottle opener heads can be purchased in-store, or online, or you could make them yourself if you have the skills and tooling. They tend to sell pretty well too, especially if you were to offer custom engraving as they make for good presents.
Wooden Knife Block
You'd be surprised just how many people simply stuff their knives into a kitchen drawer until they're needed. Many individuals are blissfully unaware that this can cause your knives to dull and even dent if they knock up against other cutlery. This being said, more and more people are coming to appreciate the organization and convenience the wooden knife block offers.
Wooden knife blocks can be somewhat of a challenge to make depending on what type of wood you're working with and what tools you have available. However, with a bit of research and some practice to hone your skills, you can churn out dozens of these. With the right finish, intricate shaping, and establishing your customer base, these can sell for a decent amount of money.
Now that you know about some of the best-selling woodworking projects on the market, what are some good woodwork ideas to sell, what makes them so popular, and a little bit about how to get started with these niche designs, it's time for you to get out there and put your newfound knowledge to the test! Remember to always wear the appropriate personal protective gear when working with exposed wood and power tools.
Frequently Asked Questions
Can You Make Money Selling Wood Crafts?
Yes! If you're passionate about woodcrafts and have a market interested in purchasing some of your workpieces, it can be profitable. There are instances of crafters selling woodcrafts to supplement their income, and eventually turning their passion into full-time employment.
What Wooden Items Sell Well?
The type of wood crafts that generally sell are those that serve a purpose in the daily lives of your potential customers. These would be things like wooden utensils, coat racks, cutting boards, toys, display pieces, and furniture.
Can I Make a Living Woodworking?
Yes, you can. Wood crafting has been a profession for thousands of years! Many people are employed or self-employed full-time as wood crafters, and make a decent income as a result. As with any trade, the amount of effort you're willing to put in, your skill level, natural inclination, having the correct target market, and the quality of your work will contribute to your success.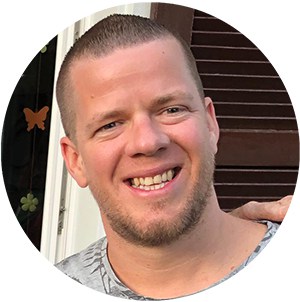 I have been into woodworking since 2005 and woodturning since 2011. Because of my love for wood and woodworking, I started woodhappen.com to teach other enthusiasts about how to finish and seal wood, the best woodworking tools, the different types of wood, and everything else related to woodworking! Read more about me here.