Best Stain for Redwood – A Comprehensive Guide to Staining Redwood
In 1968, the Redwood National Park was established in order to preserve and protect the redwood trees in the area. At the time, these trees were dwindling down, a staggering 90% of them having been lost to poor foresting practices and re-growth/plantation methods. Redwood is not only significant as indigenous plant life in the US but also holds great historical and cultural significance to both native peoples as well as those who settled later on. As one of the most popular hardwoods on the market today (which can come at quite a premium), you might have asked yourself what the best way is to treat and maintain this hardwood. Many would argue that staining it is the best way to go about it, but what is the best stain for redwood? How do you stain redwood? In this article, we will unpack these questions and some other important facts about the longevity of redwood.
What Is Redwood?
The scientific term for a redwood is Sequoia sempervirens. It is a species of tree indigenous to North America and is one of the most sought-after types of lumber on the market today. Redwood has various applications due to its characteristics and aesthetic appeal; these aren't particularly unique, but they do fill the needs of a very niche market.
These trees need a specific environment to thrive and therefore create their own unique ecosystem. This exclusivity makes them all the more sought after in the lumber market, making the laws around the felling of these trees protected by law. Redwood is also well known as the world's tallest species of tree, which means that it takes some considerable effort and manpower to fell (although these days, we have machinery that does the hard work for us).
Redwood is quite resilient to changes in the environment and therefore does not experience any significant population changes due to things like new wildlife or alien plant species. Another advantage of redwood is that it can grow for hundreds of years, as the wood fibers only become denser as they get older.
This means that older examples of lumber from these trees are a lot heavier than relatively younger ones, making them all the more sought after for furniture production and structural purposes.
Redwood that is relatively young is soft and light but still has incredible strength and rigidity compared to other hardwoods. In fact, when still planted, these trees have an incredible aversion to floods, winds, and landslides through their ability to extend their roots and intertwine them with one another.
Redwoods also act as natural habitats for a wide variety of animal species due to their height and resistance to natural disasters. In addition to their robust nature, these trees live to be thousands of years old due to their bark being resistant to wildfire – some have been known to live past 2200 years if located in ideal conditions.
What Is Redwood Used For?
Due to the popularity of both its characteristics and aesthetic finish, this wood is extremely sought-after and expensive. There are alternative materials that provide the same finish and might even be stronger in terms of tensile strength and durability, but many people feel that it is not only the look and strength of redwood that makes it special but the exclusivity associated with owning anything made of solid redwood.
This being said, it is fairly common to find engineered wood furniture (furnishings with plywood or multi-density fiberboard at their core) with a redwood veneer finish, which is far cheaper and easier to come by compared to solid wood. There are certain perks to having solid wood furnishings compared to engineered wood ones, however, and redwood, in particular, offers you some distinct upsides, one of which is its sheer durability.
Since redwood can be used to create virtually anything you can envision, you can find it being used to form mantle pieces, high-end bed frames, bedside tables, desks, and even large living room tables.
As we mentioned previously, redwood is extremely durable and if maintained properly, can last for generations. This means that you have the option of handing down any solid redwood furniture you own to your family and friends. Redwood is also extremely aesthetically pleasing as it provides an intense deep red hue that has the ability to bring a space together, while still having a light orange undertone that prevents it from having an overpowering presence.
What most people find to be the best quality of redwood is its long life span and ability to resist threats such as mold, termites, rot, moisture damage, and even splitting from overexposure to heat. This should come as no surprise considering the forces these trees are up against in their natural environment.
Although all of this does depend on how devoted you plan on being in maintaining these furnishings, redwood's natural ability not to crack, split, or shrink over time means that it soon (quite literally) becomes part of the furniture and will form the cornerstone of your home environment for a long time.
Redwood desks, in particular, are a great addition to any living room or study. This is due to their imposing presence and affinity towards inlays and carvings, giving you a well-finished desk that commands respect. You will also have a sturdy workstation with ample storage space in the way of drawers and other compartments.
What Are the Pros and Cons of Redwood furniture?
As wonderful as redwood might be as a material for furniture, it is no by no means perfect – no material is. This being said, you might be wondering what some of the drawbacks of this material are when used to create furnishings, and if you are, we have composed a list of the pros and cons redwood may present when formed into furniture.
PROS
Looks good
Lasts long
Timeless finish
Sturdy furnishings
Easily coated and stained
Resistant to termites
Resistant to mold
Resistant to water damage
Resistant to fire/heat damage
Great for outdoor use
Exclusive material
CONS
Soft
Dents easily
Expensive compared to other hardwoods
Vertical grain is hard to work with
Endangered tree species
More expensive the further you live from indigenous areas
Must regularly be varnished
What Is the Best Stain for Redwood?
Although redwood is quite durable in its natural state, treating your redwood through staining means you will have a long-lasting wood that is resistant to cracking, splitting, and is even a bit more impact-resistant than the raw wood. Stained redwood also has great aesthetic appeal, highlighting the incredible grain and natural hue of the lumber. Let's have a look at some of the best stains for redwood on the market today and how they can benefit your redwood workpieces.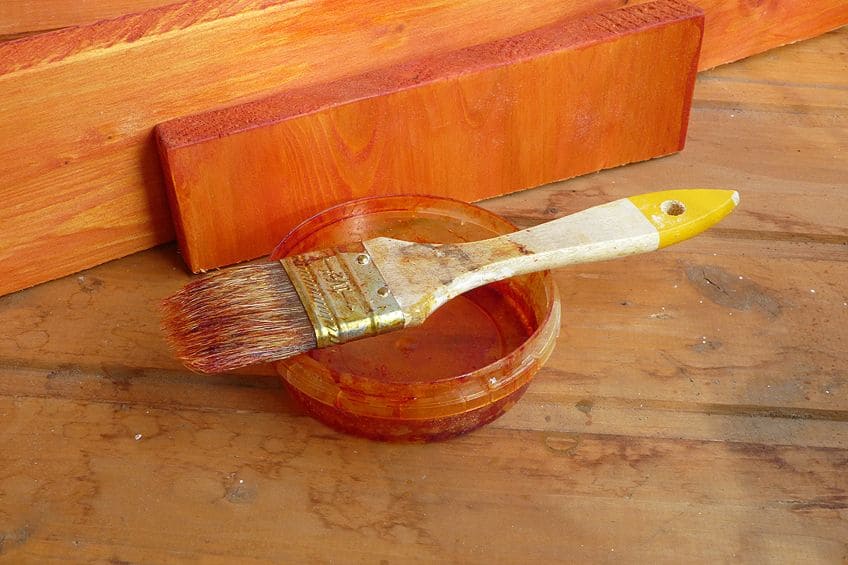 Remember that wood stains come with advantages that paint does not and that these coatings have their respective advantages when applied to redwood. Stains also come in two distinct variations (being oil-based and acrylic- or water-based), which are conducive to redwood in certain applications and environments.
An oil-based stain for redwood is typically used when the wood will be in an outdoor location and exposed to the elements. Oil-based products provide increased resistance to moisture and heat, which prevents your redwood from warping and/or cracking. It does so by seeping deep into the wood fibers.
Keep in mind that oil-based stains are extremely flammable and should be handled with caution.
Most people consider acrylic- or water-based stains to be the best stain for redwood, and objectively they are correct. Although an acrylic stain is relatively new to the wood staining scene, it is quite popular due to the fact that it dries in two to three hours compared to the staggering 48 hours it takes an oil-based stain to dry out.
An acrylic-based stain is applied in much the same way that an oil-based stain is applied, but it is much easier to clean up and will not cause as severe damage to anything you unintentionally get it on. On the off-chance that you do get it on something other than your workpiece, you should be able to get rid of it with some soap and water if you act quickly.
Acrylic stains are better for the environment, and have the added advantage of easy removal from redwood surfaces due to them not seeping into the wood's fibers. You should know, however, that even though the acrylic stain is "the new kid on the block," it does cost a bit more compared to oil-based stains.
Below are two products we consider to be the best stains for redwood. Choosing one won't be easy, so keep your application and environment in mind if you decide to give one a go.
Best Overall: CABOT Australian Timber Oil Stain
As far as redwood stain goes, Cabot offers some of the best wood stain products on the market. Their Australian timber oil stain in particular has all the characteristics you could ever wish a wood stain to have. A  lot of wood stain products offer particular characteristics for certain wood surfaces, but Cabot does seem to offer the whole package in the way of protection and ease of application.
This oil-based stain offers superior UV protection and increased impact resistance for about four to five years, all thanks to its deep-penetrating formula that works not only for the first application, but keeps on working while you sit back and enjoy your redwood workpiece.
This redwood stain can be used on any manner of redwood furnishings including (but not limited to) bed frames, tables, cabinets, outdoor furniture, trim pieces, and much more.
Protects against extreme weather exposure

Excellent for hardwood decks and outdoor furniture

Penetrating, clear, exterior oil is water-repellent and UV-resistant
View on Amazon
The advantages of this redwood stain don't end there! Aside from superior UV protection and increased abrasion and impact resistance for outdoor furniture, Cabot also provides your redwood surface with a new dimension of color once it's absorbed into the wood fibers. An oil-based redwood stain can be toxic, especially if it is graded for outdoor use, so work in a well-ventilated area when applying this redwood stain.
This product is intended for use as a redwood deck stain primarily, which means that it tends to make surfaces significantly darker. Thus, it might not be what you are looking for if you have redwood furniture. This being said, the effect is quite impressive and highlights both the wood grain and outlines of any workpiece it is applied to.
PROS
UV-resistant
Continues to work and develop for years
Great for outdoor use
Easy to apply
Long-lasting (up to 5 years)
Improves and intensifies color
CONS
Toxic
Not easy to remove
Requires regular upkeep/maintenance
Intended for use on decks
Darkens redwood surfaces
Expensive
Long drying time (24-48 hours)
Best Value: #1 DECK Premium Semi-Transparent Wood Stain
Another entry that has been specifically designed for use on wooden decks, #1 Deck is one of the most positively reviewed redwood deck stain products out there. Although we prefer it for use on redwood, it is graded to be used on a variety of other hardwoods and works absolute wonders on these surfaces.
This is our acrylic solution to any of your redwood deck stain problems, and it does come with a few advantages compared to its oil-based counterpart. #1 Deck protects your deck or any other redwood furnishings from the elements, which means that it is perfect for use on outdoor furnishings such as outdoor tables and chairs or, as we mentioned previously, decks.
Protects wood from damage caused by exposure to the elements

Dual-purpose stain and sealer product is better for the environment
Semi-transparent stain shows off the natural wood grain
View on Amazon
What's more is that this wood stain doesn't just act as a stain, but it is actually a stain and sealer all in one! This is fairly common among the acrylic variety of wood stain products, but #1 Deck is still pretty special due to its price and color variety.
If you are conscious about your impact on the environment and prefer using something a bit eco-friendlier (which we all should), then this redwood deck stain could be exactly what you are looking for.
Not only are acrylic wood stain products less harsh on the environment, but they are far easier to clean up when you're done with the job. This means that you can get yourself a well-deserved cup of coffee a lot sooner once you are done applying your final coat.
Are you still not impressed? #1 Deck also has no problem working on pressure-treated wood, and although we would not recommend it for the sake of your finish, it works on wet wood too! This being said, it's not all positive when working with acrylic wood stains because they have to be maintained more often compared to an oil-based wood stain. Taking the aforementioned into account, #1 Deck is still a great product for its versatility, ease of use, easy clean-up, and durability.
PROS
Durable
Dual-purpose stain and sealer
Inexpensive
Easy to use
Easy to clean up
Variety of colors
Quick dry time (2-3 hours)
Versatile
Environmentally friendly
Works on wet wood
Works on pressure-treated wood
CONS
Requires regular maintenance
Does not fuse to wood fibers
Only affects the surface of the wood
Does not intensify wood's natural color
Limited color choice
If you want to leave your stained redwood as is, that is perfectly fine, and if you are using an acrylic-based wood stain like #1 Deck, which we covered previously, you have already killed two birds with one stone. However, if you chose to use a staining product on its own, you will need to apply a sealer for weatherproofing purposes.
Here is one of the best sealers we could find to ensure that your deck lasts not only for the hot summer months but for those long winter ones too, where you dream of sipping an ice-cold drink on your freshly stained deck.
Best Redwood Sealer: SEAL-ONCE Marine Premium Penetrating Wood Sealer
Once your wood has been stained and allowed to dry, you might sit back and marvel at your work for a while. You might even ask yourself how long this newly acquired finish will last. If you have used a water- or oil-based wood stain on its own, the answer is (unfortunately) not as long as you might like if you don't add some wood sealer.
Fortunately, the team over at Seal-Once have you covered! Seal-Once ensures that your stained redwood surface remains as clean-cut and vibrant as the day you coated it, while also ensuring that it is protected from rain and frost in those cold winter months. This stuff is what many would consider heavy-duty or even overkill when sealing stained redwood.
Water-based, non-toxic, and low-VOC, making it safe for all
Stabilizes and protects wood from mold, mildew, and algae growth
Prevents warping, cupping, wood rot, and decay
View on Amazon
The truth is, however, that when choosing a wood sealer, overkill is very much a good thing, and in the case of Seal-Once, you are covered from all angles. In fact, its formula ensures that your deck is covered from both freshwater and saltwater damage and its water base makes it great for the environment too!
Unlike acrylic solutions, this sealant gets deep into the wood fibers to protect it from moisture and heat on a molecular level. Additionally, it behaves like an oil-based wood stain, so you have peace of mind knowing that its effects will pretty much last the lifetime of your redwood's surface.
Although this sealer behaves like an oil-based wood stain, it is actually water-based, meaning that not only is it great for the environment, but it won't affect any pets or little ones that come into contact with it.
This is arguably the best redwood sealer on the market today, and although its price is a bit steep you most definitely get what you pay for. This being said, if you do intend on using oil-based wood stain, why not go with what could be the best redwood sealer money can buy?
PROS
Protects from UV and water damage
Works on freshwater and saltwater
Affects wood on a molecular level
Soaks directly into wood fibers
Environmentally friendly
Safe for contact with infants and animals
Water-based
Easy to clean
CONS
Expensive
Long dry time
Not easy to use
Volume can be insufficient for large decks
Intended for use on boats and other marine vessels
How to Stain Redwood Effectively
There are typically two situations in which you might find yourself needing to stain your deck. One is where you have acquired a new deck and you would like to spruce it up some more, and the other is simply you wanting to breathe some life into your old deck.
Either way, the process remains the same. To help you, we have prepared a step-by-step guide detailing how to prepare your work area, your deck, and yourself for the task.
Prepare Your Work Area
Since your work area and your workpiece are pretty much the same, you will have to do the best you can to keep the surface of your deck as clean as possible. How do you clean a deck? Well, you could start off by simply sweeping the surface to remove any dirt, leaves, and other particulars from the deck. Once this is done, you may want to give it a deep clean. In this case, simply use some soapy water and a regular mop to remove any unwanted stains.
Next, you should prepare the tools that you will need for the job, including your sander, your wood stain, your sealer, your brushes, a few cloths or rags, and some painter's tape for any part of the deck you don't intend on coating once you get going.
Remember that if you are using an acrylic wood stain, the chances are that it already contains sealer, and you can always check this by taking a look at the product label. Keep in mind that if you do decide (or need to) give your deck a once-over with a mop, you will need to wait for it to dry completely before moving onto the next step.
This being said, we suggest you wait for a sunny day if you intend to clean your deck this intensely.
Sand Your Deck Down
It's time to get your sander ready to expose the wood that you will be staining a bit later. The sanding paper should be between 150 and 180 grit, depending on the condition of the wood. Fire up your sander and start from the start of one plank to the end, continuing in this manner until the entire deck has been covered.
When working with a sander, ensure that you are wearing the proper personal protective gear. These items include some decent gloves to protect you not only from the sander but from the wood dust that will get kicked up once you get going. Speaking of wood dust, you should ensure that you wear a filtered mask to prevent any wood particles from entering your nose and mouth as this can create extreme discomfort.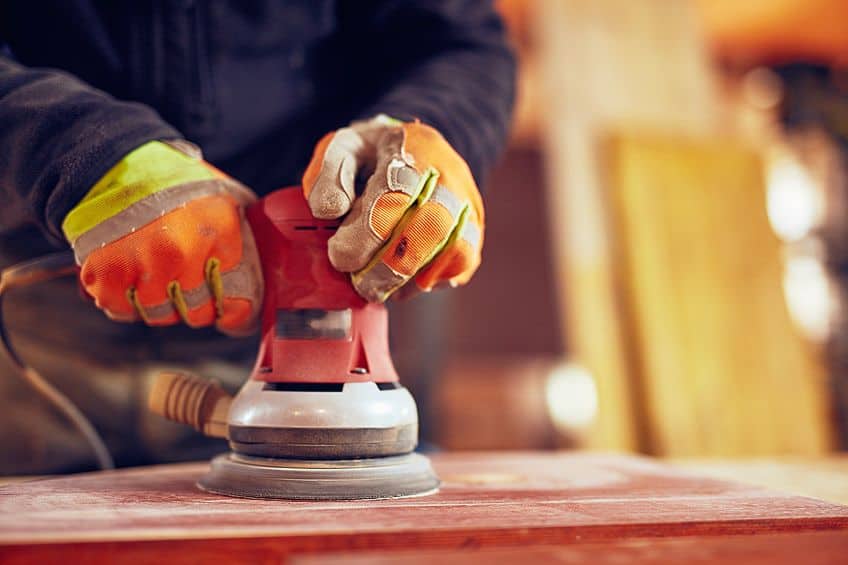 Lastly, we have eye protection, being (arguably) the most important. Remember that you can recover from an injured hand and/or inhaling a bit of wood dust, but if a splinter enters one or both of your eyes, the damage could be permanent.
The reason we have chosen to place an emphasis on safety is that you will likely be on your hands and knees once you get sanding, which means that you may not have much distance between yourself and the action in front of you. It is important to be able to angle the sander to avoid debris.
Ensure that you let the sander do most of the work and don't put too much pressure on it. Also ensure that you get all the corners and go with the grain of the wood as far as possible. You would also do well to work section-by-section or from left to right (or vice versa), depending on your preference. Lastly, use a leaf blower or broom to clear the deck before moving on to the next step in the process.
Stain Your Deck
It is now time for the main event! Get your wood stain ready by following the manufacturer's preparation instructions and allowing it to settle if necessary. Once you have your wood stain ready, you should take your brush (preferably a four-inch one for most deck slats) and dip it into the wood stain, getting a nice, big dollop of wood stain on the bristles.
Remember that the goal of the exercise when applying wood stain is to get your initial helping of wood stain to go the length of the board you're working on. Try not to saturate one part of the board to the point where it cannot absorb any more of the wood stain.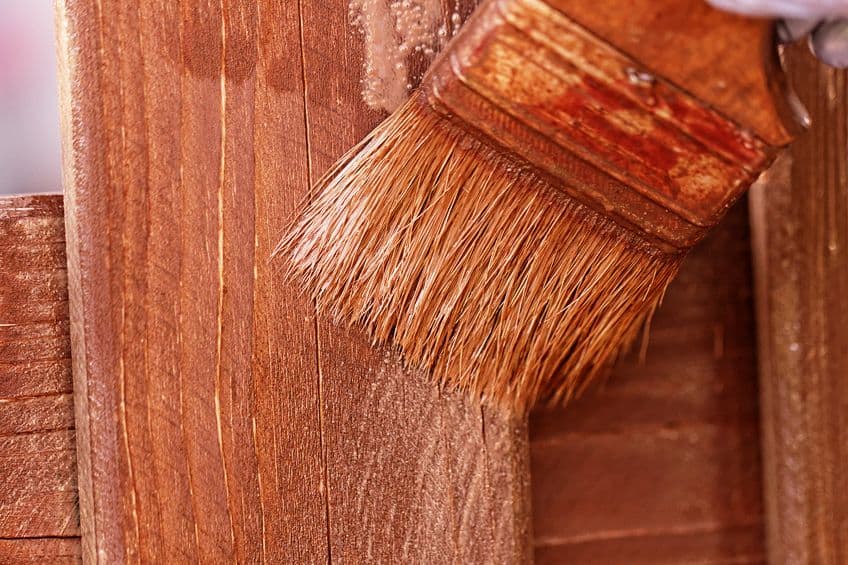 Stain parallel to the length of the board and ensure that you work section-by-section or side-to-side as you did when you were sanding. Keep in mind that the staining process is not a race – it is easy to become hasty at the halfway point because of the labor-intensive nature of the exercise, not to mention that you are on your knees the entire time. Staining redwood does indeed require some degree of patience and attention to detail; therefore, you should remember not to work yourself into a corner or miss things like railings and/or edges.
This should go without saying, but the aim is to stain any part of the board that is visible. Thus, you should ensure that you use the edge of your bristles to get to the edges of the boards.
Once you have covered all of the boards, ensure that you get the boards along the border of the structure it is attached to. Once finished, make sure that you allow for the manufacturer's recommended time period to dry (this is usually 48 to 72 hours) before moving on to the final step in the process.
Seal Your Deck
If you haven't gathered by now, staining redwood does require considerable effort compared to other DIY tasks. This being said, we would like to think that you would be extremely disappointed if all of your efforts were short-lived. We strongly recommend that you seal your deck after staining it. Ironically, you will find that the phrase "how to stain redwood" is asked far more often than "how to seal redwood", which is arguably more important and far easier than the former.
Knowing this, you should get out your sealer once your wood stain has dried and set completely, after which you can get coating!
You can apply the same sectioning techniques you used previously, although you can be a bit more generous with the sealer as decks are fairly high-traffic areas and are exposed to all sorts of weather conditions. Once you are finished, ensure that you allow for the manufacturer's recommended time period for drying before you take your first steps on your freshly stained and sealed deck!
Now that you know how to stain redwood, which tools you will need for the job, how to prepare your workpiece, the history of the wood itself, and the importance of using appropriate personal protective gear, it's time for you to go out and put your newfound knowledge to the test. Remember not to work yourself into a corner, be methodical, and most importantly, safety first!
Frequently Asked Questions
Do I Need to Apply a Topcoat After Staining Redwood?
As labor-intensive as the staining process can be, if you are using a stain on its own, it will not provide you with any real abrasion or weather protection. If you want to protect your hard work, you should consider using a sealer to protect your workpiece from sunlight and/or moisture.
Does Redwood Make a Good Deck?
Redwood does make an incredibly good deck material due to its rigidity, strength, and natural aversion to weather conditions. This wood does not attract insects and if it is well maintained, it can last for up to three decades! Redwood decks are greatly sought after and coveted.
How Much Does a Redwood Deck Cost?
Considering that redwood is one of the most sought-after materials in both its solid wood and veneer forms, you can expect to pay a premium. The further you live from where redwood is grown, the more you will end up paying. Keeping this in mind, you can expect to pay anywhere from $5 to $30 per square foot of the board.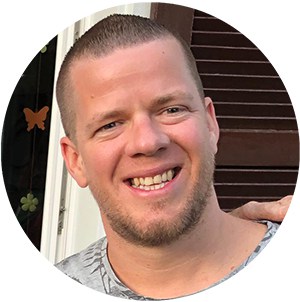 I have been into woodworking since 2005 and woodturning since 2011. Because of my love for wood and woodworking, I started woodhappen.com to teach other enthusiasts about how to finish and seal wood, the best woodworking tools, the different types of wood, and everything else related to woodworking! Read more about me here.