Best Paint Pens for Wood – How to Write on Wood with Paint Pens
If you are looking to add an artistic flair to your DIY projects, especially those made using wood. A quick doodle or detailed design will take your bookshelf, coffee table, or spice rack to the next level. Now, finding a way to create delicate lines and shapes using a paintbrush can be tricky. So, to navigate your way through your designs with the least hassle possible, we recommend using a paint pen for wood. This also means that you could also be daring and write a heartfelt note using a paint marker for wood.  Of course, the market is flooded with paint pens, and the easiest way to find the best paint pens for wood is to continue reading our article.
Paint Markers for Wood
First things first, we need to look at what paint markers for wood are, and why you should be using them. As the name implies, paint markers for wood are exactly that, markers suitable for use on wood. However, instead of using ink, the marker uses paint to leave a lasting impression on your wood project.
These paint markers for wood are incredibly versatile and can even be used on blackboards, rocks, canvas, fabric, glass, and ceramics. Whichever way you choose to look at it, pens to write on the wood are an amazing tool to elevate your DIY projects.
Paint markers for wood are usually oil-based or water-based. When you use a water-based pen to write on wood, you will notice that it has a thin consistency and is easily absorbed by the wood. Oil-based paint markers for wood on the other hand are thicker and can withstand abrasions and smudges, however, these properties do make the paint marker for wood more difficult to work with.
How to Use a Paint Marker for Wood
Your first step to getting the process started is activating the pen. What this means is that you need to get the paint flowing through to the tip, which is dry. In most cases, this can be done by pressing down on the tip. First, with your finger to air it out and then on a piece of paper or a flat surface to get the paint flowing. Press it down until the paint begins to spread onto your piece of paper. Some paint pens will need to be shaken to mix the paint before activating the pen. To test the paint pen, try writing or drawing something on the paper. If the color is not vibrant enough or not pulling through, press down on the piece of paper again. Give it a try again and repeat if necessary.
Once the paint marker for wood has been activated and used, store it with the tip pointing downwards with the cap on.
Who Will Use Paint Markers for Wood?
Paint markers for wood are incredibly versatile and as such are suitable for use by almost everyone. They are often non-toxic and safe for children to use, making them the ultimate art supply and DIY tool. You can use the pen to write on wood, paper, glass, rocks, ceramics, and virtually any other surface that requires some sprucing up.
Oil-based paint markers for wood are the best option when it comes to writing and drawing on ceramic items, as they can be manhandled, baked, and washed and the paint will not come off. Water-based paint pens are ideal for writing on wooden surfaces. They are also easy to use and work with. Depending on the brand you choose, these paint pens can produce vivid colors when used on wood. Before using the pen, we recommend sanding down the surface to ensure that it is smooth and will not damage the tip of the pen.
When to Use Paint Pens for Wood?
While using a permanent or whiteboard marker on wood may seem like the simpler choice, it does tend to run and bleed into the wood. The need result looks rushed and unprofessional and will in most cases not look like what you initially intended.
For the best possible result, use a paint pen when it comes to writing and drawing on wood.
How to Choose the Best Pens for Writing on Wood
The biggest selling point when it comes to paint pens for wood is the fact that it allows you to express your creativity without any limitations. The best pens for writing on wood will allow you to create beautiful pieces of art that truly reflect your vision. In addition to this, we have compiled a list of things to look for when it comes to finding a paint pen for wood.
Types of Tips
Most manufacturers have developed a fine tip paint pen marker that is between 0.7mm and 1mm wide as they believe this provides the most efficient brush stroke. The tip is also often bullet-shaped to make freehand movement possible and unrestricted. We believe that these fine tip markers are versatile, able to draw thin, complex lines, and produce a bold, vividly colored masterpiece.
Versatility
Of course, we are specifically looking at the best paint pens for wood, however, most markers are suitable for use on most surfaces. This means that you can use them for most of your DIY projects, especially those featuring wood.
Type of Ink
The biggest difference between a traditional marker and a paint marker is the fact that paint pens use paint instead of ink. These paint pens for wood come in two options, namely oil- and water-based. Water-based markers are self-explanatory, the paint is made by combining water and colors. As a result, the paint can flow more freely, providing a smooth, precise finish with vivid color.
It is also easy to remove, all you need to do is wipe it off with a warm, damp cloth. However, when used on paper or fabric, the color tends to bleed.
For a lasting finish, we recommend using an oil-based paint pen as it is able to provide brilliant color that will not smudge, smear or wipe off easily. The color also lasts longer and is not as prone to fading as water-based paints. Oil-based paint pens tend to have a distinct odor, although most brands are looking to reduce the odor produced by these markers.
Color Selection
Now that you have a better idea of what to look for when it comes to the best paint pens for wood, you can now go into the color selecting process. As already mentioned, there are a lot of options on the market, most of which can be used on multiple surfaces. So, the first order of business is selecting the color or pigment that will best bring your artistic creation to life, it also needs to be suitable for wood. In addition to color variety and availability, you will also need to choose between the four main color types. This includes metallics, pastels, primary colors, and secondary colors.
Color Longevity
While the idea of using a cheaper paint marker may seem good at the time, more than likely due to the cost-saving, as time goes by, the quality of your design will begin to deteriorate and require a touch-up. Of course, the risk of a touch-up means that one wrong move could potentially ruin it all. So, to save yourself the stress and anxiety, invest in a paint marker that is reasonably priced, offers a high-quality finish, and lasts as long as you need it to.
Toxicity
If you have small children in the home, you know that non-toxic items are the best thing for your DIY wood projects. This makes your life easier as you do not need to worry about constantly monitoring your children, the whereabouts of your pens, and whether the two are related.
It is better to be safe and your children can be involved in your painting projects, making it a memorable family experience.
Our Top Recommendations for Paint Pens for Wood
To help you choose the best paint pen for wood based on your needs, we have compiled a list of options that we think will work wonders for your next wood project. Of course, there are a lot more options available and if you have the time, we recommend going through them. In the meantime, to get you started, this is our favorite selection.
Best Quick-Drying Paint Pen for Wood: PAINT MARK Paint Pens
Paint Mark Paint Pens are versatile and able to work on numerous surfaces. The pack consists of 15 different colors, offering you the variety you needed to complete your project in all of its beautifully colored glory. This oil-based paint pen offers vibrant, long-lasting results and even has a 365-day warranty.
Perfect for arts and craft projects, industrial use, or marking tools

Versatile paintbrush markers are suitable for almost every surface

PaintMark's premium-quality, oil-based permanent marker ink resists fading
View on Amazon
PROS
Affordable
High-quality inks
Bright colors that do not fade
Easy to use
CONS
It can quickly dry out if the cap is not properly closed
Best Water-Based Paint Pen for Wood: ARTISTRO Paint Pens
Artistro Paint Pens come in a set of 12 that includes white, gold, and silver – something not offered by all paint pen brands. These water-based pens produce beautiful colors and have a glossy finish. The fine tip makes them ideal for calligraphy and other forms of writing. You can also get a medium tip set from this brand.
Vivid, water-based ink that dries quickly with an opaque and glossy finish

Suitable for a variety of surfaces like rocks, stone, metal, wood, and more

The fine tip makes these pens perfect for fine-line drawing and detailing
View on Amazon
PROS
Bold colors
Wide range of colors available
Affordable
Long-lasting
CONS
The fine tip is tricky to use
Best Metallic Paint Pen for Wood: MORFONE Metallic Marker Pens
Morfone metallic marker pens offer a set of 10 metallic sheen paint pens. They are really effective when used on dark colors but can be used on most surfaces while still providing a beautiful finish. These pens provide a decent amount of paint when used, which means that you do not need to go over it more than once. The manufacturer offers a 12-month warranty, which includes a refund or replacement if you are not satisfied with the product.
Set of 10 vibrant metallic colors, like black, Silver, Green, Olive, and more 

Firm and smooth medium tip that dispenses ink consistently 

Works on most surfaces like paper, stone, plastic, glass, and wood
View on Amazon
PROS
Offers lighter shades
Paint is easily dispensed
Easy to use
Easy to write with
How to Write on Wood with a Paint Pen
Once you are ready to take on your creative side and add a splash of color to your newly finished project, there are a few things that you need to consider before putting the paint on the wood. While it may seem like a straightforward process, it is essential that you know a few things before starting.
The first thing to remember is that these nifty markers were made for industrial use, although it has since evolved to an artistic tool for creating impressive designs on almost any surface. They are more effective than traditional markers when it comes to the vibrancy and smooth lines.
Having said this, these markers require a bit of a jumpstart before they are able to work. So, once you have bought your marker, you will need to shake it to mix the paint before activating the pen. Next, press the tip of the pen down on your finger to release the air, then press down on a piece of paper to get the paint flowing to wet the tip.
Try writing on a piece of paper to see if the pen is working properly, if not, press down again and try again.
Now we have reached the fun part, we will now look at how to write on wood using your newly purchased paint pen. To start, try not to press too hard on the tip, as this will release too much paint and not provide the clean lines that you are looking for. We recommend a gliding, gentle motion to create your lines, words, or art on the wood. Only press down on the tip to refill the paint- press down on the paper you had earlier or a tissue. If you notice that the paint is beginning to thin out, give the pen a quick shake to ensure that the paint is properly mixed.
When you are done using your pen, you need to store it properly. Now, most people recommend storing the pen tip down or lying horizontally, however, the consensus is that the pen should never be stored with the tip facing the top. And, of course, always ensure that the lid has been properly fit to prevent the tip from drying out. If you open the pen and the tip is dry, wipe it with thinners to try and get it going again.
Using paint pens for wood is a wonderful way to add a unique touch to your craft projects. Whether you are decorating a table or picture frame, you cannot go wrong with using paint pens for wood.
FAQs
Why Do People Choose to Use Paint Pens for Wood?
For the most part, it is the artistic freedom that the fine tip pen provides. This allows people to expertly unleash their creativity, focusing on bringing those final details to life. When it comes to leaving a lasting mark, paint pens are a great way to go about it.
Is There Only One Type of Paint Pen for Wood?
No, there are a lot of products on the market for paint pen markers, especially when it comes to those suitable for use on wood. They are available in a wide range of inks, shapes, sizes, and colors. So, when it comes to choosing your marker, you need to know what you are looking to achieve and find a set of markers that ticks all of the boxes.
Which Type of Ink Works Best?
While both water and oil-based paints can get the job done, oil-based paint pens offer a long-lasting finish, are easy to use, and difficult to remove from a surface – which is good if you are looking to draw designs on items that will endure a great deal of wear and tear. If you want to experiment with different colors, we recommend water-based colors.
Why Should I Invest in a Paint Pen for Wood?
Wooden surfaces have become increasingly popular in recent times due to the complex yet beautiful nature of the surface. Paint pen markers have been created to embrace the wood as is and provide an outstanding quality image with every flick of the wrist. These markers have been designed differently from the markers that are suitable for paper and we always recommend reading the label before you select your paint pen marker for wood. Some of these markers have further been divided into categories suited for different wood, textures, and surfaces.
How to Write on Wood?
Before use, shake the pen to mix the paint. This will prevent bubbles and ensure a smoother flow. Next, gently remove the cap to ensure that no paint spills – although this should not be an issue in most cases. Press down on your finger to remove excess air, and then press down onto a piece of paper to release the paint and wet the tip. Do this a few times and then test the pen on a piece of paper or scrap wood to see if the paint is spreading evenly. If it is not, press down on the tip and try again. Once you are satisfied, you can start writing on the wood. Be gentle and avoid pressing hard as this will release more paint, which could jeopardize your design.
How Do I Clean Up After Using My Paint Pen?
If you have messed some of the paint while working, water-based paints are easy to remove using a warm, damp cloth. Oil-based paint pens on the other hand are difficult to remove and will require the use of chemicals to remove. The label of the paint pen should specify what is needed to clean off excess paint. Exercise caution when using chemicals, as you do not want it to affect the wood or any of the other surfaces that may have been dirtied in the process.
Where Can I Buy Paint Markers for Wood?
Most paint pen markers can be found at supermarkets and grocery stores. However, if you are looking for a wider selection, your local hardware or paint supply store will be the better option. Of course, the digital world makes it possible to shop from a wide range of online retailers such as Amazon that offer more options than you could ever imagine. Make sure that you read the reviews and product description when buying online to ensure that you are buying the correct product.
Are Paint Pens Child-Friendly?
If parents, teachers, or childminders want to give paint pens to children to use, they need to read the labels very carefully to ensure that the product is non-toxic. Some markers may be toxic and have a foul odor, which could be harmful in the hands of children. Possible side effects include burning eyes and respiratory issues. Children should always be supervised when using markers and other paint supplies to ensure their safety.
Do Markers and Sharpies Work on Wooden Surfaces?
Yes, although you will need to read the label as there are traditional markers also on the market by the same brand. This means if you are not careful, you may accidentally grab the incorrect one and your design will not come out as clear and detailed as it would have with a paint pen specifically designed to use on wood.
Which Paint Pen for Wood Is More Suitable for Beginners?
In terms of ease of use, we recommend water-based paint pens. They distribute the paint effectively and are usually more forgiving when it comes to your design. They are also easy to remove, you only need warm water. However, if you are brave enough and looking for a paint pen that will offer more durability and longevity, oil-based paint pens would be the better option. You will also want to look for a fine tip pen if you are going to draw detailed lines and shapes. If you are looking to add shading, we recommend using a medium tip paint pen.
Which Paints Are Best Suited for Use on Wood?
When it comes to selecting paint or even paint pens, for use on wood, acrylic, water, and oil-based paints work best. To ensure that the pen provides a smooth, detailed result, sand the surface before you start drawing. Alternatively, you can draw or write over a freshly painted, smooth surface.
How to Stop the Paint from Bleeding?
This once again boils down to your choice of pen. Firstly, are you using a paint pen or a traditional marker? The latter will bleed into the wood, which is why we always recommend that you read the label properly before use. In some cases, the type of wood you are using will result in the paint bleeding, even if you have the best paint pens on the market. If possible, try to test your pen on an off-cut piece of wood to ensure that it works correctly. Another reason your paint might be bleeding is that you are pressing too hard. Remember, when you press down on the tip, you release more paint which can wreak havoc on your creation.
Can I Remove a Blotchy Line Once It Has Been Applied to the Wood?
If you are using a water-based paint pen, a damp cloth will remove the mark easily and effectively, while rubbing alcohol will effectively remove oil or acrylic-based paints – in a pinch, you can also use nail polish remover. Once the mark has been successfully removed, rinse the area thoroughly and then leave it to dry. Another quick fix is using toothpaste and an old toothbrush to scrub off the mark. Once removed, rinse off and leave to dry.
Do Paint Pens Have a Warranty or Moneyback Guarantee?
This will differ from brand to brand; however, most manufacturers do include a warranty that offers to refund you or replace the faulty item. Another option is returning it to the store that you bought it from and have them deal with the manufacturer. In both cases, read the label or till slip to determine the correct course of action.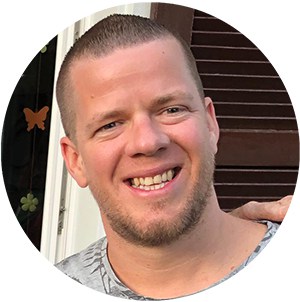 I have been into woodworking since 2005 and woodturning since 2011. Because of my love for wood and woodworking, I started woodhappen.com to teach other enthusiasts about how to finish and seal wood, the best woodworking tools, the different types of wood, and everything else related to woodworking! Read more about me here.