What is a Compact Router – Complete Compact Router Guide
Any woodworker needs a good compact router in their workshop. The best compact router can be used for all sorts of DIY projects to provide details, edges, profiles, and more. This is a necessary tool for carpentry because you just can't finish certain projects without the help of a compact router. Finding the best compact router can seem challenging because there are so many different options available. Do you need a small router? A hand held router? A router with a two-handle base? There are many different considerations to make. Follow our complete guide below for everything you need on how to choose the best compact router for your workshop.
What is a Compact Router?
First things first – what exactly is a compact router? No carpentry workshop is complete without one, as it is such a versatile tool that allows you to achieve unique shaping results that you just can't get from other tools. A compact router is a special woodworking device for profiling and cutting decorative edges.
The tool can be put to all kinds of uses and can create profiles over concealed joints in woodworking, bevel an edge, level uneven wood as a thickness planer, straighten out any crooked edges in lumber, and create any kind of edge profile that your woodworking project will need. If you need to do any wood shaping or detailing in your workshop, then you will need a compact router to do the job.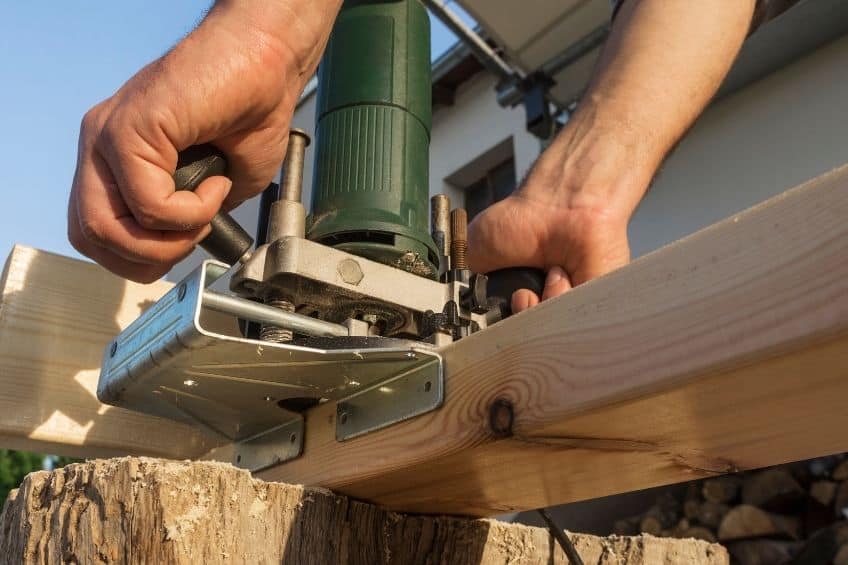 Different Types of Routers
Routers are not all the same. When choosing the best compact router for your needs, the first thing is to understand the various different types of routers available. You get different options based on the needs of each individual project. Certain routers are good for some uses, and not for others. So, what are the different options when looking for the best compact router? We will explore these below.
Palm Router
Starting with the smallest option, we have palm routers. Also known as a mini router tool, these products are really just tiny versions of your regular wood router. The collet in palm routers will be one-fourth inch. Because of their small size, these routers are used to do all sorts of detailed edging work on wood and trim laminate, which includes Formica.
As you can guess from the name, these are hand held routers. They are lightweight, small to work with, and incredibly versatile. If you are looking for your first compact router, you will probably need a small router in this category.
Plunge Routers
Plunge routers are fixed in their position. These routers are positioned on top of the wood and are lowered down vertically to plunge into the surface of the wood. A plunge router is designed for making deep grooves on the surface of the wood. You can create a mortise, do patterns in the wood, create dadoes, or do template work.
Fixed Based Routers
As the name implies, this type of router is firmly fixed at the base. While the base is set, the bit sticks out at a length that you set. This can be used for a really wide range of edge shaping projects. Fixed base routers are possibly the most versatile tools, and they are what most professional workshops will use.
The Different Levels of Routers
Not only are there different types of routers available, but there are also different "duty's" of the routers. This can include either heavy-duty products, medium-duty products, and light-duty routers. Compact routers used by DIY enthusiasts at home are generally light-duty models. The duty of the router basically refers to the power, strength, and size of the model.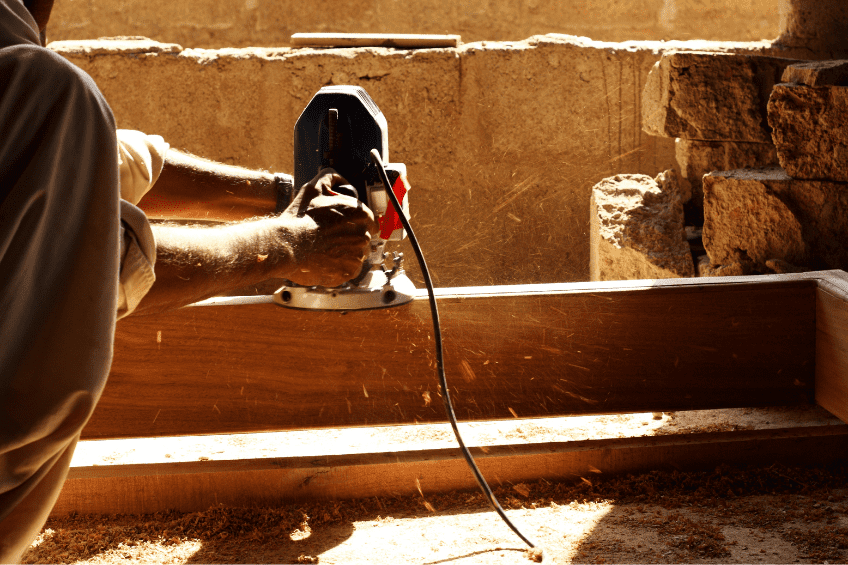 What to Look Out For in the Best Compact Router
There are loads of different compact routers out there. Not only are there many different brands, but there are varieties in the size and style of the router which determines what project it is best for. When going through compact router reviews, there are certain features to always look out for. We have highlighted these important considerations below.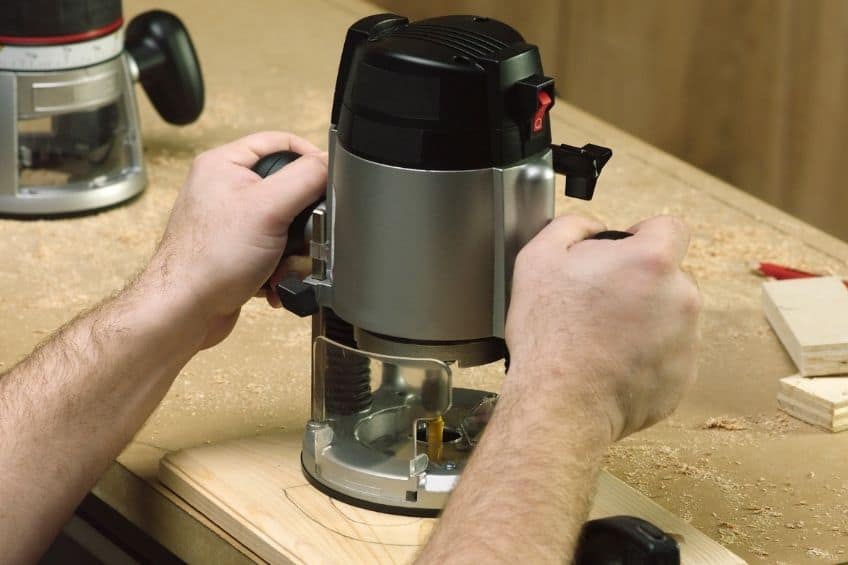 Power
Compact routers use a motor to power the shanking bit. Basically, the more power this motor has, the better the router is to work with. Powerful routers can easily profile wood in smooth, even motions. This also allows you to work better with a wider range of wood, including hardwoods. The strength of the motor is measured in horsepower. Standard mini wood routers may have something around 1.0 horsepower, where stronger units could offer 1-¼ or 1-½ horsepower. Very powerful, industrial-strength routers will have around 3 to 4 horsepower.
Of course, the power of the tool is also relative to how easy it is to control. More power can make the unit more difficult to handle, which can affect the way it profiles wood. However powerful the router is, you need to make sure that you are in complete control over it. Some other factors that are relative to the power of a tool include noise levels, size, and vibrations.
Battery-Powered or Corded
Small woodworking routers can either be cordless (battery-powered), or they can have a cord that attaches to a wall socket. Both of these tools have their own unique benefits. Most models are corded. This allows you to achieve a constant power supply. Plugging the tool in also lets you achieve a higher level of power. The downside is that you are limited to where you can use the tool because you will always need to have a wall socket close by. You will need a long enough cord, and may even require an extension cord to work with it.
Battery-powered tools offer flexibility and freedom. You can use them anywhere, reach difficult places, and they are less restricted to hold. The downsides are that battery-powered tools need to be charged and have limited battery life. They may also offer slightly less power than the other types of compact routers.
Fixed or Not
When looking for the best compact router, you will find that some come as just the handheld router tool, and others include a fixed base point. If you need a fixed base, which most people do, then you will have to find one that works with your tool and buy it separately. The best small router should offer both options.
If the unit does have a fixed base, you must also make sure that it is of good enough quality. It should have good guiding lines, be easy to fix to your workbench, and allow for precise, easy control. The best compact routers can also come with a plunge base for even more versatility.
Shanking Bits
You may have the best compact router in terms of its size, power, and functions, but these tools are only really as good as the bits you use with them. The best compact router should be able to hold a wide range of shanking bits. These should be easily interchangeable for greater ease of use. Some models come with a set of bits already, while others require you to buy them separately. Quality bits make a major difference to your work. Try to find a router that allows for maximum versatility with bits, and that is easy to change between bits.
Variable Speed
The best compact router will allow you to choose between a wide range of speed options. Whether you are using the best small router or a large industrial model, the tool should have good variable speed control. This will allow you to adjust the power of the router in small increments in order to perfectly suit your project. The greater the range of speed control you have the better.
Variable speed control allows for more versatility and customization of your project. You can achieve better details and work smoother and more efficiently when you have a speed that precisely matches your wood, bit, and style of work.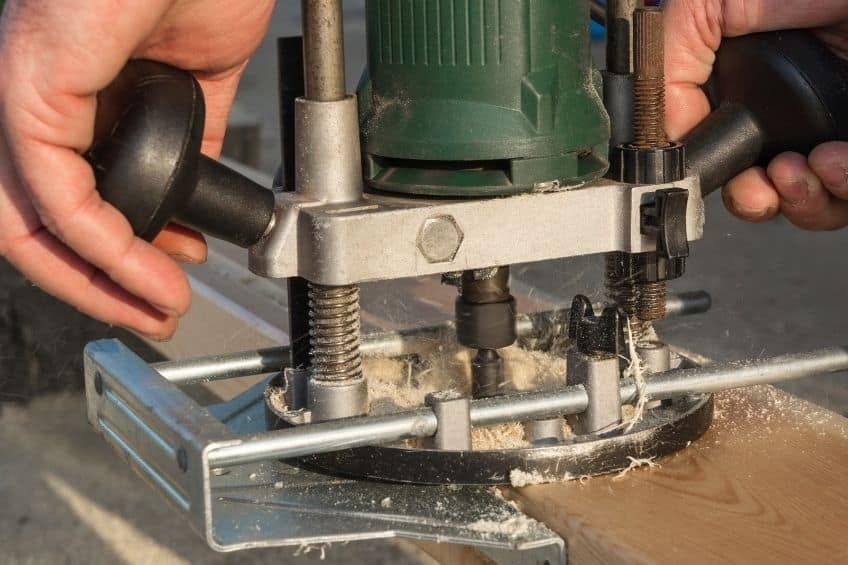 Precision Adjustments
This factor is more relevant towards plunge routers. When operating a plunge router, you will want to be able to adjust its depth as precisely as p[ossible. The best compact routers should have two types of depth adjustments. These are macro adjustments and micro-adjustments. The macro adjustment setting should allow you to make fast, easy changes on a larger scale.
Then the micro-adjustment dial should allow you to make small and precise adjustments to make sure that you achieve the exact size you are after. If the router allows you to adjust its size in smaller increments, you will have greater control for increased precision.
Size and Comfort
A mini router tool needs to be small. If you are looking for a bigger router for larger applications, then you don't want it to be too small. Getting the right-sized tool is essential for optimal use. Mini wood routers should be lightweight, easy to hold, guide, and simple to use. If the router is too big or bulky, it may affect the way you control it. Working with a mini wood router allows for greater precision and easier detailing.
Of course, if you are after a more heavy-duty tool then you don't want to look for the best small router. For this, you will need a model that is big and strong enough for your application. Comfort is another important factor. No matter how big the tool is, it will need to have a comfortable grip handle that is easy to control with perfect precision.
Durability
Woodworking tools need to be strong and built to last. The best compact router should be made from tough, highly resistant materials like aluminum. The tools should be suitable for plenty of use with strong woods to hold up against its use for a longer lifespan. Durability is a major factor for any power tool. If the router is made from cheap materials, it may start to fall apart after a few uses.
Additional Features
The best compact routers offer extra features for a superior working experience. This can include things like LED lighting for greater control, soft start motors, an electronic brake, speed lock, and so on. Often, it is the small features that make a major difference to the end result of using the router.
Also, pay attention to any additional accessories that come with the product. This can include things like wrenches, trimming guides, straight guides, and more. As mentioned above, some of the best compact routers also include bit sets. This all adds to the overall value of the product, and it can make a big difference when it comes down to using the router.
Ball Bearing Guided Bits
The best compact routers have ball-bearing guided bits to help reduce marring. These can be used efficiently without a lubricant. These units come either as a bevel-trim or a flush-trim profile. If you are serious about woodworking, then always look for a router that uses ball-bearing guided bits for greater accuracy.
Price
And of course, there is the price of the tool to pay attention to. The best compact routers can vary dramatically in price. When it comes to power tools, you usually get what you pay for., Very expensive routers offer more power, precision, and durability. However, beginner users may not be interested in all of this, and may just need a simple product for simple projects.
If this is the case, a more affordable router is all that is required. Understand the kind of work that you will be doing and exactly what you require from the router. This will help you to decide what type of budget range you should consider.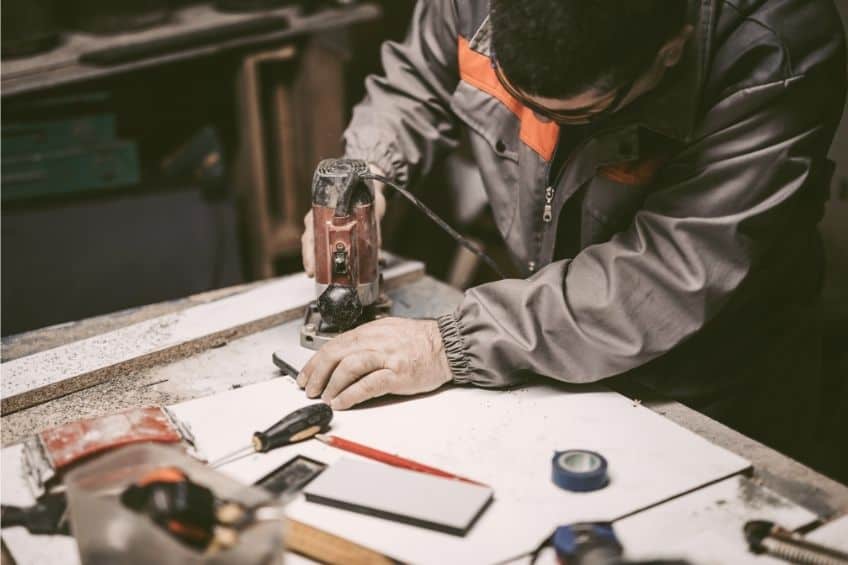 Tips for Using a Compact Router
Clearly, there is a lot to consider when finding the best compact router. Once you have managed to find the best tool for your requirements, it's time to get to the woodwork! To make your life easier, we have highlighted a few pro tips to help make working with the compact router an easier process.
You can use tape for tighter dadoes. Placing tape strips along the router base edge helps to nudge the bit away from the guide when you recut for greater precision.
Individual gauge blocks for different profiling tips save time and make work easier. You can make your own individual gauge blocks to match your bits for easier work.
When you need to control where the wood profile starts and stops, you can use customized stop blocks. Simply measure these out and clamp them to the edge of the workpiece.
If you want to flush-trim solid wood shelf edges, you should clamp them together on edge. This helps to reduce the risk of the machine tipping to get a safer, enhanced finish.
Making a simple starter pin from a rod can help to keep your fingers safe when freehand routing.
Use a rabbeting and flush-trim bit to easily enlarge holes in two quick steps.
Whether you are after a mini router tool or a heavy-duty plunge router, there are many different options to choose from. We hope that our guide above on the best compact routers has taught you everything you wanted to find out, and has prepared you with the best product pick for your application. These tools form a big part of any woodworking studio, and with the best compact router, you will be able to do so much more with your woodworking. We wish you plenty of success in your project ahead!
Frequently Asked Questions
What Can You Do With a Compact Router?
Small woodworking routers can be used to profile wood, cut decorative edges, straighten out crooked edges on wood, and shape details while woodworking.
How Are Trim and Plunger Routers Different?
Plunge routers have a fixed base and lower vertically. These are typically more powerful and heavy-duty tools. Trim routers are more lightweight, smaller tools. These are often used overlaminates or veneers to flush the edges.
Can You Use a Drill Press Instead of a Router?
You can use some drill presses as overhead routers by speeding them up and using the right bit. However, we recommend getting the best compact router for the job if you want to achieve better results.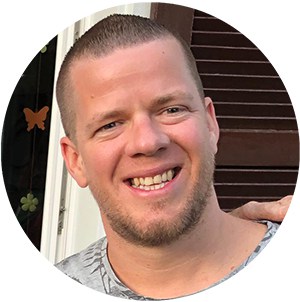 I have been into woodworking since 2005 and woodturning since 2011. Because of my love for wood and woodworking, I started woodhappen.com to teach other enthusiasts about how to finish and seal wood, the best woodworking tools, the different types of wood, and everything else related to woodworking! Read more about me here.