Types of Wood Fences – Dive Into Diverse Wood Fencing
As society took shape, people began to value their privacy more and more. This makes sense considering that dwellings are now situated closer to one another, as cities and suburbs have cropped up all over the world. One of the very first ways we established boundaries and protected our privacy was through the use of fences and walls. Fences have come a long way since we tied some sticks to a post and hoped for the best. That's why we will be looking at some different types of wood fences that you could encounter in your daily life below, and some that are a bit rarer.
Why Are Fences Important?
When we walk past fences, most of us simply notice the color and maybe the material they're made of. However, there are practical advantages to each fence type and just fences in general. It's generally considered to be a good idea to put up a fence if your property needs one.
So let's have a look at why it's a good idea to have a fence in place and what advantages it offers.
It Acts as a Clear Boundary
Boundary disputes have been going on since people were able to own land, and even before that tribes would dispute territory. A fence acts as an easily identifiable boundary between two areas, ensuring that visitors and landowners know exactly where they stand. This can prevent property disputes and even prevents pests and stray animals from entering your property.
It Grants Your Some Privacy
Aside from providing you with a clear boundary line a fence also ensures that you have a degree of privacy from the surrounding area. Whether your fence is tall or short, it will ensure that anyone looking at your property has a slightly (if not completely) obscured view of your home or office.
It also limits the line of sight anyone has of you, your possessions, and anyone occupying your property.
It Can Improve the Look of Your Home
While a fence has many practical benefits you shouldn't overlook the aesthetic value of adding one to your home. A fence that has been installed correctly and matches the overall look and feel of your home can be an incredible investment. Keep in mind that if you are looking to increase curb appeal your fence is typically the first thing people see when looking at your home.
It Can Prevent Weeds from Growing
A fence that is deeply nested into the ground can prevent weeds from growing on your property. This does depend on how deep your posts have been placed into the ground, but overall weeds tend to take the path of least resistance.
Therefore, if you would like to prevent your garden or yard from being overrun with weeds, a fence is a good place to start.
It Can Deter Vandals and Thieves
Your home is likely where you keep all of your valuables, and thieves know this. A fence that looks like it would be too much effort to scale or breakthrough can be a powerful deterrent. Remember that even thieves have a return-on-investment calculation to make when assessing a target, and if your fence feels like too much effort or risk they'll likely move on to an easier target.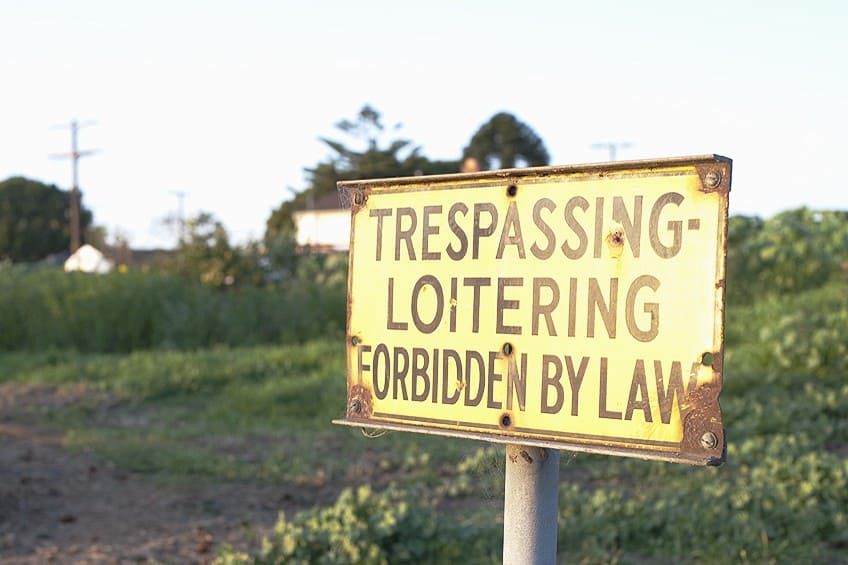 Different Types of Wood Fences
As you can see, fences tend to be a worthwhile investment in both the long and short term. However, there are many wood fences to choose from, which is why we have provided a selection of different types of wood fences for you to choose from.
Each wood fence type has its pros and cons, so be sure to choose one that best suits your specific needs and the overall aesthetic of your property.
Board-on-Board Fence
The board-on-board fence is probably one of the most common fence styles you'll come across. It's a sturdy, reliable design that features two vertical posts next to one another attached to one post at the back. It is very durable and can withstand a number of weather conditions and exterior forces. This fence type can be made even more durable if robust wood species are used and treated.
This fence type is primarily used to ensure the privacy of those on either side, and since it's quite sturdy it's the perfect fence type for corralling animals like dogs, cats, chickens, and any other small to medium-sized animal you have. However, due to the number of boards used in its configuration, it can become quite expensive to construct and maintain.
PROS
Very robust design
No gaps mean maximum privacy
Can be used to contain small to medium-sized animals
Configuration rarely warps or cracks
Generally good-looking design on both ends of the fence
CONS
The configuration uses a lot of wood which can make it expensive
Might not fit the aesthetic of modern homes well
Side-by-Side Fence
If you've seen a board-on-board fence, then you've probably seen one of these too. It is an extremely common fence type, featuring vertical pickets placed right up against one another. The difference between this fence and a board on board is the three horizontal boards running along the back of the pickets to secure them. This wooden fence style is generally less expensive to construct and maintain as there is no overlap (which means you use less materials). However, since there is no overlap it also means that if the pickets contract due to cold weather you will likely notice a gap in your fence.
However, if your local climate is relatively stable this shouldn't be a problem.
PROS
Simple and effective design
Uses fewer materials than other designs
Easy to install and maintain
Relatively durable
CONS
Pickets can shrink causing gaps in the fence
Can be a bit bland aesthetically
One side shows only pickets while the other shows the horizontal braces
Not as robust as the board-on-board configuration
Shadowbox Fence
The shadowbox fence isn't seen too often, but it's an effective privacy and security fence. Shadow box fences can best be described as two separate picket fences with gaps between their posts. These fences are then joined together, with the gaps between posts being covered by the pickets of the other fence. This creates a "shadow" effect, hence the name.
Shadow box fences provide privacy and visibility to viewers on both ends of the fence. The fence essentially can be seen through at a certain angle, but viewing it head-on provides a completely obscured view. That being said, these shadowbox fences use a lot of material but viewers on either side tend to have a pretty good-looking fence.
PROS
Both sides of the fence are aesthetically interesting
Weight is spread evenly over the pickets
Provides privacy while allowing you to peer through at certain angles
Robust design
CONS
Tends to use a lot of material
Unwanted eyes may peer through your fence
Can be challenging to install
Can be challenging to maintain
Post and Rail Fence
Post and rail fences are a low-effort, low-resource solution to establishing a clear boundary between two spaces. They consist of two posts planted next to one another at a moderate distance which are joined together by two long, rectangular planks placed horizontally with a gap between them. These fences are designed to keep large animals on farms, hence the big gaps between the posts and planks. Out of all the fence styles, this is probably the most simplistic. This fence style is the easiest to install and maintain compared to any other fence type we have covered thus far.
It's also inexpensive and can be erected quickly without the need for any specialized tools, making it the fence of choice for large sprawling pieces of land where the main concern are large animals and unclear boundary lines.
PROS
Easy to construct
Easy to maintain
Uses little materials
Does not obscure your view
Excellent choice for securing large animals and livestock
CONS
Does not guard against the elements
Provides virtually no privacy
Provides very little security
Can be dismantled easily if not supervised regularly
Lattice Fence
Not all fences are designed for rough applications. Some are just meant to look good and establish a clear boundary while providing some privacy. This is what the lattice fence does, comprised of rectangular wood slats crossed with one another diagonally to form diamond-shaped holes, this fence is aesthetically pleasing and doesn't use too much material to make.
Lattice fences are typically used in gardens to keep in small animals, provide good airflow, and give you a decent amount of privacy on your property. Lattice fences can be made from scratch, or you can order lattice-style fence boards and simply pop the posts in on your own if you don't have the time to make it on your own.
PROS
Allows light and air to flow through
Allows a degree of visibility on both ends of the fence
Aesthetically pleasing and visually interesting
Can be used to accommodate ivy and other wall-running plant life
Generally costs very little time, effort, and money to install
CONS
Not as robust as other fence types
Passers-by can see through the diamond-shaped holes
Slats can vary in thickness depending on the wood used to construct them
Cats and rodents can squeeze through the gaps
Louvered Fence
The louvered fence provides all of the qualities you want from a wooden fence with almost none of the drawbacks. A louvered fence consists of vertical posts packed tightly together that are slightly overlapped with one another. This forces them to an angle, allowing air to pass through and a field of view through from one angle only. Louvered fences can be oriented with the posts vertically or horizontally, making the configuration quite versatile. The overlapping of the planks also makes louvered fences quite tough and rigid, characteristics that are great for privacy, security, and keeping pets inside.
The louvered fence doesn't use too much material either, making it cost-effective too.
PROS
Provides airflow through the slats
Allows visibility from one side only
Allows sunlight to pass through the fence
Configuration is inherently strong
CONS
Can be challenging for DIY enthusiasts to erect
Only provides a viewpoint at an angle
Can be difficult to clean between the slats
Can be challenging to repair broken slats
Picket Fence
What was once the cornerstone of the American dream and suburban bliss, the white picket fence is a classic example of wooden fence design. Characterized by its evenly spaced pickets joined with a singular horizontal board, it doesn't do much in the way of security but does do a decent job obscuring the field of view on both sides of the fence.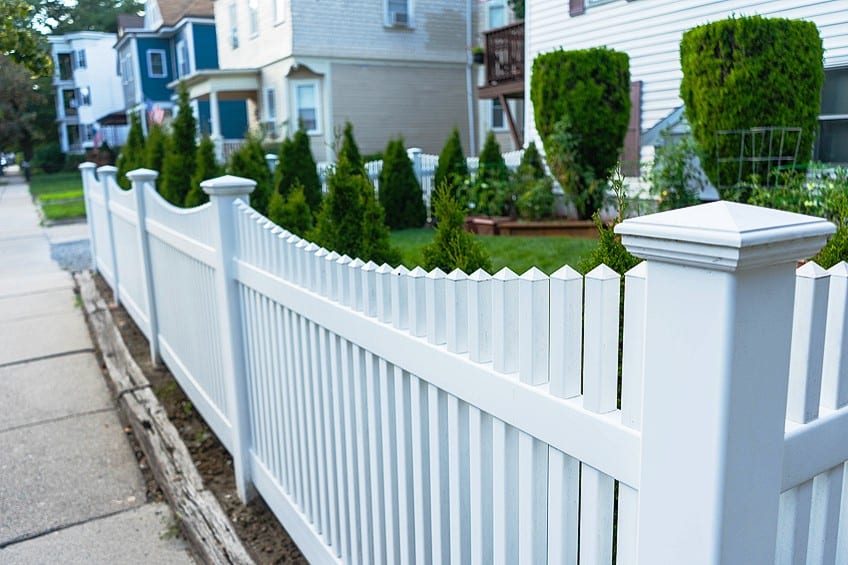 The white picket fence is typically short, being designed to ensure that a clear boundary has been established and that visitors and neighbors still feel welcome. This fence is easy to set up, easy to maintain, and is generally considered to have a timeless aesthetic that fits virtually any suburban home. That being said, it is also considered to be a style-over-substance fence configuration.
PROS
Allows sunlight through gaps
Uses very few materials
Inexpensive to set up
Easily customizable
Allows you a nearly full field of view beyond the fence line
CONS
Does not provide much security
Does not provide much privacy
Will not stop or deter intruders on your property
Split Rail Fence
Should you be in the market for rustic wood fence ideas, the split rail fence should be just what you're looking for. Characterized by its rails made from logs that have been split lengthwise, this fence was used in colonial times to mark property lines and ensure livestock weren't allowed to wander onto others' property. This fence is large, featuring two to four rails joined to a post on either end. Split rail fences tend to be tall, and their rails are extremely long.
This fence offers virtually nothing in terms of privacy and security, but if you need to keep large animals on your property and want to establish a clear boundary, this is a stylish and minimalistic way to go about it.
PROS
Fits a rustic aesthetic
Can corral livestock easily
Relatively inexpensive to set up
Doesn't use too much material
Affords you a full field of view
CONS
Does not provide privacy
Does not provide any security against trespassers.
Bull Wire Fence With Wood Frame
Should you be searching for a fence that provides maximum visibility and security, the wooden frame bull wire fence is a great candidate. This fence is characterized by its wooden posts that are joined together by interlocking bull wire that forms little squares. Therefore, aside from the wooden posts this fence is completely see-through.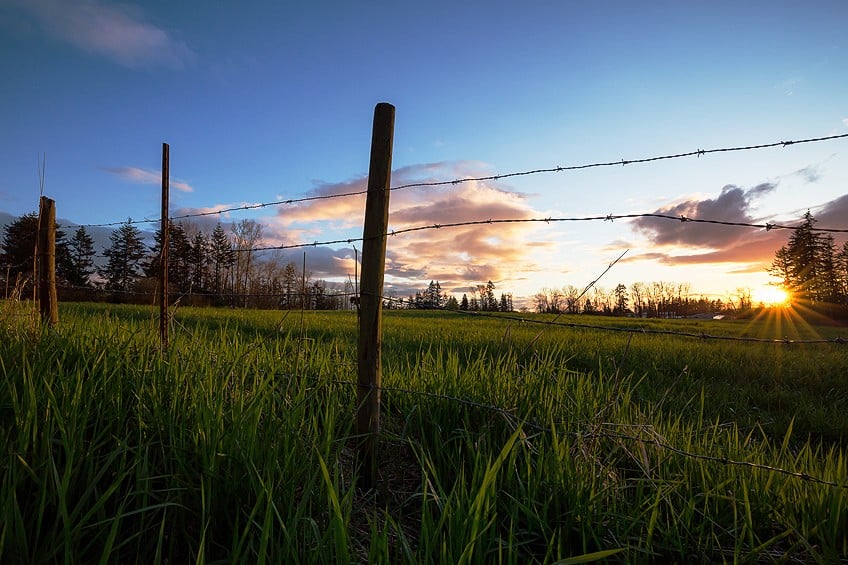 This ensures you have a full field of vision outside of your property, and the bull wire works to discourage intruders. This does mean you sacrifice privacy though, which is why this fence type is generally used in remote rural areas as a simple boundary marker and a means of keeping small animals like chickens, rabbits, and dogs inside the property lines.
PROS
Affords you a full field of vision
Low maintenance
Relatively easy to set up
Allows sunlight and air to pass through
Discourages intruders with bull wire
CONS
Does not provide any privacy
Bull wire can be a hassle to replace when broken
Posts need to be treated to prevent rot and decay
Slim Slat Fence
One of the most popular fence types at the moment has to be the slim slatted fence. As the name suggests this fence consists of thin vertical slats that are joined together by three or more horizontal boards. The slats have gaps between them to allow air and sunlight through them, and they eventually meet up with a post on either end. This configuration is often referred to as a Venetian fence as it closely resembles a Venetian blind. The slat's length and width can be altered to suit a variety of applications, which has led to many wood fence ideas cropping up all over the world.
This fence can be set up by both professionals and DIY enthusiasts due to its simplistic structure.
PROS
Unique aesthetic
Increases curb appeal
Allows air and sunlight through
Provides privacy on both sides of the fence
Fence height ensures security from intruders
CONS
Design is not as strong as others
Primarily suited for backyard spaces
Quality of the fence largely depends on the type of wood you use
Side-by-Side Fence With Lattice Top
While there are individual fence types there are also combinations of fence types. These typically take the best characteristics of each fence type and combine them to form an even better fence type for you to work with. In this instance, the fence has a side-by-side vertical slat base and a diagonal cross-top section.
This essentially means that it has a robust base and an aesthetically pleasing top half. Not only does this make the fence sturdier but it also increases the security aspect of the fence by raising its overall height a bit. This combination can be done with many fence configurations, although the side-by-side and lattice combination is one of the most common.
PROS
Big Aesthetic impact
High fence provides better security
Combines two objectively good fence configurations
Good for small animals
Difficult to break through
CONS
Does not allow sunlight and air through the bottom
Completely obscures field of view
Might not be applicable to all types of dwellings
Dog Ear Fence
The dog ear fence is another classic fence that has become increasingly popular over the years. It can be characterized as a side-by-side fence utilizing pickets instead of slats. Each slat stands on its own, generally acting as a low-effort, low-cost security, and privacy barrier between neighbors. The "dog ears" are the sanded-down edges of the pickets at the top of the fence. There are many advantages to this fence type. For one it ensures that you have absolute privacy while it keeps out the wind and deters any potential intruders on your property.
These fences are also quite sturdy so they can be used to keep small to medium-sized animals inside your property with relative ease.
PROS
Easy to set up
Relatively inexpensive
Bocks out wind
Keeps out potential intruders
Very sturdy design
Both sides of the fence look good
CONS
Obscures your field of view
Does not allow sunlight or wind to pass through
Can be difficult to see over if needed
Looks plain
Good Neighbour Fence
Another alternative to the side-by-side fence is the good neighbor fence. This fence can be characterized as a side-by-side fence with each section alternating between the slats facing the viewer and facing away from the viewer. This means that viewers on both sides of the fence get sections with slats and not just horizontal planks.
It tends to be a good compromise if you and your neighbor want to build a fence together. This configuration doesn't affect the structural integrity of the fence either since the slats will all be linked to posts. This fence can further be altered both structurally and aesthetically to ensure that both you and your neighbor are happy with your new fence.
PROS
Easy to set up
Uses very little material
Ensures both sides of the fence look good
Easy to modify structurally and aesthetically
Easy to maintain
Deters potential intruders
CONS
Does not allow wind or sunlight through
Completely obscures field of vision
Usually only applicable in backyards
Factors to Consider When Choosing a Wood Fence
While you might be considering a privacy fence style that suits your property, have you considered some of the other factors that influence why most people put up a fence, to begin with? If you have not, here are some things you should consider to ensure that you have the correct fence type for your property both practically and aseptically.
What Is the Purpose of the Fence?
The first question you should ask yourself is what exactly you want out of your fence. Will you be putting it up for some privacy? Is your priority to discourage intruders? Do you simply want to establish a clear boundary with your neighbors? There are fences capable of fulfilling one or many of these needs, so knowing what exactly you want out of your fence is important.
High-security fences are a great way to ensure that you have all the privacy you need by limiting airflow, sunlight, and line of sight. Aesthetic fences look great, allow for adequate airflow, and don't obscure your line of sight, but they don't offer much in the way of privacy and security.
This is why many people opt for a combination of fence types to avoid the downsides associated with a single configuration.
How Much It Will Cost?
There are many fence types out there but you should ensure you don't get carried away. The cost of materials can add up, therefore fence types that are more aesthetically intricate can cost you more in terms of materials without affording you any practical benefits like security, privacy, and longevity. How do you ensure you spend your money well then?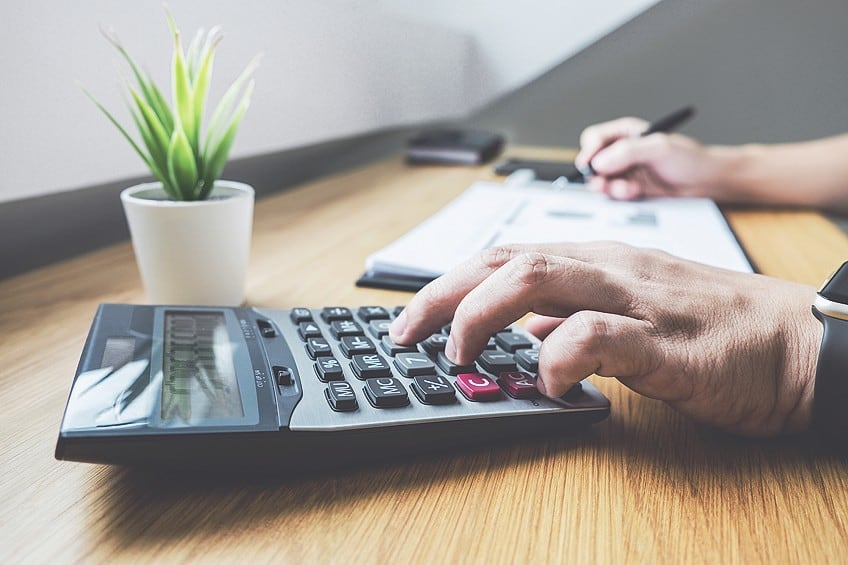 The simplest way is to do the math. How many pickets and slats will you need? What is their unit price? How long/wide are they? Do they need to be treated beforehand? How big do you want your fence to be? Asking yourself these questions can prevent you from overspending and underspending, especially if you are building your wooden fence on your own.
How Will Your Fence Look?
It's generally easier to ensure your fence matches your home than to try and make your home match your fence. Wooden fences can be easily modified and manipulated to suit an aesthetic, but you should decide what style, color, height, and length you want your fence to be before you go out and purchase all your materials. Remember that the configuration and overall style of the lumber would be the most labor-intensive things to change. However, you can stain, paint, carve, sand, and move your fence until it suits your preference.
That being said, spend some time assessing what options you have to achieve your desired look while you're shopping around for materials.
What Will Maintenance Be Like?
While an intricately shaped fence that provides you with all the privacy and aesthetic impact you desire is ideal, you should keep in mind that eventually, your fence is going to need to be maintained. This means you might have to clean and even reseal the surface of the posts and slats, and if you live in an area with harsh weather, you could be doing this quite often.
Choosing a fence that suits the durability you need for its intended application is therefore very important. The last thing that you want is a good-looking fence that only lasts a single winter before it needs to be replaced. Ensure that the lumber your fence is made of is conditioned to suit its immediate environment to not only reduce maintenance by also to avoid breakage.
As you can see, there is a lot more to choosing a fence than simply picking the nicest looking one. Remember that your fence will likely be the first thing people see when viewing your home, so it's best to make sure it is durable, good-looking, and easy to maintain. Don't be afraid to experiment with different fence types, or upgrade your existing fence with some modern accents!
Frequently Asked Questions
Are Fences the Best Security?
While fences might not stop criminals, they do act as a deterrent and prevent things like animals, litter, and other random objects from finding their way onto your property. They are also one of the most inexpensive ways of ensuring that you have a barrier between your home and the surrounding area.
What Are the Best Wood Species for Fences?
Fences need to be tough, durable, flexible, and good to look at. There are a handful of wood species that have proven to be the best when it comes to these characteristics. These wood species are cedar, redwood, Douglas fir, and cypress board.
How Do You Maintain a Wooden Fence?
If your fence has been treated for the conditions it is exposed it will require little to no consistent maintenance. However, it's a good idea to clean the wood every two to three years, remove any moss or mold, and fill any areas that may have been damaged.
What Is the Best Privacy Fence Style?
If you are looking for a good privacy fence style, we highly recommend that you go with a shadowbox fence. Not only is this fence tall enough to discourage potential intruders, but it also allows for airflow and sunlight, not to mention a slightly obscured field of vision.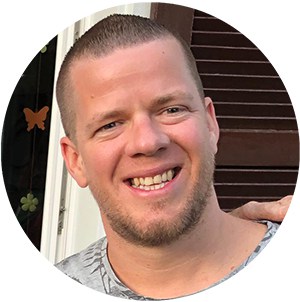 I have been into woodworking since 2005 and woodturning since 2011. Because of my love for wood and woodworking, I started woodhappen.com to teach other enthusiasts about how to finish and seal wood, the best woodworking tools, the different types of wood, and everything else related to woodworking! Read more about me here.