Best Woodworking Kits – Find Your Ideal Wood Building Kit
This post may contain affiliate links. We may earn a small commission from purchases made through them, at no additional cost to you.
Maybe you've seen all the neat things people have been creating on Pinterest, or maybe you're looking for a new hobby to get your hands dirty, or perhaps you're just about expanding your skills. Either way, you're probably intrigued by the cool things people have been making using wood online. You don't have to start from scratch though, you could use a starter kit and get a good feel for the craft. What are starter kits though? Are they expensive? What can you make with them? Let's have a look and find out exactly what these are, where you can find them, and how to go about using them.
What is a Woodworking Starter Kit?
If you use your friendly neighborhood search engine Google, you are more than likely to come across some really interesting woodworking starter kits that offer a wide range of skills to develop. These starter kits can focus on a variety of woodwork disciplines including but not limited to carving, construction, intricate ornament making, birdhouses, actual houses, and even things with practical applications like little windmills or airplanes!
The possibilities of woodwork are endless, and choosing where to start can be a challenging hurdle to conquer. After all, how does one choose what skill they'd like to develop when the options available to you are all so attractive? Well, knowing what you're about to get yourself into is a good idea, and you can make your own decision based on the comfort level you have with a particular craft. 
The most popular and (arguably) easiest to learn of the woodworking starter kits would be the carving kits. What is a woodworking carving kit? Woodworking carving kits are specially curated for the aspiring whittler, whether they be kids, teenagers, or adults!
These kits feature a blank block of wood that can be formed into virtually anything you set your mind on, but they usually contain step by step instructions on how to create some basic sculpting which aren't only a great way to pass the time but could make an amazing centerpiece for your living room table or a nifty gift for friends and loved ones.
Whittling is one of the most therapeutic crafts in the world, allowing you the opportunity to lose yourself in reflective contemplation while creating something beautiful from scratch!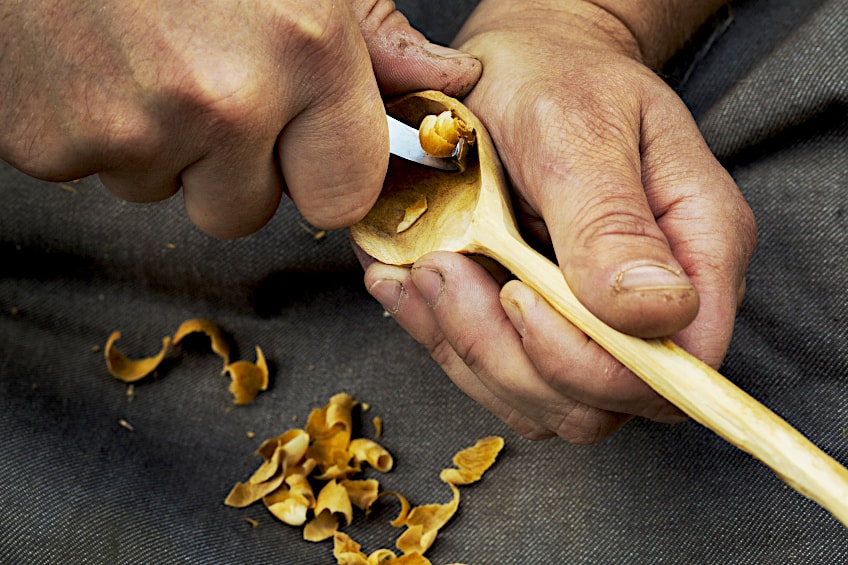 Next, we have woodworking construction kits. These kits (like the whittling kits we mentioned earlier) come in a range of ability groups, offering a woodworking kit for kids, adults, teenagers, and even more intricate kits for the "pros" out there.
A woodworking kit for kids usually offers simpler mechanisms with a greater focus placed on the aesthetic aspect of the workpiece rather than on sanding and joint carving, whereas a woodworking kit for adults will focus equally on the aesthetic and construction aspect of things, with even greater emphasis aimed towards the manipulation of materials and how they interact with another.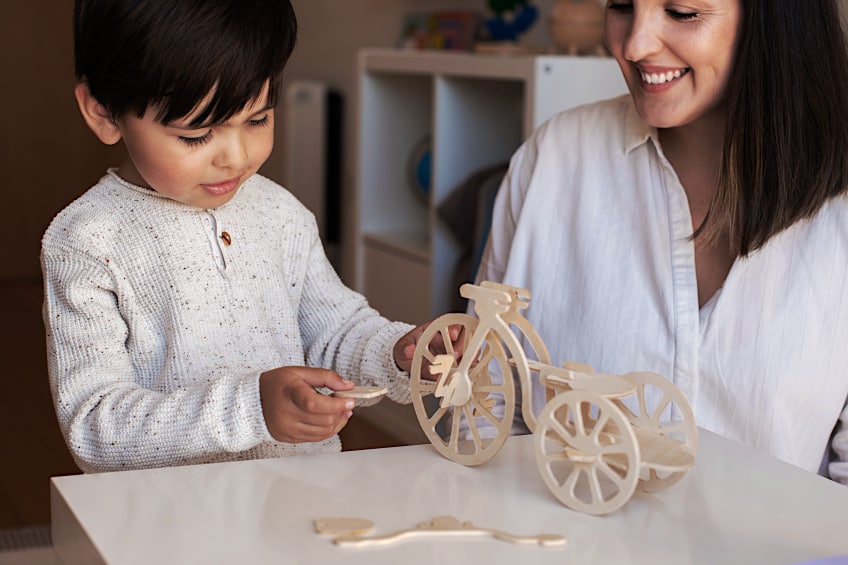 A woodworking kit for teenager age groups would be somewhere in the middle offering mild difficulty in construction and aesthetic craftsmanship, although some can be quite advanced depending on the brand it's created by.
Other than the carving and construction sets, alternate woodworking kits simply provide you with the tools and instructions to make your own creations, including knives, sanding paper, and gloves.
What are the Pros and Cons of Woodworking Kits?
Although the concept of a woodworking kit sounds great initially there are a few things that you should keep in mind if you're in the market for one. Here are a few pros and cons you should keep in mind before purchasing your first (or next) DIY woodworking kits for beginners.
Advantages
Woodworking kits are a great jumping-off point for most beginners because it offers you the opportunity to learn a craft from the ground up. You could think of these kits as a set of training wheels on a bicycle, they offer you the comfort and security of knowing that you haven't bitten off more than you can chew and allow you to progress at your own pace unlike, say, trying your luck on your own with a YouTube video tutorial (although those can be great too).
Another advantage that these kits offer is that they provide you with all of the tools you will need to comfortably start your journey in your respective craft. A woodworking kit for kids, for instance, will provide step-by-step instructions with child-proof tools to ensure that there aren't any unfortunate accidents
If you aren't a kid, woodworking kits for adults will offer you a wide variety of special tools and helpful tips to streamline the construction and/or carving process, this saves you time and money running around trying to fill your toolbox with the tools that you need for the job.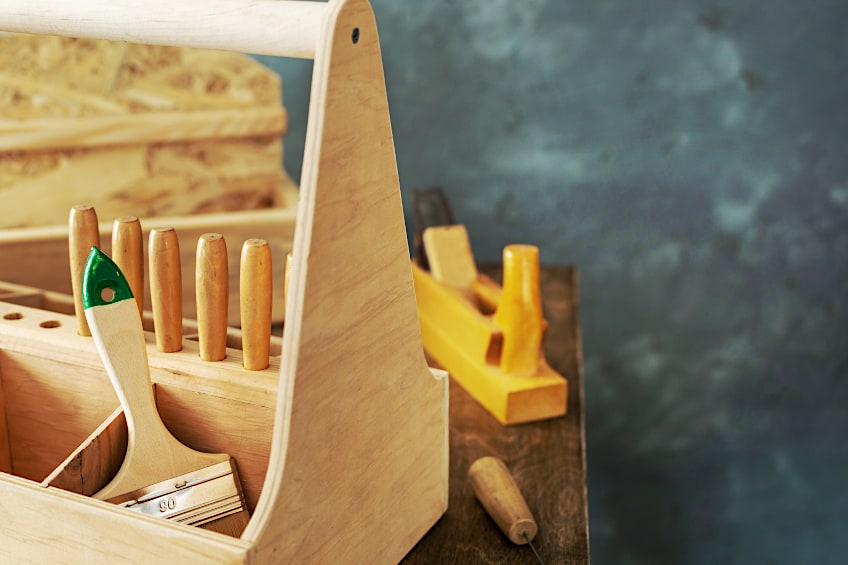 Other than all the bells and whistles that they pamper you with, these kits also provide you with a good framework for the craft ahead. What do we mean by a framework? Well, there are some best practices and workplace safety tips that one would usually learn in shop class that is often omitted or not emphasized nearly enough in video tutorials. These kits will provide you with the knowledge and skills to perform your craft in the safest and most technically accurate way possible.
Disadvantages
There is something to be said about getting out and doing things "the hard way" that your dad or instructor might have filled you in on if you aren't entirely new to the crafting scene. Do these grizzled veterans of the industry have a point? Maybe. Woodworking kits for beginners arguably take some of the experience and personalization away from the experience of entering into a new craft.
Going out and buying your tools individually can be a bit of a pain, having to sort through which brand is best and then shopping around for the best price can be a bit of a drag. Shopping around for materials can also be a tedious process, and although you would need to do this eventually even if you've used woodworking kits for beginners, you don't have the same experience choosing your wood and getting to know which suppliers and what types of wood you prefer until much later on.
When choosing tools, you might miss out on the personalization factor, choosing knives, screwdrivers, sandpaper, and even clothes that suit your application, personal style, and ergonomic needs is not an option when you start out with a kit. 
Furthermore, if you expect these sets to be cheap you might want to consider another hobby, even a woodworking kit for teenagers can be priced steeper than one might expect, even if this isn't your first Rodeo. This being said, woodworking kits, in general, are a fun and easy way to enter the industry without being bamboozled by salespeople and material salesmen, and most importantly they are convenient and safe to use.
What's our opinion? If you're set on learning a woodworking skill, and you would like a good start to the crafting scene without having to fork out huge wads of cash for a class that you may or may not be able to attend (let's face it, we're all busy), woodworking kits are 100% worth it.
Who are Woodworking Kits Suitable for?
This is a really tough question to answer, even for those selling woodworking kits for beginners. What demographic do you push for something like this too? Which age group would be appreciative of woodworking kits for beginners?
Truth be told, there is a beginner woodworking kit for pretty much anyone out there, and if you do some looking around you can find wood building kits for everyone from virtually any and every demographic out there. Don't believe us? There are themed kits that center around old architecture, maritime vessels, automobiles, kids' toys, windmills, and many more.
This type of starter kit is great for kids that have an affinity for getting their hands dirty, taking things apart, and making their own modifications toys. Allowing kids to explore this avenue is not only good for cognitive development, but it allows them to familiarize themselves with tools and movements which might later benefit them later on in life, not to mention giving them a greater understanding of the physical world around them.
Woodworking kits for beginners aren't just aimed at little kids either. Although teenagers are often painted as being completely engrossed in their phones there are thousands of teens around the world that prefer a more hands-on way to spend their free time. 
There are kits that allow you to build fantasy creatures, box art, functioning small-scale weaponry, model airplanes, and even replications of infamous scenes in history. If you're trying to get your kids away from their electronics (even for an hour or two a day) this is a fun, educational option that could instill valuable skills they could use in the future.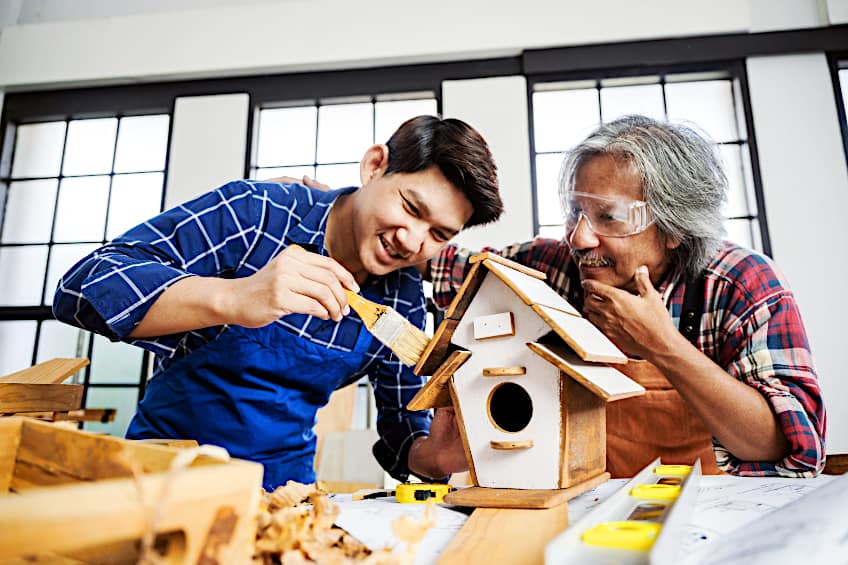 Although these are entry-level kits, there are wood-building kits that go far beyond this level, featuring intricacies that would make even the most experienced craftsman apply more focus than they would like to admit. Some of the more intricate wood building kits available are historical recreations that if done correctly can be challenging to tell apart from the real thing. These can be quite pricey but die-hard crafters often save up and keep them as long-term investments, plus they're pretty fun to put together and paint.
The Best Woodworking Kits
What are the best woodworking kits for individual age groups? We thought we'd save you the time of having to scour the internet and find some of the best woodworking kits for kids, teenagers, and adults on the market. These kits allow for hours of fun so have a look at what they contain and some of their pros and cons before you hit that buy button.
Best Woodworking Kit for Kids: TOYSMITH Beetle & Bee Build a Bird Bungalow Backyard Birdhouse Kit
Do your kids love the outdoors? Do they love to make things and constantly watch you while you're crafting? If this is the case, boy do we have some good news for you. The Toysmith team has created the perfect vehicle for you and your kids to not only make something together but will allow them to see how their creation can benefit wildlife for the rest of their lives!
This birdhouse is easy to assemble and comes with some step-by-step instructions and some infographics that detail exactly where each part should go and how they fit together, meaning you won't have to hover over your little ones out of the fear that they could break something.
The building is only half the fun though; this kit includes a variety of paint pots that will have your little ones sitting for hours as they decide on which color suits their new bird bungalow best.
The best part about this woodworking kit for kids is that it does not require a staggering number of tools to put together, it's for this reason and the fact that it comes with decorative materials that we consider this to be the best woodworking kits for kids on the market today! Other kid's brands are a bit more technical which could be confusing for little ones, but Toysmith seems to have removed all of the technicality allowing kids to simply enjoy the experience of creating something from scratch.
Kit for building a fully functional 6" birdhouse
Includes wood pieces, paint, brush, nails, glue, and instructions
FSC Certified wood products suitable for ages 5 and up
View on Amazon
PROS
Comes with paint
Reasonably priced
Easy to use
Requires minimal tools
Available online and in-store
CONS
Age range is limited
Size not as advertised
Instructions not in linear order
Still requires tool use (might be overwhelming)
Best Woodworking Kit for Teenagers: NATIONAL GEOGRAPHIC Construction Model Kit – Build 3 Wooden 3D Puzzle
We mentioned previously that teenagers are typically more interested in what's happening online than something they can build by hand these days.
Although this is generally true, it's more of a blanket statement, in fact, there are hundreds of thousands of young people out there who are into a bit of both. After all, building something neat and being able to share it with the rest of the world is one of the few universal joys we all share with one another!
This construction kit from National Geographic is part of their Leonardo Da Vinci series which highlights the intricacies of some of his legendary inventions and allows you to recreate them in miniature form. If you're going to be building something cool it might as well be a medieval weapon used to siege the walls of great cities, right?
If you agree, then their range of designs will allow for hours of fun not only for teens but for anyone that enjoys making practical woodworking designs and having fun with them. What is the box you ask? The box comes with detailed written instructions and infographics that allow you to build a bombard, and catapult, and a giant crossbow from the ground up.
You should keep in mind that these replica weapons are fully functional, but considering their ammunition is made of cardboard, you can rest assured that your teenager won't be burning down the neighborhood and staking their claim to the local park any time soon.
Besides, the National Geographic team has included some paper targets in the box so they can practice their marksmanship in the comfort of their own rooms without leaving a mess in the backyard.
This is pretty much the ultimate gift for teens that have an affinity for history and invention, and even if they don't, who doesn't want some replica weapons they can mess around with when boredom inevitably strikes?
The best part about these constructs is that they don't require the use of any special tools to set up, and they are powered by rubber bands which means you don't have to worry about intricate mechanisms failing on you while you're enjoying them. These are truly the best woodworking kits for teens.
Build 3 fully functional models - a ballista, a bombard and a catapult

Kit includes 15 projectiles plus 6 paper targets

Laser-cut wooden components, rubber bands, sandpaper, and instructions
View on Amazon
PROS
Easy to use
Reasonably priced
Few tools needed for construction
Practical application
Sturdy design
More than one model to make
CONS
Does not come with paints
Infographics are often small
Large number of pieces
Small design
Best Woodworking Kit for Adults: AMY&BENTON 3D Wooden Puzzle Clock
Choosing the best woodworking set for adults can be a bit challenging, after all, it's a hobby that most people simply don't have the time for, so the question is how to make woodworking an appealing hobby while making it relatively less of a time-sensitive exercise. How do you do this? Well, the Amy&Benton team seems to have gone for the practicality aspect, after all, what's better than a woodworking model you can show off?
This functional woodwork clock is not only beautiful to look at because of its intricate form but its easy to construct too! Amy&Benton's 3D wood clock offers hours of fun to those who are looking to cut their teeth in the crafting scene by offering a build that requires literally no tools at all to pop together thanks to its 3D cut-out design which allows you to simply sot pieces in place.
What makes this one of the best beginner woodworking kits for adults is probably its no-fuss, no-tools-required construction, its affordability, and the fact that whenever your friends come over and compliment your amazing clock, you can put on a smug smile while you regale them with the story of how you made it (feel free to make it sound more challenging).
This being said, the clock is pretty solid and won't fall to pieces the second you decide to pick it up, and if you're worried about the sound of clock hands ticking at night keeping you up, don't be. The Amy&Benton 3D wooden clock puzzle is completely silent, so you won't be losing a wink of sleep! Instructions are easy to follow, contain all the relevant infographics, and as an added bonus they even come with a video tutorial should the task seem a bit overwhelming in the beginning.
Combination model building kit and 3d wooden puzzle

Can be assembled without glue or special tools

47 laser cut components and instructional video included
View on Amazon
PROS
Easy to use
No tools needed for construction
Practical application
Comes with a video tutorial
Sturdy design
Intricate design
CONS
Does not come with paint
Lots of pieces to sort through
Challenging to deconstruct
Smaller than most expect
What to Look Out for When Buying Woodworking Kits for Beginners
There are a few things you should look out for when buying woodworking kits for beginners. As you have undoubtedly gathered from some of the products we mentioned above, these woodworking kits are plentiful, but their quality and ease of use range considerably. Here are a few things to look out for.
Skill Level
There are tons of woodworking kits on the market today, this being said it's important to choose a kit that not only provides you the challenge that you're looking for but fits the skill level you're currently at.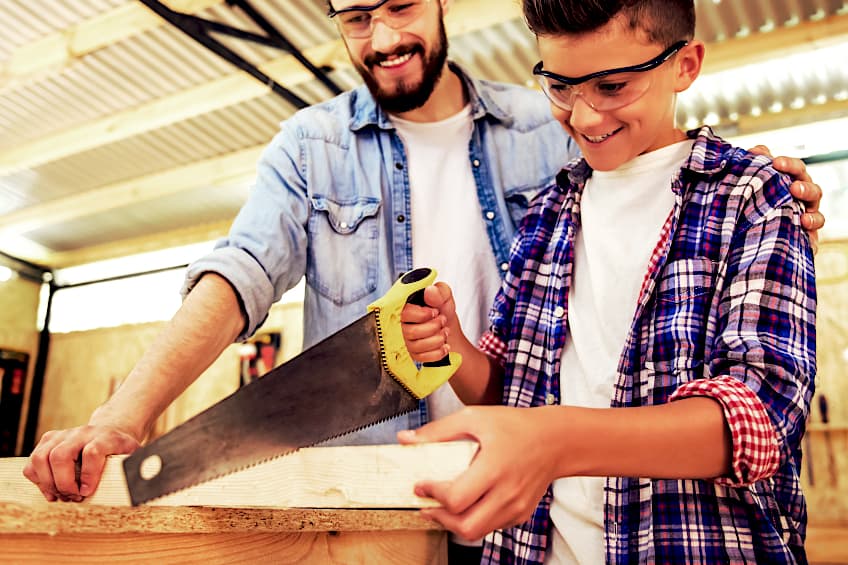 If you're never worked with wood before and are a beginner in the truest sense of the word you should consider purchasing a woodworking kit that requires no special tools and no fixing mechanisms like screws and nails. This Will allow you to get a good feel for the craft without the learning curve being too steep.
Tools
You should have a pretty good idea of what sets a premium woodworking kit apart from a bargain one by just having a look around on the internet. Most premium woodworking kits might cost a bit more, but they also come equipped with a ton of tools that you can use to create your workpiece.
Remember that these tools will stay with you for the duration of your woodworking journey, therefore it's not just the fact that a good woodworking set has tools but that they have good quality tools that you can rely on for years to come.
Aesthetic Tools
The mark of a good woodworking kit usually has to do with the quality and quality of supplies it furnishes you with. Woodworking kits for beginners usually focus on the simplicity of construction and allow you to then dress the piece up at your own discretion.
Premium kits often come with a bunch of supplies like glitter, paints, colorful glues, and even electronics that allow you to bring your piece to life. Depending on which facet of crafting you're into, this could or could not be a deal-breaker for you, although it doesn't hurt to get some good value for money when purchasing your first woodworking kit for beginners.
Quality of the Wood
This is an often overlooked and under-discussed aspect of woodworking kits for beginners. There's often very little you can do about this if the packaging conceals the wood quality from you before you buy, but you should check out product reviews before you make your purchase.
This is typically where some low-brow manufacturers like to cut corners and make their products affordable and therefore appealing. Poor quality wood can degrade quickly and offer poor structural stability to a workpiece you've poured hours of sweat and elbow grease into. Ensure to check the warranty information and return policy on any beginner woodworking kits you purchase. 
Future Projects
If you enjoyed building your woodworking kit and you have found that it has whet your appetite for woodwork, then here are some suggestions for projects you can tackle at home using basic woodworking skills and tools:
Now that you know what woodworking kits are, what they can be used for, how to identify a good woodworking kit, and what some of the best woodworking kits on the market are, it's time for you to head out and put your newfound knowledge to use. Remember to always check the skill level and age group of a kit you are buying, and always check the quality of wood you will be purchasing if possible.
Frequently Asked Questions
Is It Expensive to Get into Woodworking?
Although looking at things online might leave me a bit deterred, getting into woodworking does not have to be expensive at all. Starting out in woodworking can be done with laughably inexpensive tools, although as you progress and take on bigger and more intricate projects, you might see the cost rise steeply.
How Dangerous Is Woodworking?
Although it can be quite intimidating with lots of spinning blades and power tools seen in the media, woodworking is relatively safe compared to other occupations like metalwork. The main hazard when woodworking is typically wood dust which can cause mild to serious discomfort if inhaled or ingested accidentally.
What Safety Equipment Is Needed for Woodworking?
Not that you would need it if you're using a woodworking kit for beginners, but the most important safety wear you can have if you are working with wood is some gloves and a pair of safety goggles. These will allow you to keep your digits and eyes safe from sawdust and splinters.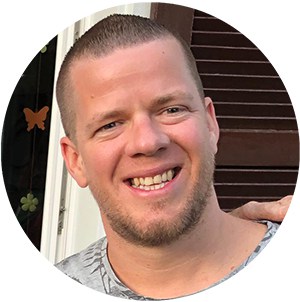 I was born in 1984 and have been into woodworking since 2005 and woodturning since 2011. Because of my love for wood and woodworking, I started woodhappen.com to teach other enthusiasts about how to finish and seal wood, the best woodworking tools, the different types of wood, and everything else related to wood!