Best Wood Stain Removers – How to Remove Stain From Wood
This post may contain affiliate links. We may earn a small commission from purchases made through them, at no additional cost to you.
There are a number of reasons as to why you would apply wood stain to the wood. The first reason for adding a wood stain is to improve the appearance of wood, and the second is to protect the wood. Most wood paints drip right onto the surface of the wood. While wood stains are beneficial to wooden furniture, there will be a time where it will be necessary to remove the wood stain. Knowing how to remove stains from wood is a requirement for every homeowner. Therefore, this guide will address the process of how to remove a wood stain.
What is Vital About a Wood Stain Remover?
There are a few ways to remove a wood stain, but many homeowners prefer using a wood stain remover, as this is the easiest and most convenient option for removing a wood stain. Alternatively, a scraper could be used, but scrapers work too slowly to remove the stain. Due to this fact, it would be far better to use a wood stain remover.
A heat gun is another alternative, but yet again it takes quite a long time to remove the stain. To get the job done rather quickly, you can use either a power sander or rotary grinder, but this will result in the removed paint and dirt being displaced and floating in the sir. It is not advisable for novices to use either of these machines because of how much dirt can accumulate as a result of the removal action. Both methods can cause the user to choke if care is not taken.
How to Remove Stain from Wood
Deck stain stripper is an excellent alternative for removing varnish and other stains on decks. The deck stain stripper should be put on a deck that has been moisturized so that it can penetrate the wood. Thereafter, you will need to wash off the deck after the designated period of time. And voila, a job well-done!
Everyone chooses to remove wood stains differently. People who make wood stain removers indicate that a deck stain stripper should always be applied with a weed sprayer. The reason for this suggestion is because a weed sprayer creates an even, flat surface to work on.
Another way to apply the deck stain stripper is by using a pressure washer. A quality pressure washer possesses a detergent injection feature into which you can pour the stain remover. This particular application method requires no additional equipment, and will yield the same outcome as if the deck remover was applied with a paint roller, big paintbrush, or even a mop. When using a pressure washer, however, you may need to work faster. The reason for this is so that you can prevent the stripper from drying prior to washing it away.
Many manufacturers advocate the pressure washer solution because it often leads to the best finish. When looking for the best deck stain remover method, it is best to use the pressure washer method for most decks. You can achieve similar results without purchasing a pressure washer by using a common hose pipe to remove the stains after the deck stain remover has been applied to the deck.
Some of the Best Wood Stain Remover Types
You will need a wood stain remover of a good quality so that you can remove a wood stain from your surface with ease. Below, you will find our list of recommendations for the best wood stain removers.
RESTORE-A-DECK Paint Stain Remover
This brand of paint stain remover is a powdery solution that, once diluted with water, can cover a large surface area. The exterior wood surface that can be covered with this product is about 500 to 1000 square feet. The reason this brand is stated as one of the best when it comes to removing wood stains is that it is capable of removing oil-based, latex-based sealers, varnishes, transparent stains, and dirt.
Strips and restores wood surfaces

Extremely cost-effective

Can be mixed at a stronger ratio for stubborn finishes
View on Amazon
Like most types of paint stain remover, this product works best when used with a watering hose or pressure washer. You may have to reapply this paint stain remover to remove tougher stains. Another suggestion is to create a solution using less water and more of the Restore-A-Deck powdery substance for a more concentrated product.
This paint stain remover must not be applied over acrylic-based stains. When applying Restore-A-Deck to oil-based or latex-based stains, you will need to perform additional steps once the initial application has been done. Once you have applied the stain remover, you should follow up with other refinishing steps, such as the addition of wood brightener for neutralizing wood's natural PH level.
This product's formula is known to be biodegradable, which means that it is not harmful to the environment. Despite this fact, all plants must be covered to prevent them from burning when being exposed to the substance. Another suggestion is for you to wet the plants and soil, which will then dilute any Restore-A-Deck paint stain remover.
Pros
When you add water to the powder, a large amount of solution is created. 
It is easy on your budget. 
The formula is environmentally friendly due to its biodegradable nature. 
Cons
Additional steps are required after applying the wood stain remover. 
This product cannot be used on acrylic paints or stains. 
SaverSystems Stain Stripper
A well-loved fact of the SaverSystems stain stripper is that it is a ready-to-use solution with no need to dilute the substance. This product can cover a larger deck surface area of 100 to 150 square feet. Most stains are able to be removed, including clear and semi-transparent stains. The stain stripper can be applied by spraying it or by using a paintbrush. The substance needs to rest on the deck for about 30 to 60 minutes so that the substance can penetrate the surface. After the this period, clean the area with a pressure washer.
Ready to use

Removes old semi-transparent stains and sealers

Improves adhesion of new wood stains
View on Amazon
The key rule to the application of this product is to ensure that you do not let the stain stripper dry. Keep some of this wood stain stripper nearby so that you can reach it with ease, as you will need to keep applying it so as to ensure the surface doesn't dry too rapidly. Ideally, you should apply the wood stain stripper on a cooler day. As a deck stain remover, all types of dirt, mold, and other stains can be removed. This is not a paint stain remover, however, and and it cannot tackle tougher stains.
Pros
This product can be applied easily with a paintbrush or as a spray.
You do not have to dilute this product, making it easier to use.
Cons
This stain remover needs to be reapplied several times in order to be most effective.
This product is not equipped to remove tough stains.
Must be cleaned with a pressure washer.
DEFY Exterior for Removing Wood Stain
The DEFY brand is made for removing wood stains that are clear or semi-transparent in color. Varnishes and sealers can also be removed with this wood stain stripper. This is another wood stain stripper that is effortless to use because it does not need to be diluted. The Defy brand works to beautify the appearance of the wood by being a paint stain remover that gets rid of wood stains that no longer look attractive.
Removes worn surfaces
Restores beauty of the natural wood
Formulated for all exterior wood types
View on Amazon
This wood stain remover is the initial step of a 3-step process for getting rid of wood stains so that you can reapply stains. While it works by removing the wood stain, the product alone doesn't allow the wood to look better. For this reason, we apply a brightener or bleach thereafter. The last step is to apply a stain to achieve a better finish. The brand of stain stripper does excel in returning the wood to its bare beautiful texture.
The Defy wood stain remover solution is quick to apply and follows all the same rules as other wood stripping solutions. The difference with Defy's deck stain remover is that it produces impeccable results. After one use, you will immediately choose to repurchase this deck stain remover.
Like many other brands, it is a biodegradable stain stripper. It is made of sodium hydroxide and sodium metasilicate that are known to be dangerous if the solution gets absorbed by the skin. A tip given by manufacturers is to wear chemical preventative gloves, glasses, and even shoes during the application process. Keep a respirator handy when you decide to use this particular stain stripper. Also, try to only use this brand when the climate is higher than 50°F.
Opt for applying the solution on a slightly dampened surface area. Apply the stain stripper using a polyester brush or a pump-up sprayer. We believe that applying with a brush will produce better results. Try to prevent the stain stripper from drying too quickly under the heat of the sun, as this will result in streaks on the surface. Allow the solution for removing wood stain to rest on the surface for at least 25 minutes before you observe the results of the product.
This product is fast-reacting, so when the solution has reacted on the surface, a stiff bristle and scrub brush can be used to apply a powdered washing solution. You can also use a simple garden hose to spray a light coating of water over the stain remover. Thereafter, the damp solution can be washed using a pressure washer.
Pros
This product is sold at a reasonable price. 
This product is pre-mixed for your convenience. 
Defy's wood stain remover is highly recommended by customers. 
It can be utilized with ease. 
Cons
As with most other stain removers, one application will not be enough. 
The stain remover takes time to be applied. 
Selecting Your Paint Stain Remover
When choosing what kind of stain stripper to use on your wooden surface, there are a number of factors that you should keep in mind. You will need to take the products effiacy, safety, and workability into account when making your selection.
Efficacy
The reason as to why people purchase a paint stain remover is simply to take away stains from the wood's surface. It would therefore be senseless for you to buy one that is unable to remove stains effectively. When making a purchase, opt for a brand that promises to clean out the bulk of the stains (99% of stains). You can look at the product details of the paint stain remover to see what kinds of stains can be taken off. Some paint stain removers are for stains that are difficult to remove, others work on stains on furniture, and some are for removing exterior stains. Try to find paint stain removers that work well on all sorts of stains.
Precautionary Measures
Some of the best stain remover types only need to be used with gloves as a safety measure. Other wood stain stripper types, however, require you to wear heavy-duty gear to avoid exposure to dangerous substances in the products. If a stain stripper can be used inside your home with no risk to anyone living there, consider buying that brand of stain remover.
If precautionary measures are mentioned on the stain stripper, it means you should use the strippers outside as a deck stain stripper or exterior wood stripper. These strippers need to be handled with consideration and alertness. An expert may need to be called in if it seems too dangerous for you to do alone. Thus,  considering every aspect of the wood stain stripper is essential to producing an ideal outcome.
Workability
Certain stain removers come in formulas that have already been mixed. Other formulas need to be mixed by the consumer. The mixing process can be quite tedious and time consuming. We suggest that you try a premixed formula initially as it is much easier to use.
It is best to mix your own stain remover for stains that are harder to remove. As you need to use a special powder to create this mixture, you will be able to control the consistency of the stain remover to suit your needs.
Different Types of Products for Removing Wood Stains
Each stain stripper has been formulated in a different way with diverse ingredients. Most products are made to work as a type of wood stain remover, but the different types of wood stain removers need to considered when deciding how you would want to remove stains from wood.
Solvent
Wood stain removers that are classified as solvents include chloride, acetone, alcohol, toluene, chloride, and methylene. The main perk of solvents is that they work by soaking up the previous stains and have intensive cleansing abilities. Solvents are of the few product types that act as a paint stain remover in addition to normal wood stains. You must keep yourself safe when you are working with solvents.
Caustic Strippers
Caustic strippers are similar to solvents in that they work by soaking up the finish. However, in soaking up the finish, it transforms the finish into another substance. In fact, this type of wood stain stripper is quite popular. Since caustic strippers are an amalgamation of acids and bases, additional care is required when using this type of stain remover. Some caustic strippers contain lye and oxalic acid. Out of all the types of caustic strippers, lye and oxalic acid may be strong, but when combined these chemicals form solution for hard-to-remove stains.
Biochemical Stripper
Biochemicals are made from chemicals, although these are less purified. The biochemical wood stain stripper is made from natural ingredients so as to be a safer wood stain stripper option. These products are made from the likes of citric acid, lactic acid, soy oil, and wood-pulp extract.
How to Remove Stain from Wood
There are several steps that need to be followed in order to remove a wood stain successfully. We have outlined the main methods required for preparing, applying, cleaning, and finishing the process of removing wood stain.
Preparation for Applying Wood Stain Remover
Consider the type of wood stain remover. If the paint stain remover expects you to exercise precautionary measures, ensure that you do so. When using paint stain remover that produces strong fumes, rather work outdoors. When working outside, make sure the weather doesn't tamper with the end result.
Always work in a clean area. Begin by wiping the area that you are working on with soapy water. Thereafter, you can use dry paper towels to clean.
You need to ensure that the chemicals used for removing wood stain do not splash elsewhere. When using wood stain remover, start by applying painter's tape to the hinges and other parts of the surface that do not need to come into contact with the wood stain remover.
Safety Advice: Never use a chemical stripper on a wood stain remover that contains chemical ingredients. Always keep safe by using protective glasses, long-sleeved clothing, unused nitrile gloves, and a breathing mask. 
Applying the Paint Stain Remover
Start by pouring the contents of the paint stain remover into a container. Always consult the manufactuer's instructions prior to, during, and after the process. Remember that both traditional chemical strippers as well as citrus strippers work well.
Be sure to opt for a paintbrush that has natural fibers. This paintbrush type will ensure that you apply thick layers to the surface. Position the brush in such a way that the paint seeps into every corner.
Let the stain remover rest on the surface for 20 minutes before you reapply more products. There is no hard-and-fast rule about how many times you will need to reapply the stain remover, but many paint stain remover types require quite a few applications.
Working Advice: If you are a novice when it comes to using stain stripper, begin with smaller areas first. Begin by working in an area of just one square foot.
Scraping Away Wood Stain Remover Debris
Many novices wonder as to how they can know when the paint stain is ready to be peeled. You can begin peeling when the stain remover swells up.
Ensure you tackle the stain before the stain remover dries. Remove any excess debris with a plastic scraper or a putty knife. Try to scrap the debris into a packet or dustbin to avoid having to clean the area again.
A steel wool pad can take off any additional debris. When using steel wool, gently scrape using the grain direction as a guide.
A final step would be to wipe your surface areas with a slightly wet cloth. This method will remove any excess debris.
All these steps mean that you don't necessarily have to opt for the sanding process. For novices, sanding can be hard, especially if you are fearful about sanding an entire layer of furniture off.
Scraping Advice: Be sure not to use metal tools or tools with sharp edges to scrape, as they can scratch the wood.
The Sanding Process
Before attempting to sand, allow for a full day of drying for the deck or surface you are working on. Make sure that you wear protective gear when beginning the sanding process.
You must use a medium-sized grit sandpaper of 100- to 150-grit. Alternatively, you can use a sanding block or even an orbital sander. Use a 180-grit paper to remove marks and sand the surface.
Use a fair amount of pressure for stain removal.
Once you are happy with the sanded surface, and all flaws have been taken away, you can wipe away the excess dirt and dust with a fine sandpaper grit.
The Clean-Up Process
To ensure that your surface area is clean, use a damp cloth. Dampen the cloth with mineral spirits.
You ought to vacuum the area to remove debris and sawdust.
Use Wood Bleach for Brightening
The entire process is almost complete. Remember that a removed wood stain doesn't indicate the end of the process. What many novices fail to realize is that it is equally as important to neutralize the stripped surface and make the wood appear brighter.
Once the stripping and cleaning are done, apply oxalic acid. The chemicals in the oxalic acid will ensure that you brighten the wood. Natural colored wood will be visible. The main reason why we add this chemical to the removed area is to prevent any further strain from the wood stain remover.
You can also use chlorine wood bleach, which is actually calcium hypochlorite. This is the same substance that we use in swimming pools. To create a chlorine solution, amalgamate chlorine crystals with water. Mix a saturated solution by adding crystals to water until no more of the crystals dissolve. This solution does not work well when removing color stains left behind.
To remove any excess pigment, you should make use of two-part bleach for wood. Two-part bleach is a mix of sodium hydroxide and peroxide. The kit that you buy for the purpose of removing excess pigment will have instructions for use. Be cautious when using bleach of any kind.
Try to wear protective gear whenever you work with bleach. It will also be helpful to keep a respirator nearby.
Dust the bleach onto the unfinished wood. You will notice that bleach will lift the color. If you allow the bleach to rest for 12 hours, the results will be more pleasing. For most kinds of bleach (not all bleach products), you will apply part A first. Thereafter you will apply part B. The function of bleach is to brighten and lighten the wood. You must first test the result that the bleach will produce by adding some bleach onto a small patch of the wooden surface.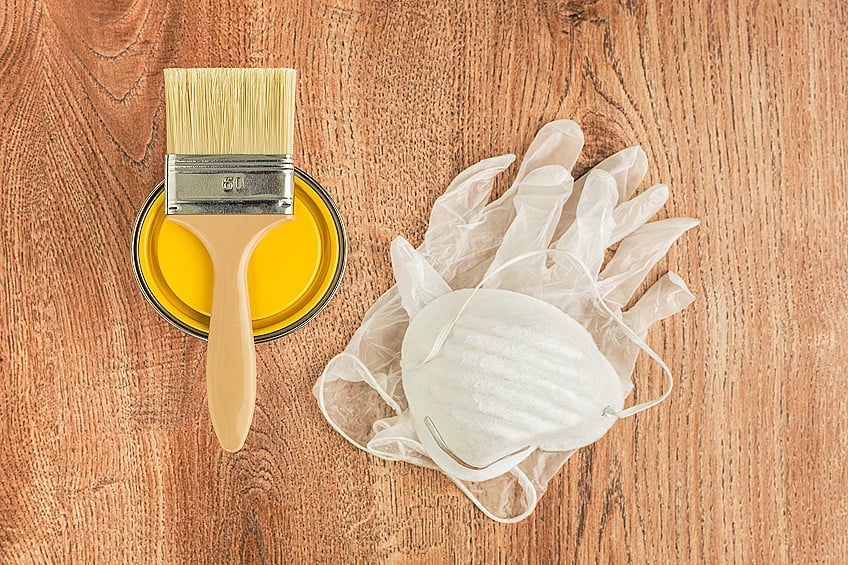 Allow for a Drying Period before Applying Paint
For using both oil-based or a semi-transparent based paint afterward, you need to make sure the wood you are working with is dried completely. The drying time is not known in advance, and is instead based upon the stain remover type.
A deck stain remover will dry fully after a good few hours have passed. We always advize novices to invest in a moisture meter. The moisture meter can be found easily at any homemaker store and allows you to assess the internal moisture of the wood. Once you know exactly how moist the wood is, you can ensure that you maintain the best results. If your moisture meter reflects that the wood is less than 12% wet, you can apply an additional paint coat.
Although this step doesn't seem as important, it is essential to ensure the wood is actually ready for oil-based paint.
Tips on Removing Stains from Wood Using a Deck Stain Remover
In order to achieve an excellent finish, let the product settle for a few minutes before you start applying it to the deck. By doing this, you allow the wood stain remover to infiltrate into the deck, thus stripping away the old paint. The time required for the wood stain remover to actually work depends on the paint itself that needs to be removed. It is a known fact that semi-transparent oil-based stains are easier to remove than solid stains.
For decks that have stubborn stains, trying a simple wood stain removal method is not enough. A deck stain remover needs to seep into the stains so as to make them softer. Many deck stain removers are more effective than ordinary stain cleansers.
Always ensure the deck is cleaned thoroughly to yield the best results. Get rid of dirt on the surface and make sure to remove any mold or mildew. This means that when a new coat of paint is applied to the stripped deck, the paint will last for a longer duration of time.
We believe that the best wood stain remover types have a combination of dodium hydroxide and other powdery substances. They work best to remove stains as they can be applied with a sprayer when they are mixed with water.
Stubborn stains may take a longer period of time to remove. You may need to put acrylic- or silicone-based stains directly onto the deck. You also need to apply these stains a few times. For stains that are taxing to remove, sanding can also help.
You should only remove the stain with a power washer once the deck stain appears to have gotten softer. The amount of pressure you apply need not be hard but mild. Due to the fact that a caustic stripper increases the PH level of wood while stripping it, the wood will appear darker. Use a wood brightener to brighten the surface area and restore the wood's brightness. Although many feel it is possible to neglect the brightening process, it is important in allowing the wood to look more natural.
When you ask, "How do I remove stain from wood?", you actually need to be asking, "What is the best wood stain remover?" In this way, you will buy a wood stain remover that yields the best results. With no stains, a new coat of paint can seep through the wood to produce the best finish.
FAQ's
Can I Use Vinegar to Take Off Stains?
Vinegar can be used to take off freshly painted marks. To do this, you need mix one part of vinegar to two parts of water. You can use a sponge or stiff bristle brush to remove the stain, although the vinegar must first be given time to infiltrate the stain. Thereafter it can be washed off gently. The wood must be given a suitable amount of drying time.
Can Mineral Spirits Act as a Wood Stain Remover?
You can use mineral spirits to remove oil-based stains, or to change the appearance of the stain. For wood that appears dark, wiping the surface with a cloth drenched in mineral spirits or turpentine will cause the wood to appear lighter.
Can I Use Paint Thinner to Remove Varnish?
Allow the alcohol or thinner to settle into the stains for a few seconds. Remove this with a cloth or some steel wool. If you notice that the stain takes well to the thinner, you can then remove the entire stained area with thinner and alcohol. You just need to ensure that you work quickly to avoid the drying of the alcohol and lacquer thinner before it peels the paint off.
How Can I Make My Own Varnish Remover?
A DIY recipe for creating your own varnish remover includes one cup of boiling water, ¾ cup of washing soda, ½ cup of ammonia, and a tablespoon of vinegar. This warm solution now needs to be applied using a brush. The solution won't work when it is cold, so re-heat if necessary. Once the paint appears softer, you can clean it with hot water and a rag.
Can Acetone Work as a Wood Stain Stripper?
Yes, acetone is a chemical substance that can be used to remove wood stains. The truth is that acetone may not completely remove the surface's finish.
Does Bleach Lighten Wood?
All types of bleach and chlorine work to take away stains from wood, although these can hinder the wood's natural color. If you use chlorine and bleach together, they will undergo a chemical reaction that results in lightening the paint color and even the surface of the wood.
Is Sanding Effective for Stain Removal?
Stains take a while to remove. In the case of certain paints, the stain possesses harsher pigments that are stubborn and difficult to remove. In this case, you would get a better outcome by sanding. You can sand with a piece of sandpaper of approximately 100-grit.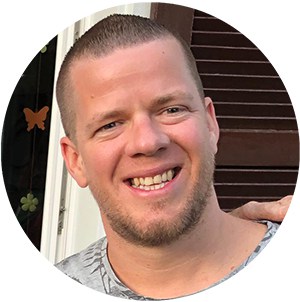 I was born in 1984 and have been into woodworking since 2005 and woodturning since 2011. Because of my love for wood and woodworking, I started woodhappen.com to teach other enthusiasts about how to finish and seal wood, the best woodworking tools, the different types of wood, and everything else related to wood!