Best Wood Burning Tool – Choosing the Best Pyrography Kit
This post may contain affiliate links. We may earn a small commission from purchases made through them, at no additional cost to you.
The art form of wood burning or branding has become quite popular in recent years. This creative art form is also known as pyrography and is quite trendy, as you can apply it to different materials like leather, cork, and, of course, wood. Another benefit is that you do not need much to start, as pyrography tools are easily available, and most are affordable. Any other items you might need are also easy to find, and you may find that you have some things at home already. 
The Wood Burning Tool
The main tool for wood burning is your wood burning pen, or pyrography pen, which is very much like a soldering iron. The tool consists of a metal head, which works by causing a current to pass through and heat the metal loop at the tip of the pen, which can then be used to burn images or writing into the wood. You can buy a pyrography kit in various designs for beginners and those who are more experienced.
The more affordable pyrography kit can go for about $12, but they can be a bit limiting to someone who wants to do more with their tools. You can also get excellent entry-level pyrography kits; these provide more applications and sell for around $60. Since these kits contain most of the basics needed, both beginners and seasoned experts should enjoy using them. If you want to go all out for the best wood burner tool, then be prepared to pay around $360. Although it seems there is a bit of a price difference, they all have a few things in common.
Wood Burning Pen Tips
Each pyrography pen has interchangeable tips, which can create different designs. The metal tip can come in a loop or can be shaped.
You will notice that a fine wire forms the loop design, and these can be bent to form a variety of shapes. You can get loops that are pointed, flat, or rounded. These types of wood burner pen tips slide smoothly over the wood. They do, however, require some practice to use, as the design you want depends not only on the wire loop, but also on your hand placement. When working with these wood burner pen tips, you can easily perform more precise work and can achieve different designs.
The shaped wood burning pen tips are made of solid metal and come in different shapes. You simply use and replace the wood burner pen tip you want to use. However, these types of pyrography pen tips do not handle delicate details very well.
Controlling the Temperature of Your Wood Burning Tool
Having control over the temperature of your pyrography pen can help with different applications and effects. A cheaper wood burner pen offers no control over the temperature, as it is directly connected to the power source. Therefore, it has a set temperature you have to work with. These might be okay for beginners, as its use is extremely limited.
Your next level of pyrography pen comes with controls for the temperature. These are also connected directly to the power supply and have a temperature control mechanism. In most cases, these pyrography pens have shaped tips.
There is another type of wood burner pen that comes equipped with a transformer, which then assists with the control of the temperature. When it comes to all of pyrography tool terminology, you can refer to this piece as a wood-burning station. The pyrography pen tips are usually metal loops.
So, the only distinction between the two pyrography tools, one with a temperature mechanism and the other the wood-burning station, is the highest temperature each can achieve.
When working with a wood-burning station, you have a broader temperature limit than the wood burner pen. This means that you can do much more with the station, as it provides more temperature options.
The simple wood-burning pen that has no temperature control is the most inexpensive option, but you will only be able to do so much with it. While the wood-burning station and other pyrography pens with temperature controls are more expensive, there is not much price difference between the two.
What Can a Wood Burning Pen be Used on?
A pyrography pen is perfect to use on wood to create a variety of effects from letters and simple decorative images to extremely detailed pictures. You can find some amazing, almost life-like images by using a wood burner pen. Other mediums you can use include:
What to Look For in Your Wood Burning Tool
By now, you would have discovered that there are many wood burning tools, pyrography kits, and pens, all with different prices. So, what things should you look out for when purchasing your wood burning tool?
First, select the price range you can afford, as wood-burning products can go from about $12 up to almost $400. So, you should be able to find a product for all skill levels and budgets. If you are starting out in wood-burning, then you should consider what the price differences entail and what you are looking to achieve.
You can easily start small by getting yourself a basic wood burning pen that has a few different tips. You should focus more on safety and quality than price. Thus, when purchasing, you should have a thorough look at the pen and its respective equipment. You do not want any plastic parts or flimsy metal tips, which will produce less than satisfactory results and may even cause injury.
When handling a wood burner pen, the handle should be insulated and easy to work with. Avoid any product where the handle gets extremely hot after using for a brief time. Many models also have an edge on the handle near the bottom to prevent any slipping.
When it comes to any electrical product, it is always good if it has a built-in safeguard for overheating. The CE stamp of approval is also something to look out for, which indicates that the product is compliant with all specifications. Think about visiting a shop that specializes in crafting and things like wood burning tools, where you should be able to test out a product before purchasing. However, if you have experience or know what you want, purchasing online is a also good option.
What is the Best Wood Burning Tool?
When starting with wood burning, you will notice that there are quite a few brands to choose from. As with every trend, more products and brands will appear as it becomes more popular. Therefore, a little research is good before you buy your wood burning tool. Look out for popular brands that offer better quality. Below are only a few of the best brands available, there are many more you can choose from. Some of the most well-known brands include:
BRENN PETER: This German brand is the first choice for many wood-burning artists. However, they can be difficult to purchase if you are not in Germany. Fortunately, there are a few other excellent brands available in the USA.
TOPELEK: Another great brand, which offers superior quality and has many positive reviews from users. This pyrography kit can easily be used by the beginner artist but is just as good for the more advanced user.
VIIART: This brand is also a good choice for those who want more out of their pyrography kit, and is also excellent for the professional user.
WOODLAND HOME: A well-liked option that is excellent for the beginner pyrography artist, which comes at an affordable price.
Best Wood Burner Tool for Beginners: WOODLAND HOME Wood Burning Kit
This is a full set and has everything you will need to create beautiful art pieces. All the tools are packaged in a hard case and each piece is protected in a foam holder. The WOODLAND HOME kit is one of the best wood burning tool kits that you can use immediately to create amazing wood burning pieces.
Premium, advanced pyrography pen with adjustable heat setting
Easy to use and multi-functional with 27 wood burning tips
Doubles as a soldering iron
View on Amazon
The pyrography kit includes:
Wood burner pen
Range of 27 pen tips
Letter stencil
Stamping patterns
Stand to hold the pen
The wood burner pen can be used on all kinds of wood and other surfaces, as it has a temperature control mechanism. You can use the wood burner pen safely and comfortably, as the handle is rubber, which makes it resistant to any heat and absorb any shocks quite well.
The kit offers quite a lot to the user, but it may not offer the best to a more advanced user. You do, however, get a wide range of temperatures. This is the perfect kit for beginners. The wood burning pen can also act as a soldering iron to use for repairs or other craft ideas. The set also contains different stamp patterns, which you can use to create beautiful wood burning designs.
If you are a beginner in wood-burning, then this kit is perfect for you, as it is priced affordably and has all the important accessories and equipment required. You can easily use this wood burner kit to create many different styles and types of pyrography art pieces.
Pros
The wood burner pen heats up quickly and keeps the heat for a long time. 
It comes with a handy carrying case that you can travel with. 
It is safe and simple to work with. 
The pen can be used on a variety of surfaces. 
It has a wide temperature range. 
The set includes many appropriate accessories. 
Cons
The stand that holds the pen could be stronger or more solid. 
It could come with improved instructions. 
Best Recommended Wood Burner Tool: TOPELEK Wood Burning Machine Kit
The TOPELEK wood burner tool kit is a great choice for both beginners and more advanced creators. This particular pyrography kit offers excellent performance and does not hold back on quality. Even if you are a seasoned wood burning professional, the TOPELEK wood burning tool is a great choice.
Adjustable temperature with precision
Designed for user safety
Variety of versatile tips
View on Amazon
This pyrography kit is equipped with the following:
An effective pyrography pen
Four different wire tips
Wood burning station
The wood-burning station is simple to use and has a temperature control mechanism. You should be able to reach temperatures ranging from 842 up to 1382 degrees Fahrenheit. This is perfect for working on a variety of wood and other surfaces. The pyrography pen heats up quickly and has a heat resistant handle.
In general, this kit is safe and simple to use. This wood-burning station is of good quality, looks appealing, and is capable of many types of applications. The entire pyrography kit can be used by artists of all skill levels.
Pros
The kit includes a good quality stand for the pyrography pen. 
The heat disperses quite quickly. 
The appearance of the wood burner station is appealing. 
The pen heats up efficiently. 
You can use this pen safely due to the heat resistant handle. 
The kit provides four different pen tips. 
You can achieve an extensive range of temperatures. 
Cons
Many users prefer a greater selection of pyrography pen tips. 
The highest temperature may not be sufficient for harder woods. 
Best Professional Wood Burner Tool: VIIART Pyrography Kit
The VIIART Pyrography kit is perfect for the professional artist. It can reach a range of temperatures, which makes it perfect for use on a variety of surfaces, such as leather, wood, paper, and gourds.
Professional pyrography tool kit with 20 different wire tips

Erognomic handle for long-lasting use
Digital temperature control
View on Amazon
The kit includes the following items:
Efficient pyrography pen
Temperature-controlled wood burning station
Variety of 20 wire pen tips
Excellent holder for the pyrography pen
Digital temperature display
The pyrography pen offers superior insulation and is safe, light, and comfortable to use. You will be able to create amazing art pieces with this product. The wood burner station also has double ports, which means you can plug in two pyrography pens.
This is a superb choice for the more experienced user and offers great quality and versatility. The equipment is of superior quality, and the pyrography pen is extremely efficient.
Pros
It comes with a simple-to-use voltage regulator. 
You can adjust the temperature via the digitally displayed control. 
The kit comes with 20 wire pen tips for a variety of applications. 
The pen is made with a quality handle that offers a relaxed grip. 
You can reach a wide range of temperatures. 
Cons
The product needs more detailed directions in its user manual. 
Wood Burner Pen Accessories
To begin creating wood burning pieces, you only need the wood burner pen and the metal tips. However, many of the pyrography kits provide other accessories like stamps or stencils. In this case, all you need to do is use these already created designs on your surface. Most other requirements for wood burning are likely items that you already have at home, such as:
Sandpaper
Pencil and eraser
Letter stencils
Olive or linseed oil (or a suitable lacquer)
Sandpaper is used to prepare the wood surface, as a smooth surface is more effective when burning into the wood. The pencil and eraser are used to make initial sketches. Carbon paper can also be used for designs. Letter stencils can help to create even lettering and can be purchased from a dealer who specializes in wood burning. You simply trace the letters onto the wood using a pencil. Also, if you want to make your wood piece water-resistant, you will need to add a lacquer coat. You can also use linseed or olive oil for a more natural look.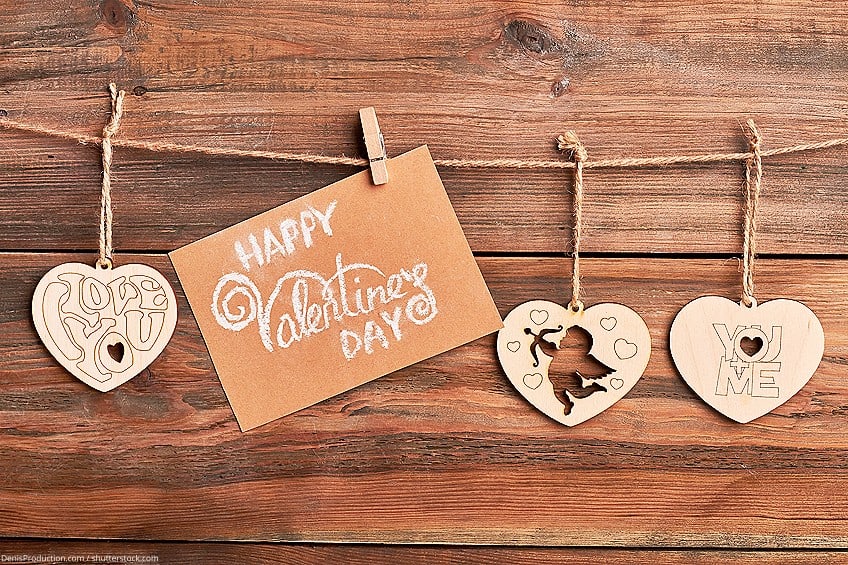 Attachments for Your Wood Burning Tool
Choosing the type of pyrography tip attachment is, in many cases, a matter of preference. There are many different kinds of pyrography pens, each of which come with a variety of different pen tips. Most wood burning stations use firing or burning loops in different shapes, whereas others have shaped metal tips.
All of these metal tips and loops come in several designs, which will then create varying effects. The round tips are used most often, as they can be used to make almost any kind of design. The thinner pointed tips are used for more intricate details, while the wider and flat-shaped tips are great for shading and doing bigger surfaces.
Overall, the molded or shaped tips can be used more easily, but the flame grinding or firing loops offer more precision on application.
Different Types of Wood to Use with Your Pyrography Kit
Wood that is softer, light in color, and has less grain is great for use in wood burning. Shading and details will stand out more on the light wood. When making darker burn details, it will also show up more prominently. Softer wood also requires less heat to work on.
The three best kinds of softwood to work on include:
Beechwood
Poplar wood
Lime wood
Technically, you can also work on hardwood with a pronounced grain, but you will need to work with higher temperatures than many of the pyrography pens can reach. You also need to practice on this type of wood, as you will need to burn more into the wood to reach the desired results. This could be a problem, as you could easily apply a burn that goes too deep into the wood.
Remember always to sand the wood surface before you begin working. This makes the surface smoother, allowing the pen tips too move more easily over the surface without getting stuck. If you do not prepare the surface, it could create dark holes, breaks, or jagged lines.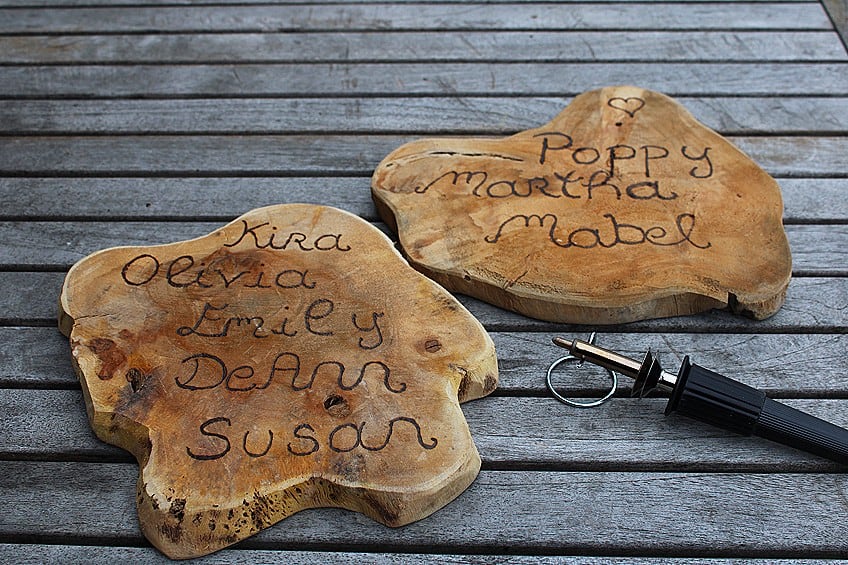 Other Suitable Surfaces for a Pyrography Pen
Wood is the obvious choice for pyrography, but it is also possible to use a wood burning tool on other surfaces. However, this requires more experience. Some of the materials you can use include:
Cork
Leather
Horn
Canvas
Paper
Those skilled in pyrography can create the most amazing art pieces on these types of materials. You will need to adjust the temperature according to the type of material you are using so as to work properly. If, for example, you use a too high a temperature, this could lead to holes or burns in the material, which cannot be fixed.
So, if you are going to work with different kinds of material, it is best to begin at the lowest possible heat setting. You can then work slowly up in temperature until you reach the result you want to achieve.
Quick Guidelines on Using Your Wood Burner Tool
To make the process a little easier for you, here a few guidelines to help you with beginning your journey to creating beautiful wood-burning pieces.
Best Temperature for Your Wood Burner Tool
The wood burning tool that does not have temperature control can work at about 842 degrees Fahrenheit, which is great for softer woods and on chipboard. If you are working with hardwood, you will need to exceed this temperature.
The harder the wood, the higher the temperature will have to be.
For example, oak wood will need temperatures that reach 1832 degrees Fahrenheit to have any clear effect. This temperature cannot be reached by the more common pyrography tools, so you will need to find one that is suited to these kinds of temperatures.
Cleaning the Wood Burner Pen
On contact with the wood or other material, the burning produces carbon and other deposits as the thermal conductivity of the tip is altered. You will notice something is not right when the pyrography pen no longer produces the same results as before.
A short-term solution would be to adjust the metal loop a little and work with a section that is not affected. However, you will need to clean the tip properly eventually. Try to remember to do this sooner rather than later to prevent a build-up, making it difficult to remove any deposits.
Sandpaper
To get rid of the deposits on the metal tips, you can use fine-grit sandpaper. Make sure it is fine, as you do not want to damage the tip. Consider using a 1500- or a 2000-grit piece sandpaper. When you are busy sanding, try to do it gently.
Abrasive Paste
This is the best way to clean your metal tips, as it is very gentle on the surface. You can use the finer paste to polish the surface, and can use a grinding paste for the harder-to-remove deposits.
Cleaning Brushes
Many pyrography kits come with a small wire cleaning brush that cleans the pen tips. As with the sandpaper, always work gently to avoid damaging the metal tip. Do not remove the deposits on the metal tip with a knife, as this can scratch or damage the surface and you will not be able to use it again.
Pyrography Safety
Since you are dealing with an electric tool and heat, there are a few things you need to consider so that you can work safely.
High Temperatures
When using a wood burning pen, you are exposed to high temperatures, which then runs the risk of fires and burning. So, you need to remain alert at all times when you are busy. Make sure that you hold the pyrography pen correctly; you do not want the pen to slip and fall, thus causing damage to you or any nearby surfaces.
Replacing the Pyrography Metal Tip
Always wait for things to cool down thoroughly before removing and replacing the tip. Never touch the tip of the pen while it is still plugged in.
Removing the Burning Piston
This must be done on a fireproof surface or stand, which often comes with a pyrography kit. Also, never leave the pyrography pen unwatched while it is still plugged in, as this is a high fire risk.
Safety Equipment
When a surface is burned, smoke is produced and if the surface contains other chemicals, it could become a health hazard. Therefore, it is recommended that you wear a respiratory face mask and goggles for protection. Also, working in a space with good ventilation is important. Some people even work with extraction systems in place. Any synthetic material or plastic should never be burned, as it can cause a fire and it produces hazardous, toxic fumes.
Frequently Asked Questions
How is a Wood Burner Tool Used?
The wood burner tool is much like a soldering iron, where a metal tip is heated by the electrical current passing through it. The heated tip is then used to burn letters and images onto wood or other materials. The marks left behind by the burning are that which creates the design.
What is the Difference Between Wood Burning Art and Pyrography?
The word "pyrography" can be translated to mean "writing with fire". While many people do use the terms "pyrography" and "wood burning" interchangeably, there is in fact a slight difference. Wood burning is pyrography that is done specifically on wood, whereas pyrography itself can be performed on a number of materials, such as wood, leather, cork, and cardboard.
What Wood Should I Use for My Pyrography Project?
It is easier to burn soft woods with a low grain than hard woods. Soft woods also burn more easily, so you should begin on a lower heat when burning your design.
Who Can Do Pyrography?
Everybody and anybody can enjoy this amazing art form. However, children should only do this with adult supervision, and any child younger than 12 should not attempt this type of hobby.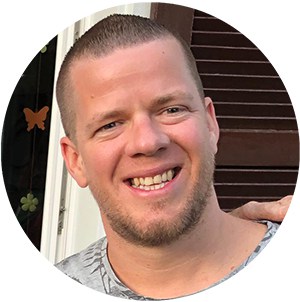 I was born in 1984 and have been into woodworking since 2005 and woodturning since 2011. Because of my love for wood and woodworking, I started woodhappen.com to teach other enthusiasts about how to finish and seal wood, the best woodworking tools, the different types of wood, and everything else related to wood!