Best Sprayer for Lacquer – A Review and Guide to Varnish Spray Guns
This post may contain affiliate links. We may earn a small commission from purchases made through them, at no additional cost to you.
Have you ever wondered why some projects seem to be more professionally made than others, even though they were all done in the same DIY setting? Well, the difference is in the lacquer, and the best way to apply lacquer, in some cases, is by using a varnish spray gun. In this article, we will discuss in detail all of the dos and don'ts involved when making decisions about what sprayer you might need when choosing the best sprayer for lacquer. We will include our favorite lacquer spray guns, as well as how to spray lacquer with a spray gun.
Which Spray Guns are Suitable for Lacquer?
When trying to achieve a more professional look with your project, a nice glistening and shiny finish is just the trick! Not only that, but it will strengthen your project and enable it to withstand various weather conditions or possible damage from mishandling. Lacquer spray guns are not the only option available, you could always opt for the paintbrush method or even a roller method, but both of those are a little more on the untidy side of doing things, leaving behind visible brush strokes and drip marks from applying too much. This is why we recommend using a lacquer sprayer instead.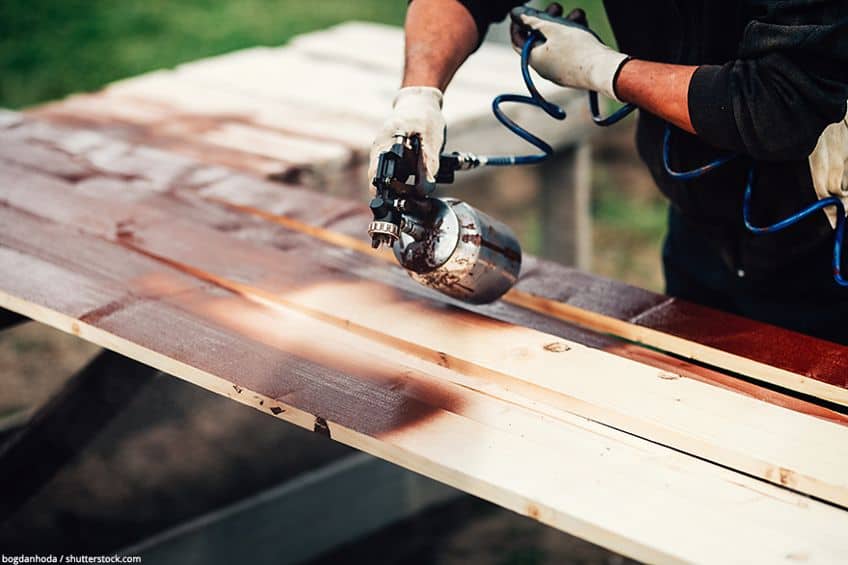 These days spray guns are produced by the masses which has made them more versatile in use and more affordable. Before this, spray guns were designed specifically for certain tasks which means you probably needed a few different guns, or as many as your line of work or hobbies needed. Luckily technology has a habit of evolving because now they work with either varnishes, lacquers, and paints. Spraying lacquer with HVLP, meaning High Volume High-Pressure spray gun, is the only means possible to achieve the best-looking viscosity. This is because lacquer, like varnish, is much thicker and more sticky consistency, making it harder to get through the nozzle of the varnish spray gun.
Is the Application of Lacquer Different from Spray Paint?
Thankfully, there is not much difference between the method for spraying lacquer with an HVLP spray gun vs. spraying paint with a spray gun. The wood lacquer can even be added to the same canister that the paint was in, provided that the proper cleaning and maintenance is carried out, there will be no difference. This means there will be less time wasted in learning a new method and more time for your work. Depending on whether you are using a lacquer spray gun for spraying an item that lives inside or outside, will depend on the number of coats you will need.
Outdoor projects will need more layers than indoors for them to withstand the weather.
The process for spraying lacquer with HVLP or paint with a spray gun starts with preparing the surface with a wash, then sanding it down and wiping up the residue. Then you can spray down the surface in question, wait for it to dry properly before you spray your second coat. Repeat this procedure until you are satisfied with the lacquering. Maintaining your lacquer spray gun is just as important as maintaining any type of spray gun because the mechanism is fine and will damage if dried paint or varnish gets stuck inside, and the nozzle will get blocked easily.
HVLP vs. LVLP for Lacquer Application
Do you choose an LVLP or do you choose an HVLP? This is a very commonly confusing conundrum. Both sprayers are, in fact, just as good as its counterpart so there is not much competition between them, just that they are suited better for different types of jobs.
HVLP: High-Volume Low-Pressure Sprayers
We are aware that we just said that both LVLP spray guns and HVLP spray guns are on par with their effectiveness and reliability, but in terms of a lacquer sprayer, or the best sprayer for lacquer, then an HVLP spray gun is your best option. Being High-pressure combined with low volume is the very reasoning for why it works better than an LVLP spray gun. The lacquer itself is the problem, not the spray gun itself.
The consistency of the lacquer is much more dense and sticky so it needs more pressure, and a lot more pressure, to get through the nozzle smoothie.
LVLP: Low-Volume Low-Pressure Sprayers
If you were to use a low-volume low-pressure spray gun for lacquer, you will be annoyed at the amount of time the right amount of pressure needed to get the lacquer through the nozzle would take to build up. The lacquer could not come out the moment you pressed the trigger, only a few moments later, which is why we suggest using an HVLP spray gun as a lacquer spray gun. Bear in mind that if the spray gun takes too much time to build up the pressure, the lacquer that is already inside the gun's mechanism, especially inside the nozzle, will be irreparably damaged.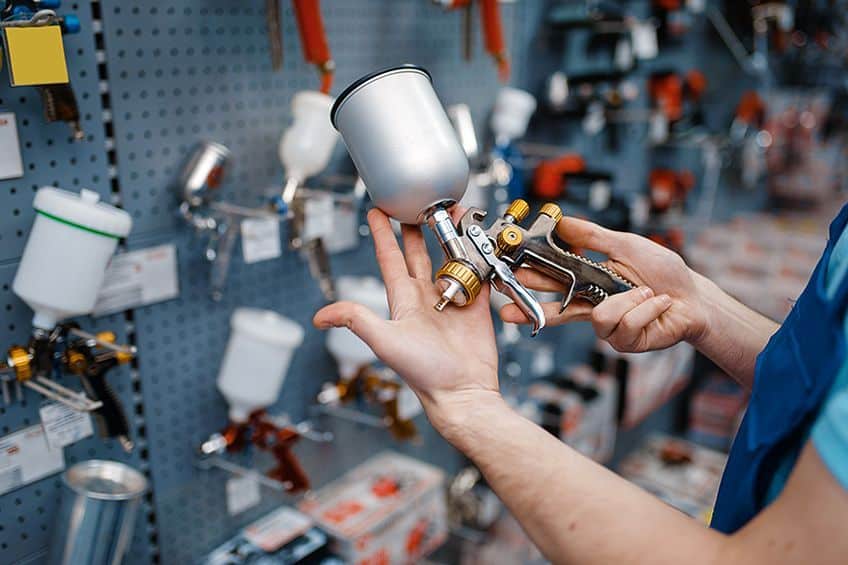 Choosing a Feed Configuration for Lacquer
There is no one type of feed mechanism for all spray guns, there are different designs out there, designed for different purposes and give different outcomes.
Siphon feed mechanism can be identified by the container that holds the paint or lacquer is attached underneath the gun and would require more pressure as it would need to send the liquid upwards, defying gravity
The gravity Fed mechanism can be identified by the container being right on top of the gun so that the liquid would need to travel from the top through the gun, downwards and would require less pressure
Most professionals and DIY experts will swear by a gravity-fed mechanism when it comes to lacquer spray guns. Gravity-fed is almost beneficial because it also has air pressure on its side to ensure the smoothest application.
Our Recommendations for the Best Paint Sprayer for Lacquer
We can only imagine the pure frustration that must have been felt by that one person, or those many people, who failed to research or were fed the wrong information about the different spray guns by some ignorant soul, they went out and bought the wrong one for the wrong type of liquid and ow they have a ruined spray gun that is not covered by the warranty anymore.
Sigh…. To avoid that hypothetical situation, keep reading because this next section will talk about our favorite lacquer sprayers, which are, in our opinion, the best sprayer on the market.
The Ultimate Choice: FUJI Gravity G-XPC Spray Gun
There is quite a lot to say about this particular spray gun, and that is because there are a lot of benefits to it. There is a reason we have listed this as our top recommendation, or the ultimate varnish spray gun. It looks and feels like a professional spray gun, you will feel like you have always known how to spray lacquer when you handle this shiny tool. When in use, the top quality shines again, because it provides such an easy application that is hard to mess up, even for beginners.
The pattern control knob allows easy adjustment of fan pattern 

Non-Bleed Spray gun for less blowing around of shop dust

High-Efficiency Air cap installed for even less overspray
View on Amazon
This spray gun has a gravity-fed mechanism, a top-of-the-range kind of quality with no budget cuts in its design. Because it is gravity fed the canister is right on top of the gun, as opposed to connecting at the bottom, which means the lacquer is pressurized before it gets to the nozzle, thanks to its auxiliary inlet. The ultimate reason why we chose this as the ultimate spray gun is that the canister has a nifty swivel action that makes pressurizing much easier and more proficient. Not only that but there is also something called a flange that is also connected to the canister that allows you to spray from different angles, even from upside down.
PROS
Combined mechanism of pressure fed and gravity-fed
Stainless steel
Comes with a warranty of twenty-four months
Hande is insulated to prevent vibration
More comfortable to use
Not very heavy
The canister has a swivel action
CONS
Sensitive control switch
Costly
Only 400 ccs fit in the canister
Ultimate Value: WAGNER FLEXiO 890 Stationary HVLP Paint Sprayer
Wagner is well known amongst all professionals and DIY experts for creating pry guns that are reliable and promise to do exactly what they are designed for. They are also a favorite because their designs are inexpensive, making them a more approachable tool for most people out there. The FLEXiO 890 comes as a whole kit, inclusive of extra nozzles in different sizes for different projects. We have already listed the ultimate spray gun on the market, so this one can not be the ultimate because that crown has already been placed. But, it can take the place of the ultimate DI spray gun in particular.
Great for applying a superior finish on furniture, walls, and ceilings

Adjustable settings to easily adjust the level of air pressure

Cleaning and storing your spray gun is quick and simple
View on Amazon
If you are a weekend workshed warrior, this is the right tool for you. Unfortunately, it is not as shiny as the stainless steel Fuji Gravity-fed sprayer, but you can trade the professional appearance for the easy-to-use nature of this gun. There are a few perks with this tool, some of which we will highlight. The first being the nozzles. It comes with nozzles that you can change up and they are all different sizes for different purposes. The bigger nozzle is to be used – if you were wondering how to spray lacquer with this gun
PROS
This spray gun is versatile and it and works with either paints or lacquers – it does not discriminate
Thankfully, the maintenance is not such a tricky task, and the cleaning process is a breeze
The gun can be taken apart quite simply so that each part can be cleaned and maintained
The spray pattern can be easily adjusted
This spray gun is very durable and will not get damaged easily if handled with clumsy fingers
There are various sized nozzles to spray various types of liquids, from lacquers to paints
CONS
Quite heavy to hold which makes the application method a little tricky
The length of the hoses is not very long 
The case in which the gun is stored is very big and awkward to store away in your cupboard
Most Efficient Performance: GRACO Magnum ProX19 Cart Paint Sprayer
Graco Magnum is all about performance. This spray gun is a genius, or it has been designed cleverly. It is one of the strongest and most highly pressurized spray guns available which is why it is so highly effective. This tool is not designed for smaller projects like fixing up your dining room chairs, because it has such high pressure. It is better suited to large-scale projects, but that does not mean that the smaller ones would not benefit from this gun either, it could just depend on your skill with it. The beautiful thing about spray guns is the smoothness of the final product, or once you have finished painting.
Not only that but it is also amazing for speedy projects or a job was done super fast. In the past, getting your entire house exterior repainted in one afternoon was never heard of, and would get scoffed at, but now it's very possible, thanks to Graco Magnum proX19 cart paint sprayer. It might be a little pricey but it will not be a regret.
Fully adjustable pressure to give you ultimate control of paint flow 

Added pump filtration reduces tip clogs from debris in the paint

PowerFlush Adapter connects to a garden hose for easy cleaning
View on Amazon
Most decorators and designers rave over this tool. It is slightly different from other spray guns, in that it has a motor that runs electronically as opposed to compressing air to achieve the right pressure to spray with. The piston is made of stainless steel, and that provides the power for this motor. The next difference is that it does not have a container that you need to open up and fill with the lacquer or the paint you wish to spray.
Instead, it has a vacuum tube that you can place inside the lacquer once you have opened the lid. Unlike the other units we have covered, the Graco doesn't use compressed air to make its pressure. Instead, it uses an electric motor, which gets its power via a high tensile stainless-steel piston, eliminating the possibility of insufficient pressure from your spray gun. The Graco also eliminates the process of you having to open up your lacquer and pour it into the pump. Once you've cracked the lid, simply pop the vacuum tube from the pump directly into the lacquer container and you are good to go!
PROS
There is no limited hose 
There is no need for the pressure to build up to get the lacquer through the nozzle 
Maintenance is simple because it can be taken apart fairly easily for the cleaning of each part
The frame of the compressor is gracefully placed on wheels
Big, small, Large, or tiny – this sprayer is suited for all spray projects, no matter the size
The PSI output is 3000
The hose is not limited because it comes as a length of 50m
CONS
The storage of this tool might not be the easiest thing to achieve 
Unfortunately, the attachments for the hose are quite costly
The motor of the machine is very noisy
Things to Remember When Buying a Spray Gun for Lacquer
If you are looking for the best sprayer on the market, and you have not yet made a decision from the suggestions we prefer that are listed above, then you might want to read this next section here. We will list a few things that are good to remember when spraying lacquer with HVLP spray guns.
Power Output
All in all, the most agreeable pressure for spraying lacquer through a spray gun is 1100 PSI or more. This is because the Pressure needs to be exponentially higher than when you are spraying with paint that has a thinner consistency. Lacquer is far denser and tackier than paint is, which means that it can get stuck inside the gun if the pressure is not quick enough in building up tension to release enough power to get the lacquer through.
This might lead to damaged nozzles that will have to be replaced, which can cost you more money and time.
To avoid this, you will need to do routine maintenance more often than you would with paint, and the cleaning process after each spraying session is even more important and should be done meticulously. The worst-case scenario is that you have ugly splat marks from lacquer that sprayed out suddenly from delayed pressure build-up. This will ruin the effect you are trying to achieve, rendering your smooth finish into the opposite effect.
Liquid Capacity
You must always keep the project at hand in mind when you are looking for a spray gun for lacquer. To elaborate on that, it is because if you have a very large surface area that you are trying to coat with lacquer, then a spray gun with a very small canister that can not be swapped out for a bigger one will not be a great option. This will lead you to have to refill your canister more often, wasting your precious time.
This means that you should consider getting a spray gun with a large canister if you are going to be painting large areas predominantly. But if you are not able to predict the type of projects you might be faced with it is also a good idea to make sure that the canister you purchase has alternative-sized canisters available. You do not necessarily have to buy a canister made by the same manufacturer as the actual spray gun, but you can get one that has the same thread size as the spray gun if it exists.
Cleaning
Cleaning is the favorite task of very few people. We understand the tediousness of it, but it is truly one of the most important aspects of spraying anything with a spray gun. This is because any paints or varnish that might be left behind after the job is done will dry up and clog the mechanism from the inside, making it almost impossible to repair. This is particularly the case for the nozzles, which get blocked very easily and can cause irregular spray patterns and ruin your smooth finish.
To answer the question, how to spray lacquer, should end with the answer, make sure you clean the entire spray gun before you think your job is done.
This is not for the sake of hygiene, it is for the sake of not wasting resources and machinery. There is enough waste in ts world, so we would prefer to keep our tools and machinery in check to avoid this dilemma. It will not take you a very long time, but it must be completed. Make sure that you are using a solvent that is suitable for a spray gun because not all of them are and you would not like to cause any damage when you are only trying to do good. You could also use a low-pressure cleaner if you wish, or simply take the entire gun apart and soak each piece in the solvent.
Remember the order in which you took the machine apart because it needs to be put back together in the same way. The manufacturer will have provided you with a manual that will explicitly describe how to disassemble and reassemble it. The lacquer that you used in the spray gun is also important to consider when it comes to cleaning it. you can read the label at the back of the product to make sure which solvents are better suited for this type of finish. If you skip this step and just use any old solvent that was in your workshed, or garage, you might end up making more work for yourself by having to repeat the process once you have finally purchased the right solvent.
We hope that you found this information illuminating and that you feel more equipped to go out and purchase the spray gun of your dreams. Or you could opt for an online purchase, which does not hurt these days, that's for sure.
Frequently Asked Questions
Is Lacquer Suitable for a Spray Gun?
In short, the answer is yes! But, you will have to keep a few things in mind before you go and buy one. The first is that the spray gun needs to run with extremely high pressure, to get the lacquer through the nozzle – 1100 PSi and more. The second is that the nozzle needs to be large, the third is that the canister should.
Is Lacquer Water-Resistant or Waterproof?
The brilliant thing about lacquer is that it is waterproof and weather resistant. This means that the item you have sprayed with lacquer will be impervious to weather damage like heavy rainfall and liquid spills.
How Do I Apply Lacquer?
This is a simple question, for a simple answer. All that is required is to make sure that your nozzle is not blocked so that the spray is even and does not splatter. Then you must fill the canister that is provided by the manufacturer, unless you changed it over for a bigger one, and then turn on the compressor and you can start spraying once the pressure has built up. Make sure that you use big and long strokes that go in the same direction and then wait for the first layer to dry before you apply the next.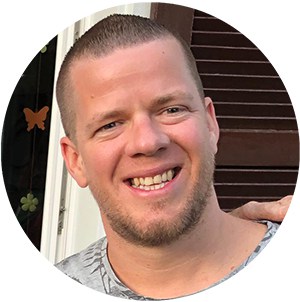 I was born in 1984 and have been into woodworking since 2005 and woodturning since 2011. Because of my love for wood and woodworking, I started woodhappen.com to teach other enthusiasts about how to finish and seal wood, the best woodworking tools, the different types of wood, and everything else related to wood!