Best Portable Workbench – Finding a Folding Work Table for Woodworking
This post may contain affiliate links. We may earn a small commission from purchases made through them, at no additional cost to you.
Workbenches are a must-have for all woodworkers. They are suitable for home maintenance projects and many more types of woodwork. These products have made many jobs easy to complete by providing the perfect stable surface to work on. Portable workbenches are compact, lightweight, and foldable, meaning that there is no need to strain yourself by carrying a heavy wooden table from one place to another. Below we have put together a comprehensive guide that will help you in choosing the best portable workbench.
What Is a Workbench?
A workbench is a strong, well-built table for any manual work. They vary from simple smooth surfaces to very compound designs known as tools themselves. Owning the right workbench can make your wood-work project go faster and easier.
Workbenches are available in different sizes, from tiny jewellers to huge benches used by staircase makers. But all workbenches are rectangular in shape, and the designs vary depending on the type of work they are being used for. They share similar attributes such as:
A height that is comfortable for any type of work.
A way to fix the work piece to the surface in a way that you are able to use both hands.
They can be used for mounting, storing, and accessing tools.
Why Do You Need a Portable Workbench?
Traditional workbenches are heavy and have a standard height of about 30 meters. Many professionals spend countless hours sitting at these workbenches, which are nearly impossible to move from one place to another. Portable workbenches have made things more comfortable and efficient. You no longer have to walk to and from your workplace when you can simply carry your workshop home with you and work anytime. Workbenches are a must-have for hobbyists, DIYers, and contractors, no matter where they are working.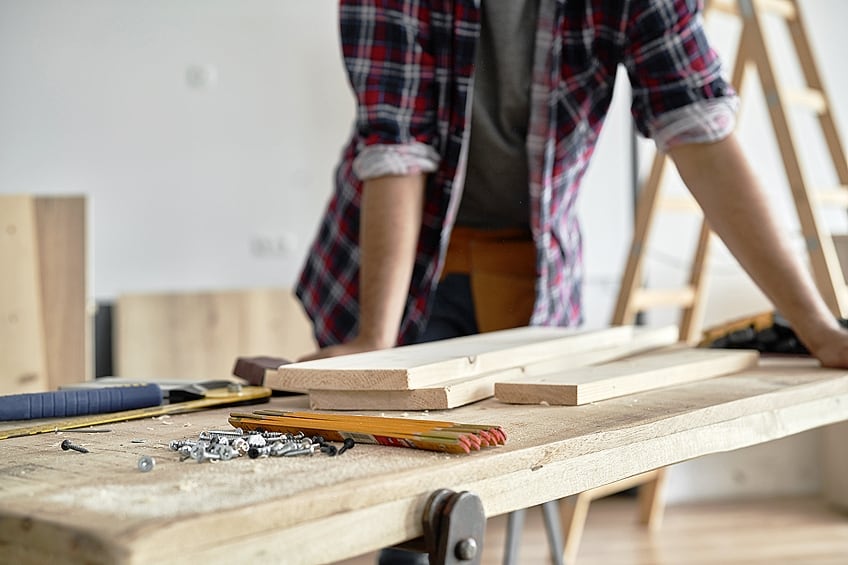 Benefits of Using Portable Work Benches
Portable workbenches have become so popular worldwide because they make things easier and more comfortable. You no longer need to spend countless hours at your workshop hurting your back when you can get yourself an adjustable portable workshop. You can use these anywhere because they do not take up much space and they are adjustable too. Below are the advantages of using portable workbenches.
Portable workbenches are adjustable according to the need and height of the individual doing the woodwork, which increases versatility.
They save a lot of space in your garage or any workshop.
Their design is basic and simple, yet they are suitable for any type of woodwork.
They allow you to manage your workspace more effectively in order to suit your specific working needs.
They reduce the need to bend over or work with equipment at an unsafe height.
Portable workbenches have storage solutions; these help you store all your tools and accessories at a place where you can easily reach them.
Factors to Consider When Choosing the Best Portable Workbench
If you want to get the best results from your woodwork, you definitely need to have the right equipment, and in this case, the best workbench. A portable workbench should be durable, lightweight, and also versatile. With that said, regardless of the projects you need a workbench for, the ways of picking the best one are the same. Now, let us look at the factors you need to put into consideration when picking the best portable workbench.
Adequate Work Surface Length
Before buying a workbench, we advise you to get the actual measurements of the area in which you plan to set it. By doing this, you will have enough space to do your project by getting a workbench with the appropriate length. You should also consider any obstruction such as doors, walls, or posts. For example, if you will place the work bench beside a door that swings into the room, we advise you to get a bench with a shorter surface. This will prevent the door from disturbing you or ruining your project.
Appropriate Work Surface Width
When it comes to the width of your work surface, buy a workbench that is no more than three feet wide. You must do this in order for you to be able to reach every surface area without any space going waste because you cannot reach it. This will also avoid your having to stretch really far to get your tools; overexertion may lead to back pains and other injuries. The last thing you want is a workbench that raises your risks for any type of injury.
Bench Height Appropriate to Your Own Height
A good workbench needs to be adjustable according to the need and height of the individual doing the woodwork. Unlike traditional workbenches, these portable workbenches can adjust to your desirable height. This helps to keep your back and arms comfortable no matter how long you work on your projects. Most traditional workbenches put serious stress on your neck, shoulder, and back, which is not acceptable at all.
Back pain is the leading cause of disability all around the world. This should be enough of a reminder for you to pay attention to the type of workbench you get for your projects.
Sturdy Frame and Durable Legs
Do not invest your money in a workbench that has a flimsy frame and weak legs. Choose a workbench that comes with a rigid frame as well as sturdy, stable legs. Rolling workbenches have become popular because they withstand weight and can also be moved around easily.
Storage Features
Consider the storage features before investing your money on a workbench. The best workbench should have drawers, as this lets you organize all of your tools and supplies into multiple compartments. It also helps you maximise your space since the drawers are already part of the workbench itself.
Workbench Weight
Weight is a very important factor to consider when choosing the best portable workbench. It is an important thing to put into consideration particularly if you often carry it to work. Workbenches can weigh anything from 200 to 1000 pounds.
Will it be easy to carry? Will it be easy to put the workbench into and out of a car? Will it be easy to move around at home? Finally, will the workbench be heavy to lift and hang on the wall? These particular questions will help you choose the ideal workbench for your needs
Ease of Setup, Use and Transport
A good portable workbench needs to be lightweight enough to carry, setup, and put away right after use without any difficulties. It should also be folded down to a comfortable size for ease of transportation and storage.
The best portable workbench is the one that does not take much of your space but can sit out of the way until the day you want to use it. Then, you can simply grab it by the handle and take it with you while carrying other things at the same time.
Clamps
The best portable workbenches have clamps in two forms: Some of the clamps are built-in while others provide clamps that can be used as standard clamps or consist of clamping rails cut into the table surface. All of these help to keep your work-piece in the right position when you are cutting, drilling, or grinding.
The main difference between a number of work benches is the number of clamps they come with. These clamps are adjustable and can fit your designs safely. The best types of clamps are one-handed clamps because they allow you to keep your woodwork steady and in position. We advise you to use clips in order to protect yourself from injuries as well as to speed up your work. These usually come with work benches with adjustable handles.
Price
Another factor you need to put into consideration before buying your work bench is the price. Portable workbenches with additional features come at a higher price, while those with fewer features are a lot more affordable. At the end of the day, you get what you pay for. But keep in mind that it is very possible to find a good workbench with all the good features at an affordable price. It is also very possible to find expensive ones with unnecessary features.
Overall, the best portable workbench should be lightweight, easy to setup and move around, adjustable, durable, and affordable.
Our Top Seven Best Portable Workbench Reviews
Now that you have a better understanding of what to look for in a good workbench, we can finally take a look at some top-rated workbenches available today. The following products are categorized according to the best overall and its runner-up, the best value for money, the best compact and heavy-duty, as well as the best adjustable work bench.
Best Overall: WORX Pegasus Multi-function Worktable
The Worx Pegasus multi-function workbench is our top pick because of its high quality, durability, and the fact that it comes at an affordable price. With this workbench, you will definitely get your woodwork done in no time. The Worx Pegasus workbench is foldable, which is a feature that makes this item to stand out because not all work benches can do that. It is super compact, versatile, and only requires 5-inch depth when folded. You can easily carry it with you anywhere. The weight holding extent varies from 300 to 1000 lbs.
2-in-1 worktable and sawhorse
Two custom clamps and a storage shelf
Light, sturdy, and foldable
View on Amazon
Pros
This is a two-in-one workbench and sawhorse.
It is of a high quality.
It is durable. 
The bench is very easy to set up, fold, transport, and store. 
It provides a nice working surface. 
Cons
The clamps can be cumbersome to use. 
The top is not flat. 
Runner-Up: BLACK+DECKER Workmate Portable Workbench
This portable workbench is suitable for DIYers, hobbyists and professionals. It is a very supple, sturdy portable workbench and general carpentry tool, sold under the brand-name Black and Decker. Over the years, it has gained so much attention because of its awesome features. This lightweight workbench can hold up to 1000 pounds and consists of adjustable aluminium legs for extra strength. If you like to carry things from one place to another, then this foldable workbench is for you. The workbench is collapsible for easy storage.
Durable steel frame

Non-skid feet prevent sliding

Work bench holds up to 350 pounds
View on Amazon
Pros
This bench is suitable for many woodworks. 
The legs come with non-slip pads for sturdiness. 
It is easily movable. 
The quality is very good. 
It is affordable. 
Cons
There are no instructions on how to assemble it. 
Best Bang for the Buck: XTRA HAND 2-in-1 Workbench/Platform
This two-in-one workbench is collapsible, portable, and can easily be turned into a work platform. It is suitable for hobbyists, DIYers, and professionals too as it can handle carpentry with a capacity of 500 pounds. This work bench consists of plug-in sockets which make it easy for you to use your electronic tools when working on your projects. The table has a ruler, protractor, and a V-groove for cutting pipes. All of these features operate together to help you get the best results. The workbench has a utility tray used for keeping accessories, tools, and any hardware you may have, and also has a built-in handle for easy transportation.
Features extra large, square framed wooden surface

V-groove for cutting tube and protractor for ruler layout work

Versatile utility tray
View on Amazon
Pros
The bench has plug-in sockets for your electronic tools. 
It has a ruler and a protractor to help you measure properly. 
The workbench has extendable aluminium legs. 
It is of durable and of a high quality. 
The bench is affordable. 
Cons
The bench consists of riveted components. 
It is difficult to set up. 
Best Compact: WORX Sidekick Portable Work Table
The Worx work table may be the most affordable workbench on our list, but its features are incredible. First of all, it is of high quality; its spidery legs are remarkably strong. Secondly, it is lightweight, which means that you can easily move it around or carry it with you anywhere. It weighs approximately 13 pounds, but it is strong enough to handle a large laser printer or a heavy air conditioner.
This lightweight workbench is flexible and easy to transport but strong enough to handle many types of woodwork. It consists of metal legs that stand firmly on any ground and can hold up to 300 pounds. Even though it does not have the same level of features as other expensive work benches, it does a good job and will not disappoint.
Lightweight and sturdy
Comes with clamps and legs stay secure
Collapsible and easy to store
View on Amazon
Pros
It is durable and of a great quality. 
The bench is lightweight, meaning you can carry it with you anywhere. 
The bench offers good value for money. 
Cons
This bench is not suitable for all types of wood work.
Best Heavy Duty: KETER Folding Table Work Bench
This workbench provides a sturdy and portable workspace for diverse projects ranging from DIY to commercial construction. It is suitable for hobbyist, DIY enthusiasts, and professionals too. It has a weight limit of 700 to 1000 pounds and has a pair of clamps responsible for holding your project firmly in one place. The workbench is weather-resistant because of the polypropylene resin, which works to prevent any rusting or peeling of the workbench. Its system opens quickly and folds for easy transportation and storage.
Made of heavy-duty resin with aluminum legs

Weather-resistant polypropylene construction

Unique quick opening and folding system
View on Amazon
Pros
This is a high-quality bench. 
It provides a perfect working surface. 
The set-up process is easy, quick, and straightforward. 
The bench has a shelf where you can store your tools. 
It is durable. 
This is an affordable product. 
Cons
It rattles because the legs do not clamp firmly when folded. 
Best Adjustable: KETER Folding Compact Adjustable Work Bench
This is the best adjustable workbench on our list. It is suitable for hobbyists, contractors, and DIYers who need a sturdy working area that can handle many woodwork projects. This portable workbench goes wherever you want it to go, as it folds into a small shape less than 4 inches thick, making it easy to transport or store anywhere. This workbench will unfold in just a few seconds to give you quick access to the large working area, which includes a shelf beneath it that can be used to keep your tools and other accessories.
Keter's table can hold up to 700 pounds of materials, tools, and accessories. The legs of this workbench consist of three different height options, which means that you can adjust it to suit any of your working needs. It is adjustable for flexible work performance where you want it. It consists of two 12-inch holding clamps in order to keep wood steady while you cut, grind, or drill.
Extendable aluminum legs

Sturdy carrying handle and foldaway design for easy transport

Durable resin construction holds up to 700 lbs
View on Amazon
Pros
It is adjustable, meaning you can store it anywhere in the house. 
This bench is durable and of high quality. 
The table is sturdy. 
It is easy to carry. 
Cons
This bench is not suitable for heavier woodwork. 
Best with Wheels: COSCO SmartFold Deluxe Portable Table
This workbench will roll whenever it is needed, as it consists of strong wheels that can handle most woodwork. The bench consists of two locking casters and folds in half, allowing you to store it anywhere in the house. This portable work bench is made with industrial strength steel. Its weight capacity on the butcher varies, which allows it to handle projects of different sizes. With a large working area and a place to store your accessories and tools, this versatile portable workbench can handle any woodwork project.
Cosco is one of the most trusted brands on the market today, offering good workbenches that improve and simplify things for you. The bench consists of wheels with 5-inch rubber casters to help keep your project in place while you are working. Its steel construction and heavy duty nature makes this a sturdy and reliable workbench for all kinds of woodworking projects.
Portable and compact

Heavy duty and made from steel

Versatile with two locking casters
View on Amazon
Pros
The workbench is portable, meaning you can take it with you anywhere. 
It folds in seconds for easy storage and transportation.
There is a place for you to store your tools and other accessories. 
The workbench is durable and of a high quality. 
Cons
This workbench is not a suitable option for remote job sites. 
It is not suitable for bigger projects. 
Workbench Types
There are different workbench configurations, each of which is more suitable for particular types of projects. The four main configurations include the woodworker's bench, the portable bench, the cabinetmaker's bench, and the backboard workbench.
The Woodworker's Bench: Many people are familiar with this configuration. It is made of hardwood that is very thick, has four legs to support the bench, and a shelf to store tools and other accessories. This type of workbench is suitable for bigger projects that require a lot of space.
The portable Bench: Portable workbenches are more suitable for smaller woodwork projects. They are adjustable and foldable, meaning that you do not have to worry about where to keep them. You can also carry them with you to any work place. These are ideal for DIYers, hobbyists, and contractors as well.
The cabinetmaker's Bench: This one is very similar to the woodworker's bench, where the difference is the casework below the working surface. This workbench has drawers and cupboards for storing all of your tools and other accessories.
The backboard workbench: The backboard is just a long tall table with drawers to keep your tools. It is good for many types of woodwork. However, it cannot be compared to the portable workbench. This is because it does not adjust or fold, meaning it will require ample space to use it.
Tips and Tricks for Using a Portable Workbench
The best portable workbench should be of durable and of a high quality. These products are specially designed to make life easier for woodworkers. However, there are always some steps to follow to make sure that the project goes as smoothly as possible. Below we have listed some top tips and tricks for using a portable workbench.
Safety is a must. Always check if your workbench can support the weight of the work you are doing. Check the maximum load information on the manual. If the bench collapses halfway through your work, you risk damaging your machinery and injuring yourself.
Make your tools easily reachable. Always make sure that you put your tools where you can reach them easily as you do your work. This will save you a lot of time. If you like, you can also get yourself a pegboard.
Use your workbench to repair appliances. The workbench provides the perfect surface to use when repairing your home appliances. So stop using your nice, clean dining table for such things.
Use your bench as extra workspace. The portable workbench provides the perfect working space for any hobby. For example, if you are an artist, you can use the workbench for drawing your artwork.
Use your workbench as a surface for painting or varnishing. The workbench provides the perfect surface area for painting, as it lets you hold items firmly to coat them on all sides, giving you the perfect finish.
A portable workbench provides the perfect working surface for many household tasks, and the best part about it is that it does not require much space. When you are done using it, you can simply fold it and put it away.
If you are thinking of buying a new portable workshop to start a project, or are simply thinking of replacing your old existing workbench, you should definitely consider the workbenches we have listed on this article. They are from trusted brands and also of great quality. Hopefully this guide will help you to choose the right workbench your needs.
Frequently Asked Questions About Workbenches
Below we have listed some of the frequently asked questions about work benches. They will help you understand more about the qualities to look for in a good portable workbench.
How Can You Identify the Best Portable Workbench?
There are many designs of portable workbenches on the market today. Some are well designed and are of great quality, while some are more problematic than they are worth. The best workbench has to be strong enough for handling home projects and other woodwork; it should have clamping features that hold materials in place; and it should be easy to break down quickly into a shape or size a person can carry from one place to another.
What Is the Ideal Height for a Portable Workbench?
Choosing the right workbench height is very important for your health. A workbench that is too short will force you to droop and lean forward, which can lead to back problems. On the other hand, a workbench that is very high will make your posture bad as you work. A workbench height can range from 30 to 40 inches. A standard height for a workbench does nt exist. Make sure you choose a workbench that is safe and will not cause any injuries.
What Is the Maximum Weight for a Portable Workbench Handle?
Workbenches consist of different weights, but a portable workbench should weigh about 250 to 300 pounds. This is adequate for most home-based workshops. Heavy-duty workbenches, however, have a weight capacity ranging from 1000 pounds and above, and are mostly used for bigger woodwork projects that require more space. They are usually found in big workshops where they are fixed permanently and cannot be moved to different working places.
How Long Does a Portable Workbench Last?
Most portable workbenches are made from plastic, which makes them lighter but not as durable as permanent workbenches made from wood or steel. That said, a portable workbench will last longer when properly handled and maintained.
Which Brand Is the Best for a Portable Workbench?
Keter and Black+Decker are the most trusted brands in our markets today. These two brands offer workbenches with great features such as high quality, durability, storage facilities for items like tools and other essentials, a working surface that is large enough to handle different types of projects, and many more.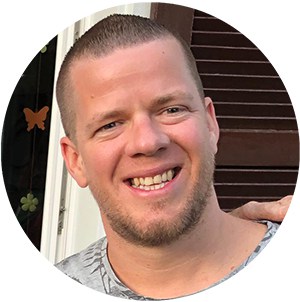 I was born in 1984 and have been into woodworking since 2005 and woodturning since 2011. Because of my love for wood and woodworking, I started woodhappen.com to teach other enthusiasts about how to finish and seal wood, the best woodworking tools, the different types of wood, and everything else related to wood!