Best Brush for Staining Wood – A Complete Guide on Wood Stain Brushes
This post may contain affiliate links. We may earn a small commission from purchases made through them, at no additional cost to you.
Wooden fencing and other wooden surfaces such as that on your boat deck tend to look unpleasant with time. In order to protect your wooden surfaces from being weathered, you can try to apply a coating of stain on your surface. To do a perfect stain job, you need a perfect brush. We will let you in on some secrets on how to select the best brushes for using to stain your wood. So grab the right brush and get ready to stain your wood.
Various Brushes Meant for Wood Staining
The reason as to why you need to choose the right brush is because there are an overwhelming amount of brushes available for you to choose from. If you know what different brush types are available, you can select the best one for your staining job.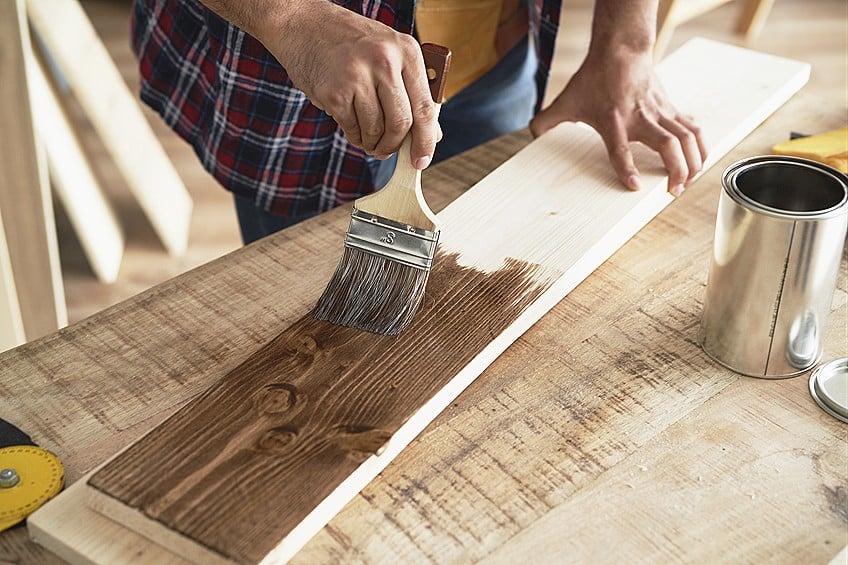 The Synthetic Bristle Brush
The synthetic bristle brush is best to be used for applying stains that are water-based. In fact, we recommend that you always stock up on a bristle brush, because at some time or the other, you will certainly use water-based paint. The reason as to why water-based paints are a popular choice is because these paints last for longer on surfaces than oil-based paints. Another reason why people use water-based stains is that these wood stains come off more easily with soapy warm water.
For water-based stains, you do not need to take too many precautions as there are no heavy solvents added to the paint. You will be able to breathe properly when applying water-based paints with a synthetic bristle brush.
LINZER Satin and Stain Block Brush (Poly/Bristle Blend)
One of the most common brush types used by experts is the Linzer brush. The reason as to why this brush is used so often is because it can be used to paint almost any surface. The brush is made with polyester threads that ensure the stain is smoothly painted onto the surface. The brush is also a block brush type that can be used to paint any surface delicately. The Linzer Satin and Stain Block Brush produces a desirable wooden finish look. You could also properly waterproof any surface with an oil-based paint.
Specialty brush with a p

olyester/China bristle blend

Plastic handle with threaded grip and a stainless steel ferrule 

Can be used with all paints and stains on rough surfaces
View on Amazon
We adore this particular paintbrush to stain wooden fences and even decks effortlessly. Painting with this brush allows you to paint flexibly without causing your hands to ache after the paint job is complete. We also suggest that you use a stainless steel bar to tie the brush so as to prevent the brush hairs from falling.
Pros
It is a big block brush. 
The brush comes in many sizes. 
The brush can be used to waterproof surfaces. 
It can be effective to use as it has a solid grip. 
Cons
The delicate bristles of the brush may shed if a ferrule is not tied to the brush. 
Natural Bristle Brush
The natural bristle brush is also called a China bristle brush because most of these types of brushes originate from China. These brushes are usually made from animal fur. We suggest that you use the natural bristle brush to apply paint stains to cabinet surfaces and other larger surfaces. When using natural bristle brushes, you can apply the stain with oil-based and water-based paints.
We suggest that you buy a natural brush for using oil-based paints. A great way to care for wooden surfaces is to paint a thin layer of oil-based stain on the surface. Ensure a good few minutes of drying time.
The WOOSTER Bravo Stainer Brush
The Wooster Bravo Stainer brush is a broader brush, being 4.75 inches to about 5 inches large. This particular brush is great to use to apply all types of stains and produces the ideal finish.
Excellent results with all oil-based stains, sealers, and wood toners

White China bristle with square construction

Nickel-plated steel ferrule

Threaded hardwood handle with bucket clip that can be removed for extension pole use
View on Amazon
The bigger surface area of the brush and its square design ensures that stains can be applied effortlessly. The white China bristles are also excellent for applying the stain.
The brush is one that can be used to apply stains to many different wooden surfaces. You will notice a bucket clip that is tied to an extension pole that is roped on a nickel bar used to keep the brush hairs in place. In this way, the brush stays intact for a long time and can be used on all types of surfaces.
Pros
The brush can be used with paint and dye. 
The brush is durable and its bristles stay intact. 
The brush can be used to condition the wood. 
The brush has a handle that can be removed. 
Cons
The handle of the brush can be removed, but this can be tricky. 
Foam Brush
Foam brush types come highly recommended because of the amount of stain the brush can contain. The brush allows you to paint a totally covered surface. Although it offers a total paint job, we note that these brushes leave paint marks on the surface and also produce coverage that is not so even.
The reason why the brush results in an unevenly painted finish is because the stain that is given off from the brush at differing times. The best part, however, is that this can be simply remedied by wiping away any excess paint.
Loew-Cornell High-Quality Brush Set
The reason as to why the Loew-Cornell brush set is a good purchase for you is because it includes 25 brushes in the set.
Brushes will work with most media and are great for fine art and craft work

Nylon, bristle, sponge and camel hair brushes in assorted sizes

Includes 25 brushes per pack, each of which have a wooden handle
View on Amazon
The brushes are of the same size, with each one having a shorter wooden handle that is used for craft painting projects. Ideally, these brushes should be used with the acrylic paint type. The brushes are also great for painting baseboards and trim. In fact, the brushes can be used to stain most surfaces.
Pros
The handle of the brush is smaller, which allows you to paint every nook and corner. 
The foam brush type tends to take quite a bit of paint at a time. 
It is a cheaper brush set. 
Brushes can be thrown away after use. 
Cons
The brushes are meant to be thrown away after one usage. 
You need to have a steady hand to paint properly with these brushes. 
You must let the painted surface dry completely before you use it. This usually takes 2-3 days. 
What You Need to Note When Selecting Brushes
There are a number of considerations to take note of when selecting the best brush for your project. The properties of the brush in question will influence the final outcome of the finish of your wooden surface, so it is important to make the right decision to ensure the best results.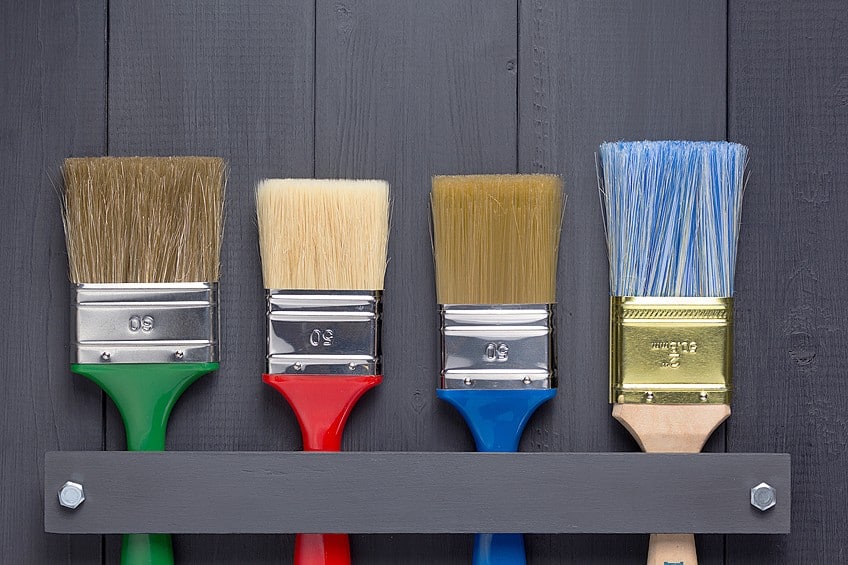 The Type of Brush
Your search for the right brush must take into quality into consideration. A better-quality brush can be identified by the amount of stain it can soak up. Brushes that get the job done faster due to lots of paint being soaked up are always the best brush types. Using these brushes will allow you to apply the paint easily and neatly. Certainly, quality brushes are best to buy because brushes of poor quality lead to an undesirable finish.
The Ability to Contain Paint
If you are a novice painter, ensure that you choose a brush that can contain a lot more paint in the first dip. This way, you will not need to use any wood stain remover thereafter. If your paint job results in unwanted drips, it can be quite a cumbersome task to clean this up. Thus, you will want to ensure that the brush type you choose leads to fewer runs and drips. Less energy is required if your brush can paint larger surface areas like fences in one go.
How Strong the Bristles Are
A big no for any paint job is having your brush hairs stick to a painted surface. It will ruin your paint job entirely when you attempt to take brush bristles off a freshly stained surface. Therefore, buy a brush that has bristles that rarely fall out.  A brush in which the bristles are strongly connected to the ferrule is ideal.
Wear and Tear
Certain brush types can be reused, whereas others need to be thrown away after one use. The idea is to make a worthwhile purchase when settling for a brush. The throwaway brushes may be cheaper to buy initially, but you want to invest in a brush that you can use yearly to reapply paint coats. Go for a brush that can be reused and cleaned easily.
The Stain Application Process
Try not to treat your best wood stain as you would for any normal paint job. When it comes to wooden surfaces, it soaks up as much paint as it needs and allows any excess paint to stay on the area, thus remaining relatively wet. This will result in a cakey finish on the stained surface.
Before you can attempt to apply more stain, you need to remove any extra stain first. Following the guidance on the wood stain will ensure that you paint the stain as required and that you do not need a stain stripper or wood stain remover after application. 
Sealing a Stained Surface
A baffling question that troubles most novice painters is whether it is possible to brush an oil finish (polyurethane) over a surface that has been stained with a water-based stain. Yes, you can even paint a water-based finish over an oil-based stain provided that you adherer to the required waiting period between coats. Give any stained surface a few days to rest before you reapply a stain. Lacquer can be applied over any stain type without any hesitation.
Handy Hints for Painting
To ensure that you end up with the most professional-looking wood stain, you should keep the following tips in mind.
Ensure Your Wood Has Unclosed Pores
This will allow for full absorption. You ought to remember that putting a stain over a wooden area will not hinder the actual wood's appearance. Instead, the stain will remove any previous stains within the wood's pores.
Bare Wood Requires Sanding
For bare wood, we recommend that you start unblocking pores with sanding paper. You will unlock the best staining potential for the bare wood if you initially start with a medium-grit paper. To sand thereafter, use a fine-grit paper and sand in line with the wood grain so that you do not harm the wooden surface.
Ideally, Stain Surfaces with a Bristle or Foam Brush
While a cloth is also a suggestion to apply the wood stain, we suggest that you use a brush on largely porous wooden surfaces like oak, ash, or mahogany. To enclose the wood's pores, brush in an opposite direction to the pattern of the wood with stain. When applying stain, always apply the correct quantity so that you can give the wood the chance to soak in the stain.
Note for How Long Stains Should Stay on Surfaces
The rule states that the longer the stain is allowed to rest on the surface, the more intense the color of the stain. However, you cannot neglect planning your time. By letting a stain dry completely on an area, the harder it will be for a clear finish to stick to that surface.
Take Away Any Unabsorbed Stain
Use a dry cloth to wipe away any stains that haven't been soaked up by the wood. If you go ahead and apply a clear finish before doing this, any stuck bits of stain will become highly noticeable. Use the wood grain as a guide when you wipe.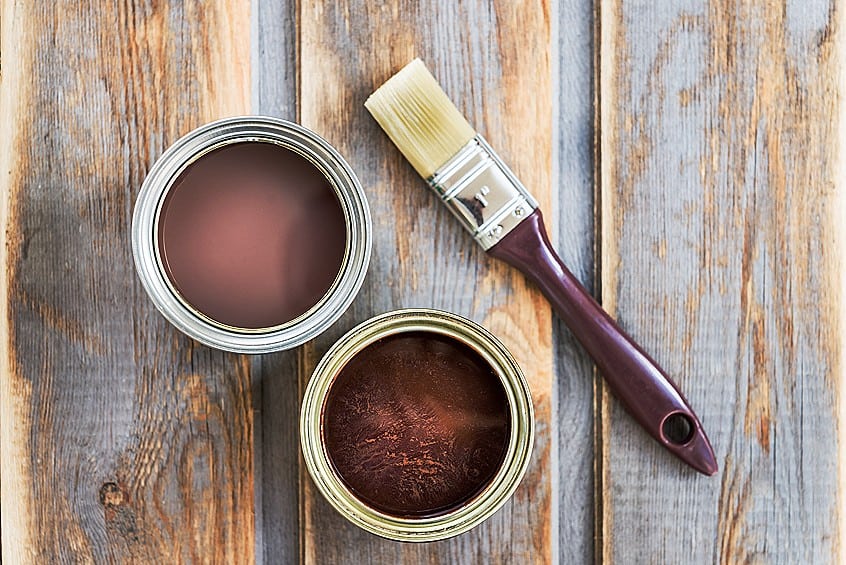 FAQ'S
What is the Best Brush for Wood Stain Application?
The best brush to use for any surface can be decided when you assess the surface itself. If you are applying stain to benches or other surfaces, use roller brush types. For staining large wooden surfaces like decks or fences, use a sprayer to stain the wood.
Is a Brush or Roller More Desirable for Decks?
Always use a roller brush type to stain a deck. Higher quality stains look desirable when applied with a roller brush. The roller brush is used to correct any surfaces that have too many untidy stains on them.
What Brush Works the Best?
To determine a good brush type, you need to select a brush that is good in quality. If you are using an oil-based stain, you can go for a natural brush made of natural fibers. A synthetic bristle brush is good for water-based paint stains. The area where you are applying the stain also determines what the best brush for wood stains would be.
What Happens to Unwiped Wood Stains?
The idea of using wood stains is so that the stain can be absorbed into the wood and not linger on the wood surface. A wood stain will appear cakey on the surface when you apply a thicker layer of stain or you don't remove excess paint from the surface. Any additional wood stain will become sticky and unattractive. A stain stripper may need to be used if removing the wood stain is too difficult.
How Should You Clean Brushes Used for Stains?
Use water to rinse the stain off the brushes. Removing wood stain off your brushes may require some soapy water. When inquiring about how to remove wood stain from brushes of the polyurethane type, we suggest that you use paint thinner and a tiny bit of spirits for paint removal. Once the wood stain is removed from your brush, try to keep it in a clean place that is free of dust mites.
Is it Possible to Reuse All Brushes?
No, the quality of the brush will be a determining factor in deciding whether you can use a brush again. Brushes with hairs that fall off cannot be reused again. These brushes resemble disposable brushes, in which case you can spend far less buying disposal brushes. While many first-time painters opt for disposable brushes, you could save by purchasing a higher quality brush that can be reused once cleaned.
Does Oil-Paint Agree with Brushes?
For oil-based paints, only certain brushes can be used. The best type of brush for an oil-based stain is one with natural bristles. There are many high-quality natural bristle brushes that can be used to stain surface areas like cupboards.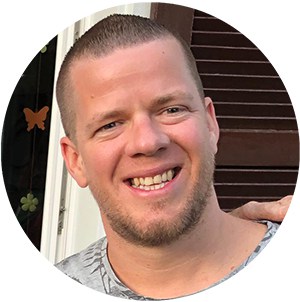 I was born in 1984 and have been into woodworking since 2005 and woodturning since 2011. Because of my love for wood and woodworking, I started woodhappen.com to teach other enthusiasts about how to finish and seal wood, the best woodworking tools, the different types of wood, and everything else related to wood!