Best Brush for Polyurethane – Selecting a Finish Brush for Polyurethane
This post may contain affiliate links. We may earn a small commission from purchases made through them, at no additional cost to you.
When wood is left without any protective coating or finish, the elements can render it lifeless and dry without any beauty. Wood needs to be coated with a clear finish to enhance the grain or a stain to match its surroundings so as to give it richness and protection from scrapes, weather, and spills. In this article, we will talk about polyurethane (poly) as a finish, as it is durable and clear. We will also assist you in selecting the best brush for polyurethane.
Why Polyurethane?
Polyurethane possesses amazing properties and a durable finish, although the properties can differ from product to product, depending on what it is you are looking for. You will need to think about the exact kind of finish you are after, as well as what the function of the polyurethane will be. Polyurethane can either be water- or oil-based, or it can be a combination of both.
Oil-Based Polyurethane
This type of polyurethane dries to a slight amber color, thus giving your wood a warm feel. It does take a rather long time to dry properly, however, which means that you will have to wait longer before you can apply the next coat. It also has a high VOC (volatile organic compound) emission, which means that you need to work in a well-ventilated space. You can only clean it by using mineral spirits.
Water-Based Polyurethane
This type of polyurethane has a milk-white appearance while it is still in the container, but when it dries it is crystal-clear. Its viscosity is a lot lower than oil-based polyurethane, so you will have to apply more coats. However, the thin consistency also means that it dries a lot faster. The VOC emissions are a lot lower, but you will still require a space with good air circulation. You will only need soapy water to clean water-based polyurethane. Avoid using ammonia-based cleaners on the finished surface, as it will cause it to go milky white.
Water-Based, Oil-Modified Polyurethane
This type of polyurethane has a cloudy appearance in the container and dries to a  durable surface with a slight amber color, similar to that of the oil-based polyurethane. It dries fairly fast and can be used on most wood surfaces. The VOC emissions are the same as water-based polyurethane.
Sheen
The next thing to consider is the sheen of your finish. Do you want a glossy, satin, or semi-gloss finish? The choice is a matter of preference, as all of them will give you the same durable finish. Remember, however, that a high gloss finish will show all imperfections and wear and tear that develop on the surface over time.
Where to Apply Polyurethane
You also need to decide if you want to use the polyurethane on an indoor or outdoor surface. Most exterior polyurethanes can also be used indoors, but interior polyurethanes should never be used outdoors. The reason for this is that they do not have the additives that will protect your wood from the sun's UV rays.
How to Apply the Polyurethane
You now need to decide how you are going to apply the polyurethane. This leaves you with three basic options according to the type of project.
Brush-On Polyurethane
This type of application is important, as it can give you a thick, durable layer.  This type of polyurethane is best used on flat surfaces. Poly brushes can retain a lot of the finish, which means that you can cover a larger area before you need to reload.
Wipe-On Polyurethane
This type of application is best suited for contoured surfaces like stairs and crown molding. This type of application forms a much thinner layer, so you need to be careful to use it in areas where there is not much traffic.
Spray-On Polyurethane
This type of application comes in handy for those hard-to-reach surfaces like louvers, chair spindles, and shutters, as well as vertical surfaces. An added benefit with this type of application is that you can also apply it using aerosol spray cans. Remember, the finish in this case is a lot thinner and will not be as durable as the brush-on application.
The Importance of a Polyurethane Brush
In this article, we are going to concentrate on using a brush to apply the polyurethane, as this form of application has many advantages. The brush plays a vital role when applying a coating to your wood, as a good brush will aid you in creating an effective and beautiful finish for your wood surface. You will always achieve the finish you want when you use a polyurethane brush.
A brush will be able to reach into those nooks, crannies and other detailed spaces.
With a brush, you can apply the polyurethane using straight strokes, which will give you a smooth finish without leaving marks.
Using a polyurethane brush will prevent bubbles from appearing on the surface.
If used and cared for properly, your polyurethane brushes can last for a long time, especially if you buy a good quality brush.
The bristles of the polyurethane brushes will not be affected by the spirits contained by an oil-based polyurethane product.
Selecting the Right Brush for Polyurethane
So, what must you look for when buying a poly brush? Before we help you pick out the top brush for polyurethane, it is important to have an understanding of the different properties of a polyurethane brush.
Type of Paint Bristles
There are two types of paint bristles you can purchase, being synthetic and natural bristles. Synthetic bristles are best used for applying water-based polyurethane, as they are courser and do not twist out of shape. Natural bristles are best used for applying oil-based polyurethane, as they are much softer.
Some people may also go for the foam brush for polyurethane, which is cheap and can be thrown away after use, but might not be the best when you are looking for a smooth finish.
Design and Width of the Brush
When you have a project that is small or narrow, then you can choose a 2-inch-wide brush. If your project is larger, a 4-inch-wide brush would be the best choice. With regards to style, you need to choose a brush that feels comfortable in your hand.
Handle Type
A thick, short handle is good for working on small, detailed projects. A well-contoured and large handle is best suited for bigger projects, as it gives you a firmer grip.
The Ferrule
This is an important part of the brush, as it holds all of the bristles in place. Ensure that the ferrule is secure by tugging the bristles firmly. A stainless-steel ferrule is preferred so as to prevent rust.
Split Ends
Ensure that the bristles on the brush have split or flagged ends, as this allows the brush to hold more polyurethane. This will save you time by making fewer dips.
Quality
When buying a brush, try not to compromise on quality by purchasing a cheaper brush so as to save money. Buy a good quality brush and save more than money in the long run.
Best Brush for Polyurethane
There are many advantages of using the best brush for polyurethane, such as the perfect smooth and clear finish. However, since there are always so many choices on the market today, what poly brushes are the best? Allow us to give you a few ideas when it comes to choosing a finish brush for your polyurethane project.
Best Polyurethane Brush: WOOSTER BRUSH Silver Tip Paintbrush
This Wooster Brush Silver Tip Angle Sash paintbrush is a high-quality brush that can be used when applying both water- and oil-based polyurethane. By using this brush, you will not only get the finish you want but you will also save some money by not having to buy separate poly brushes for different polyurethane finishes.
Soft formulation with a feather stroke

Adds extra shine to your product

Satin ferrule is rust-resistant
View on Amazon
This brush was constructed using the brand's own CT (chemically tipped) polyester filament with ultra-thin bristles, which are flexible and soft and will give you a flawless finish with no brush marks. The bristles also have smoothing and self-leveling properties when used to apply polyurethane finishes.
The brush is fitted with a stainless steel ferrule that holds the bristles firmly in place. The handle of the brush is hardwood and is lengthy enough for a relaxed grip.
Pros
Strong with a good quality stainless steel ferrule
Comfortable-to-hold hard wooden handle
Excellent soft and thin bristles
Reasonably priced
Cons
Can retain only a small quantity of finish
The Wooster Brush company has been in business since the 19th century and is an innovative manufacturing company with a reputation for manufacturing high-performing, top-quality brushes. So, if you are looking for the best polyurethane finish on your wood, then a Wooster Brush is the one to buy.
Best All-Round Polyurethane Brush: PURDY XL Brush Pack
The three brushes included in the Purdy XL pack is made up of solid round tapered Dupont, Tynex satin-edged nylon, and Orel polyester bristles, which make this type of brush an excellent buy.
The brush can be used when applying both oil- and water-based polyurethane. It is a very versatile brush and can be used when applying varnish or any other paintt, making it capable of all kinds of painting jobs. The bristles are secured in place with a copper ferrule and are guaranteed not to lose their shape when applying any type of polyurethane finish.
Versatile brush series

Designed for use with all paints and stains

Works great in all types of environments
View on Amazon
This particular brush is supplied in three-sizes, being a 1-inch, 1.5-inch, and a 2-inch brush width. The combination of bristle types allows it to hold a lot more polyurethane at each dip, which helps you to complete your project much faster. The three sizes will enable you to paint or varnish on ceilings or the walls, as well as many harder-to-get places. This brush can also apply stains or primers.
It is supplied with an Alderwood hardwood handle that is very comfortable to hold and allows you to paint any surface with ease. The hardwood handle is also very absorbent, which means it can absorb the sweat from your hands, keeping them dry. The handle is also non-slip and very durable.
The brush has been designed with an internal chisel formulation that is very strategically placed, thus giving the polyurethane a maximum lift for an even, smooth, bubble-free application.
Pros
Provides a smooth, high-performance finish
An excellent quality brush good for professional users
Durable and versatile bristles
Good for use with any stain or paint
Comfortable hardwood handle
Chisel-formulated bristles allow for a smooth application
Cons
Bristles can become loose at times
Handle is fairly thin
Expensive
The Purdy XL brushes are handmade from the best quality materials, providing you with a brush that gives you even strokes with no marks and is durable. This finish brush is a must for the avid painter.
Best Value for Money Polyurethane Brush: Pro Grade
The Pro-Grade Paint Brush Set is a set of five brushes ranging from small and medium to large, where the flat end is ideal for applying polyurethane. The set of brushes is very versatile and can manage any type of stains or paint. The brushes can be employed inside as well as outside on places such as decks and fences. It is also capable of being used in those hard-to-reach places, as well as for arts and craft projects.
Paint brush set includes a variety flat, angle, and stubby angle brushes
Premium-quality paint brushes leave a premium finish on walls and trim

The SRT filament blend holds more paint to save time with less streaks
View on Amazon
To aid the durability of this finish brush, the bristles are secured with a top-grade stainless-steel ferrule that keeps the bristles firmly in place. This helps the brush to last longer, as it is resistant to rusting. The bristles are made from a synthetic filament and are thick and medium-stiff, which allows them to hold more finish, thus saving you time and money. The bristles are also designed to leave you with a satin-smooth finish.
The handle is made from a hardwood that is smooth and comfortable to hold, thus giving you perfect control and leaving your hands free from bruising and calluses. If you need to protect wooden articles that have intricate carvings, then the angled brush is the right tool for the job, as it has a thinner tip that is perfect for detailed work. With these brushes, you will be guaranteed to have a finished surface that is free from any marks.
Pros
Great value for money
Very versatile
Good quality brush
Very durable
Thinner tip to give better control
Bristles are made of synthetic filaments to hold more finish
The brushes are easy to clean and will not lose their bristles very easily
Cons
Some users have reported brush marks after painting
Pro Grade is a manufacturer that produces good quality, durable brushes and can supply you with the right brush for your polyurethane finish. They have the best brushes on the market at very affordable prices.
Tips When Using a Polyurethane Brush
When using a brush to apply polyurethane on a surface, there are two stages to consider, namely the preparation stage and the application stage. Let us have a look at these in greater detail to help you get the best finish for your project.
Preparation Stage
The first step is for you to prepare the wood surface before you apply any polyurethane finish. You need to use 220-grit sandpaper to ensure that the wood surface is clean and smooth.
Next, eliminate all the dust with a vacuum cleaner. Then rub the surface with a clean, moistened cloth. The cloth should be cheesecloth, which you dampen with denatured alcohol for the application of water-based polyurethane, and mineral spirits for the application of oil-based polyurethane.
If you are working with wood types such as walnut, ash, or oak, it is advisable to apply a wood grain filler first. This is because these types of wood are open grain woods, so the filler will help to give you a smooth polished finish.
Application Stage
After you have opened the polyurethane can, it is important that you stir it slowly and not too vigorously. Try not to shake the container before you open it, as this will result in bubbles forming in the finish.
Always apply the polyurethane in a well-ventilated indoor space, as both the water- and oil-based polyurethanes emit strong fumes. Also, ensure that the area you are going to paint in is free from dust and any insects or debris that may settle on your painted surface before it dries properly, as this can take a few hours.
Before starting to paint with polyurethane, it is a good idea to dip the brush into some mineral spirits if you are going to paint with an oil-based polyurethane, and in water if you are going to paint with water-based polyurethane. If you have dipped the brush into water, then roll the brush with your hands to ensure that any excess water is removed.
When you dip the brush into the polyurethane finish, dip it about one-third of the way and then tap the brush gently on the side of the container. This method will ensure that you will always have the correct amount of finish on the bristles to give you the right thickness.
When applying the polyurethane, try to use flat or horizontal strokes, as this helps the finish to self-level and also prevents dripping. However, if you are working on a vertical surface, then try to apply thinner coats with a cloth or spray it on. If you notice any drips when applying to a vertical surface, remove them immediately using a razor blade and sand the area down afterward.
After each coat, check to see the effect of the polyurethane by getting the lights to rebound off of the painted surface. You can do this by kneeling with your eyes level to the surface so as to see if the light will show any defects. Some of these defects can be brush marks or bubbles, and the light will illuminate them so that you can fix them.
Applying Polyurethane with Poly Brushes
Since there are two types of polyurethane, the application will be slightly different when applying for both depending on whether you are using a water- or oil-based polyurethane.
Applying a Water-Based Polyurethane
Before you start, make sure there are no oil stains on the wood. These stains need to be removed before you apply the finish, as water-based polyurethane will not adhere to that surface area and will form beads. You can remove these oil stains by using synthetic steel wool.
To begin, first apply a thin layer of water-based polyurethane, as a thicker coat tends to raise the grain of the wood, which should be avoided. Let the first layer dry for around two hours, after which you can then apply a second layer. Remember that if you allow the coats to dry completely, you will have to sand them down between each application. It is best to apply a subsequent coat when the previous coat feels tacky to the touch.
For areas that you do not use much, three coats should be sufficient. However, for areas like floors where there is heavy traffic, you will need to apply at least four coats to make it effective.
Applying an Oil-Based Polyurethane
Before using an oil-based polyurethane, it should be thinned with mineral spirits. By doing this, you are enabling the finish to reach those difficult-to-reach places more easily. Make sure that you use a fine-bristled brush for this application, as this will assist the finish in penetrating those hard-to-get areas. A foam brush for polyurethane will not give you the same finish and invariably leaves you with bubbles on the surface.
When applying the finish, use long, straight, and parallel brushstrokes in the direction of the grain. This will flatten the polyurethane and avoid any bubbles or brush marks. Try to apply the polyurethane in thin coats. 
Let the first layer dry thoroughly. Then, using a 320-grit sandpaper, gently sand the surface. The strokes should go along the wood grain. Use caution when sanding because you would not want to remove parts of the first coat.
Next, use a vacuum cleaner and a wet cloth to eliminate any dust or debris. Applying two coats of oil-based polyurethane should be sufficient to give the desired protection to your wood surface. If you are applying the polyurethane to a floor area where there is a lot of traffic, then you will have to apply three coats for the desired result.
Frequently Asked Questions
Are Water- and Oil-Based Polyurethane the Same?
No, oil-based polyurethane is easier to apply and it is also much thicker, as it contains more solids and requires fewer coats. However oil-based polyurethane takes much longer to dry and is more likely to leave brush marks behind. Water-based polyurethane, on the other hand, requires more coats. It tends to leave watermarks behind and also raises the wood grain. However, It dries more quickly, is easier to level, and has less of an odor.
Is a Foam Brush for Polyurethane a Good Choice?
It is not recommended that you use a foam brush when applying polyurethane, as it leaves parallel marks and does not give you a smooth finish. The foam also holds air pockets which will leave you with bubbles in the final coat.
Why Use Natural Filament Bristles When Applying Oil-Based Polyurethane?
Oil-based polyurethane contains minerals, which means that the natural bristles will absorb the finish, and the brush can then retain its shape. However, if you use a natural bristle when applying water-based polyurethane, the bristles absorb the water and become limp, and are difficult to paint with.
How Can I Avoid Brush Marks?
First, gently sand the wood surface down to give you a smooth finish, and then make sure that you remove all the dust. Next, using your brush, apply the polyurethane. If you see any brush marks, re-sand that area and continue to apply the finish.
How Do I Avoid Bubbles Forming?
The best way to do this is to slow the drying process down, which will give the bubbles enough time to pop out by themselves. You can do this by adding a retarder, flow additive, or thinner. For water-based polyurethane, you can get the best result by adding mineral spirits.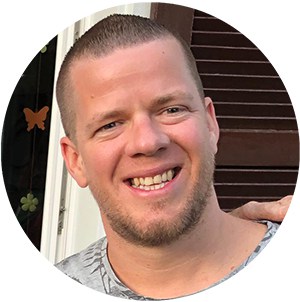 I was born in 1984 and have been into woodworking since 2005 and woodturning since 2011. Because of my love for wood and woodworking, I started woodhappen.com to teach other enthusiasts about how to finish and seal wood, the best woodworking tools, the different types of wood, and everything else related to wood!