Best Benchtop Drill Press – How to Find the Right Bench Drill Press
This post may contain affiliate links. We may earn a small commission from purchases made through them, at no additional cost to you.
A good quality benchtop drill press can mean the difference be completing your project efficiently compared to facing constant frustrations with incorrect or inferior equipment. They offer much more precision and stability than a standard hand drill and will allow you to accomplish larger DIY or professional projects with greater accuracy. In this article, we will investigate and review the best benchtop drill presses or table top drill presses to find out which is the right one for you.
What is a Bench Top Drill Press?
Benchtop drill presses, table top drill presses, bench drill presses, hand drill presses, or whatever you like to call them are power tools primarily designed to bore very accurate holes into whatever piece of material you may be working with. They differ from standard portable drills in that they are permanently fixed to the top of your workbench and the machine is operated by means of a lever in a vertical downwards manner. The best benchtop drill press and drill press stand are usually purchased as one complete unit however it is possible to buy separate drill press stands if you already own a hand drill. We will discuss the differences a little later in this article.
A standard drill press is made up of a few main components: The base, column, table, and head. The base supports the machine and is used to secure the press to the workbench. The column, which is ideally made of steel, is secured to the base and holds the table and head. The table is secured to the column with a collar and can be adjusted vertically from the base right up to the head at the top of the press.
Depending on the model of drill press you purchase, some tables offer not only vertical adjustment while remaining parallel to the workbench but can be rotated and tilted for more drilling angle options. Lastly, the head is the actual motorized section of the whole assembly and holds the spindle and the chuck, which hold the interchangeable bits and allow you to drill into a material.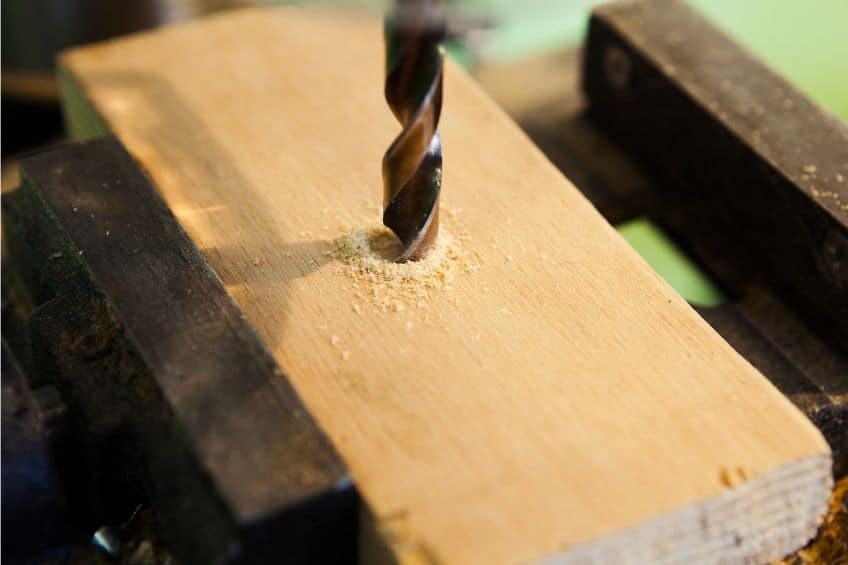 Why Buy a Bench Top Drill Press?
The best benchtop drill press offers many advantages over a hand drill if you are looking to take on larger and more complex DIY projects than simply drilling holes in walls and hanging pictures, for example. That's not to say that a hand drill cannot complete larger simple DIY projects like building a wooden box. Hand drills just have their limitations when it comes to the speed, efficiency, and comfort with which they allow you to work. Neither is better than the other, hand drills offer unmatched portability but it just depends on what you are trying to accomplish.
Bench Top Drill Press vs a Standard Hand Drill
The biggest benefit of a bench drill press over a hand drill is that a bench drill press offers far greater precision and stability than a standard hand drill. A hand drill relies on the user's strength and stability in order to get the job done and this can quickly become tiring when working on large projects. For larger projects, a drill press offers many advantages over a hand drill such as comfort, ease of use, and precision.
The ability to set depth-stops on a bench drill press for consistent hole sizes is invaluable when constructing something like a wooden living room cabinet which requires precision work. With a hand drill there is always the risk of slippage and going too deep into the wood while with a drill press and its ability to set depth stops, there simply isn't the risk of this happening.
The other big advantage of a drill press over a hand drill is comfort. A benchtop drill press allows you to work at a comfortable height with minimal effort. Achieving the same result with a hand drill would require you to work on the floor which is not ideal for those larger, more time-consuming projects. Should you only own a standard hand drill at this stage, there are options available to you to convert your trusty hand drill into a benchtop drill press.
Understanding the Hand Drill Press
A hand drill press is a middle ground between a standard hand drill and a dedicated all-in-one bench top press. A drill press for a hand drill allows you to convert a standard portable hand drill into a vertically operated drill press and can offer a good solution to a portable drill press when space is a concern, or you're only tackling small, lightweight projects. It's something you can assemble and disassemble when needed and will only take a few minutes to do so. Read on for our recommendation on the best portable hand drill press to buy.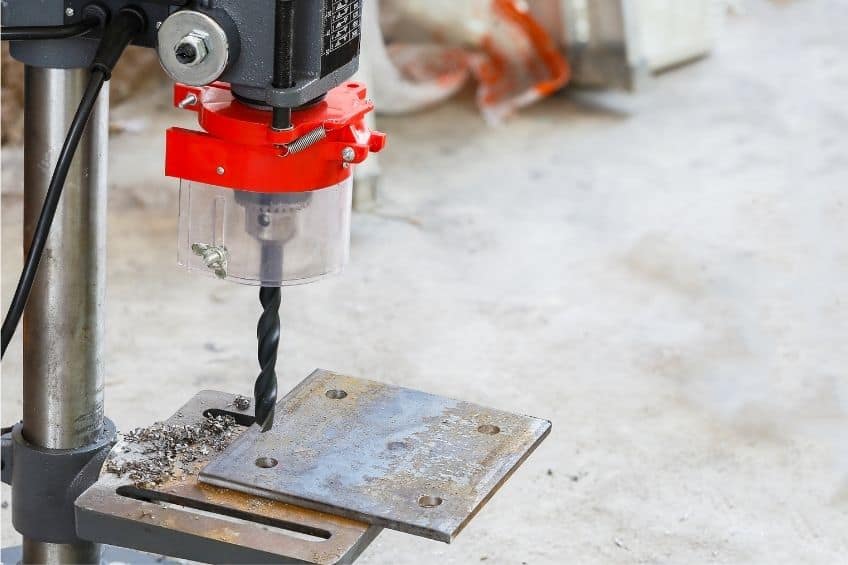 Considerations for Buying the Best Benchtop Drill Press
With a drill press being a relatively complicated piece of machinery with so many different options available, choosing the correct press can be an overwhelming experience. We're here to help. Below are some of the main things to keep in mind when looking for the best benchtop drill press.
Motor Power
One of the first things to think about when shopping around for a drill press is what sort of projects you would like to tackle. This will determine what sort of power output and torque you need from the press. Power output will affect things like hole sizes as well as the types of material with which you can work. If you are looking to bore large diameter holes with a hole saw in tough steel, you will need a drill press with a high amperage motor to prevent overheating. Conversely, if you're looking to work on small delicate wood projects with fine drill bits then you can opt for something less expensive with less power.
Table Size
The table of the drill press is your adjustable work surface which comes in a few sizes depending on the model of benchtop drill press you purchase. These tables are usually just a small metal plate on which to mount a larger custom-made work surface. It is not uncommon to custom-build your own drill press table to mount on top of the standard metal plate. This larger custom-made table will allow you to build it with several useful tools such as rulers, clamps, spirit levels, and so forth to aid you in your project.
Spindle Travel and Swing
These two features are very important when choosing a drill press. Spindle travel means how far you can lower and raise the drill press head, determining how deep into a material you can drill. Swing is the measurement from the central column of the press to where the drill bit meets the table. If the drill press has a swing of 10 inches, this would mean that you're able to drill a hole in the center of a square or circular piece of material with a diameter of 10 inches.
Drilling Speeds
Generally speaking, the more money you spend on a drill press the more choice you will have for speed variation of the motor. Being able to vary the speed of the drill bit is very useful as certain materials, such as hard steel, can cause the drill bit to overheat if it is used at too high a speed. Single-speed drill presses do exist, they don't cost too much but they don't come highly recommended by us because of their inability to vary the rotational speed of the spindle. With a single-speed drill press, you will be severely limited as to what tasks you can accomplish.
Drilling Precision
Depending again on what size projects you're going to be working with, it is recommended when purchasing a bench drill press to pay attention to what drilling precision the press offers. Working with smaller items will require a drill press with fine adjustment controls such as output speed and feed rate. Output speed is how fast the drill bit rotates while feed rate applies to how far the drill bit penetrates the material with each revolution.
Chuck Capacity
Chuck capacity relates to how wide a diameter bit the chuck can accommodate. A wider diameter bit shaft means more torque can be applied when drilling which allows for larger holes to be drilled in tougher materials. A large capacity chuck would not be needed for those small precision woodworking projects but would definitely be beneficial for boring large holes in steel.
Chuck Type
Like a standard drill, the chuck is the part of the drill press that opens to hold the shaft of various sized drill bits. There are two types of chucks commonly available: keyed and keyless chucks. Drill presses with keyed chucks obviously require a proprietary key to open and close but are generally a cheaper alternative to slightly more sophisticated keyless chucks. The price of a drill press is dictated by many other features though.
Despite being generally more affordable, these presses do offer one major advantage over keyless chuck presses which is that by use of a key you are able to tighten down the drill bit within the chuck a lot more which prevents slippage of the bit when working with heavy-duty applications.
Drill presses with keyless chucks, as the name implies, don't require a key to open or close and can be a faster and more convenient way of working. They are also more suitable for less heavy-duty applications or where less precision is needed and where slippage of the drill bit is less of a concern.
Brand and Price
While we appreciate everyone has a budget to stick to when purchasing the best benchtop drill press, price is an important indicator of the quality of the item. As with most things these days, you get what you pay for, and too often cheap drill presses are made with inferior components and will often carry shorter warranty periods than their more quality counterparts.
Our recommendation is not to skimp on budget equipment when purchasing a drill press. This is a piece of precision machinery that will be subjected to lots of stress over many years and spending slightly more on a quality piece of equipment from a reputable brand is definitely recommended.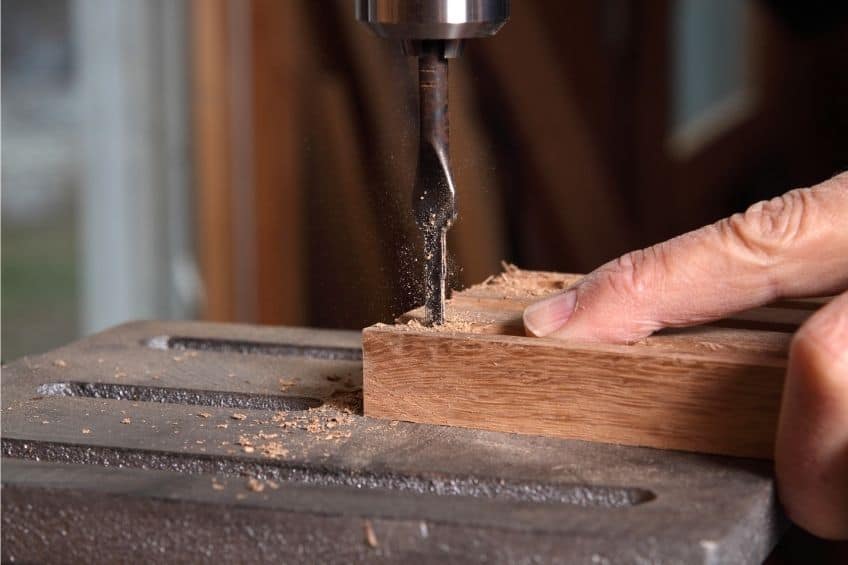 The Best Bench Top Drill Press – Top 3 Picks
There is a multitude of drill presses on the market today but how do you know which ones are worth the money and which ones to avoid? Below we've compiled a list of our top-rated drill press reviews as well as one drill press review for a benchtop drill press stand, should you already own a hand drill and be on the lookout for a more portable drill press option.
WEN 5-Speed Benchtop Drill Press
Coming in at a reasonable price but not compromising on features is our top pick for the best benchtop drill press, the WEN Bench Top Drill Press. It is offered in a variety of speed options from 5, variable, or 12-speed models, as well as 8, 10, 12, 15, or 17-inch swing options. It is a keyed chuck drill press with a depth adjustment gauge, onboard key storage, and heavy-duty cast iron base plate. Depending on the model, the spindle travels a full 2 to 4-3/4 inches with incremental locks on the depth gauge. With a durable induction motor and a large choice of RPM ranges depending on the model you choose, it's perfect for every material from soft pine to hard steel.
A versatile five-speed benchtop drill press
Runs off a durable 1/3 HP induction motor
Includes a 1/2-inch keyed chuck and  onboard key storage
View on Amazon
PROS
Multi-speed or variable speed drill press with locking depth adjustment
A full 2 to 4-3/4 inches of spindle travel (spindle travel varies by model)
Perfect for a range of material densities
Optional add-ons such as a working light, laser sight for precision measurement and digital speed readout
DEWALT 2-Speed Magnetic Drill Press
Our second pick is a portable, heavy-duty drill press with a quick-change chuck system and electronic overload protection which prevents motor damage and extends the life of your press. Designed for heavy-duty applications like steel fabrication and boring large holes in metal, this variable speed drill press has a self-feeding cooling tank that allows the operator to regulate the coolant flow depending on the intensity of work being carried out. This cooling tank can be placed on either side of the press for maximum convenience.
This machine has a 2-inch swing and 4 inches of spindle travel, and a powerful 10 amp motor that provides loads of torque for those really heavy-duty applications. Being a portable drill press, the base of this machine is a powerful magnet that will securely bond with the material with which you are working. When it comes to a drill press for hand drilling, this is a really easy to use model.
A large 2-speed drill press for heavy-duty applications
10 amp motor with overload protection electronics
Quick change chuck system, 300/450 rpm no-load speed
View on Amazon
PROS
Portable
4 inches of spindle travel
10 amp motor provides ample power and torque for heavy-duty steel fabrication
Self-feeding coolant tank to prevent overheating
Electronic overload protection which minimizes motor damage over time
CONS
Not suitable for a everyday household DIY projects
Rare overheating but this is more due to the press being used for heavy-duty drilling
Only two speeds
Quick-change chuck system can be a little temperamental
MILESCRAFT Drillmate Drill Guide With Chuck
As promised, our third pick in the best drill press reviews is this portable drill press for a hand drill. Perfect for smaller lightweight DIY projects, this benchtop drill press stand allows you to mount any standard 3/8 or 1/4 inch hand drill to the in-built keyed chuck. This helps turn your hand drill into one of the best benchtop drill presses. The all-metal construction features adjustable angled settings for drilling 45, 60, 75, and 90-degree holes in whatever material you are working with. This is a great drill press for hand drilling.
This benchtop drill press stand also features a very useful v-groove in the base for stabilizing dowels, pipes, and other cylindrical objects that need drilling into. The non-slip TPE feet can be removed to expose screw holes should you wish to mount the base permanently to your workbench. What's more, is that it features an adjustable depth gauge for precision drilling.
A drill guide perfect for straight or angled drilling
Accommodates any round stock up to 3 inches in diameter
Can create angle cuts of 45 to 90 degrees
View on Amazon
PROS
Adjustable drilling angles
All metal head
V-groove in the base for drilling cylindrical items
Adjustable depth gauge
Portable
CONS
Doesn't compare to a dedicated bench top drill press
Only suitable for smaller DIY projects
Does not offer the stability of a larger bench top drill press
How to Operate a Bench Top Drill Press
Operating a drill press is a simple process but requires concentration and careful attention, as always when operating motorized machinery. With some planning and a few safety precautions, you'll be on your way to creating your next masterpiece in no time.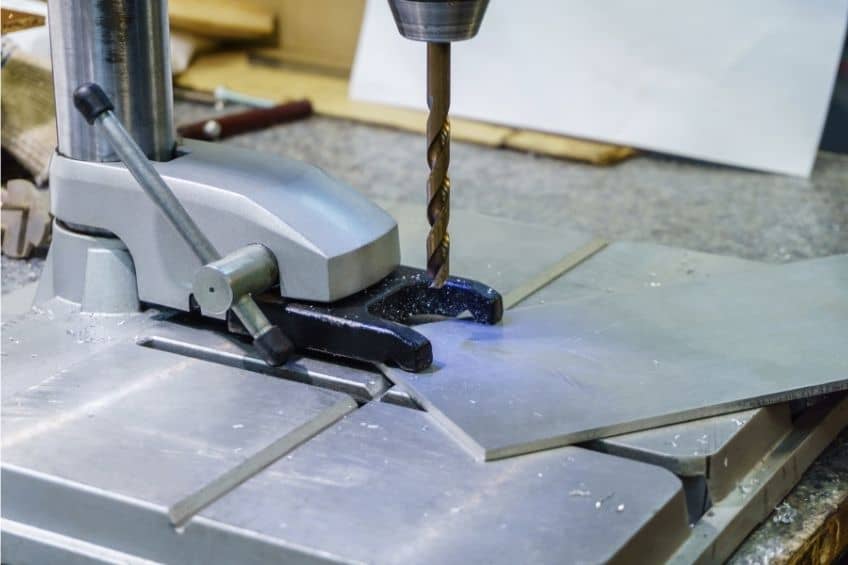 Prepare the Work Surface and Take Safety Precautions
Make sure that your workbench is clear of clutter and other hazards before attempting to operate the press. Also, make sure you have taken the necessary personal safety precautions: tie up long hair and don't wear loose clothing or dangling jewelry, as these can easily become trapped in the spinning mechanism while working. Wear wrap-around safety goggles as well as a respiratory mask. Drilling into wood or metal gives off fine particles. Snug-fitting gloves are also recommended to prevent unnecessary injury from wood and metal burrs.
Secure Your Material
Whatever material you plan to work with, it will need to be securely fastened to your workbench with a clamp or two in order to drill into it, this ensures that the material will not move when drilled. If you are drilling into a piece of sheet metal that's not securely clamped down, there is the potential for it to spin rapidly once the drill bit touches the material. This could result in serious injury. Make sure that you have a piece of fairly thick wood clamped between your table and the material you intend to drill. This will ensure that you don't drill through into the table which could damage the drill bit.
Choose Your Drill Bit
Depending on the size of the hole you want to drill, insert your chosen drill bit into the chuck of the drill press. Tighten the chuck sufficiently to ensure that it will not slip while operating the press. If you are using a keyed chuck drill press, make sure to remove this key before turning on the machine to prevent potential injury.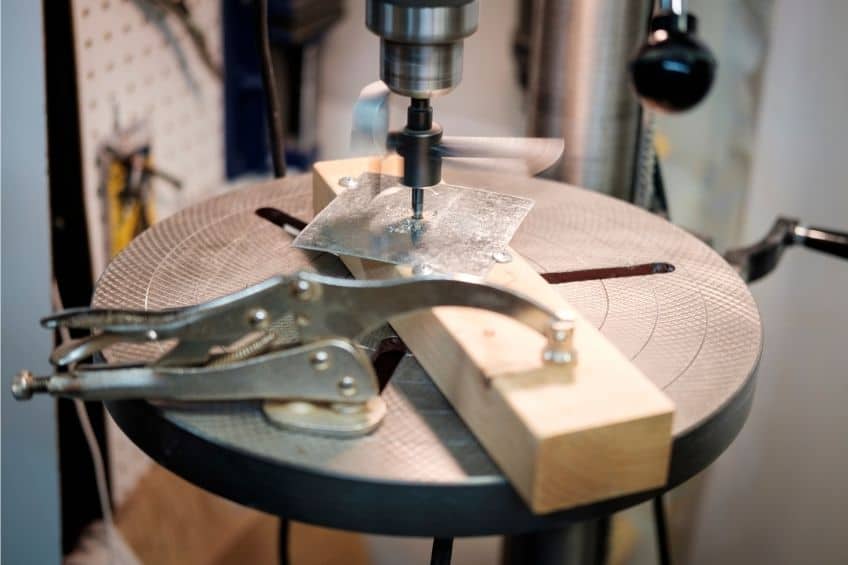 Choose the Desired Drill Press Settings
At this point, you can fine-tune all the other available settings on your press to your liking. The table height can be adjusted, the angle of the bit can be adjusted if your machine has this option and the machine's speed setting can be chosen depending on the material you're working with.
Turn On the Machine and Start the Drill
Once all the necessary safety precautions have been taken and you're confident that the machine's settings are correct, it's time to drill into your material. You can now start the drill. Slowly operate the press handle in order to lower the drill bit until it comes into contact with your material. Apply pressure as needed but remember to let the equipment do the majority of the work. Too much pressure will result in the motor and drill bit overheating and will shorten the lifespan of the equipment. If you are needing too much pressure to do the job it's likely that your drill bit is blunt and will need replacing.
Periodically stop drilling to clear the hole of debris. When you stop drilling, always slowly remove the spinning bit from the hole before turning off the machine. When starting the machine again, start it with the bit completely out of the hole and then lower the bit into the hole only once it's up to full speed. This will prevent the sharp bit potentially snagging inside the hole and jamming.
Repeat the Process
Above are five simple steps for operating the best benchtop drill press. This process can obviously be repeated as much as you like but please remember to read the instruction manual provided with your drill press as each press will require slightly methods of operation as well as different care and maintenance routines.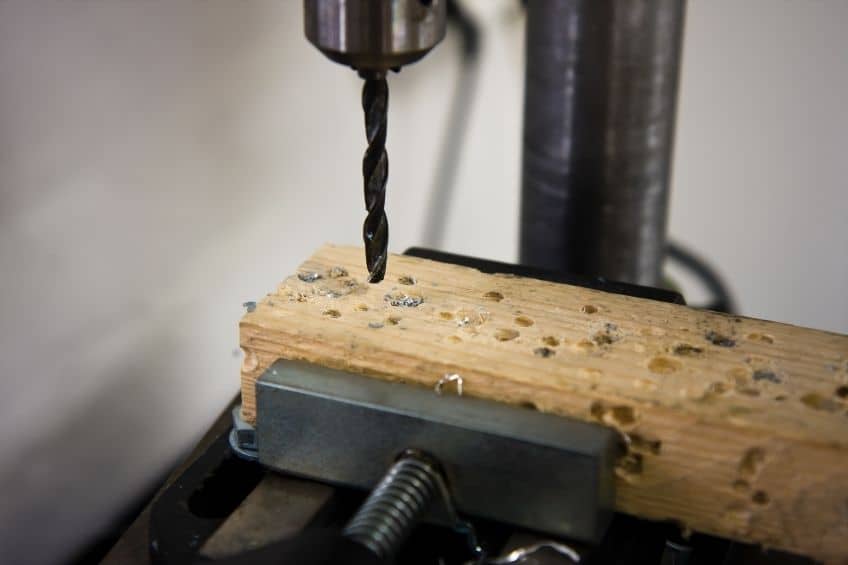 Tips, Tricks & Precautions for Operating a Drill Press
Below we've compiled a short list of points to follow when using the best benchtop drill press. While the potential for injury exists when operating any motorized machinery, following these points will help to minimize the risk of injury and ensure many years of successful DIY projects.
Always make sure there are no loose items on your person that can become trapped in the machinery while operating.
Ensure your workbench is free of clutter and hazards.
Make sure your material (and your drill press) is securely fastened to your work surface.
Remove the key from the chuck (if it's a keyed chuck drill press) before turning on the drill.
Always use protective equipment such as safety goggles and a respirator mask when working with machinery that gives off debris.
Use minimal pressure in order to drill into your material. Always let the machine do most of the work.
Periodically stop to clear out debris from the hole while drilling.
Work with minimal distractions. This will reduce the potential for error and injury.
Frequently Asked Questions
Why Do You Need a Tabletop Drill Press?
A tabletop drill press offers unparalleled accuracy and precision over a handheld drill. With a tabletop drill press, you can be guaranteed arrow-straight holes of precise depths every time.
How Much Power Do You Need for a Benchtop Drill Press?
How much power you need depends on what material you will be working with. If you are looking to work with a soft wood like pine then you don't need all that much power. A motor with a low amperage of 2 to 4 amps will suffice as you don't need a lot of torque to drill into soft materials.
What Speed Options are Best for a Drill Press?
The amount of speeds needed on your drill press again depends on the material you'll be working with. If you are going to be drilling into a hard material like steel, then look for a variable speed drill press with a few options for low-speed settings. A steel bit drilling into steel will heat up very quickly which is why you will need to work at a low speed. Another must-have drill press feature when looking to work with hard metals is the option to allow a liquid coolant to flow over the hole you will be drilling. This coolant prevents the bit overheating while working.
What is Drill Press Swing?
Swing refers to the distance from the central column of the drill press to where the bit meets the center of the table. If the press has a swing of 10 inches, this would mean that you can drill a hole in the center of a square or circular piece of material with a diameter of 10 inches.
Do Benchtop Drill Presses Need a Lot of Maintenance?
Drill presses generally need very little maintenance. It's always a good idea to wipe them down after every use to get rid of debris and fine particles that over time could get into the motor assembly. Applying lubrication to the chuck mechanism and other external moving metal parts is recommended to keep these in good working order.
How Long Do Benchtop Drill Presses Last?
With a little regular maintenance as mentioned above, as well as correct operation like not using too much unnecessary pressure when drilling, your drill press should serve you well for many years. Bear in mind that as with most things, you get what you pay for. Compare several drill presses in your budget. Presses that are much cheaper while still offering the same features as the competition may have inferior components which will fail much sooner.
Any woodworking space needs to have a great benchtop drill press. These tools are essential for all sorts of woodworking jobs, and they are something that many DIY enthusiasts can't live without. We hope that our guide on the best benchtop drill presses has helped you to find the perfect tool for your workshop!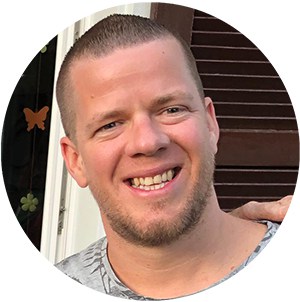 I was born in 1984 and have been into woodworking since 2005 and woodturning since 2011. Because of my love for wood and woodworking, I started woodhappen.com to teach other enthusiasts about how to finish and seal wood, the best woodworking tools, the different types of wood, and everything else related to wood!